Jeremiah Abraham is a game changer in shining light to AAPI voices in media. As an award winning Marketing and Public Relations Executive who has worked in the entertainment industry for over 15 years and the founder and CEO of Tremendous Communications, he's established himself and the company be a force in bringing the AAPI community to the forefront in entertainment with their campaigns. Lets get to know this Manila-born and bi-coastal multifaceted creator with these 5 interesting facts.
1. His mission is to impact the visibility of AAPIs in Hollywood.
With a long list of accolades, Jeremiah has produced AAPI films, television shows, and gives back to the AAPI community through non-profit organizations. Some of the notable projects he's worked on includes franchises like: Harry Potter, Star Wars, Marvel, DC Entertainment, and Warner Bros' Crazy Rich Asians.
2. Jeremiah's first AAPI project evolved in BakitWhy.com
Born in Manila and moved to Los Angeles at 5-years old, but now residing in Brooklyn, New York with his of over 10 years, it seemed that sharing his story as a Filipino living in America is how he got his start. Jeremiah pursued a degree in Computer Engineering from UC Irvine and a Masters in Communication Management from the University of Southern California where his thesis project turned into BakitWhy.com. This became the first digital media platform for Fil-Ams and the Filipino American lifestyle.
3. He continues to uplift Filipino stories through breakthrough films and series.
To break through the barrier and create space for more representation, Jeremiah has co-produced AAPI films like Sony Pictures' Yellow Rose and Lingua Franca which was distributed by Ava DuVernay's Array Now. Watch out for an upcoming ABS-CBN drama series Concepción, which follows an Asian-American kingpin and his family who hold power in LA's Historic Filipinotown (HiFi).
"Asian Americans have a wealth of stories and experiences that Hollywood has only begun to acknowledge."
4. Jeremiah along with Tremendous Communication looks to help the AAPI Community through philanthropic work.
He serves as a Board Member to two organizations, FilAm Arts, which brings together the FilAm community through arts, culture, partnerships, and collaborations and Peace Studios, which provides opportunities and strengths-based tools to restore hope, challenge injustice, and bridge divides.
Through Tremendous Communications, they've helped advocate for the Asian American community during increased violence and xenophobia amplified by the COVID-19 pandemic by launching the Unapologetically Asian campaign, supported Racism Is A Virus, and contributed to the visibility of various initiatives and community advocates.
5. His work doesn't go unnoticed by the industry. Jeremiah has been recognized by the international awards program, The Shorty Awards throughout the years.
(2016) Honoree of Best Social Media in Video Games
(2016) Winner of Best Social Media in Video Games
(2015) Honorable Mention in Best Social Media in Video Games
(2014) Winner of Best Social Media in Video Games
Jeremiah and Tremendous Communications have a lot of projects coming you definitely don't want to miss out on. Be sure to keep up with all the upcoming news on jeremiahabraham.com or tremendouspr.com.
Follow Jeremiah and Tremendous below:
Jeremiah: Instagram and Twitter
Tremendous: Instagram and Twitter
Cover Photo Credit: Jeremiah Abraham Instagram
Although May is Asian American Pacific Islander (AAPI) Month, it's never too early to start celebrating. The current host of the Nick Jr. show, Blues & You, Joshua Dela Cruz is the first Asian host of the series and he definitely brings Filipino pride. Viewers have seen his Lola visit in episodes like in "Blue's Big Baking Show" where they bake bibingka together and share traditions, bringing more awareness to Filipino culture.
Now, Josh and his Lola are back teaming up for a karaoke session singing about being Filipino. The catchy tune shares lyrics about what it means to be Filipino like spending time with family, joining in a song, and feeling the love whenever visiting the Philippines. The video shows different kinds of Filipino foods, the national flag, and an animated version of the picturesque beaches found throughout the islands. Blue and friends join in on the fun so check it all out below!
Cover Photo Credit: Blue's Clues & You Youtube Channel
Filipinx-American writer, filmmaker, and host, Kaitlyn Fae is gearing up to release her first graphic novel, The Mask of Haliya. The dark fantasy graphic novel series is inspired by Philippine pre-colonial folk religions and demonology. In collaboration with Kwento Comics, the first issue, "Eye of the Serpent" is set to release on March 5th!
The Mask of Haliya is a young adult urban fantasy that follows the journey of a troubled Filipina-American teen who discovers a mysterious mask at her great-grandmother's wake. Through her writing, Kaitlyn Fae aims to rediscover and connect with her heritage while also commenting on taboo topics. A gritty drama inspired by Philippine mythology, the story engages with topics like mental health, intergenerational trauma, and corruption, with a major emphasis on its female characters. Oh, did we mention that there's a major emphasis on female characters!
Not only does the comic series have female characters, but the people who brought it to life is an AAPI all-women team, many whom are Pinay! According to Fae, it's been in the works for four years and a culmination of brainstorming concepts, crafting drafts and creating concept art. We're excited to see these characters come to life as we flip through each page.
Pre-orders for hard copies of The Mask of Haliya: Eye of the Serpent can be purchased now at www.kwentocomics.com. Pre-orders for digital copies can be made at the Amazon Kindle store. Paperback copies will also be available at select comic book
stores nationwide in the US.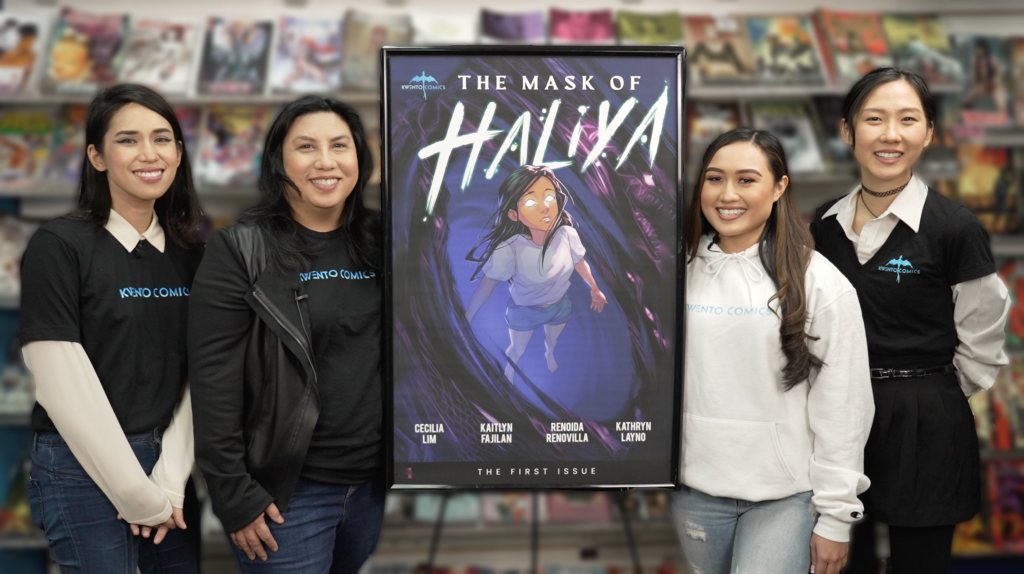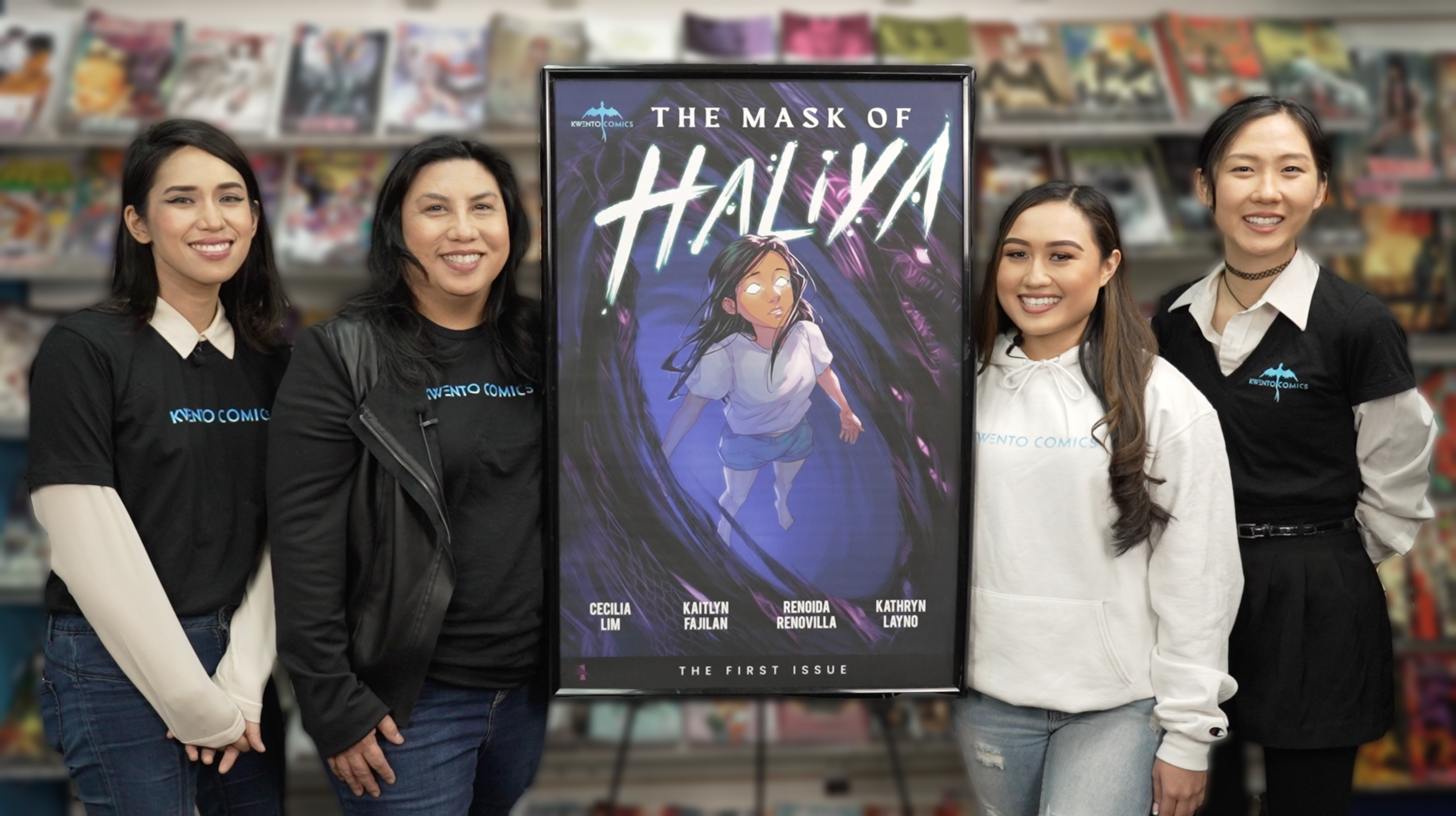 ABOUT KWENTO COMICS:
Founded by creator Cecilia Lim, Kwento Comics is an international all-Asian women comic book company whose mission is to create stories that introduce Filipino and other Asian mythos to a wider audience. Lim's team is comprised of head writer Kaitlyn Fajilan (Fruit Fly, Madeira), head artist Renoida Renovilla (Creative Connections and Commons, Inc.), cover artist Kathryn Layno (Batman Legends of the Dark Knight, Castlevania), editor Jenapher Zheng (Oblivious, Borrowed Light), colorist Charlyn Duy, and producer Waverley Lim (The Women's Project). Kwento Comics recognizes the importance of representation, and they hope that the narrative scope and level of social commentary within Haliya will illuminate Asian identity on a global level.
Kwento Comics can be found on Instagram, Facebook and Twitter at @kwentocomics.
Cover Photo Credit: Jenapher Zheng Twitter
Marc delaCruz pushes for AAPI Representation as he became the first Asian-American to portray Alexander Hamilton on Broadway's hit Hamilton. Now that Broadway is back for the time since the pandemic, Marc reprises his character as the Founding Father. He is of Filipinio-Japanese descent and first took the spotlight in this role in 2019.
Playing opposite of him is Jin Ha as Aaron Burr, a Korean-American. AAPI excellence is on the rise and they're here to show the next generation that they're capable of doing it too.
Marc went from joining the Broadway cast at Richard Rodgers Theatre as an ensemble member to the lead role. In addition to the title role, he is the understudy for Philip Hamilton, John Laurens and King George, and covers the roles of Philip Schuyler / Doctor / James Reynolds. His Playbill shows that Marc has had 20 roles to date in the productions of Hamilton and If/Then.
His first "big break" came as a sophomore in college at the University of Washington, when Northwest Asian American Theatre cast delaCruz as Matt in The Fantasticks. It was his first large-scale performance, but was on stage for the first time at 9 years old. He was casted in a production of A Christmas Carol at ACT Theatre in Seattle.
Even after the production of Hamilton ends, Marc plans to stay in New York. If you're in the NYC area, let us know if you check out the production. We want to know your experience, tweet us at @myxnews!
Cover Photo Credit: Marc delaCruz Facebook
The show has been extended through Wednesday, July 28 due to its overwhelming response and is available to stream now on Broadway On Demand.
CollaborAzian's production of A Gentleman's Guide to Love and Murder premiered last week on Broadway On Demand to wide success. The all-Asian American production of the Tony Award winning musical set to benefit the work of Stop AAPI Hate and has raised over $25,000 to date. 
The success of the production supports the demand for Asian American led shows on stage and the virtual show has been extended through Wednesday, July 28th on Broadway On Demand. CollaborAzian plans to produce more shows in the future to highlight Asian American talent in theater. 
"I loved this performance of "A GENTLEMAN'S GUIDE", I just loved it. I am enormously proud that this was the vehicle to raise money and support for such a great cause," says Steven Lutvak, Co-Lyricist and Composer of the original Broadway production. "Brilliant performances, a beautifully crafted evening and a total delight. I hope to see more Asian American led productions like this in the future." 
Violence and hate toward the Asian American and Pacific Islander communities have become more common since the COVID-19 pandemic began. Organizations such as Stop AAPI Hate have emerged to help communities unite against racism. 
"Once we can tell the story through data, we can create and implement community and policy solutions to help address it — and tell a new story: a story of resilience, says Stop AAPI Hate Coalition. We honor AAPI-led creative groups, such as CollaborAzian, for helping tell these new stories." 
CollaborAzian's A Gentleman's Guide to Love and Murder is available to stream through Wednesday, July 28 on Broadway on Demand. 
About CollaborAzian's A Gentleman's Guide to Love and Murder
CollaborAzian's A Gentleman's Guide to Love and Murder will be helmed by theatre and television director Alan Muraoka, who has played Alan, the owner of Hooper's Store on Sesame Street for the past 23 years. He most recently played Iago in Disney's Aladdin on Broadway, and starred as the Engineer in Miss Saigon. The all-Asian American cast will star Cindy Cheung (13 Reasons Why), Karl Josef Co (Pacific Overtures), Ali Ewoldt (The Phantom of the Opera), Diane Phelan (School of Rock), and Thom Sesma (Sweeney Todd). Steven Cuevas (Once On This Island) serves as music director.
Producers include Jeremiah Abraham (Sony Pictures' Yellow Rose, ARRAY's Lingua Franca), Karl Josef Co, Ariel Estrada (Founder and Producing Artistic Director, Leviathan Lab), Rob Laqui (The Industry Standard Group, Cardinal Theatricals), Diane Phelan, Pearl Sun (Come From Away), Anne Fraser Thomas (Hercules), Jessica Wu (A Chorus Line, Miss Saigon), and Miranda Gohh. Executive Producers include Elliot and Cathy Masie (Masie Productions) and Matthew A Woolf (Woolf Productions LLC).
A Gentleman's Guide to Love and Murder won four Tony Awards at the 68th Tony Awards in 2014, including Best Musical.
About Broadway On Demand
Broadway On Demand is the industry-leading livestream platform housing performance & theatre education programming, & the preferred choice of top Broadway artists, producers, educators & professionals. Broadway On Demand has streamed 2,500 events & live productions – from Broadway shows to concert series, performance venues to individual artists, & original content – in 82 countries to over 300,000 viewers. Thanks to a unique licensing interface, ShowShare, approved middle school, high school, college, community & professional theatre productions utilize the platform to stream to their audiences. Broadway on Demand is available on the web, mobile, Apple and Android app store, AppleTV, Roku, Chromecast, and Amazon Fire TV. For access to the complete and ever-expanding Broadway on Demand library, subscribe at BroadwayOnDemand.com.
Cover Photo Credit: Tremendous Communications
Sesame Street touches on the subject of anti-Asian bullying in a way that most of us have experienced. The "Proud of Your Eyes" video includes Wes and Alan from Sesame Street who help their friend Analyn. She is a Filipino-American who was teased because of the slanted shape of her eyes.
According to NBC News, Sesame Workshop, the nonprofit educational organization released the video as an ongoing initiative of "The ABCs of Racial Literacy" to "help families have honest conversations about race." The initiative provides an educational curriculum on racial justice for children. In the video, they sang a song about how unique their eyes are and that they tell stories of their family. Analyn goes on to say how her eyes look just like her Lola's and that she's beautiful.
Our eyes and how we look tells a story, our story. The story of who we are, but more importantly the stories of our ancestors.
Cover Photo Credit: Sesame Street Twitter
#StopAsianHate is not trending as much but anti-Asian hate crimes are still happening. In northern Utah, a Filipino food truck, World Famous Yum Yum Food Truck was vandalized with anti-Asian graffiti slurs. The popular food truck serves Filipino, Vietnamese, and Asian Fusion cuisine. Jordan Clarkson who plays for the Utah Jazz and was recently given the NBA's Sixth Man of the Year Award reached out to the owners and family to help. Clarkson along with Identity Graphics helped put together a new look for Yum Yum.
The food truck since then is back serving the community and rolling through town with a newly designed truck. The truck features bright colors that you can't miss. The bold design is a nod to the Philippines flag with the blue and red colors with the bright yellow sun. Not shying away from showcasing that they cater Asian Fusion cuisine with a rice bowl logo throughout the design. The new look says "we're here, we belong!"
Yum Yum Food Truck will have a reopening on June 12th in Salt Lake City at a rather fitting event, Philippine Independence Day celebration.
Cover Photo Credit: World Famous Yum Yum Food Truck Facebook
The video is part of #NetflixAAPIStories and features actors, actresses, and comedians from various Netflix shows and films. These artists celebrate culture, history, and stories. Like what the caption said, "we are more than a stereotype…celebrate who we are." Our very own Jo Koy closes out the video with "so welcome to our world, and leave your shoes at the door…"
Cover Photo Courtesy: Lana Condor Facebook
IDENTITY LA Fest is back again this year to celebrate the AAPI community. It is another virtual celebration filled with performances and inspirational messages, all while helping fundraise for the community. Make sure to catch the event on Saturday, May 15th at 5pm PST/ 8pm EST all on Twitch.tv/AmazonMusic.
IDENTITY 2021 is presented by Amazon Music, IMDb, IMDb Pro, Pacific Bridge Arts Foundation, Gold House, and Transparent Arts. The virtual event is hosted by artist and actor, Dumbfoundead and comedian and actress Sherry Cola. If you haven't checked out their stories, you're in for an inspirational boost!
Many artists are part of the lineup with a couple Filipino artists making the list. Guapdad 4000 and James Reid are set to take the stage. This marks Guapdad's first appearance at the digital event while this is James Reid's second time, as he performed last year for the Identity: Project Blue Marble event. Could we hear a new song by James Reid? He did mention that a new song, Crazy is out on May 7th. We'll just have to tune in and see!
Cover Photo Credit: Pacific Bridge Arts