It looks like more secrets are going to be exposed in this HBO Max reboot of the Freeform series, Pretty Little Liars with another group of teens being haunted by "A" in Pretty Little Liars: Original Sin. From the creators of Riverdale, you know the series is branching on the side of spooky and mystery. As the new generation also navigates through high school, it's the secrets of their mothers' pasts that they try to understand.
We mentioned before that the series stars 3 Filipinas with Lea Salonga, Malia Pyles and Sharon Leal. Ms. Salonga is casted as a series regular playing "Elodie, Minnie's (Pyles) mom. A bit overbearing, Elodie works overtime to keep her daughter safe following a trauma that occurred when Minnie was just a little girl." Also part of the cast is one faves, Alex Aiono!
Check out the official trailer and get ready for this next chapter of the Pretty Little Liars saga. Will the girls not only survive high school, but also out run the danger lurking in Millswood.
"Twenty years ago, a series of tragic events almost ripped the blue-collar town of Millwood apart. Now, in present day, a disparate group of teen girls — a brand-new set of Little Liars — find themselves tormented by an unknown Assailant and made to pay for the secret sin committed by their parents two decades ago…as well as their own. In the dark, coming-of-age, horror-tinged drama Pretty Little Liars: Original Sin, we find ourselves miles away from Rosewood, but within the existing Pretty Little Liars universe — in a brand-new town, with a new generation of Little Liars."
Cover Photo Credit: HBO Max Instagram
If you can finish this line: Two can't keep a secret if… then you're a certified PLL fan. After the release of the web series, Pretty Dirty Secrets, which followed the original TV series Pretty Little Liar and Ravenswood now come a new generation of little liars. Deadline just announced the new mothers in the upcoming HBO Max Series Pretty Little Liars: Original Sin and it includes Lea Salonga! She along with Malia Pyles and Sharon Leal will be three Filipinas starring in the newest series!
Ms. Salonga is casted as a series regular along with Elena Goode. The new generation also includes Chandler Kinney, Maia Reficco, Bailee Madison, Zaria, Malia Pyles, Alex Aiono, Mallory Bechtel and Eric Johnson. The series steps away from the town of Rosewood and into Millwood. With brand new characters and stories also come uncovered secrets. The new Little Liars are targeted by a new A, who looks to make them pay for something their parents did years before.
With Roberto Aguirre-Sacasa (Riverdale) part of the project, you know it's about to get crazy. He takes over as producer after I. Marlene King. The vibe of the series is darker and horror-tinged with a sprinkle of twists and turns. Not much have been said about Lea Salonga and Malia Pyles' characters, but here's a little insight according to Deadline. "Salonga will play Elodie, Minnie's (Pyles) mom. A bit overbearing, Elodie works overtime to keep her daughter safe following a trauma that occurred when Minnie was just a little girl."
Filming is underway and it looks to be released in 2022. Stay tuned with @myxnews for the latest news!
Cover Photo Credit: Lea Salonga Official Facebook
Looks like we'll be seeing more of Alex Aiono on-screen and we're here for it. Earlier this year, he stared in Netflix's Finding 'Ohana and now he takes on the role of Walter on the Disney+ series, Doogie Kameāloha, M.D. The reboot of the early 90s sitcom Doogie Howser, M.D. follows a new teenage medical prodigy Lahela "Doogie" Kamealoha played by Peyton Elizabeth Lee. The series also includes Jason Scott Lee, Kathleen Rose Perkins, Mapuana Makia who also was in Finding 'Ohana, and Ronny Chieng from Crazy Rich Asians. Aiono's reoccurring role as Walter Taumata is a local teenage surfer who's interested in Doogie.
Aiono's character Walter is so relatable especially in the pilot episode. He's cool, nice, and definitely easy-going. He asked Lahela out to a dance and unlike most families, his entire family tags along when he picks her up. Everyone, and I mean everyone in the family wants a picture before they head out to the dance. We all can relate to that, "one more picture!" We'll have to wait and see in the upcoming episodes how their relationship goes and what's in store for Walter.
Want to catch up on what else Alex Aiono has been up to? Check out our interview with him on MYXclusive! He talks about filming, music, food, and cultural similarities.
Set in modern-day Hawai'i, Doogie Kameāloha, M.D. – a coming-of-age dramedy inspired by the hit medical series "Doogie Howser, M.D." – follows Lahela "Doogie" Kamealoha, a 16-year-old prodigy juggling a budding medical career and life as a teenager. With the support of her caring and comical 'ohana (family) and friends, Lahela is determined to make the most of her teenage years and forge her own path.
Cover Photo Credit: Alex Aiono Twitter
Finding Ohana is an adventurous movie for the family that will take you on a treasure hunt. A film under Netflix's category, Representation Matters Collection which highlights work featuring and created by people of color. Netflix aims to "support developing characters of color and other minorities represented through all genres in original series and movies." The film stars Fil-Ams Kea Peahu as Pili and Lindsay Watson as Hana and also features our friend Alex Aiono as Ioane. The story follows two Brooklyn-raised siblings who visit Oahu and rediscover their Hawaiian heritage and culture. They reconnect with their Papa (Grandpa), learn more about the native language, and more importantly the meaning of aloha and ohana.
The Hawaiian Language
The language plays an important role throughout the film. The siblings have unique names, Ioane and Pili coming from the Hawaiian language. Ioane goes by "E" in Brooklyn because he's tired of explaining his name to others and introduces himself as that way when he returns to the island. Ioane becomes proud of his name by the end as he learns to accept his identity. The film also highlights the Hawaiian pidgin language which was shown when the siblings communicate with the papa. It's okay if you're not familiar with Hawaii slang or the native language, Netflix helps you out with subtitles. The language plays a large part in the story and helps drives the messages of aloha and ohana.
Aloha
The word aloha has many meanings. Literally translated, it means hello, goodbye, or love. However, Finding Ohana shows how "aloha" means the essence of being: love, peace, compassion, and harmony. The aloha spirit is simply kindness and hospitality towards people and the land. We see it with their grandfather and how he cares for their family land, but especially how everyone else treats him. He's well cared for at the hospital by the staff and visited by friends. Although they're not blood family, they treat each other like immediate family. Ioane and Pili learn what the aloha spirit is by interacting with their friends, Casper and Hana, played by Lindsay Watson. The treasure hunt adventure leads them to exploring Hawaiian legends and stories while honoring tradition.
Ohana
The biggest lesson that Ioane and Pili learned is the meaning of ohana. Ohana means family and we know that family means no one gets left behind. Just like anyone who has siblings, Ioane and Pili know how to push each other's buttons. It's easy to relate to their relationship as we've all been there and don't always get along with our sibling, but can count on having each other's backs. They also mend the relationship with their mother who's working hard to provide for the family. The kids miss spending time with her and hope the trip to Hawaii could reconnect them together.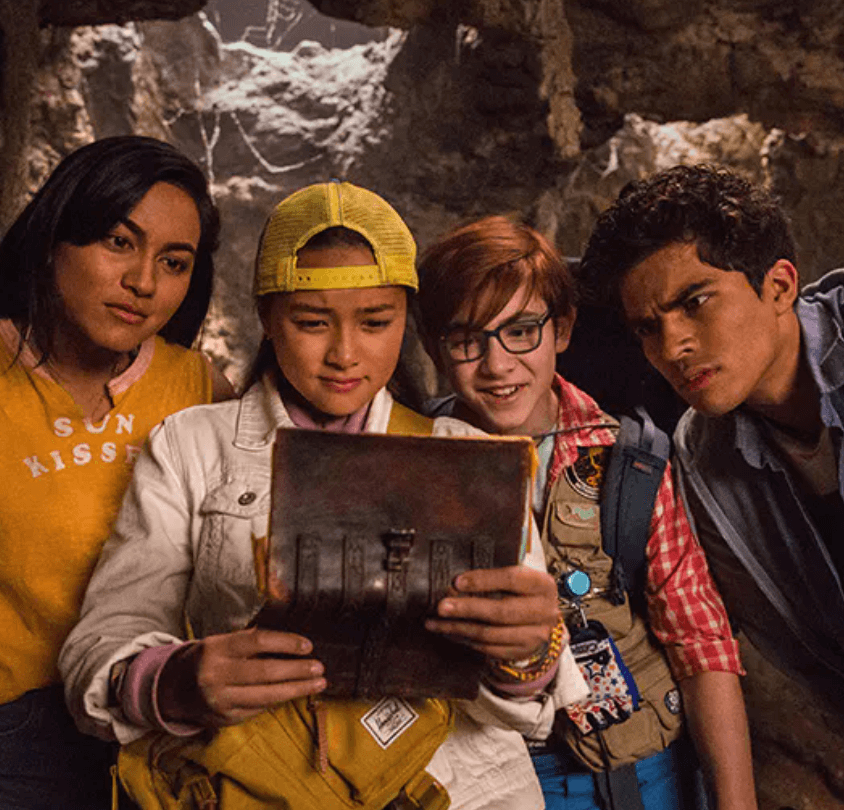 Ioane and Pili also gain an ohana with their island friends Casper and Hana. The treasure hunt drives them closer and learn more from each other along the way. Casper and Hana teach them about the aloha spirit and show Ioane and Pili how awesome life on the island can be.
The film centers around the treasure hunt and adventure, but ultimately focuses on relationships. Finding Ohana brings the youthful energy and it'll have you following Ioane and Pili's journey in finding their identity. Check out our recent myxCLUSIVE with Alex Aiono (Ioane) as he talked about what this role meant to him and how much he enjoyed filming in Hawaii.
Cover Photo Credit: Finding Ohana Facebook