From the Forbes 30 under 30 lists straight to your TV screens! Alyssa Navarro took the stage on the Fox reality game show "I Can See Your Voice," playing a Princess on TV. "I Can See Your Voice" is a music game show adopted from a South Korean series, and it premiered in 2020. The show presents a contestant with six "secret singers" identified only by their occupation. Then, the contestant must attempt to eliminate bad singers from the group without ever hearing them sing, assisted by clues and a celebrity panel throughout six rounds.
If you know Alyssa, you know she has a voice of a real-life Disney princess, and you have probably caught some of her viral TikToks on your feeds. But the majority of the judges didn't think she could pull it off. Check out Alyssa's performance below, and if you missed the episode, you can now check it out on Hulu.
Cover Photo Courtesy of Alyssa's Instagram
AJ Rafael and Alyssa Navarro's Kuyate clothing brand has just released a collaboration with Dante Basco's directorial debut film,  Fabulous Filipino Brothers. The collaborative piece is a 3-panel hood fleece-lined pull-over with a graphic on the front that reads "Fabulous Filipino." The film will be released on February 8th, and a fun fact, AJ had a big hand in the music behind the project as he scored the film!
You can purchase the hoodie on the Kuyate website and also check out their new drops here. Don't forget to keep it locked on 1091 Pictures for updated information on the film release on February 8th of this year.
AJ Rafael and East West Players put together a holiday treat by gifting us with a virtual half-hour concert featuring some Crazy Talented Asians. The line-up featured Paul Dateh, Isa Briones, Joan Almedilla, Arvin Lee, Justine Rafael, Alyssa Navarro, with AJ on the keys and guitar. It was definitely a friends and family affair vibe all wrapped up in the warmth of the holiday spirit. 
The East West Players is the nation's premier Asian American theatre and America's longest-running theatre of color. They've opened up doors for many aspiring talents. You can help them continue to do so in 2022 by donating here.
The Character Media Awards show, Unforgettable Gala returned after a 2-year hiatus due to the pandemic. It was not only a way to celebrate live and in-person events again, but also a time to celebrate being unapologetically Asian. Actress and comedian Sherry Cola from the series, Good Trouble hosted the show that recognized notable Asians in culture and media.
Shang-Chi and the Legend of the Ten Rings' crew were recognized with the Vanguard Award which according to Deadline was once held by Lulu Wang's The Farewell. Simu Liu who also won Breakout in Film, acknowledged those who have come before them in this fight for representation on screen. He mentioned Ken Jeong who helped him get his start to giving a shout out to Wong Fu Productions where many of us first saw Liu on-screen.
It really was a night for celebration that included a performance by AJ Rafael and Forbes' 30 Under 30 awardee Alyssa Navarro. They helped close out the show alongside the band Korean Soul and Oya Thomas. Can we add how good their looks were with a Baraong and matching Filipiniana dress.
The ceremony honored Sandra Oh, Maitreyi Ramakrishnan, Jimmy O. Yang and more. We have you covered, so check out the the full list of winners below!
Actor/Actress in TV
Sandra Oh – The Chair
Actor/Actress on Film
Justin Chon – Blue Bayou
Breakout Actor/Actress on Television
Maitreyi Ramakrishnan – Never Have I Ever
Breakout Actor/Actress on Film
Simu Liu – Shang-Chi and the Legend of the Ten Rings
Comic Performance
Jimmy O. Yang – Love Hard
Director
Destin Daniel Cretton – Shang-Chi and the Legend of the Ten Rings
Digital Influencer
Jason Y. Lee
Vanguard Award
Shang-Chi and the Legend of the Ten Rings
Lexus Legacy Award
John Cho
Changemaker Award
Sean Miyashiro – 88rising
Pechanga Athlete on Another Level
Shohei Ohtani
Community Impact
Andrew and Peggy Cherng
Cover Photo Credit: AJ Rafael Instagram
Congratulations are in order to our fave Alyssa Navarro! You may know her as an influencer, seen and heard her amazing voice from her Youtube covers and Tiktoks, but did you know Alyssa works for THE Mouse House! She is a literal Disney Princess, but also a boss! Alyssa is an Executive Producer and Manager at The Walt Disney Studios in the Representation, Inclusion, Strategies, and Engagement (RISE) department. RISE aims to showcase storytellers with authentic stories that shares a common experience among people worldwide. Check out the whole feature here!
Alyssa shares what being on the 30 Under 30 List means to her personal and the work she does. "Being on this list means so much to me because the work I do in diversity, equity, inclusion, and so meaningful and personal to me. The fact that Forbes has recognized that work validates my passion to continue to open doors so that more stories of people from underrepresented backgrounds get to be told on the big screen."
In her role, she oversees content and connects creative projects more closely to the communities they touch. She was an Executive Producer and Coordinator for the Disney Launchpad Shorts Incubator program, where 6 directors from underrepresented backgrounds produced a short film for Disney+. Outside of her day job, she's also a singer and performed as Mulan in the show "Mickey and the Magical Map" for several years at the Disneyland Resort. Alyssa has over 230K followers on her TikTok channel @alyssugh
Besides Alyssa Navarro, many others with Filipino descent were also spotlighted in the list:
Bella Poarch - Artist
Trisha Bantique - Cofounder & CEO, Queenly
John Vincent Salcedo - VP Digital Marketing, Columbia Records
Olivia Rodrigo - Artist
Rachell Hofstetter - Content Creator
Liv Portio - Founder, DBL Jewlery
Marianne Gonzalez - Engineer, NASA Jet Propulsion Laboratory
Ian Villa - Cofounder, Whisper Aero
Jonathan Javier - Cofounder, Wonsulting
Cover Photo Credit: Devon Nelwan
From spooky to cute to creative, Halloween lets us dress up to be whoever we want. Lets check out some of the coolest costumes from your favorite artists. Which one is your favorite? Did you dress up, let us know!
Saweetie channels her inner Catwoman with Halle Berry.
Liane V and Don Benjamin as the Mystery Machine Gang complete with a decked out Mystery Machine Jeep!
Patrick Starrr blesses us with multiple costume ideas but we have to say that going all out as Rita Repulsa from the OG Power Rangers gave us major flash backs.
Inigo Pascual felt the need for speed in this Top Gun inspired outfit.
Ranz Kyle kept it spooky with the clown fit! IT be (penny)wise to not follow the red balloon.
Bretman Rock and his niece Cleo group up for a killer costume as Nezuko and Inosuke. This is too cute!
AJ Rafael and Alyssa Navarro nail it with a Wedding Singer inspired couples costume!
Cole Micek and his girlfriend Maya probably take the cake on this as Brandy's Cinderella and Paolo Montalban's Prince Charming from the 1997 film.
J Rey Soul is saving the day as Batwoman!
Olivia Rodrigo as Elvira from Scarface is one we didn't predict.
Darren Criss as THE VISION is definitely a sight to see.
And to round it out, honestly we are all with Bella Poarch on her ghostly costume.
Cover Photo Credit: Bretman Rock Facebook
Hollywood premieres are back with some adjustments to keep everyone safe, of course. From onsite covid testing to limited media space on the carpets, the new normal has set in, and Hollywood Blvd. is back in business, and this week it was the World Premiere of Marvel's Shang-Chi!
ABS-CBN's Hollywood Correspondent and newly appointed member of the Hollywood Critics Association Yong Chavez was 1 of 18 media Journalists and Outlets that made the cut to witness the Asian excellence in Hollywood that evening.
Our favorite Hollywood Photographer, Sthanlee B. Mirador, was also in attendance and captured Social Media Personality and Singer Bella Poarch's first red carpet premiere. Bella stunned in an all-black look from head to toe, looking like she just stepped out of her "Build a B***h" music video. It might have been her first big premiere, but she was absolutely ready for her close-up.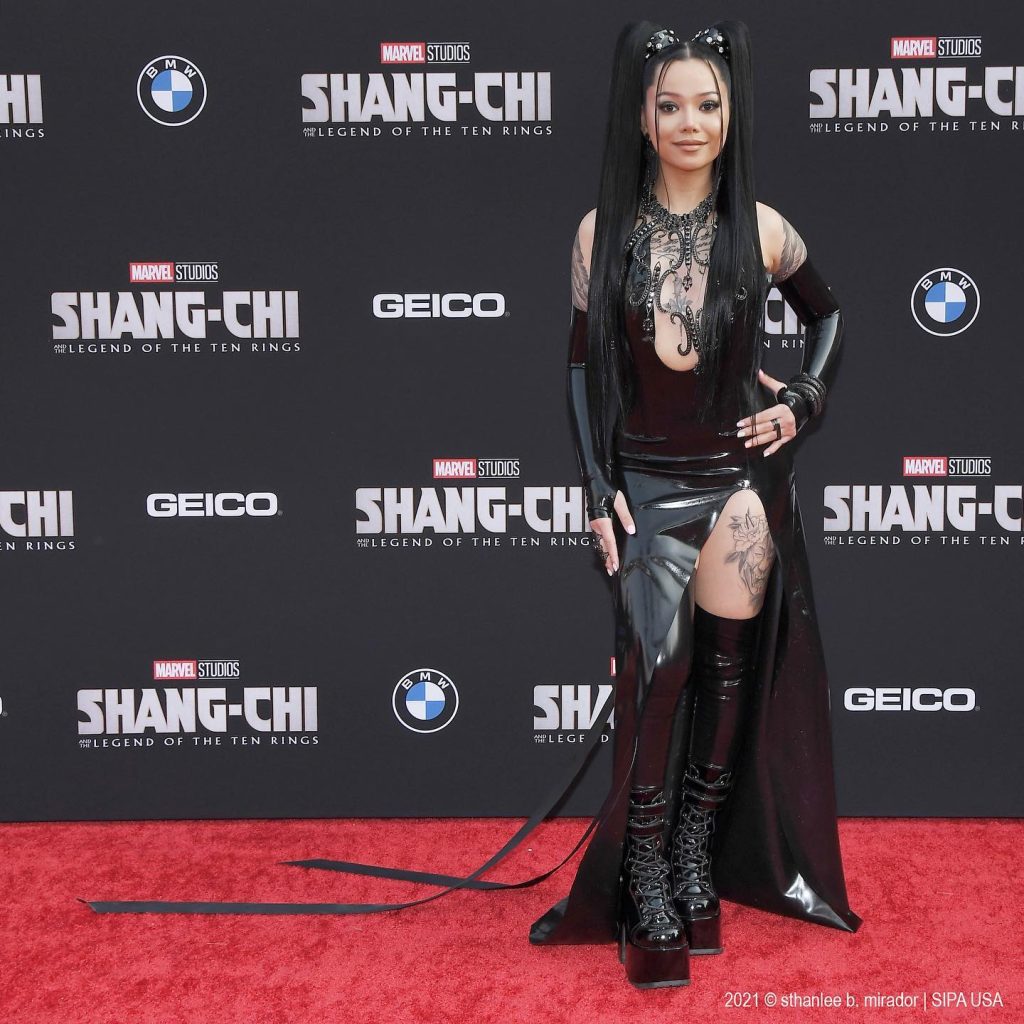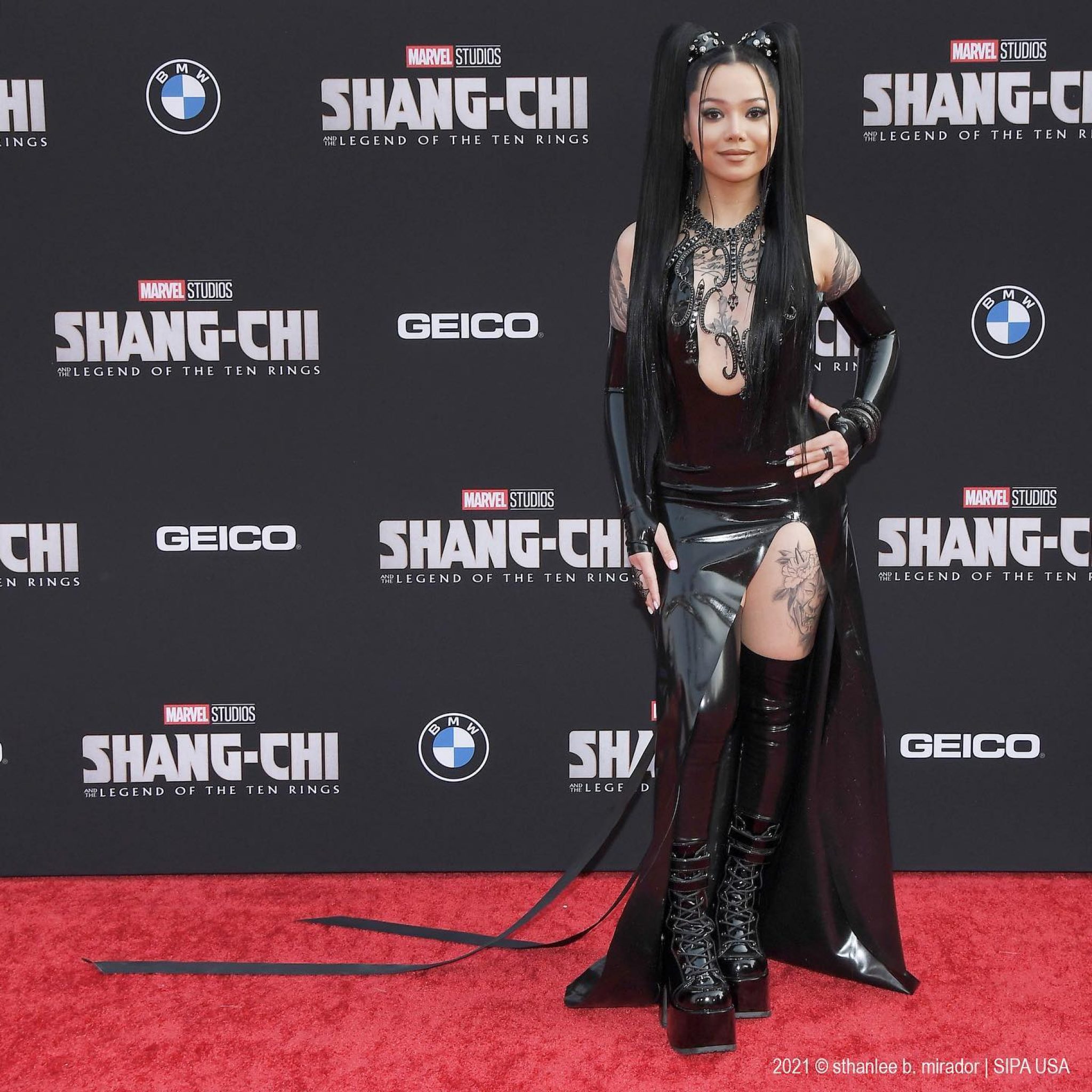 Also in attendance was newly engaged Singer/Songwriter AJ Rafael and Executive Producer of Disney's Launchpad Short Film series and retired Disneyland Princess Alyssa Navarro. As well as our guy Guapdad 4000 dripping in some Alexander McQueen.
With Shang-Chi being Marvel's first Asain superhero movie and helping break barriers in Hollywood for actors of Asian descent to lead blockbuster movie roles, Gold House Co. has once again stepped up to help advocate for this history-breaking event.
Gold House continues to lead their "Gold Open" movement, pushing for films such as Shang-Chi to be seen, ensuring that these opening weekends are a success. To date, the Gold Open community has supported over 25 Asian-led films and engaged hundreds of thousands of people in showing the world that we are here to be seen and valued.
Speaking of representation, we can't forget about the superheroes behind the scenes. Check out the latest installment of our MYX Original Series "Making it in America," featuring Marvel's Senior Visual Development Artist, Anthony Francisco!
Cover Photo Credit: Sthanlee B. Mirador
Ever feel like your phone and computer are always listening then random ads pop up? Wong Fu's first short of the year looks at the power of ads. They add a comedic spin to the story with AJ Rafael and Alyssa Navarro as lead characters. AJ is reading too much into the ads he gets and makes assumptions that basically ruins his relationship.
If you watch closely, you might find some easter eggs in the video and references to friends and past Wong Fu shorts. One of the parts that had us laughing is when AJ sings a rendition of Drivers License by Olivia Rodrigo after breaking up with Aly. Can an ad help AJ get Aly back? Watch to find out!
Do you ever have any coincidental ad moments that make you wonder if you're be listened to?
Cover Photo Credit: Alyssa Navarro Instagram
Tops off our Catching Feelings World Premiere weekend! An amazing show you can catch on the @eastwestplayers FB/YT with some of the most talented singers/actors in the world.
Congrats to AJ Rafael, Alyssa Navarro & their lucky puppies!
If you've followed AJ's career since the beginning with every song he wrote like we did, you'll understand why this is so special. Before the proposal, Kina Grannis also performs Can't Help Falling In Love from Crazy Rich Asians!
Filipino men are some of the sweetest & most thoughtful in the world. Who takes weeks to plan a perfect show with all of these great performers & proposal at the same time? AJ Rafael is one of the most crazy, talented Asians to exist.