Everyone clear their schedules and drop what you're doing. The collab album between Bruno Mars and Anderson .Paak aka Silk Sonic is finally here! Their debut album, An Evening with Silk Sonic contains 9 tracks total that includes the hits, "Leave the Door Open," "Skate," and the current single "Smokin out the Window."
You already know the album will blend Silk Sonic's duo of Bruno Mars and Anderson .Paak's styles and voices together perfectly. They definitely bring the silky vibes. To complete the album, they also reached out to collab with other talented artists too. Bootsy Collins, Thundercat, Homer Steinweiss, D'Mile, Babyface, and others more are featured in the album.
Lets hope there's more coming from Silk Sonic but for now, we'll definitely have this on repeat for a while! Which one's are your faves?
Cover Photo Credit: Anderson .Paak Facebook
Silk Sonic's music is certified silky, smooth, and fresh. Bruno Mars and Anderson .Paak, the duo making up Silk Sonic sits down with Rolling Stone to talk about the upcoming LP An Evening with Silk Sonic and how their group and music came into fruition. Rolling Stone looks into their friendship, creative process, and their quest to bring back "old school sound" music. Check out the highlights from the feature!
The LP, An Evening with Silk Sonic release is pushed back to January 2022.
The LP was originally expected to release fall of 2021, but Mars and .Paak decided to put out more songs instead. Leave the Door Open, the first single released by the duo caught everyone's attention and left us wanting more. The LP was pushed back not because of a delay, but the intent was to let songs sit and simmer with listeners. Mars explains, "letting each one [single] breathe a bit, before dropping the LP in full." It's easy to get in binge-mode and not fully grasp an experience because everything's available at once. Just like a sip of wine (sip, sip) you have to savor it a bit.
Leave the Door Open is the intro to Silk Sonic's sound
Silk Sonic is a passion project for the superduo. .Paak says the single is their mission statement. "It's the intro to the book, to set the tone and let you know the sound. There's different kinds of waves, but the whole album is wrapped around that." In order to re-create the Sixties and Seventies soul and funk atmosphere they along with Mars' longtime engineer, Charles Moniz "did the research" to "get the right things…how much the right guitar pick matters. The right gauged strings. All this science kinda stuff." 
Some of the influences they looked to for inspiration included legends like: Aretha Franklin, James Brown, Miles Davis, Stevie Wonder, and Prince. Of course, their Silk Sonic team also made the project possible with multi-instrumentalist Dernst "D'Mile" Emile, one of .Paak and Mars' core collaborators; Dr. Dre, who listened and gave feedback along the way; Homer Steinweiss of the Dap-Kings, who contributed drums to one song; Bootsy Collins who gave the name Silk Sonic and deemed the project's spiritual godfather.
The creative process is different for Bruno Mars, "the math professor" and Anderson .Paak's "free-form"
What started as a joke between two friends eventually became Silk Sonic. Both artists have insane musical talents and are born to perform. So what happens when you put them two in a studio together? You get a No. 1 hit. .Paak says that Mars approaches pop like technician, calling him "the math professor." He's thinking about every aspect of the song, the math of it all. It's deeper than just talking slick, or good drums, or anything like that — it's 'What are we talking about, what are we trying to say, what does this look like, and how are we gonna kill 'em on the hook?'" As for .Paak's style, he approaches tracks in a more fluid, intuitive, worm's-eye-view kind of way, "I'm more free-form — 'What's the vibe?'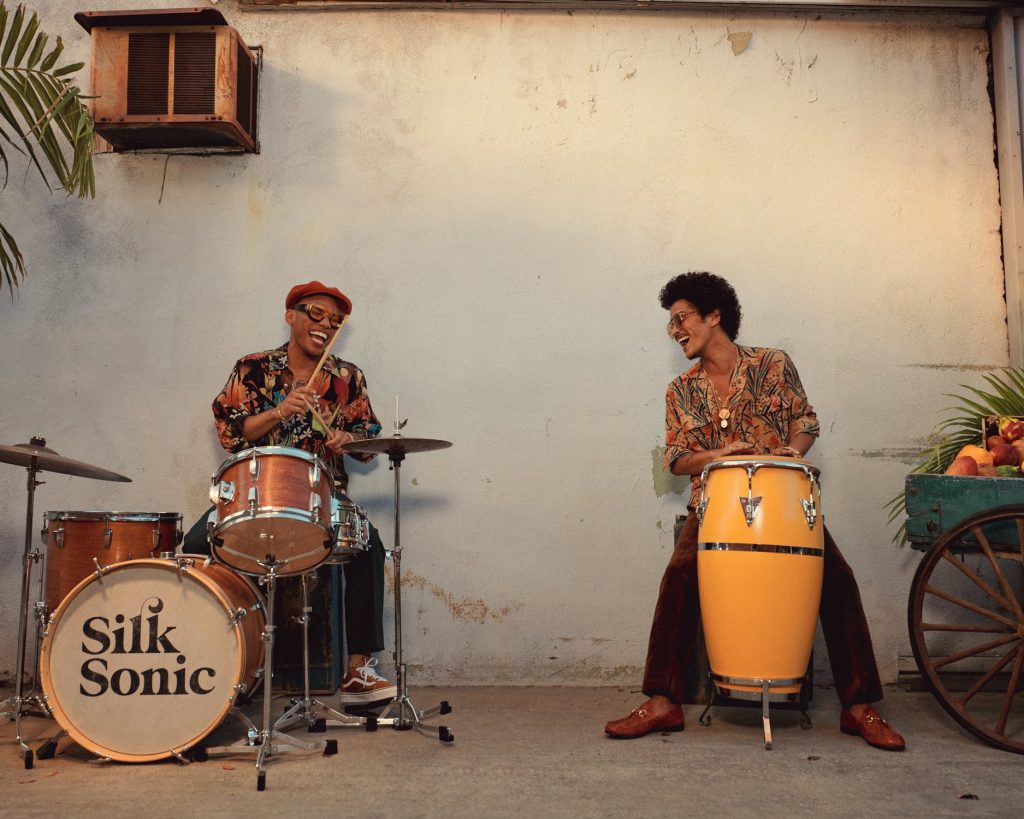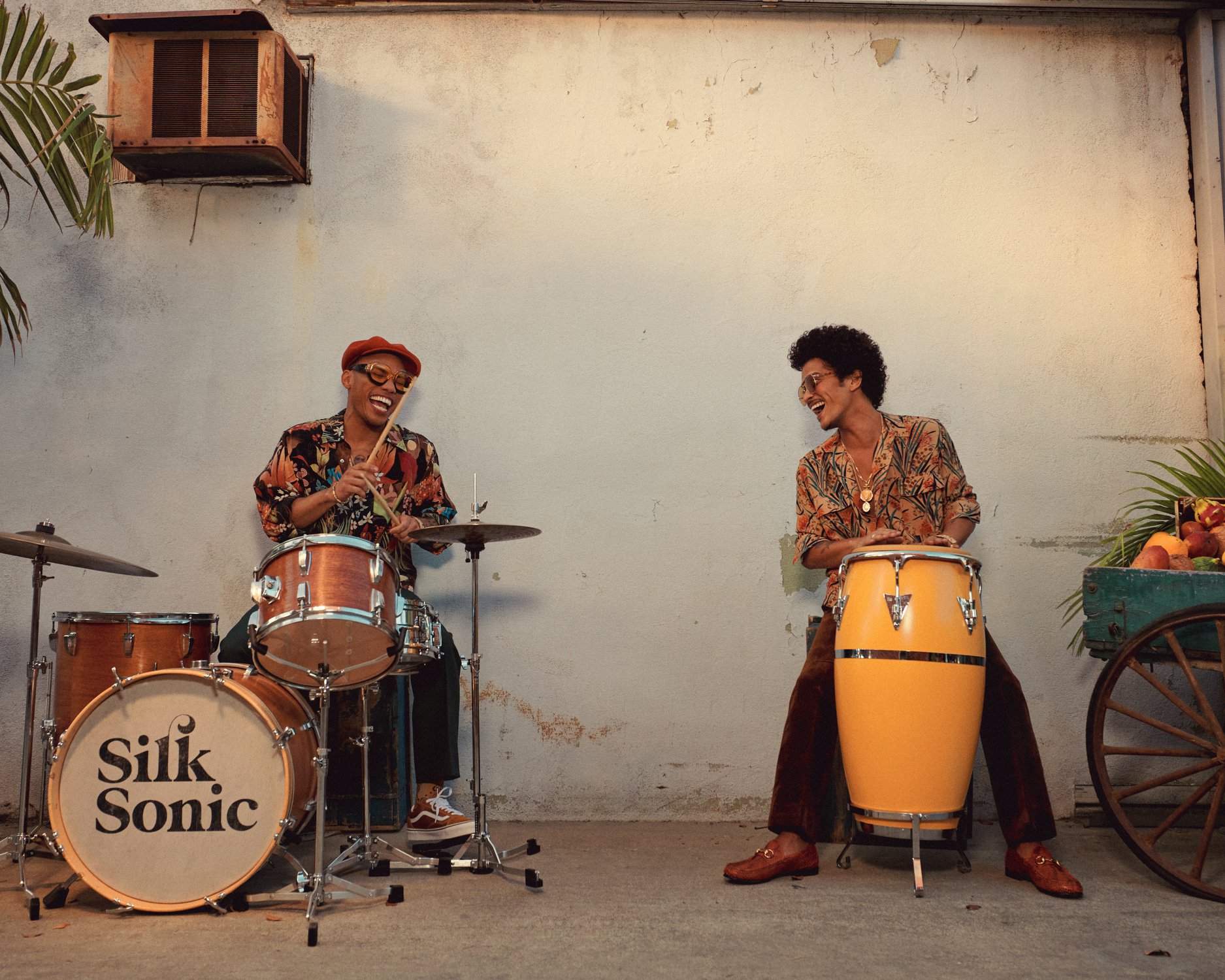 "Jibb talk" started it all with the idea of turning jokes into songs
"I was opening for the 24K Magic tour," .Paak recalls, "and a week in, we were in the studio." "Real quick!" Mars says. The friendship on tour translated into songs after tour. One of their reasons to collaborating was to take cherished backstage in-jokes "jibb talk" and make them into songs. .Paak explains, it's "BS with a smile — we just talk all day and do bits. But it's all from the heart, because we're writing from our experiences, from our relationships — it's rare that two men can come together and talk about love." 
Creating Silk Sonic became an escape
The passion project was created during the pandemic not only for the two artists, but try to bring joy to people. Mars says, "especially in times like the time we're in right now. For me? I know I wasn't listening to any depressing music. We're already in a weird spot…I want the escape!" Just like us, their busy schedules with performances, tours, and travel all just stopped. .Paak mentions he's not sure it would have happened if it wasn't for the pandemic. A project like Silk Sonic was their way to cope with things. With all the despair and chaos happening, they coped the only way they knew how and that's through music.
Mars and .Paak share gems in this piece like any good song can bring people together and Silk Sonic has been doing that during this crazy time. We all get excited when there's new music coming or a surprise drop like Skate because it becomes our escape even for just three minutes and twenty-four seconds. Mars acknowledges their role as entertainers, "if it makes us feel good, and resonates with us, that's gonna be infectious and make other people feel good — and that's our jobs as entertainers." 
Cover Photo Credit: Silk Sonic Facebook
When Bruno Mars and Anderson .Paak teamed up together to form the band, Silk Sonic, it's like saying "Avengers, assemble!" Don't mind us, we'll wait for you to name a better duo. So when the surprise post from the artists came out early this week, social media exploded in excitement. Based on the cover art, get ready to groove to a funky, smooth track with Leave the Door Open.
It's been 5 years since Bruno Mars released 24K Magic (2016) and 2 years since .Paak's Ventura (2019) album. March 5th couldn't come sooner for the first released track, but the wait is finally over as the song is out now!
We can expect to see more from Silk Sonic as there's an entire album coming our way. This goes without saying, there's probably no better duo right now in the game. With legendary Bootsy Collins on the roster, the album is going to have hits after hits. They're keeping all of us on our toes for the full release of An Evening with Silk Sonic.
Cover Photo Credit: Bruno Mars Facebook