Filipina R&B artist Kiana V continues her international crossover with a memorable trip to New York City to see her Spotify billboard in Times Square New York. Watch a recap of her trip that included a special dinner with friends to celebrate her journey at Tsismis NYC. Watch her journey here on the MYX original, The Crossover.
ABOUT KIANA V: @kianavee
Kiana V is an R&B artist from Manila, currently based in Los Angeles. The successful release of her single "Does Show Know" in 2017 with currently 11M streams, debut EP "Grey" in 2018, "See Me" album in 2019, singles including "Corners" in 2020 - and live performances throughout Southeast Asia has paved the way to her latest sound. The release of "Safe Place" in 2020 with Tarsier Records and 88Rising has generated over 1M streams and views on its music video, and continues to gain new listeners globally. Kiana has been featured on COMPLEX, Power 106 LA, SPIN, Forbes, Earmilk, Acclaim Australia, HYPEBAE, PAPER, American Songwriter, NME, to name a few. She was awarded the People's Choice Award for Best Female Performance at the 33rd Awit Awards last year, and featured on Grammy.com for the release. Kiana was recently nominated for the 2021 Myx Awards for "Mellow Video of the Year."
ABOUT The Crossover:
The Crossover highlights the journey of popular artists crossing over to new, international markets for the first time like Inigo Pascual, Kiana V. KZ Tandingan, Moira Dela Torre & more.
Recently, we've been hearing Zack Tabudlo everywhere from collaborations, dance challenges, and artsy videos. Now, he's topping the Billboard charts with his music in the new "Hits of the World: Philippines" listing. It's a weekly chart that ranks the top 25 songs in each country, based on streaming and digital sales and he landed four spots.
The top spot is "Pano" with the Tiktok dance craze, "Habang Buhay" following right behind it in second. The top hit ballad, "Binibini" takes No.13 and "Nangangamba" ranks at No.18. If you haven't checked out these tracks yet, catch the episodic music videos below!
The singer-songwriter has also released new tracks with James Reid, "Hatdog" and Moira dela Torre, "Iba." With new music out, Zack is taking his music on the road as he's performing on the main Jubilee stage at the Expo 2020 Dubai, February 20. Also slated to be at the Expo is Ben&Ben. If you're in the U.S., Zack is touring with December Avenue this May! Grab your tickets while they're available!
Cover Photo Credit: Zack Tabudlo Twitter
Olivia Rodrigo is having the best debut in her music career anyone could ask for. First, she's Times' Entertainer of the Year and now Billboard names her Woman of the Year. Also worth a mention is that Olivia is the first Asian-American to receive this title. The young Fil-Am artist along with Saweetie are receiving awards by Billboard recognizing their impact in music.
This all leads up to the awards show on March 2nd at Youtube Theater in Los Angeles, hosted by Ciara. Both Olivia Rodrigo and Saweetie are set to perform and accept their awards. For the first time, the event is allowing the public to join in on the fun. Fans can grab tickets and cheer on their favorite artists! More details about the event like presenters and additional performers will be announced soon so be sure to keep an eye out!
The Billboard Women in Music Awards celebrates and recognizes music's rising and A-list stars, creators, producers and executives for their contributions to the music industry and community. Check out the honorees for this year's list.
Olivia Rodrigo will perform and receive the Woman of the Year Award.
Gabby Barrett will perform and receive the Rising Star Award presented by Honda. 
Phoebe Bridgers will perform and receive the Trailblazer Award. 
Doja Cat will perform and receive the Powerhouse Award. 
Golnar Khosrowshahi (Founder & CEO of Reservoir Media) will receive the Executive of the Year Award. 
Karol G will perform and receive the Rule Breaker Award. 
Bonnie Raitt will perform and receive the Icon Award. 
Saweetie will perform and receive the Game Changer Award. 
Summer Walker will perform and receive the Chartbreaker Award. 
Cover Photo Credit: Billboard Twitter
SB19 continues to break barriers and make noise for P-Pop and Filipinos in music in general with their 6th week at the top spot for Billboard's latest "Hot Trending Songs Chart." The latest chart debuted in October of 2021, with BTS hitting the top spot with their song Butter also for 6 weeks. This means that SB19's Bazinga is now tied for that record and is continuing on strong to break it in the following chart release.
The chart is powered by Twitter and tracks global music trends and conversations. During the weeks of January 7th to the 14th alone, Twitter tracked Bazinga to 4.2 million mentions. The track has continued to keep up its momentum with timely viral performance videos from SB19. The latest is their performance of their hit track at the Round Festival.
Cover Photo Courtesy of SB19 Facebook
"Bazinga" is continuing to make its mark on the Billboard #HotTrendingSongs weekly chart, and the music video has hit over 2.3 million views! Additionally, SB19's single off the album, Pagsibol, made its way to the top of the charts this week thanks to A'Tin, whose hard work continues to make noise by sharing the track with the world.
A few weeks back, they were sitting at the #9 spot and the progression to #1 continued, and now they are at the top! Congrats SB19!
Up next, the P-pop group is looking to get their music video for Bazinga to 3 million soon, so A'Tin keep that momentum going. Also, if you missed their recent concert on KTX, don't worry because there will be a replay soon. See details below.
Cover Photo Credit: SB19 Facebook
After 2 years since her last visit, Kiana V touched down in the Big Apple and announced her selection as Spotify EQUAL Philippines's Artist of the Month! To celebrate the announcement, Kiana V was featured on Spotify's NYC Times Square billboard. The audio industry is not an equitable space: only 1 in 5 artists are women, according to the 2020 Annenberg study so this is monumental. Kiana V will continue to take fans behind the scenes with her travels to see the billboard, perform at Harlem Nights, and across the country in the MYX original series documenting her musical journey, called "The Crossover." The docuseries TV show will air globally on linear TV, MYX.GLOBAL digital and @myxglobal social platforms. You can watch previous episode clips here.
After 2 years since her last visit, Kiana V touched down in the Big Apple and announced her selection as Spotify EQUAL Philippines's Artist of the Month. To celebrate the announcement, Kiana V was featured on Spotify's NYC Times Square billboard. This is monumental as only 1 in 5 artists in the audio industry are women.  Kiana V will continue to take fans behind the scenes with her travels to see her billboard, perform at Harlem Nights and across the country in the MYX original series documenting her musical journey, called "The Crossover." The docuseries TV show will air globally on linear TV, MYX.GLOBAL digital and @myxglobal social platforms.
Kiana recently shared her 5-track EP Dazed. The daughter of the Philippines' most celebrated musician, Gary Valenciano, music has always been a force in Kiana's life. The Filipina singer/songwriter has already made a name for herself in the Philippines from the success of her collaboration with fellow Filipino artist Curtismith on "Does She Know," and is poised to bring her R&B/Soul sound to the rest of the world.
2016 ushered in the Kiana we see now - a fully-formed, independent woman of color not afraid to use her voice - beginning with her debut single "Circles." Her latest track "Safe Place," was released via Tarsier Records and 88Rising. Grammy.com also named her as an artist pushing Filipino music to the forefront.
Now splitting her time between Los Angeles and Manila, Kiana still holds close to her roots. Her father continues to be a source of inspiration in her career, and collaborates with those who know her best. Her go-to photographer is childhood friend, DJ Magbanua who shot photos for her "Dazed" EP. Jesse Barrera, the co-producer of the EP, is a Filipino-American who's worked with other Filipino musicians including Jeff Bernat, AJ Rafael, and Jeremy Passion. These are the people who know and understand Kiana best, and who have seamlessly been able to tell the "Dazed" story. "It's a soft exploration of how self-love affects the love we are able to give to others," Kiana says of the EP. 
The EP's title track "Dazed" is a contemplative number about being overwhelmed by your inner thoughts. Kiana's feather light voice dances over a luxurious yet wispy synth soundscape that slowly builds over the track's four minute run-time until it reaches a climax of crushing emotionality with Kiana proclaiming, "Set me free."
"How Do I" opens with a cascade of Kiana's honeyed oo's and aah's and the sound of rushing water that effortlessly pulls you in. "If I can't love myself, how do I love you?" Kiana entreats on the wall of sound chorus. Kiana explains, "it focuses on the need to confront things within before being able to pour anything out."
The EP's focus track "Better" is a song about personal salvation and for Kiana, she morphs heartbreak into a newfound confidence with the self-assured lyrics "I could do better." As Kiana reflects on the track, "It gives me a feeling of sweet, reckless abandon...it's an awakening to newfound courage."
On "Simple" Kiana distills love to its essence. Over blissed out synths and silky multi-tracked vocals, she croons "We don't hear the outside pressure / Break it down to simple pleasures." Here, Kiana's understated vocal dexterity really shines.
The EP closes with "Only You" which is a love song open to interpretation. Kiana intentionally left the meaning open-ended because it could be about love for oneself or for a partner. It follows Kiana's journey throughout the EP from self-doubt to clarity. "It can be about the moment everything falls into place," she shares. 
Kiana V is ready to take over and we're along for the ride. Make sure to keep up with all things Kiana V and stay tuned on MYX Global to see how her journey unfolds in The Crossover series.
SB-19 made history by being the first Philippines & Southeast Asian based artists to be nominated for a Billboard Music Award for "Top Social Artist" as announced on their social media today.
The group shares the category with huge social artists BTS, Blackpink, Ariana Grande, and Seventeen. It is also the first nomination for a Philippines based artist at the BBMAS.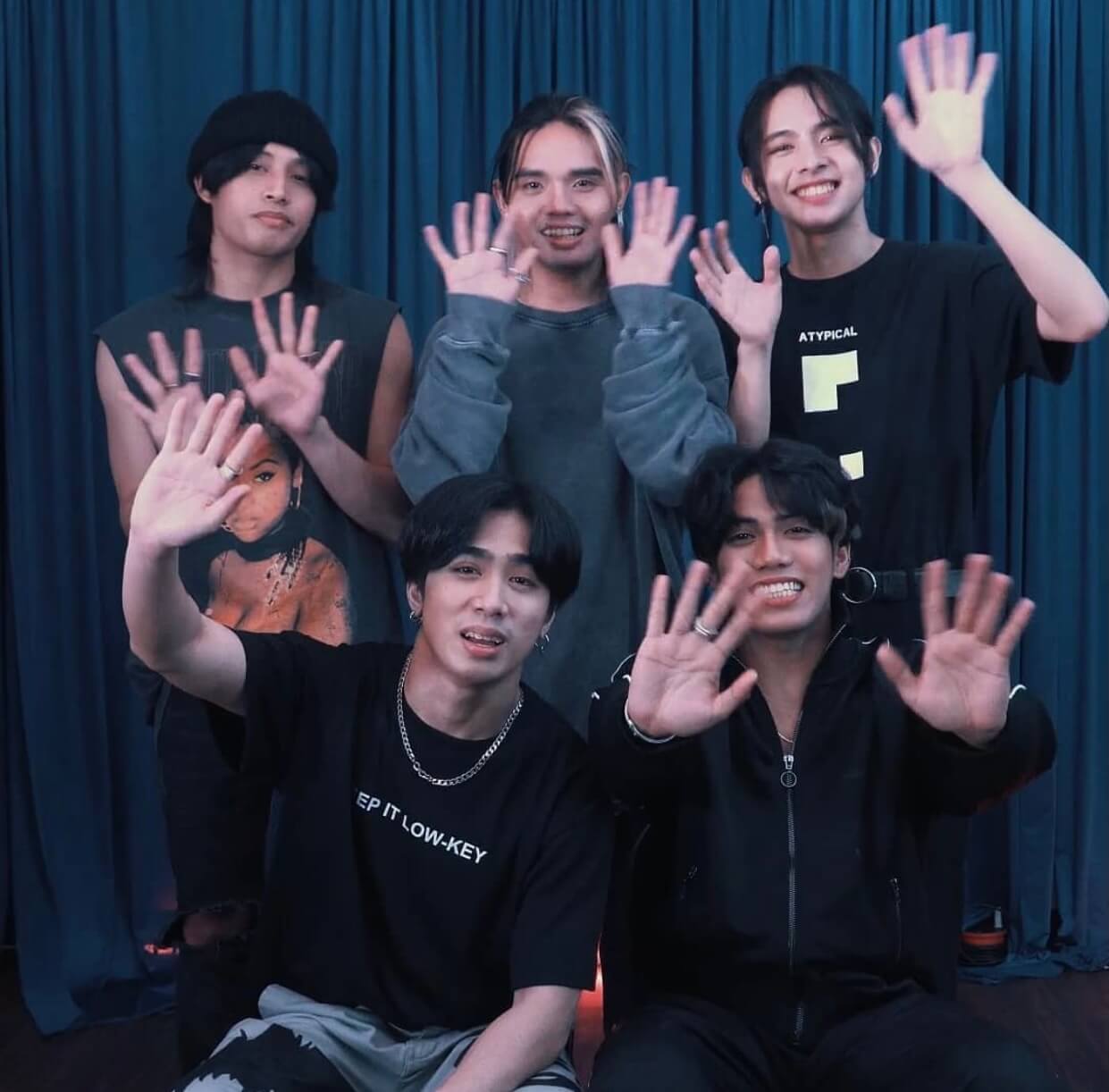 The group thanked their fandom, A'tin for their endless support to help them get there on their official Twitter account.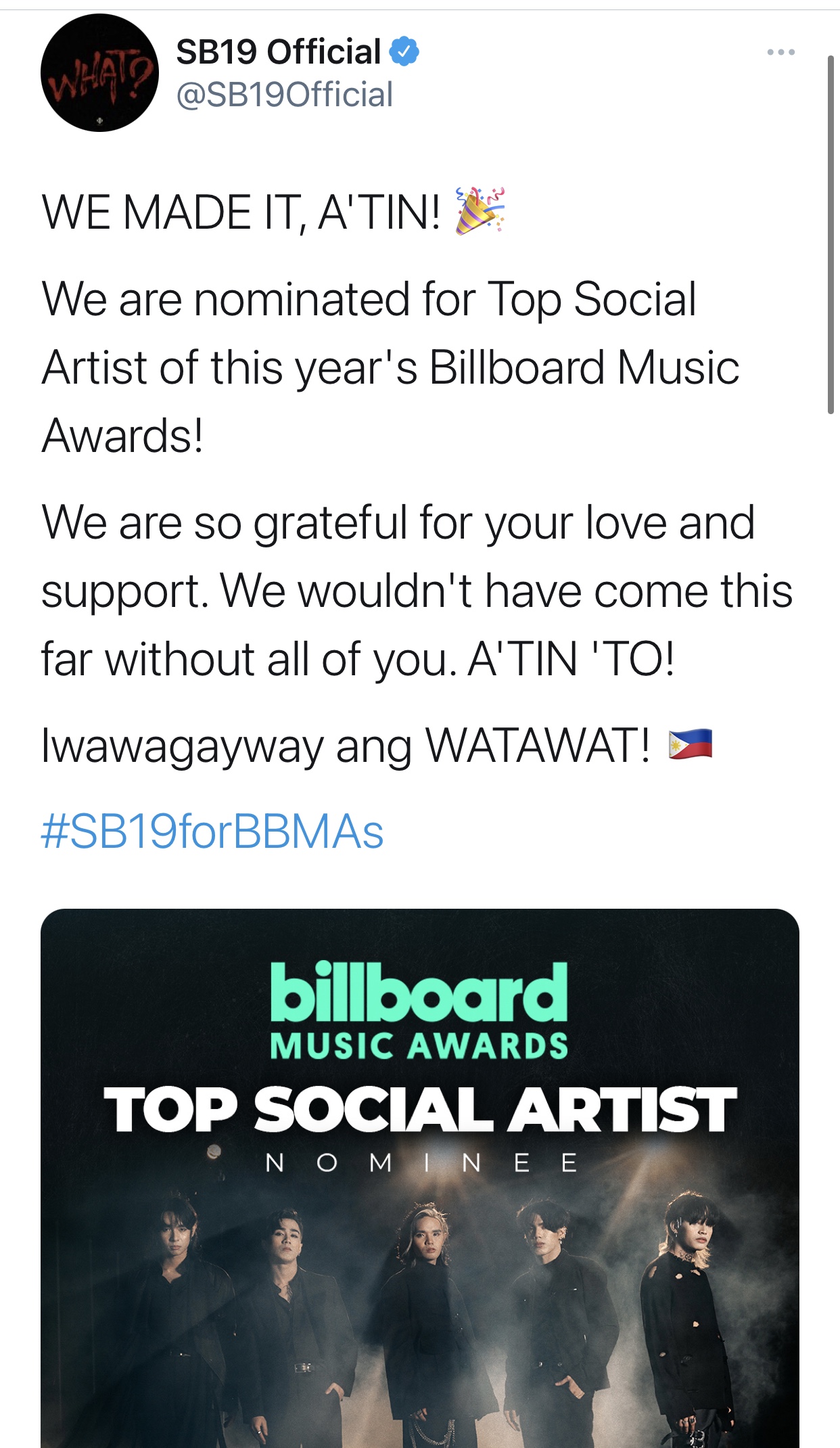 Watch the livestream of the announcement for all the categories here.
About SB-19:
SB19 is a five-member Filipino boy band who debuted in 2018 and consists of Josh, Pablo, Stell, Ken, and Justin. They are trained for three years by ShowBT Philippines since 2016. They are also the first Filipino group in Billboard's Next Big Sound chart as well as the first Southeast Asian act to enter the top 10 of Billboard Social 50 weekly and year-end charts. SB19 promotes its music as part of Pinoy pop (P-pop) a popular sub-genre of original Filipino music.
All week, Olivia Rodrigo has been teasing her newest single, Déjà Vu in a series of Instagram posts. Her debut single, Driver's License continues to be a certified hit. It's been on the Billboard Charts for 11 weeks and counting since its release in January. The excitement for this next single is real. It has everyone wondering, what's it going to be sound like or be about? She's feeding us cheeky posts and snippets of the upcoming music video.
"I think people are gonna get to see another aspect of my music and my songwriting. I'm super stoked and also really nervous".
She also teased an Instagram Live happening before the single releases to talk all things Déjà Vu. In an interview with MTV's Kevan Kenney, Olivia says the single isn't like Driver's License.
We'll get to see more of Olivia's personality in her music. She is a multifaceted artist and excited for people to get to know her. Déjà Vu is now available to stream everywhere. Be ready to head to the beach with Olivia's newest track and another song for your playlist.
Cover Photo Credit: Olivia Rodrigo Facebook
Cosmopolitan Magazine Tap In with Saweetie in this month's issue. The "multi-hypenate entrepreneur" has been at the top of Billboard Charts cracking the Top 20 on the Hot 100. She talks about grinding during her educational journey but also going through PTSD early in her career from some of the hate she received. She talks about the importance of being comfortable in your own skin and not having anyone dim your light.
Saweetie always felt underestimated as a woman of color. She's worked on owning who she is since her time at USC. "Yes, she's read the tweets...about pretty privilege, about the ways someone like her can use their looks as unearned currency". Her response to that is the debut album, Pretty B*tch Music where she can take back the time she was underestimated. Set to release this spring, the album is a chance to prove the haters wrong.
Besides being a rapper and content creator on the rise, Ate Icy's keeping busy. The feature says she's working on merch, more content, a jewelry line, a makeup collaboration with Morphe, and a PrettyLittleThing capsule collection. She also looks to spread the wealth through her nonprofit, The Icy Baby Foundation. The nonprofit started with her grandmother assists those in need like single-mothers, low-income communities, education efforts, and people living with autism.
Cover Photo Credit: Cosmopolitan Facebook
P-pop group (Pinoy-pop) SB 19 debuts their latest music video What. They are the first Filipino group in Billboard's Next Big Sound chart as well as the first Southeast Asian act to enter the top 10 of Billboard Social 50 weekly and year-end charts. The What music video goes hard and reflects more of a punk theme. The song mostly in Tagalog shares the K-pop sound, but shows off the dialect. They also didn't disappoint with their dance break segment and their outfits are on point.
This five-member group is taking not only OPM by storm but making their mark internationally. They sing, they dance, and they were trained by ShowBT Philippines for three years. Their vibe similarly resembles those of K-pop groups like BTS, EXO, Monsta X, and more. With the popularity of K-pop groups in the U.S., let us also continue to bring OPM to the mainstage.
Make sure to catch the track on al digital music platforms and ICYMI the guys from P-pop group SB19 joined MYX Global for their first international live-streamed video interview on kumu & Twitch.
Cover Photo Credit: SB19 Facebook
Drivers License continues to break records and top the charts since its release in early January. The song is currently in its third consecutive week at No. 1 on the Billboard Charts. Naturally Olivia Rodrigo is taking her debut single to the stage for its first live performance. *queue the red lights and stop signs* She performed the hit smash on the Tonight Show with Jimmy Fallon.
Jimmy Fallon and The Roots recently took their own spin and made a spoof on the song with a Sea Shanty twist. Both songs have been blowing up on TikTok so why not create a mashup. What do you think?
ABOUT OLIVIA RODRIGO
Olivia Rodrigo, 17 is from Temecula, CA and of Filipino descent. She's talked about her Filipina heritage on her father's side and traditions her family shares like making Filipino food. She began taking acting and singing classes since six years old. Then after acting in theater productions, she moved to Los Angeles when she landed her role on Disney Channel's Bizaardvark.