James Reid is going back on tour! Fresh off of the release of his "lovescene" album, the Careless CEO has announced a North American concert series spanning throughout the US and Canada. The singer/actor took to Instagram to reveal the news and shared the full list of upcoming tour dates.

The 2023 tour kicks off on Jan. 29 in Houston, Texas before concluding on Feb. 26 in West Hollywood, California. Reid will also be making pit stops in New Jersey, New York City, Chicago, Seattle, San Francisco, San Diego, Toronto, Winnipeg, Calgary, and Vancouver.

Fans interested in attending the "lovescene" tour can purchase tickets here.
Photo Courtesy of James Reid's Instagram
Filipino singer/songwriter James Reid has announced that he is dropping a new album! The 10-track project, titled "LOVESCENE" is slated to hit digital streaming platforms in October. The Careless Music CEO explained he originally intended the project to be a shorter EP, but switched up plans due to the amount of new material he's been cooking up.
James has been in Los Angeles working on new music and we're sure he's excited to share his new creative output with his fans worldwide. The "Hello" artist took to Instagram to share a message to his supporters, especially focusing on his fanbase in the Philippines.
We're excited for #LOVESCENE! Stay tuned for more James Reid news!
Photo Courtesy of James Reid's Instagram
Nadine Lustre was one of several female artists or creators featured, as part of Spotify's just-launched EQUAL Music Program.
The international campaign aims to "foster equity for women in audio," with the inaugural 35 women artists receiving playlist support and marketing, among others, according to Billboard.
On Spotify, the EQUAL Philippines playlist features Lustre on the cover. Among the performers included are Moira, Morissette, Sarah Geronimo, Regine Velasquez, KZ Tandingan, and Elha Nympha.
Lustre, 27, launched her visual album "Wildest Dreams" in October 2020, and has been actively promoting the passion project with performances and brand tie-ups.
Featured photo courtesy of @carelessph
Nadine Lustre, together with Careless, released a remixed version of her single "Wildest Dreams", the title track of her latest album.
Last October 2020, this album was accompanied by a 33-minute visual experience that featured 6 of the 12 tracks through music videos held together by a theatrical, empowering narrative with the original "Wildest Dreams" as the final track. Layered with elements of Philippine folklore, the complexities of stardom, nature, and the mystery of the universe, the entire video walks you through Nadine's self-reflections told in a cohesive and entrancing tale. This visual album successfully accumulated more than 1.5 million views not more than a week after it was released.
Entitled Wildest Dreams (The Sun Is Falling Remix), the remix overlays the original "Wildest Dreams" track's melancholic and dreamy tone with deep house and upbeat EDM elements. This crossover gives a dark yet high-spirited, electronic sparkle to the track, drawing listeners in with its hypnotic dance beats and dynamic melodic rearrangements.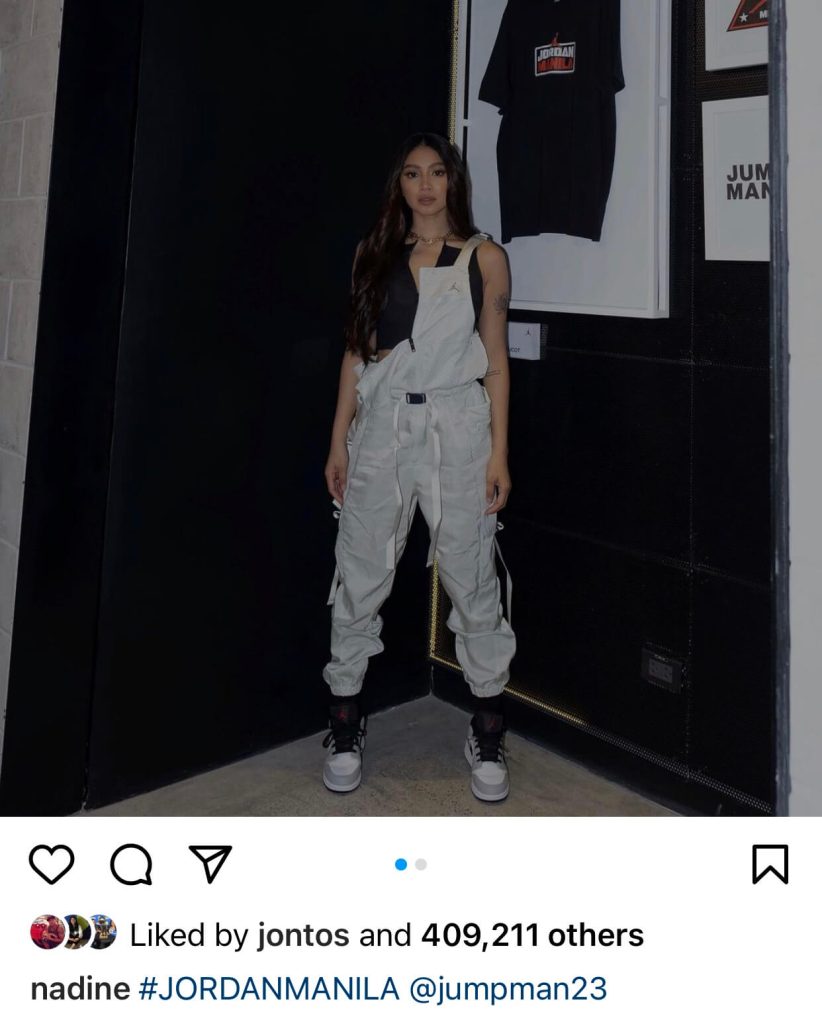 The remix is built as a dance track and to further support the song, Careless produced a live dance rendition video that will be released on February, 9, 2021. Combining their artistry, talent, and passion, it was performed by Nadine and internationally-renowned dance crew, A-Team, while shot at Jordan Manila, the Philippines' first-ever Jordan store.
Watch our Nadine MYX interview about her Wildest Dreams album here.
You can listen to it on Spotify, Apple Music, Deezer, and Tidal.
Link to Careless Music YouTube channel:

Rapper KINGwAw aka Bret Jackson from Manila dishes on exciting things coming up for him and his crew at Careless Music on myxCLUSIVE. He gives details not only about his upcoming album, but also hints at new music coming for James Reid and Nadine Lustre. Get to know KINGwAw in this exclusive interview with Dannieboi. They talk all things music, his journey in show business, and his plans after the pandemic.
Top 8 KINGwAw fun facts:
He got his start in showbiz 10 years ago on a reality show, Pinoy Big Brother (PBB)
He met musician and actor James Reid inside the house through a blind introduction…literally they were blindfolded. A decade later, they've joined forces to make music and form a record label what we know as Careless Music.

His younger years molded his musical tastes
The artist he'd like to meet if he could would be David Bowie. KINGwAw calls Bowie a true groundbreaking artist who combined music and art. Growing up, he went back and forth between two different worlds when staying with his dad and mom. His musical taste reflects the two worlds he lived in. The biggest influence came from rock n' roll and of course hip-hop.

KINGwAw's Top 3 favorite rappers spans through different decades
He first names the legendary Notorius B.I.G. because "Biggie was ahead of his time. He went deep into the psychological stuff." Then KINGwAw adds Kendrick Lamar because besides "all tracks he releases are …fire, he never puts out the same song twice." To round out the list, he names an upcoming rapper, Baby Keem who's credited on the Black Panther: The Album along with his cousin, Kendrick Lamar.

Forming Careless Music happened pretty organically
After the reality show ended, he started making music with James Reid and the goal was to make their own sound. With the release of the albums, "Palm Dreams" and "Island City Poems" the team wanted to grow the label, so they started looking across the Philippines for artists. Through the search they found two more artists, Massiah and AstroKidd. It all just clicked perfectly. Big things are coming up for the label, we can look forward to hearing new music from KINGwAw, James Reid, Massiah, and AstroKidd. He also tells Dannieboi that Careless music will be signing a well-known female artist soon! He dropped a hint that we may already be familiar with this artist, but we'll just have to wait and see who it is.

KINGwAw has been writing for other artists for a long time.
He didn't notice it at first as he was just focused on creating good music. The process begins with knowing the artists he produces for to bring out what they want to say in their music. He described his journey to be unconventional, "I never went to school for this, but I just create."

Nadine's visual album is the biggest project Careless Music has done
The album will mark Nadine's "new era." When working on Nadine Lustre's album, he's credited for producing or arranging 10-12 songs. He grew attached to the project because of how involved he became in the process and glad that Nadine trusted them with it.

He tells us to get ready for a crazy experience on October 31st.
People who have heard and seen the visual album can't believe it. By being a small team and independent label, he shares that putting out music themselves is a gamble, but it's worth it. "It's crazy to be doing big things with such a small team and we're contending with others who have power and pull (in the industry)." He credits the supporters for taking the journey with them and supporting all the Careless artists.

"It's not their goal to get on charts, but make good music"
Overall, he wants to create music that he would listen to. If other people like it too, that's a bonus. He explains to Dannieboi, "We just make the music and make things we vibe with, and hope others like it too."
Nadine Lustre returns with the reportedly title track to her upcoming album that will be released on Careless Music. Nadine worked on the alt-R&B track with her Careless Music labelmates – she co-wrote the lyrics with KINGwAw (aka Bret Jackson, also the label's co-founder) and Massiah (aka Haissam Morton).
KINGwAw will join us on myxCLUSIVES LIVE on KUMU & Twitch on 10/22, submit questions for him on social media using #kingwawmyxglobal.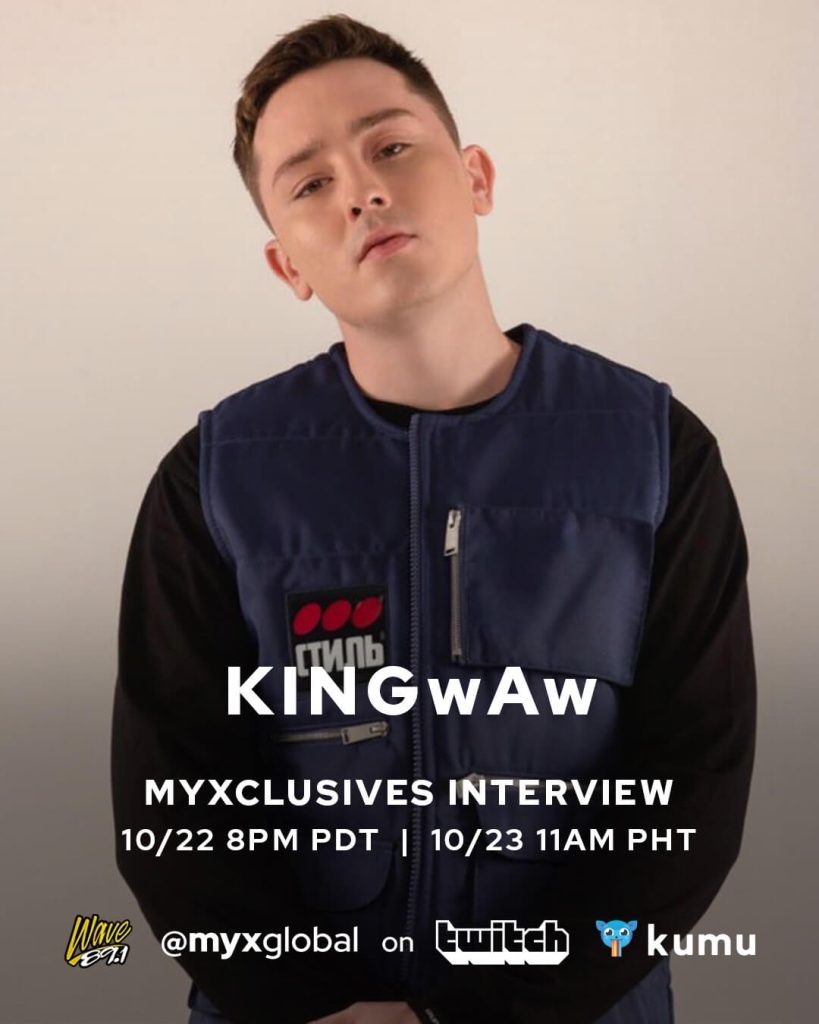 ABOUT NADINE:
Nadine Alexis Paguia Lustre (born October 31, 1993) is a Filipina actress, singer, and music video director. She is a former member of the all-female group Pop Girls. She appeared as Georgina Evangelista in the television remake of the 1984 film Bagets. She rose to fame after playing the lead role of Eya Rodriguez in the film adaptation of the popular wattpad novel Diary ng Panget (2014).
She is also known for her role as Leah Olivar in the popular television series On the Wings of Love (2015). Her other television appearances include another lead role in the romantic comedy Till I Met You (2016) and as a host of the noontime show It's Showtime.
In 2018, her performance as Joanne Candelaria in the romantic drama film Never Not Love You received critical acclaim and garnered her several awards such as the Young Critics Circle Best Performer award, the FAMAS Award for Best Actress, and the Gawad Urian for Best Actress.
In November 2019, Careless released another collaborative mixtape called The Island City Playlist. Lustre was featured in the track Headspace along with Curtismith, Massiah, and Billy Davis. She also collaborated in a track called No 32 with rapper Ruby Ibarra. In December 2020, Lustre officially signed a recording contract with Careless Music.
In October 2020, Lustre announced her first full-length album under Careless Music, entitled Wildest Dreams.