Careless Music, the independent label founded by James Reid made huge announcements today. Last MYX Global caught up with James and Careless A&R Bret Jackson (KINGwAw), they hinted the next signee is a she and has the letter E in their name. Today, we finally find out the newest Careless artist is upcoming artist Jolianne Salvado from Cebu, Philippines. However, Careless drops another surprise with a signee that diversifies the label as a talent management company. Also added to the roster are dance world champions, The A Team.
JOLIANNE
Jolianne who's currently 17, was a contestant on The Voice Kids Philippines in 2015. Since then, she's already opened for Air Supply, Michael Learns to Rock, and Stephen Bishop. Her R&B/Pop sound fits right in with Careless' vibe. With Jolianne's smooth riffs and silky sound, her debut single Sublime out on March 26th is sure to cater to the Careless Music fans. She'll not only be releasing a song, but also a music video.
Hoping to create music that resonate, Jolianne's Sublime is reminiscent of a soulful track that showcases her vocal talent. Besides her debut single under Careless Music, be on the look out for even more music coming this year.
THE A TEAM
The label then ventures out to turn "movement into poetry" with the addition of The A Team. They are leading the way in Philippines dance hip-hop as they've represented at the World Hip Hop Dance Championship in Las Vegas. The crew led by dance duo, Angelica and MJ Arda brought home gold in 2014 and named as Megacrew champions. The Ardas are "excited and hyped to embark on this new journey with Careless." With the crew's 10 year anniversary, they look to elevate dance in both the community and industry.
CARELESS MUSIC 2021 AT A GLANCE
Careless Music has more in store for 2021 from new music from their artists: Nadine, AstroKidd, Massiah, and James. The team is also expanding to visual art with the production company, The Finest. They look to break the norm and explore new possibilities using creative spaces.
Their projects so far has touched on various creative avenues for their artists. The goal is to continue their artistry and professionalism while expanding locally and globally. Careless Music has partnered up with Transparent Arts. Transparent Arts was founded by Far East Movement and collaborated with some of the biggest names in music. Another way for a global reach is with collaborations. We caught a glimpse of it with James' feature on Backhouse Ballin' with Vancouver R&B duo, Manila Grey.
A lot is on the horizon for Careless Music just wait and see. With new content set to release throughout the year, expect a new digital experience. On the lineup are live performances, livestreams, and digital concerts. Just like you we're along for the ride and ready to jump into the experience.
Cover Photo Credit: Careless Music Facebook
Nadine Lustre, together with Careless, released a remixed version of her single "Wildest Dreams", the title track of her latest album.
Last October 2020, this album was accompanied by a 33-minute visual experience that featured 6 of the 12 tracks through music videos held together by a theatrical, empowering narrative with the original "Wildest Dreams" as the final track. Layered with elements of Philippine folklore, the complexities of stardom, nature, and the mystery of the universe, the entire video walks you through Nadine's self-reflections told in a cohesive and entrancing tale. This visual album successfully accumulated more than 1.5 million views not more than a week after it was released.
Entitled Wildest Dreams (The Sun Is Falling Remix), the remix overlays the original "Wildest Dreams" track's melancholic and dreamy tone with deep house and upbeat EDM elements. This crossover gives a dark yet high-spirited, electronic sparkle to the track, drawing listeners in with its hypnotic dance beats and dynamic melodic rearrangements.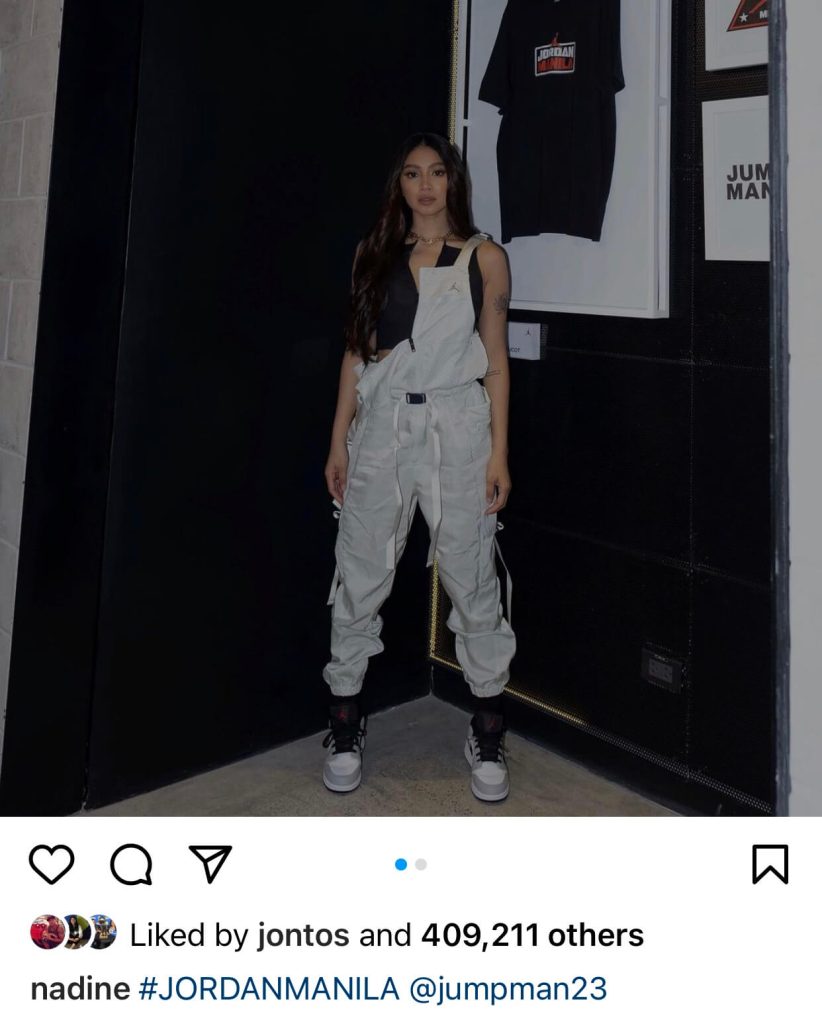 The remix is built as a dance track and to further support the song, Careless produced a live dance rendition video that will be released on February, 9, 2021. Combining their artistry, talent, and passion, it was performed by Nadine and internationally-renowned dance crew, A-Team, while shot at Jordan Manila, the Philippines' first-ever Jordan store.
Watch our Nadine MYX interview about her Wildest Dreams album here.
You can listen to it on Spotify, Apple Music, Deezer, and Tidal.
Link to Careless Music YouTube channel:

Artist and actor James Reid kicks off the year with a new single, Soda. The groovy track will have you placing it on your driving playlist ready to vibe along anytime. The track released by his own independent label, Careless Music explores the nonlinear journey we've all experienced the past year. The song has been hitting the top of the charts in the Philippines. He hopes that Soda along with soon to be released tracks will show people a different side of him. Dannieboi chats with him to talk more about music and asks your myxer questions!
Although James mentions that the title, Soda doesn't have anything to do with the lyrics it relates more with the sound. The track created last November then recorded in December, James says the "title came before the lyrics." Soda was the name of the beat then they ran with it. He wanted to incorporate things he grew up with while mixing his own style into the track.
However, the meaning behind the lyrics may not be as straightforward. While creating the track with Bret Jackson and producer Isagani Palabyab, Soda looks at rolling with the punches. It talks about the ups and downs while seeing how situations affect people differently.
While Soda might not be part of an album, we can hold out that an album is in the works. However, the surprises aren't over yet. A visualizer is coming out this Saturday, 2/6 on Careless Music's Youtube channel for the track. The visualizer isn't a music video, it's more of 3D art of the cover but a music video is coming too! Before we can experience a full-length album, expect to be hear more singles on the way. James explains that he's looking to play around with styles and just create before putting an album out. He also enjoys the feedback from fans as he experiments with his music.
After chatting music, Dannieboi then turns to the myxers to ask James' a few questions:
What are you grateful for in the past year?

James first mentions he's grateful for the support of his friends and family. Going independent is a daunting journey, but "I'm surrounded by talented people who are ambitious and want to make a difference. They look to place their mark on the world." Secondly, he's thankful for the fans. It's been a while since his last project, but fans have been supporting the track since its release.
2. What do you hope listeners get out of the track?

Honestly he tells us that hee didn't think too much about it. "I want people to get to know me better and how my mind works." A lot of the song is being introspective. It's the feeling of peace and knowing that we are where we're supposed to be right now.
3. Is there another compilation album for Careless? Vol. 2?

Before another Careless Mixtape, the team would like all artists to release their own catalog first. Everyone has their own sound and when a collab happens, they want to create a fusion of music.
4. Are there any live events coming soon?

James hints that there will be more digital live events and performances from Careless Music. In the meantime, look out for Nadine's online concert for her visual album, Wildest Dreams, which will include collaborations and remixes.
If you're curious about the other myxer questions James answered like who their next signee will be, you'll just have to watch to find out. Before heading out, James teases there will be merch for Soda and promises to release a lot more bangers!
Cover Photo Credit: Careless Music Manila Facebook
White Rabbit from Nadine Lustre's Wildest Dreams album features up and coming rapper Massiah. It's impossible not to feel the beat so you'll find yourself vogueing along too. Although the music video is from the visual album, it's great on its own. Who else is getting Alice in Wonderland vibes? Nadine recently premiered it in the United States at the kollectivehustle.com launch LIVE on @myxglobal kumu.
There's lots of easter eggs in this video along with the rest of the visual album so let us know what are some you found!
Download / stream here
Rapper KINGwAw aka Bret Jackson from Manila dishes on exciting things coming up for him and his crew at Careless Music on myxCLUSIVE. He gives details not only about his upcoming album, but also hints at new music coming for James Reid and Nadine Lustre. Get to know KINGwAw in this exclusive interview with Dannieboi. They talk all things music, his journey in show business, and his plans after the pandemic.
Top 8 KINGwAw fun facts:
He got his start in showbiz 10 years ago on a reality show, Pinoy Big Brother (PBB)
He met musician and actor James Reid inside the house through a blind introduction…literally they were blindfolded. A decade later, they've joined forces to make music and form a record label what we know as Careless Music.

His younger years molded his musical tastes
The artist he'd like to meet if he could would be David Bowie. KINGwAw calls Bowie a true groundbreaking artist who combined music and art. Growing up, he went back and forth between two different worlds when staying with his dad and mom. His musical taste reflects the two worlds he lived in. The biggest influence came from rock n' roll and of course hip-hop.

KINGwAw's Top 3 favorite rappers spans through different decades
He first names the legendary Notorius B.I.G. because "Biggie was ahead of his time. He went deep into the psychological stuff." Then KINGwAw adds Kendrick Lamar because besides "all tracks he releases are …fire, he never puts out the same song twice." To round out the list, he names an upcoming rapper, Baby Keem who's credited on the Black Panther: The Album along with his cousin, Kendrick Lamar.

Forming Careless Music happened pretty organically
After the reality show ended, he started making music with James Reid and the goal was to make their own sound. With the release of the albums, "Palm Dreams" and "Island City Poems" the team wanted to grow the label, so they started looking across the Philippines for artists. Through the search they found two more artists, Massiah and AstroKidd. It all just clicked perfectly. Big things are coming up for the label, we can look forward to hearing new music from KINGwAw, James Reid, Massiah, and AstroKidd. He also tells Dannieboi that Careless music will be signing a well-known female artist soon! He dropped a hint that we may already be familiar with this artist, but we'll just have to wait and see who it is.

KINGwAw has been writing for other artists for a long time.
He didn't notice it at first as he was just focused on creating good music. The process begins with knowing the artists he produces for to bring out what they want to say in their music. He described his journey to be unconventional, "I never went to school for this, but I just create."

Nadine's visual album is the biggest project Careless Music has done
The album will mark Nadine's "new era." When working on Nadine Lustre's album, he's credited for producing or arranging 10-12 songs. He grew attached to the project because of how involved he became in the process and glad that Nadine trusted them with it.

He tells us to get ready for a crazy experience on October 31st.
People who have heard and seen the visual album can't believe it. By being a small team and independent label, he shares that putting out music themselves is a gamble, but it's worth it. "It's crazy to be doing big things with such a small team and we're contending with others who have power and pull (in the industry)." He credits the supporters for taking the journey with them and supporting all the Careless artists.

"It's not their goal to get on charts, but make good music"
Overall, he wants to create music that he would listen to. If other people like it too, that's a bonus. He explains to Dannieboi, "We just make the music and make things we vibe with, and hope others like it too."
Nadine Lustre returns with the reportedly title track to her upcoming album that will be released on Careless Music. Nadine worked on the alt-R&B track with her Careless Music labelmates – she co-wrote the lyrics with KINGwAw (aka Bret Jackson, also the label's co-founder) and Massiah (aka Haissam Morton).
KINGwAw will join us on myxCLUSIVES LIVE on KUMU & Twitch on 10/22, submit questions for him on social media using #kingwawmyxglobal.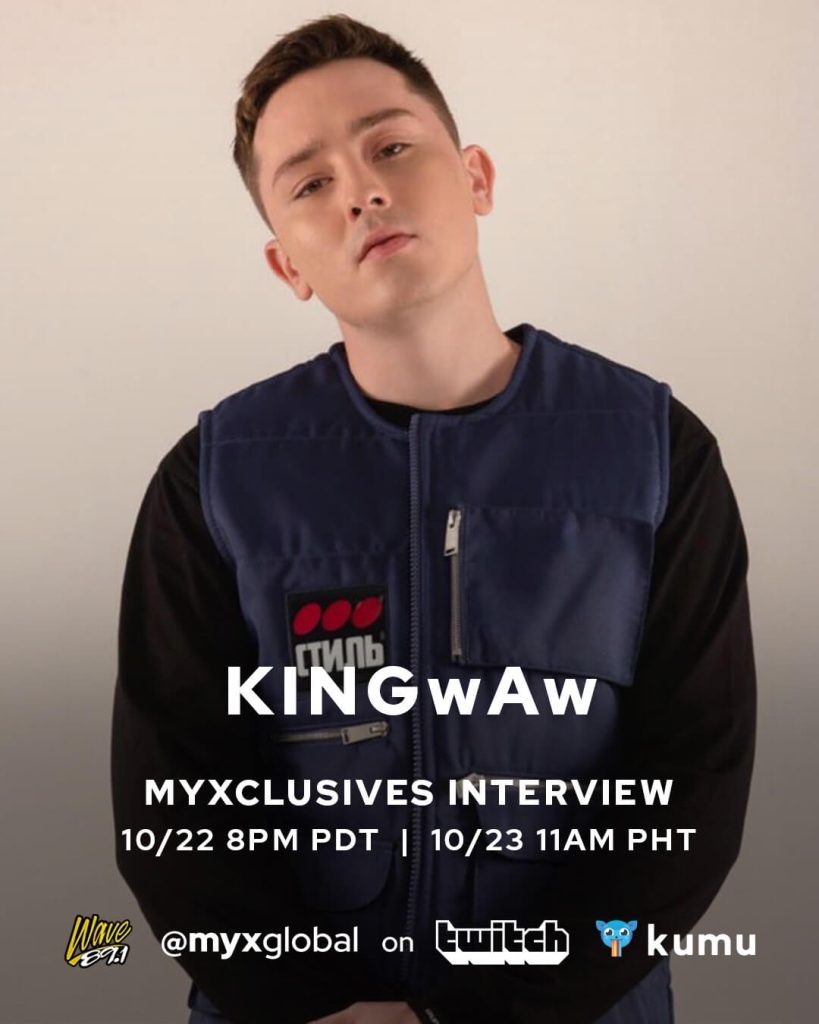 ABOUT NADINE:
Nadine Alexis Paguia Lustre (born October 31, 1993) is a Filipina actress, singer, and music video director. She is a former member of the all-female group Pop Girls. She appeared as Georgina Evangelista in the television remake of the 1984 film Bagets. She rose to fame after playing the lead role of Eya Rodriguez in the film adaptation of the popular wattpad novel Diary ng Panget (2014).
She is also known for her role as Leah Olivar in the popular television series On the Wings of Love (2015). Her other television appearances include another lead role in the romantic comedy Till I Met You (2016) and as a host of the noontime show It's Showtime.
In 2018, her performance as Joanne Candelaria in the romantic drama film Never Not Love You received critical acclaim and garnered her several awards such as the Young Critics Circle Best Performer award, the FAMAS Award for Best Actress, and the Gawad Urian for Best Actress.
In November 2019, Careless released another collaborative mixtape called The Island City Playlist. Lustre was featured in the track Headspace along with Curtismith, Massiah, and Billy Davis. She also collaborated in a track called No 32 with rapper Ruby Ibarra. In December 2020, Lustre officially signed a recording contract with Careless Music.
In October 2020, Lustre announced her first full-length album under Careless Music, entitled Wildest Dreams.