Many dream about becoming a Disney Princess and seeing themselves represented on screen. Recently, Filipina-American artist H.E.R. made that dream come true. The Bay area native is one of the music industry's most celebrated and accomplished singer-songwriters. Now, she can add another bullet to her resume as Disney's latest Belle. She expressed her excitement about what this role means not only for her but also for the community. "It's crazy! I can't believe it, honestly. I can't believe that I've come this far and that I have the impact that I have," H.E.R. told Philstar.com in an exclusive interview about being the first Afro-Filipino Disney princess in the new live-action hybrid 30th-celebration special of the Disney classic Beauty and the Beast.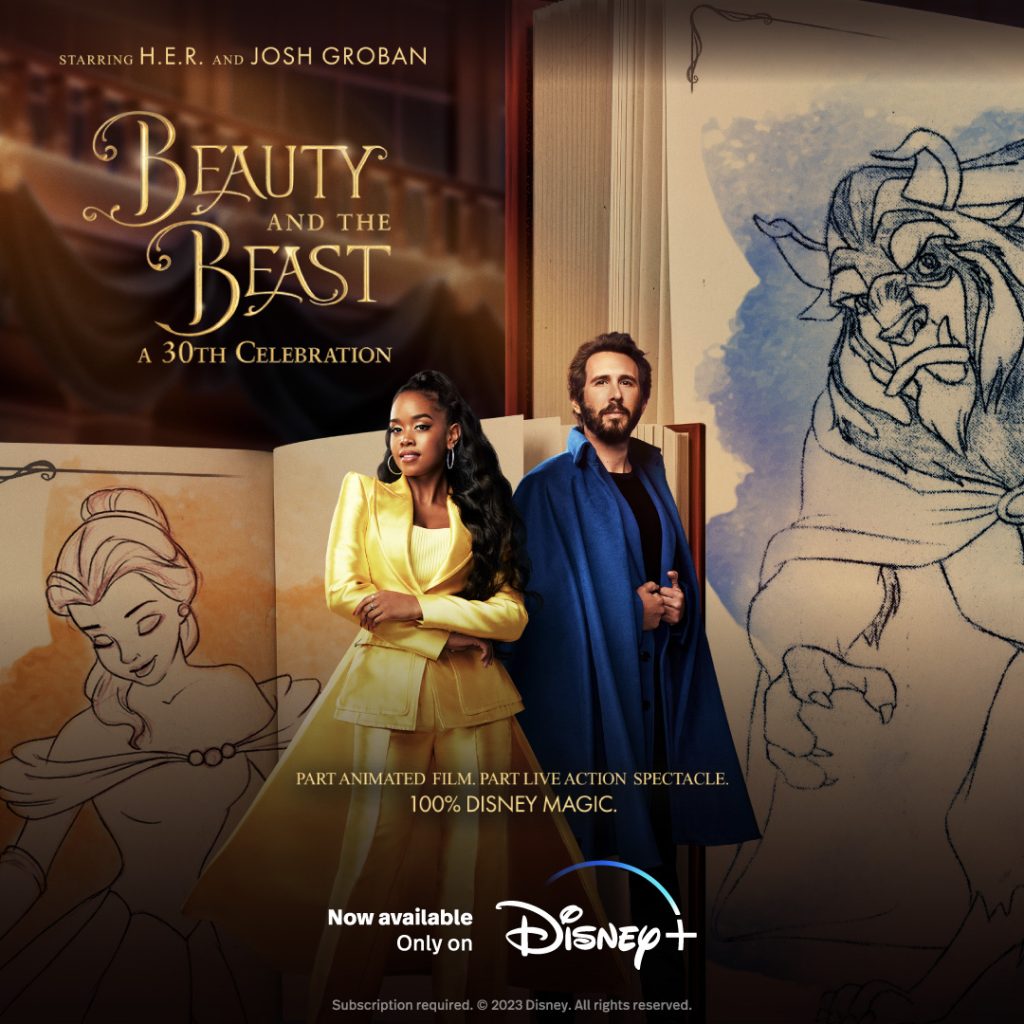 Viewers can catch subtle elements of H.E.R.'s Filipino roots during the live-action musical. The apron worn in character includes a Philippine script called "Baybayin," which spelled out "Belle" in the ancient dialect. Also, Belle's father, Maurice, was played by fellow Fil-Am actor Jon Jon Briones. Lastly, H.E.R. included the go-getter attitude exhibited by many Filipinos in her character.
The multi-hyphenate artist not only showcased her vocals during the production but also her acting and guitar talents. In a rendition of one of the most popular Disney tunes, "Beauty and the Beast," accompanied by the Beast himself, played by Josh Groban, she added her own flavor to the song by including a guitar solo. Overall, H.E.R. shares how happy she is with the outcome of the production, "I feel like I've always had that in me. I'm just really grateful, and I'm so happy on how it turned out."
H.E.R. also traveled to Manila for an ABS-CBN Global and MYX-hosted event that took place in late December at the Sheraton Manila Hotel. It was attended by partners, personalities from the music industry, and the country's leading entertainment press.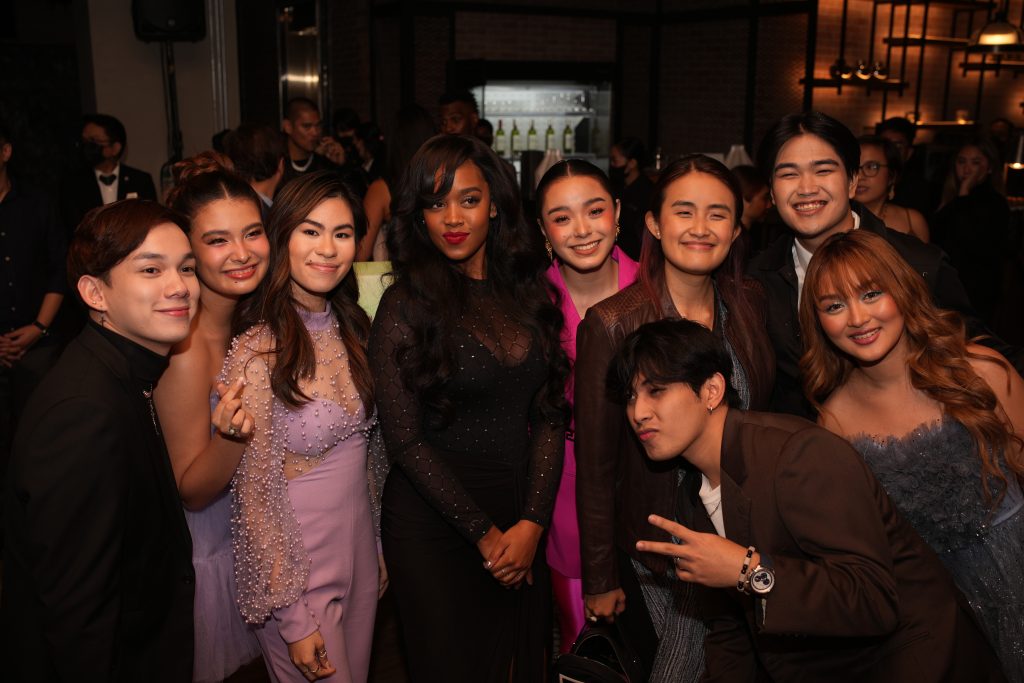 H.E.R. met with fellow artists from Star Music and local Filipino artists. This crossover between local and global artists is monumental as Filipinos continue to share their talents with the world.
With 25 GRAMMY nominations and five wins to date, H.E.R. has had an incredible journey, punctuated with inspiring projects and accolades that have ascended her to superstar status. In 2021, her powerful song "Fight For You" from the Warner Bros. Pictures film Judas and the Black Messiah won the Academy Award for Best Original Song.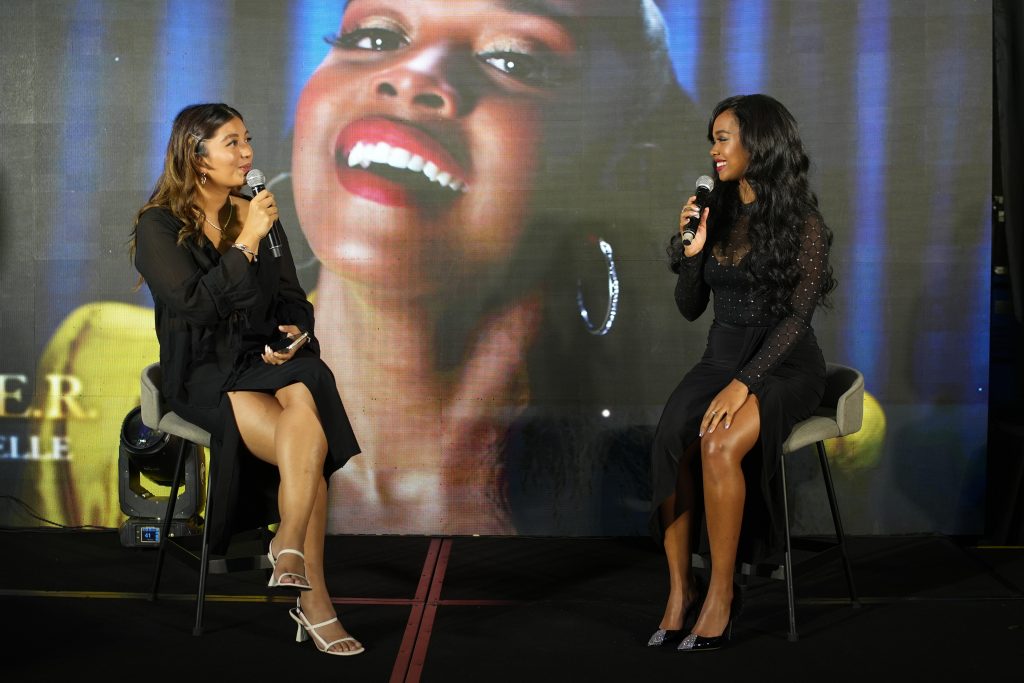 You can now catch H.E.R. as Belle in Disney's reimagined and reinvented part-live action, part-animated "Beauty and the Beast: A 30th Celebration" which is now available to stream only on Disney+.
Bailey Munoz aka Bailrok is having an eventful holiday season! The SYTYCD winner is taking his moves to Disney+ on the new holiday special, The Hip Hop Nutcracker. He along with a handful of other talented artists and dancers like D-Trix took the stage and put a modern twist to the favorite classic. Make sure to tune in and get your holiday spirit going!
RUN DMC's Rev Run brings us along for a hip-hop reimagining of The Nutcracker ballet set in New York City. It's the night of the annual New Year's Eve Block Party and Maria-Clara's (Caché Melvin) Mom and Pop (Allison Holker Boss and Stephen "tWitch" Boss) aren't getting along — and it's bringing her down. Maria-Clara embarks on a holiday adventure to bring her parents back together, finding help along the way from the magical toymaker, Drosselmeyer (Comfort Fedoke), and the Nutcracker (Du-Shant "Fik-shun" Stegall) who she brings to life. Maria-Clara's journey takes her from the streets of New York to fantasy worlds where she battles with Mice and Toy Soldiers (Viktor White, BDash, Kevin "Konkrete" Davis), and back in time to the Land of Sweets in order to find the key to unlock her holiday wish. Will it be enough to rekindle her parents' lost love before the clock strikes midnight? Featuring best-in-class dancers Mikhail Baryshnikov, Tiler Peck, KidaTheGreat AKA Kida Burns, the Jabbawockeez as magical snowflakes, and more. The Disney+ Original special "The Hip Hop Nutcracker" is inspired by the live stage phenomenon, created by Jennifer Weber, touring America this holiday season.
Cover Photo Credit: Bailrok Instagram
Disney+ has officially launched in the Philippines! In addition to collaborating with Morissette to announce the streaming platform, Disney Philippines has another awesome surprise for Filipino music fans. Disney just dropped six Filipino versions of songs from its critically acclaimed animated musical film Encanto.

Disney Music Asia shared the new renditions of the tracks on their official YouTube channel. The songs include: "Ang Pamilya Madrigal" ("The Family Madrigal"), "Wag Ikuwento Si Bruno" ("We Don't Talk About Bruno"), "Ano Pang Kaya Ko?" ("What Else Can I Do?"), "Nas'an Ang Milagro Ko" ('Waiting On A Miracle'), "Pag Nagigipit" ("Surface Pressure"), and "Kayo" ("All Of You"). Special shout out to the Filipino vocalists involved with this project: Leia, Owen Caling, Cornelius Bascara, Kenz Ancero, Andrei Ayson, Chi Dato Bocobo, Rowena Raganit, Cathy Go and more!

Disney+ subscriptions are available now in the Philippines for PHP 159 (monthly) or PHP 1,150 (annually.) Check out the Filipino Encanto songs below!


Huge congratulations are in order to Fil-Am actor Eugene Coredero as he was upped to a series regular for the Disney+ series, Loki. The timey-wimey series starring Tom Hiddleston, Cordero plays the Time Variance Authority employee "Casey" and is set to reprise his role in Season 2.
The Easter Sunday actor brought some comic relief to the series with his confusion of what a fish is and how he uses the powerful infinity stones as office paperweights. A twist at the end of the season is how another variant of himself is shown as "Hunter K-5E" and not his original TVA character.
Eguene Cordero also stars in Broken Lizard's TruTV series Tacoma FD with credits also as "Stokez' in the Disney+ series The Mandalorian, NBC's The Good Place, the Focus Features' dramedy The High Note, and more! Can't wait to see what twists come in Season 2.
Cover Photo Credit: Culture Crave Twitter
The Wildcats are heading to camp in the official trailer for Season 3 of High School Musical The Musical the Series! Get a glimpse of the camp shenanigans happening soon and a snippet of songs from Frozen and Camp Rock. Olivia Rodrigo is set to reprise her role is Nini, however she is scaling back as a recurring character.
We catch a glimpse of what Nini's up to this season that may lead to something big. All we know for now is Nini continues to create music and she's ready to take the next step. Olivia's character storyline could mirror her real life soaring career and is on the brink of stardom. So pack your bags, grab your friends, and tune in on July 27th for the premiere on Disney+.
Cover Photo Credit: High School Musical The Musical the Series Instagram
The latest Disney+ Pixar film, Turning Red has been making its rounds on the streaming platform. The film is a coming of age story that follows an Asian-Canadian teen, Mei Lee who navigates between fitting in and balancing family duties. If that wasn't enough, she discovers she turns into a big red panda when she's filled with too much emotions. In comes the boyband, Jesse, Tae Young, Robaire, Aaron T. and Aaron Z, the boys of 4*Town who gives her so many feelings.
As Mei Lee goes through growing pains, she wants to go to her first concert. She'll have to convince her protective mother to catch the biggest pop group around. The members of 4*Town are voiced by Fil-Am and Filharmonic member Grayson Villanueva, Jordan Fisher, Josh Levi, Topher Ngo, and FINNEAS. If you've seen the movie then you know how catchy their tunes are like "U Know What's Up" and "Nobody Like U" debuting on the Billboard Hot 100 at No. 50.
The soundtrack is now available to stream with already 10 million official U.S streams recorded and counting. "Nobody Like U is the first song from a Pixar film to hit the charts.

Cover Photo Credit: Grayson Villanueva
Weekends are made for catching up on new shows, films, and Olivia Rodrigo's latest BTS documentary, driving home 2 u (a SOUR film). Now available on Disney+, Olivia takes a roadtrip from Salt Lake City, Utah to Los Angeles reminiscing about the journey of writing her debut chart-topping album, SOUR. Along the way, she performed songs from the album throughout various sceneries during pit stops across states bringing a different vibe to the songs.
The documentary gave an inside look at the preparation and production of the album as Olivia shared about her heartbreak, frustrations, and nervousness of putting her feelings into songs. She worked with songwriter and producer, Dan Nigro for the album and his BTS clips of their studio time really shows the audience how much work was put into the project. We learned that the first track off SOUR, "Brutal" was written in a day right before the official track listing was decided. Olivia wanted an upbeat track to contrast "all the sad songs." What was initially a fun jam session turned into the single introducing Olivia's sound as an artist.
See how this Grammy-nominated artist grew as a teen to this certified superstar artist in the blink of an eye. The documentary reminds viewers how Olivia has so much to offer in her young career and with the success of SOUR, the only direction is up. Disney+ also shared BTS polaroid photos while filming, giving us all deja vu of when we first listened to the record. Performing new renditions of all the tracks on the album, Olivia surprises fans with an unreleased track, "baby is you" to close out the film while credits roll. We hope the song officially release so we can add it to our playlists.
Cover Photo Credit: Olivia Rodrigo Twitter
Everyone has been wondering whether Olivia Rodrigo is coming back to HSMTMTS in this upcoming season premiering this year. With her career skyrocketing and a busy schedule, it seems like we'll still get to her the "Driver's License" singer throughout the season. Her role as Nini Salazar has changed from a series regular to a reoccurring cast member.
According to Teen Vogue, it was officially confirmed in December 2021 that Olivia was to reprise her role for season three after much speculation. Season 3 began filming early this year and is set to take place at Camp Shallow Lake in California. Instead of the usual setting of Salt Lake City, Utah, the move to California make accommodate for Olivia's schedule. With a summer camp vibe, are we going to get OG HSM 2 summer break vibes this season? We're sure to see some Wildcats sing, dance, and get into shenanigans.
Cover Photo Credit: Olivia Rodrigo Instagram
Need something to add to your watchlist this week? Tune in to Disney+ and catch the episode of Marvel Studios' Assembled: The Making of Hawkeye. The hour-long episode takes you behind the scenes with the actors, crew, and production heads in creating this action-packed series.
Hailee Steinfeld plays Kate Bishop and is the younger, eager partner of the veteran Avenger, Hawkeye played by Jeremy Renner. Catch Hailee Steinfeld share her experience and training regime in becoming Kate Bishop. Did you know that Marvel executive, Kevin Feige immediately had Hailee in mind for Kate? They talk about how it all happened over one meeting.
Wonder how they pulled off that Christmas tree stunt in Times Square? Find out how the production crew rebuilt the set and brought the snowy Christmas spirit to Atlanta! Go beyond the bow and see how Hailee works her way into the Marvel universe with guidance from a legendary Avenger.
Cover Photo Credit: Hailee Steinfeld Instagram
Be ready as we'll see a lot of Ginger Gonzaga on our screens soon. She recently landed the lead role in a new CBS pilot series, True Lies opposite Steve Howey (Shameless). The pilot series is a take on the 1994 film of the same named that starred Jamie Lee Curtis and Arnold Schwarzenegger.
Gonzaga will portray the character, Helen originally played by Jamie Lee Curtis. According to Variety, Helen is described as Harry's (Howey) supportive wife, mother of two teenage kids and a linguistics professor. She doesn't have a clue that her husband is a secret spy and is getting annoyed with his frequent "business trips." We'll see the antics that go down when Harry invites Helen on a trip to Paris and finds out her husband isn't who she thinks he is.
There is not yet a premiere date so we'll just have to keep our eyes peeled, but Gonzaga is set to be pretty busy these days. With her returning to the NBC comedy series "Kenan" for its second season, she is also appearing in the upcoming Disney Plus-Marvel series "She-Hulk" opposite Tatiana Maslany.
While the actress had starring roles in the TBS comedy Wrecked and the ABC sitcom Mixology, she also appeared up on other shows like Chance, I'm Dying Up Here and Those Who Can't. Plus and a recurring role on the upcoming fifth season of Netflix's Grace and Frankie. She also has directorial credits for Your Day starring herself and Jason Ritter.
According to Us Weekly, Gonzaga also sings, performs stand-up comedy, and holds a B.A. degree from UC Santa Barbara, where she majored in political science/international relations and minored in Chinese.
Cover Photo Credit: Mixology Facebook
Looks like we'll be seeing more of Alex Aiono on-screen and we're here for it. Earlier this year, he stared in Netflix's Finding 'Ohana and now he takes on the role of Walter on the Disney+ series, Doogie Kameāloha, M.D. The reboot of the early 90s sitcom Doogie Howser, M.D. follows a new teenage medical prodigy Lahela "Doogie" Kamealoha played by Peyton Elizabeth Lee. The series also includes Jason Scott Lee, Kathleen Rose Perkins, Mapuana Makia who also was in Finding 'Ohana, and Ronny Chieng from Crazy Rich Asians. Aiono's reoccurring role as Walter Taumata is a local teenage surfer who's interested in Doogie.
Aiono's character Walter is so relatable especially in the pilot episode. He's cool, nice, and definitely easy-going. He asked Lahela out to a dance and unlike most families, his entire family tags along when he picks her up. Everyone, and I mean everyone in the family wants a picture before they head out to the dance. We all can relate to that, "one more picture!" We'll have to wait and see in the upcoming episodes how their relationship goes and what's in store for Walter.
Want to catch up on what else Alex Aiono has been up to? Check out our interview with him on MYXclusive! He talks about filming, music, food, and cultural similarities.
Set in modern-day Hawai'i, Doogie Kameāloha, M.D. – a coming-of-age dramedy inspired by the hit medical series "Doogie Howser, M.D." – follows Lahela "Doogie" Kamealoha, a 16-year-old prodigy juggling a budding medical career and life as a teenager. With the support of her caring and comical 'ohana (family) and friends, Lahela is determined to make the most of her teenage years and forge her own path.
Cover Photo Credit: Alex Aiono Twitter
Adam Jacobs, Behind the Curtain
Adam Jacobs is best known for the title role of Aladdin in Disney's Aladdin on Broadway. He also starred as Marius in the Les Miserables 2006 Broadway Revival, and Simba in Disney's The Lion King on Broadway.
"I am very excited about the 'Behind the Curtain' project," he said. "It has my personal story interwoven with the songs." 

Adam Jacobs for Digital Journal
Jacobs comes from a Filipino-Jewish background which he credits in being able to play varied roles. He grew up in Half Moon Bay, CA and studied at NYU Tisch School of the Arts. In the Disney+ Behind the Curtain special, it looks at Jacobs' career, journey, and live performances.
Cover Photo Credit: Adam Jacobs Instagram