The Pacific Bridge Arts Foundation, in partnership with Billboard Hot 100 and global record-selling group Far East Movement, is proud to announce their Musical Arts Scholarships.
To support Asian American, Native Hawaiian, and Pacific Islander students pursuing a degree in the musical arts, including, but not limited to: audio engineering, independent artist, instrumental performance, and musical performance.
Scholarship awards and benefits:
Three (3) scholarships of $5,000 each
Musical arts mentorship opportunities with industry leaders & insiders
Application due: October 29, 2021 by 11:59 PM PT
More info:
General Eligibility Requirements:
• Must be of at least 25% Asian and/or Pacific Islander Ethnicity
• Must be currently enrolled full-time at an accredited U.S. vocational, junior college, or four-year college/university and must be a full- time, associate/bachelor/master degree seeking student pursuing a degree in the Musical Arts
• Financial hardship will be considered
• Pacific Bridge Arts Foundation family members of Board Members or Staff are ineligible
"Beckoning: A Playlist of AAPI Joy, Sorrow, Rage and Resistance" is an eclectic mix of heartwarming tunes, instrumentals and pointed social commentary from such veterans as Yoko Ono and Brothers Cazimero as well as emerging artists like Audrey Nuna and G Yamazawa. (Warriors of the Rainbow, photo by Carroll Parrott Blue, courtesy of Great Leap Archive)
Listen to the playlist here and view the full track list as well as some of the commentary from the community contributors below on their picks, view the full list here.
Us by Ruby Ibarra, featuring Rocky Rivera, Klassy, and Faith Santilla: This is one baaad sistah! She not only wrote and performed the rhymes, but managed to direct the song's video, too. In this harrowing time when Asian Americans are targets of violence and our women are murdered and remain nameless for days, I see this song and video as a needed statement. This is woman power, Pinay power, "don't mess with me" power. And in the video, I love how they seamlessly weaved tradition with the contemporary, with a passion. —Nobuko Miyamoto, songwriter, Great Leap/Smithsonian Folkways
Like a G6 by Far East Movement, featuring The Cataracs, DEV: I chose this song for a couple of reasons: Every time I heard it in clubs and on the radio I was filled with such pride that a group of Asian Americans had a hit record. Combine that with what Far East Movement has done for the culture and their continued support of Asian/Asian-American music, I knew they had to be on this playlist. Plus, the song is just fire! —Marisa Pizarro, SVP, A&R Def Jam, Universal Music Group
How You Like That by Blackpink: In general, this song captures how I feel about those who wish to bring us down. It represents how we can prevail over these current times as well as focus on the positives of our communities. —Theresa Kang, CEO, Blue Marble Pictures
Chicken Adobo by Guapdad 4000 and !llmind: GRAMMY-nominated Guapdad 4000 and GRAMMY-award winning producer !llmind team up to create "Chicken Adobo," which will be heard for generations to come. Released during the pandemic, the song not only shares a message of home-cooked, soul-filling love, but also helps raise awareness for chicken adobo, served at family-owned restaurants across the world to a growing multicultural audience. The duo's 1176album represents the new MYXed generation that celebrates diversity and similarities at a time that we need it the most. —Roslynn Alba Cobarrubias, global head of talent, MYX Global, ABS-CBN; founder, ROS. Marketing
The Kiss of Venus (Paul McCartney) by Dominic Fike: Dominic reimagines a McCartney recording, effortlessly shifting the original focus of astrology to shedding light on current affairs. His infectious rendition compels the listener to ponder on various narratives set by the news. He vocalizes, "Have you read the Paper? People talking about which side they're taking... what's your take on it?" In a world where people clamor to any given narrative, I love the idea of questioning the status quo and forming your own opinions. —Byron Atienza, VP, global creative, Capitol Music Group
Somewhere Over the Rainbow-What a Wonderful World by Israel Kamakawiwoʻole: The song's opening dedication to slack-key legend Gabby Pahinui always tugged at my heart. Even before I knew who "Gabby" was, I was moved by how the artist pays tribute to someone of obvious personal significance to him. Then there's the `ukulele—it makes two familiar songs sound completely unique. Finally, Iz's voice and pronunciations remind me of my family in Hawaiʻi and my dad—a certain lilt that says, comfort and home. This is the sound of gratitude, longing and hope.—Lisa Sasaki, interim director, Smithsonian American Women's History Museum
After having faced difficult times in the past year, James Reid is releasing a track that aims to radiate the feeling of positivity and deep-rooted peace that comes with starting anew, encouraging people to look forward to their journey in the new year. Careless Music will be launching James Reid's Newest Single "Soda" on all streaming platforms 1/29.
This will be the first song released while he is under new co-management with international management powerhouse, Transparent Arts, started by multi-platinum artists, Far East Movement. Pre-save Soda here, before it's official release date 2/4 9P PST (2/5 in Manila at 1P) on all streaming platforms worldwide.
James will also be returning to MYX to talk to DannieBoi of Wave 89.1FM about the new song and answer a few fan questions. Use the #jamesreidMYX hashtag on Twitter tagging @myxglobal to post your questions. Watch the exclusive interview on twitch.tv/myxglobal.

"Soda" is the first track of upcoming singles that lay the foundation for veteran Filipino-Australian pop-R&B artist James Reid's re-emergence in the music scene. Weaving the heartfelt energy of soul with the playful rhythms of electro funk, "Soda" seamlessly blends these elements together to create an electronically fizzy yet laid-back groove. Fans can stream the song on all digital platforms here: orcd.co/jamesreidsoda

"Soda" encapsulates the worry-free feeling of embarking on a journey without a care, cruising down the highway with one hand out the car window, wind in your hair. Following the challenging year that was 2020, "Soda" instils a deep-rooted peace that comes with starting anew, encouraging listeners to look forward to their journey in the new year.
James Reid's official fan club, the @reidersofficial, posted a sneak preview of the song on their Instagram:
Check out our most recent interview with James as he sat down with fellow artist and Careless Music Co-Founder KINGwAw (Bret Jackson).
About James Reid:
James Reid is the founder of indie record label Careless Music. Making the decision to form his own label and manage himself independently proved worthwhile when his acclaimed album 'Palm Dreams' was featured on Billboard's Independent Albumschart in 2017. Known as a risk-taker with a decade of experience as an entertainer in the Philippines, James aims to use his platform to empower and grow Philippines' buzzing music industry.

Aside from being an award-winning music artist (MYX Music Awards, MTV EMA), James is well-known for his appearances on television shows and movies, which he has also won several awards for. With a successful career spanning over a decade and millions of streams, video plays, and Instagram followers, James' meteoric rise is definitely not slowing down anytime soon.
International singer/actor James Reid joins international "Transparent Arts family," just announced on TA's Instagram. Transparent Arts was founded by the first Asian American group to top the Billboard Hot 100 charts with their hit single "Like A G-6", the multi-platinum Far East Movement. Far East Movement have collaborated with music's biggest starts including Bruno Mars, Snoop Dogg, Marshmello & Justin Bieber. Alongside the FEM members Kev Nish, James "Proh" Roh & Virman, the #transparentfeed team of music executives, artists/producers take the best of American and Asian entertainment business which includes artists like @tiffanyyoung, @saticamusic & @dumbfounded, & applies them to their global platform. The artists have garnered millions of social media plays, sold out national tours, and have released tracks through labels Owsla, Spinnin', Armada, and Universal with collaborations with artists like EXO & Akwafina.
Through their 360 management & label deals, they are able to maintain strict quality control and apply a dynamic application of business towards all of their projects.
They bridge east and west by cultural relevance, localized marketing, distribution and through dynamic creative collab. They also founded the @Identitylafest, a festival celebrating Asian American Heritage with the City of Los Angeles on the steps of City Hall that gathered over 10,000 attendees in 2018 with headliners #MikeShinoda of #LinkinPark and K-pop star #JayPark.
For more info visit: transparentarts.com
Watch James Reid perform from the international Overpass Music Festival below where the @reidersofficial Official Fan Club helped myx give away over 10 tickets to our myxers using the #jamesreidmyxglobal & #overpassmusic hashtags.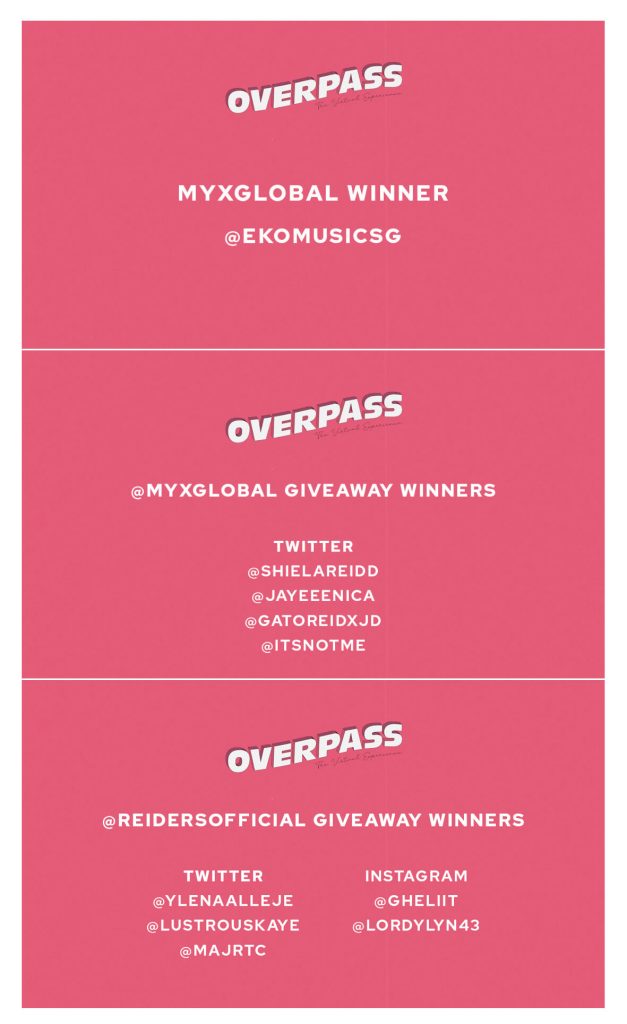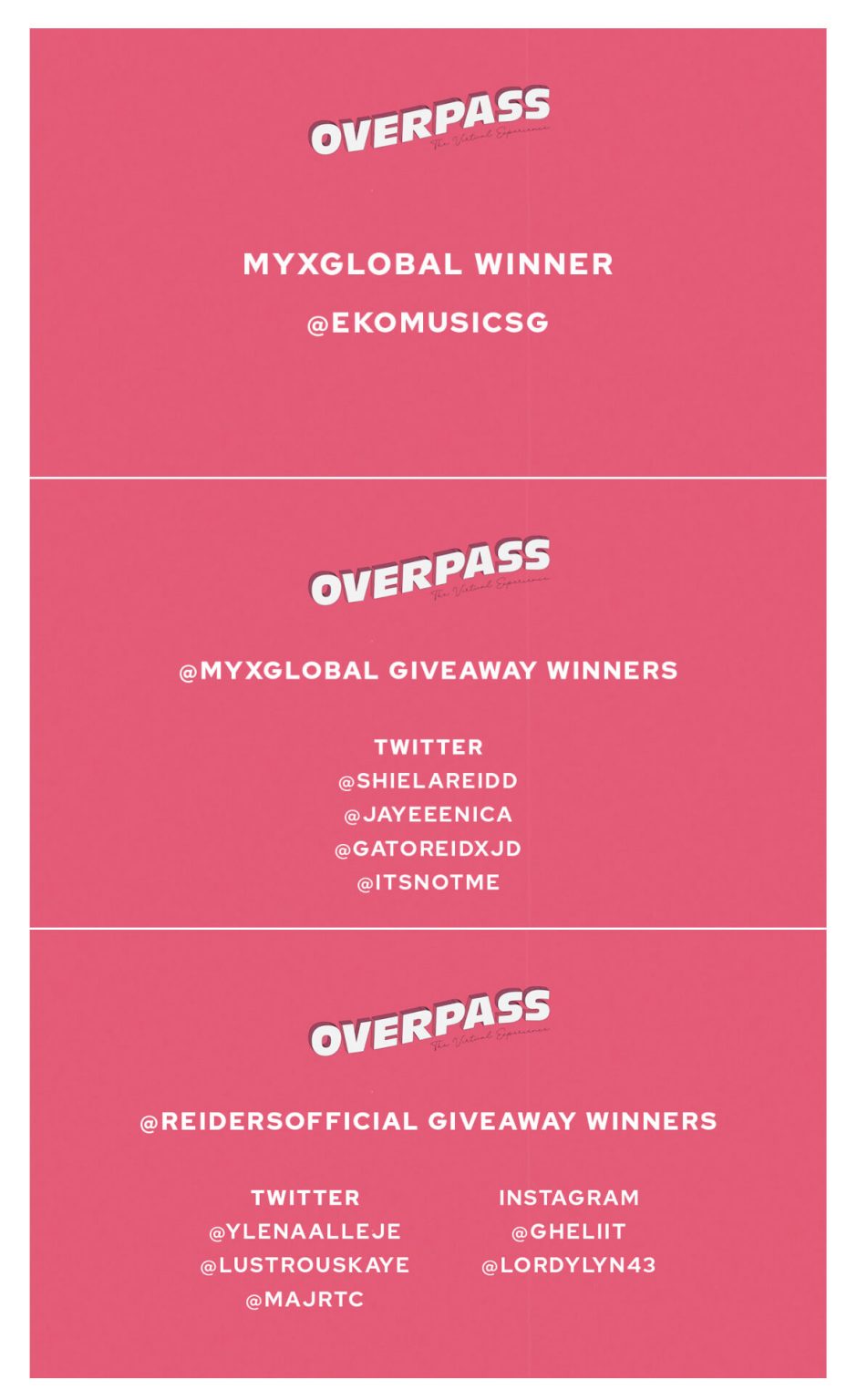 The virtual festival that took place in multiple continents around the world starring other Careless artists frequently played on myxRADIO like Massiah and Curtismith.