Yellow Rose actress, Eva Noblezada is set to star in her first animated film, Luck through Apple TV+. She'll be playing Sam Greenfield who's the unluckiest person in the world. The Skydance Animation film, gives Sam a chance of redemption as she enters the never-before-seen, "Land of Luck" where she meets magical creatures to help turn her luck around.
Eva shares that there's so much to learn from Sam because of her determination of not letting "bad" things get to her. "Despite her bad luck and despite her clumsiness and everything that goes wrong, [Sam] doesn't really let anything get in her way. And it's just really nice to see a determined young woman who is very self-aware but is still like, 'I just gotta keep going.'"
Also part of the cast are Simon Pegg, Jane Fonda, Whoopi Goldberg, Flula Borg, Lil Rel Howery, Colin O'Donoghue, John Ratzenberger, and Adelynn Spoon. Start streaming Luck starting August 5th only on Apple TV+.
Cover Photo Credit:
The Oakland native, Guapdad 4000 is getting ready to drop a short film in collaboration with 88Rising and Amazon Music. STOOP KID debuts on July 21st and focuses on GUAP's life growing up in the Bay Area and as a multiracial person. This coming of age story follows Akeem 'GUAP' Hayes as he navigates a complex upbringing while also showcasing his talent for music.
The trailer includes GUAP talking about his Filipino and Black background where not everyone accepted him as a person of mixed races. GUAP also talks about the relationship he has with family members and how he was a kid trying to help raise other kids.
Featured in the short film will be music from his album, 1176 which was produced by Grammy-winning producer and Fil-Am Illmind. The album is named after GUAP's childhood home address and sets the tone for this story of a Black-Filipino artist who explores his identity, family, and community.
Cover Photo Credit: Guapdad 4000 Twitter
Where are all the gamers in the room? The upcoming Prime Video film, 1Up is set to premiere on the streaming platform this Friday, July 15th! It stars Fil-Am actor Paris Berelc, Taylor Zakhar (Kissing Booth 2 &3), and Ruby Rose who are all deep into the world of Esports. This billion dollar industry has taken off to new heights in the recent years and has even expanded as a major topic in higher education. The comedy film will take you on a wild ride in online gaming and into its competitiveness.
Who said gaming is only a male sport? The film follows Vivan's (Berelc) journey to form an all-girls Esports team to take down The Betas - the boys group that cast her out. Enlisting the help of her professor (Rose) to train them ahead of the big matchup that will decide not just the fate of their team, but their fate in the school.
Vivan and the girls look to challenge the status quo and show them girl gamers are here to say. Failing isn't an option, there's too much at risk. If she doesn't win the showdown, the possibility of losing her scholarship and team is all on the table. Catch how it all unfolds only on Amazon Prime Video.
Cover Photo Credit: Kyle Newman Twitter
The future is bright for Star Magic and their talented roster as the agency celebrates its 30th anniversary in the business. To commemorate the big event, they're producing their first feature film. The movie, Connected debuts and starts streaming on July 22, which will include popular reality TV stars from recent seasons of Pinoy Big Brother.
The young cast of the film consists of former "PBB" housemates Amanda Zamora, Chico Alicaya, Gail Banawis, Ralph Malibunas, Kobie Brown, Andi Abaya, and Richard Juan as they tackle young love and the challenge of feeling isolated in a "connected" world. The 7 actors will navigate all their different personalities while finding a sense of purpose, love, and attention.
Theodore Boborol will be spearheading the project as director who's responsible for creating some of your other favorite romcoms like Vince & Kat & James, Finally Found Someone, and Just The Way You Are. Don't miss Connected streaming it on KTX, iWantTFC, TFC IPTV video-on-demand, and SKY Cable pay-per-view distributed by Cine Express starting July 22 and find out if fate will bring these individuals together.
ABOUT STAR MAGIC
Star Magic has been the home and training ground for the biggest and brightest names in Philippine entertainment for three decades. It has provided workshops in acting, dance, art, script appreciation, styling, voice production, as well as physical fitness training in order to develop disciplined, well-rounded and world-class performers. Star Magic artists are also encouraged to use their influence for good by supporting ABS-CBN Foundation's advocacies .


The mind-bending action-adventure Everything Everywhere All At Once arrives on 4K Ultra HD™ + Blu-ray™ + Digital, Blu-ray + Digital, and DVD July 5 from A24 and Lionsgate. The film stars Michelle Yeoh as an unlikely hero who must channel newfound powers to fight fearsome dangers from the multiverse. Directed and written by Daniel Kwan and Daniel Scheinert, the writing-directing duo collectively known as the Daniels (Swiss Army Man).
Don't miss out on the special features available for the 4K Ultra HD / Blu-Ray / DVD physical copies like audio commentary with the writers/directors Daniel Kwan & Daniel Scheinert, featurette on behind-the-scenes content, deleted scenes, outtakes, music visual, and more!
Everything Everywhere All At Once will be available for the suggested retail prices of $42.99 for 4K Ultra HD + Blu-ray + Digital, $39.99 for Blu-ray + Digital, and $29.96 for DVD, respectively.
SYNOPSIS
Evelyn Wang (Michelle Yeoh), a flustered immigrant mother, is contacted from a parallel universe and told that only she can save the world. The unlikely hero must learn to channel her newfound powers and fight through the splintering timelines of the multiverse to save her home, her family, and herself in this big-hearted and irreverent adventure. With Stephanie Hsu, Ke Huy Quan, Jenny Slate, Harry Shum Jr., James Hong, and Jamie Lee Curtis.
 
Cover Photo Credit: Lionsgate
If you're a fan of The Hunger Games series and thought it was over, it's time to see if you're up to the challenge as tribute when the prequel film, The Hunger Games: The Ballad of Sonbirds and Snakes make it on the big screen. Directed by Frances Lawrence, the film takes place before the presidency of Coriolanus Snow in Panem and follows the character of Snow during the 10th annual Hunger Games.
Filipino-English actor, Jerome Lance will play Marcus, the tribute for District 2. This marks his first acting role after completing his studies at the Royal Welsh College of Music and Drama. Other credits include performing his own writing at the Donmar Showcase. We can't wait to see his debut in this box office franchise and the Pinoy actor is just as excited!
Deadline explains further the premise of this anticipated sequel. "With the 10th annual Hunger Games fast approaching, the young Snow is alarmed when he is assigned to mentor Lucy Gray Baird (Zegler), the girl tribute from impoverished District 12. But, after Lucy Gray commands all of Panem's attention by defiantly singing during the reaping ceremony, Snow thinks he might be able to turn the odds in their favor. Uniting their instincts for showmanship and newfound political savvy, Snow and Lucy's race against time to survive will ultimately reveal who is a songbird, and who is a snake."
See the first official teaser below!
Cover Photo Credit: Jerome Lance Instagram
Weekends are made for catching up on new shows, films, and Olivia Rodrigo's latest BTS documentary, driving home 2 u (a SOUR film). Now available on Disney+, Olivia takes a roadtrip from Salt Lake City, Utah to Los Angeles reminiscing about the journey of writing her debut chart-topping album, SOUR. Along the way, she performed songs from the album throughout various sceneries during pit stops across states bringing a different vibe to the songs.
The documentary gave an inside look at the preparation and production of the album as Olivia shared about her heartbreak, frustrations, and nervousness of putting her feelings into songs. She worked with songwriter and producer, Dan Nigro for the album and his BTS clips of their studio time really shows the audience how much work was put into the project. We learned that the first track off SOUR, "Brutal" was written in a day right before the official track listing was decided. Olivia wanted an upbeat track to contrast "all the sad songs." What was initially a fun jam session turned into the single introducing Olivia's sound as an artist.
See how this Grammy-nominated artist grew as a teen to this certified superstar artist in the blink of an eye. The documentary reminds viewers how Olivia has so much to offer in her young career and with the success of SOUR, the only direction is up. Disney+ also shared BTS polaroid photos while filming, giving us all deja vu of when we first listened to the record. Performing new renditions of all the tracks on the album, Olivia surprises fans with an unreleased track, "baby is you" to close out the film while credits roll. We hope the song officially release so we can add it to our playlists.
Cover Photo Credit: Olivia Rodrigo Twitter
There's no other trio like Spider-Man and his crew, FOS (Friends of Spider-Man) lead by Fil-Am Jacob Batalon as Ned Leeds. In this fresh BTS video, Jacob reacts to his audition tape for the first time alongside his mega co-stars Spidey himself, Tom Holland and the witty MJ, played by Zendaya. The casting was perfect for the film, but what's better is the chemistry they have off-screen. Check out how they watch each other's auditions and laugh at how far they've come as a group.
Sit back, share a laugh, and feel part of the crew with this BTS look.
After completing a two-year acting program at the New York Conservatory for Dramatic Arts, Jacob took a leap and auditioned for an unnamed Marvel project. His audition landed him his first major film role and take part in one of the most highest-grossing films. Watch as a fresh, young Jacob Batalon navigates through the audition jitters and nail comedic timing that had the whole group laughing and earning him a "what a cutie" comment from Zendaya. Jacob said that the audition process was a lot, but we're pretty sure it was worth it.
If you're looking for more BTS from the cast, find out if Jacob is really BFFs with Tom Holland as they put their friendship to the test in this lie detector challenge.
Cover Photo Credit: SpiderManMovie Twitter
With a star studded cast, Netflix's The Adam Project is currently trending on the Top 10 watch list. The sci-fi film stars some of Hollywoods biggest actors Ryan Reynolds, Jennifer Garner, Zoe Saldana, Mark Ruffalo and more, but Fil-Canadian Alex Mallari Jr. also shares the spotlight in the full length feature as Christos. Mallari's character, Christos is an old colleague of Adam (Reynolds) and Laura (Saldana) who's now a ruthless security enforcer. Let's take a look at his journey and career with these 5 facts about the Fil-Canadian actor.
1. Alex migrated to Toronto from Lubao City, Pampanga
He moved to Toronto or Scarborough, Ontario to be exact at 4 years old with his Inang (grandmother). He became a Taekwondo athlete, rising to the national level as a third degree black belt. He studied criminology at University of Toronto until he decided to chase his entertainment dreams.
2. He started acting after a sports injury
As a Junior Canadian National Taekwondo champion, he had to give up that dream at 13 years old. Although he then turned to basketball, his athletic career came to a close because of an injury and had to find a different avenue. While attending the University of Toronto, he heard an ad looking for models or individuals interested in acting. Luckily for us, Alex gave them a call and the rest is history.
3. Alex looks to take on more roles on film than TV
Although he got his big break on the Syfy series, Dark Matter, Alex's credits extend to other series like Nikita, Beauty and The Beast, Designated Survivor, and Netflix's Ginny and Georgia where he plays a Filipino Texan private investigator with the deep Texan accent. Many of the roles he auditions for are open ethnicity roles, but luckily the few Filipino characters he's auditioned for he got! Alex hopes to see more representation and help others recognize that Filipinos exist in the world.
"In films, you can work on a scene until you get to the emotional part of storytelling. I want to do more movies as it fulfills my artistic needs."
4. He gave a small nod to Filipinos in The Adam Project.
While making the film, Alex had one request for the stunt coordinator, Jim Churchman. He wanted to use the baston or arnis sticks which are traditionally used in Filipino martial arts. Luckily Alex was able to persuade the stunt coordinator and squeeze in 2 arnis sticks during the fighting sequences in the film.
5. Alex can go from action films to playing a rom-com leading man
He's set to star in a Canadian digital series, Hello (again) created and co-produced by Marvel's Shang-Chi and the Ten Rings star, Simu Liu. The series will be a combo of rom-com and a little bit of a k-drama. It's about an overworked line-cook (Mallari Jr.) who rescues a supernatural girl. He'll try to break out of a time loop after traveling back in time to say "hello again" to an ex-girlfriend. Watch out for the series as it's set to drop March 25th on CBC Gem.
Cover Photo Credit: Alex Mallari Jr. Twitter
Olivia Rodrigo had everyone thinking there was new music coming or a new music, but she doesn't disappoint with her latest announcement. If you can't get enough of her chart topping album, SOUR, Olivia is gearing up to release a documentary film, driving home 2 u where she talks about her journey in creating the album. The trailer for the film just dropped and gives us a peek on what to expect. It'll stream on Disney+ on March 25th so mark your calendars!
The album, SOUR was a passion project for the accomplished musician where she wanted to share her most inner thoughts in a way that was proud and not ashamed. In her own words, the project came from a place of hurt but managed to turn it something she is proud of.
Olivia is a songwriter at heart and we'll be able to go behind the scenes of her artistic process. The film will also bring us new arrangements of our favorite songs from the album along with new visuals. She is also getting ready for her first SOUR Tour! You can catch her live in a city near you!
Cover Photo Credit: Olivia Rodrigo Instagram
Awards season is in full force and the nominations for the Academy Awards are here! The event will name its winners on Sunday, March 27 with a live broadcast at 8 p.m. ET/5 p.m. PT on ABC. Many of the big films this year were nominated for multiple awards like Dune grabs 10 nominations, West Side Story and Belfast earned seven noms, while King Richard was nominated in six categories. This year three are 10 films nominated for Best Picture.
One of the announcements that's exciting for Filipino and Asian-Americans is the nominee for Frederic Aspiras who worked on House of Gucci. He is the second Asian-American nominated for the Best Makeup and Hairstyling Oscar. Aspiras, a longtime hairstylist for Lady Gaga was brought along for this project. He started working with Lady Gaga over 13 years ago on the Monster Ball. Since then, he's crafted for tours, photoshoots and covers, music videos, events, and more! On the daily, Aspiras is part of the Haus of Gaga team.
In addition to receiving an Oscar nominee, Aspiras was also nominated for a BAFTA which is the British version similar to the Academy Awards. He created a different character for Lady Gaga as Patrizia Reggiani. Together with his creative partner in the film, Sarah Tanno researched the era, other notable style icons, and worked to build a style guide for the film to bring the character to life.
The recognition he earned, goes to show that there's still a long way for Asian-Americans to be represented in all facets of media. His journey has influenced others along his path to follow suit. He told Variety, "I started with Lady Gaga 13 years ago, and fans from around the world who have written to me telling me they have become hairdressers — that to me is probably one of the most rewarding things ever. It's also about being a role model in that I am Asian American with refugee parents."
Frederic Aspiras mother, Suzie L. Nguyen came to San Francisdc as a refugee from Vietnam. Her journey as a single mother brought her to go to cosmetology school and open her own salon business. Here is where Aspiras was inspired by watching his mother put on makeup and prep people's hair. Now, he's the next generation who continues his mother's legacy while breaking the mold of stereotypes. We'll be tuning in and having our fingers crossed this Oscars!
Cover Photo Credit: Frederic Aspiras Twitter
Dante Basco and the Basco brothers had a successful World Premiere at SXSW 2021 and overall stellar film festival run with their movie, The Fabulous Filipino Brothers. Dante's directorial debut with 1091 Pictures is now out for everyone to stream! Log in to your Apple TV+, Amazon Prime Video, and Google Play accounts to start watching!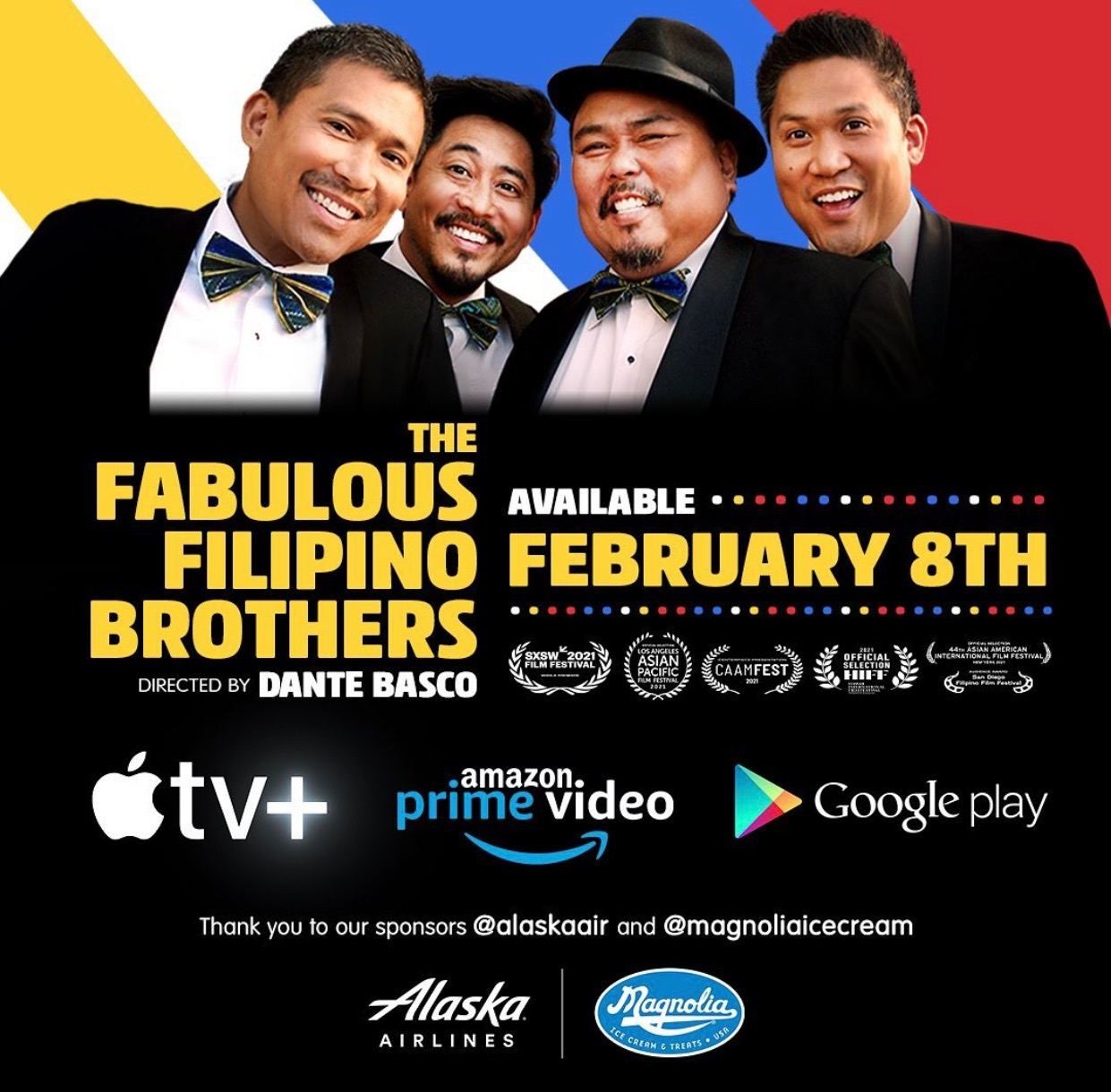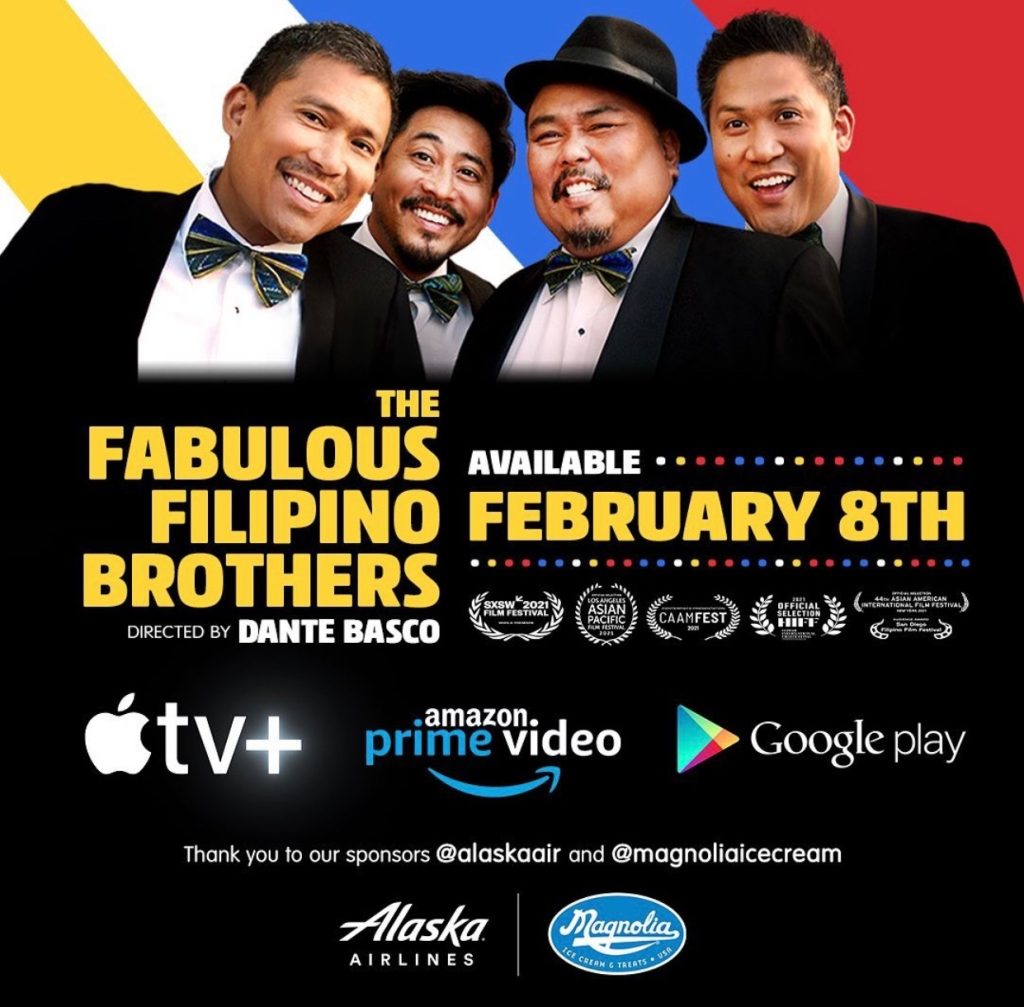 If you want to get some inside details to making the film, you'll want to tune check out our MYXclusive with the Basco Family! Dante, Darion, Dion, Derek, and Arianna join DJ Marlino for a chat about making a film that is showing who they are as a family. They talk about portraying a real Filipino family on-screen and being our own uniquely Filipino selves. If you want to see the realest representation of us on film, we're all in for a treat! In the words of Dante Basco, "no one has ever seen no Filipinos on film like this ever."
After its robust World Premiere at SXSW 2021 and a stellar film festival run, the film, co-written by Dante and Darion Basco, the film is told through four vignettes that follow each of the Basco Brothers as they prepare for the ultimate Filipino family event - a wedding.
It's an intergenerational comedy that is sweet, at times raunchy, and full of heart. Filmed pre-COVID, the background was set in their hometown of Pittsburg, California. Dante wore multiple hats behind the camera along with his co-stars the Basco siblings Darion, Arianna, Dionysio, and Derek. The film's score was produced by AJ Rafael.
According to Deadline, Dante Basco and his brother Darion co-wrote the film in collaboration with management and production company, TheMachine. In addition to starring their family, it also included Solenn Heussaff, Tirso Cruz III, Liza Lapira, Joe Jitsukawa and Joey Guilla rounding out the cast.
The Basco Brothers have been promoting the film and holding screenings around the U.S. Dante has always dedicated himself to Filipino American representation in media, and telling stories of his community to the nation. Catch the remaining 3 tour dates in SoCal!
2/8 - Los Angeles, CA at 2220 Arts + Archives (with special guests and Q&A panel with Dante Basco)
Cover Photo Credit: Dante Basco Twitter