MYX Headliner of the month, Inigo Pascual, will release his 2nd album, "Options" on June 25 on Tarsier Records. Due to the delay of promotion during the pandemic, the album release date was pushed to 2 years passed it's original production. Here's a flashback of Inigo's journey since he began the process of recording the album and traveling the world to Toronto, Hawaii, London, Australia and more to promote it on the MYX original show, "The Crossover."
Episode 1: Los Angeles
Inigo met Harv in LA, January 2019 to vibe and discuss potentially working together, in February, Inigo returned to LA to record music for his new LP, Options out soon on Tarsier Records. With producer/songwriter duo Harv & Felisha, Inigo recorded 2 songs - Options and Neverland. They detail the meaning behind the song and you see the reaction of the crowd when he performs it for the first time to thousands of people for the first time at the Carson Philippine Independence Day Festival. Stay tuned for more of "The Crossover" on myxTV. Shot & edited by @charlesjgray.
Episode 2: New York
Inigo stopped by the Genius HQ in Brooklyn, New York & breakdowns the lyrics of his new song, "Options" with Mikey Fresh.
Episode 3: London
Inigo visited London for the second time to perform at London Barrio Fiesta, produced by TFC London for thousands of people in Europe. He visited BBC Radio as well and ended the weekend with a colab with UK's emerging sold-out band, New Rules, coming soon.
Episode 4: San Francisco, CA
Inigo stops in the Bay Area for the bi-annual ASAP Official Tour with the biggest artists & celebs from the Philippines and stops by radio stations 99.7NOW & 92.7FM to premier the song. Backstage at the concert he did a dance colab with Kylee Charri & Darren Espanto, a cover with Jeremy Passion, Gabe Bondoc, The Filharmonic & AJ Rafael. He caught up with Bruno Mars' choreographer/creative director Phil Tayag before his ASAP colab medley with Darren Espanto & Billy Crawford.
Episode 5:
FIA x Inigo Pascual "Love Me" & "Catching Feelings IHeartRadio Island 98.5FM exclusive medley will change your life & feed your soul. Fia swept the IslandMusicAwards last year with the chart topping single & Inigo premiered it on the biggest Hawaii TV & radio stations thanks to Romeo Valentine, Jay Park & many more! Special thanks to the "Luther Vandross" of Hawaii Josh Tatofi & Kelandy for blessing the stage as well. Hosted by Big Koa & KC of 93.9 The Beat.
Episode 6: Toronto, Canada
Inigo performs at the Taste of Manila Festival in Toronto, Canada for over 100K people in attendance, Ruby Ibarra joins Inigo on stage for a special version of "Killing Me Softly." This was Inigo's biggest international show to date.
Episode 7: Sydney, Australia
Inigo Pascual headlined the annual TFC Australia's Fiesta Kultura in Sydney, Australia. While in town he visited News Corp Australia's Daily Telegraph newspaper, SBS Radio, Rave It Up Australia & visited all the major sites like the Sydney Opera House on this episiode of The Crossover on myxTV.
Episode 8: Manila, Philippines
Traveling the world is fun, but there's no place like home. Inigo Pascual #TheCrossover returns to Manila, Philippines where his new single #CatchingFeelings is currently #1 on the Wave 89.1FM radio charts.
Episode 9: Manila, Philippines
Inigo shows us how he spends his annual birthday with children's cancer patients.
Episode 10: Anaheim, CA
Inigo performs at a sold-out concert opening for top island reggae band, Tribal Theory in Orange County.
Episode 11: Los Angeles, CA
Inigo guested on Travis Mill's Beat1 Apple Music Podcast to talk about his new music and list out his Heavy Rotation playlist.
Episode 12: Los Angeles, CA
Inigo Pascual dreamt of performing at the legendary Staples Center in LA where teams like the LA Lakers, Clippers and Kings play alongside the biggest artists in the world for an arena that fits 19,000+ people. In this episode of The Crossover, he details his dream and the moment it recently came true as he was the halftime headlining artist for the sold-out crowd in celebration of Filipino Heritage Night, following the year that members of the Black Eyed Peas and Manny Pacquaio appeared in representation. It's been a great month for Inigo, also opening the SEAGames alongside Apl, KZ Tandingan and more. He's taking it all in, excited for the opportunities that are coming in both of his homes - LA and Manila. "Tiwala" he says…
This week's MYX News Hot List.
1. MYX Music: SB19 Needs Your Votes - P-Pop group SB19 made history last week as the first Southeast Asian act to get a Billboard Music Awards Nomination in the top Social Artist category.
2. MYX Music: Danger! Iñigo, Common Kings & DJ Flict - Let's get ready for some summertime tunes with a dangerously awesome track!
3. MYX Music: Idol Alums Drop New Music - American Idol Alumni, Jessica Sanchez has dropped a new anthem that stands up against the racism facing Asian-Americans. While, Francisco Martin has released his long-awaited debut EP, "Beautiful Ramblings of A Restless Mind".
4. MYX Community: Mcdonald's #WeAreAPA Celebrates Fil-Ams - As Asian Pacific American Heritage Month continues, Mcdonald's is uniting to celebrate the beautifully diverse APA community by introducing a hashtag, #WeAreAPA.
5. MYX Community: Fan Return for Warriors Filipino Night - Golden State Warriors celebrated Filipino Heritage night!
For more visit: MYX News
"Danger" is the latest global collaboration by the Billboard chart topping star, Inigo Pascual, and GRAMMY nominated Common Kings, produced by GRAMMY nominated DJ Flict (Fifth Harmony, Meghan Trainor, Lauryn Hill). DJ & program directors across the world have predicted "Danger" to be the new summer anthem with it's fun infectious beat, catchy lyrics and island-pop melody that fans worldwide love. You can pre-save the single here.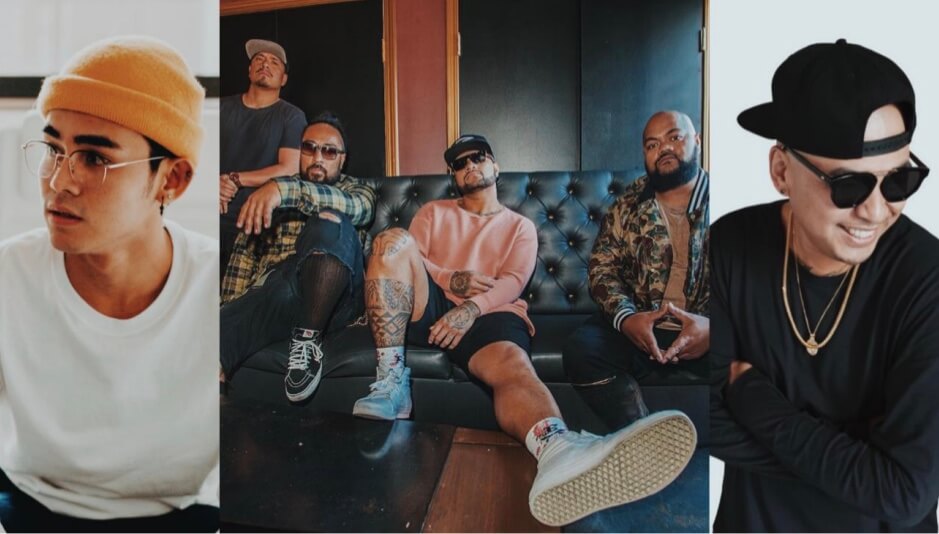 Stream the song worldwide via Tarsier Records on 5/14 with a music video releasing on 5/21. Inigo is no stranger to reggae music as his hit, "Catching Feelings" has a Bimwala Remix featuring GRAMMY nominated artist J Boog that'll have you wishing you were on the beach, chilling by the water. The song is in rotation in Hawaii top stations like Island 98.5FM & HI93.
If you ever need to boost your mood, you have to watch this MYXclusive with Common Kings and DJ Flict. The interview was filled with tons of laughs, reminiscing about how they crossed paths and their friendship. Here are the top highlights from their chat with VJ Ai from MYX PH.
1. Common Kings and DJ Flict's friendship has reached "pare" levels
"Pare" in Tagalog basically means mate, friend, or bro. DJ Flict is making "pare" catch on not only with his clique, but even fans are using the term at shows. With such a close friendship between the artists, they've got great stories to tell. Who knew the way to Common Kings' hearts is through Jollibee. DJ Flict shares that he brought over over $100 worth of Jollibee to recording sessions to get on their good side. You can never go wrong with Jollibee!
2. DJ Flict was actually born in the Philippines
The Grammy nominated DJ was actually born in Quezon City, Philippines and moved to the U.S. when he was 4 years old. However, he hasn't been back since then. Whenever he returns, he plans on doing so with a bang! DJ Flict looks to bring along a few of his friends, including Common Kings. They said they've always wanted to go but haven't found the right opportunity yet. Well here it is, with "Danger" nearing its release they've got to visit now for a live performance of it with Inigo!
3. Common Kings basically kind of grew up in the Philippines, Hawai'i version
Although they've never visited the Philippines yet, growing up in Hawai'i gave them a glimpse of the culture. They also experienced the love because of their Filipino fanbase from all over. They joked, "we basically grew up in the Philippines because I came from Hawai'i and raised around UC Irvine and Orange County."
4. DJ Flict always gravitated towards music
Growing up with musical parents, it was always around. In his words, "I was the band geek from the hood." Then he shocked us all when he said he turned down a music scholarship to the prestigious Juilliard School in New York City. However, he reminds us that if he did end up going then he might not be where he is now. It's all about perspective.
5. The guys learned very interesting hobbies during lockdown
One of the funniest moments of the interview was when they talked about what's been keeping them busy during the pandemic. A little surprise was Mata's recent hobby which is knitting. We've heard it's pretty therapeutic. While DJ Flict has been getting back into playing ice hockey. He thinks he's the only Filipino who plays ice hockey.
6. Danger was produced at DJ Flict's studio at Venice Beach
With the yin-yang vibes going on between Common Kings' darker colored studio to contrast with DJ Flict's white themed studio, you know hits are being made. Inigo traveled to California last winter and during that time he got in the studio to record Danger. DJ Flict showed us the exact spot where all the brainstorming and producing happened. The studio just radiates good vibes.
7. Move over JoBros, Danger has a catchy melody that will have you whistling along
DJ Flict worked with songwriter Zak Waters for the track. The song started with a melody that Common Kings sang which then turned into the whistle intro. BRB while this is stuck in our heads until the full song comes out.
8. The Danger music video was filmed at the "OC Mansion"
If you caught some of the BTS of the "secret" project a couple weeks ago on the MYX Global IG, you saw how dope it looked. Everyone had a great time filming the music video and the artists may have gone meta. Mata shared that there's a scene in the video where they're having a good time with friends. They did a few takes of where they're supposed to take a drink and of course they used the real stuff every take. You can bet it was a good time the whole shoot.
ABOUT INIGO PASCUAL:
Inigo Pascual is a young, international pop superstar from the Philippines with over 4M+ social media followers. His 2016 release "Dahil Sa'yo," a song he penned himself, topped Billboard PH charts at #1 for 3 months and remains as the most dominant OPM (original pilipino music) release in history. A tireless worker in constant demand from his millions of fans, Inigo turned his attention toward the international market in 2019, collaborating with Australian-Chinese vlogger and musician, Wengie, Singaporean rapper Akasha, GRAMMY nominated reggae artist J Boog as well as UK/US popular boybands, New Rules and PRETTYMUCH. He worked with GRAMMY award winning producers from Manila to Los Angeles, CA on a solo album, giving birth to his lead single, "Options" and island pop hit "Catching Feelings." Inigo became a familiar name in media and international radio while doing promo rounds in Los Angeles, New York, and even taking the stage during halftime at an NBA game. Radio airplay was followed by appearances in San Francisco, London, Toronto, Tokyo, and Sydney on popular stations like IHeartRadio in the US, SBS Pop Radio in Australia and BBC Radio in the UK. The "Catching Feelings" (Bimwala Remix) charted on Top 5 new songs on stations like Island 98.5 and HI93 in Hawaii. He has recently been part of 88Rising's exclusive online festival, "Asia Rising Forever" and performed "Catching Feelings" on Jo Koy's Netflix special, "In His Elements", with the track racing to the top of Shazam Charts in various cities globally.
After album singles "Should Be Me," and "Lost" dropped in 2020, Inigo joined a band of international artists assembled by Tarsier Records for "RISE" - a cross-cultural unity track featuring Eric Bellinger (USA), Sam Concepcion (PH), Moophs (PH), Zee Avi (Malaysia), and Vince Nantes (USA), putting him in front of a new category of listeners and proving that no pandemic can stop his international track. To close off his 2020 streak, Inigo releases "Always" - a dancehall-pop tune that sprouted with "RISE" co-collaborators, Vince Nantes, Sam Concepcion and Moophs. He plans to release his "Options" album in 2021.
ABOUT COMMON KINGS:
The GRAMMY nominated Common Kings have toured and worked with some of the world's biggest pop stars like Justin Timberlake and Meghan Trailor. They have also toured countries like Japan, Australia, New Zealand and the United States on their own sold out tours. Currently they have over 914,000 monthly Spotify listeners with over 85M YouTube plays, making them one of the most popular island reggae groups of all time. Their unique style and music is a collection of inspirations orchestrated into an array of head rocking beats, feel good vibes, and emotional fever. Their crazy, fun-loving attitude compliments Common Kings' live sound, producing phenomenal hits with rock, reggae, and island influences. These influences originate from each band members love for various genres, and widespread knowledge of music.
The majority of Common Kings were born in the South Pacific, and raised in Orange County, California. Growing up with households full of colorful personality and vibrant passions for music, Common Kings' members naturally grew up forming individual musical paths. This musical journey involved mimicking and listening to artists such as Van Morrison, Stevie Wonder, Geourge Benson, Jim Croce, Michael Jackson, The Who, Led Zepplin, Gypsy Kings, Earth Wind and Fire, Bob Marley and more. The culmination of these musicians explains exactly who the Common Kings are.
Where everything comes to a point is through lead singer Sasualei "Jr King" Maliga. Jr King is perhaps one of the most powerfully impressive vocalists amongst today's leading artists. Born with this untrained raw-talent, Jr King's singing ability seems boundless, as he amazes listeners with a wide range of belting notes and soulful passion. His humble demeanor off-stage needs no introduction as to when the band is rocking out on-stage creating a young, wild, and free atmosphere.
ABOUT DJ FLICT:
Chris "Flict" Aparri is an LA-based Grammy nominated, platinum record producer, songwriter, artist DJ & musical director. A lover of all music genres, Flict's versatility has allowed him to work with everyone from Meghan Trainor and Wiz Khalifa to Sublime with Rome and Fifth Harmony. It is his youthful "Hit" sound and humble nature that attracts various artists, songwriters, and record labels around the world.
Born in Sta. Mesa, Manila, Flict began playing music at the age of 5. Learning any instrument he could get his hands on, he became a true and lifelong student to music. In college, he was a music performance brass major and eventually earned a degree in Recording Arts and Production. His professional career began as a DJ where he developed his distinctive style and love for hip hop that remains a major influence in his sound today.
Flict's "big break" came when he was asked to be the musical director and producer for the legendary Lauryn Hill. He considers that his first musical boot camp, giving him the confidence to tackle any project thrown his way.
A good friend and longtime collaborator of Flict's is Grammy award winning artist, Meghan Trainor. They have written and produced numerous records together that have been placed with several artists including Fifth Harmony and Common Kings. Flict has had numerous records reach #1 on iTunes overall charts. He produced 3 records on Fifth Harmony's "Reflection" Album which was #1 on iTunes in 25 countries and went platinum. As well as have peaked at #5 on the Top 200 Billboard overall charts. He is Grammy Nominated for his work on the album: Lost In Paradise by the Common Kings. He landed the Global Campaign song for Weight Watchers alongside Oprah, Diane Warren, and Ally Brooke. He also has executive produced the band 4th & Orange under Latium/Atlantic recs.
As of recent, he has landed a song deal with ABS-CBN producing hit songs for top Filipino artists Inigo Pascual, KZ Tandingan, Moira Dela Torre, Jayda, Morissette, & more.
Manila's leading independent record label released a series of yearbook photos of the artists they will be releasing this year which includes artists like Kiana V, KZ Tandingan, Inigo Pascual, Bugoy Drilon, Sam Concepcion, Markus Patterson, Russell Reyes, SAB, Moophs & more. See the full list below & on Instagram @tarsierrecords.
Waleska Herrera was born into the music business as a child performer in Venezuela with her brother Efra and parents on the road with them. They traveled the country together and starred in some of the biggest TV shows of the country before moving to the UK to pursue her dream of training professionally for singing in London. Rather than receive a quinceanera, her parents invested in her dream and here they are today as one of the most influential YouTube reacting duo that are helping international artist reach new audiences.
Waleska has the ear of an A&R because she is a singer herself and while they get flooded with fan requests for suggested reactions, she always provides her honest opinion and it shows.
Below is a beautiful cover of Moira Dela Torre's "Paubaya," that she sang seamlessly in Tagalog (Filipino). Due to Spanish and Tagalog being similar romantic languages, she was able to sing it with ease. Efra jokingly said in his Inigo Pascual that all Filipinos speak Spanish, it just hasn't been activated and we think all Latinos also speak Tagalog, it just needs to be activated. =)
Catch Waleska & Efra of the first episode of MYXED Reactions on MYX Tuesday 3/9 and the rebroadcast on their YouTube channel that has over 72M views! They launched a "Feature Fridays" podcast so that they could spend extensive time with artists and get to know them without the typical cut and paste interview setting. Aside from YouTube, you can listen to the podcast on all streaming platforms like Spotify and Itunes, where they feature artists from across the world like the Philippines, Algeria, Korea and many more.
Watch the duo react to James Reid new single, "Soda," performed on the Wish Bus in the Philippines. Also catch the MYX Global World Premiere of Manila Grey ft. James Reid Thursday and Friday PST across the world.
Stream Inigo Pascual and Moophs' reimagination of Air Supply's "All Out Of Love" out on Tarsier Records, stream it now on your fave music app.
Earlier this week, Air Supply surprised Inigo during a LIVE interview on MYX, Inigo was pleasantly surprised to hear the positive feedback they have on the song and have been mentioning in their various interviews like the Jeremy White podcast.
Once the MYX team heard the beautiful Inigo Pascual new rendition of "All Out of Love" by the legendary Air Supply, we worked with Tarsier Records to set up this surprise where the duo joined Inigo during this MYXclusive interview.
Air Supply talked about their love for the Philippines, Filipino fans worldwide and their excitement to come to the islands. They invited Inigo to join them on stage to sing the song one day and let him know they were fans of the new song.
Watch the surprise below and comment on twitter with #InigoPascualMYX #InigoMoophsxAOOL your thoughts!
??? ??? ?? ???? ? (@air_supply_band)· @inigopascual + @moophs
out on your fave music app - 02.05.2021, pre-save & stream it here and listen to the song and learn the lyrics below:
100+ Filipino movies are now available on @appleTV globally in 50+ countries. Watch from your phone, smart TV, computer or IPad at itunes.com/abscbn. Let us know what your faves are using #MYXMovies. Here are some of our faves now on Apple TV:
Joy (@bernardokath) is a struggling OFW (overseas Filipino worker), & Ethan (@aldrenrichards02) is a bartender, as they attempt to reconcile their personal careers and love for each other in Hong Kong, before she leaves to Canada to pursue her dreams in the medical field.
Follow the love story of Christine (@lizasoberano) & Raf (@enriqueGil17) who cross paths again eight years after they first met during their college years.
Jackie (@bernardokath) is a troubled, 19 year old wild child. She wants to move to New York to study & escape her complicated life. Her father fed up with her reckless antics sends here on a medical mission camp in #Tarlac, where she meets Kimo (@supremo_dp), a beloved volunteer. Marcus (Iñigo Pascual), Kiko's brother, returns to the Philippines from studying abroad & complications arise.
The film is a story about the young couple Primo (@supremo_dp) & George (@Bernardokath), who dreams of growing old together. However, as their feelings go deep for each other, they have to deal the struggles of being in a long-term relationship and the harsh reality of life with Primo's music passion & career choice.
? "Catching Feelings" (Bimwala reggae remix) out nie all streaming platforms by Inigo Pascual, Moophs ft. J Boog.
Celebrate the holidays with Karaoke for St. Jude on Dec. 21. Top Filipino artists plan to sing for St. Jude Children's Research Hospital to help end childhood cancer.
Karaoke for St. Jude included performances by Inigo Pascual, Jules Aurora, and The Filharmonic. The event was hosted by media partner MYX, which is the No. 1 Filipino American cable, radio, digital content and events provider that spotlights stories and music that are "uniquely Filipino."
This holiday event offers a fun way to share the mission of St. Jude Children's Research Hospital and how it is leading the way the world understands, treats and defeats childhood cancer and other life-threatening diseases. St. Jude also freely shares the research discoveries it makes, so every child saved at St. Jude means doctors and scientists worldwide can use that knowledge to save thousands more children. CLICK HERE to donate to the St. Jude Children's Research Hospital.


Parents of St. Jude patient Aspen, age 4, have experienced these benefits firsthand. While living in the Philippines, Aspen was following a St. Jude treatment plan for neuroblastoma, but when her doctor recommended immunotherapy, they knew it was unavailable. Aspen's doctor referred her to St. Jude Children's Research Hospital. Since arriving in Memphis, Tennessee, in 2019, St. Jude doctors and researchers discovered a mutation in Aspen's genes and they are working to develop a new protocol.
St. Jude Children's Research Hospital is a humanitarian effort supported by millions of Americans of all faiths and backgrounds united in their desire to help end childhood cancer and other life-threatening diseases. Thanks to generous donors, families never receive a bill from St. Jude for treatment, travel, housing or food – because all a family should worry about is helping their child live.
To learn more and register for a chance to virtually sing karaoke with artists, visit stjude.org/karaokeforstjude.
St. Jude Children's Research Hospital®
St. Jude Children's Research Hospital is leading the way the world understands, treats and defeats childhood cancer and other life-threatening diseases. Its purpose is clear: Finding cures. Saving children.® It is the only National Cancer Institute-designated Comprehensive Cancer Center devoted solely to children. Treatments invented at St. Jude have helped push the overall childhood cancer survival rate from 20 percent to more than 80 percent since the hospital opened more than 50 years ago. St. Jude won't stop until no child dies from cancer. St. Jude freely shares the discoveries it makes, and every child saved at St. Jude means doctors and scientists worldwide can use that knowledge to save thousands more children. Families never receive a bill from St. Jude for treatment, travel, housing or food – because all a family should worry about is helping their child live. Join the St. Jude mission by visiting stjude.org, liking St. Jude on Facebook, following St. Jude on Twitter, Instagram and TikTok, and subscribing to its YouTube channel.
myx Global
A subsidiary of ABS-CBN, myx is the biggest global platform that celebrates the next generation of Filipino artists, creatives and filmmakers from around the world. It is a subsidiary of the Philippines-based ABS-CBN Global media giant and currently distributed in 20 million homes worldwide. For programming and distribution information, visit myxTV and myxRADIO at http://myx.global/.
History will be made the weekend of December 10-13, the FIRST kumu & Twitch WORLD premiere of the biggest international island reggae collaboration between the Philippine, Hawaiian & Samoan Islands, United States & Africa will take place the weekend of the release, starting 12/11 (Manila time.)
DJs from across the world will be playing the Inigo Pascual & Moophs ft. J Boog "Catching Feelings" (Bimwala remix) by Tarsier Records during their LIVE-streamed DJ sets on their personal kumu/Twitch channels or on radio. See the full schedule below: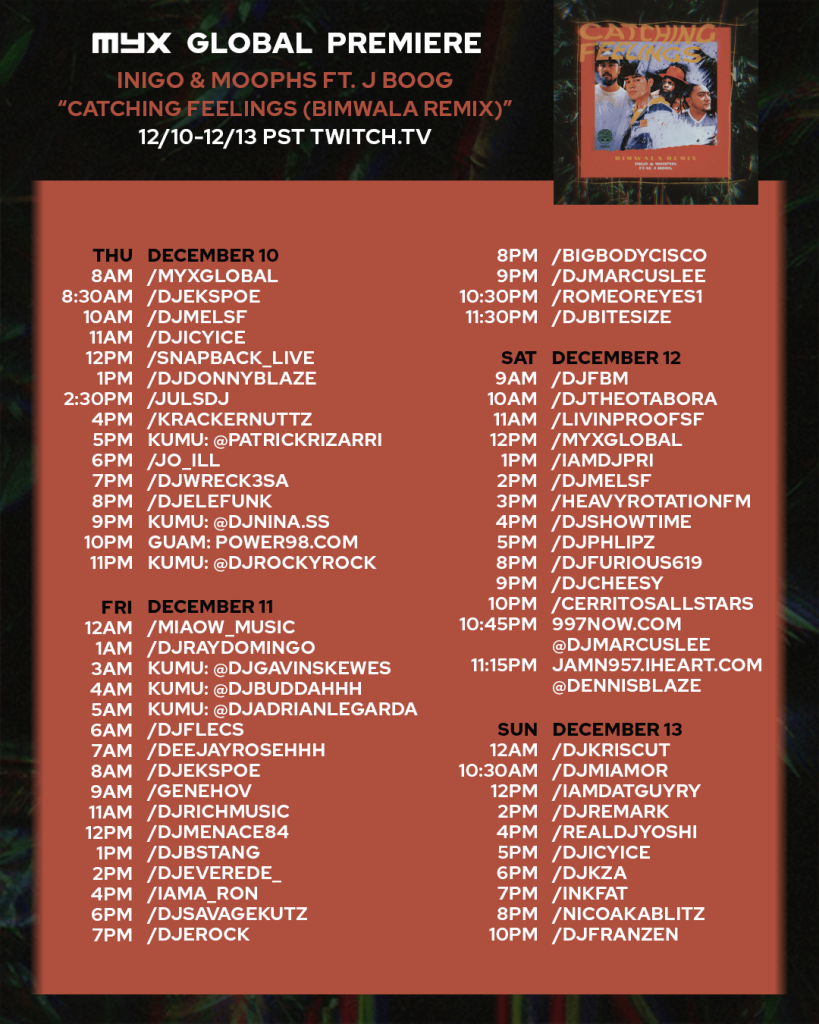 ABOUT THE RELEASE:
GRAMMY-nominated producer Bimwala refreshes Inigo Pascual & Moophs' island pop hit, "Catching Feelings," that is nearing 20M cross platform plays, that became a viral sensation with over 100K dance challenge videos on social media. The monumental collaboration was born in Hawaii, when Inigo met producer Bimwala on his 2019 promo world tour for the original single in Honolulu. Inigo talks about how the song came together below during the kick off for the world premiere at 12A Manila time:
The remix, features an all-new verse from one of reggae's most internationally-known Sampan artists, J Boog, who had over 80M 2019 Spotify plays & has had over 99M viewers on YouTube alone. The never been done before international collaboration crosses 3 continents. Inigo Pascual, who is known for his 2016 hit single "Dahil Sa'yo" has over 50 MILLION plays on Spotify and was the first #1 song on Billboard Philippines, he's known as one of Manila's biggest crossover artists that was recently featured in Jo Koy's Netflix special, "In My Elements."
HISTORIC INTERNATIONAL COLAB:
Inigo was born in the Philippines but was raised in Glendale, CA before returning to Manila where he lives now. The song was originally produced by Tarsier Records founder, Moophs, who was born in San Francisco, CA but now lives in the Philippines. J Boog is one of the top reggae internationally known streaming artists that was born in Long Beach, raised in Compton and now residing in Hawaii. Leslie "Bimwala" Ludiazo is a GRAMMY-nominated producer, chart-topping musician, and trailblazing music executive working out of Honolulu, Hawai'I, he is originally from Zaire (now the Democratic Republic of the Congo). Les fled the political turmoil of his home country, escaping to Canada, and later to Hawai'i. The song is a true international collaboration of sounds and styles for the world to enjoy.
The "Catching Feelings" (Bimwala Remix) by Inigo Pascual, Moophs, and J Boog is set to release on December 11, 2020 in all digital streaming platforms. Pre-save the track here: https://orcd.co/cf-remix
"Out of all the remixes and the versions we've done for "Catching Feelings," this one is definitely my favorite. The collaboration for a song that I wrote on my own that is getting appreciated and worked on by reggae legends J Boog & Bimwala. This is the best sound this song could get and will hopefully make anyone feel good that listens to it." Inigo Pascual on Catching Feelings (Bimwala Remix) (Born in the Philippines & raised in Glendale, CA)
"First I listened to the song. His words inspired me to write the third verse. It talks about an iffy situation of getting into a relationship because he started to catch feelings for a certain girl. My point of view was an older brother type of advice. By giving him insight on my personal experiences- I wanted my words to show catching feelings is more than just falling in love with a pretty face. There's so much more to love than what a smile can bring. I just wanted to thank him [Inigo] for letting me be a part of an amazing record. When I got the call from Bimwala and heard the track over the phone, I was excited to hear more and couldn't wait to join forces on this combination when I heard the full tune. He's a great young artist who already has a great following. I wish him the best in all he does! booMbahnG!" J Boog (Originally from Long Beach & raised in Compton, California now living in Hawaii, United States)
"A producer named JR Blender inspired me a lot on this remix and production. I grew up listening to his reggae remixes. I definitely see this song playing in movies and on the radio." Producer Bimwala on his remix of "Catching Feelings." Originally from the Democratic Republic of the Congo) Formerly Zaire in Central Africa) now living in Hawaii, United States)
The acoustic sound of New Rules' latest song My Guitar will get you into the fall vibes. The undeniably catchy tune will for sure have you humming the melody and singing along. The lyric video is out now and we can't wait to see if there's a music video in the works.
Download / stream here
ICYMI check out their myxCLUSIVE with Dannieboi where they talk about their singles Emily and Fix Somebody, the collaboration with Inigo Pascual, plus they play a game of "Which member..."
Gabby Almazar is apart of the 8 ambassadors chosen to take part in a new doscuseries called "Filgrimage" airing on myx, iwantTFC, The Filipino School & TFC. Watch her do a dance cover of Inigo Pascual's hit, "Catching Feelings."
Gabby is 19 years old and from San Diego, she has been dancing hip hop for 4.5 years on a team called iLL Habits for the last 3.  Now that she's no longer dancing, Gabby has been very involved in the Filipino organization at her school and enjoying all kinds of music which includes OPM.
Watch the trailer for the new Filgrimage series below and tune in to watch 10/22 on iWantTFC & 10/24 on myx & TFC.