One of the most popular music festivals, Coachella was back this past weekend after a 2 year hiatus. A huge lineup was set from Harry Styles, Billie Eillish, and The Weeknd headlining each night. However, Filipino musicians also take the stage like EYEDRESS and beabadoobee performing at the Sonora and Gobi stages. Besides the music, the fashion is one of the most talked about points during the 2-weekend festival and some of your favorite Filipino stars enjoyed the desert vibe while looking chic. Lets take look at some of the outfits worn in Weekend 1.
Vanessa and Stella Hudgens
Vanessa Hudgens is the queen of Coachella and her outfits do not disappoint. The wanderlust looks she bought to the festival throughout the years is a staple that isn't going anywhere. This year, the Hudgens sisters dress up in PowerPuff Girls colors in pink, blue, and green.
Nicole Scherzinger
Nicole Scherzinger brings the animal print pattern to the desert. The outfit screams boho-chic plus it's paired with oversized sunnies and accessories to complement, it's perfect.
Valkyrae
Valkyrae keeps it comfy and simple in a two-piece outfit with mesh pants. Whenever at Coachella, you definitely have to keep yourself cool so you can't forget the bucket hat!
Saweetie
Ate Icy brings the color with reds, blues, and gold in her outfit. We're loving the hair and the two-piece outfit designed with a textured pattern.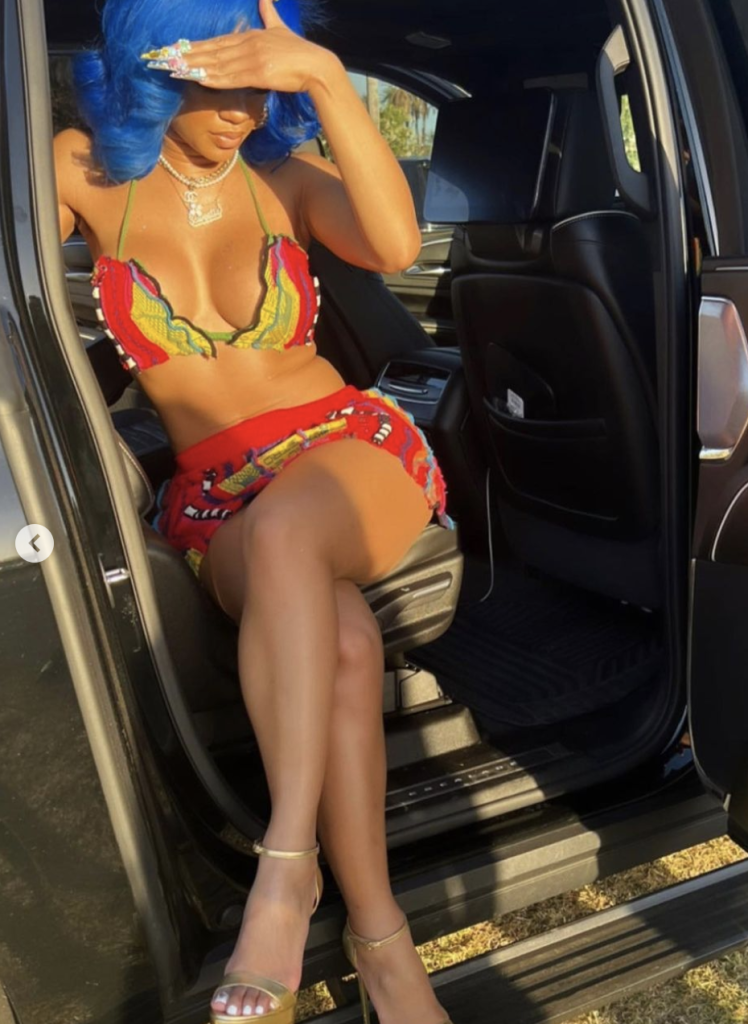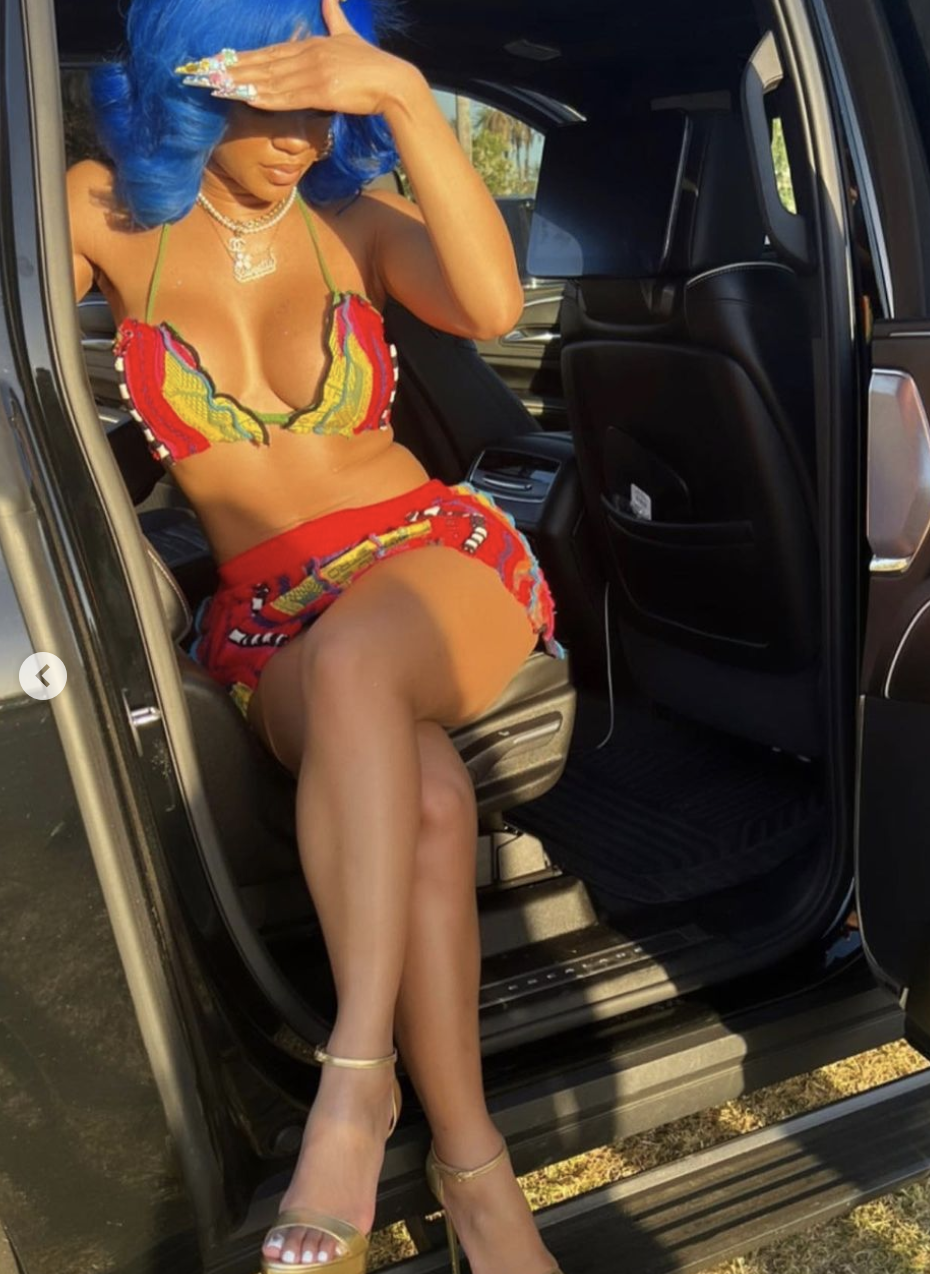 Erin Lim
The E! Entertainment host hangs out at the Revolve Fest and talks to many of the celebrities passing by including Kim K. Erin keeps it cool and flowy with a white ensemble and a cute space bun. This outfit is going to the archive for summer fits!
Raissa Gerona
The Chief Brand Officer for Revolve brings the groovy vibes to the festival. Hosting the Revolve pool party was the place to be with everyone from celebs to influencers popping by for drinks and IG-worthy backdrops.
EYEDRESS
A Sunday performer, EYEDRESS was in the middle of the action, hanging out in the pit with Jaden Smith. The Filipino artist stuck with the basics in an all-black outfit with brown chest strap.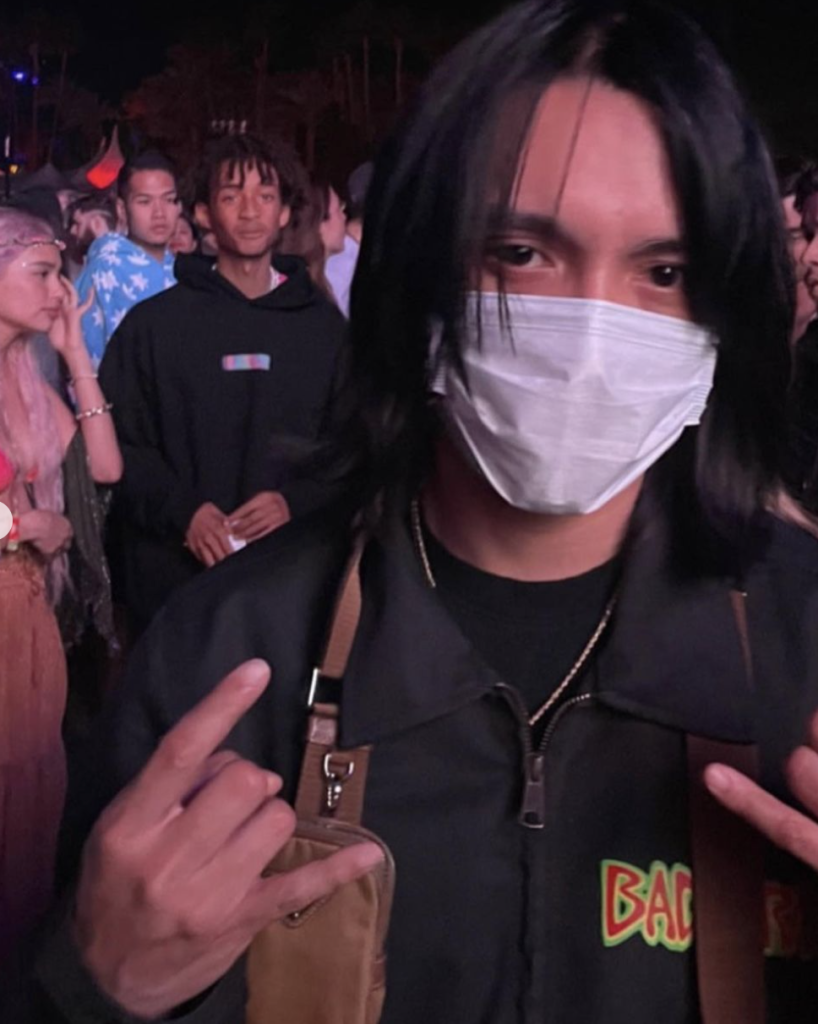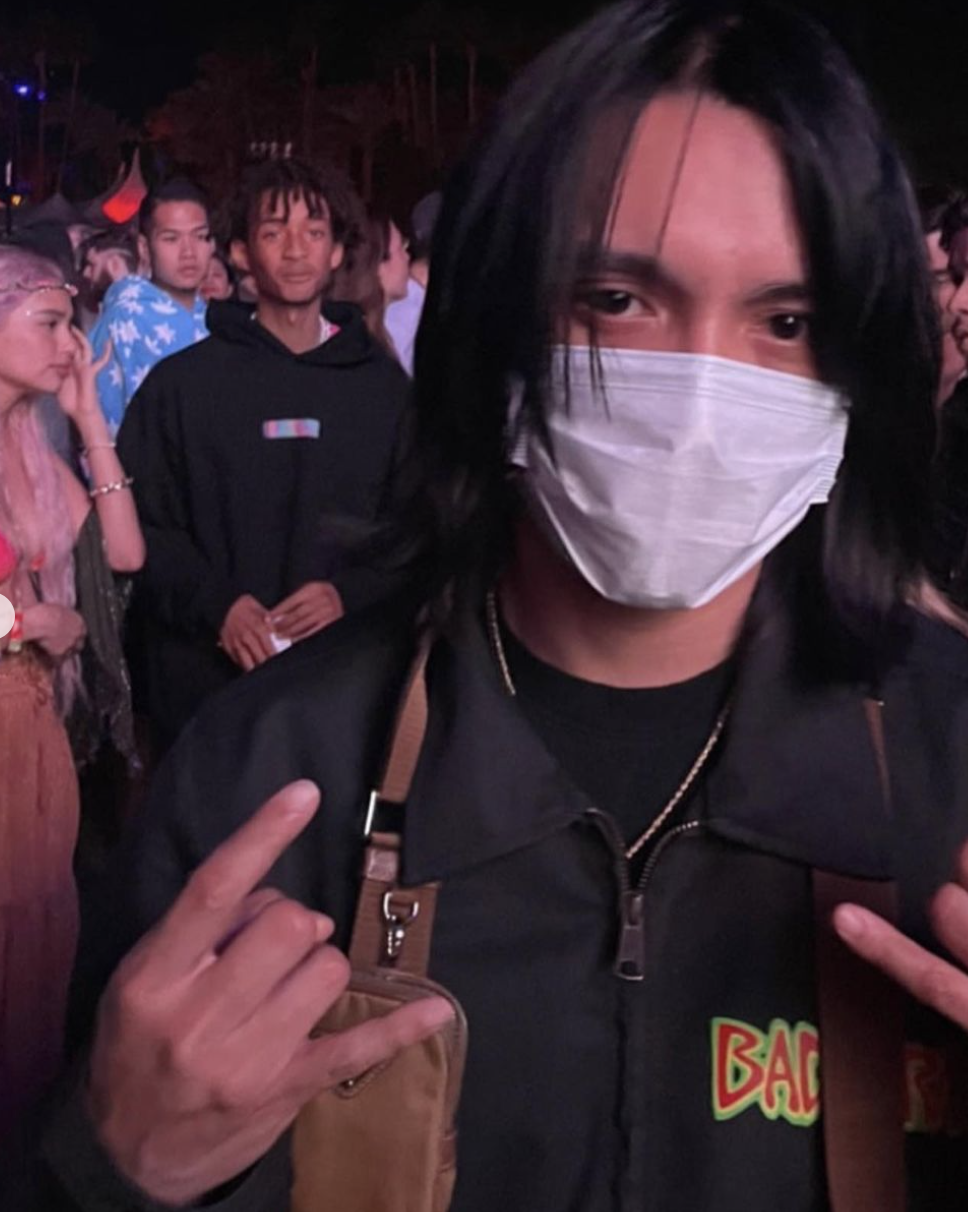 Jen DeLeon
Twitch host, Jen DeLeon went with a retro look in a halter and skirt combo. Her fit plus the backdrop behind one of the iconic Coachella structure, it didn't miss. She's there to cover all sorts of Coachella content from the sets, looking for the best outfits, best food, and more.
Miss Kay aka Keiffer
Miss Kay slays Coachella in a leather outfit. She blazes through the desert heat with a smile and a dope oversized leather blazer. We need to know where it's from!
Bretman Rock
Bretman rocks all 3 days in different looks, but our favorite is the princess-inspired look rocking all the shimmers and glitters possible.
Bella Poarch
Bella keeps it fun and flirty in another retro pattern that's sure to stick out. Her signature long braids adds to the look and can we talk about her leg warmers!
Jay-R and Mica
The couple take to the dessert in a desert appropriate rock and cowgirl themed outfit. Mica rocks a cowboy hat and mixes it with a boho-fringe top with boots for the dusty conditions. Jay-R keeps it rock-n-roll with KISS muscle tee ready to fend away the bright weather.
beabadoobee
The Fil-British Coachella performer chose a young and fun mini dress outfit before taking the stage. She kept it chic and simple showing off her body artwork.
Can't wait to see what kind of outfits will be at Weekend 2 of Coachella!
Cover Photo Credit: Valkyrae Instagram
The Philippines "King of R&B" Jay R stopped by the MYX Global Studios in Los Angeles to bless our stage with a live performance of his track "Hinay" in-between his busy schedule for his U.S. Homecoming Tour. So check him out as he smashes his live performance on the #MYXTraks stage.
About Jay R:
Jay R was born and raised in Los Angeles, CA, and grew up in a musically inclined household, which led him to pursue music at an early age—singing with a prominent Top 40's band called The Howlers across LA in the late 90s, and then eventually joining a boy band called First Impression soon after. He began producing original music for local artists in LA as a teenager, which led to him completing his own full length album and pursuing his solo career. He caught the attention of industry executives from the Philippines, and was offered a recording contract with Universal Records Philippines, and a network contract with one of the the country's leading TV stations.

Upon moving to the Philippines, Jay R released his debut album called Gameface, which garnered numerous accolades, with the record hitting double platinum, winning multiple awards, establishing a timeless hit song entitled, "Bakit Pa Ba" among other hits ("Design For Love", "Kung Mahal Ko Siya"), which solidified his place in the OPM industry, which then earned him the title of the "Philippines' King of R&B". He has since embarked on multiple tours across the globe, performing for Filipino audiences internationally.
His quick rise to fame led him to become a well sought after endorser and brand ambassador for multi-national brands such as Colgate, Sun Cellular, Tropicana, Bench, Techno Marine, Unisilver, Kaspersky, and 2Go, among others. His image graced multiple billboards across the metro, TV commercials on both leading networks in the Philippines, and print ads across the country.
Today, Jay R continues to produce, write, release and perform his original music and can often be seen performing on TV shows (ASAP, Your Face Sounds Familiar, TWBA, We Love OPM, MYX, etc.) on the Philippines' leading TV network, ABS-CBN. He continues to help elevate the Philippine music industry through his own independent record label, Homeworkz Entertainment Services, where he produces, distributes and promotes original music from his own roster of uniquely talented Filipino artists. He has also dabbled in film scoring and producing soundtracks for international film projects such as 2019's action film, General Commander starring Steven Seagal, and a self-produced full length film coming in 2020, entitled Songs For Selena.
About MYX Traks:
MYX Traks is a part of MYX Global's new Youtube content line-up. The show features a live in-studio performance from up-and-coming and established artists co-produced with Traklife Media Group.
Follow Jay R:
Instagram: https://www.instagram.com/rnbjayr/?hl=en
Twitter: https://twitter.com/rnbjayr
Facebook: https://www.facebook.com/rnbjayr1
Youtube: https://www.youtube.com/channel/UCIMULr-edvZx2F9LPH6cF-A
Spotify: https://open.spotify.com/artist/3z0IVhtuFvt9VYUZGT98PU?si=DM7wnabQTLySTr2YDg60NA
The Filipino community comes together to celebrate Larry Itliong Day in Historic Filipinotown on October 23, 2021 at 2 pm PST at Unidad Park, Los Angeles. This year's theme is "Makiisa Sa Pagtulong at Sulong." The celebration is put together by The Pilipino Workers Center and it aims to connect the community to programs, services, and resources that would help them during this COVID-19 pandemic.
Through the use of visual and performing arts, the Larry Itliong Day event also seeks to educate and entertain attendees about the Filipino culture, the history of the Filipino labor movement in the United States, and its impact on workers today. The event's well-curated program, art installations, and activities bridge social justice with music, arts, and cultural appreciation. Attendees will enjoy a variety of activities such as musical performances by various artists, an educational art exhibit, a short stage adaptation of the book, "Journey for Justice", jeepney, tricycle, kariton, and bahay kubo selfie stations, and many more.
Festival Info:

WHAT: Larry Itliong Day Festival 2021 – a celebration of art, music, and culture in honor of Larry Itliong

WHEN: October 23, 2021, 2:00pm PST

WHERE: In person – Unidad Park, 1644 Beverly Blvd., Historic Filipinotown, Los Angeles, CA 90026,
Online: www.facebook.com/PWCSC

Performers: Kiana V, Mica Javier, Jay R, Ancestral Vision Movement, Felson Palad, Gingee, Steady, the cast of
Journey for Justice: Maya Valenciano, Shalimar Malimban, Rommel Rojas, Jose Infante and more.
Speakers: Deputy Hoang Nguyen (Deputy Supervisor to Hilda Solis, LA County First District), Councilmember
Mitch O'Farrel (Los Angeles City District 13), Commissioner Jessica Caloza (Los Angeles City Department of
Public Works), Assemblywoman Wendy Carillo (California State Assembly, District 51) and Consul General
Edgar B. Badajos (Philippine Consulate, Los Angeles).

Organizations: FilAm Arts, Search to Involve Pilipino Americans (SIPA), Filipino American Service
Group Inc (FASGI), Filipino American Community of Los Angeles (FACLA), Philippine Nurses Association, Historic
Filipinotown businesses, Filipino American Community leaders and allies.
Philippine's King of R&B is back stateside and is ready for his homecoming tour. Jay R has been soaking up the sun back in his hometown area of Southern California this summer. He's was spotted at a special screening for our MYX Original Series "Making it in America," featuring Chef Val enjoying the breeze in the San Francisco Bay area and cheering on Manny Pacquiao at his fight in Las Vegas. But he's up to more than that while he's out here visiting.
This week Jay R just announced that he is going on a Homecoming Tour! He will be making six stops on this US tour in California, New York, Texas, and Nevada. The bar tour is presented by Coco Productions.
If you are heading to one of the stops, make sure to brush up on your Jay R repertoire. Start off by listening to his latest release, "Hinay," which just dropped this summer.
About Jay R:
Dubbed as the Philippines' King Of R&B, Jay R breaks new grounds year after year as an artist.
Who would forget his critically acclaimed and commercially successful first album called "Gameface" which produced the hit "Bakit Pa Ba?"
Followed by more sentimental tracks that hit bigtime on the airwaves – Ngayo'y Naririto, Kung Mahal Mo Siya, 'Di Ko Sadya' and more.
Being around for over a decade, Jay R has built his own mark as the country's premiere R&B phenom. Doing music and shows here and abroad.
Alongside he is self-handedly managing Homeworkz, his own record label and studio. In the recent limelight, Jay-R staged a collaboration concert called "SOULJA" with Jaya & Jason Dy, touring for international shows and a YouTube channel showcasing his originals and covers arranged by Jay R himself.
Cover Photo Courtesy of Jay R Instagram
It's a vibe with Jay R's newest song Hinay. You can say it gives off Silk Sonic similarities, but in Tagalog. As the Philippines King of R&B, Jay R hits the mood with his vocals in creating a genuine R&B song. Hinay was written and produced by Thyro Alfaro. It's available to stream on all music platforms.
Cover Photo Credit: Jay R Facebook
| | | | |
| --- | --- | --- | --- |
| | | | |
| | | | |
| | | | |
| | | | |
| | | | |
| | | | |
| | | Nadine Lustre feat. Massiah | |
| | | Sa Susunod Na Habang Buhay | |
| | | | |
| | | | |
| | | | |
| | | | |
| | | | |
| | | | |
| | | | |
| | | | |
| | | | |
| | | | |
| | | | |
| | | Julian Trono and Ella Cruz | |
| | | | |
| --- | --- | --- | --- |
| | | | |
| | | | |
| | | | |
| | | | |
| | | | |
| | | | |
| | | Nadine Lustre feat. Massiah | |
| | | Sa Susunod Na Habang Buhay | |
| | | | |
| | | | |
| | | | |
| | | | |
| | | | |
| | | | |
| | | | |
| | | | |
| | | | |
| | | | |
| | | | |
| | | | |
| | | | |
| --- | --- | --- | --- |
| | | | |
| | | | |
| | | | |
| | | | |
| | | Nadine Lustre feat. Massiah | |
| | | Sa Susunod Na Habang Buhay | |
| | | | |
| | | | |
| | | | |
| | | | |
| | | | |
| | | | |
| | | | |
| | | | |
| | | | |
| | | | |
| | | | |
| | | | |
| | | | |
| | | | |
The King and Queen of R&B, Jay R and KYLA team up for another collaboration and this time for the song, Undeniable. It's time to get all up in our feels and enjoy this smooth track.
Download and stream here