MYX partnered with LA Clippers for their annual "Filipino Heritage Night," that is known to be one of the biggest heritage nights in the NBA with past featured guests including APL of the Black Eyed Peas, Inigo Pascual, JReySoul and many more. Once again, thousands sold-out the exclusive group sale package that included a custom Filipino themed jersey to fill the arena while they played against Fil-Am player Jordan Clarkson and the Utah Jazz. Although they struggled with a huge deficit throughout the game, in the 4th quarter the Clippers pulled off an amazing win and left everyone in good spirits.
Watch the highlight video of the event below and see a photo gallery HERE.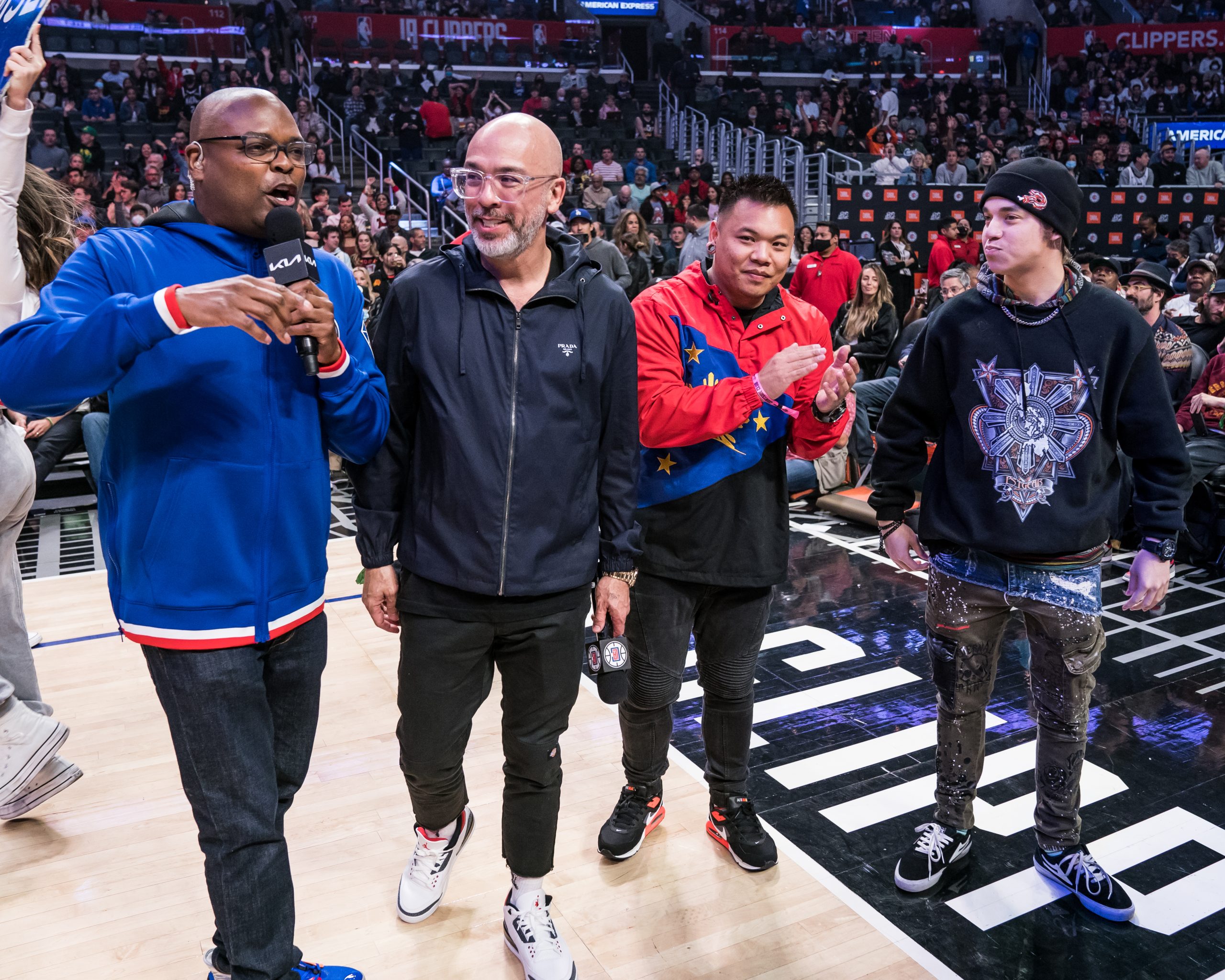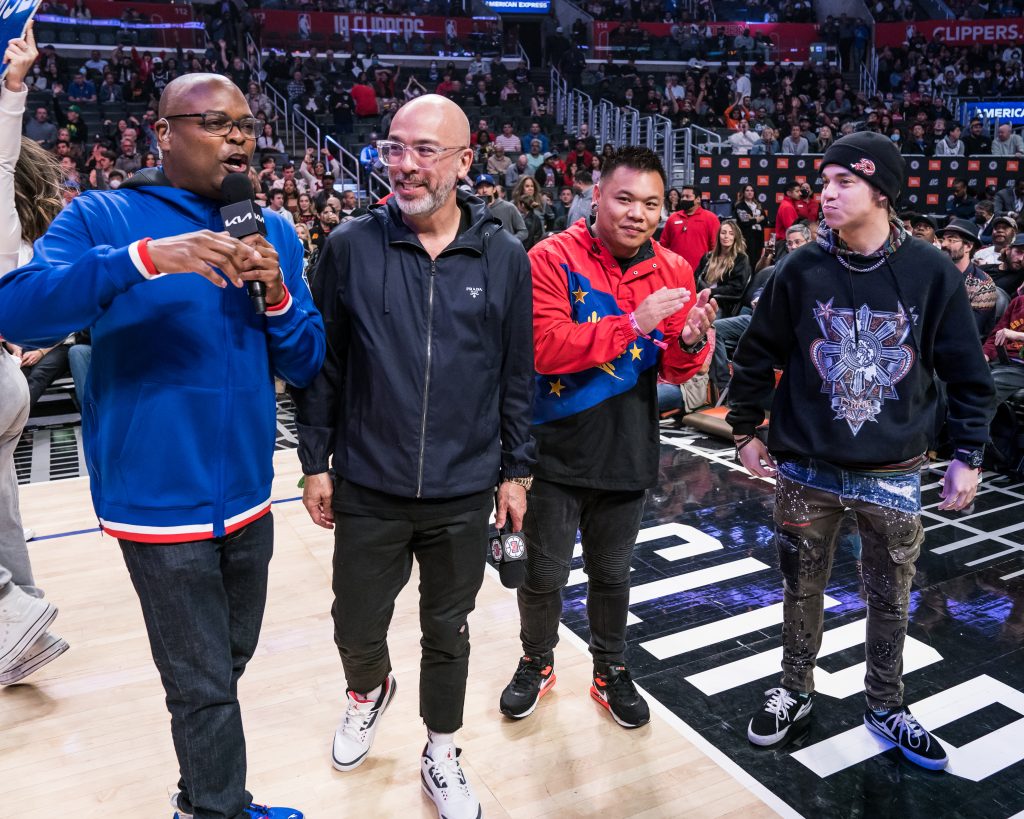 Fresh off his sold out back to back shows at The Forum while taping his 4th Netflix special, Jo Koy made a surprise appearance and was thanked by Clipper Nation host Hannah Cormier for his commitment to being a voice for his community. He talked about his upcoming "Easter Sunday" Steven Spielberg movie coming out 8/5 and ABC TV show "Josep" coming soon, both are based on his family life that fans have loved hearing about for 20+ years in his stand up.
Jo was joined by his son Joseph Herbert and sat courtside while also participating in a T-shirt toss with long time friend/collaborator singer/songwriter AJ Rafael and Philippines viral rapper Ez Mil. Jo told Ez that he was a fan of his music and Ez felt blessed to hear that from the icon.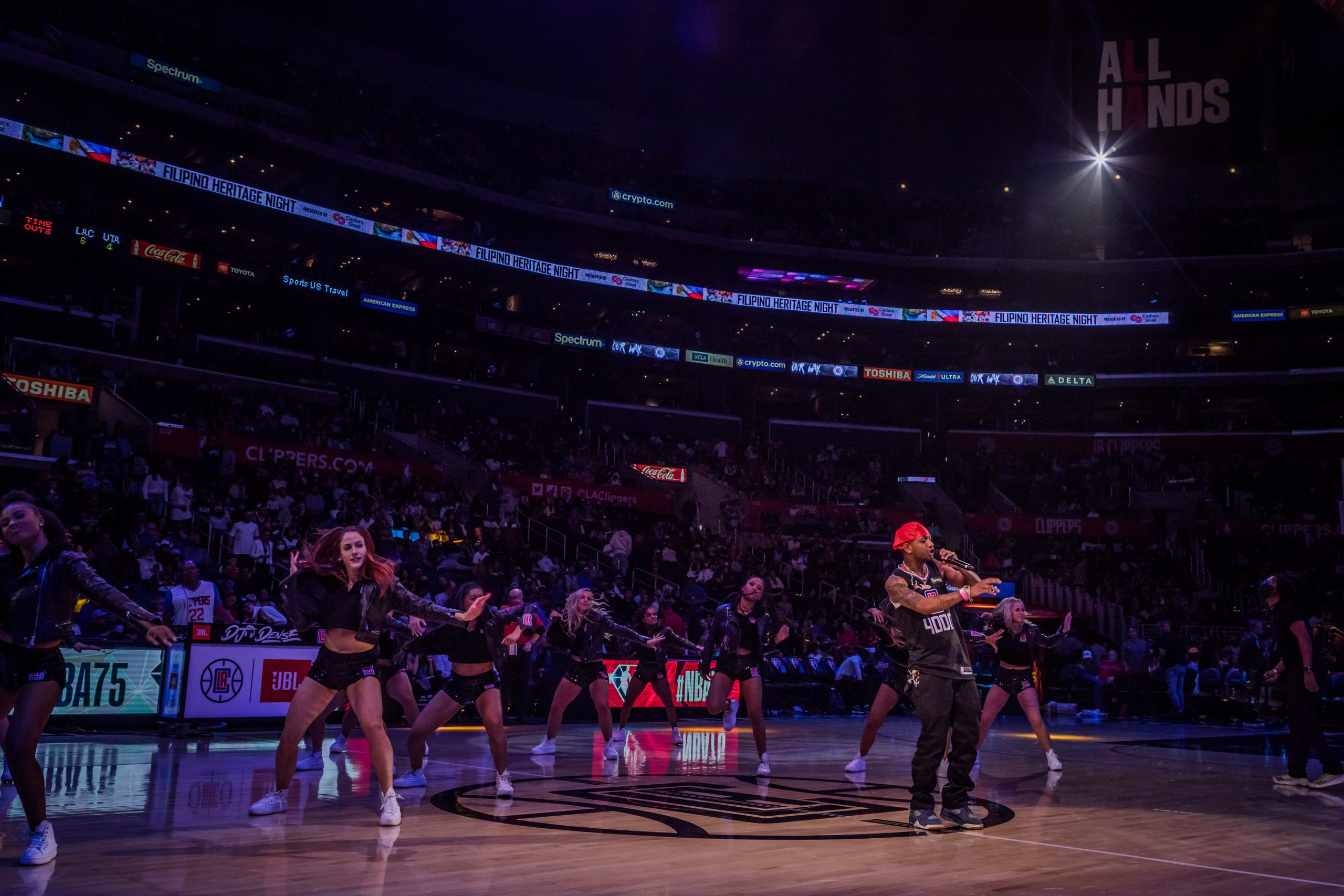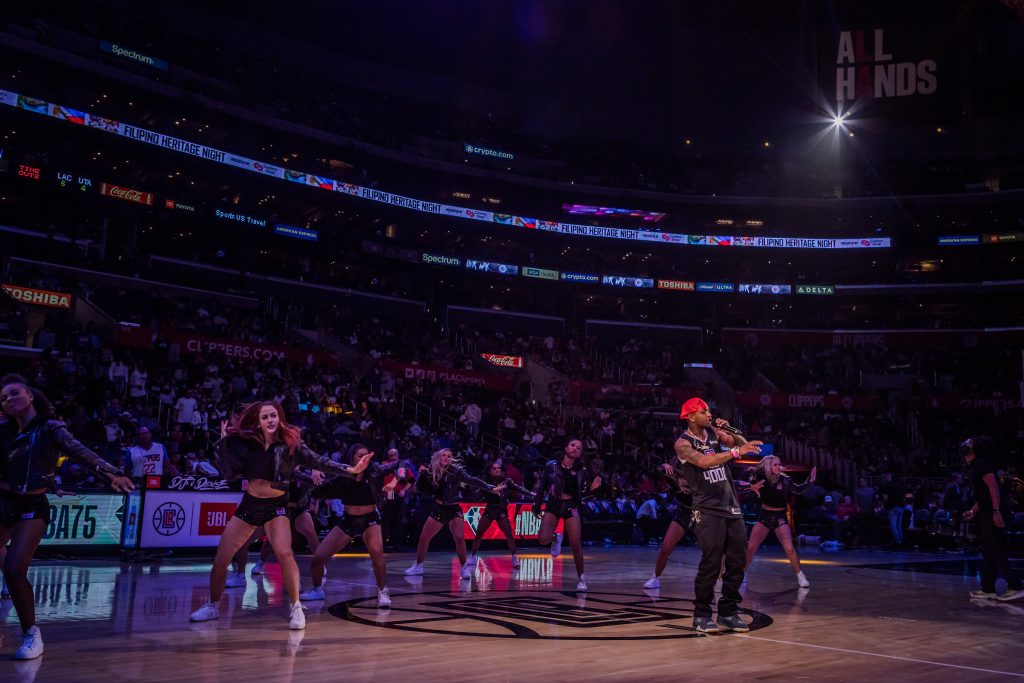 Black and Filipino GRAMMY nominated rapper and producer Guapdad 4000 performed at halftime his hit singles like "I Need Bands," "Costa Rica," "Money" and premiered a new track called "Black Iverson," that will be released soon. Guap thanked his Filipino fans before performing his song "Chicken Adobo," which pays homage to the Filipino food dish made with love.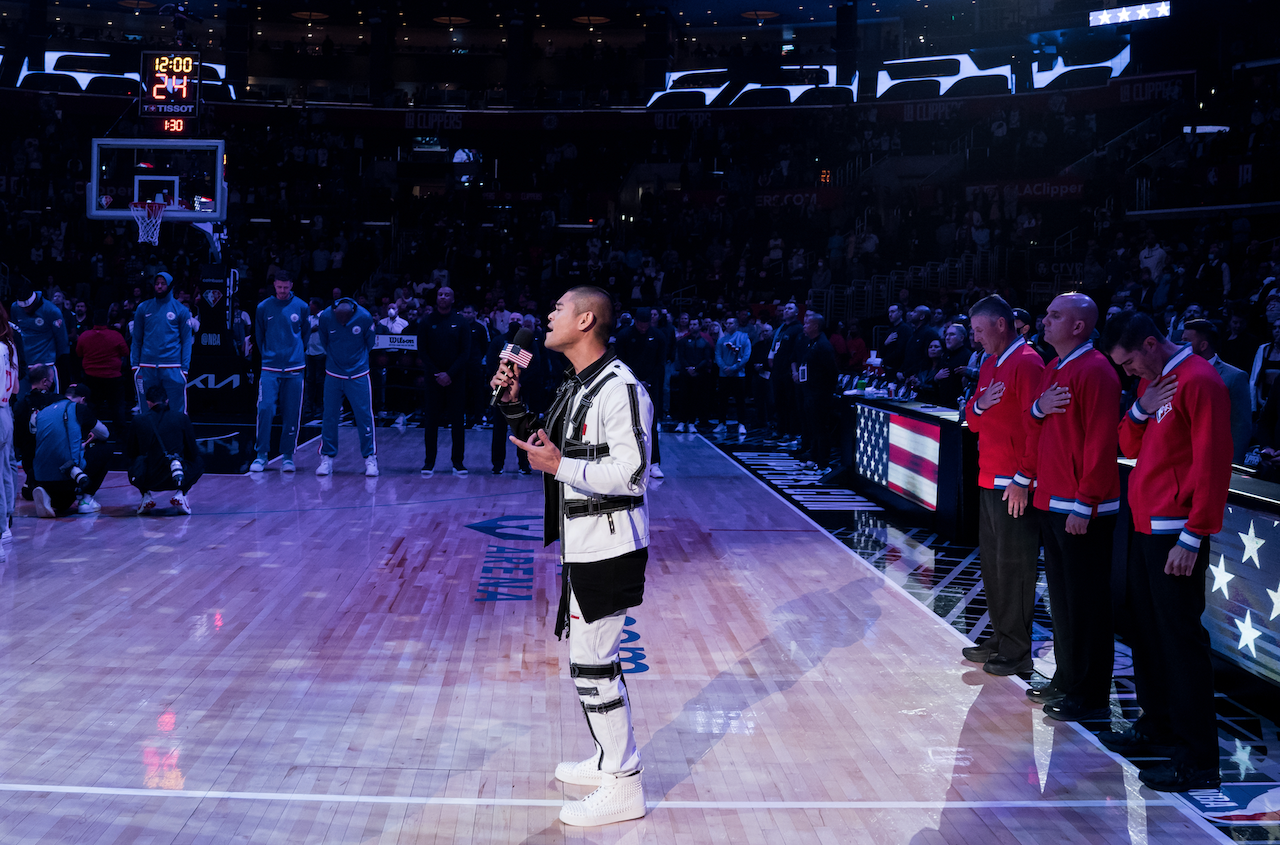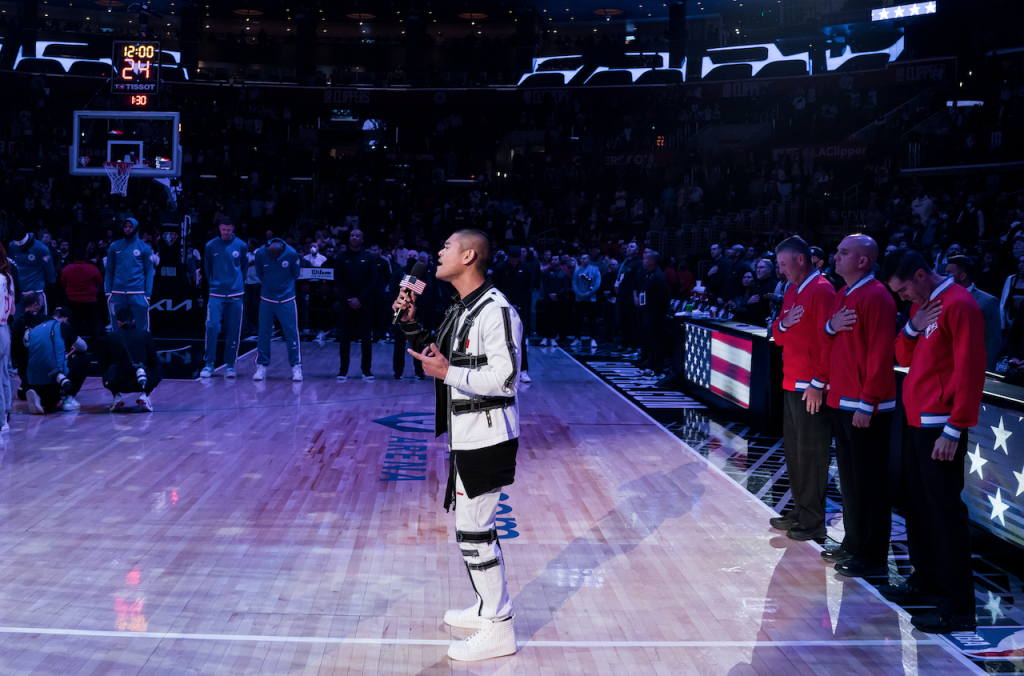 Philippines King of R&B Jay R stunned the crowd with an original take on the National Anthem, where you can hear people cheering through the various parts of the song. Fans of all ages stopped Jay R throughout the arena to greet him including his old friends in highschool when he lived in Glendale, CA. Jay R was joined by his wife, Mica Javier.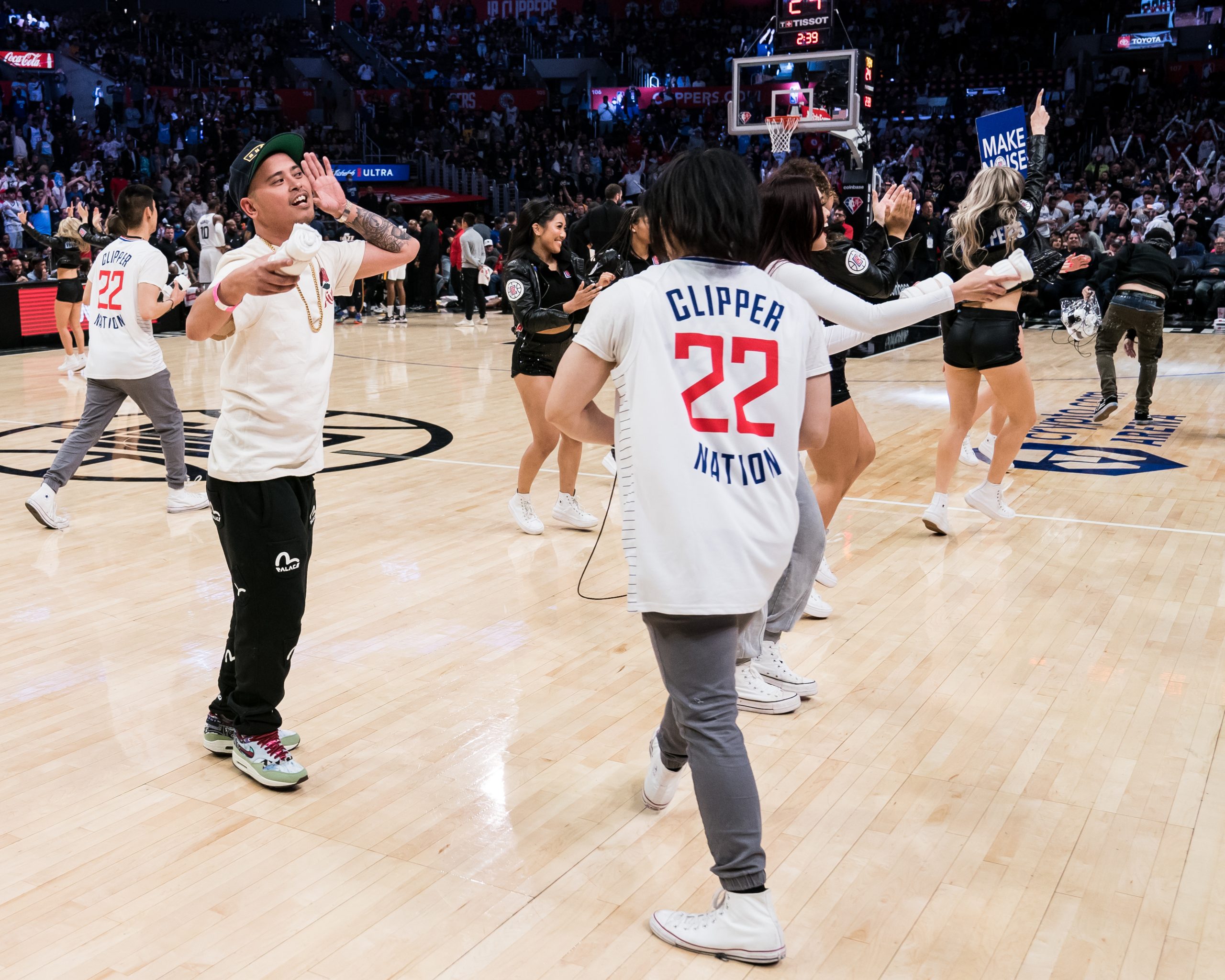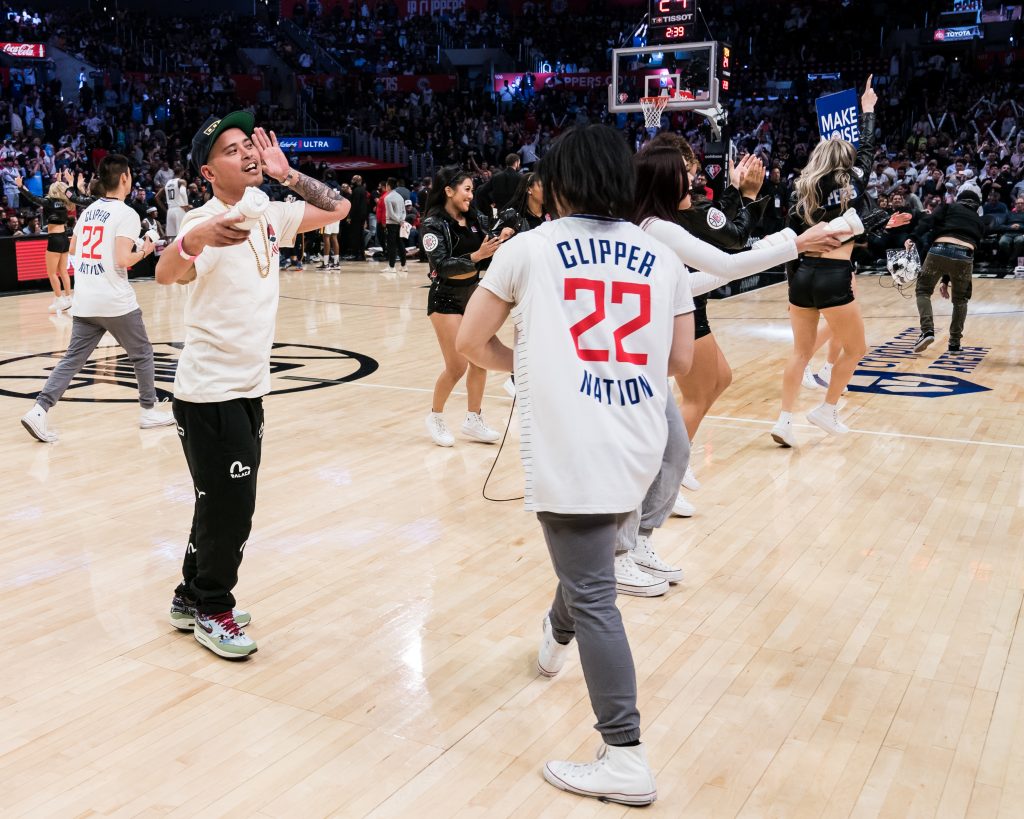 JUNOS nominated Fil-Canadian comedian Keith Pedro joined a T-shirt toss with Ez Mil and entertained the MYX & So Cal Filpinos crowd that were able to gain early access to the pre-game warmups by purchasing on our exclusive link.
The Clippers team added various Filipino touches to the game including a "Finish the Lyric" karaoke contest where Filipina child singer Bailey took home the prize after a special rendition of "Truth Hurts" by Lizzo, she did such a great job ESPN had featured her after the event on their Instagram. Clippers mascot Chuck the Condor came dressed in a Barong Tagalog and held up custom Tagalog signs throughout the evening before performing as Bruno Mars on the court.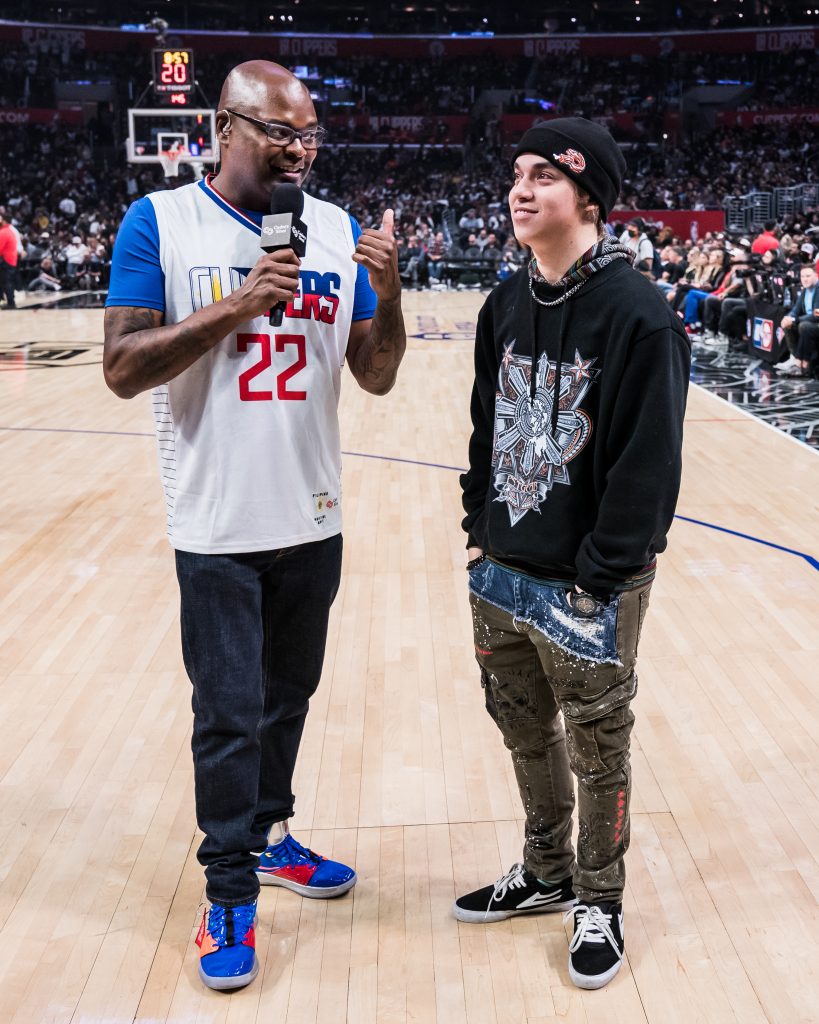 Other activations continued throughout the arena as Ez Mil hosted a dance cam with DJ Dense. Tremendous Communications celebrated their 2 year anniversary in a Hyde suite alongside various Asian and Filipino executives in TV, Film, media & music. The community basketball group, the B-Ball Junkies, owned by Filipino American Rob Hernandez hosted a post-game tournament after the game on court where special guests like Frankie Yatingpay of Amazon Music, Marisa Pizaro of Def Jam, Jeremiah Abraham of Tremendous Comm, Dino Ray, Keith Pedro, Ez Mil and family joined after for photos and shoot-arounds.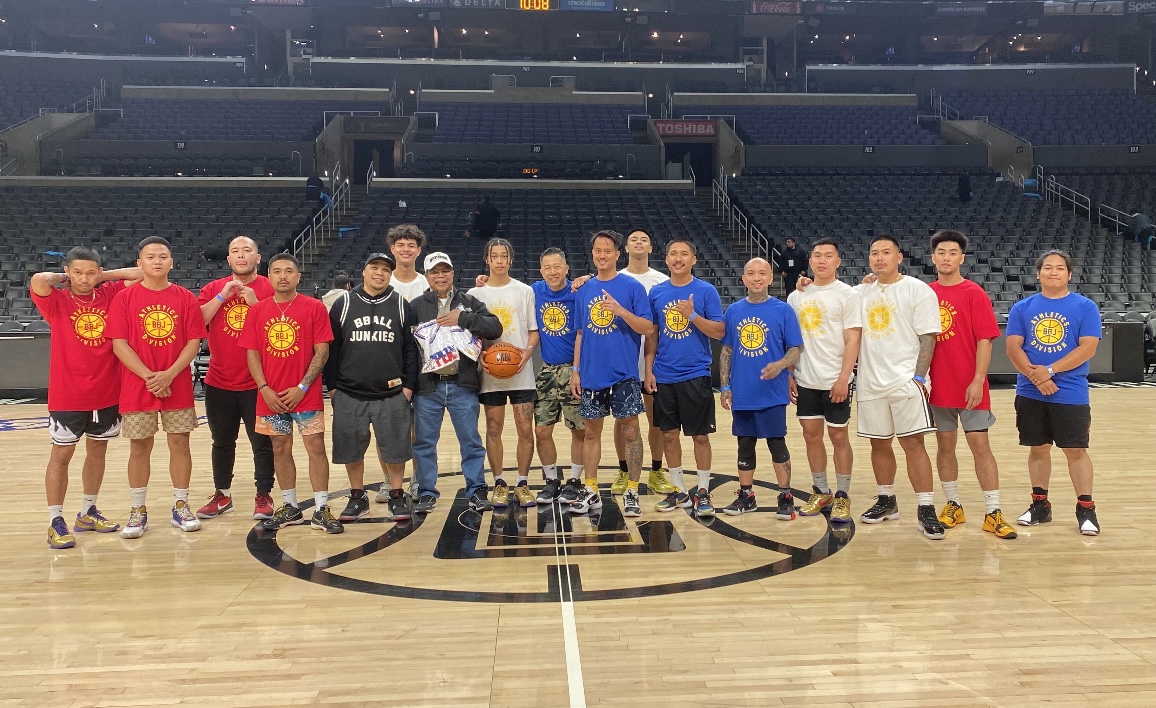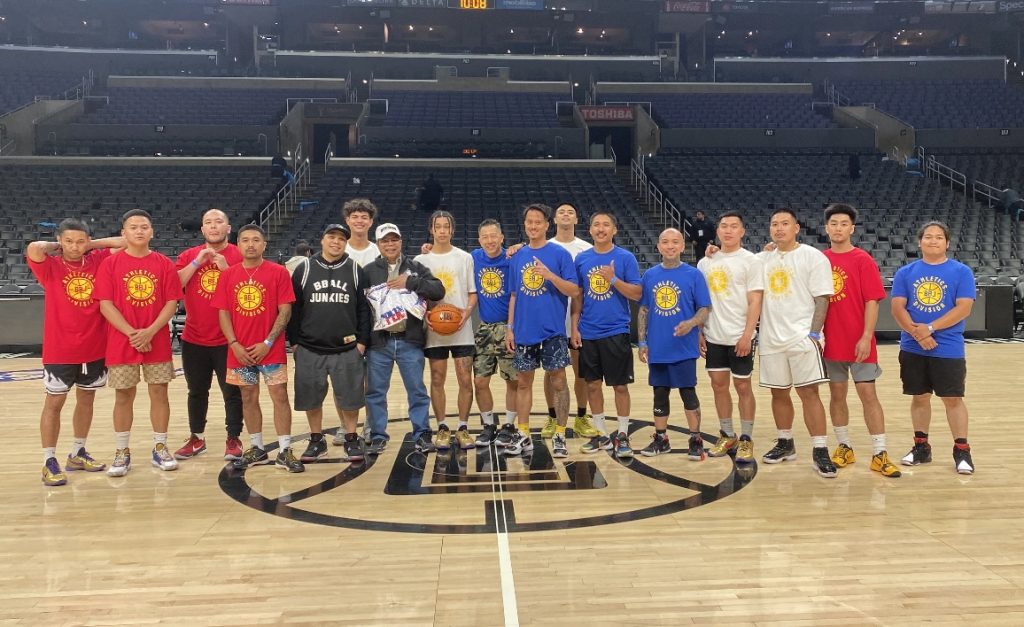 A jam packed night that left everyone wanting more. Stay tuned for more Filipino Heritage Nights to come, produced or promoted by MYX at www.myx.global/filipinoheritagenight.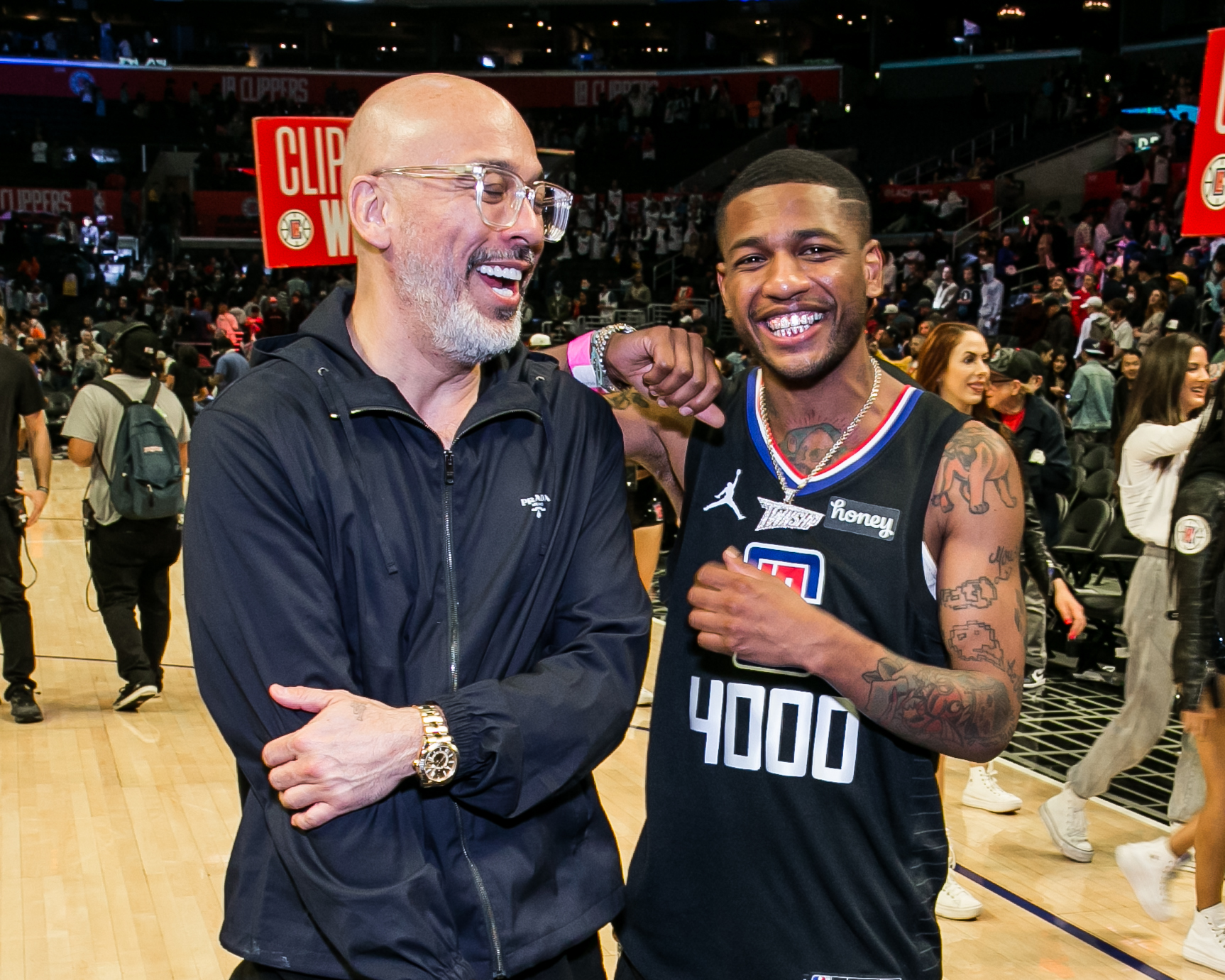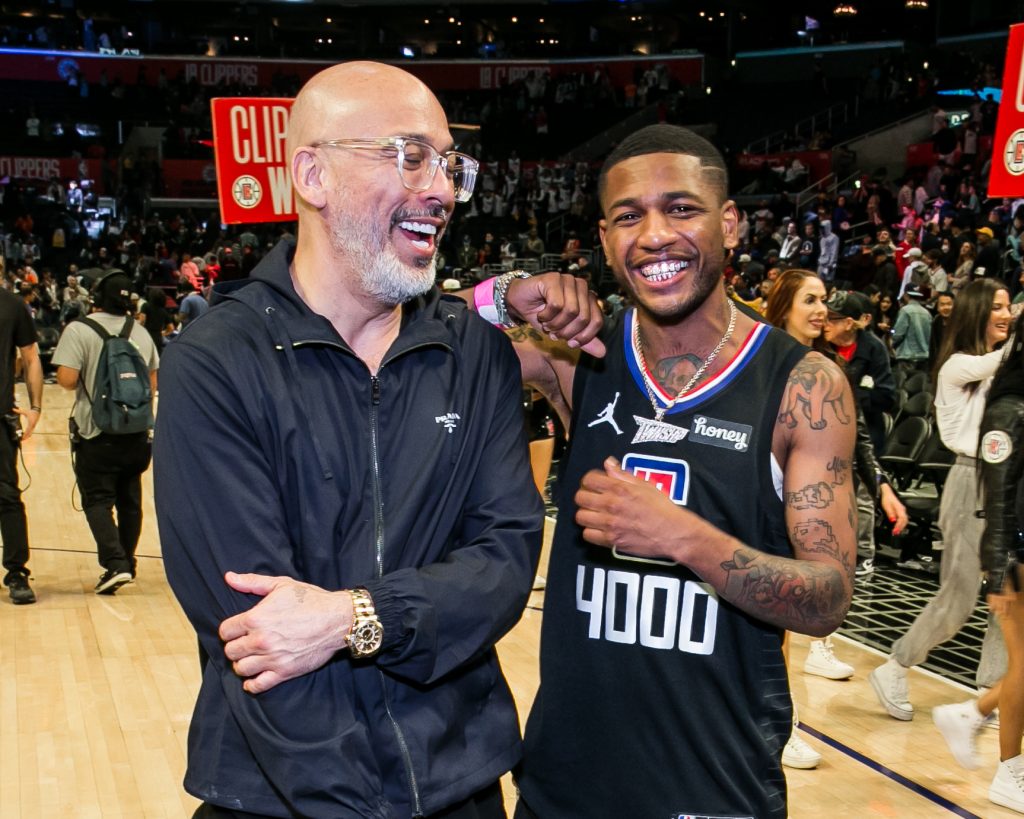 This week's MYX News Hot List, for more visit: www.myx.global/myxnews.
MYX Music News: BGYO X BINI - P-pop groups BINI and BGYO teamed up for their first ever concert, "One Dream".
MYX Music News: New Releases - Marvel's latest film, "Shang-Chi and the Legend of the Ten Rings" features Guapdad4000, Saweetie, and NIKI for their soundtrack.
Musician Jeremy Passion is teaming up with Disney for "Reimagined Tomorrow".
Ben&Ben drops the music video for Upuan starring Donny Pangilinan and Belle Mariano.
MYX Entertainment: Nadine - Nadine is out with the new music of her song, "Intoxicated".
MYX Sports News: Filipino Night - The World Champion, Los Angeles Dodgers recently celebrated Pinoy pride with its annual Filipino Heritage Night. Jo Koy threw the first ceremonial pitch.
MYX Entertainment: PBB - PBB is looking for new housemates for their 10th season! Aspiring housemates can audition through kumu app.
Jo Koy releases his new book, "Mixed Plate," Jabbawockeez re-open their MGM Grand show in a new socially distanced & meet Ez Mil opening week in Las Vegas, with new music by Kiyomi, Manila Grey featuring P-Lo & James Reid.
This week on the MYX News Hot List, hosted by Trace Gaynor. For more, bookmark www.myx.global/myxnews.
Tanikala made a debut appearance on the internationally renowned Netflix special, Jo Koy's In His Elements after winning a rap contest by Morobeats. The prize consisted of winning a recorded album that was released in 2020, this became the self titled album, Tanikala. Shortly after the album was released and after completing the official music video for the song "Kayumanggi", Tanikala announced himself as an independent artist.
 
Tanikala stems from Dasmarinas, Cavite. Eufrenzy Jeano Mira Chichico, Tanikala is the 17 year old rapper who pens lyrical verses that tackles and sparks uncomfortable subjects for some. Tanikala takes much pride in being Filipino and through his experience from seeing his Mom having to leave the family to make a living, he gives the audience a taste of the struggle by giving the public an insight to life as a working Filipino overseas.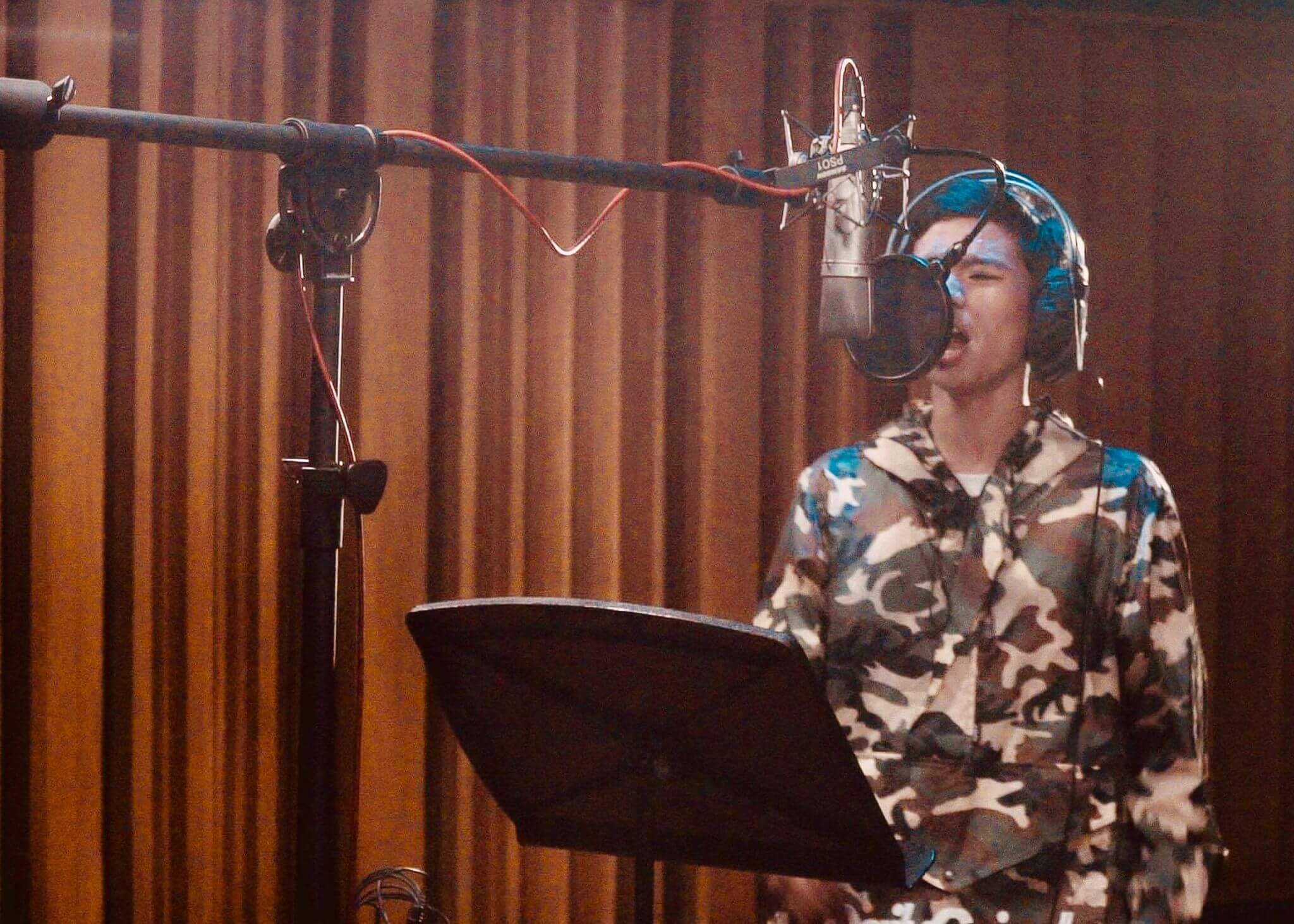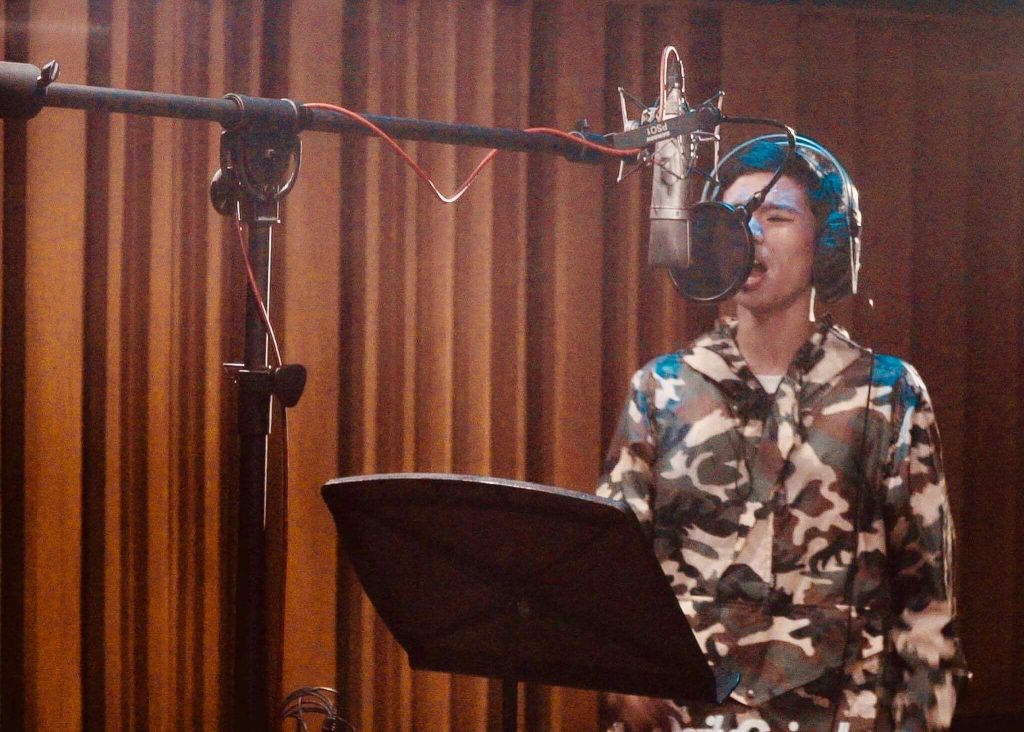 Subjects tackled in his songs pertain to the growing concerns about violence, drugs, community, mental illness--- to a very wide range including teen pregnancy. He makes a statement in each song allowing those who listen to understand that these are very real and existing challenges within the community. Watch him do the #HowManyChallenge to #1 song in the Philippines "How Many" created by FilAms Guapdad 4000 & producer !llmind.

In a much recent conversation and explanation on the "Panalo" cover below by Tanikala, Tanikala steps in to show support for fellow Filipino rapper, Ez Mil. Tanikala, has a strong belief that we as Filipino's should be showing support towards one another.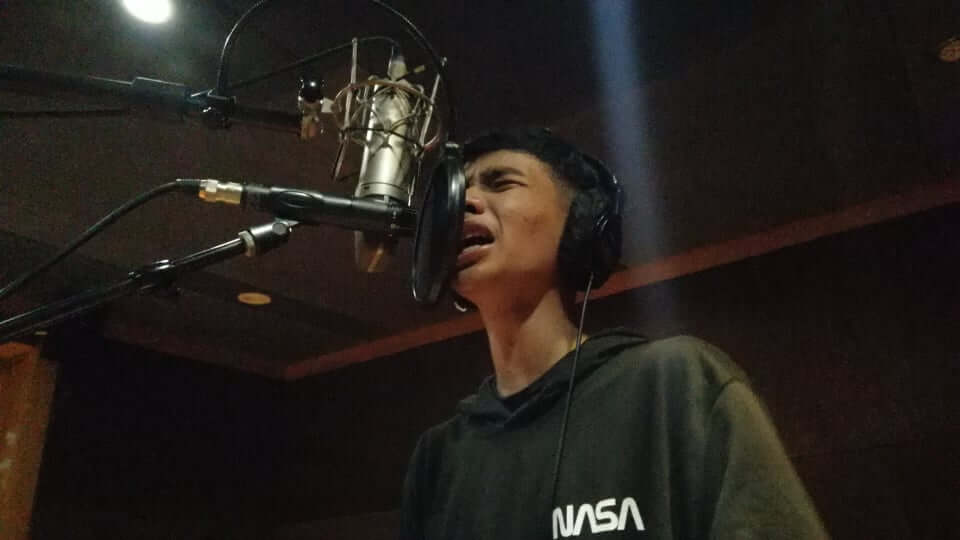 In the "Panalo" cover, Tanikala mentions that we all have a right to our culture as Filipinos no matter where you are--- Tanikala hopes that all who get a chance to listen will drop the nit picking and be happy that Filipinos are becoming known worldwide for creating something uplifting, something recognizable--- something that inspires people to keep creating.
Tanikala sees Ez Mil's "Panalo" that has reached over 50M streams worldwide in 2 weeks as a win for all Filipinos. Tanikala turns the "Panalo" cover as a song of unity and asks those before him (national heroes) for strength and courage for all.
Catch the first global TV performance of "Panalo" LIVE on ASAP (All Star Afternoon Party) this Sunday 3/7 at 12P. Check your local cable & satellite viewing schedule for TFC, Kapamilya Channel, iWantTFC app & here on MYX soon.
According to NBC San Diego, the Southern Calfornia city will proclaim a day named after comedian Jo Koy in honor of Filipino American History Month. Councilmember Chris Cate, who represents San Diego's District 6, will present the honor to Koy in a celebratory ceremony Friday in Mira Mesa.
Jo Koy sells out arenas across the world including 5 sold-out shows at the San Diego Civic Theatre.
His latest Netflix special, "In My Elements" which is a variety show of various Filipino American comedians, B-Boy Ronnie & international singer/songwriter Inigo Pascual, was recently nominated for a "People's Choice Award" as the Comedy Act of 2020. You can vote for Jo Koy here.
Chris Cate, who is a second-generation Filipino-American, called the comedian "iconic and a trailblazer," as Variety Magazine also did when he was the first Fil Am to cover the legendary Hollywood print publication.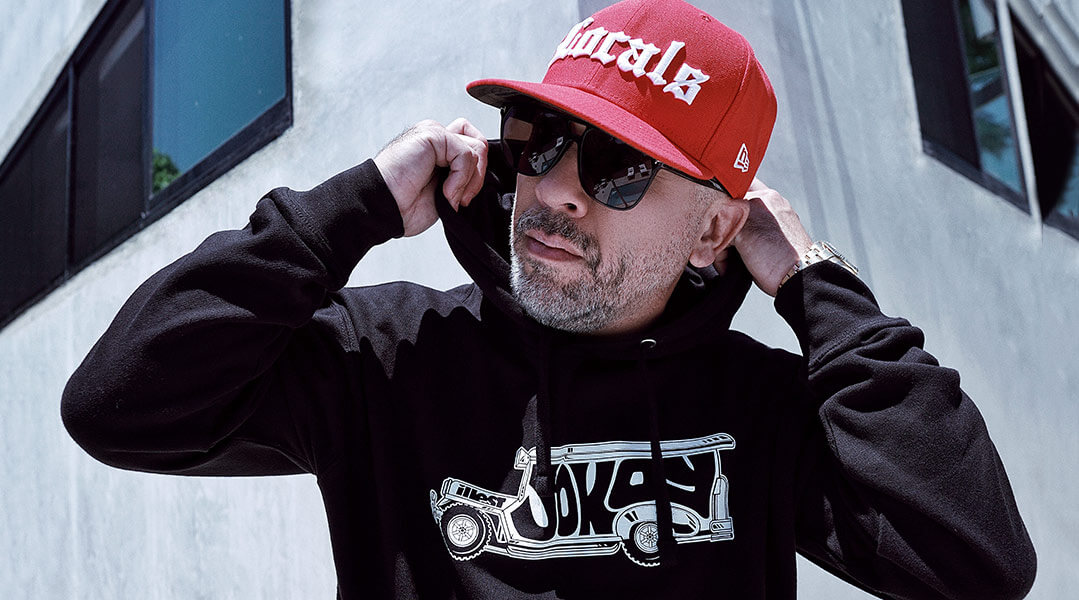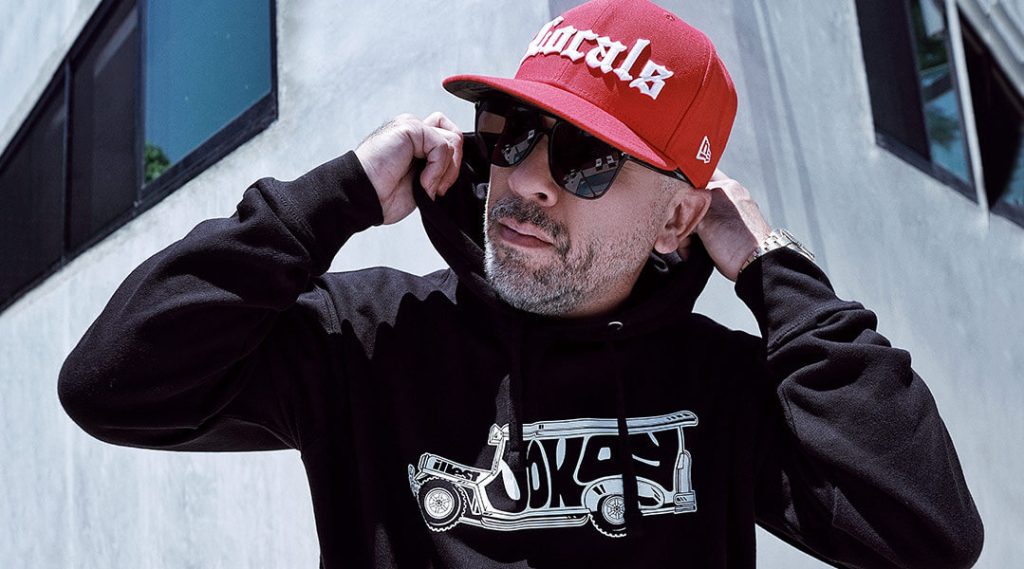 Jo Koy also recently released another exclusive collaboration with Illest, a popular streetwear brand created by Fil Am designer & entrepreneur, Mark Arcenal that also features his son Joseph Herbert in the ads.
"His homage to the Philippines has reached the lives of millions of people worldwide," Cate said in a statement. "Filipino cuisine, culture, and arts are flourishing in District 6, and I am excited to celebrate Jo Koy and recognize his accomplishments." According to NBC San Diego, District 6, which includes Kearny Mesa, Clairemont Mesa, Miramar, Mira Mesa, Sorrento Valley and Park Village, is a diverse area where 1 in every 3 residents is of Asian descent, the council member said.
Watch Jo Koy thank the frontliners across the world in this PSA that also features GRAMMY Award winning H.E.R., Apl.de.ap of the Black Eyed Peas & Saweetie below:
Jo Koy recently also collaborated with GRAMMY award winning producer, Illmind, the Philippines producer Moro Beats and a group of talented artists from the Philippines for his Netflix show intro and official music video for "Kayumanggi." The video features Tanikala, A, & Fateeha on vocals & the inspirational visual was shot both in the Philippines and US with Jabbawockeez producing the choreography. Watch "In His Elements," out now only on Netflix.
Jo Koy is showing off his Filipino Pride in his latest Netflix special "In His Elements". Ginger got a chance to chat with Jo Koy on how much this means to him.