Get ready Fiipino K-pop fans! Livestreaming app kumu just announced an electrifying collaboration with Hyped Collective for a globally-accessible concert experience for K-pop fans and music lovers. On Saturday, July 1, starting at 5:00 PM Philippine Time, fans can enjoy live performances by Soda, tripleS, bibi, Mamamoo+, and HyunA. The online concert - called Club-Z LIVE - will air exclusively on kumu on the @hypedcollective channel. The event will also feature a Pre-Show starting at 4:00 PM Manila Time, showcasing kumu streamers and local musical acts.
The kumu livestream experience will also offer a unique opportunity for fans to interact with their favorite artists. Because this is actually live, and not pre-recorded, fans can engage with the artists and receive shoutouts, adding an exciting personal touch to the experience. Throughout the show, the host will mention various ways to get noticed by the artists. Check out the official set times below.
5:10-6:00 pm PHT Soda Performance
6:05-6:35 pm PHT tripleS Performance
6:40-7:10 pm PHT bibi Performance
7:15-7:45 pm PHT mamamoo+ Performance
7:50-8:20 pm PHT hyunA Performance
To join this free experience, fans can download the kumu app and tune in to the @hypedcollective channel on Saturday, July 1. The Pre-Show begins at 4:00 PM, followed by the Club-Z LIVE concert at 5:00 PM. This free livestream concert, presented by Hyped Collective, aims to bring world-class entertainment to K-Pop enthusiasts in the Philippines and beyond.
For more information and updates, please visit kumu's website www.blog.kumu.ph and follow @kumuph on Instagram, Facebook, and Twitter.
An on the rise love team from PBB Kumunity Season 10: KD Estrada and Alexa Ilacad are ready to take their pairing to new heights with the iWantTFC series, Run To Me premiering this month. The series focuses on two strangers living opposite lives, who share a passion for streaming, and find their way to each other in the most unexpected manner.
Jewel (Alexa Ilacad) is on top of her game online. She has reached superstar status for capturing the niche of singing flawlessly while doing make-up tutorials.  But while enjoying the success of her virtual life, she is down in the dumps with her real family life. Her busy mother Emerald (Mickey Ferriols) has no time for Jewel, focusing instead on the family business. Jewel feels left out as her mother's attention is directed towards her younger brother, Diamond (Sean Tristan).
On the flip side, Wilson (KD Estrada) is also a music streamer but struggles for views. He hustles hard with side gigs trying to help his mother (Nikki Valdez) and pay for her hospital bills. He may not be getting fan love online, the unconditional love he shares with his mom is unmatched.
Jewel and Wilson crosses paths unexpectedly as Wilson tries to rescue Jewel from what he thought was a kidnapping. He finds out the situation was staged by Jewel to grab her mother's attention. Does Wilson play along to her scheme, playing along as her fake kidnapper or will both of them get caught in their lie?
Start streaming Run To Me outside the Philippines May 20th on Kumu and starting May 21st, a new episode drops every Sunday on iWantTFC for subscribers on the Premium Plan. The series produced by ABS-CBN Entertainment, Dreamscape Entertainment, iWantTFC, and Kumu is directed by Dwein R. Baltazar and also stars and Malou Crisologo, CJ Navato, Karl Gabriel, Ivan Carapiet, Margaux Montana, Henz Villaraiz, Matty Juniosa, and Haira Palaguitto.
Top Class: The Rise To P-Pop Stardom is the newest talent search survival show that aims to form the next male Pinoy pop band. With KZ Tandingan named as a singing mentor, it's only right that the show tapped an A-list dance mentor as well.
Filipino-American singer/dancer Brian Puspos has been named the official dance mentor for Top Class: The Rise To P-Pop Stardom.
"It means more than anybody could imagine. Although I am from the USA, I am a proud full-blooded Filipino, and I am so honored to be a part of making history and finding the next P-POP stars. To represent dance at such a high level and to be a proud Filipino on a platform like this is a dream come true," says Brian.
Brian's resume as a dancer is as accomplished as they come. As a choreographer, he has worked with household names in music such as K-Pop group BTS, Chris Brown, Justin Bieber, and more. He also boasts two top 3 finishes in America's Best Dance Crew with SoReal Cru (second season) and Mos Wanted Crew (seventh season.) Puspos was also awarded "Male Choreographer of the Year" by World of Dance in 2012 and 2014.
Check out an official message from Brian Puspos below and stay tuned for more news on Top Class: The Rise To P-Pop Stardom!
Cover Photo Courtesy of Brian Puspos Instagram
Don't get us wrong, we definitely love High School Musical or High School Musical The Musical The Series but wouldn't it be awesome to see The Filharmonic and a majority Filipino cast take over an episode or maybe even just a scene? Well, here is a proof of concept via The Filharmonic and Kumu!
A newly released "Filharmonic Friday" takes us on a one-shot music video experience with Ella Mai's Boo'd Up, Usher's My Boo, and DJ Ghost Town's My Boo, featuring dancers from UCLA's Samahang Modern!
Cover Photo Courtesy of The Filharmonic Facebook
ABS-CBN Star Music has released the perfect video to accompany the Love at First Stream OST No Stopping You by SB19. Immersing us into the digital world, the vertical video is full of energy, fun, and of course, Kumu! Check out the video below and see how the boys get down to the catchy and upbeat song.
Oh, and you thought that was it? How about a little behind these scenes set tour of the music video? ABS-CBN Star Cinema has got that on deck for you.
About Love At First Stream:
LOVE AT FIRST STREAM is about this new world where life has become wildly digital. A streamer, a student, a breadwinner, and a heartthrob explore love and friendships online to escape their realities offline. LOVE AT FIRST STREAM a film by Cathy Garcia-Molina is an official entry to this year's Metro Manila Film Festival. In cinemas coming this Christmas, December 25, 2021.
The pandemic showed us the power of social media. Though far from each other, it brought us together. It showed us alternative ways to express ourselves, communicate and consume entertainment. Different industries thought of ways on how to adapt and be more creative in finding ways to migrate their business as usuals.

Film production has been put on hold for the first few months of our lockdown but ABS-CBN Films found creative ways to keep telling stories. And as we move to a better normal they continue to tell our story. And this year, they are proud to partner with the country's biggest live streaming and social entertainment platform, kumu.

kumu is a powerful social media platform that brings the voices of Filipinos from all over the globe at the forefront. Aside from presenting users real-time earning opportunities as a live streamer, chances to win cash in various game shows, and engagement in campaigns, kumu also fosters communities that ignite relevant discussions among Filipinos.

Star Cinema is the country's largest film production and distribution company that produced and released most of the highest-grossing Philippine films of all time. Their films targeted mainstream viewers with film genres ranging from action, drama, comedy, horror, and fantasy. Star Cinema is also known for romantic-comedy films that made us fall in love, over and over again like One More Chance, My Ex and Whys, Hows of Us, Hello, Love, Goodbye and a lot more.

Over the past 2 decades, Star Cinema movies have discovered generations of talents and love teams that the Filipinos loved and supported. And with that, they continue the mission to discover and hone new talents with it's very own, RISE Artists Studio.

The partnership between Star Cinema and kumu will soon bear fruit and produce a movie that will soon be in production. This romantic-comedy movie will be directed by the blockbuster director Cathy Garcia-Molina.

The one-of-a-kind partnership between a film production company, Star Cinema and streaming and social entertainment platform kumu, hopes to bring the audience a different kind of entertainment viewing.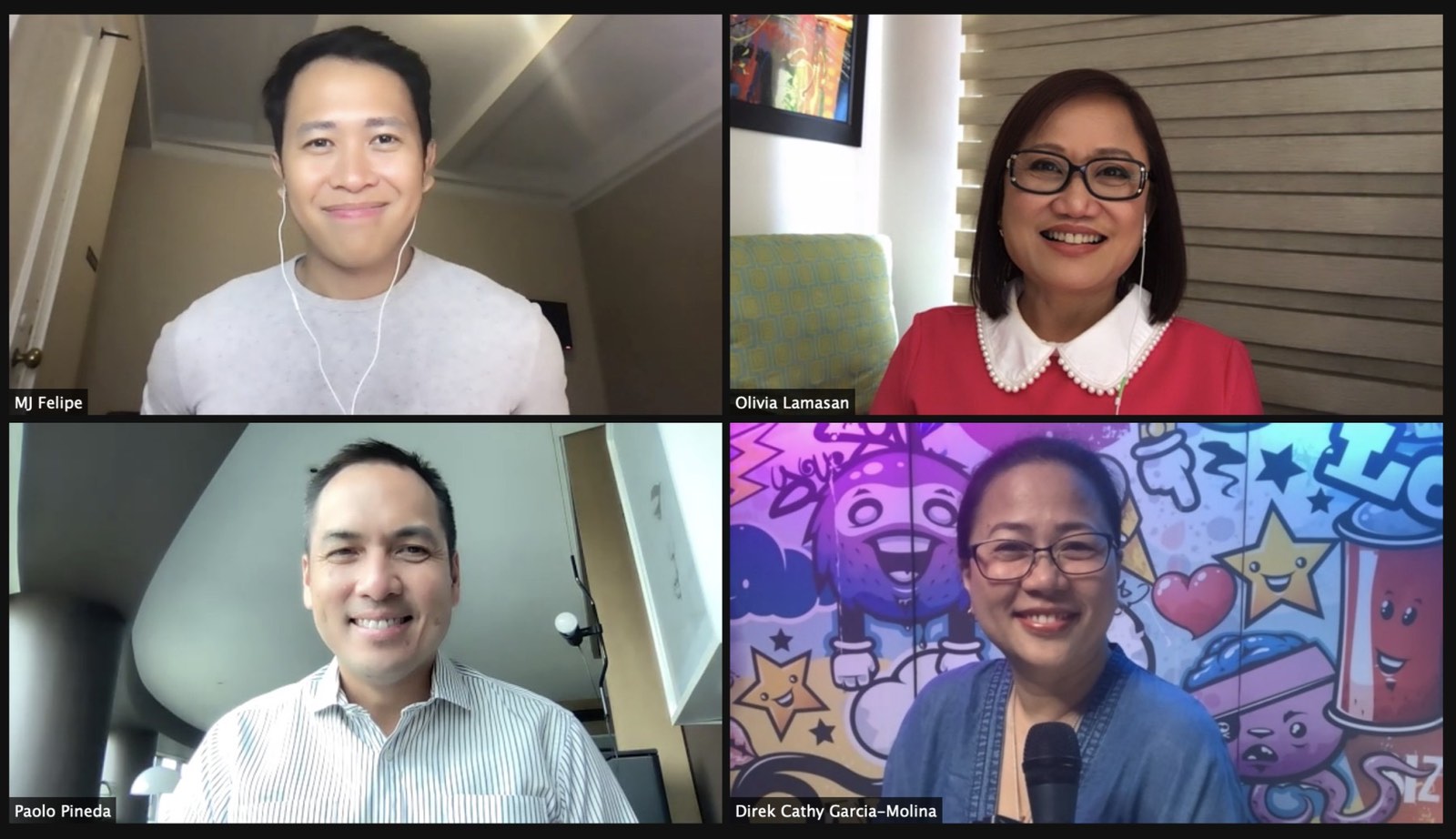 Watch the live announcement HERE!
Get to know our June kumu Rising Star, Gail Banawis in this exclusive interview with VJ Samm:
Here's today's Daily 10 for 6/22:
MYX Daily Top 10 - June 22, 2021
1. Butter - BTS
2. What - SB19
3. Sigurado - Belle Mariano
4. He's Into Her - BGYO
5. Born to Win - BINI
6. 'Di Kawalan - Maymay Entrata
7. good 4 u - Olivia Rodrigo
8. Paraluman - Adie
9. Binibini - Zack Tabudlo
10. deja vu - Olivia Rodrigo
Kyle Echarri can do it all: sing, dance, act, and a content creator. In his latest album, New Views he shows off his vocal chops and new sound. The record has both Tagalog and English tracks with a pop/R&B sound that's evident in I'm Serious, As Long as You Mine. The songs in Tagalog, Mahal Nga Kita and Liligawan Na Kita features other artists like Arvey and Seth Fedelin. The 7 new tracks shows you the direction that Kyle is taking in his music. Sit back and take a listen.
To celebrate the release of New Views and his birthday, Kyle is also having a digital fan con with a few special guests. A few of his friends like Darren Espanto, AC Bonifacio, Moira Dela Torre, and Zephanie are slated to join in on the #PartyWithKyle. The Digital Birthday Fan Con is on Saturday, June 20, 7PM Philippines time on Kumu.
Cover Photo Credit: Kyle Echarri Facebook
Hottest news this week, Careless Music and Kumu Live just announced Nadine Lustre's first solo concert entitled "Absolute Madness." As the culmination to her debut solo album "Wildest Dreams", the concert will air online through Kumu Live's streaming platform on July 3, 2021 at 7 PM. Purchase tickets now on the Kumu Live website (www.kumu.live) to experience the grand spectacle from the safety of your own homes.
Kumu, a mobile streaming platform in the Philippines, kicked off a desktop version of their app to cater to live streaming ticketed events. Their continued support for Careless Music and for Nadine herself since the release of the Wildest Dreams Visual Album back in October of 2020 led to another big collaboration for this upcoming show made by and in collaboration with world class Filipino talents.
While the visual album last year was groundbreaking in itself for being the first of its kind in the Philippines, all eyes are on this concert again as it is said to be another first in the country for its unique blend of live concert and theatrical stage play.
Produced by Careless Music and shot by The Finest, Menchu Lauchengco-Yulo joins the team as director of the production. Known to be the "first lady of Philippine musical theatre," Direk Menchu was associate director and also main cast of the musical theater play "Ang Huling El Bimbo" which ran for two successful seasons back in 2018 and 2019. Additionally, even Nadine herself was hands-on in putting together her first-ever solo concert since the onset of her career. Rehearsals are well under way as Nadine goes all in with the cast and crew, which also features James Reid, Massiah, and A-Team in the production. And with Kumu Live as a platform to stream this, "Absolute Madness" is truly another product of great Filipino artists' and creators' joint effort.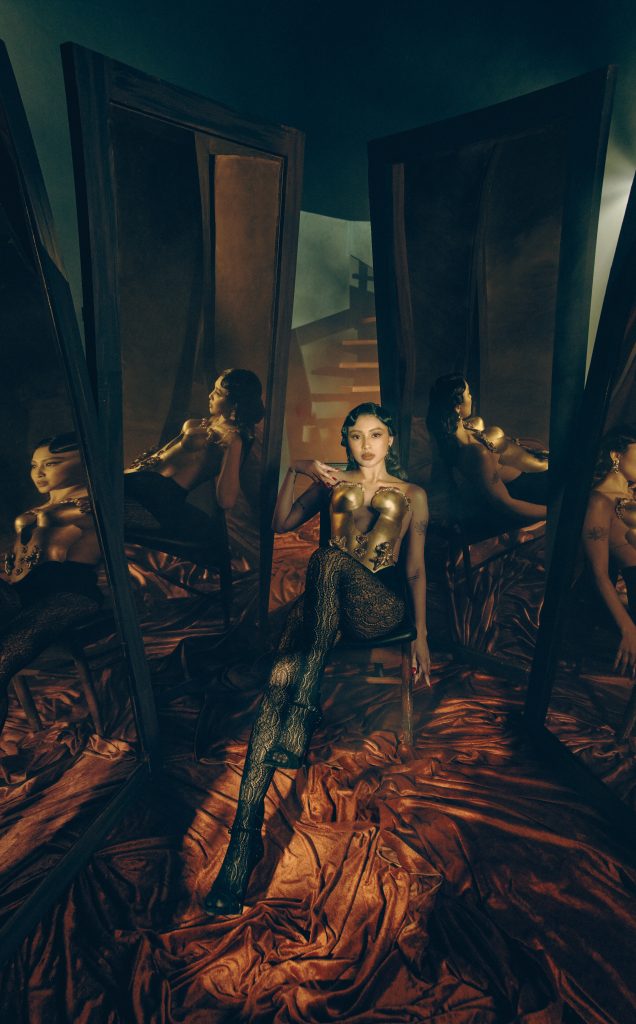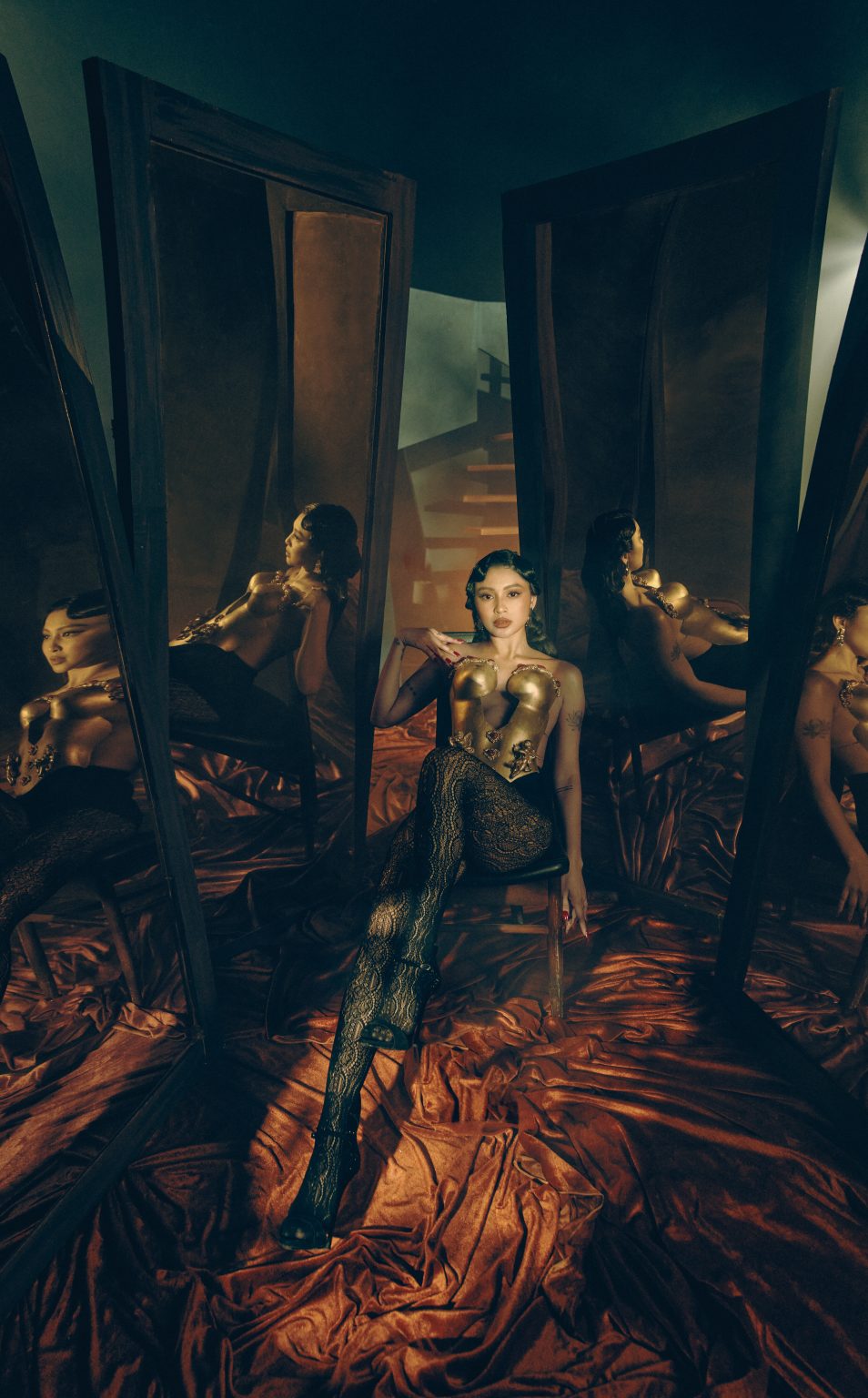 Direk Menchu shares the creative process she went through with Nadine saying, "She [Nadine] was instrumental in creating the concept. It was inspired by 'Alice Through The Looking Glass.' Nadine wanted it to encompass a magical land. When I asked her what her idea of refuge or fantasy was, she replied NATURE."
She also said that the experience of working with Nadine is nothing short of amazing and unlike anything she has ever done before. "Being able to collaborate with Nadine and create a totally new concept was incredible. Nadine had all these great ideas, my challenge was to see those ideas through."
In a nutshell, Nadine Lustre's "Absolute Madness" picks up from the Wildest Dreams Visual Album to cement how Nadine has found the answer to the quest of finding herself. Fans can expect never-before-seen performances of tracks from her "Wildest Dreams" album, set on the backdrop of a fantastical theater stage.
Ticket price starts at PHP 499 for Gen Ad, PHP 999 for Gen Ad + official concert merch, PHP 1499 for VIP + post-concert backstage pass, and PHP 1999 for VIP + post-concert backstage pass and official concert merch. To get even more of the concert experience, you may opt to get VVIP access which also includes pre- and post-show backstage passes with official concert merch for PHP 2999, but hurry because these are capped at only 100 tickets!
A sonic and visual experience like no other, witness Nadine Lustre's and Careless Music's first-ever online concert 'Absolute Madness' conquering the world of digital and theater stage!
For more announcement and ticket guidelines, check out KUMU Live and Careless Music's official pages:
Careless Music's Website: https://carelessmusic.com/
KUMU Live's Website: https://www.kumu.live/
Careless Music Twitter Link: https://twitter.com/CARELESS_PH
Absolute Madness Ticket Selling Website: https://www.kumu.live/live/event?id=FCE38822B5499C6E5F62A60CEE00C6DE
Since the release of Nadine Lustre's visual album Wildest Dreams, there's been BTS content, podcasts, and interviews on making this project. Now as the world slowly adapts to coming out of the pandemic, more live shows and performances are scheduled. With that said, Careless Music announced Nadine's first-ever digital concert on July 3rd called Absolute Madness through Kumu Live Events.
The show is described as an experience "conquering the world of digital and theater stage." Expect to see a theatrical project that matches the detail and art form of the album's visual videos. Careless Music partnered up with the livestreaming app Kumu and Mountain Dew to make the event possible. More congratulations are in order as Wildest Dreams hit 1 million streams on Spotify. Nadine and Careless Music celebrated by posting a couple behind-the-scenes photos while filming the visual album.
Tickets are now available to purchase for Absolute Madness on kumu.live
Cover Photo Credit: Careless Music Facebook
2) BRIEF DESCRIPTION
In collaboration with top social app, kumu, MYX Philippines gives you a chance to be in the spotlight with your favorite artists and MYX VJs! Be on MYX and appear in different MYX TV shows and online segments!
3) CAMPAIGN PERIOD – May 21 (6:00pm) to May 31, 2021 (9:00pm) Manila Time.
4) COVERAGE – Worldwide
5) WHO ARE QUALIFIED TO JOIN THE PROMO
• The promo is open to all kumu app users aged 18 years old and above.
6) WHO ARE DISQUALIFIED TO JOIN
a) Employees of ABS-CBN Corporation, Creative Programs, Inc., Kumu Technologies, Inc., and their respective subsidiaries and affiliates, and the respective employees' relatives up to the second degree of consanguinity or affinity are disqualified from joining the promo.
b) Persons reporting regularly to ABS-CBN Corporation, Creative Programs, Inc., and Kumu Technologies, Inc. under a contract of service and who, by nature of the service they render, may have a direct and personal knowledge of this promotion are likewise disqualified.
7) HOW TO JOIN THE PROMO:
Step 1:Participants must log on to the Kumu App, or for new users, download, install and register or sign up on, the Kumu App. Participants shall log in/sign up through their respective accounts on Facebook, Google, Apple, or SNS.
Step 2:Participants must livestream on the Kumu App from May 21 (6:00pm) to May 31, 2021 (9:00pm) Manila Time.
To livestream, go to the Kumu App homepage then click on Karlito (the blue tarsier in the middle of your tab) and press the GO LIVE button.
Participant must upload a cover photo (dimensions: 263px (w) x 404 px (h)). There is no specific theme required for the livestream. However, the livestream must not depict or promote any illegal, violent, dangerous or discriminatory behavior or contain any material that is threatening, indecent, violent, obscene or offensive and must abide the rules and regulations of Kumu which can be found here. Participant may also include his or her personal hashtag or any hashtag/s of Participant's choice.
Participant may include other persons in Participant's livestream; however, only Participant's Kumu account shall be credited with the KUMU RISING STAR virtual gifts. Click the GO LIVE NOW button to start your livestream.
Strictly public video livestreams only. Livestreams set in private mode will be disqualified.
Public audio streams will not be counted on the leaderboard.
Step 3: Ask your viewers for MYX MIC & MYX STAGE virtual gifts. Only diamonds from these virtual gifts will be counted:
- To send a MYX MIC virtual gift (500 coins) and MYX STAGE (2,500 coins), viewers must purchase coins through their kumu wallet or they can earn coins through various actions on the app such as referring friends and participating in some of the game shows on the kumu app.
- To purchase coins via kumu wallet: Go to your "profile" and select "my wallet." Tap on "buy coins" and choose the desired amount of coins that you wish to purchase. Choose which payment option you want to use and proceed with the purchase.
Step 4: Have fun and check the leaderboard regularly to see if you've received enough MYX MIC & MYX STAGE virtual gifts to be in the running for the top 5!
- To check the leaderboard, just log on to kumu. Go to the Campaigns tab. Select the KUMU RISING STAR OF THE MONTH ON MYX campaign page and then click Leaderboard.
- The top (1) user in the leaderboard with the most number of diamonds from the required MYX MIC and MYX STAGE virtual gifts will be declared as the kumu Rising Star of the Month on MYX, will be a special guest in one episode of MYX Daily Top 10, host one episode of MYX Moods, and receive an official merchandise from MYX.
- The user in the top two (2) slot will be a special guest in one episode of MYX Daily Top 10, Host one episode of MYX Moods, and receive an official merchandise from MYX.
- The user in the top three to five (3-5) slots will receive official merchandise from MYX.
- Winners will be announced through MYX Philippines' and kumu's official Facebook, Instagram, and Twitter accounts.
8) PRIZES
The winners will win the following prize according to his/her ranking on the leaderboard: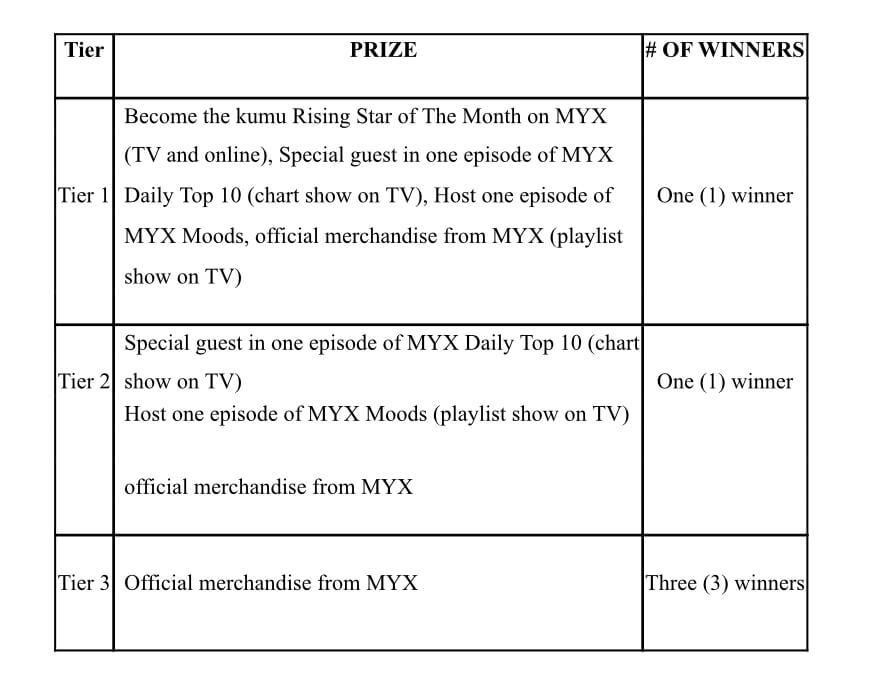 • Prizes are non-transferable. The Non-Cash Prize is non-refundable and not convertible to cash.
• Note: Shoot will be done virtually and all materials will be shown on MYX TV channel and other applicable online platforms.
o A representative from kumu will get the details of winners and will endorse them to MYX Philippines.
o MYX will be in contact with the Tier 1 & 2 winners and will send them the schedule for the taping.
o The shoot will be done and recorded via Streamyard, a live streaming studio in the browser (Google Chrome). A link to the Streamyard studio will be sent to the Tier 1 & 2 winners prior to the scheduled taping.
o The recorded materials will be aired on the MYX channel (MYX Moods & MYX Daily Top Ten) and uploaded on MYX's social media accounts.
9) VALIDATION OF ENTRIES/DETERMINATION OF WINNERS
The Competition will end on May 31, 2021, 9:00pm Manila time. Winners will be selected according to the leaderboards Top 5 CAMPAIGN gift earners in the kumu leaderboard system which will be updated real-time. Only the participants who manage to get into the Top 5 ranking as of May 31, 2021, 9:00pm Manila time, and who comply with all the terms and conditions herein shall be entitled to win.
*IMPORTANT REMINDER: Only the following gifts are counted fo
TERMS AND CONDITIONS:
Participants represent and warrant that they have read, understood, and agreed to abide by the promo and kumu's (https://kumu.zendesk.com/hc/en-us/articles/900003088946-How-to-join-campaigns-and-contests- ) and CPI's(https://myx.global/myxrisingstar) complete rules andregulations.
Promo duration:
May 21 (6:00pm) to May 31, 2021 (9:00pm) Manila Time. Per DTI Fair Trade permit number FTEB-119403 series of 2021
The results are out!!! The first kumu Livestreaming Awards was an online hit, with more than 27,000 live viewers tuning in for the big night. This was truly an awards show like no other, honoring the livestream talent and creative passion of the Filipino people. No need to worry if you missed it, the rebroadcast will happen in the Philippines on MYX 2/7 at 8P PHT and in the United States on MYX TV & Twitch on 2/14 at 6P PST.
Best in Music
The kumu Awards for Music honors artists and talents with exemplary performance and acts in different genres.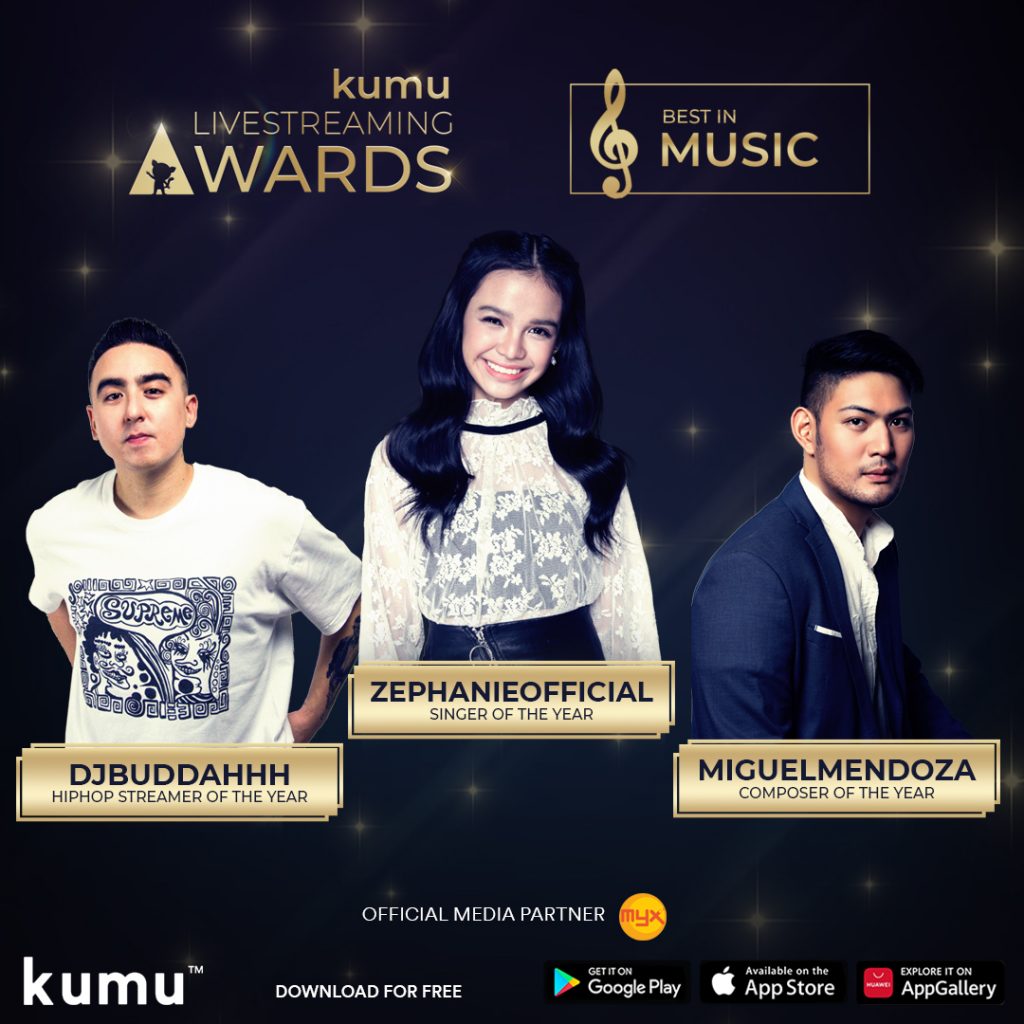 Composer of the Year : @miguelmendoza
Singer of the Year: @zephanieofficial
Hip-hop Streamer of the Year: @djbuddahhh
Best in Campaigns and Missions
The Kumunity Awards for Campaigns and Missions are given to kumu power users with exceptional use of the app in the most impactful manner.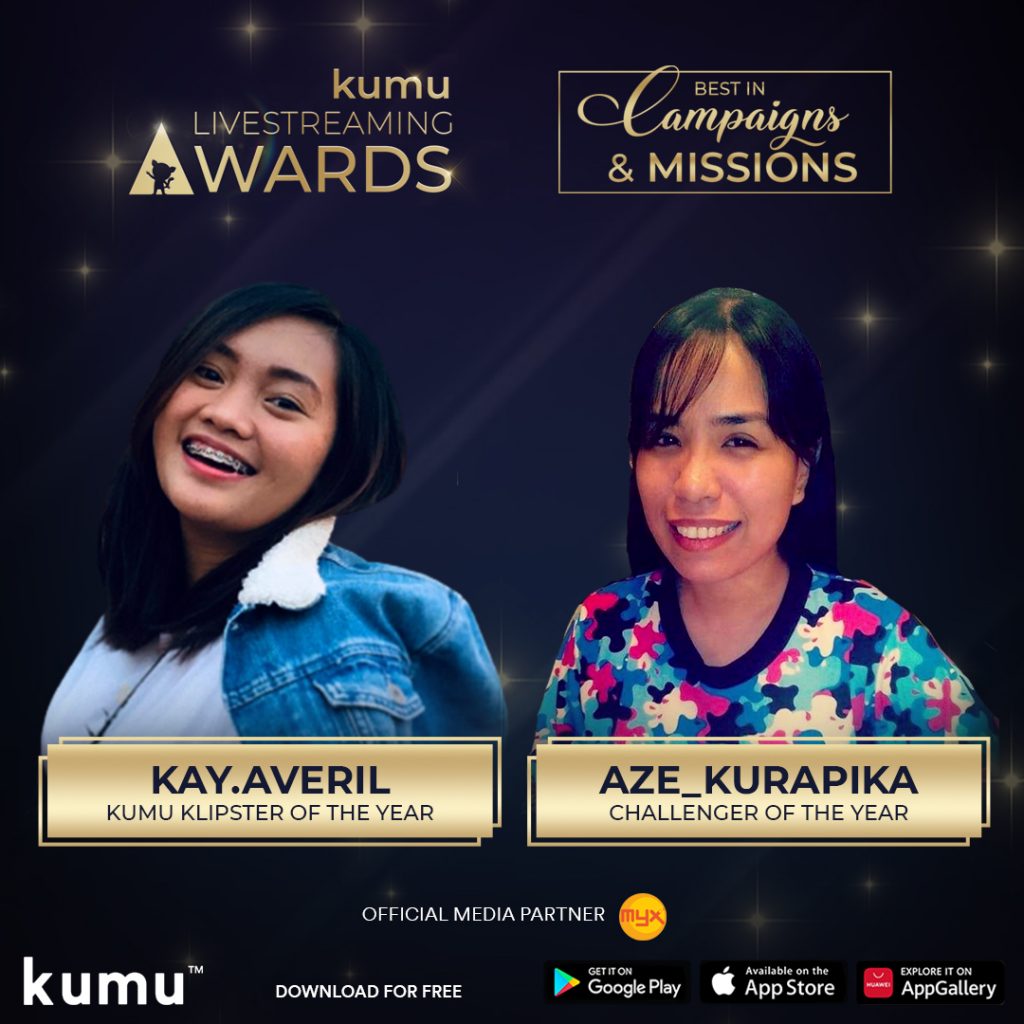 kumu Klipster of the Year: @kay.averil
Challenger of the Year: @aze_kurapika
Best in Gameshows
The Kumunity Awards for Gameshows are given to extraordinary kumu gameshow creators and players.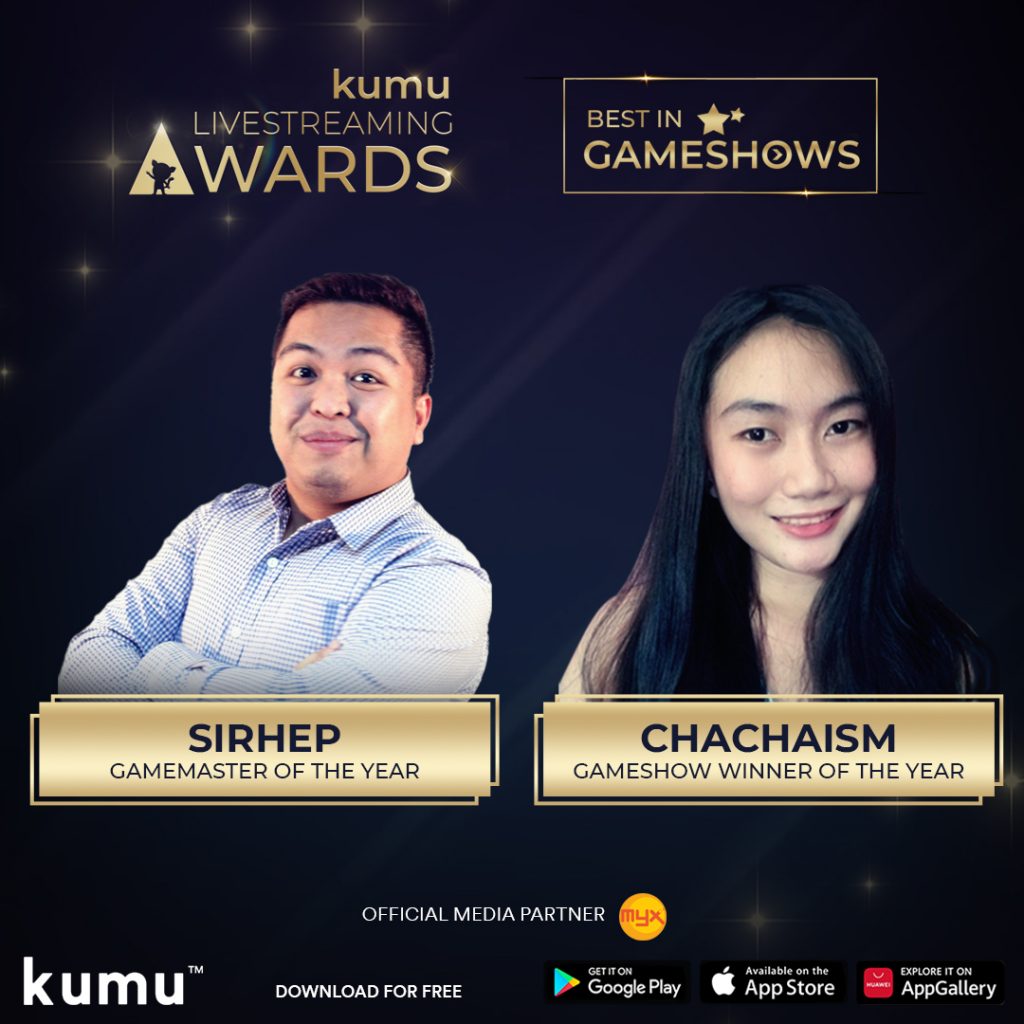 All-Time Gamemaster: @sirhep
Gameshow Winner of the Year: @chachaismm
Best in Performing Teams
The Kumunity Awards for Performing Teams are given to the most notable teams in the kumu app.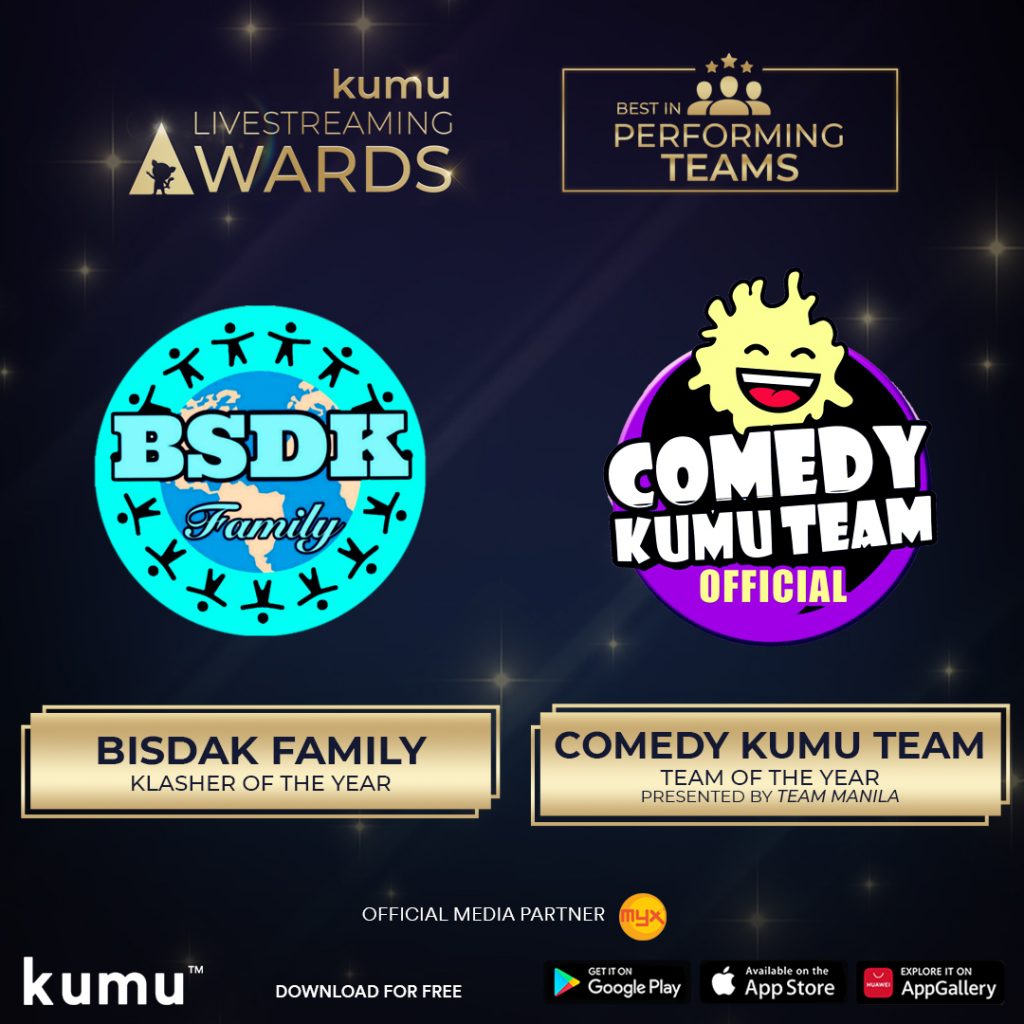 Klasher of the Year: @bisdakfamilyofficial
Team of the Year presented by Team Manila: @comedykteam
Best in Livestreaming 2020
The Kumunity Awards for Streams are given to outstanding kumu livestreamers and talent in the different genres.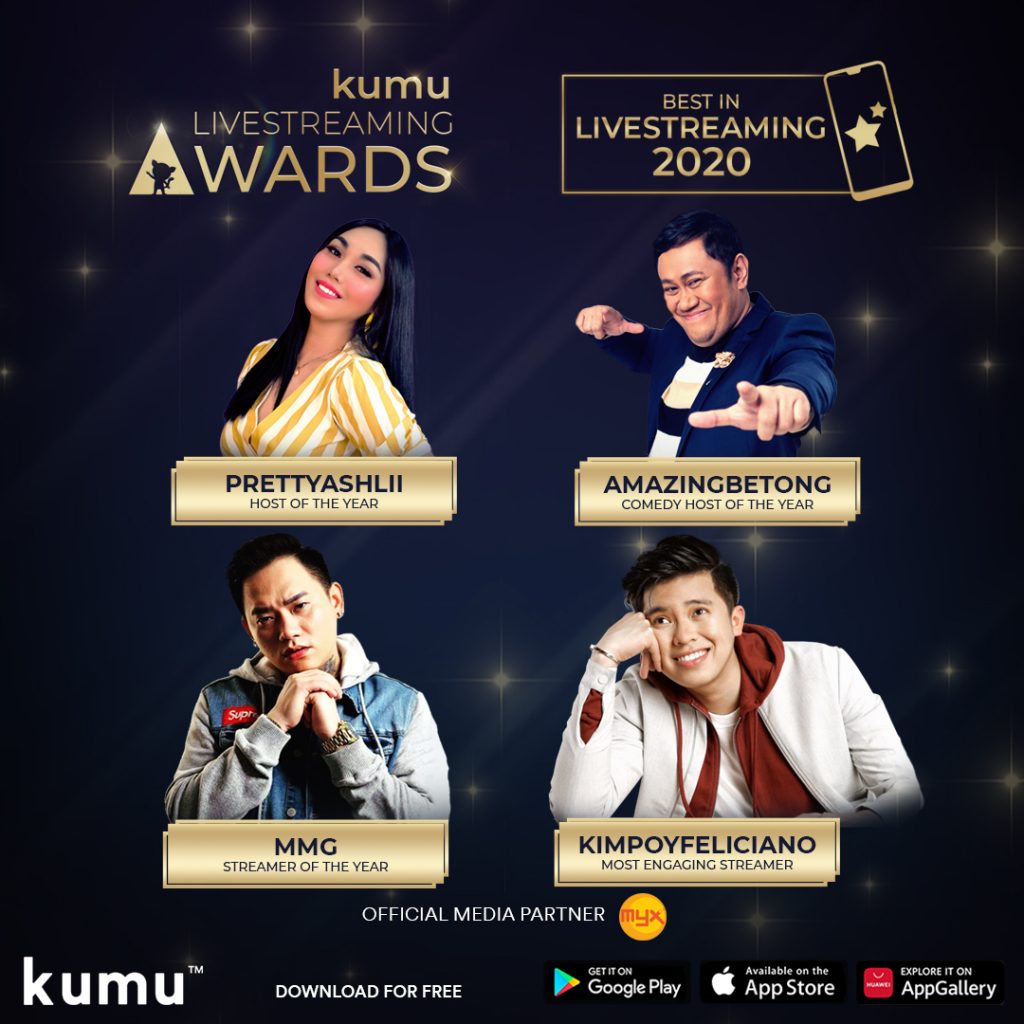 Host of the Year: @prettyashlii
Comedy Host of the Year: @amazingbetong
kumu Streamer of the Year: @mmg
Most Engaging Streamer of the Year : @kimpoyfeliciano
Special Awards
The Kumunity Awards for memorable personalities and incredible achievements within the kumu app.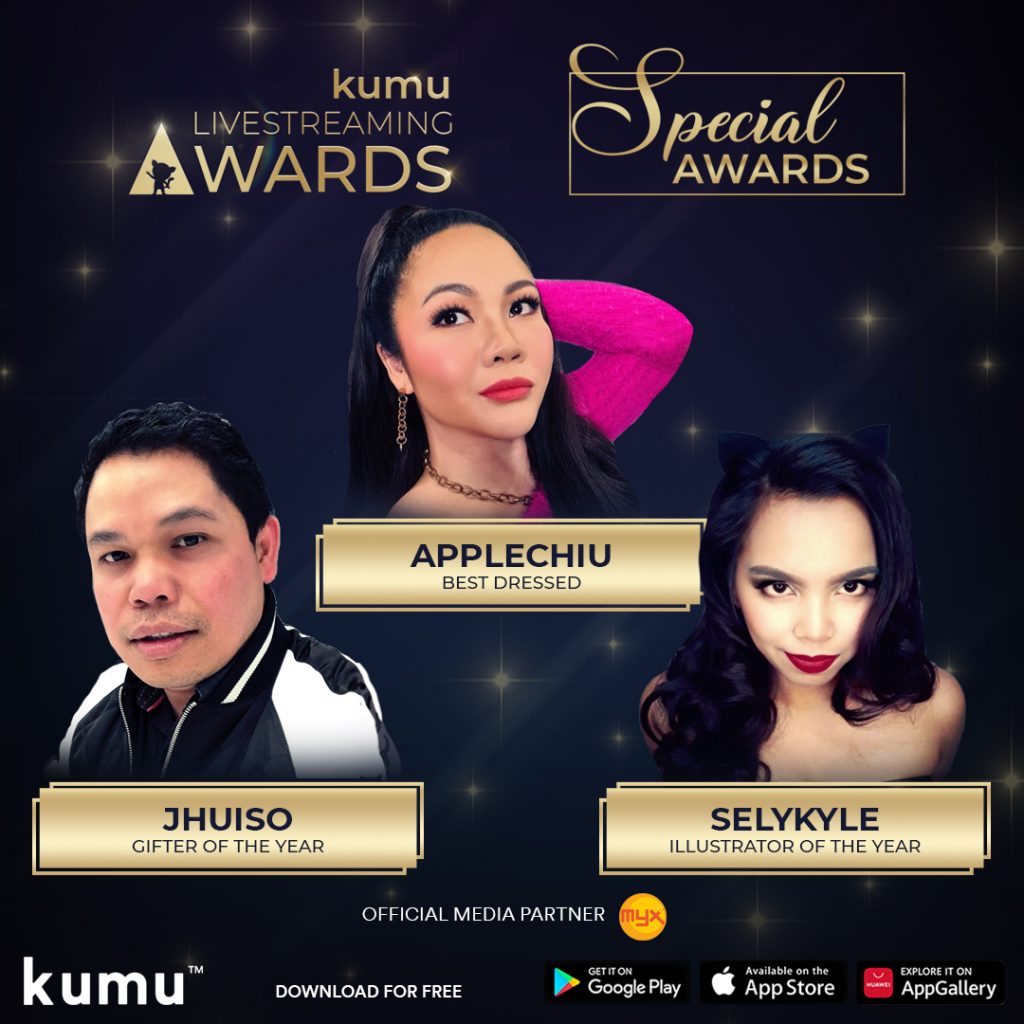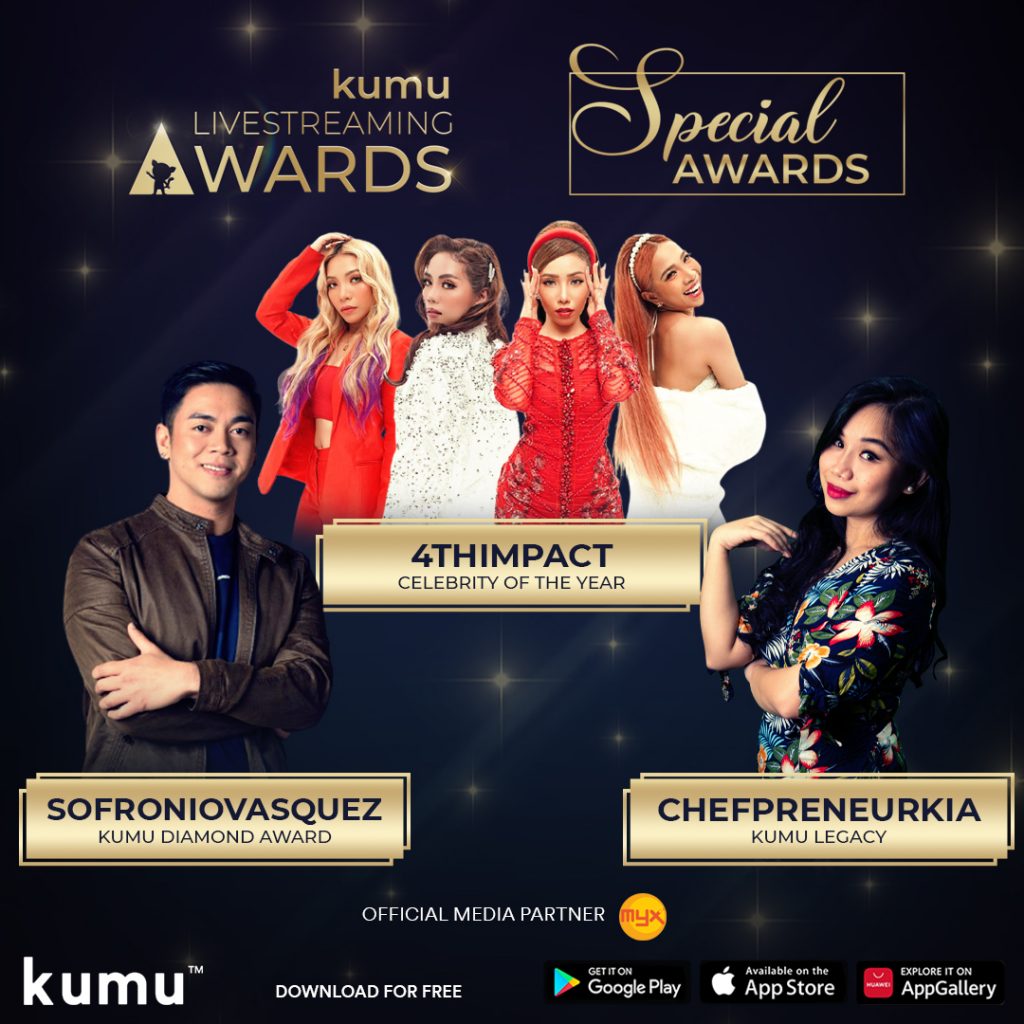 Illustrator of the Year: @selykyle
Gifter of the Year: @jhuiso
Celebrity of the Year: @4thimpact
kumu Diamond Award: @sofroniovasquez
kumu Legacy: @chefpreneurkia
Best Dressed: @applechiu
Twitter Awards
The Kumunity Awards given to the winners of the most RT-ed on Twitter.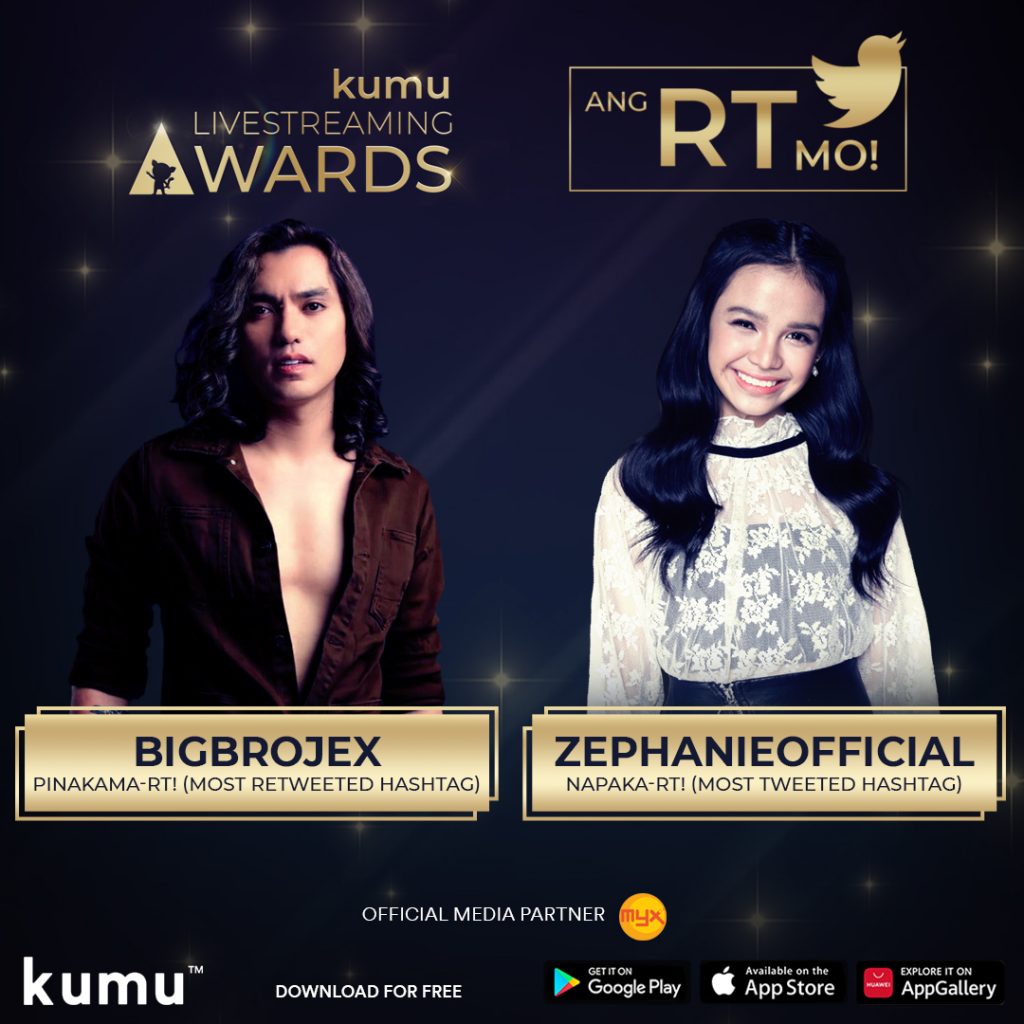 Most Retweeted Hashtag: @bigbrojex
Most Tweeted Hashtag: @zephanieofficial
Don't have the kumu app yet? It's easy! Download the app at Google Play or the App Store, and start adding to cart! Visit our website kumu.ph for more information and insights into the exciting world of kumu.
You can also follow @kumuph on Instagram, Facebook and Twitter to keep up to date with all the latest events, and surprises from your favorite Pinoy livestreaming platform. Check back here at the kumu blog for more interesting insights into the Kumunity.
Watch the rebroadcast of the awards on MYX Philippines on 2/7 at 8P PHT and in the United States on MYX TV & Twitch on 2/14 at 6P PST.