One of the most prominent Filipino-American hip hop artists of this generation, Ruby Ibarra, sat down with top Philippines rapper Loonie in her latest kumu livestream as they share their humble beginnings making music, the overarching discussion about social commentaries in hip hop, and how contemporary artists can further inspire such dialogues through global social platforms like kumu.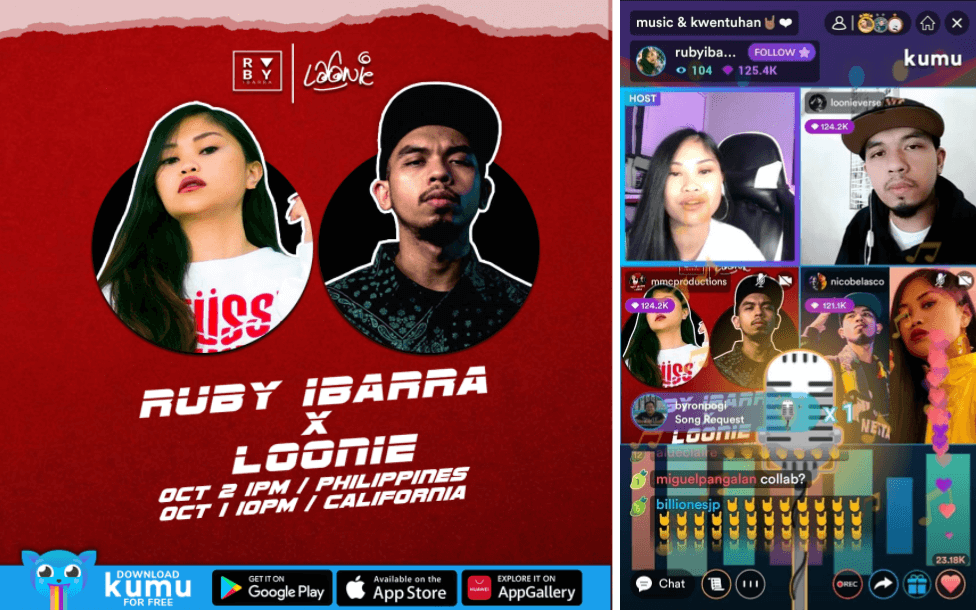 "I first started listening to hip hop at a very young age," shares Loonie, whose real name is Marlon Peroramas. The rapper, dubbed as Fliptop's Hari ng Tugma, had been writing songs and competing in underground rap battle events for the most part of his career.
"But before then I was already a big fan of Alanis Morisette and the Jagged Little Pill album. Then there was Naughty by Nature's Hip Hop Hooray, which I first heard in an old music channel here, MCM," he adds. Ultimately, he got introduced to hip hop group Bone Thugs-N-Harmony: "I bought their first tape and started rapping along until I eventually memorized their songs." "It was like that at first—rapping along to foreign songs, but when I heard Eminem, that's when I started taking the writing part seriously."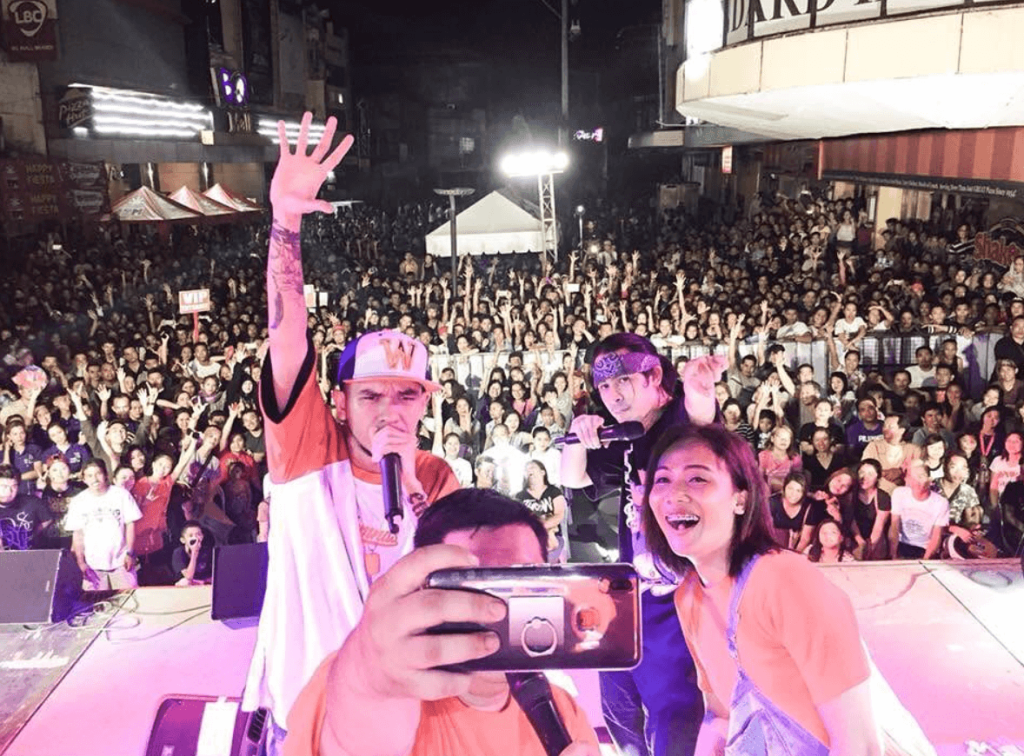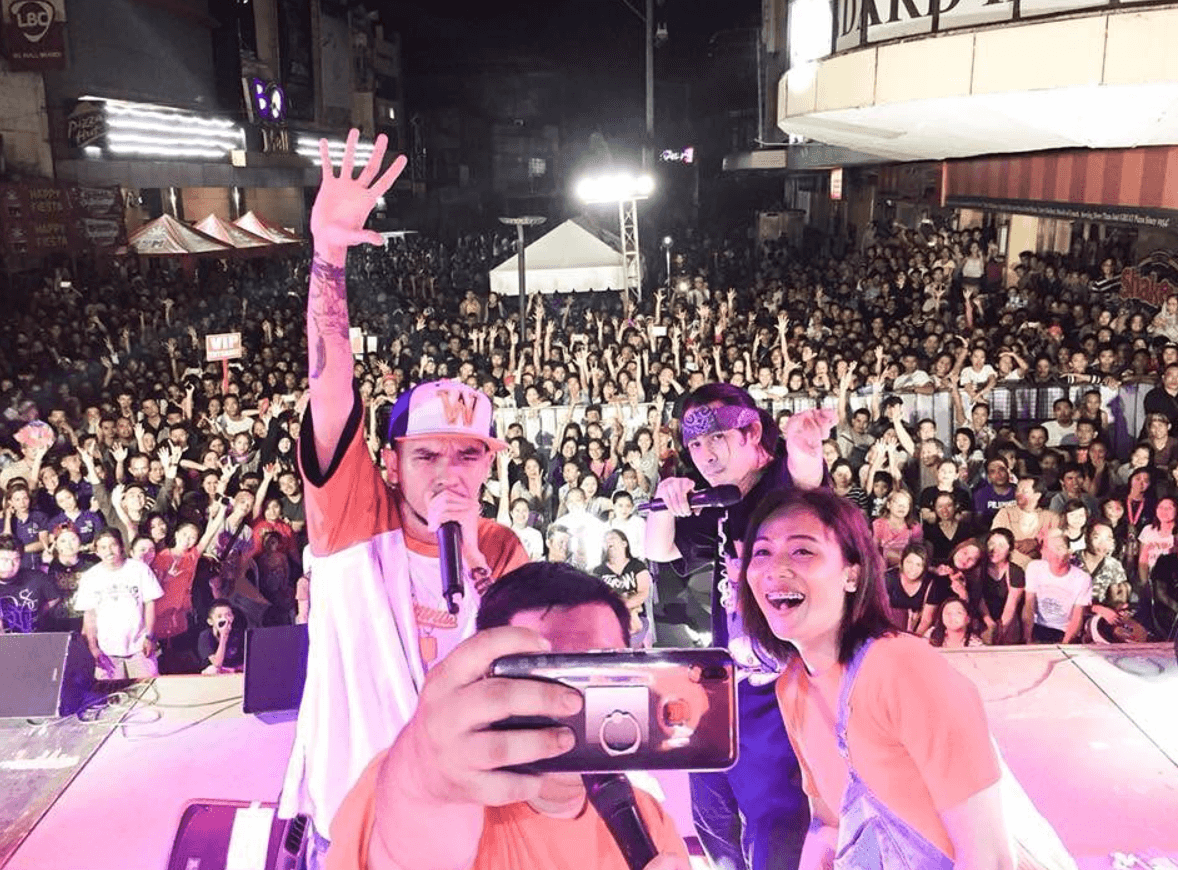 Ruby shares that Eminem was also a huge part of her journey as an artist.
Having been raised in San Lorenzo, California, she spent her adolescent years being introduced to a wide array of cultures, experiences, and most importantly: hip hop, which resonated at every corner of her neighborhood in the Bay Area.
"When I heard the Slim Shady LP [album], I didn't know what rhyme schemes were. I just know that after I heard his songs, I wanted to be a rapper like him," the 29-year-old artist said.
Eminem is best known for integrating social commentary throughout his catalog, and in an age where "the rise of the raptivists" brings forth a resurgence of conscious music, Ruby and Loonie talks up on how this affects the songwriting process for them and their contemporaries.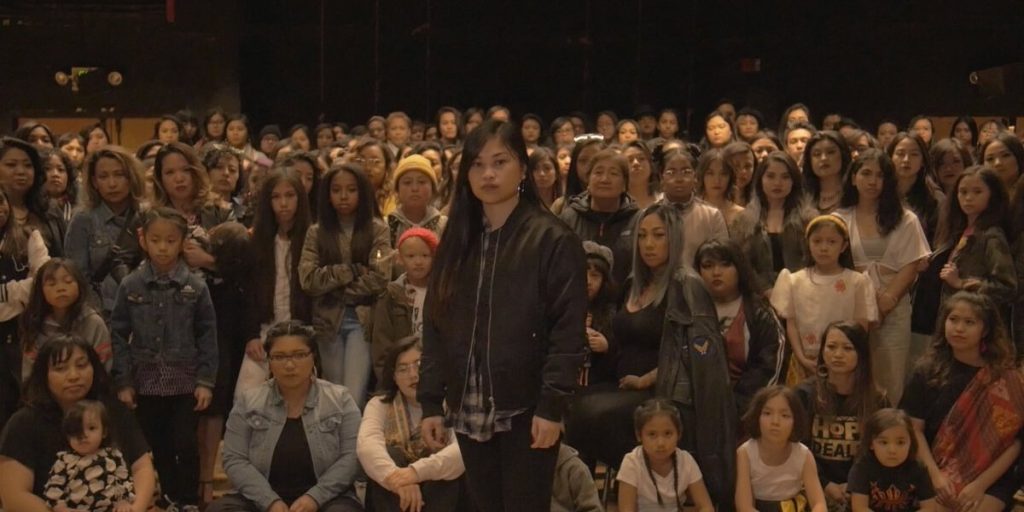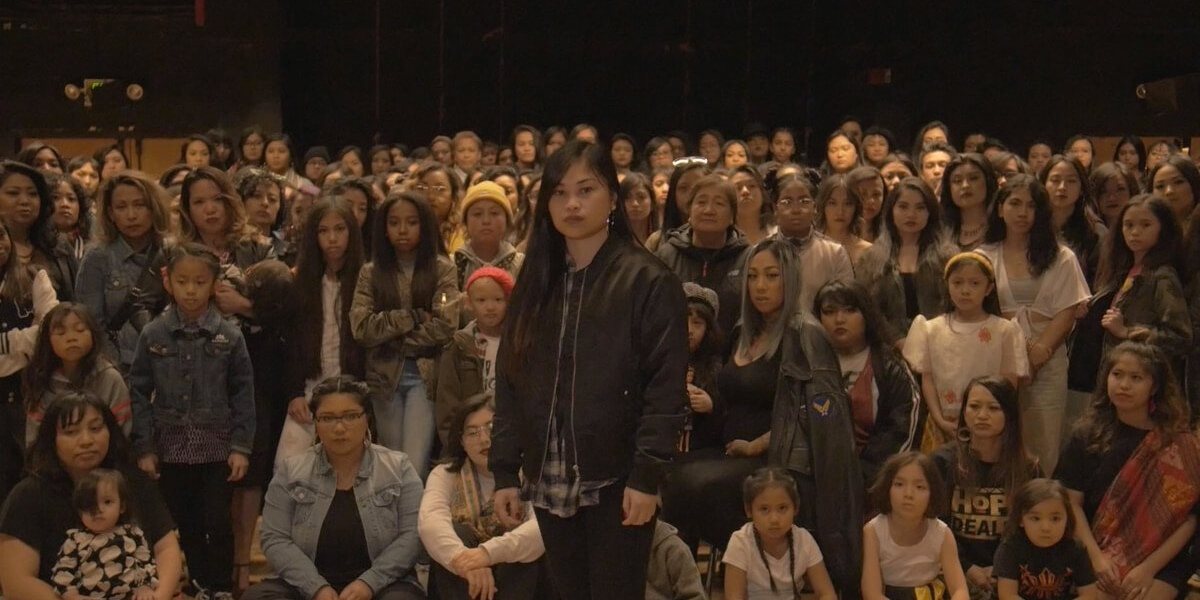 "Given the socio-political climate both in the US and in the Philippines, it's becoming more important for artists like myself to talk about issues that are impacting the Filipino communities worldwide. Being Filipino is a political identity given our history and deep roots in colonization; it is important for us to talk about these things in order to learn and progress from them," shares Ruby.
She adds, "What I love about OPM and Fil-Am rap is that there is great diversity and variety in the styles and sounds from both communities and genres. I think we're in a great place in music right now in that there are a lot of great talents, and so no one artist sounds like another. Both are pushing Filipino language and experiences to the forefront of mainstream culture."
Loonie, on the other hand, offers a retrospect on the similarities and differences between OPM and Fil-Am rap: "OPM rap seems to be more influenced by the West in terms of sound, culture, and narrative because of the natural desire to fit in a certain image and being labeled as sounding 'international.'
"On the other hand, I noticed Fil-Am rappers tend to be more in tune with their roots, especially the ones who were born and raised in the US. They incorporate Filipino pride, Pinoy sounds and sensibilities more than OPM rappers do. I think it's also because of the artist's need to sound different from whatever it is he or she is used to. It's human nature as an artist to always want to stand out. The only thing I can say they have in common is the level of dedication to their craft."
During the livestream, both also encouraged artists who use rap as the medium to speak to and motivate others in the online space. For them, it is through kumu.
"As a content creator, I am planning to use kumu to bridge the Filipino communities worldwide. Additionally, I've been very fortunate to have toured around the world, and I'm excited to showcase the amazing people that I've met along the way," shares Ruby.
"I'm planning to continue my Looniebersidad Rap Academy classes there in the future. I uploaded modules of it on my YouTube Channel but when I discovered kumu, I figured that I can interact with my students especially the ones who want their demos to be heard and be given immediate feedback in real-time. I can also open up topics and issues happening in the local scene and hear other people's opinions on it and start discussions or I can just freestyle with random fans and have fun," said Loonie.
Download the kumu app and follow Ruby Ibarra (@rubyibarra) and Loonie (@loonieverse) to watch their other videos via live stream on kumu.
ABOUT kumu:
Started by Filipino Americans that moved to the Philippines, kumu is a powerful social media platform that brings the voices of Filipinos from all over the globe at the forefront. Aside from presenting users real-time earning opportunities as a live streamer, chances to win cash in various game shows, and engagement in campaigns, kumu also fosters communities that ignite relevant discussions among Filipinos around the world. It is the top livestreaming app in the Philippines and one of the top in Asia.
You can be apart of the Kumunity now and download the app for free at Google Play or the App Store.