Celebrity fashion designer, Jhoanna Alba, & Alba Legacy's Chief Visionary, was born in Cardona, Philippines, and now is one of the most sought out & bespoke clothing manufacturers in the entertainment industry, and co-author for the book, In Her Purpose. Earvin "Magic" Johnson is her mentor & one of her first clients, he encouraged her to start her own company at a young age that was named after her father, Romy Alba & grandfather Miguel Alba. Jhoanna now has over 1,200 professional athletes, executives & celebrities as clientele, that include Terrell Owens, John Wall and Justin Turner to name a few. Her mom, Adeluisa San Juan, was reluctant to come to America at first, because she enjoyed her life there, but when she reflects back, realizes it was the best decision she could have made for her family. She made the decision to move here with her 3 young children after Romy's sisters Sonia Lucero & Evelyn Alba moved to the United States first, recommending the Alba family should follow.
Now the duo work together to help people beyond fashion, to create "A Light Beyond Appearance." Together with her team, they help each client define THE LOOK OF YOUR LEGACY. The company prides itself mostly on their philanthropic work, helping raise money for causes like the Big Brothers and Sisters organization Jho's biggest accomplishment in life is her daughter Ashley, who helped raise thousands of dollars for various charity causes and the school named after their grandfather in the Philippines. 
Watch the trailer below and full episode of Jhoanna Alba's "Making it in America" episode here via VIDEO DEMAND on MYX.
This month's series, sponsored by McDonald's, features special AAPI leaders making history in America in honor of APAHM month.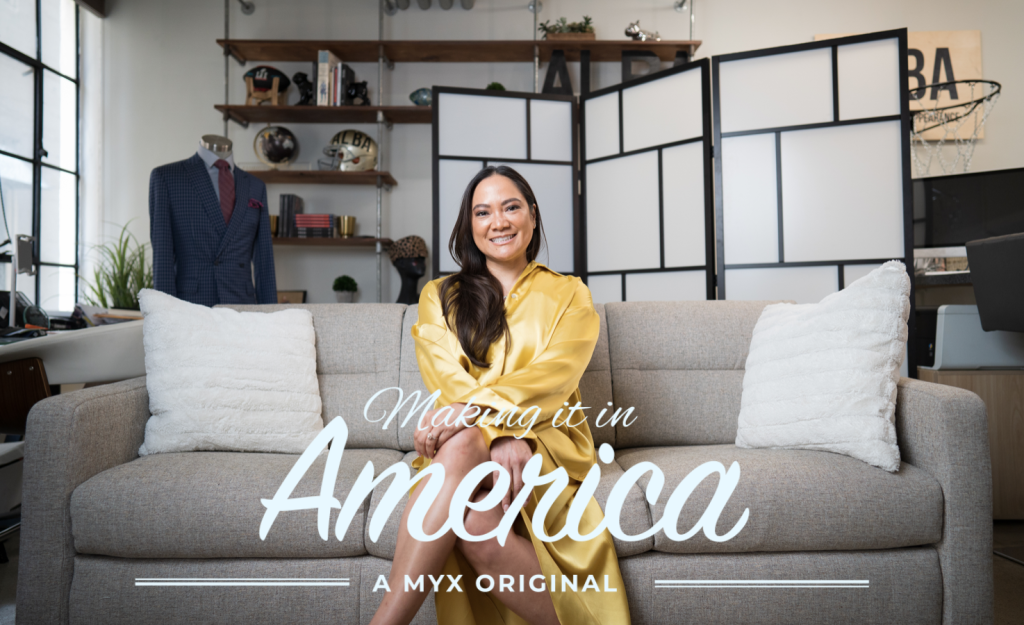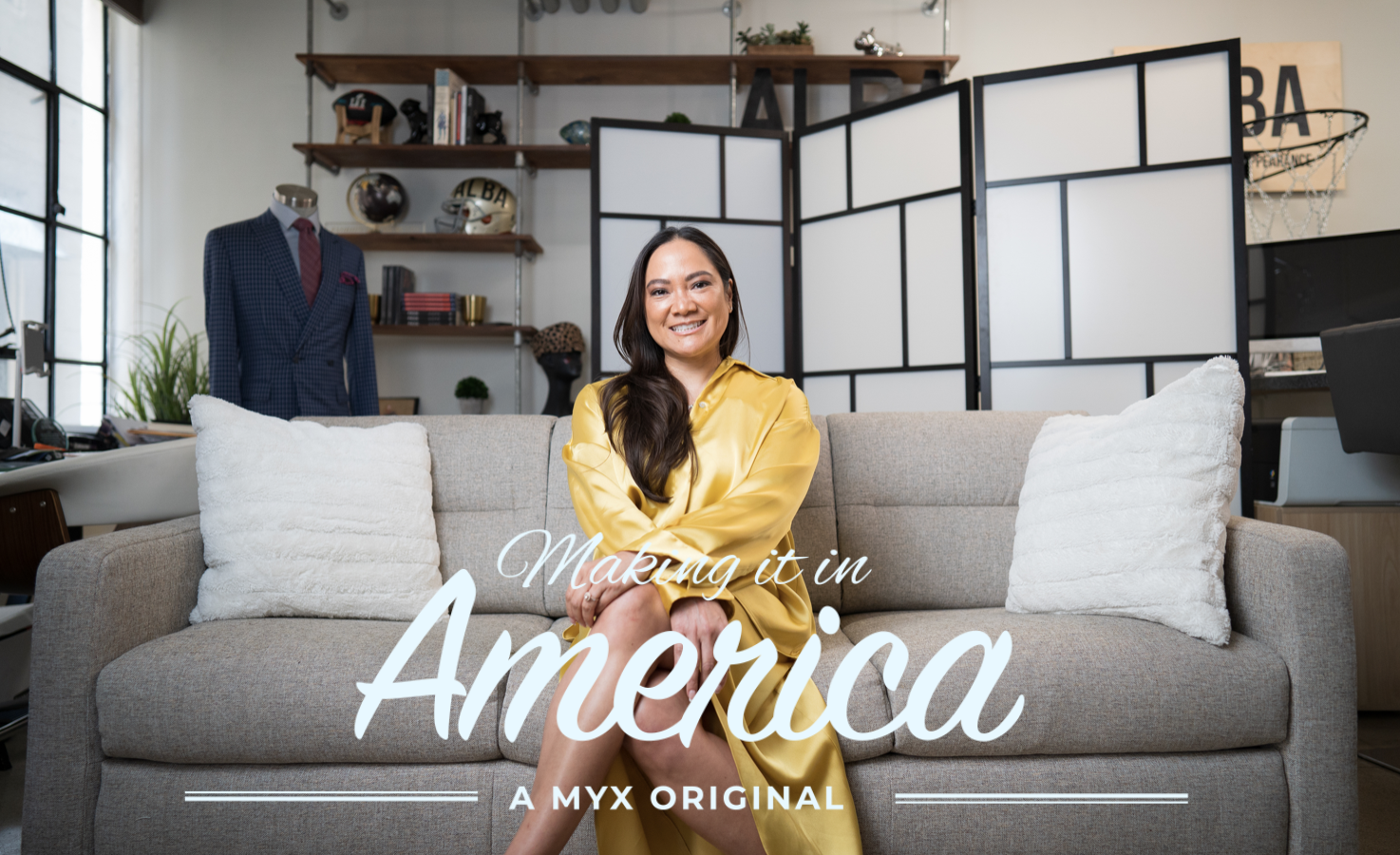 ABOUT JHOANNA ALBA:
Chief Visionaire and modern day muse, Jhoanna Alba, is blazing trails and defining trends with her signature looks and fashion-forward designs. Founder and principal designer of ALBA Bespoke Clothing, Jhoanna is a men and womenswear maven and style enthusiast. Entrusted by pro athletes and entertainers alike, Jhoanna Alba is one of the most sought after celebrity designer in the world. With over 25 years of experience, Jhoanna is recognized as the foremost designer for premium men's and women's attire. Her stellar client roster includes the most recognizable sports heroes and superstars on the planet. From Magic Johnson to Crown Royal, Jhoanna's custom suits and garments are worn by the most elite professionals in sports, business and entertainment. Born in Manilla, Philippines, Jhoanna came to the United States when she was only a year old.
Growing up in Los Angeles, Jhoanna's fondness for fashion, sports and entertainment started early. Hand sewing since the tender age of six, Jhoanna's first designs included up-cycled dresses from her older sister's clothes and patchwork ensembles made from her father's old clothes. In high school, Jhoanna would spend hours on her Singer machine designing outfits and prom gowns while watching sports. By 19, her creative talent and penchant for fashion design would land her a job at Gary's famed Tuxedo Shop in Beverly Hills, CA. As her expertise and love for luxury menswear grew so did her entrepreneurial aspirations. At 22, Jhoanna started her own custom clothing company and she hasn't stopped since. Today, she is transforming men's and women's fashion and dressing some of the most fascinating people in the world. Driven by her keen sense of style and flair for contemporary clothing, Jhoanna is the creative force behind ALBA (A Light Beyond Appearance). A master designer with an affinity for bold, colorful yet timeless custom creations, Jhoanna's apparel typifies individuality.
Designed to showcase her client's personality, style and intrigue, Jhoanna's bespoke clothing exudes sophistication and class. Using only the latest patterns and finest fabrics, Jhoanna's custom wardrobes are not only well-designed but extremely polished. Impeccable fit and quality construction mark her collection of distinctive personal wear. With over 1100 professional athletes, celebrities and business clients to her credit, Jhoanna knows how to deliver stunning results. Her clients top the yearly lists of best-dressed athletes and her entertainment clients turn heads on TV's hottest red carpet events. Together with her team of master tailors and stylists, Jhoanna has built an impressive conglomerate and solidified herself as a fashion phenom. When she's not managing her L.A. showroom and production house, Jhoanna spends her time helping others. An active and compassionate community leader, Jhoanna uses her platform and gifts to support those in need.
A regular volunteer and advocate, Jhoanna supports The Justin Turner Foundation, The Wiley Center for Autism, youth empowerment initiatives, ingenious women's groups and communities impacted by natural disasters. Her personal philanthropy extends to ALBA's company culture as well. A committed corporate citizen, ALBA encourages and collaborates with its high profile clients to bring attention to a variety of worthy causes. ALBA raises funds and contributes to local charities throughout the year. Her passion is not only in giving back but also in designing the look of your legacy. From the hardwood and gridiron to the boardroom and big screen, Jhoanna Alba is an innovator and icon. She is the consummate clothier. She is a timeless treasure. She is a light beyond appearanc