This summer is about to be epic with the Guardians back protecting the galaxy. Dave Bautista is back with friends as they debuted the trailer in Brazil at the Comic-Con Experience (CCXP).
According to Collider.com, "we see that Gamora (Zoe Saldaña) is now working with the Ravagers and is attempting to explain to Peter Quill (Chris Pratt) that the Gamora he's in love with is no longer here. Like the two before, music holds a special place in Star-Lord's heart, and the soundtrack will no doubt reflect that." The group set off for the final adventure to close out this trilogy in the MCU.
Catch Drax back in action! Watch the trailer below and wait until the very end.
Cover Photo Credit: Dave Bautista Instagram
The new Doctor Strange is out and has dominated the box office since its debut two weeks ago. The film has grossed close to $300 million in North America alone and had the 11th biggest opening weekend in history with $187 million. During the press run for the movie, MYX was invited to do a virtual junket with four-time Oscar nominee and iconic composer Danny Elfman.
VJ Ai had the honor of taking a few minutes with the legendary composer (Spider-Man, Men in Black, Charlie and the Chocolate Factory) to talk about the music and scoring behind "Marvel's Doctor Strange in the Multiverse of Madness." Check out the MYXclusive interview below and see what it was like working on this project during the pandemic.
This week's MYX News Hot List, new episodes weekly at www.myx.global/myxnews.
1. MYX MUSIC: Zephanie Breaks Into The Charts – Idol Philippines' Winner Zephanie Dimaranan just released her self-titled debut album. The 11-track album hit the top of the Itunes Philippines chart.
2. MYX MUSIC: P-pop Alert! VXON Arrives on the Scene – Cornerstone Entertainment's official boy group VXON has finally arrived and they're ready to hype up the stage! Listen to their debut single, "The Beast".
3. MYX ENTERTAINMENT: MCU's Pinay Widow: Yssa Mei Panganiban – Disney+'s "Hawkeye" introduces Sonya, a Pinay Black Widow played by Yssa Mei Panganiban.
4. MYX MUSIC: Ylona Entertains in 2022 – Ylona Garcia has kicked off 2022 with a bang by releasing her latest track, "Entertain Me". The song is also featured on Valorant as it launches its new Pinay character, Agent Neon.
5. MYX COMMUNITY: MYX #OperationOdette Breaks 1M PHP – Our #OperationOdette stretch goal has been made! Ffter the success of the first two-day twitch fundraiser, we decided to put on a house music DJ edition fundraising stream to help us reach an extended goal of 20,000 US dollars.
From all of us here at MYX, Salamat po!
If you'd been following Marvel's Phase 4 closely, you'd been binging on movies and shows like us! The latest series that aired was Hawkeye starring Jeremy Renner as Hawkeye/Clint Barton and Fil-Am Hailee Steinfeld as Kate Bishop. The tie-in film to the series is Black Widow where Florence Pugh's character Yelena returns in a hunt for Hawkeye.
Yssa Mei Panganiban appears on Episode 5 of Hawkeye and plays another Black Widow. She accompanies Yelena on a rescue mission as they try to save widows who have been brainwashed. It's a quick scene but more than the cool stunts and fights she got to do, Panganiban explains it's the representation on-screen that matters most.
In an interview with The Illuminerdi, she talked about what it was like working with Florence Pugh and where else she'd like to see Sonya pop-in within the Marvel universe. Panganiban votes for Shang-Chi since her widow training would fit right in with the martial arts. We think it's a perfect match!
Marvel has added a lot more diversity in their projects and we're seeing more and more Filipinos on the roster. In the MCU alone, there's Dave Bautista as Drax The Destroyer, Jacob Batalon as Ned Leeds, Mary Rivera as Ned's Lola, and Ayla Perez as the diplomat/pilot in Falcon and The Winter Soldier.
"Oh, It feels like a blessing, really. I like to say that we're in a Renaissance right now for, um, AAPI representation, but particularly Filipina representation. I mean, it's evident in the Marvel universe, the Marvel Cinematic Universe right now. We're really making our way in and to be one of the people that's kind of spearheading that it feels really, really, really good. – Yssa Mei Panganiban
Cover Photo Credit: Yssa Mei Panganiban Instagram
Our Spidey senses are tingling! The official trailer for "Spider-Man: No Way Home" starring Tom Holland, Zendaya, and our own Jacob Batalon released and we're not ready! We'll get to see more of Peter Parker's BFF and "Guy in the Chair," Ned Leeds played by Jacob Batalon. We all have so many questions and aren't quite ready to see this trio hang up their suits yet in what could be the final Spider-Man film with this cast.
No Way Home is action-packed with what could be the intro of the Sinister Six, the polar opposite of the Avengers. And no, there's still no sign if the previous Spideys, Toby Maguire and Andrew Garfield will be showing up to help Tom Holland's Peter Parker save the day. There is one scene though in the trailer that may look familiar… will Peter Parker be able to save MJ in this universe?
A couple months ago, Sony and Marvel released the film's first teaser and Jacob said on social that it's the moment we've all been waiting for and that we're not be ready for what's about to go down! Peter and his friends and family, they all become public enemy No. 1. Since Jacob's character Ned is part of Spidey's clique, he's also dealing with the attention and hate. Ned is also seen in an interrogation room probably answering questions about Mysterio's death and how long he's known about his best friend's identity. December couldn't come any sooner!
Another thing that's killing us with anticipation is whether we will see a Lola in the MCU. Earlier this year, there was a casting call by Project Casting for the role of Lola. The description posted says, "a Filipino or Filipino-American female, 50 to 90 years old fluent in English." At the time, Spider-Man was in production. We can only hope to see Jacob Batalon as Ned interact with his Lola. Maybe she'll be just as funny and become a scene stealer! Could we even see Peter Parker have a traditional Filipino meal?
Jacob Batalon is also starring in the Syfy series Reginald the Vampire which was picked up by the NBCUniversal network and is based on the book series, Fat Vampire. According to his social stories, production is currently underway and he's put on the suit or teeth in this case as Reginald. The book series follows Reginald Baskin who gets turned into a slow, weak, most out-of-shape vampire by his coworker and tech guy Maurice. The story of an unlikely hero will bleed into the TV series.
Cover Photo Credit: SpiderMan Movie Twitter
Anthony Francisco, former Senior Visual Development Artist at Marvel, has just joined Dolphin Entertainment. Anthony, who you might have remembered from our MYX Original series "Making it in America," was with Marvel for nearly nine years. His work includes characters like Baby Groot, Loki, and the Dora Milaje from The Black Panther. Anthony will now be transitioning into Dolphin Entertainment as their Creative Director.
At Dolphin, Anthony will be executing and spearheading the development of various NFT (non-fungible token) series involving original and existing IP (Intelectual Property) with Dolphin's NFT studio. Although Anthony has moved on from Marvel, you will still be able to see some of his latest work on screen in Eternals, Black Panther 2, Ant-Man and the Wasp: Quantumania, Thor: Love and Thunder, and Captain Marvel 2.
Cover Photo Shot By: Sthanlee Mirador
"Hit Monkey" is hitting your screens on November 17th only on Hulu! The animated series follows a Japanese snow monkey after his tribe was slaughtered. He joins forces with the ghost of an American assassin. Together, they begin killing their way through the Yakuza underworld. Check out the action-packed trailer below.
The 10 episode series is Co-created, executive produced by Josh Gordon & Will Speck, and executive produced by Joe Quesada. It stars George Takei, Jason Sudeikis, Olivia Munn, Ally Maki, Nobi Nakanishi, and Fred Tatasciore.
Follow Hit Monkey:
The best gifts during the holiday season usually come with a bow. In this case, a bow and arrow. Before stepping out for the MET Gala, Hailee Steinfeld stepped out as Kate Bishop in the first look of Marvel Studios' Hawkeye. A Disney+ original series following suit of record-breaking shows like WandaVision and Falcon and the Winter Soldier, Hawkeye is sure to hit its target.
In the trailer, Clint Barton (aka Hawkeye aka Ronin) is on the run and teams up with Kate Bishop just as all of Barton's enemies are in New York to stop him from enjoying a happy Christmas family reunion. Hailee Steinfeld's new character, Kate Bishop is an eager and talented archer who looks to get some tips from the OG Avenger himself, Jeremy Renner's Clint Barton. Count on an action packed series with sprinkles of comedy… "There are more arrows dangerous than that one?"
The 8-episode series follows Clint training Kate to take over the mantle of Hawkeye. Could this be another hint to the Young Avengers and a larger future for Hailee in the MCU? Hawkeye also stars Florence Pugh (Black Widow) as Yelena Belova who's mission is to track down Clint Barton, laqua Cox as Maya Lopez (aka Echo), a young Deaf woman who can mimic people's movements, and Vera Farmiga as Eleanor Bishop, Kate Bishop's mother.
Hawkeye premieres on Disney+ November 24th kicking off the best of time of year!
Cover Photo Credit: Hailee Steinfeld Twitter
Hollywood premieres are back with some adjustments to keep everyone safe, of course. From onsite covid testing to limited media space on the carpets, the new normal has set in, and Hollywood Blvd. is back in business, and this week it was the World Premiere of Marvel's Shang-Chi!
ABS-CBN's Hollywood Correspondent and newly appointed member of the Hollywood Critics Association Yong Chavez was 1 of 18 media Journalists and Outlets that made the cut to witness the Asian excellence in Hollywood that evening.
Our favorite Hollywood Photographer, Sthanlee B. Mirador, was also in attendance and captured Social Media Personality and Singer Bella Poarch's first red carpet premiere. Bella stunned in an all-black look from head to toe, looking like she just stepped out of her "Build a B***h" music video. It might have been her first big premiere, but she was absolutely ready for her close-up.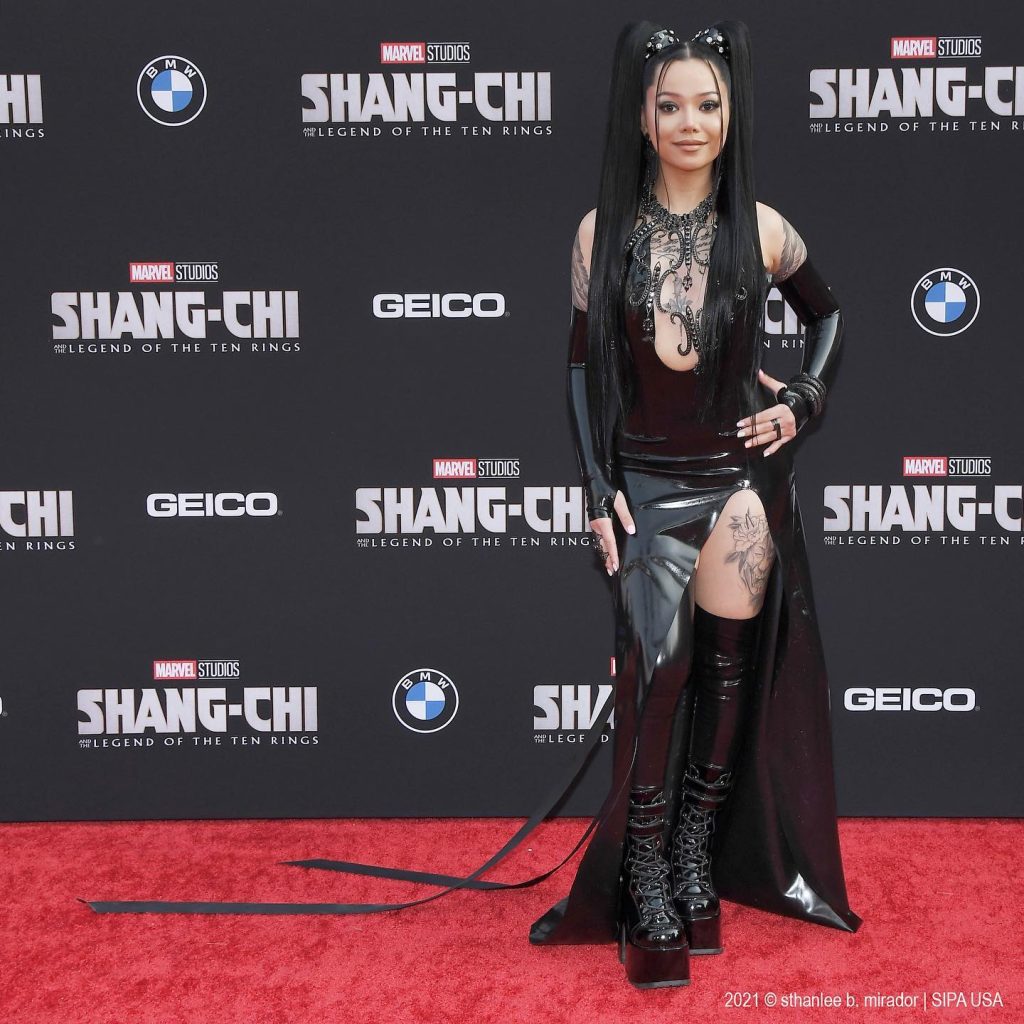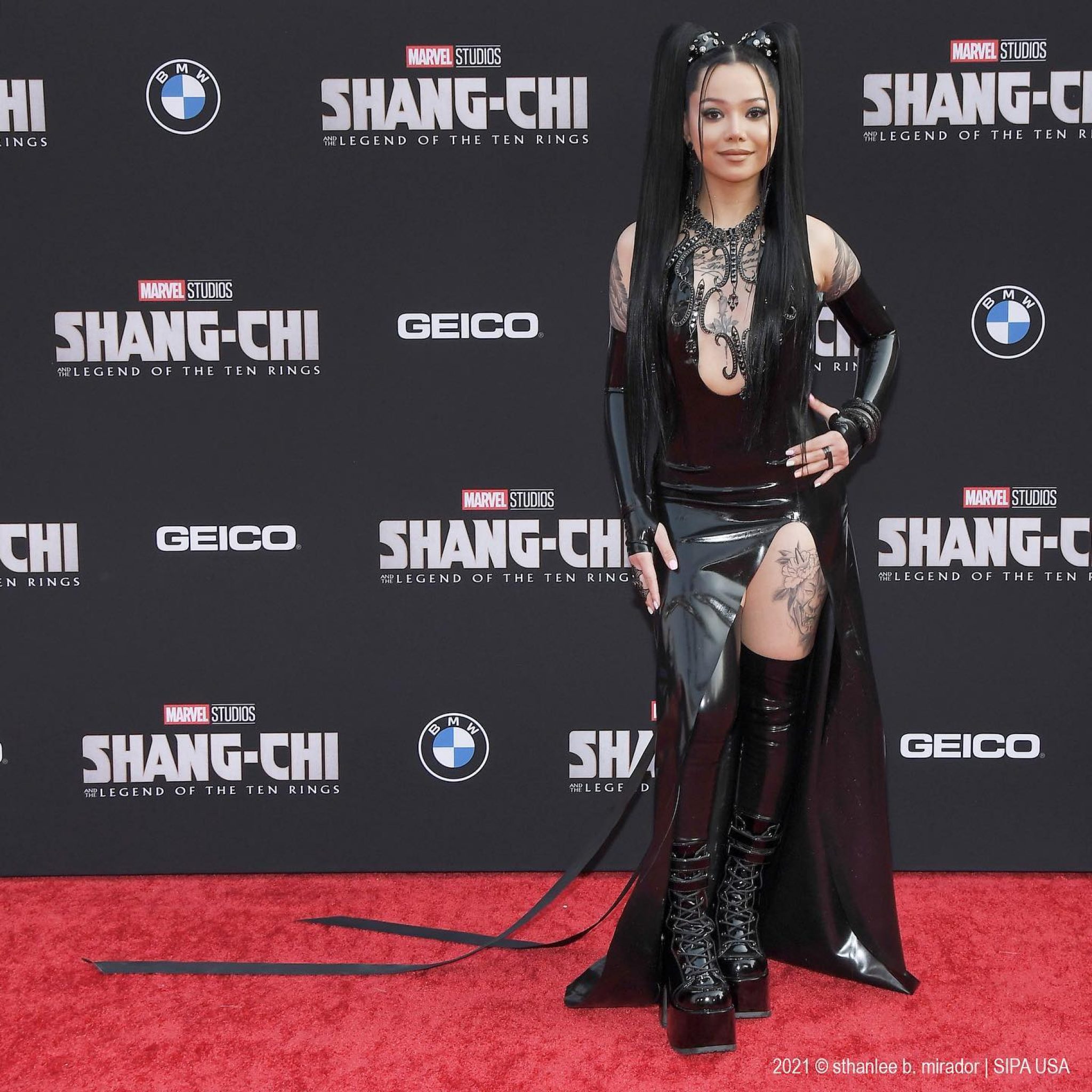 Also in attendance was newly engaged Singer/Songwriter AJ Rafael and Executive Producer of Disney's Launchpad Short Film series and retired Disneyland Princess Alyssa Navarro. As well as our guy Guapdad 4000 dripping in some Alexander McQueen.
With Shang-Chi being Marvel's first Asain superhero movie and helping break barriers in Hollywood for actors of Asian descent to lead blockbuster movie roles, Gold House Co. has once again stepped up to help advocate for this history-breaking event.
Gold House continues to lead their "Gold Open" movement, pushing for films such as Shang-Chi to be seen, ensuring that these opening weekends are a success. To date, the Gold Open community has supported over 25 Asian-led films and engaged hundreds of thousands of people in showing the world that we are here to be seen and valued.
Speaking of representation, we can't forget about the superheroes behind the scenes. Check out the latest installment of our MYX Original Series "Making it in America," featuring Marvel's Senior Visual Development Artist, Anthony Francisco!
Cover Photo Credit: Sthanlee B. Mirador
Producer Kevin Feige, stars Simu Liu and Awkwafina, and director Destin Daniel Cretton explore Shang-Chi's backstory and his connection to the Ten Rings in "Destiny" – a new, exciting, action-packed featurette for Marvel Studios' "Shang-Chi and The Legend of The Ten Rings." 
Shang-Chi's journey is told with stunning visuals, the MCU's signature spectacle and displays of mind-blowing action, along with the talents of a diverse, stellar cast and a relatable story. Behind part of the visual development for the film is Marvel's Senior Visual Development Artist and the "Visual Father of Baby Groot" Anthony Francisco.
If you are a fan of the MCU, Anthony has had a part in some of the visual development in many of your favorite films and tv shows including Black Panther, Loki, Avengers Infinity War and End Game, WandaVision, and now "Shang-Chi and The Legend of The Ten Rings" which opens in U.S. theaters on September 3rd.
You can also get to know Anthony and his work in his episode of our new MYX Original series "Making it in America" airing 8/23 on MYX or learn "How to Draw from Your Imagination" with his new courses on Nas Academy.
If you're a Marvel fan, you're in for a treat. The company that brings your favorite Marvel superheroes to life is introducing a new hero into the Marvel Cinematic Universe. Shang-Chi also known as the Master of Kung Fu and Brother Hand will have its own standalone film coming September 3, 2021. Shang-Chi and the Legend of the Ten Rings stars Chinese-Canadian actor Simu Liu from the sitcom, Kim's Convenience.
The film marks the first Asian lead in a Marvel project. Based on the teaser, Shang-Chi is skilled in martial arts who looks to live a normal life. However, the life he previously left behind is back to catch up with him. He's left to confront it and choose which path to follow. Also featured in the film is the hilarious Awkwafina, Michelle Yeoh, Tony Leung, and Ronny Chieng. It is directed by Destin Daniel Cretton from a screenplay by David Callaham, Cretton and Andrew Lanham.
Cover Photo Credit: Marvel Studios Facebook
If you caught this week's episode of Marvel's The Falcon and The Winter Soldier, you might have heard Tagalog. The song Amatz by the controversial rapper Shanti Dope finds its way into the MCU. The latest Marvel miniseries on Disney+ follows two frenemy Sam Wilson (The Falcon) and Bucky Barnes (The Winter Soldier). The show picks up after the results of Avengers: Endgame and when Captain America (Chris Evans) gives his shield to The Falcon.
Episode 3, "Power Broker" takes the duo to a fictional Southeast Asian island of Madripoor. About a one-minute snippet of the song plays to set up the scene of Madripoor's low town. The beat and fast pace lyrics of the song fits well with the grungy aesthetic of the scene. The Philippines banned the song because of its controversial message. However, now Marvel puts Tagalog on an international stage.
In the credits, Amatz was written by Shanti Dope alongside co-writer Lester Vano (also known as Klumcee). This isn't the first time he has worked with Disney. He also worked with Disney star and singer Sabrina Carpenter on a remix of her song, Almost Love.
ABOUT SHANTI DOPE
Sean Patrick Ramos (born April 15, 2001), known professionally as Shanti Dope, is a Filipino rapper, singer and songwriter. He is known for his songs "Nadarang",[2] "Shantidope", "MAU", and "Amatz".
Shanti Dope started writing verses in 2013 following the footsteps of local rappers who use songwriting as a way to tell stories. Influenced by the idea of storytelling through rap, his first long verse got him into rapper Smugglaz' 2015 album Walking Distance. – WhenInManila.com