We have our first ever Filipina-American Miss Universe! Representing Texas, Miss USA R'Bonney Gabriel took home the prestigious crown last weekend in New Orleans. In an interview with Good Morning America, the 28-year-old designer  discussed what her win meant to her fellow Filipinos: "Filipinos are so happy. They are just over the moon about it. It's a huge win for the community and just representation. It's an honor."

Previously, R'Bonney shared that her dad moved to America from Manila and that her parents married in the Philippines. Check out some IG content from the beauty queen below!

Photo Courtesy of R'Bonney Gabriel's Instagram
Patrick Starrr welcomes Filipina artist and actress, Liza Soberano to the studio for a gorgeous makeup tutorial just in time for the Miss Universe pageant. They talk career, makeup tips, Liza playing Pia Wurtzbach, and more! Check out the chica between these two stars below!
The biggest takeaway in the video is that Liza wants to embody the LA-girly life. She's been flying in and out of California to not only work on her acting career, but also starting her music career under Careless Music. So we can expect new content from her coming soon!
Patrick Starrr transformed the 2017 Most Beautiful Faces into a potential Miss Universe contestant. Viewers are taken through the makeup journey to take on the Miss Universe stage. You need tips on blending your eye shadow, applying foundation, getting those lashes, don't worry it's all covered!
Cover Photo Credit: Patrick Starrr Instagram
With the wrap up of the 2021 Miss Universe Competition, a big congratulations are in order to India's Harnaaz Sandhu who was crowned the titled. The 70th Miss Universe pageant hosted again by Steve Harvey and was held at Universe Dome in Eilat, South District Israel.
Miss Universe Philippines Beatrice Gomez was so close and made the Top 5 of the competition, which included the Q&A round. During the Q&A portion of the competition, an all-female selection committee, which included Filipina actress Marian Rivera were tasked to ask the contestants questions.
Gomez was given a question by Miss Universe 2016 Iris Mittenaere regarding mandating a universal vaccine passport. Miss Philippines answered with grace and thoughtfulness as she would support a vaccine passport if it could help getting everyone vaccinated.
She did great throughout the competition which including in the National Costume segment. Beatrice wore a Bakunawa dragon costume, which in Philippine mythology is a serpent-like dragon believed to cause eclipses. It's found in Philippine literature, art, pop culture, and games. However, she interprets the mythological creature its final form: The Golden Lunar Dragon.
This final transformation is a metaphor for Beatrice's growth and personal evolution. This is a metaphor for Bea's growth and personal evolution. Decorated in gold, the costume was made by Axel Que and the handcrafted headdress and accessories designed by Manny Halasan.
She represented the Philippines and herself in a positive light showing the world how friendly and loving the Filipino people are. Miss Beatrice may not have won the crown, but she still won the hearts of many.
Cover Photo Credit: Miss Universe Philippines Facebook
It's the collab we never knew we needed! Our best queen Pia Wurtzbach and our favorite band Ben&Ben have teamed up for an epic video which made our hearts sing and got us flipping our hair!
This was a total fangirl moment for Queen P who became an instant fan of Ben&Ben after discovering one of the MYX chart-topping group's songs in 2019. She was visibly excited to finally talk to her OPM idols and fellow Cream Silk ambassadors in their virtual meetup.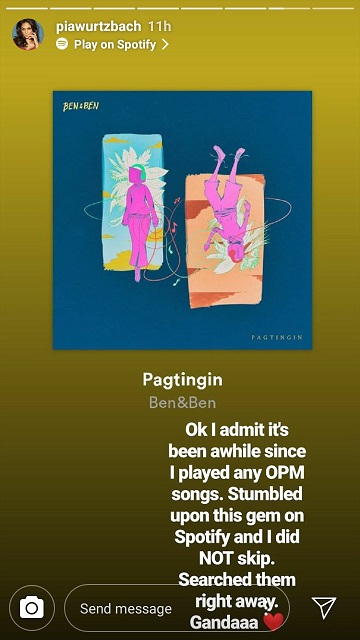 Ben&Ben's frontmen Paolo and Miguel – known for their heartfelt anthems and signature long hair – were equally starstruck with Pia. The two still couldn't believe that they now belonged to the Cream Silk family alongside the popular beauty queen.
Of course, Pia just had to put the Ben&Ben members' hair flip skills to the test during the fun tutorial session – and they definitely nailed it! The former Miss Universe also shared some tips on how to confidently strut on the catwalk and properly deliver the Cream Silk taglines which they all aced as well.
As a reward for teaching Ben&Ben how to be perfect Cream Silk endorsers, the 9-piece band serenaded Queen P with the #CreamSilkArawAraw song which gave her (and us) goosebumps! As if that kilig moment wasn't enough, Pia even got to live out her secret dream of becoming a singer. She performed her own beautiful rendition of the song, using the Cream Silk bottle as her microphone.
WATCH THE EPIC BEN&BEN X PIA WURTZBACH COLLAB VIDEO HERE: