The popular digital series, MTV's Following showed us the life of one of our faves, Bretman Rock and his life in Hawai'i. Season 1 showed us his new home, who are his closest friends and family including his sister, Princess Mae, his mother, and his besties. Now in Season 2, Bretman's career continues to grow and boom but sometimes that comes at the cost of family time.
According to MTV, the first episode focuses on the sibling relationship or lack of a relationship between Bretman and Princess Mae. "After a year of professional growth and success, Bretman Rock's personal life crashes down around him. In order to heal the strained relationship with his sister, Princess Mae, they turn to therapy for answers. But can they overcome their differences long enough for Bretman to help Princess move into her dream home?"
Catch six new episodes this season dropping on Mondays on MTV social channels!
Cover Photo Credit: MTV Following Instagram
Trans Filipina immigrant, Carla Ibarra is one of the 30 young creators selected for MTV's upcoming Health Youth Action Forum. The event will take place at the White House in Washington D.C. in May where creators and mental health activists will present their ideas about future mental health and public health campaigns. Carla Ibarra is currently a Master of Public Health student at USC and a council member of the Transgender Advisory Board of the City of Los Angeles.
As one of the applicants selected by the MTV Entertainment Group social impact team, she's gearing up to create impactful campaigns to change the thought surrounding mental health in marginalized communities. The group of creators are set to attend a six-week program by MTV to identify and work on developing a campaign for their communities to foster change. They'll get the exposure needed by partnering with MTV which includes PSAs, podcasts, digital art, and other digital tools needed to help improve mental health.
Looking to put an end to the stigma surrounding mental health, the event wants to reach young people who are least likely to seek help or not have enough resources available to them, according to Forbes. With the White House officials involved, senior officials and the individuals from the Department of Health and Human Services are expected to speak at the event. Best of luck is in order for Carla Ibarra as she not only will represent the Filipino community, but also the LGBTQ+ community.
Cover Photo Credit: Carla Ibarra Instagram
This year's event celebrated MTV's 40th birthday and took everyone through the years of your favorite music television channel. Best New Artist Olivia Rodrigo racked up the most and went home with 3 Moon Men awards at the 2021 VMAs and performed her banger "good 4 u." Also winners, Saweetie took home the Best Art Direction Award for "Best Friend" ft. Doja Cat and Silk Sonic's Bruno Mars and Anderson .Paak took home Best R&B for "Leave The Door Open." Missed out? Don't worry we have the full list of winners below to recap!
The show was hosted by Doja Cat and featured big names like Madonna, J-Lo, Ashanti and Ja Rule all presenting throughout the night. The biggest songs of the year took the stage as Justin Bieber and The Kid LAROi performed "Stay," Shawn Mendes with "Summer of Love", and Camila Cabello "Don't Go Yet." More performances provided nostalgia like Busta Rhymes with a medley of hits, Alicia Keys paying tribute to New York City, and the Foo Fighters rocked the stage as the band were awarded the U.S. Global Icon Award. The night was filled with music for everybody.
You can't talk about the VMAs without talking fashion on the red carpet. It looks like sheer and sparkling outfits were part of the agenda. Check out the amazing Filipinas strutted on the carpet and understood the assignment.
Saweetie slayed in her silver Valentino dress, bringing a little of the old Hollywood vibe to the carpet.
Da baddest of them all Bretman Rock channeled his inner Aaliyah by wearing the same exact Roberto Cavalli dress she wore 21 years ago at the 2000 VMAs.
Olivia stunned in a vintage Atelier Versace that made her look like the dreamiest mermaid.
Bella Poarch brought out spooky szn in a black lace jumpsuit with flared pants and a long train or is it a cape? Either way, we're here for it!
What were some of your favorite looks? Tweet them @myxnews on Twitter!
As promised, check out the full list of winners:
VIDEO OF THE YEAR
Lil Nas X – "MONTERO (Call Me By Your Name)"
Columbia Records
ARTIST OF THE YEAR
Justin Bieber
Def Jam
SONG OF THE YEAR
Olivia Rodrigo – "drivers license"
Geffen Records
BEST NEW ARTIST
Olivia Rodrigo
Geffen Records
BEST COLLABORATION
Doja Cat ft. SZA – "Kiss Me More"
Kemosabe Records / RCA Records
BEST POP
Justin Bieber ft. Daniel Caesar, Giveon – "Peaches"
Def Jam
BEST HIP-HOP
Travis Scott ft. Young Thug & M.I.A. – "Franchise"
Cactus Jack / Epic Records
BEST ALTERNATIVE
Machine Gun Kelly ft. blackbear – "my ex's best friend"
Bad Boy / Interscope Records
BEST K-POP
BTS – "Butter"
BIGHIT MUSIC
VIDEO FOR GOOD
Billie Eilish – "Your Power"
Darkroom / Interscope Records
PUSH PERFORMANCE OF THE YEAR
Olivia Rodrigo
May 2021: "drivers license"
BEST ROCK
John Mayer – "Last Train Home"
Columbia Records
BEST LATIN
Billie Eilish & ROSALÍA – "Lo Vas A Olvidar"
Darkroom / Interscope Records
BEST R&B
Bruno Mars, Anderson .Paak, Silk Sonic – "Leave The Door Open"
Aftermath Entertainment / Atlantic Records
BEST DIRECTION
Lil Nas X – "MONTERO (Call Me By Your Name)"
Columbia Records – Directed by: Lil Nas X and Tanu Muino
BEST CHOREOGRAPHY
Harry Styles – "Treat People With Kindness"
Columbia Records – Choreography by: Paul Roberts
BEST CINEMATOGRAPHY
Beyoncé, Blue Ivy, SAINt JHN, WizKid – "BROWN SKIN GIRL"
Parkwood Entertainment / Columbia Records – Cinematography by: Benoit Soler, Malik H. Sayeed, MOHAMMAED ATTA AHMED, Santiago Gonzalez, Ryan Helfant
BEST ART DIRECTION
Saweetie ft. Doja Cat – "Best Friend"
Warner Records – Art Direction by: Alec Contestabile
BEST VISUAL EFFECTS
Lil Nas X – "MONTERO (Call Me By Your Name)"
Columbia Records – Visual Effects by: Mathematic
BEST EDITING
Bruno Mars, Anderson .Paak, Silk Sonic – "Leave The Door Open"
Aftermath Entertainment/Atlantic Records – Editing by: Troy Charbonnet
GROUP OF THE YEAR: BTS
SONG OF THE SUMMER: BTS – "Butter" – BIGHIT MUSIC
Monsta X – "Gambler" – Starship Entertainment
Cover photo courtesy of Olivia Rodrigo's Instagram.
Artist and overall creative Rich Tu just debuted his collaboration with UNIQLO USA. The collab is for the 15th anniversary of their SOHO Flagship store. He has created two customizable t-shirt designs for this particular collab. These designs were inspired by his love for New York and his FilipinX heritage. But this isn't the first time Rich has collaborated with such big companies.
In 2019 he collaborated with NIKE for the "First Gen" Air Max 270 Reacts. Aesthetically they were also designed with the thought of his heritage, inspired by First Generation Immigrants. The colors represent oxidized metal which is a common sight in developing nations like the Philippines.
"As part of a special NYC x NikeByYou drop, I collaborated with Nike on these Nike Air Max 270 Reacts, which were inspired by the First Gen Burden podcast. A few hundred special pairs were sold, and proceeds were donated to ACLU to support immigrants rights."

-Rich Tu
You can now purchase Rich's collaboration with UNIQLO at the SOHO Flagship store.
About Rich Tu:
Rich Tu is the Vice President of Digital Design for the MTV Entertainment Group at ViacomCBS. Also, he hosts the Webby Honoree podcast First Generation Burden, which focuses on intersectionality and diversity within the creative industry.
Rich is a first generation Filipino-American and award-winning artist residing in Brooklyn, NY. He is a graduate of SVA's Illustration as Visual Essay program and received the ADC Young Guns award, which recognizes the world's best creatives under the age of 30. Creatively, his focus is on emerging audiences and energetic brands that benefit from an eclectic and unique point of view.
Rich's clients and collaborators include The New York Times, The New Yorker, Business Week, Alfa Romeo, Bombay Sapphire, G-Shock, NIKE, Adidas, Converse, American Express, NPR, NorthFace Purple Label, Coca-Cola, Verizon, Skype, Fuse TV, and Hamilton The Musical, among others. Also, he has exhibited at galleries and festivals in New York, Los Angeles, Berlin, as well as the SCOPE Miami festival, during Miami's Art Basel week.
Follow Rich Tu:
Cover Photo Courtesy of Rich Tu Instagram Shot by: Geoff Sean Levy
2020 was a time for Bretman Rock to move on to bigger and better things. He moved into a new place, dipping his toes as a reality show star, becoming a fitness guru, and overall influencer sensation. Take a look of the feature on Teen Vogue, Bretman Rock: King of Manifesting.
Influencers nowadays are many, but Bretman's widening influence not only happened by chance but by sheer will. The star of Teen Vogue's July cover chalks up his success to mere manifestation and insane work ethic plus knowing his way around the internet. However the truth is, as Bretman says, "I always knew I was going to be a star."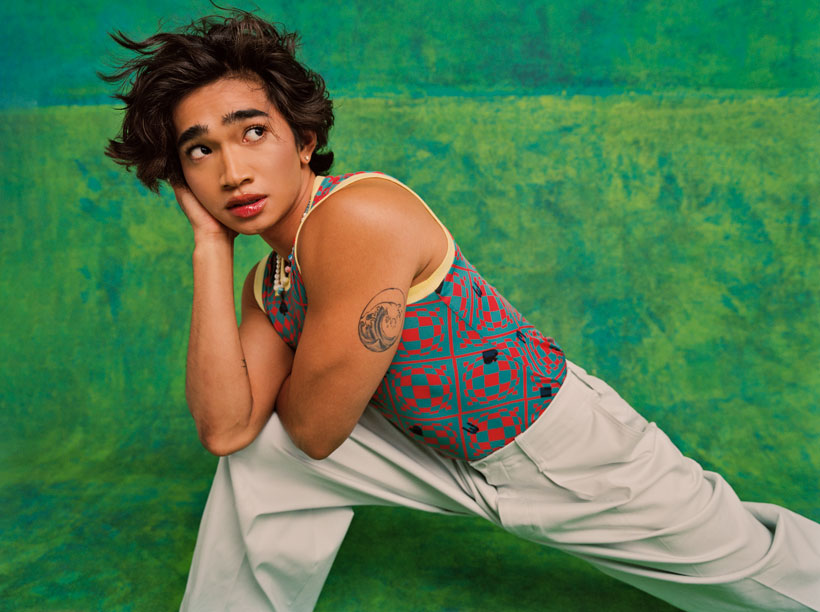 Beyond his reality shows, he was announced as a face of Nike's Pride-themed Be True campaign. He also was named MTV's 2021 Breakthrough Social Star, People's Choice Awards Beauty Influencer of the Year and one of Time's 30 Most Influential Teens. In between all that, he's been collecting brand collaborations and sponsorship deals and growing his fan base. However, it wasn't always peachy for Bretman and his family. Originally from Philippines' Cagayan Valley, he and his mom immigrated to Hawai'i and Bretman's mom worked multiple jobs to stay afloat which left him and Princess Mae to look after themselves.
Teen Vogue says that "young Bretman found solace in the fantasies he manufactured in front of the camera. He often borrowed his mother's phone to film make-believe commercials." A natural born performer, it's no wonder why his followers are drawn to his witty attitude, clapbacks, punchlines, and catchphrases.
However, constantly being in the spotlight is sometimes a dreading task. Bretman says, "It's hard to wrap your mind around it when you grow up on such a small island," reflecting back between his viral life and IRL reality. He admited that the person we see online is just a persona, a character that he plays up for the cameras. He's also felt the need to separate himself from the internet's Bretman Rock, to stay grounded. "I think that's the beauty of growing up. Yes, I have however many millions of followers, but I can't touch that. I can't touch these videos that I'm making," he says. "But I can touch my family and my friends, the people that I love.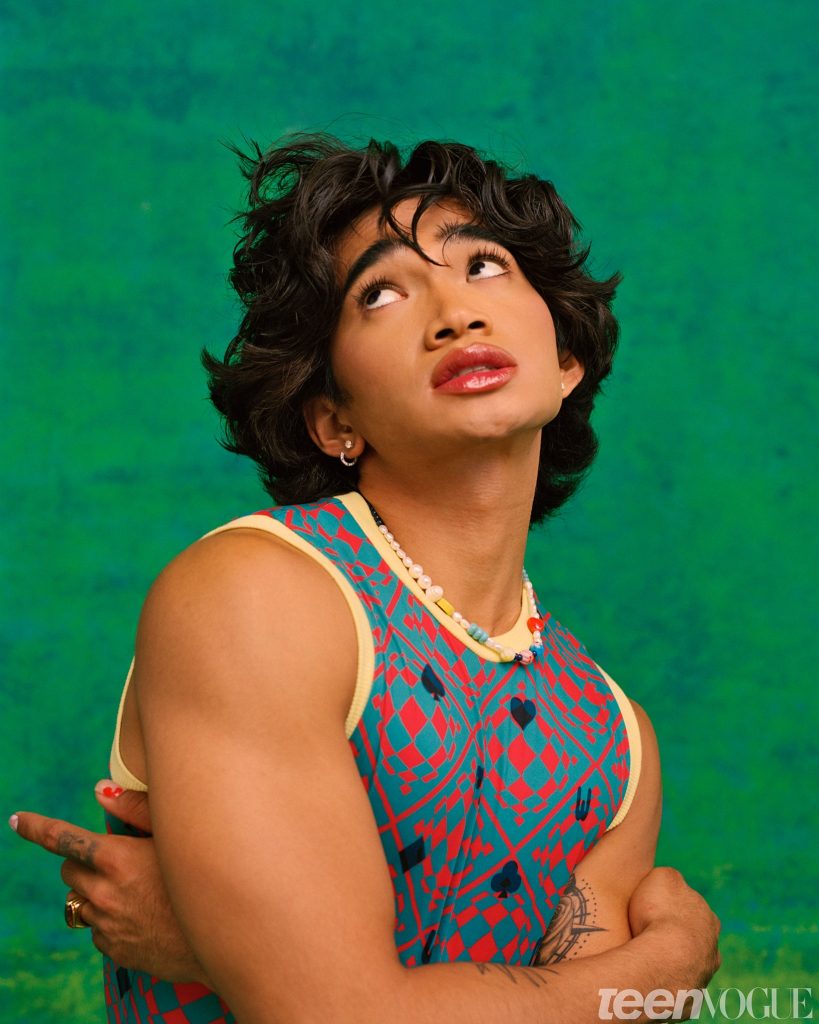 We get to see Bretman be himself in 30 Days With: Bretman Rock, his latest reality series differs from his MTV series Bretman Rock. The series, part heartfelt documentary and part survival show, follows Bretman as he attempts to endure the Hawaii wilderness alone and away from social media. No mirrors, no Internet connection, and it's just him in the jungle.
Teen Vogue gave an insight to Bretman roughing it out. Though the filming was challenging (according to Bretman's team, the crew was only allowed to give him one bottle of water a day as a part of his 30 survival challenge where he was to gather his own resources), it was a chance to reconnect with Bretman before the fame.
Cover Photo Credit: Teen Vogue Facebook
Bretman Rock proudly announced on Instagram that he is one of the faces chosen to represent Nike in their "Be True" campaign.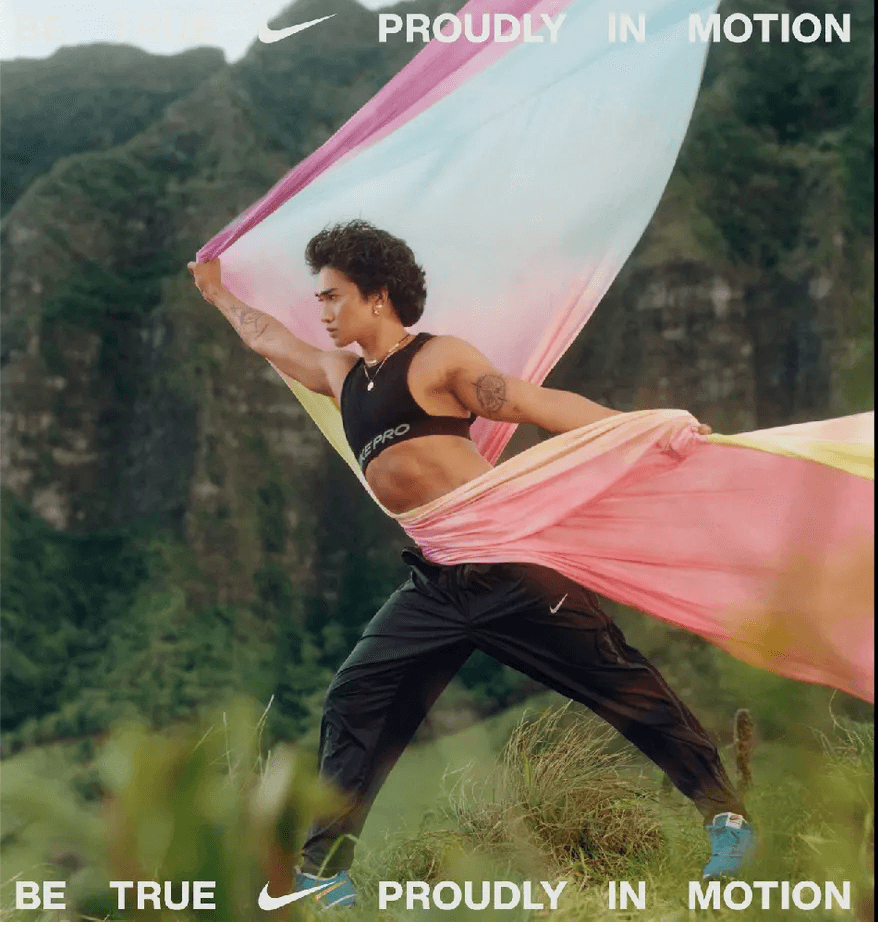 He said ""Strength has no gender ! It's measure from within" ?️‍? I'm so excited to announce that I'm one of @nike faces for their #betrue campaign this year❤️????? ????truly such an honor to be seen and heard from Nike, it's so surreal." Featured photos from Nike.com.
Just a few weeks ago, Bretman took home an MTV Movies & TV Award for "Social Media Breakout Star," and was featured in his own hit reality TV show, "Following Bretman Rock," that you can watch here.
Add another award or whatevah to Bretman Rock's list of achievements. This time, he wins the 2021 MTV Movie & TV Awards Breakout Social Media Star award. In his acceptance speech, he thanks "everyone who watched me grow up on the internet. It's probably the most traumatizing [thing] I've ever done in my entire life." Side note, he accepted the award to Olivia Rodrigo's Deja Vu playing while he walked onstage. How perfect is that! Bretman also presented the award for Best New Unscripted Series, which went to Selena Gomez's Selena + Chef.
In his closing remarks, Bretman emphasizes that "this award is for all the Asian Americans who [believe] in me, all the Pacific Islanders, and most importantly, this is for all the LGBTQ community."
Check out the rest of the winners from the unscripted awards show:
Best Movie
To All the Boys: Always and Forever
Best Show
WandaVision
Best Performance in a Movie
Chadwick Boseman, Ma Rainey's Black Bottom
Best Performance in a Show
Elizabeth Olsen, WandaVision
Best Hero
Anthony Mackie, The Falcon and the Winter Soldier
Best Kiss
Chase Stokes & Madelyn Cline, Outer Banks
Best Comedic Performance
Leslie Jones, Coming 2 America
Best Villain
Kathryn Hahn, WandaVision
Breakthrough Performance
Regé-Jean Page, Bridgerton
Best Fight
Elizabeth Olsen vs. Kathryn Hahn, WandaVision
Most Frightened Performance
Victoria Pedretti, The Haunting of Bly Manor
Best Duo
Anthony Mackie & Sebastian Stan, The Falcon and the Winter Soldier
Best Musical Moment
"Edge of Great," Julie and the Phantoms
Best Docu-Reality Show
Jersey Shore Family Vacation
Best Dating Show
The Bachelorette
Best Reality Show
RuPaul's Drag Race
Best Competition Series
RuPaul's Drag Race
Best Lifestyle Show
Nailed It!
Best New Unscripted Series
Selena + Chef
Best Talk/Topical Show
The Daily Show with Trevor Noah
Best Comedy/Game Show
Impractical Jokers
Best Host
RuPaul, RuPaul's Drag Race
Breakthrough Social Star
Bretman Rock
Best Real-Life Mystery or Crime Series
Catfish: The TV Show
Best Fight
Kourtney Kardashian vs. Kim Kardashian West, Keeping Up With The Kardashians
Best International Reality Series
Love Island
Best Music Documentary
BTS: Break the Silence: The Movie
Cover Photo Credit: Bretman Rock Facebook
MYX Featured Influencer, Princess Mae, is one of the most known Filipina fashion & beauty influencers of this generation, with over 4M+ social media followers on Instagram, YouTube, Twitter & TikTok. Born in the Philippines, currently living in Hawai'i, you've laughed with her funny commentary on her brother Bretman Rock YouTube channel and have gotten to learn more about her on their hit MTV reality show "MTV Following: Bretman Rock." Binge-watch the season at www.myx.global/bretman-rock-mtv ICYMI.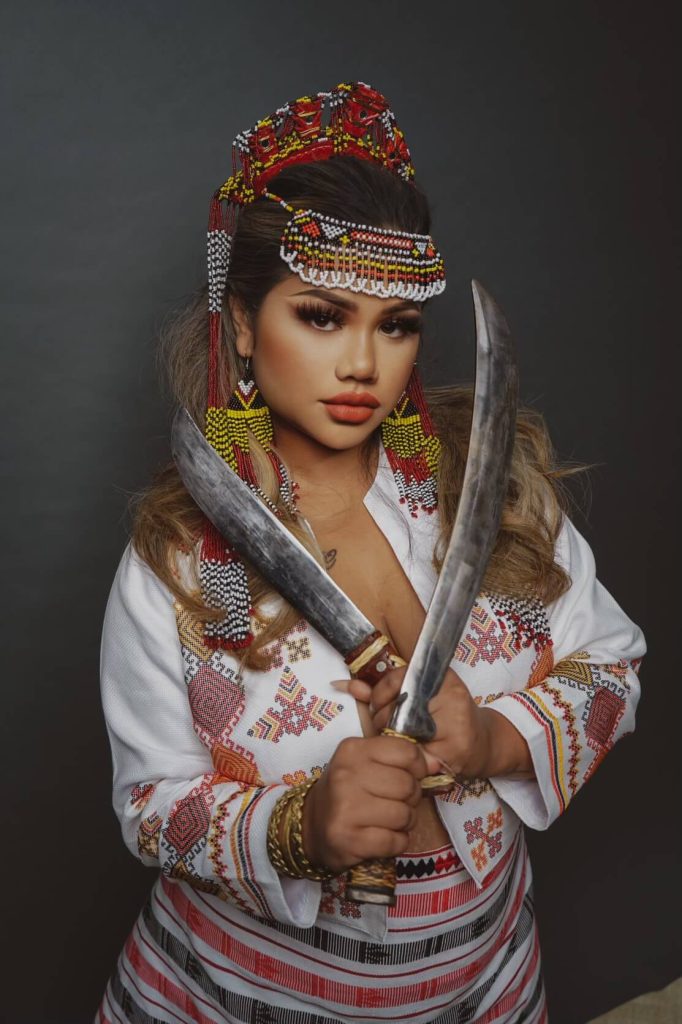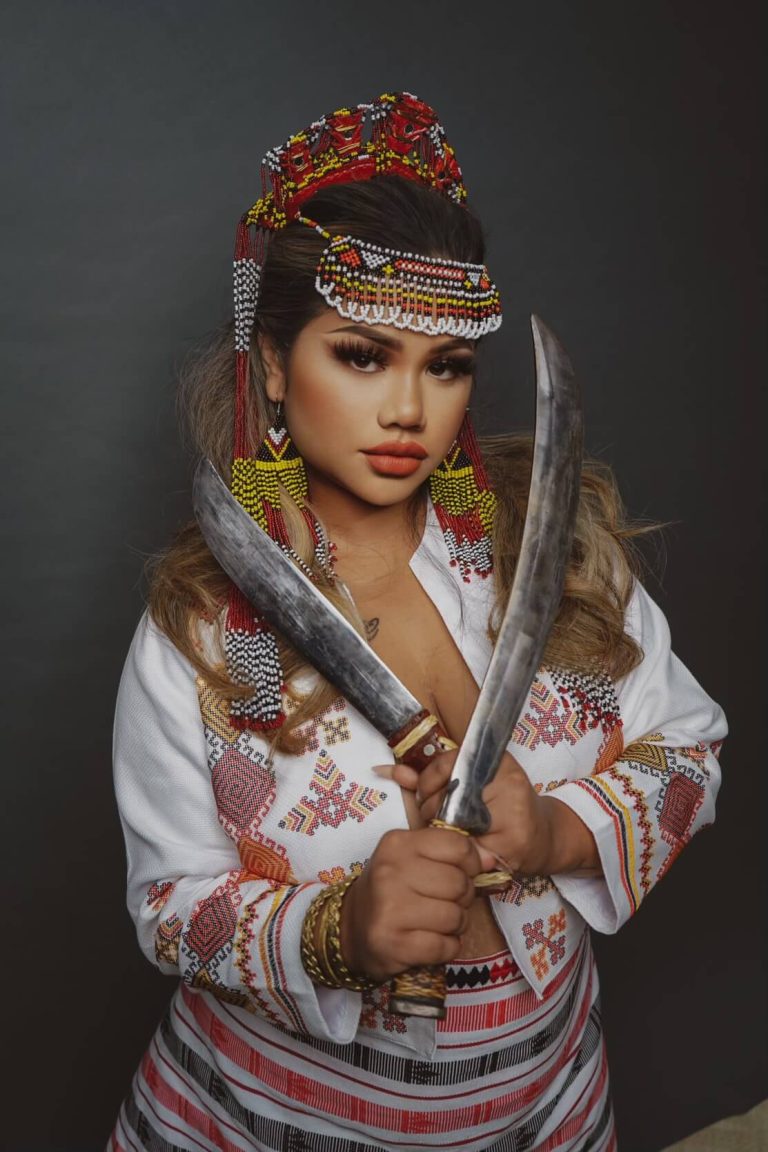 We sat down with Princess Mae at her Pinay Magazine billboard shoot in Hawai'i, and dove in to get to know her better as the business woman, influencer, mom, and sister. Watch the exclusive BTS video at her Pinay Magazine LA & NYC Timesquare music video shoot, shot & edited by Sharvis Ortega of Hawaii's Finest Media.
What was it like being born in the Philippines and then moving to Hawai'i? What's your favorite part about growing up here.
I was born in Cagayan, in Sanchez Mira. I came here [Hawai'i] when I was turning 2 years old with my mom and oldest brother, but we left Bretman. What I love growing up in Hawai'i it is so beautiful, take a look around - Hawai'i is just paradise and I'm glad to be around here and the energy it gives.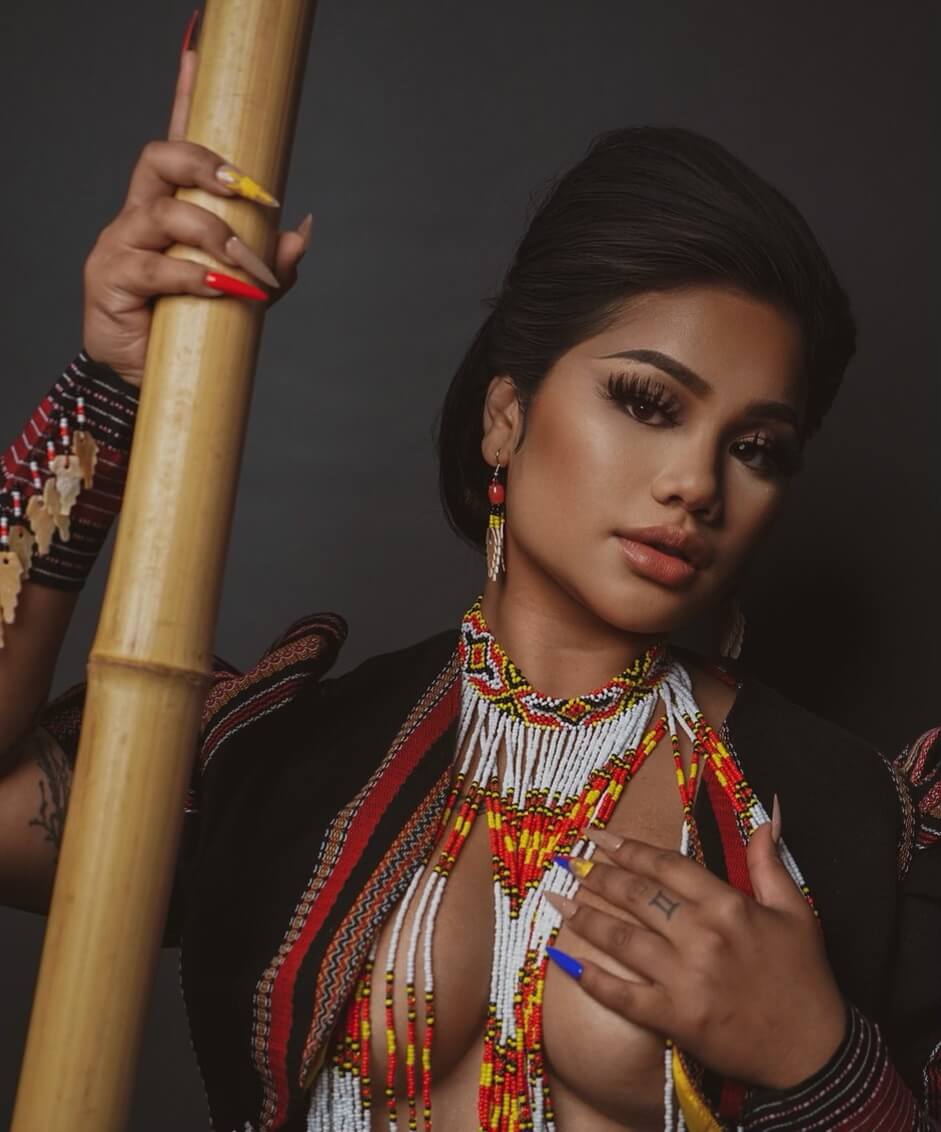 What are some of the highs and lows in your household growing up?One of the hardest things I dealt with growing up was not being able to have my father. In the beginning, everything was very humble. When we came here from the Philippines, we lived in a garage in a cardboard box. Being 2 years old, other people had to watch me while my mom was working. It was hard but taught me a lot of things. I'm thankful for what I went through when I was younger because it made me the strong woman I am today.
Were you ever nervous about a scene being filmed or anything after the fact?
One of the hardest things about the show was coming to the show because I'd be running late. I have two kids and it's hard to stay on track. I felt very nervous about zip-lining and working out with my brother. It was the first time I was on a show, we do the Youtube thing and it's fun, but we were showing the world who we really are. I hope when you watch, you get to know me, my brother, and my family more.
Being a mom for the first time, did it make you realize how hard it was for your mom raising 3 kids on her own. What's a piece of advice she's given you?
Before my daughter, I was pretty rebellious. Then having Cleo in my life, it was a blessing & beauty in disguise. I was rushing my life and wanting to grow up so fast, but now I'm growing up with her [Cleo] and learning. I understood so many things now, like just wanting her to be a child. When my mom said 'focus on school, focus on this,' you'll get to do other things later on and I get it more now as a new mom.
Having Cleo slowed down my life in a good way. It helped me think about my decision-making, my patience, and how to love myself more. She taught me to be very strong. My mom is also very strong, raising us, working 3 jobs, while still helping me a lot in raising Cleo. She has me, she has my mom, and Bretman. She's living her best life, everyone loves her.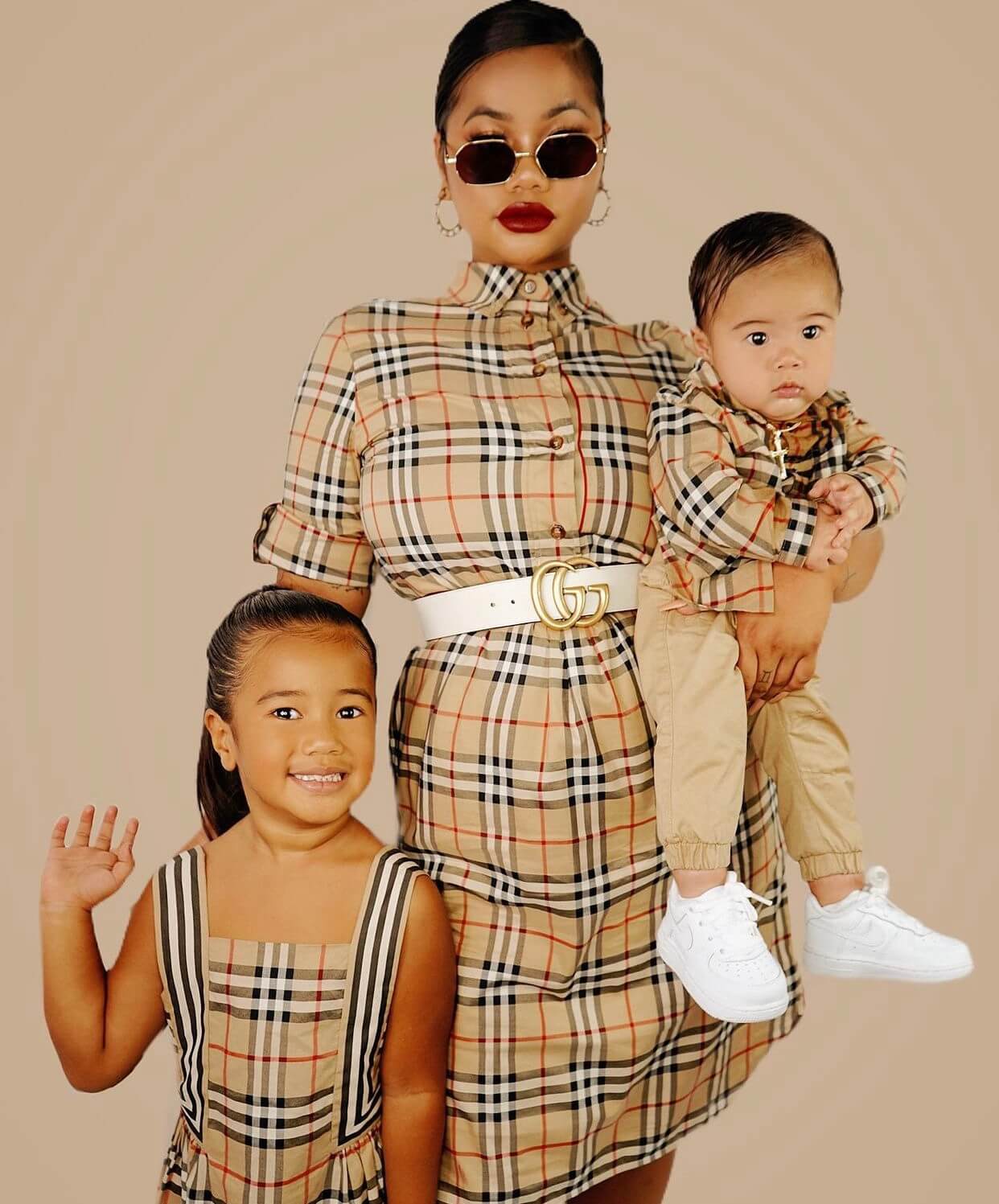 How is it different having your son and your second child as well?
Having Ezekiel in my life, it hasn't changed anything. I think I'm more of a girly girl mom and I was like, 'what do I do?' But he's my emotional child. Like I said, Cleo is living her best life but Ezekiel is emotional in a good way.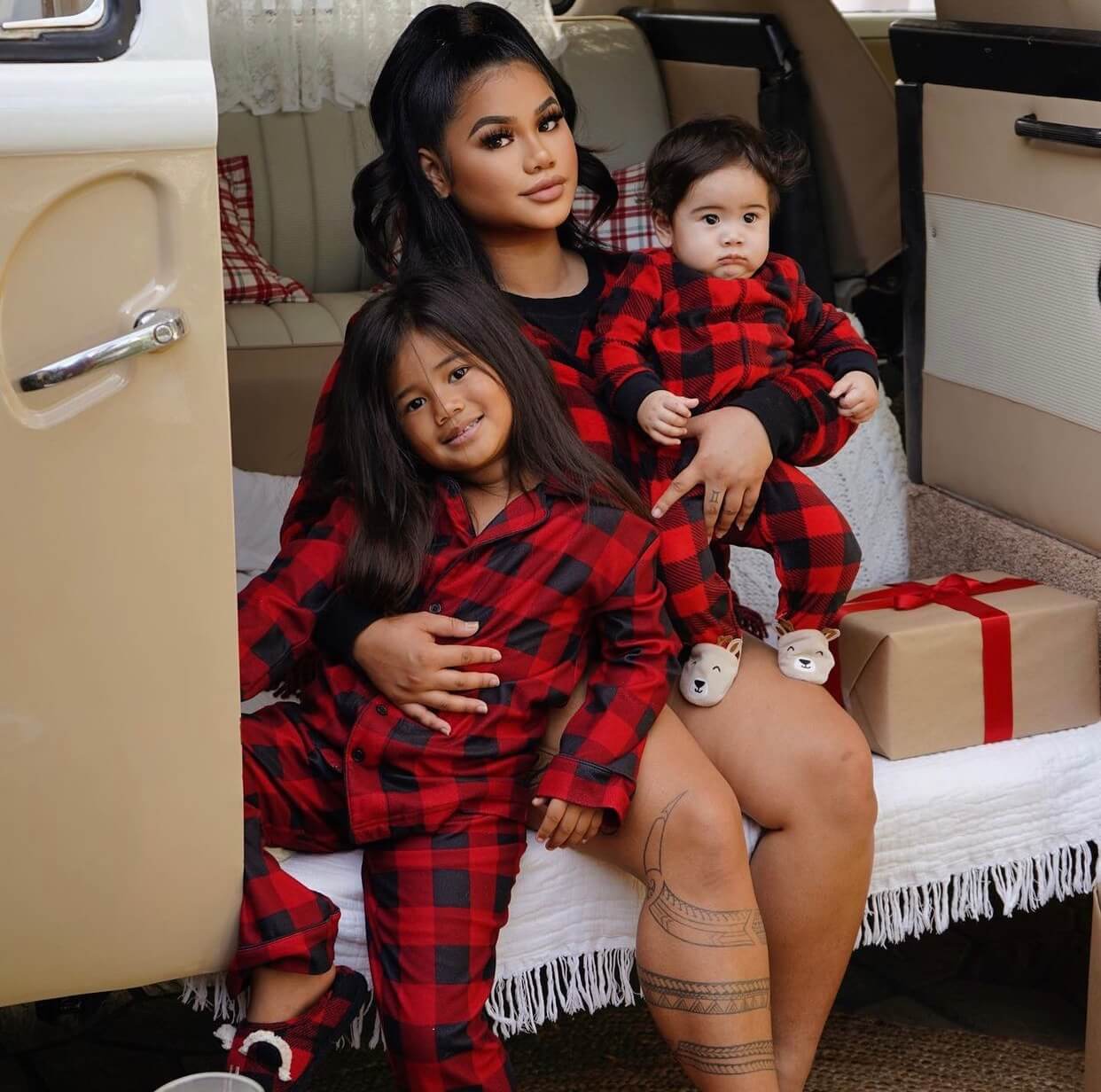 Can you talk about some memorable moments in your career?
A few things that are most memorable in my career is that first, I'm blessed with this whole career. Being 20 years old and making money by doing what I love and being me is an honor. I feel it was meant for me, growing up we never really had anything. Growing up, I never thought I'd work with companies I buy from like SavagexFenty and Fashion Nova, it's just a dream come true. And working with MTV, that was the ultimate dream and we manifested that we'd always be on a reality TV show. Living our biggest dreams while being in America, my mom worked hard and how we can all do what we love.
Lastly, having these fans and they're everything to me. That's who I'm doing it for. Even if they're not family, we're family.
What does "Making it in America" mean to you?
"Making it in America" means to me, is being able to provide for my kids and myself, and doing what I love to do. Also, being around my family who's doing the same thing and living life.
In the 'Meet the Cast' episode you brought over Jollibee.Why is it always important to showcase the Filipino culture in your content?
When we found out Jollibee was going to be here in Hawai'i, I stood in a line to get it. I was just waiting to get a C2, C3, and a bucket. Jollibee is classic and bomb ASF!
Speaking of food, you have a special on Mama Merces food truck is lechon belly and fried chicken. Have you learned any of your mom's recipes?
The truth is, I wanted the lechon belly and pinakbet. But my mom said that's her special. We were fighting over this. I learned the fried chicken recipe, but not the lechon belly. My oldest brother who owns Mama Merces, is patient with my momm and she throws down, which he learned from. When it comes to recipes, she doesn't like slow people. She wants to teach us, but there's definitely critiques. But just her being there for us, and teaching it to me, I appreciate every second with her.
Do you have a special message for all your fans where they feel represented by seeing you?
I just want to say thank you for all my fans. Like what my brother said in an episode, "I couldn't afford anything, but my dreams," is so true for all of us. We dreamed big and it came true. Now, that's what I want to tell my fans - to always follow their dreams and never give up. Dream big.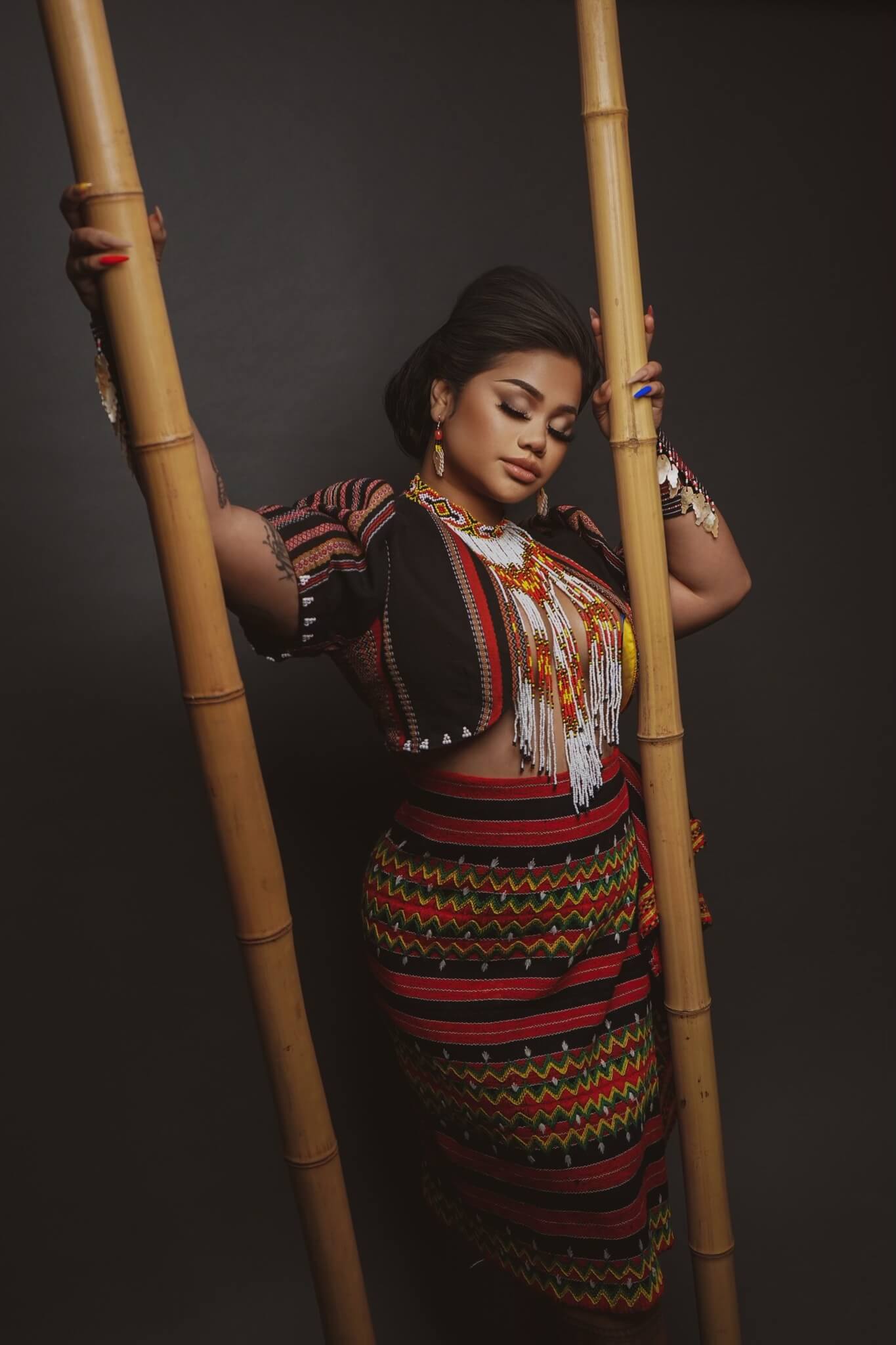 Here is a full list of the pieces she wore in the shoot, styled by Daily Malong founder, Lydia.
Accessories (necklaces, earrings, bracelets): School of Living Tradition, Lake Sebu through Nanay Myrna Pula, Kinwa Etnika from Tabuk through Aunty Florence Ao-wat
Skrit Wraps and Malongs: @ifugaonation in Ifugao through Manong Marlon Martin, Mabilong Weavers, Kalinga through Manang Ophel Bawer Addom, Maranao Collectibles
Tops: Kinwa Etnika, Tabuk through Aunty FLorence Ao-wat, Inabel Trench coat from Inabel Weavers Association, Ilocos Manobo Suyam Cardigan from Agusan Del Norte through Master Artist Margarita Abaquita and her students
Shoes and other styling props: Banig (Tepo) from Tabawan Island Tawi Tawi sourced through Kuya Alan Frylim
Payongs and shoes: from Cotabato City, Maguindanao through Farid Guinomla
To support the artist community of the Philippines and to learn more of their story and shop their beautiful pieces, visit www.dailymalong.com or follow them on IG at @dailymalong.
Hair & Make-Up:
@ready4WARR
@glamartistrybymelanie
About Princess Mae:
Princess Mae is a star and cast member of MTV's hit reality show, "Following Bretman Rock." She is one of the most beloved beauty & fashion influencers for always being her authentic self. She has over 4M+ social media followers from around the world on Instagram, YouTube, Twitter & TikTok, with partnership deals with top brands like SavagexFenty by Rihanna, Fashion Nova & Maven Beauty. Princess is the mother of 2, her adorable daughter Cleo, (who also has 1.2M Instagram followers & is a Nova Kids partner) and her son Ezekiel. She was born in the Philippines and raised in Hawaii, and is constantly traveling the country as a spokesperson or featured celebrity at events like Beautycon. Find her most recently featured as a Pinay Magazine Billboard cover girl, MYX Global "Featured Influencer" and when in Oahu, Hawaii – you can order the "Princess Mae Special" at her family's famous food truck, Mama Merce's Kitchen.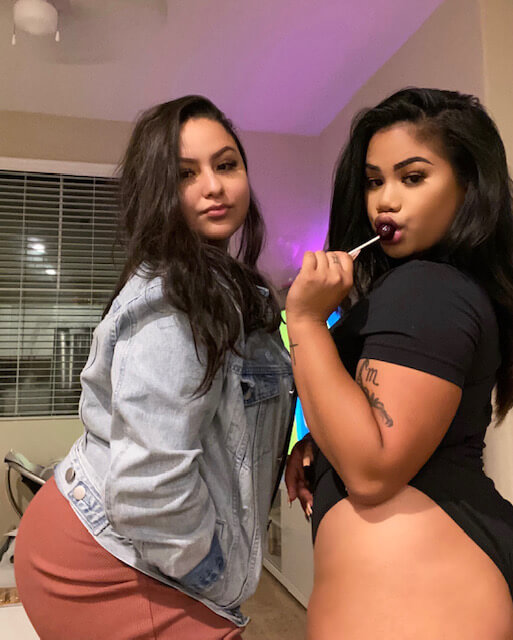 About Photographer Maria Pena: Maria Pena is an editorially published photographer. She is a first generation immigrant who resides in Texas but is known for her shoots throughout the country whether capturing celebrity portraits or high fashion editorials. She has worked with Princess Mae, Amber Diamond, Ethan Diamond, Vanessa Vasquez and as a BTS photographer for MTV's Following Bretman Rock show.
Find her on @mfpena_ on IG or on her website: www.mfpena.com.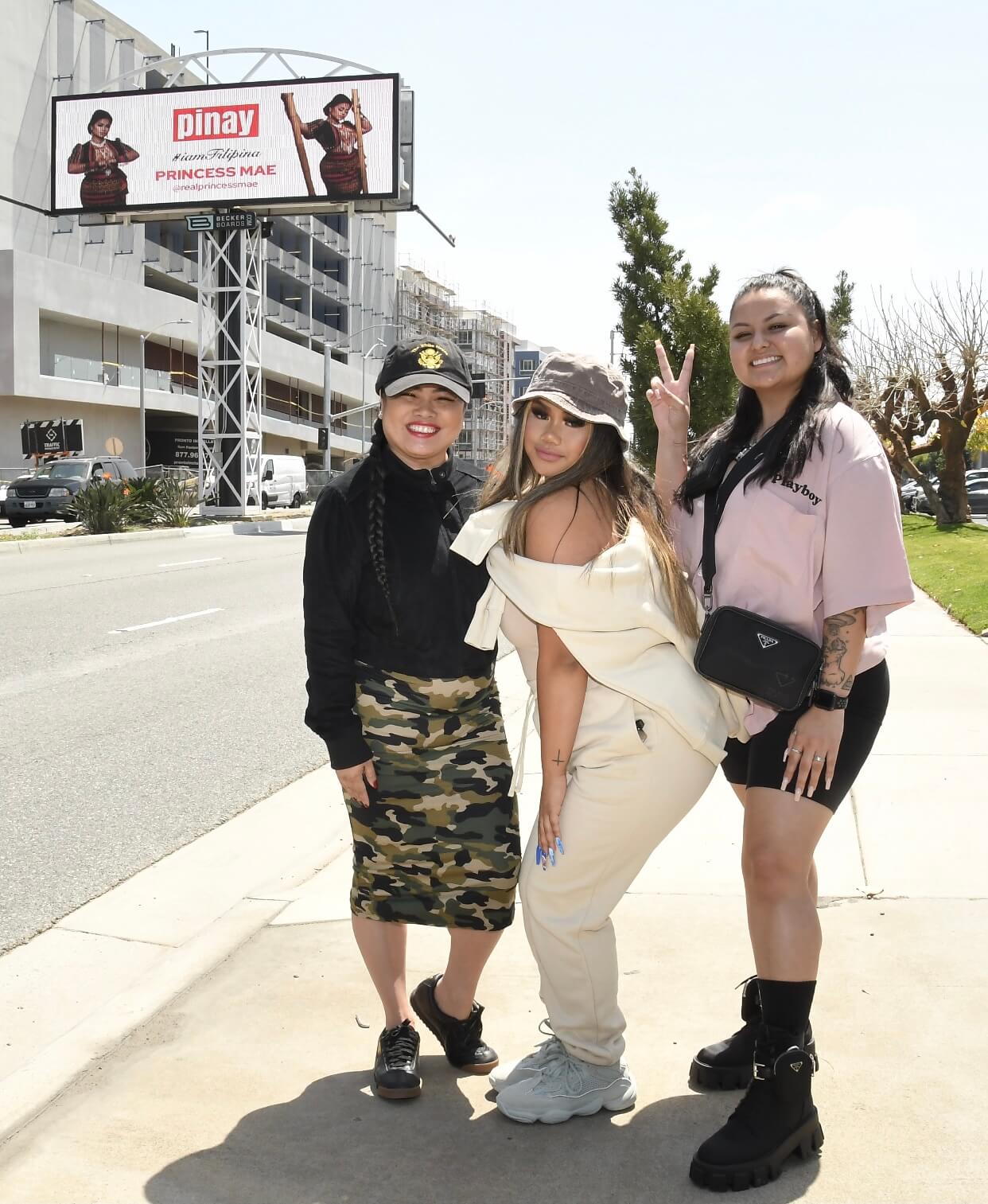 All week, Olivia Rodrigo has been teasing her newest single, Déjà Vu in a series of Instagram posts. Her debut single, Driver's License continues to be a certified hit. It's been on the Billboard Charts for 11 weeks and counting since its release in January. The excitement for this next single is real. It has everyone wondering, what's it going to be sound like or be about? She's feeding us cheeky posts and snippets of the upcoming music video.
"I think people are gonna get to see another aspect of my music and my songwriting. I'm super stoked and also really nervous".
She also teased an Instagram Live happening before the single releases to talk all things Déjà Vu. In an interview with MTV's Kevan Kenney, Olivia says the single isn't like Driver's License.
We'll get to see more of Olivia's personality in her music. She is a multifaceted artist and excited for people to get to know her. Déjà Vu is now available to stream everywhere. Be ready to head to the beach with Olivia's newest track and another song for your playlist.
Cover Photo Credit: Olivia Rodrigo Facebook
Bretman Rock introduces the cast members of his new MTV reality show, "Following." The show will start to air on MTV's YouTube channel every Monday at 1P PST. The Filipino family living in Hawaii spills the tea on their favorite future episodes, how they manifested the show and more while eating Jollibee chicken & spaghetti, "sponsored' by sister & fellow infuencer, Princess Mae.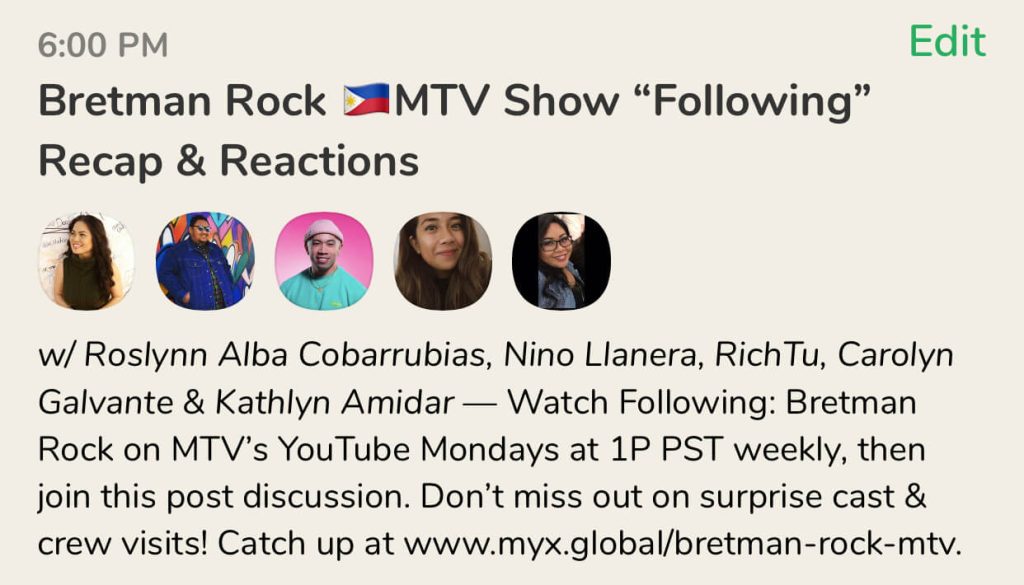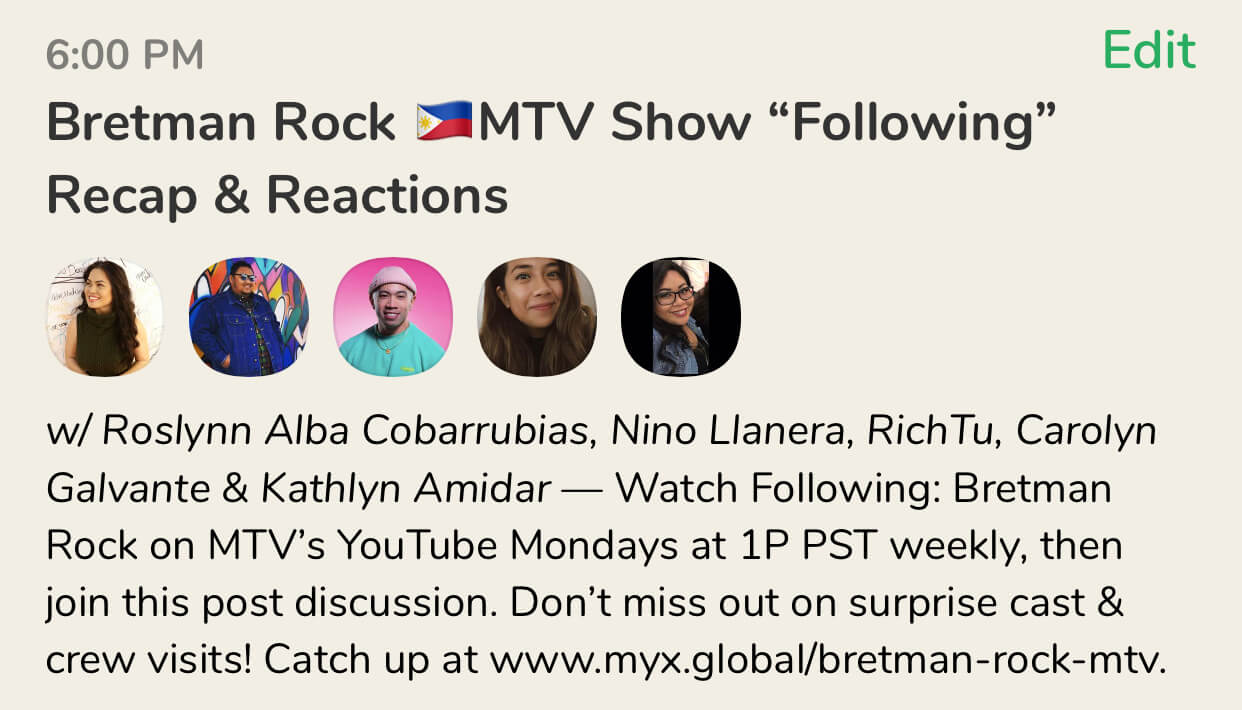 Each week join us on Tuesdays at 6P PST on Clubhouse as we recap and react to each episode with surprise visits from cast members. One week Bretman Rock, Princess Mae, Larry & Miss Kay all joined us with Heather, Cory and Rich also joining us from the MTV production team.
MYX will post each new episode to this page, stay tuned and use #bretmanrockMYX to let us know your thoughts on the show!
"MTV's Following: Bretman Rock" is an exclusive look at all aspects of the content creator's life in Hawaii, following Bretman and his crazy crew as he navigates vlog life, new business ventures, his mom's impending move, and the recent passing of his dad, all amidst the current COVID-19 pandemic. Watch the trailer below:
ABOUT Bretman Rock Sacayanan:
More popularly known as Bretman Rock is a Filipino-American beauty influencer, social media personality, and internet sensation based in Honolulu, Hawaii with over 20M+ social media followers worldwide. Rock is a beauty influencer as well as a makeup artist. He started as a comedian and meme creator on YouTube and Vine before shifting to vlogs and beauty tutorials. In 2016, one of Rock's contouring videos went viral. He was inspired by vlogger Talia Joy and makeup artist Patrick Starrr.
Bretman's younger sister, Princess Mae is also a social media personality.Princess Mae and her daughter, Cleo frequently appear in Rock's videos, such as for mukbang, In June 2019, Rock was featured on the Pride Month cover of Gay Times. In September 2019, Rock attended his first New York Fashion Week where he collaborated with stylist Andrew Gelwicks.
Bretman Rock, an Ilocano, was born in the Philippines. His father, Edmund Laforga was a fan of professional wrestling and gave him a name based on those of Bret Hart and The Rock. Rock moved to Hawaii at the age of 7 and played sports while growing up including baseball, soccer, cross-country, and volleyball. At Campbell High School, Rock was on the track team.
Rock played the role of "The Playboy" in the ten-episode fourth season of the YouTube Premium web series Escape the Night, released in July 2019. In December 2019, MTV announced that Rock would be the star of the next season of the YouTube show, No Filter. Rock will star in his own MTV's show "Following" on their YouTube channel
Rock was a finalist for the Shorty Award for Breakout YouTuber in 2017. Time recognized him as one of the "30 Most Influential Teens" in 2017, and he was included in the Forbes "30 Under 30 Asia – Media, Marketing, & Advertising" list in 2018. In 2019, Rock won the Beauty Influencer award at the 45th People's Choice Awards. In 2020, he was a finalist in comedy video at the Shorty Awards. In 2020, Rock was included on Variety's 2020 Power of Young Hollywood list.
Episode 1: A Single Bretman Rock Gets Mounted ?
In the midst of a break-up and a home remodel, Internet personality Bretman Rock retreats to a beachside rental with his friends, where the good times are interrupted by real life family challenges.
Episode 2 Bretman Rock Opens Up About His Father's Death
As the year anniversary of Bretman's father's death approaches, he reveals a deeply held secret to his sister Princess Mae. Meanwhile, Bretman devises a marketing plan for his new sunglasses line: nude photos! Bretman just re-stocked the sunglasses, buy them HERE before they sell out.
Episode 3 Bretman Rock Faces His Biggest Fear
Bretman hatches a plan to coach a "celibate" Larry through his first date ever — a move that has unintended ramifications for Keiffer. Meanwhile Princess is determined to challenge Bretman after her pushes her a step too far. Watch it LIVE Mondays at 1P PST here.
Episode 4: It's Bretman Rock's Party & He'll Cry If He Wants To ?
Inspired by Keiffer's gender expression, Bretman plans a surprise party unlike any other! Meanwhile, the group acts quickly when their blind date arrangements for Larry hit a roadblock.
Episode 5: Bretman Rock Goes Bottoms Up ?
With the launch of his sunglasses line only days away, a stressed out Bretman flexes his muscles—creative and otherwise—to let loose. Meanwhile Princess prepares for a test shoot with a modeling agency in an attempt to find success outside of Bretman's shadow.
Episode 6: Bretman Gets His Mom "Lei'd" ?
As his mother prepares to leave the country for good, Bretman and his siblings throw her a luau-themed birthday party to remind her that Hawaii will always be home. Meanwhile, Princess gets a life changing call.
.
If this Valentine's Day weekend is a nice weekend in for you, here's a couple things to keep you occupied.
Rodgers and Hammerstein's Cinderella on Disney+
The story of Cinderella has been remade many times, but you might not be familiar with this 1997 television film. Rodgers and Hammerstein's Cinderella stars singer Brandy and legendary Whitney Houston who's also a co-producer of the film. This groundbreaking film features a racially diverse cast with Filipino-American actor Paolo Montalban as Prince Christopher, Whoopi Goldberg, and more. If you've seen in, it'll take you back to your childhood. However for first time viewers, get ready to hear amazing music, a talented cast, grand costumes and productions.
Jo Koy on MTV's Ridiculousness
For the laughs, make sure to catch Jo Koy on MTV's Ridiculousness with Rob Dyrdek. The show highlights viral videos that failed at do-it-yourself attempts at stunts. We're sure they'll be funny commentary from JoKoy and friends. It airs tonight at 11pm PST/10pm Central on MTV. Check out a preview below!

Cover Photo Credit: Brandy Facebook