Daniel Cancino is a Filipino-Canadian Chef and Owner of Mineral Restaurant in Toronto, Canada. He was born in Hong Kong, moved back to the Philippines, and eventually migrated to Canada with his family in search of better education and better life. Daniel takes us through his migration story alongside his brother, Richard. They give us insights into the challenges of settling in new environments and having to battle with their cultural identities growing up. See how Daniel's high school job as a dishwasher led him to realize that he wanted to venture into the world of culinary arts and become a Chef, eventually also becoming an entrepreneur and opening up his restaurant in Toronto. Follow his story of taking a chance and trusting his talents and passion on this episode of "Making it in Canada."
About The "Making It" Series:
The "Making It" series is a new MYX original series that follows the multigenerational, challenging journey of successful Filipino entrepreneurs, artists & community leaders globally. The story documents the sacrifice and immigration of their parents & friends from the Philippines, that worked hard to help raise them and kickstart their careers.
Kolohe Kai is celebrating his 10-year anniversary on tour, this week he stops in LA, with 2 shows apart of the Island Block Party Concert Series. On 11/18 and 11/19, they are bringing the vibes down to the House of Blues in Anaheim with opening performances from Fia and CRSB. Check out their recent tour stop in Berkley, California, to get a glimpse into the show. Tickets are still available and can be purchased through this link.
If you can't get enough of the Island Block Party, we got you! Airing every Tuesday at 7 pm PST, you can catch the new MYX Original Series "Island Block Party." Stay tuned for the highlights and interviews from Kolohe Kai, Fia, and CRSB coming soon!
About Island Block Party:
Pack your bags we're taking YOU to the islands! Island Block Party is our new MYX original music show featuring interviews, performances & music videos with your favorite island, pop, reggae & R&B artists alongside features on community leaders, events & businesses.
The show airs Tuesdays worldwide at 7P PDT on TV & online at https://myx.global/livetv/ starting 11/9. 
The series is a co-production between MYX, Island Block Network & Aww Films.
Nelita Villezon is a martial arts expert, weapons specialist & actress She was named after her Lola (grandmother), who immigrated from the Philippines along with her father Erwin, who first settled into America via North Carolina. Erwin studied martial arts and was a student under Dan Inosanto. While in North Carolina, he met Nelita's mother, Span, and they eventually headed out west to California so Erwin could pursue his dreams to work as a professional martial artist in TV & Film. 
With the apple not falling too far from the tree, Nelita began to train with her father from a very young age. She's trained in several styles, including Eskrima, Jeet Kune Do, Muay Thai, Tae Kwon Do, Wushu, and Northern Shaolin, just to name a few. When Nelita turned 20, her father fell ill, and her life drastically changed, but her gift and passion for martial arts that she learned from her father helped turn the darkest and lowest times in her life around. Nelita is currently acting in commercials, TV & film while being an entrepreneur of her own brand and trailblazer within the industry. Follow along as Nelita, and her parents reminisce on the stories of her family's sacrifices, all of which helped shape how she is "Making it in America" today.
Watch the full episode below:
About Nelita:
Raised in Los Angeles, CA, a multi-ethnic actress, martial arts expert/ weapons specialist, and lifestyle content creator. Trained by her father Erwin Villezon, a Filipino martial artist and student under Dan Inasanto. She is trained in several styles including Eskrima, Jeet Kune Do, Muay Thai, Tae Kwon Do, Wushu, Northern Shaolin, and many more styles.
Nelita was honored to be named one of Ahlan Magazine's 100 most influential people in 2019, Illustrado Magazines 300 Most Influential Filipinos in the Gulf 2020 Legendary Edition. Was also featured in Women's Health Magazine Middle East, Gulf News, The National, and more! She has been able to work with top brands like Nike, Puma, Adidas, MAC Cosmetics, Honda, Nissan, and many more.
She uses her platform to share her passion for life, movement & diversity around the world. Nelita is living out her goals and sharing her passion for overall wellness, arts, and wellbeing through her signature branded VIEBRANT lifestyle. She is the winner of the 2021 "Lola Appreciation Day" contest created by Guapdad 4000 & MYX to share stories and give flowers to the matriarchs on social media.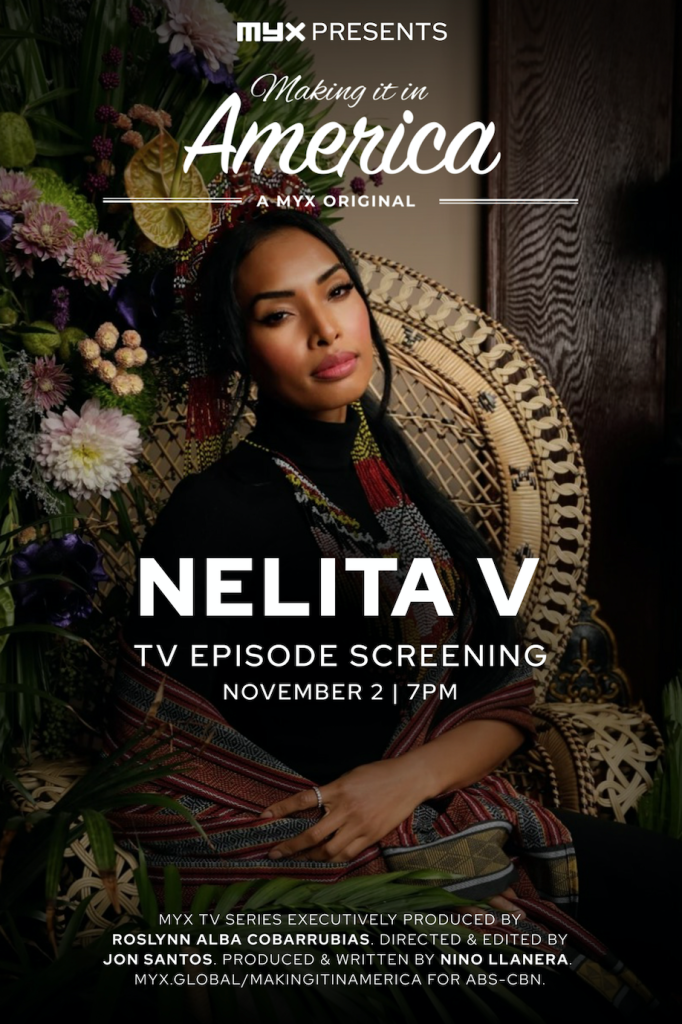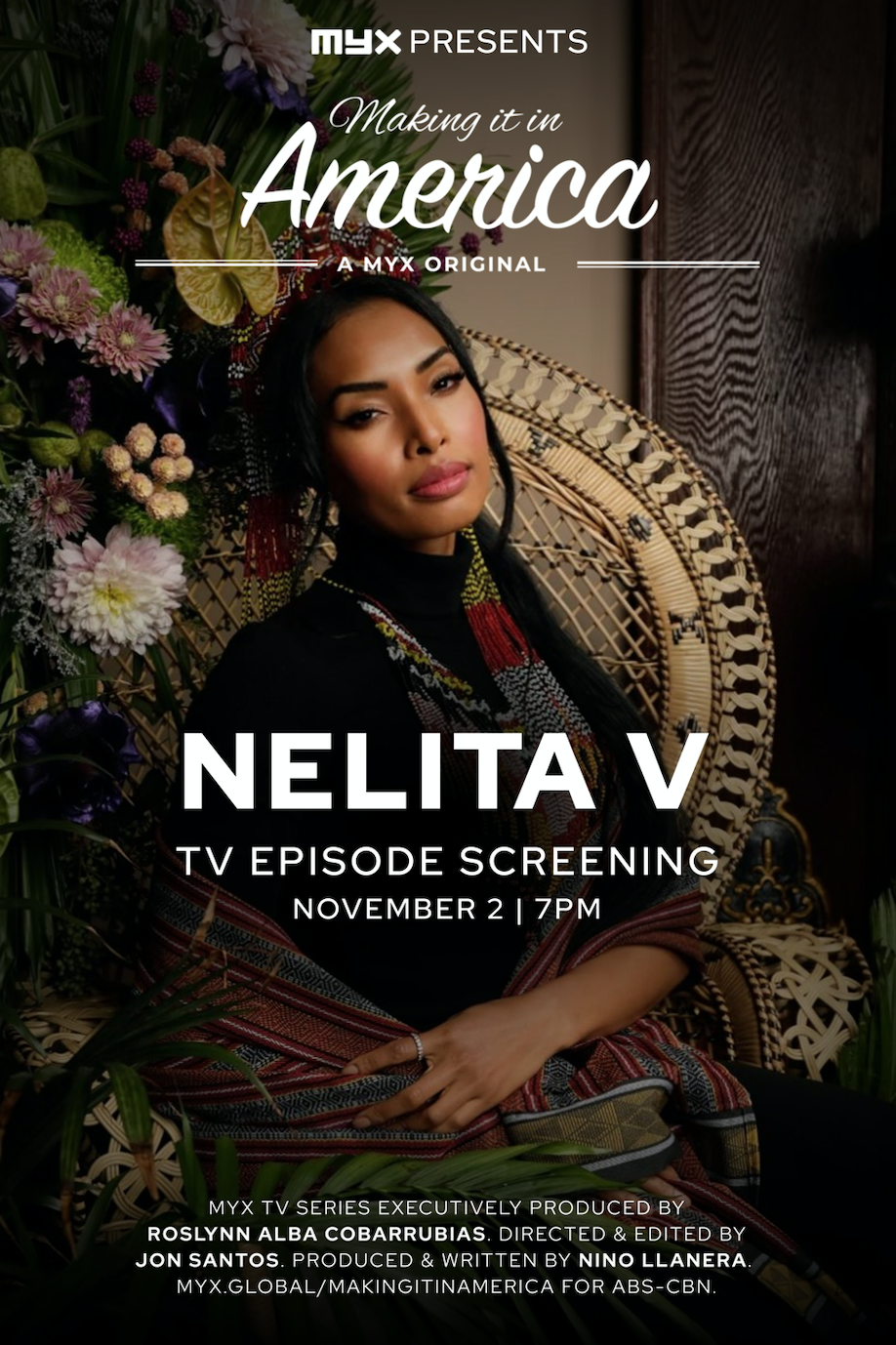 A special screening of the full episode was held for her closest family & friends. Watch the highlight video below that included special Ube-infused cocktails provided by Don Papa Philippine rum.
Making it in America Nelita V Episode Credits:
Executive Producer: @roslynnc
Producer / Writer: @ninollanera
Director / Editor: @JonSantos
Production Assistant: @KylePetrulio