Charlie Puth is back with a new album! While the songwriter is known for being one of the biggest hitmakers in the world, "Charlie" follows a different approach than his previous projects. The self-titled release is appropriately the "See You Again" singer's most personal, vulnerable, and honest LP yet. The 12-track project sonically is inspired by 80s synth pop and follows a break-up theme for the majority of its songs.
Charlie Puth sat down with MYX exclusively and in our interview, he talks about his love for the Philippines, compliments Filipinos and our natural vocal talents, writing one of his biggest hits after performing in Manila, his new album, and much more!  Check out his sit-down with VJ Samm below!
MLD Entertainment has officially debuted their second girl group Lapillus. The six-member girl group has a mixture of global Asian talents, including Bessie, Seowon, and Haeun from Korea, Chinese-American Yue, Shana from Japan, and Filipino-Argentinian Chanty. You might remember Chanty, also known as Chantal Videla, a former Kapamilya Actress.
Lapillus is from the same company as hit girl group Momoland. Their debut single music video for "Hit Ya" is currently trending on YouTube and has garnered over half a million views in less than 24 hours. VJ Ai of MYX got to sit down with the freshly debuted group on an episode of MYXclusive. Get to know Lapillus even more and check it out below.
LITZ has announced their official debut slated for March this year. The initial debut date was set for February, but an announcement on their social platforms with a 30-second teaser has seemed to cement a March debut. The pre-debut release of their rendition of James Reid's "NATATARANTA" has created a great buzz on social and was a great start to build their fanbase. The teaser they recently released looks like we will continue to see the group's glitz, glam, and strong dance forward visuals and artistry.
If you missed it, LITZ was recently on an episode of MYXclusive with VJ Ai that trended on Twitter. They were joined by Esseca, and Jom & Crakky from ALLMO$T. Check out the interview below and see how this jam-packed MYXclusive went.
Cover Photo Courtesy of LITZ Facebook
MYX chats with Moonfall actor, Kelly Yu about her experience shooting her first disaster film, portraying the character Michelle, and if she prefers outer space or Earth. Check out some of the highlights below from the interview and be sure to catch Moonfall, out now in theaters!
Ever wonder what would happen if the Moon got too close to Earth? In the latest film, Moonfall starring Halle Berry, John Bradley, and Patrick Wilson are faced with saving the planet in this apocalyptic, disaster themed movie. With a mysterious force knocking the Moon off its orbit around Earth, it creates a new path headed directly into Earth. Can these astronauts and conspiracy theorist save the Earth from what lurks beyond?
Kelly and her costars bonded while filming.
Although she is a veteran actor in China, this was her first movie in America and first disaster film. Her character, Michelle spent a lot of time looking after Halle Barry's character's son Jimmy, played by newcomer Zayn Maloney. She shared that both her and fellow screen partner, Charlie Plummer gave advice to Zayn about their experiences in the industry so far.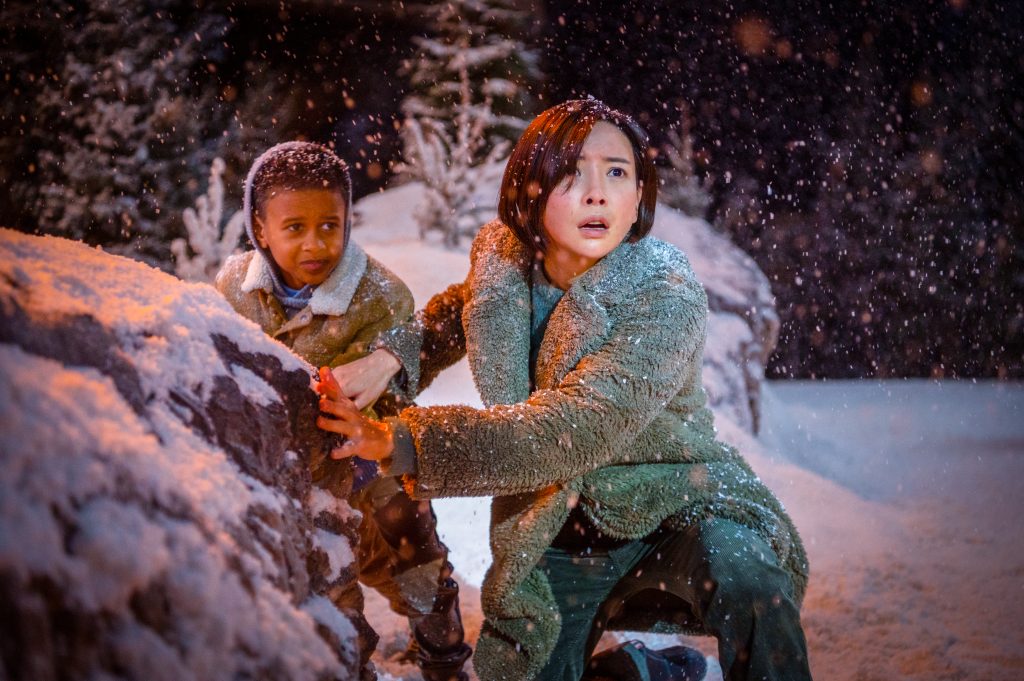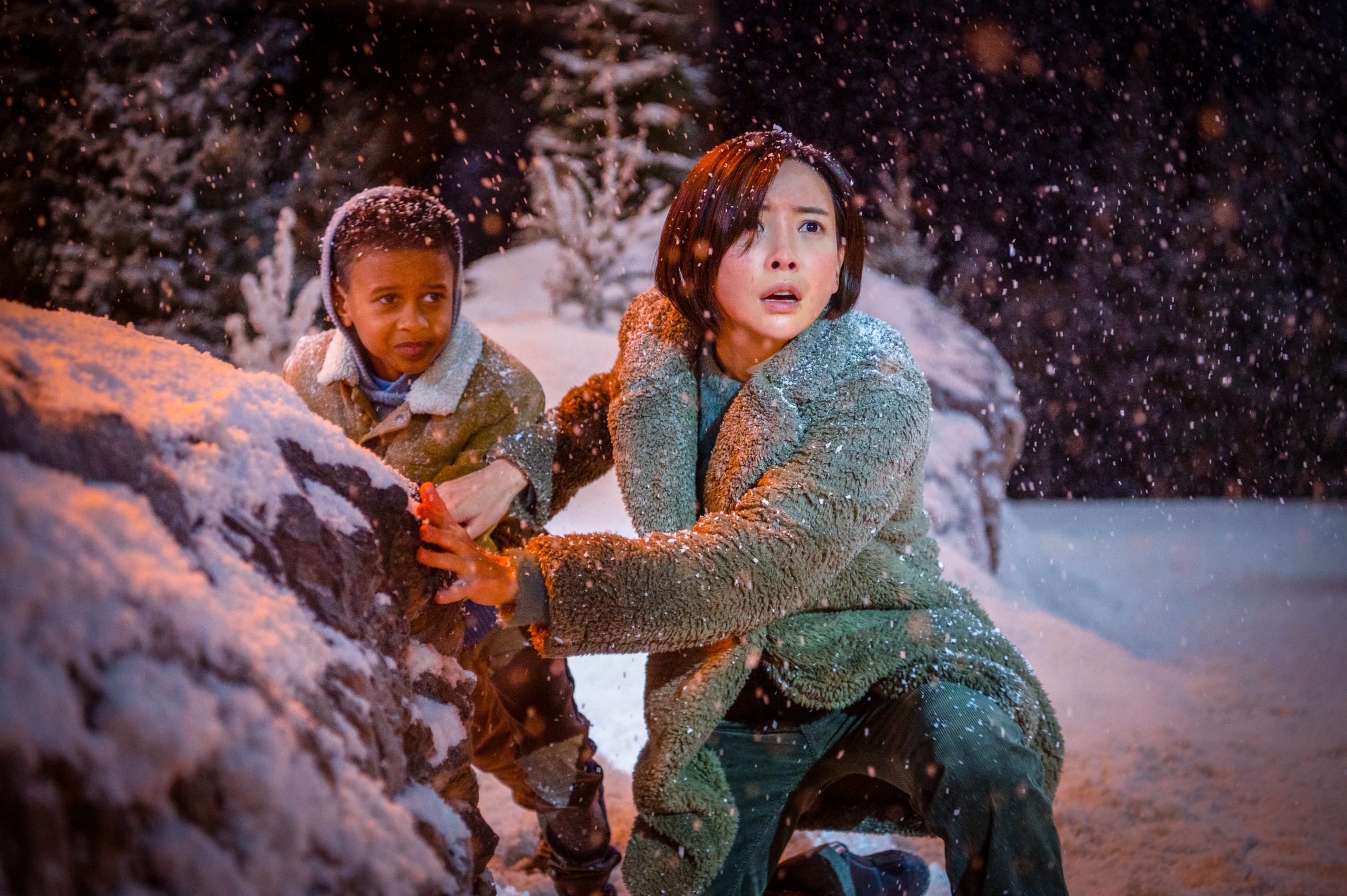 If you didn't know, Kelly is also a singer and had her music featured in projects she's involved in.
Kelly shared that for Moonfall, she's releasing a couple of songs for the film in the Asian market. She's excited to share a track that was specifically made for the movie once there's a release date for the film in China.
With the film taking place between space and Earth, we asked Kelly if she wanted to venture into outer space.
Because her character Michelle didn't venture out into space, Kelly would want to experience space. She would love to say that she's gone to space and saw what the unknown is like. For the film, the cast was placed on harnesses for certain scenes and Kelly shared that was the closest feeling of "floating" around in space.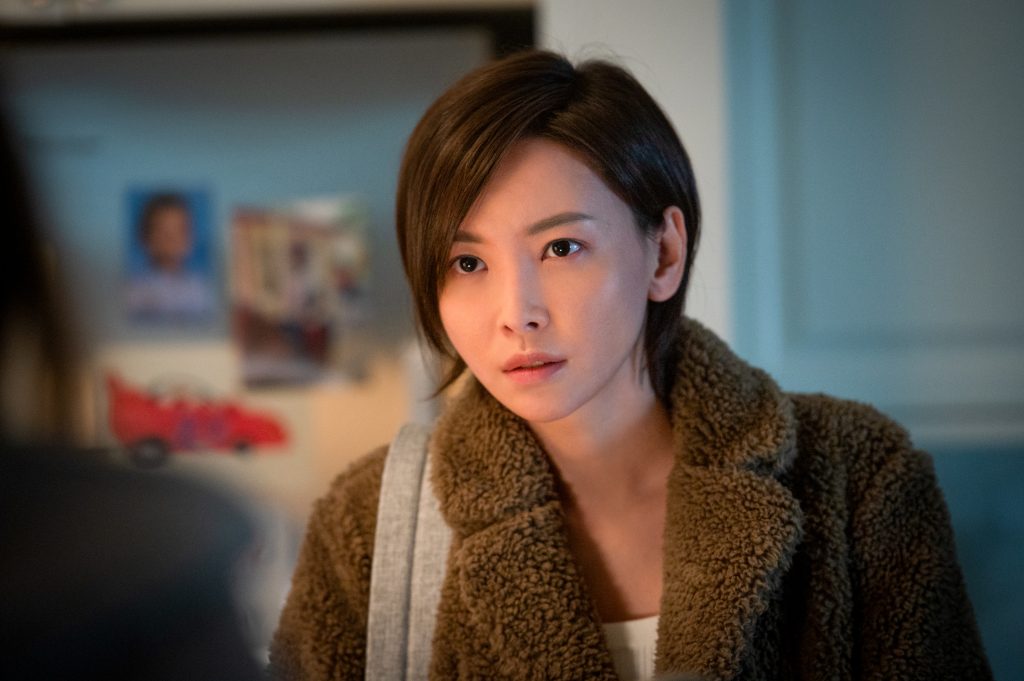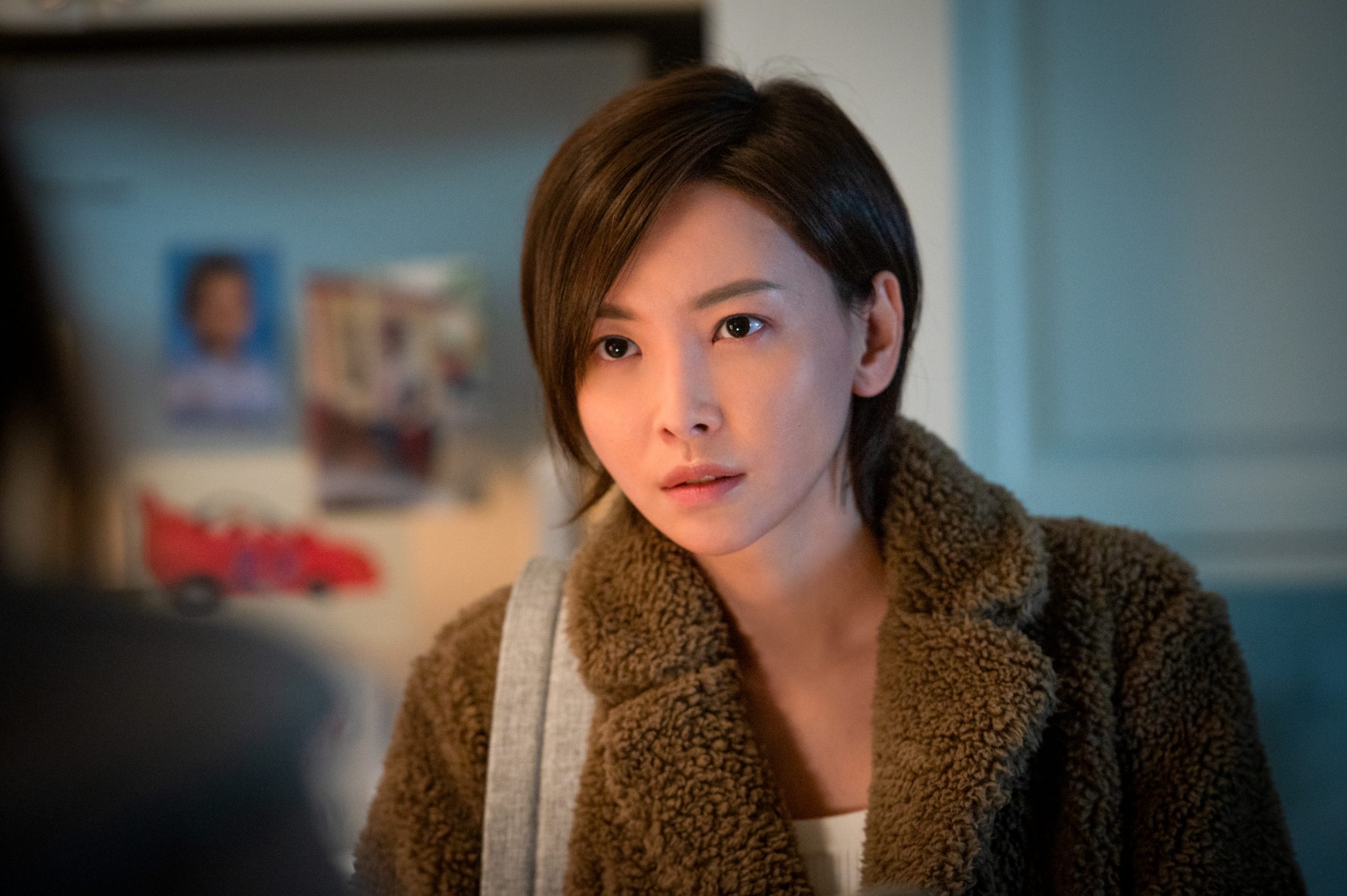 Kelly sings us one of her favorite go-to karaoke songs!
She gave us two of her favorite songs to sing along to during a karaoke session. The first being the Eagles' "Hotel California," which is definitely a classic. The other song being one of her own. Kelly even graced us by singing her song in Mandarin. It's a first for us here on MYX and we totally loved it!
We look forward to seeing Kelly in more projects and hearing more music! Catch Kelly Yu and the rest of the cast of Moonfall in theaters now!
Cover Photo Credit: Lionsgate
MayMay Entrata has been on a roll, and she is not stopping anytime soon. Luckily she was able to take time out of her busy schedule to sit down with VJ Samm and talk about the success of her single AMAKABOGERA and the release of her album MPOWERED. If you haven't had a chance to check out her latest MYXclusive interview yet, check it out below. Also, don't forget to stream her new album here.
If you can't get enough of MayMay catch her at her Digital concert Mpowered, a digital spectacle streaming on November 26 (Friday) via KTX.ph, iWantTFC, and TFC IPTV. Get tickets here.
keshi released a new track in October called, "SOMEBODY" a year after the one year anniversary of his last project, always. The song is the first single and music video from his upcoming, debut studio album. After the track released, he took the stage at 88 Rising's Head in the Clouds Festival in Los Angeles earlier this month with NIKI to perform "right here" and eaJ of Day 6 to perform "pillows" to over 30,000 fans.
"SOMEBODY," co-produced with Eli Rizk, brings out keshi's edgier side, but balances it with a perfect equilibrium between lo-fi and pop sound with a touch of 832. You can expect to hear keshi's harmonies along with his artistry. "With "SOMEBODY" and the upcoming album as a whole, I felt like it was time to shift the tone to something more well rounded. It all exudes a newfound confidence that I think fans will be refreshed to hear and see in all the new videos," keshi tells us.
Along with releasing his latest single, keshi teamed up with Mindset and Dive Studios for the keshi x Mindset podcast collection. The platform is dedicated to normalizing the conversation of human experiences through authentic stories. keshi talks about everything from who he is as Casey Luong and his upbringing, what he did before music, and answers some fan questions. He's featured in 8 episodes so time to grab some headphones and listen away!
When keshi broke into the scene with his 2018 project, The Reaper, it earned him early recognition for shaping the lo-fi discourse that's flanking pop music. VICE said, "the rawness that underpins keshi's sound keeps fans coming back for more." The Houston, Texas native gained popularity in the lofi-hip hop/study beats community and continues to have success in that genre. He wrote, produced, engineered and played all the instrumentation on his EP projects (Skeletons (2019), Bandaids (2020), and Always (2020)), which describes the cycle of a relationship.
Since then, keshi has been gaining more traction in mainstream like appearing on the 88rising-curated Shang-Chi and the Legend of the Ten Rings: The Album for his song "War With Heaven," YSL's special guest at their Venice show and he's currently tour with LANY. keshi wants to be remembered as an artist and he's on his way there. "I think the biggest goal for me right now is to create a record that will outlast me."
Get to know him as an artist and jump into his mindset in this recent MYXclusive with VJ Samm where they chat about songwriting, his album, and more!
Cover Photo Credit: UMG Philippines
MNL48 is back on MYX Global, but this time for another MYXclusive. For this live catch-up with VJ Samm, members Miho, Ruth, Princess, Cole, Yzabel, Jem, Andi, and Dana were present for the interview. This was some of the member's first time on MYXclusive, and they mentioned how excited they were to be there. Check out the full MNL48 interview below!
BGYO sits down with MYX Global's Nino to answer fan submitted questions and hang out with us! In this exclusive, we get to know more about the boys. They share which song would be part of the soundtrack to their life, who's their inspiration, and what their fandom ACEs means to them.
The group also talked about things they continue to discover about each other and of course we had to hit them with a rapid fire segment. Find out who prefers TikTok over Instagram, who would go back in time or want to see their future, and who prefers nature life over city views. It's so much fun to see the boys' personalities off-stage. #BFFGoals
The boys have been busy gearing up for their online concert with sister group BINI in One Dream: The BINI x BGYO Concert, but also they just released a new single, "Kulya." The catchy tune is part of the soundtrack for Miss Universe Philippines 2021 and will have you dancing along. This marked the group's first all-Filipino song. Take a listen to it below!
Don't worry, we'll be hearing more music from BGYO soon as their debut album is coming this month! According to NME, BGYO's The Light will be released on October 7, followed by BINI's Born To Win a week later, on October 14. BGYO have included 'The Light' and 'Kulay' in the album, along with prior singles 'He's Into Her' and 'The Baddest'. There will also be four alternative versions of the title track, performed in Japanese, Thai, Bahasa, and Spanish.
With all the hard work they've been putting in, they're also being recognized for their talents as the group won two awards at the Asian Academy Creative Awards. BGYO claimed Best Theme Song for "He's Into Her" from the trending series of the same name and the show itself was named the Best Original Program by Streamer/OTT. Their director Chad Vidanes received the Best Direction award. They'll only receive more awards from here on.
The BGYO boys are making all ACEs proud! With a lot more music and projects lined up for them, we can't wait to see how they'll round out the year. They're definitely the baddest out there right now in the P-pop scene.
Cover Photo Credit: BGYO_ph Facebook
Get to know more about SAB in this MYXclusive as she reflects about her journey so far and talks about her debut EP "Sunsets and Heaven." SAB just celebrated her first anniversary in the industry with a digital concert and had special guests who joined her on Facebook and Kumu live. She also shared how she's been balancing her time between school, music, and hobbies like watching anime.
As a fresh incoming artist, she was most surprised by how she improved on stage presence because of her chill and easygoing personality. Although live music and performances were put on hold for the last year and a half, SAB grew into herself as an artist. With that comes her debut EP Sunsets and Heaven, which spurred from a Kumu livestream where she asked the viewers to throw out words and SAB would create a song with it on the spot. What was a fun segment she did turned into the title track and the name of her EP. According to SAB, it just felt right so she went for it. Check out the rest of the MYXclusive below and get all the details about SAB and her Sunsets and Heaven EP streaming on all platforms.
Frankie "Kakie" Pangilinan talks about her latest EP abOUT hER SPACE. Just the first chapter of a longer compilation, she always wanted to name a project "outer space." Now was her chance, however the title goes in deeper with the "a," "b", "h" also has its own meaning, "a broken heart"/ "a bountiful harvest." The EP honors her younger self that experienced heartbreak and all the "hugots" (the feels). Kakie takes it old school as she said all the songs originally came from a USB of 20 songs she wrote in a night. Listeners will get a look at her writing style and leave them wanting more which luckily for us is on the way.
The former Miss Universe, Catriona Gray, joined VJ Samm to talk about her latest single, "Raise Your Flag," and much more. Watch it below:
Watch the lyric video to her latest song, "Raise Your Flag" below:
ABOUT CATRIONA GRAY:
Catriona Gray is a Filipino-Australian model, singer, and beauty pageant titleholder who was crowned Miss Universe 2018. She is the fourth Filipina to win the Miss Universe competition. Previously, Gray was crowned Miss Universe Philippines 2018 and Miss World Philippines 2016.[4]
Alamat is back to talk about what is in the works, watch it here on MYX.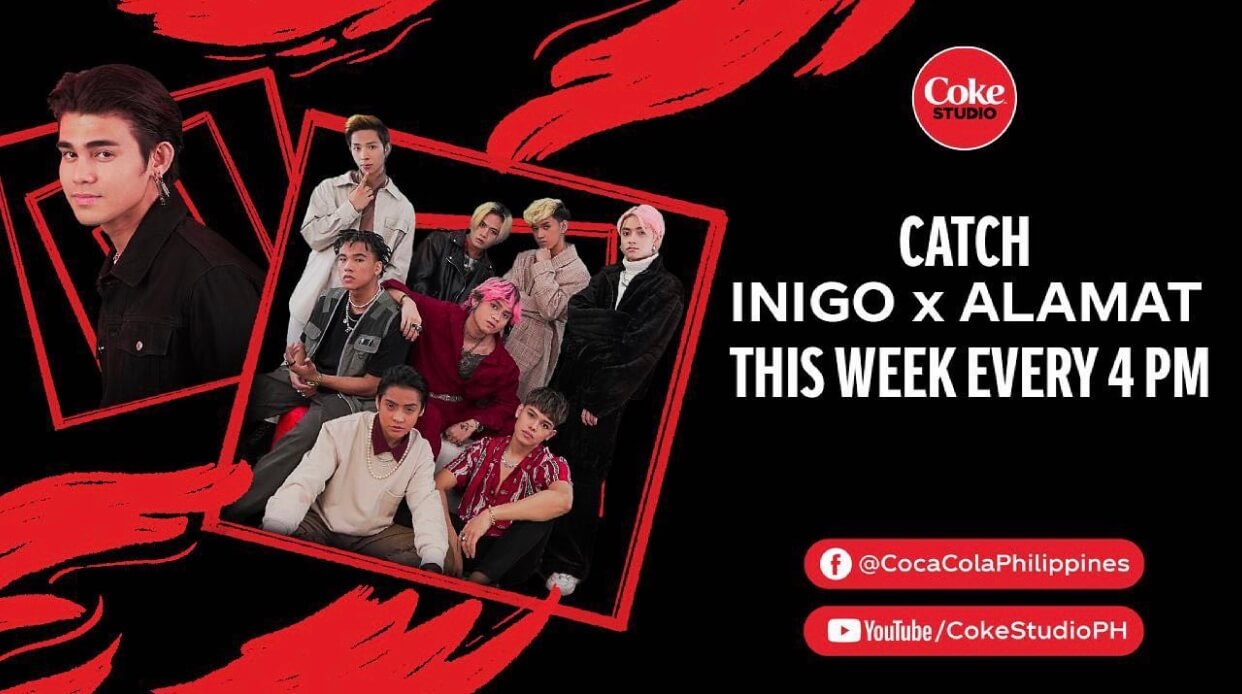 You can catch Alamat with Inigo Pascual for a Coke Break this week on Coke Studio PH YT.