We now have a collaboration from two of the biggest music stars in the Philippines on one undeniable hit single! Top streaming artist Zack Tabudlo enlists the help of Pinoy hip-hop star Al James for his newest single, "Gusto." On the genre-blending track, both hitmakers flex their songwriting abilities, while discussing holding back feelings towards love interests.
As expected, the song has received much success both statistically with streams and relevancy within the local music culture. Check out the Zack Tabudlo's Al James assisted new song "Gusto" below!
Meet the latest addition to the Sony Music Entertainment roster, Benj Pangilinan. Benj is Donny Pangilinan's brother, and the young singer looks to add to his family's legacy in the Filipino entertainment and music industry.

His new single  "Love, That's Rare" digs deep into young romance and nostalgia. In the debut track, he talks about complexities of love and its effects on shaping someone's perspective on the world. Benj wrote a song that transported him back to a specific time and place, helping him make sense of the conflicting emotions he was experiencing at the time. The track is produced by Grammy-nominated producer  Xerxes Bakker, who has collaborated with some of the biggest names in music, including Imagine Dragons and Snoop Dogg.

Tu$ Brother$, composed of members Al Tus & Rudyrude, have grown to a household name in the Filipino hip-hop community since we last featured the duo. The collective has just dropped a new song and music video titled "Can't See Me." The hard-hitting banger is part of the "Bawal Tus" EP, made in collaboration with Yung Bawal.

"Can't See Me" is a hard-hitting track that tackles themes of the reality of drugs and violence with unflinching honesty. The lyrics are raw and uncompromising, painting a vivid picture of the harsh realities of life on the streets. Against this backdrop, the beat uses a kettle boiling water as its main melody, creating a sense of tension and urgency that perfectly complements the intensity of the lyrics. The title is also a nod to John Cena's infamous catchphrase, something the Tu$ Brothers flipped as metaphor for "invisibility" — representing those who operate in the shadows and go unseen by the authorities and their enemies.

Check out the "Can't See Me" music video below!
Meet Andrea Clute, a Canadian/Filipino singer/songwriter representing Vancouver! Andrea is a singer who uses a blend of R&B and pop production, inspired by her frequent collaborator Jared Manierka, who often produces for Carly Rae Jepsen. Her sound has received comparisons to different artists, but she is mainly inspired by SZA, Doja Cat, and Celine Dion.

The vocalist shared a quote with us regarding her "Unsaid" EP:  "The six tracks are a journey from joy to heart ache as-well as the emotions in between like loneliness, desperation, and realization. Writing this ep helped me to open up and confess to feelings I was trying to suppress. It represents everything I've wanted to say but didn't know how to."

You can catch her EP here and watch the music video for its lead single "Nervous" below!
Shanti Dope is back with a new song and the Filipino MC continues to drop smooth music for both his female and male fans alike. That said, this new joint is definitely intended for the ladies! The lyricist flexes both his rapping abilities and ear for melodies in "Young Gaddy," following a similar trend from his previous singles like: "Y.G.G." and "Tricks".

Shanti's Dope's latest release "Young Daddy" is also accompanied by a lyric video. This banger is the perfect late night soundtrack to add to your Tagalog rap playlists when chilling with your favorite love interest. Check out "Young Daddy" below!
Dominic Fike has been teasing his return to music and the "Euphoria" actor just dropped a new single and announced his new album. The Filipino-American singer revealed his new album "Sunburn" will be dropping on July 7 via Columbia Records. The "Dancing in the Courthouse" artist took to social media to announce the project with a promotional video. You can pre-save the album here.
Dominic Fike also dropped a new song titled "Ant Pile" from his upcoming album. The track features the crooner narrating his first love, a theme similar to his first single where he took fans on a trip down memory lane to his legal problems as a teen. Fans of the Fike will be surprised as this is one of his most romantic songs yet. You can listen to it below!
Ron Harper Jr. made Filipinos proud when he was signed to a two-way contract by the Toronto Raptors before the 2022-2023 NBA season. Toronto, a city with a deeply diverse community and rich Filipino culture, has accepted the Filipino-American rookie, who is the son of former NBA player Ron Harper.

In honor of Asian American and Pacific Islander Heritage month, the Toronto Raptors featured Ron Harper Jr. on their Instagram page and the young forward discussed his favorite Filipino dish and shouted out his lola's cooking. Watch the video below to learn more about Ron's love for chicken adobo and his lola's cooking!

Photo Courtesy of Ron Harper Jr.'s Instagram
SB19 has kicked off their "PAGTATAG!" era with their newest single, "Gento." Earlier this month, the group previously their new EP and this is the first sample we have from the upcoming project.

"GENTO" places SB19's bold talent and confidence into the spotlight, highlighting their strength and versatility as a group. The song flex catchy wordplay, effortlessly flipping ganito (like this), ginto (gold), and gento, the Caviteño word for ganito. It delivers a powerful message of their growth as a group, after years of refinement—just like gold.
For this single, SB19 draws inspiration from transformational change—how incremental and everyday acts lead to success and change. Five years since their debut, the P-pop collective continues to test—and break—limits with their unconventional sound and unbounded talent. Check out their new song "Gento" below!
Eyedress has built a strong and loyal cult fanbase through the years thanks to his ear for inventive sonics and his even more impressive eye for innovative visuals. His successful independent music run has recently been recognized with a major label co-sign from RCA Records. The Filipino creative's latest release stays true to his formula of alternative sonics, partnered with trippy visuals.

Eyedress just dropped a mellow new song titled "Escape From The Killer" and the single comes in two different versions. The two editions, 1994 and 2008, draw inspiration from the sound of their accompanying eras. Watch the "Escape From The Killer (2008)" music video and listen to the  "Escape From The Killer (1994)" song below!

Photo Courtesy of Eyedress Instagram
James Reid is back with new music and the song is definitely bringing the heat as the summer approaches. In celebration of his birthday, the Careless Music CEO dropped a new single titled "So Fire" and the track is definitely titled appropriately. The song is definitely a groovy banger that will compliment your playlists perfectly for either nights out or cruising with the windows down. This track is the definition of feel good vibes and will have you dancing throughout its run time.

This is the singer's most recent follow-up to his album, "lovescene." Check out James Reid's latest song below, but we're warning you don't get too close!
Jakarta-born, LA-based singer-songwriter, and producer NIKI recently announced her upcoming "Nicole World Tour" this summer and fall. To coincide with this announcement, NIKI also dropped the music video for fan favorite track "Backburner" and released her new live album Live at the Wiltern, out now via 88rising.
Following her sold-out North American headlining tour last fall, NIKI is bringing her live show to cities across the globe with her 2023 world tour which will span across North America, Asia, and Europe. Tickets will be on sale to the public on Thursday, May 18th at 10AM local time, following local presales on May 16th and 17th. The full list of dates can be found below and you can hit up her official website for more information. The Indonesian hitmaker is set to hit Manila on September 13 at the Mall Of Asia Arena. Niki previously hit Manila for HTIC in December 2022.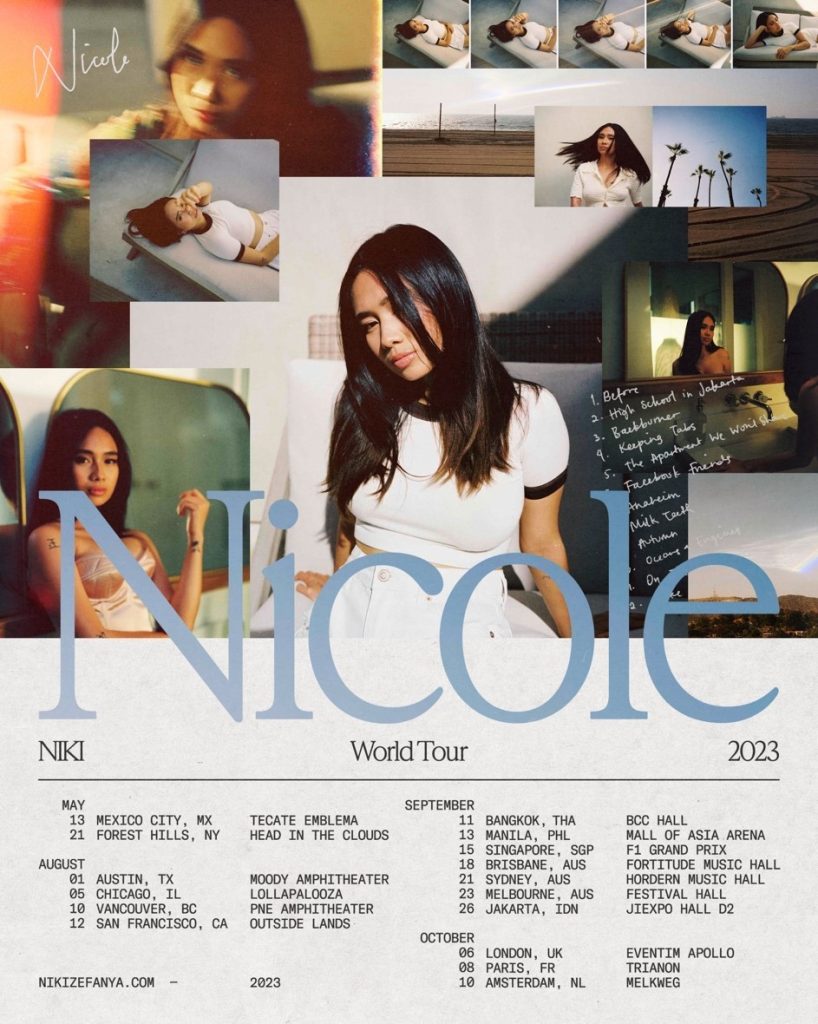 . 
Directed by Isaac Ravishankara, the new music video for NIKI's fan favorite track "Backburner" is deliberate and intimate. NIKI takes viewers into her world as she watches old footage recorded on her camcorder and re-lives fond memories of a past relationship. Watch the "Backburner" music video below.
If you're a fan of the local Filipino hip-hop scene, you're familiar that Drill music is the latest musical phenomenon that's taking over. While Drill rappers are a dime a dozen, a new rap collective named has caught our attention due to their unique sound. TriFluoride, a group hailing from Carmona, Cavite and tracing their roots to Zamboanga, has been making waves in the scene due to their songs that combine English, Tagalog, and their native dialect Tausug. The trio, composed of members: BL, Strict, and Yung Youz, has built a fan-base by their ability to relate to the strength and resiliency of Filipinos and by being a voice representing the region south of the Philippines.
While most drill music focuses on traditional hip hop themes like braggadocio, violence, and chasing women — TriFluoride is a breath of fresh air that offers a far different approach. The MCs use the popular drill sound to discuss fighting through adversity and anxiety.
According to Yung Youz, he described the brotherhood he's forged with BL and Strict through music: "We find connection through drill hip hop and share the same bond with each other"
BL added: "I've done R&B songs before, but I fell in love with Drill – but we know how to adapt."
We're looking forward to seeing what TriFluoride can accomplish in the local Filipino hip hop scene this year. Check out their latest music video "Bloody Mary" directed by Matthew Wojciechowski and Eyad Sayeed of Cereal Clicker below!