The "Back To Our Roots" themed LA County Fair brought NEXTFEST - a multi-stage indie music festival inside the fair - featuring the next in emerging talent. NextFest emerging talent performances took place from all sound arenas every weekend of May, Fridays-Sundays during the Fair across 4 stages. Fair goers saw NextFest LA on The Lagoon Stage, The Farm Stage, The Plaza Stage and The Community Stage. Performers includes Mayer Hawthorne, The Boompap Kids & many more. For more info and to see the previous line up - visit nextfestla.com.
On Saturday May 7, 2022, MYX partnered with the NEXTFEST to curate an eclectic group of established & emerging talented artists of Filipino American heritage to perform at the NEXFEST MYXtape including AJ Rafael, Nieman, Larren Wong & Nievera alongside DJ sets by DJ KZA & Nico Blitz.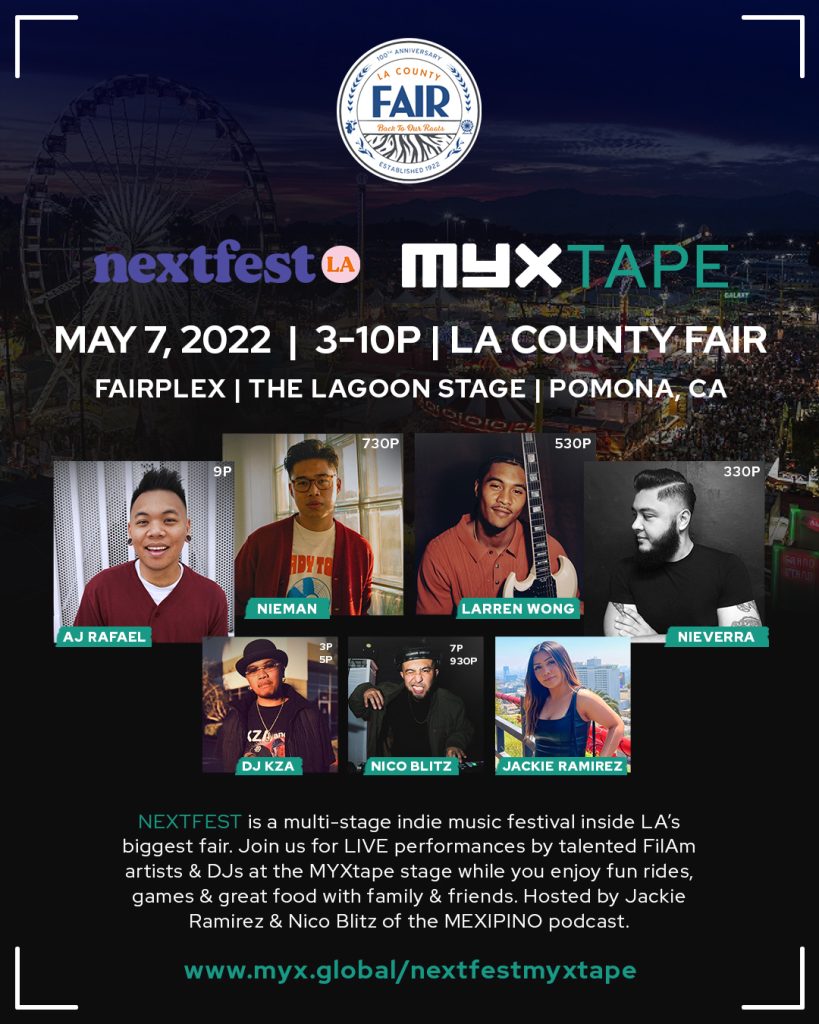 The event started at 3P sharp andwas co-hosted by Nico Blitz and Jackie Ramirez of the popular MEXIPINO podcast. Entrance to NEXTFEST was included in your weekend day or season pass into the LA County Fair. Dane Amar did a surprise song during DJ Nico Blitz' DJ set.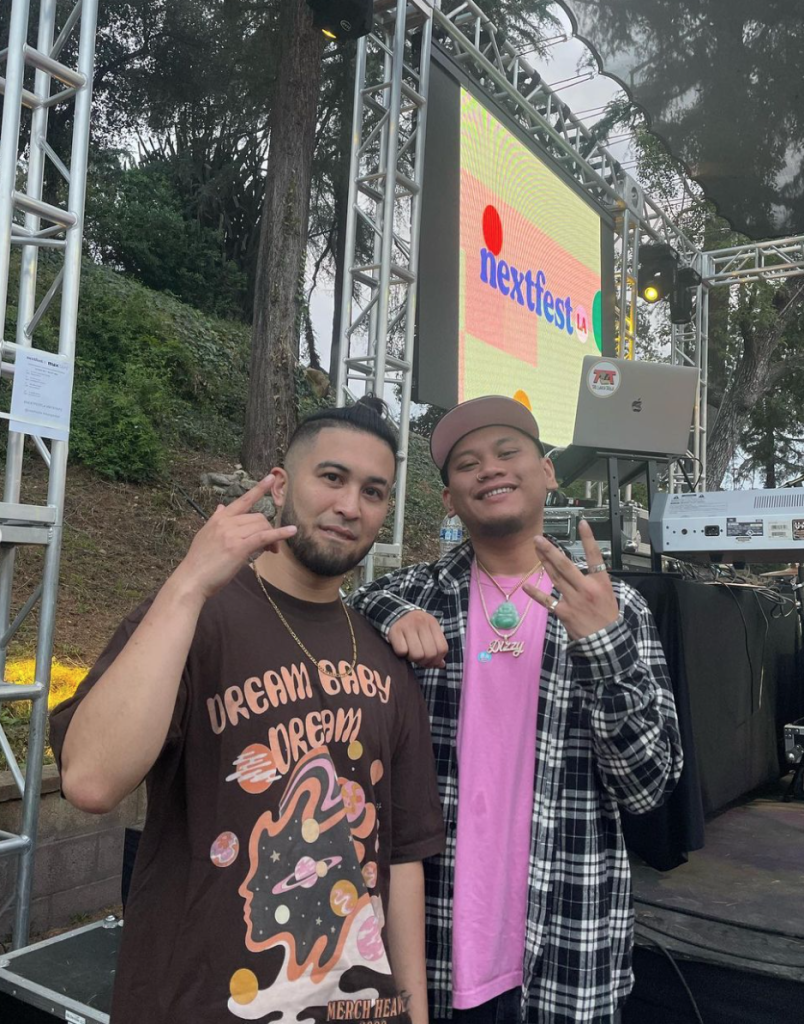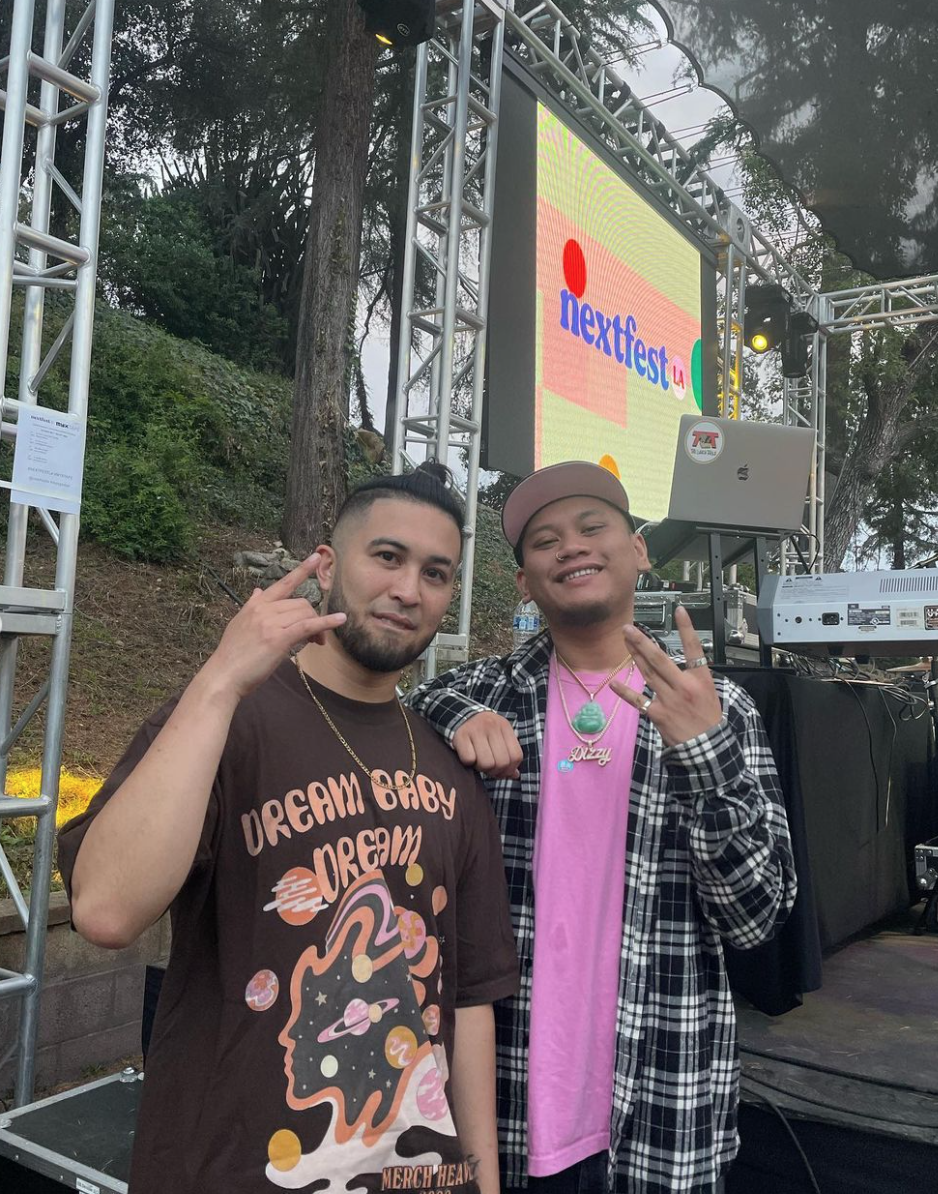 Make sure to tag #NEXTFESTLA #MYXtape while you are enjoying the concert and LIVE DJs.
NEXTFEST MYXtape at the LA County Fair 5/7
LOCATION: Pomona Fairplex: 1101 W. MCKINLEY AVE. POMONA, CA 91768
The Lagoon Stage inside the LA County Fair highlight videos below of the various performers. The event was co-hosted by Nico Blitz and Jackie Ramirez of the popular MEXIPINO podcast. Watch Watch MYX APAHM Featured Artist Nieman's full performance here and see more NEXTFEST MYXtape performances coming soon to: www.myx.global/nextfestmyxtape.
The performances were shot by Brian Gomez and Riley Lattanza, edited by Brian Gomez.
ABOUT AJ RAFAEL:
AJ Rafael is a popular singer/songwriter & content creator with over 1M subscribers on YouTube, and over 600,000 followers on TikTok. AJ was recognized as aFil-Am Game Changer by the City of Los Angeles in 2017. His debut album, Red Roses, charted on Billboard and at #4 on the Pop iTunes Charts. AJ is also active in the theatre world, working with renowned companies such as East West Players and American Repertory Theatre.
ABOUT NIEMAN:
NIEMAN is an R&B/Pop singer/songwriter based out of Los Angeles County. With millions of streams on Spotify, Nieman's music captures his unique blend of classic RnB storytelling with an Alt-Pop sound. His single "Why Do I Still?," from his second E.P. , "Palette," was featured on the top 10 on Spotify U.S. Viral 50 Charts, making an appearance on Billboard.com.
ABOUT LARREN WONG:
LARRENWONG is a self-taught vocalist, multi-instrumentalist, producer, and songwriter from Union City, CA. The child of a Filipino immigrant mother and African-American father, Larren has a diverse, rich ethnic history. His grandfather, a big band jazz leader and flautist in the New York Philharmonic was an early musical role model for Larren, despite being hard to impress.
ABOUT NIEVERA:
Nievera is a critically acclaimed singer/songwriter/producer/musician originally from the Philippines. He moved to California to work with other artists and to share his music with a new, international audience. Watch the live performance of "Home" above and the music video below:
ABOUT NICO BLITZ:
Virally known on TikTok and Twitch, Nico Blitz is a sought after DJ, host, & events producer. Nico is the founder of the "Yee The Party" series and the "Nico Blitz" Podcast, airing weekly on YouTube & MYX, interviewing artists like Rich Brian, MBNel, Phil Tayag (Swagpitt), SoSuperSam, P-Lo & more. He also co-hosts the popular MEXIPINO podcast, breaking Boundaries in the Mexican and Filipino American cultures with co-host Jackie Ramirez. In his spare time, he is the radio producer for the nationally syndicated radio show The Bootleg Kev, and is the Co-Founder of the SARI NOT SARI campaign, that helped raised money for victims of the recent typhoons in the Philippines.
ABOUT DJ KZA:
DJ KZA is an open format DJ and multimedia artist from San Diego, CA that is known for his popular Twitch livestream shows. He has DJ'd in venues across the West Coast like Arena K-Town in Los Angeles/San Francisco, Rebfest in Las Vegas and Beachhouse in San Diego.