Looking to freshen up your playlist or simply just looking for new music? We got you covered with a few remixes that'll spice up your next road trip or kickback. We have tracks ranging anywhere from pop to EDM and even chill remixes of some of your favorite songs by Filipino artists.
Here's only a few, so let us know what others we might have missed @myxnews on Twitter!
"Intoxicated" (Arthur Tan Remix) - Nadine Lustre, Arthur Tan
"Dance Like Nobody's Watching" - Yuna, James Reid
"Catching Feelings" (Dennis Blaze Remix) - Inigo Pascual, Moophs, Ruby Ibarra, Dennis Blaze
"death bed" - powfu, beabadoobee, Blink-182
"Spinning" (A.G. Cook Remix) - No Rome, Charli XCX, The 1975
"Corner" (Subzylla Remix) - Kiana V, Subzylla
"How Many Remix" - Guapdad 4000, !llmind, Rick Ross
"Slide" (Remix Pop Smoke, A Boogie Wit da Hoodie & Chris Brown) - H.E.R., A Boogie Wit da Hoodie, Chris Brown, Pop Smoke
Cover Photo Credit: No Rome Facebook
Since Guapdad 4000 released his album 1176 earlier this year, he's now set to come out with a deluxe album. He sounds like he's especially excited for track 15, a remix to How Many that features Rick Ross. Guap manifested a collaboration with Rick Ross on social media and now it looks like it came true. He also collabs with Tish Hyman, Buddy, and P-Lo. There's a total of 20 tracks on 1176 Deluxe so make sure to pre-save to not miss when it drops.
Guap released a series of new "Deluxe" merch items including a limited edition run of "I love Chicken Adobo" aprons and bedazzled Guap sweaters and more.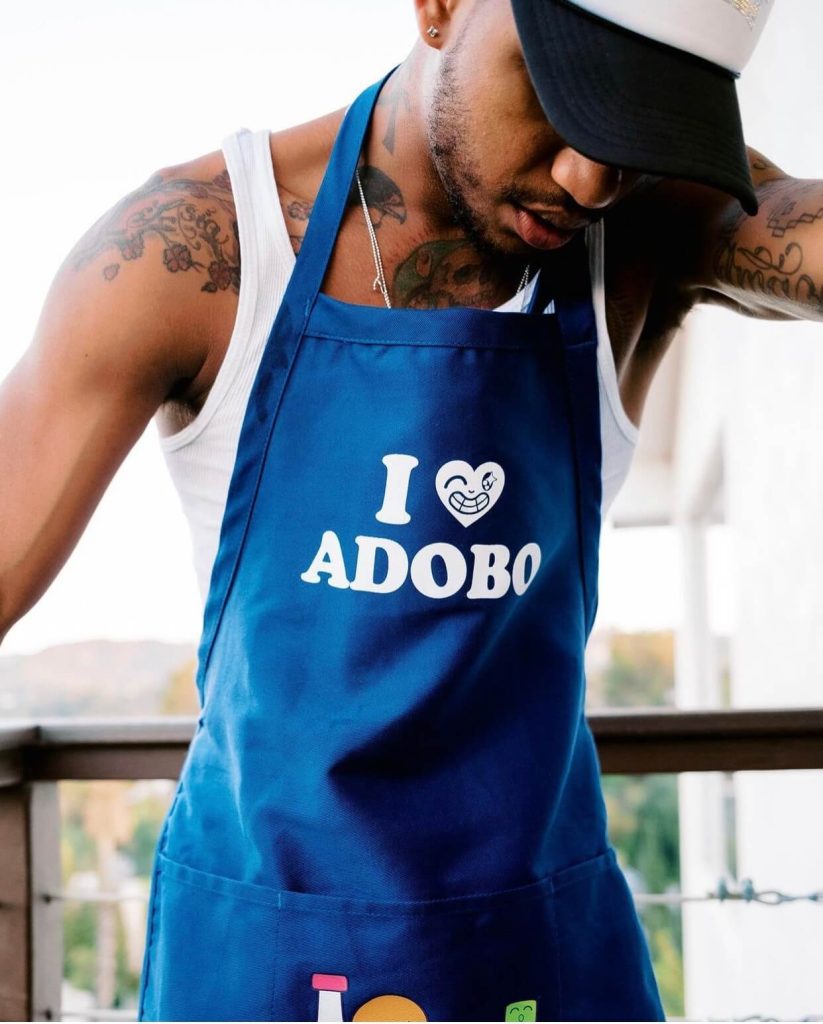 Visit guapdad4000.com to grab your items before they sell out!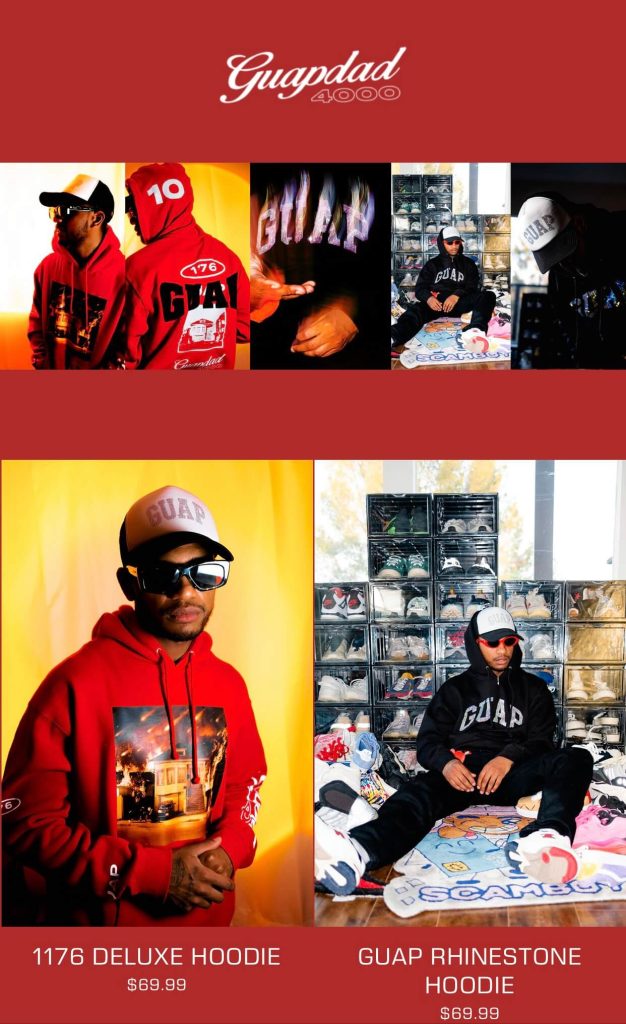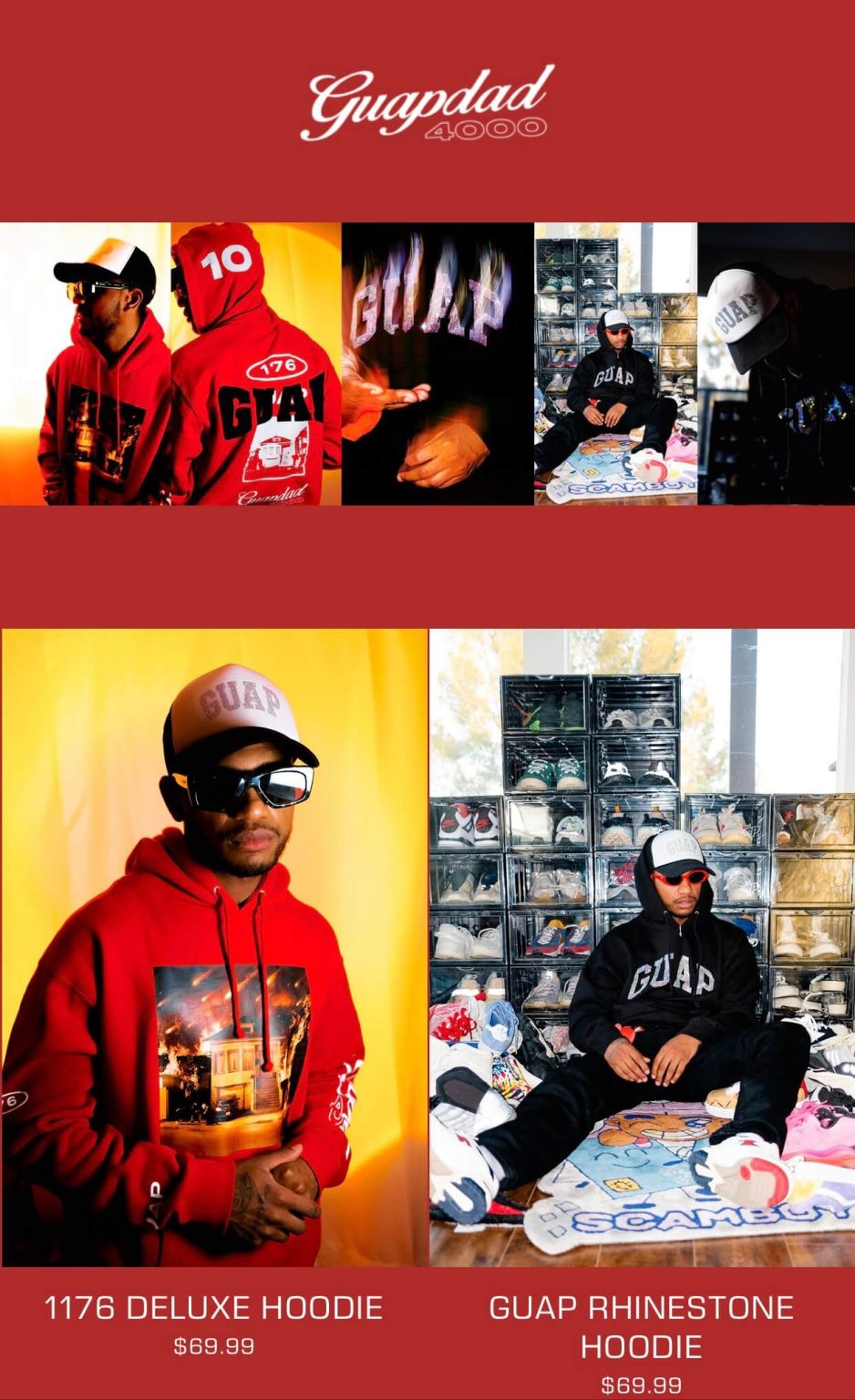 In the meantime, you can also catch the music video for Chicken Adobo which was filmed in Hawai'i. Also, reminisce when Guap held an album launch party at Sundaze in San Francisco. The event had great food, music and vibes all around.
Cover Photo Credit: Guapdad 4000 Facebook
Two Bay Area favorites are collaborating on a dope track! Guapdad 4000's just released She Wanna through the label PARADISE RISING which features P-Lo and co-produced by Mansa. It looks like the track is the next snippet we get before Guap's full album, 1176 on March 19th. MYX Global is having a premier with a raid train all day on 3/10 with various DJs spinning the track. Check out the time slots above.
The track pays tribute to the classic party track, "Wait (The Whisper Song)" by the Ying Yang Twins. You could say She Wanna is about to be the Bay Area version of the Atlanta staple. Along with the release of the song, Guapdad premiers a music video!
Another surprise we learned is hip-hop mogul Rick Ross has co-signed Guap's album and the recently released music video for How Many. He goes on to say how dope Guap's music and visuals have been. The comments are blowing up saying how underrated Guap is and his music is about to take over.
The album 1176 is a tribute to Guap's roots. The actual number "1176" was the address of the house he lived in when he was younger. Guap and !llmind released How Many last month with a music video that included Tagalog subtitles. If you haven't checked it out yet, we got you covered!
For more about how the album was created check out what Guapdad 4000 and !llmind said about the process here on MYX Global.
ABOUT GUAPDAD 4000:
Growing up in West Oakland provided the Grammy Nominated, Platinum recording artist Guapdad 4000 (born Akeem Hayes) with a vast treasure chest of invaluable inspiration, encouraging him early on in life to explore his innate talents as a multi-hyphenate creative and eager student of the game. Guapdad's profound sense of humor, paired with his aptitude for commanding attention, translated organically into his lighthearted freestyles and ignited his interest in developing his well-rounded capacities as a vocalist.
ABOUT P-LO:
Paulo Rodriguez, better known by his stage name P-Lo, is a Filipino American record producer and rapper from Pinole, California. His early success and initial step into the music industry originated from his role in The HBK Gang, a collective of artists from the San Francisco Bay Area.
ABOUT !llMIND:
Ramon Ibanga, Jr., professionally known as Illmind (often stylized as !llmind), is a Filipino American record producer, songwriter, and educator.
!llmind has co-written and produced hip hop, trap, pop, soul, and electronic music for labels such as Cash Money, Def Jam, and Aftermath, and has worked with artists such as Andy Mineo, Kanye West, Drake, J. Cole, Dr. Dre, Ludacris, 50 Cent, Ariana Grande, and others. His accomplishments in 2016 include production on the new Hamilton Mixtape and Disney's Moana, both created by Lin-Manuel Miranda. Illmind has released several studio albums and had a number of songs and albums reach the music charts.