Ruby Ibarra, JR Aquino and Kiana V performed at a special LIVE MYX taping during GRAMMY weekend. For the very first time, the annual GRAMMY awards will take place in Las Vegas, Nevada. Fans and music industry professionals celebrated music's biggest week for the first time in Sin City. Our concert was held at 24 Oxford inside the Virgin Hotels Las Vegas.


The show was filmed to air on our MYX global TV network & multi-media platform for our "MYXtape" series that highlights the best in Filipino talent from around the world. Watch highlight videos of the performances this May, celebrating Asian Pacific American Heritage Month. Catch Ruby Ibarra and Kiana V on the red carpet GRAMMY night:
More info on the performers below alongside videos of their performance:
Born in the Philippines, Ruby spent the first 4 years of her life in Tacloban City before her family eventually settled in San Lorenzo, California. Submerged in the melting pot of the Bay Area, Ruby's adolescent years introduced her to a wide array of cultures, experiences, and most importantly: hip hop, which resonated at every corner of her neighborhood.
As a teenager, Ruby began crafting her own rhymes until she began to develop her own style and became comfortable with sharing her story. She quickly picked up music production shortly there after and eventually started performing publicly, starting in the college and local venue circuits.
Ruby's unmatched talent and work ethic has given her the opportunity to perform at large festivals such as Rock The Bells as well as at prestigious venues like the Smithsonian Museum and a headlining, sold-out two day residency at the Getty Museum. Three of her independently released videos even gained over 1M views in less than a week. Ruby's newly released EP Circa '91 went on #29 on the iTunes rap/hip-hop album charts, next to the likes of Macklemore and Kendrick Lamar. Following a tour of the Philippines, Ruby was featured as part of the 60th annual Grammy Awards festivities in New York through a music collaboration and performance with Grammy nominee SZA. Ruby's music has been featured in several TV shows, films and documentaries (including the Sundance Film Festival premiered "A Thousand Cuts") and Ruby has even directed several of her music videos and behind-the-scenes documentaries.
In 2010, Ruby began releasing multiple videos on Youtube, which created a buzz after several of those videos were featured on XXL Magazine and Worldstar Hip Hop. Her videos, "Game Up" and "Dosey Doe", each amassed over 100,000 views, eventually garnering the attention of DJ Kay Slay, who gave her the nickname, "Hip Hop". On December 12, 2012, Ruby released her debut mixtape, Lost in Translation, hosted by DJ Kay Slay, which premiered that same night on Shade 45 Satellite Radio in New York City. Since its release, Lost in Translation has accumulated over 50,000 Soundcloud streams and nearly 100,000 digital downloads.
JRA pulled out his classics as well as covers that sounded better than the originals. For more, follow @JR Aquino .
ABOUT JR Aquino:
JR Aquino is a singer/songwriter born & raised in Anchorage, AK, who now resides in Las Vegas, NV. His love for music and performing has taken him all over the US and internationally in Asia and the UK. He has competed on singing shows such as season 3 of The Voice, where he was on Team Cee Lo, and on season 4 of American Idol, where he made it the "Top 44" out of over 100,000 contestants. He is on YouTube with over 550,000 subscribers and has gathered over 70 million views on his channel alone. With almost two decades in music, JR continues to write, perform, and share his story through song!
Kiana V is an R&B artist from Manila, currently based in Los Angeles. The successful release of her single "Does Show Know" in 2017 with currently 13M streams, debut EP "Grey" in 2018, "See Me" album in 2019, singles including "Corners" and "Safe Place" in 2020, "Dazed" EP in 2021 - and performances throughout Southeast Asia has paved the way to her current sound. The release of "Safe Place" in 2020 with Tarsier Records and 88Rising has generated over 2M streams. Kiana has been featured on SPIN, COMPLEX, Power 106 LA, Forbes, Earmilk, Acclaim Australia, HYPEBAE, PAPER, Grammy.com, American Songwriter, to name a few. She was awarded the People's Choice Award for Best Female Performance at the 33rd Awit Awards in 2021 and this year has been selected to perform at SXSW in Austin, Texas. Kiana's recent release "Heartbeat On Me", has is caught the attention of NME, The FADER, Beats Per Minute, The Forty-Five, and VOIR Magazine. Tune in to Kiana V's single on all streaming digital platforms and music video on Youtube.
Stay tuned for more info and watch previous MYXtapes featuring Albert Posis, AJ Rafael and more at www.myx.global/myxtape.

This week's MYX News Hot List:
MYX Music: Inigo's Options The Album - His much-awaited 12-track album, "Options" Inigo brings OPM to the Global stage.
MYX Community: Celebrate Canada's Multiculturalism Day - TFC, MYX, And PLACA will be presenting "All For One", a day that honors canadian unity through diversity. Happening on June 26, 8PM ET.
MYX Music: Catch Jayda in Concert - Our fast-rising Kapamilya star Jayda is set to release her new album, and hit the stage this weekend for her first virtual concert.
MYX Community: Ruby Ibarra - Musician Ruby Ibarra raise funds through her album for Angelo Aquino, a Fil-Am who died for alleged police brutality.
MYX Entertainment: Gilbert Galon Shows Us "Family Style" - Actor and comedian Gilbert Galon brings us on a food trip and explores local restaurants. This season features a few stops in the Philippines!
Watch the "All For One" Canada Multiculturalism Day ft. BGYO, BINI, Darren Espanto, AC Bonifacio & more June 26, Saturday, at 5P PT / 8P EST https://www.facebook.com/TFCCanadaOff
& MYX Watch on June 27, Sunday, on MYX & the MYX website at 10P PT (June 28 1P PHT Manila) www.myx.global/livetv
Ruby Ibarra and ELLA JAY BASCO made this video in honor of Asian American Heritage Month. ELLA said to their fans "This is me taking pride and ownership of my beautiful gold skin. You're a Boss Bitch! That's Beautiful!"
Ruby Ibarra, Rocky Rivera & DJ Roza, Faith Santilla, Bambu, Prometheus Brown, PowerStruggle with special guest G Yamazawa, and DJ set by DJ Phatrick + Guest Speakers this Friday 4/30 at 6PM PST for the @BeatrockMusic livestream on @YouTube presented in partnership with the Justice for Angelo Quinto & Justice for All Coalition @justice4aqjustice4all.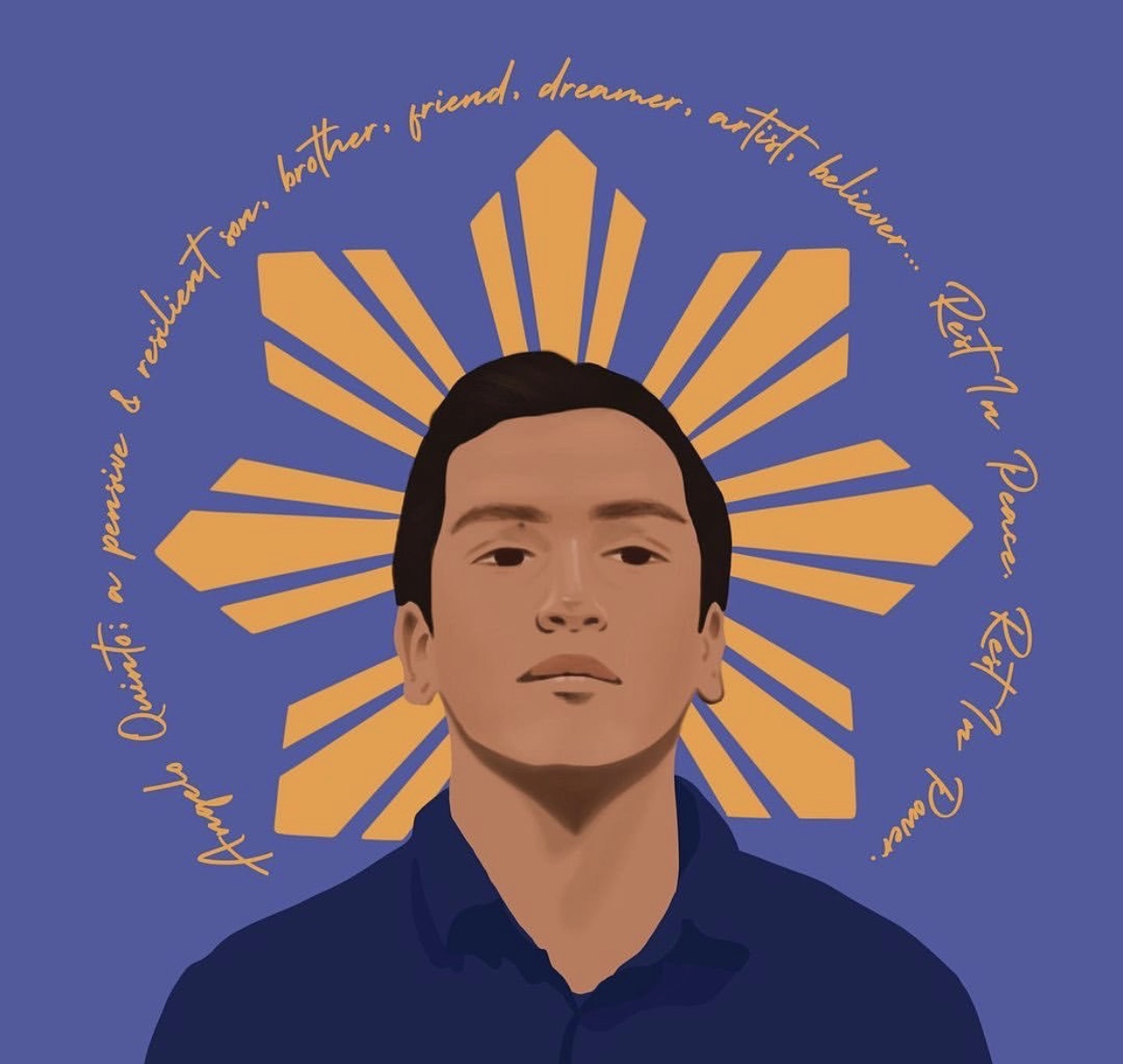 As artists & staff on the label they are organizers, educators and/or activists, pushing an ideologically progressive line in the music. This event continues a commitment for them to working the respective communities.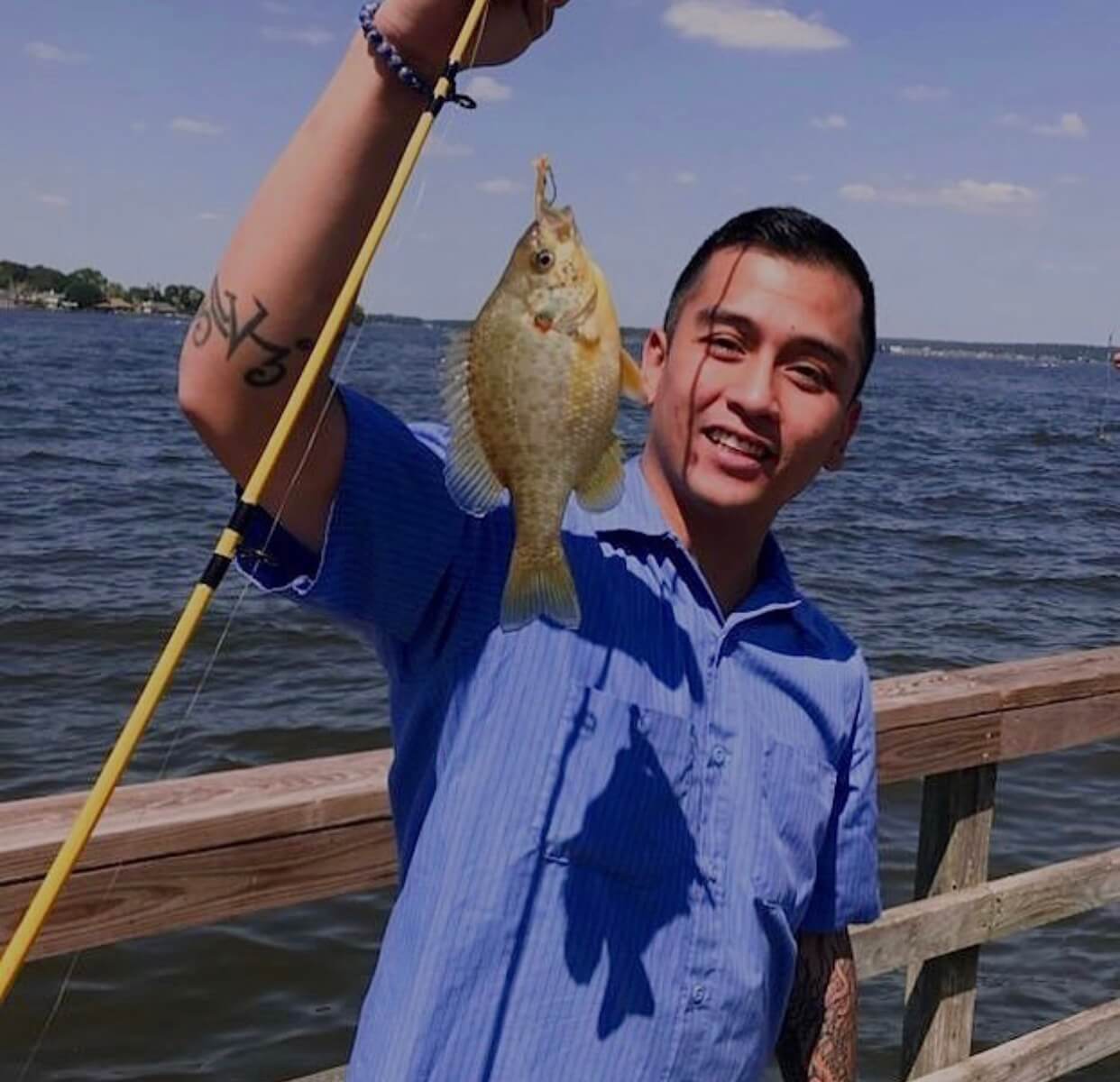 Watch live on Youtube.com/BeatrockMusic. See you there!
Actress/Singer and niece to the legendary Basco Brother family, Ella Jay Basco wanted to make a song that speaks out to brown pride and the color of our beautiful golden skin. The song features another powerful voice from Ruby Ibarra who has constantly advocates for being proud of one's Filipino identity in songs like "Us." Stream it now on all music platforms.
A few months ago, Ella Jay performed her fun song about her Filipino family at the annual SIPA fundraiser. SIPA stated in the caption, "Dante Basco is a trailblazer for our people in Hollywood, from his iconic role as Rufio in "Hook" to his portray of Prince Zuko from Nickelodeon's "Avatar: The Last Airbender." Now the next generation of Bascos take the stage with his niece Ella Jay Basco, who shared the screen with Margot Robbie in "Birds of Prey (and the Fantabulous Emancipation of One Harley Quinn)."
Watch as Dante introduces Ella Jay's performance along with her brother Darryl J. Basco from our 48th Annual Benefit.
Ella Jay Basco starred in the blockbuster film of Harley Quinn, Birds of Prey in 2020 alongside Margot Robbie in 2020. She has also been featured on shows like Grey's Anatomy, Veep & Teachers.
We may have pulled some strings to get Ruby on myxCLUSIVE this week and we are glad we did! Ruby is a pioneer in her own right and we can't wait to see what in store for her and The Balikbayans. She catches us up with how she's been doing during the pandemic, what her journey's been like as a female MC, and bridging the gap between Filipino-Americans and Filipinos worldwide.
We've rounded up 10 things we've learned about Ruby in this myxCLUSIVE.
In every project Ruby's involved in, she tries to put out good energy and vibes in her work
She's tried to keep busy with new music, her new documentary, hosting shows and interviews on kumu, all while working full time as a scientist for a biotech company. Ruby says she's still bored, but that's pretty productive if you ask us! She also shared that she learned how to be still during this time. It's given her time to reflect and it's given her content to write music.


Ruby constantly works on her craft
a. When asked about one of her earliest performances in 2011 at TeamBackPack cyphers in the Bay Area, she remembers that she needed to show people she deserved to be on the mic. Her grind mentality pushed her improve and work hard, "as an artist, I've always felt I had to prove myself." After performances, she'll write herself notes on her phone on what she can improve on for her next performance. "You have to treat it like a career, treat it as a craft and hone it."


The Bay Area shaped her as an artist
Ruby talked about the diversity in the Bay Area as a whole, but also in the music. She described Bay Area music as "never forgetting the roots and highlights or celebrates the community." Her music also reflects the realness of what's going on in the community and her raw bars tells the stories of those people.


She can rap about anything
In a modified version of Song Roulette, DJ Marlino changed it up to Rap Roulette. Ruby nailed all the tasks but the most impressive was a freestyle about her favorite Jollibee menu items. You just have to listen for yourself what her favorite items are. She's also been cooking a lot of Filipino food during the pandemic, "I've learned a lot of the recipes from my mom." Her specialty is salmon sinigang and is down to bring it to the next myx Global potluck!


She is always down for a collaboration with other artists as it's her way to show support
DJ Marlino asked about her track, No. 32 with Nadine Lustre. She wants to be able to show her versatility as an artist and that she's down to experiment and rap in different styles. Ruby said the track gave more of a mainstream sound which she was excited for because it was different from her own music.


She wants to help bridge the gap between Filipino-Americans and Filipino artists back home
"Check out the music back home because they're killing it…the music scene is blossoming right now and it's about to take over the world." She would have never guessed that she'd have the opportunities to collaborate with Filipino artists and hop on a song with them let alone share the stage with them back home in the Philippines.


Filipino-American and Filipino music are very similar
By having the opportunity to travel back to the Philippines more often, she has seen a mix of the different type of sounds, yet all share the same passion for music. On her kumu shows, she tries to bring in a Fil-Am and Filipino artist to bridge that gap. Some of her recommendation ranges from Shanti Dope, Alex Bruce, Loonie, and Bawal Clan from the Philippines to those on the West side like Manila Grey, AJ Rafael, and Jeff Bernat. Make sure to follow her Instagram as she'll be sharing who she's been listening to.


The Balikbayans gave a different dynamic for performances
a. Ruby shared that although the energy between her and DJ on stage was great, the energy of having a live band is different. "It's a different dynamic and they remix the song differently from the record," which keeps performances fresh and interesting. She remembers their first rehearsal and it felt natural. "What I wanted to form was a family and be sure we were all aligned in music, stories, image, beliefs we all had."


It's up to us to continue to celebrate the pioneers of Fil-Am history and carry it forward to the next generation
She expresses that "our history is very much lost; it's pushed to the margins. We have to take it on ourselves to create these literatures for us to be historians for our community. History is kept alive through the people that speak to the people that write it so it's our responsibility." Here's her encouragement to close out Filipino-American Heritage Month.


The documentary, 7,000 Miles: Homecoming is the project she's most proud of in her career
The documentary follows her and The Balikbayans' trip to the Philippines back in March 2019 where they were there for 6 days, playing 2 shows a day. It documents the craziness of being on tour, but it also explored what it means to be Filipino-American. "It looks at it through the lens of being a Balikbayan." Ruby says it asks the questions of where home is and what does it mean to be Fil-Am. We hope that they'll be more screenings available so we can take all our friends to see it. Who's down for a socially distant drive-in watch party?
Make sure you're following Ruby on Instagram and kumu (@rubyibarra) to keep up with her performances, shows, and music recommendations!
One of the most prominent Filipino-American hip hop artists of this generation, Ruby Ibarra, sat down with top Philippines rapper Loonie in her latest kumu livestream as they share their humble beginnings making music, the overarching discussion about social commentaries in hip hop, and how contemporary artists can further inspire such dialogues through global social platforms like kumu.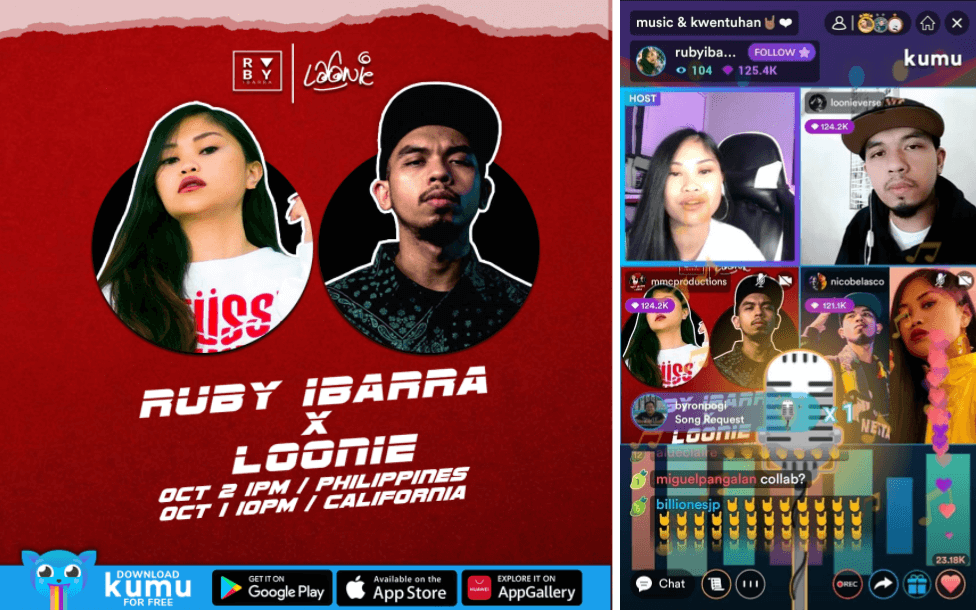 "I first started listening to hip hop at a very young age," shares Loonie, whose real name is Marlon Peroramas. The rapper, dubbed as Fliptop's Hari ng Tugma, had been writing songs and competing in underground rap battle events for the most part of his career.
"But before then I was already a big fan of Alanis Morisette and the Jagged Little Pill album. Then there was Naughty by Nature's Hip Hop Hooray, which I first heard in an old music channel here, MCM," he adds. Ultimately, he got introduced to hip hop group Bone Thugs-N-Harmony: "I bought their first tape and started rapping along until I eventually memorized their songs." "It was like that at first—rapping along to foreign songs, but when I heard Eminem, that's when I started taking the writing part seriously."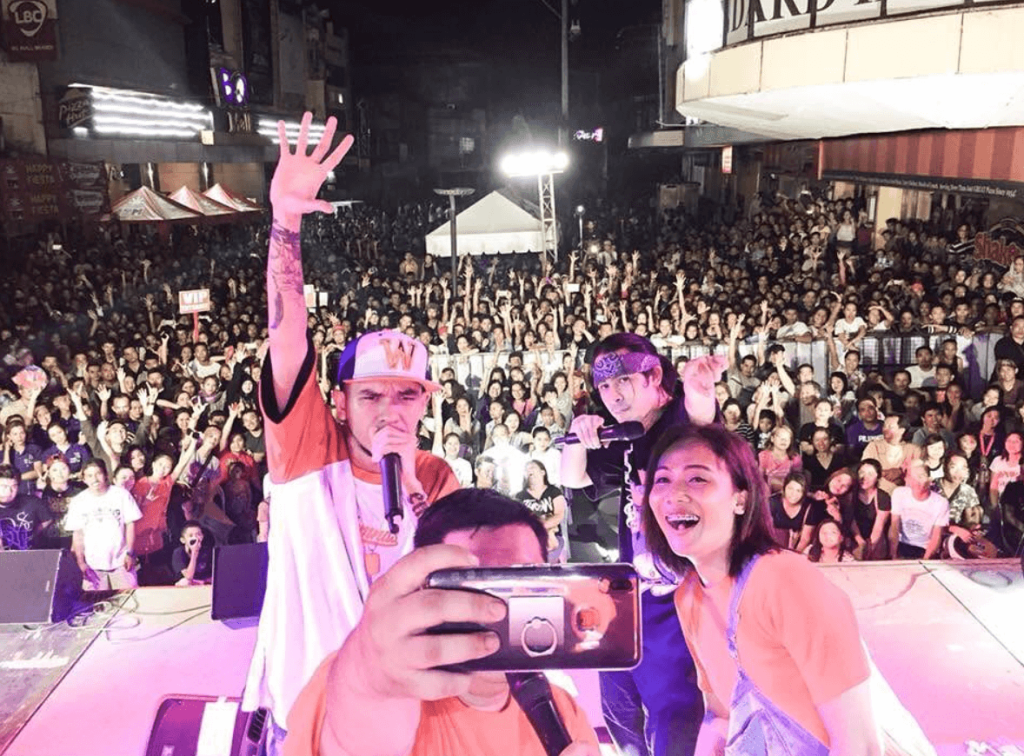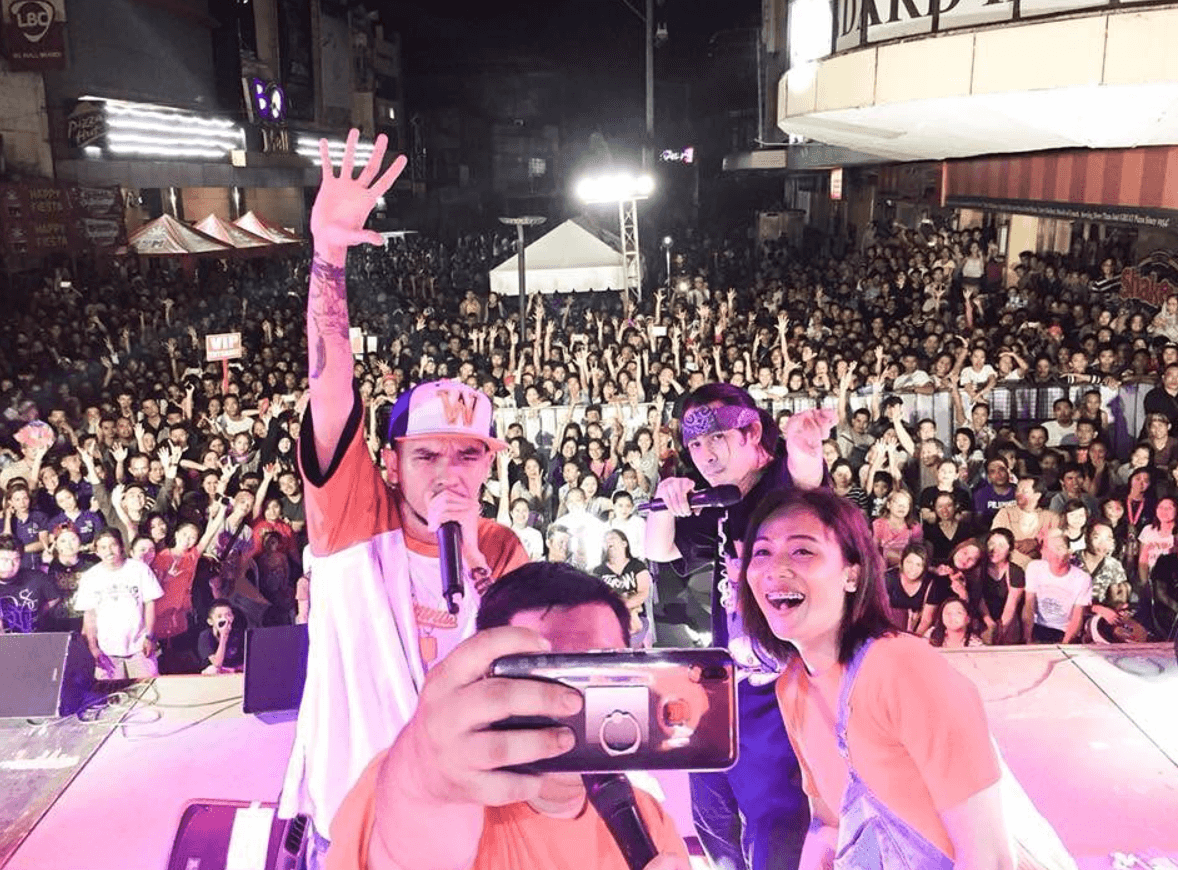 Ruby shares that Eminem was also a huge part of her journey as an artist.
Having been raised in San Lorenzo, California, she spent her adolescent years being introduced to a wide array of cultures, experiences, and most importantly: hip hop, which resonated at every corner of her neighborhood in the Bay Area.
"When I heard the Slim Shady LP [album], I didn't know what rhyme schemes were. I just know that after I heard his songs, I wanted to be a rapper like him," the 29-year-old artist said.
Eminem is best known for integrating social commentary throughout his catalog, and in an age where "the rise of the raptivists" brings forth a resurgence of conscious music, Ruby and Loonie talks up on how this affects the songwriting process for them and their contemporaries.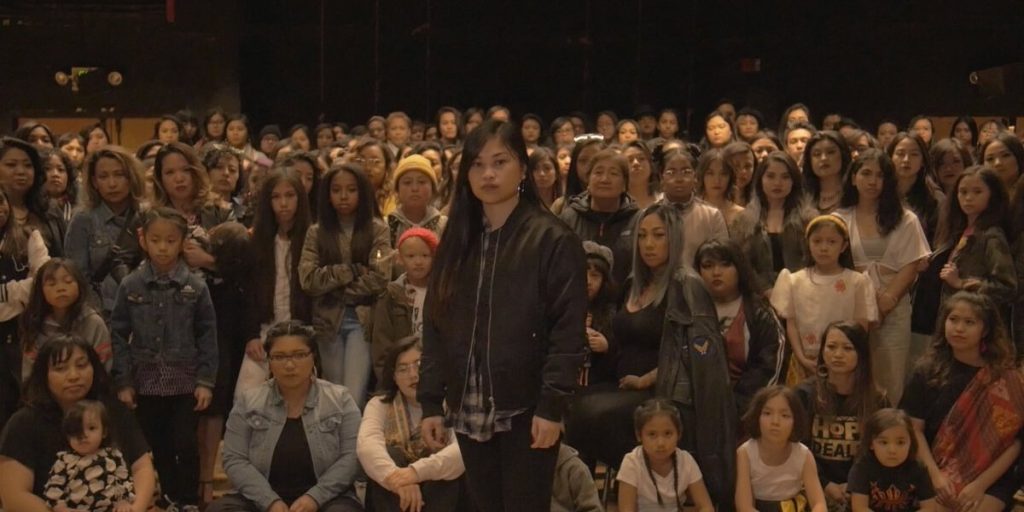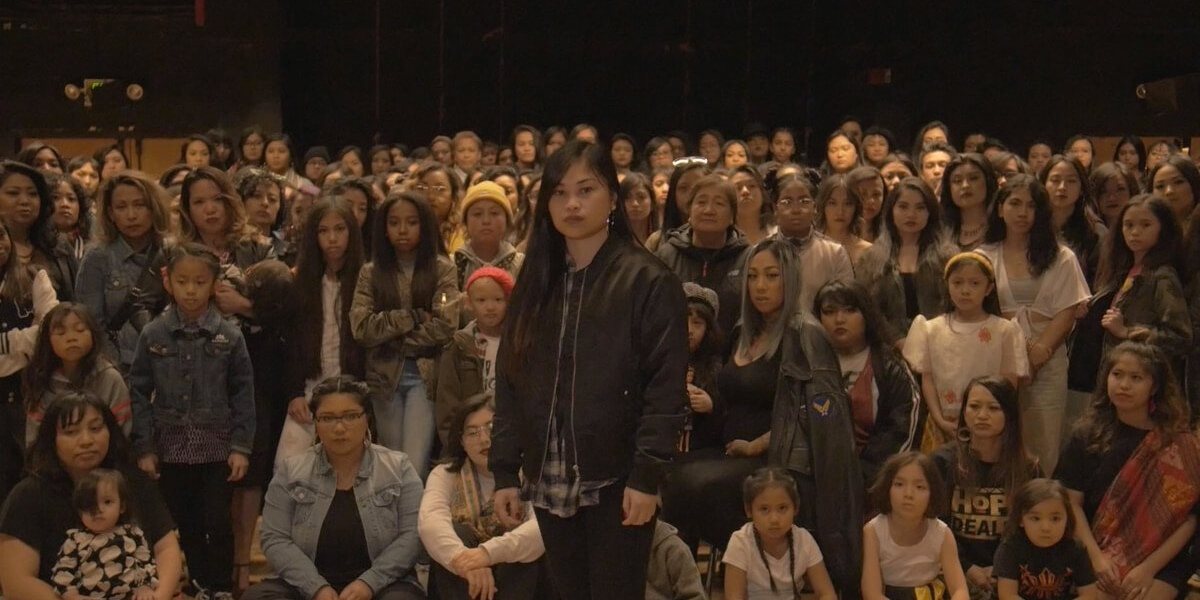 "Given the socio-political climate both in the US and in the Philippines, it's becoming more important for artists like myself to talk about issues that are impacting the Filipino communities worldwide. Being Filipino is a political identity given our history and deep roots in colonization; it is important for us to talk about these things in order to learn and progress from them," shares Ruby.
She adds, "What I love about OPM and Fil-Am rap is that there is great diversity and variety in the styles and sounds from both communities and genres. I think we're in a great place in music right now in that there are a lot of great talents, and so no one artist sounds like another. Both are pushing Filipino language and experiences to the forefront of mainstream culture."
Loonie, on the other hand, offers a retrospect on the similarities and differences between OPM and Fil-Am rap: "OPM rap seems to be more influenced by the West in terms of sound, culture, and narrative because of the natural desire to fit in a certain image and being labeled as sounding 'international.'
"On the other hand, I noticed Fil-Am rappers tend to be more in tune with their roots, especially the ones who were born and raised in the US. They incorporate Filipino pride, Pinoy sounds and sensibilities more than OPM rappers do. I think it's also because of the artist's need to sound different from whatever it is he or she is used to. It's human nature as an artist to always want to stand out. The only thing I can say they have in common is the level of dedication to their craft."
During the livestream, both also encouraged artists who use rap as the medium to speak to and motivate others in the online space. For them, it is through kumu.
"As a content creator, I am planning to use kumu to bridge the Filipino communities worldwide. Additionally, I've been very fortunate to have toured around the world, and I'm excited to showcase the amazing people that I've met along the way," shares Ruby.
"I'm planning to continue my Looniebersidad Rap Academy classes there in the future. I uploaded modules of it on my YouTube Channel but when I discovered kumu, I figured that I can interact with my students especially the ones who want their demos to be heard and be given immediate feedback in real-time. I can also open up topics and issues happening in the local scene and hear other people's opinions on it and start discussions or I can just freestyle with random fans and have fun," said Loonie.
Download the kumu app and follow Ruby Ibarra (@rubyibarra) and Loonie (@loonieverse) to watch their other videos via live stream on kumu.
ABOUT kumu:
Started by Filipino Americans that moved to the Philippines, kumu is a powerful social media platform that brings the voices of Filipinos from all over the globe at the forefront. Aside from presenting users real-time earning opportunities as a live streamer, chances to win cash in various game shows, and engagement in campaigns, kumu also fosters communities that ignite relevant discussions among Filipinos around the world. It is the top livestreaming app in the Philippines and one of the top in Asia.
You can be apart of the Kumunity now and download the app for free at Google Play or the App Store.
Many fans of the Bay Area rapper, Ruby Ibarra are familiar with her bars but many don't know that she's also a scientist, currently working on finding a COVID-19 vaccine.