If you never had Filipino food or wonder what it's like, Ate O'Clock with myx has got you covered! SOSUPERSAM has been celebrating Filipino-American History Month all October by eating bomb Filipino food with her family and friends! To close out the month, SOSUPERSAM along with Bay Area rapper P-Lo and R&B singer, Shan chow down on Jollibee, snacks from the Seafood City Snack aisle, and turon from Chaaste Family Market LIVE from Traklife on Sam's Twitch. Grab your spoon and fork, here's a recap of what went down.
What's on the menu -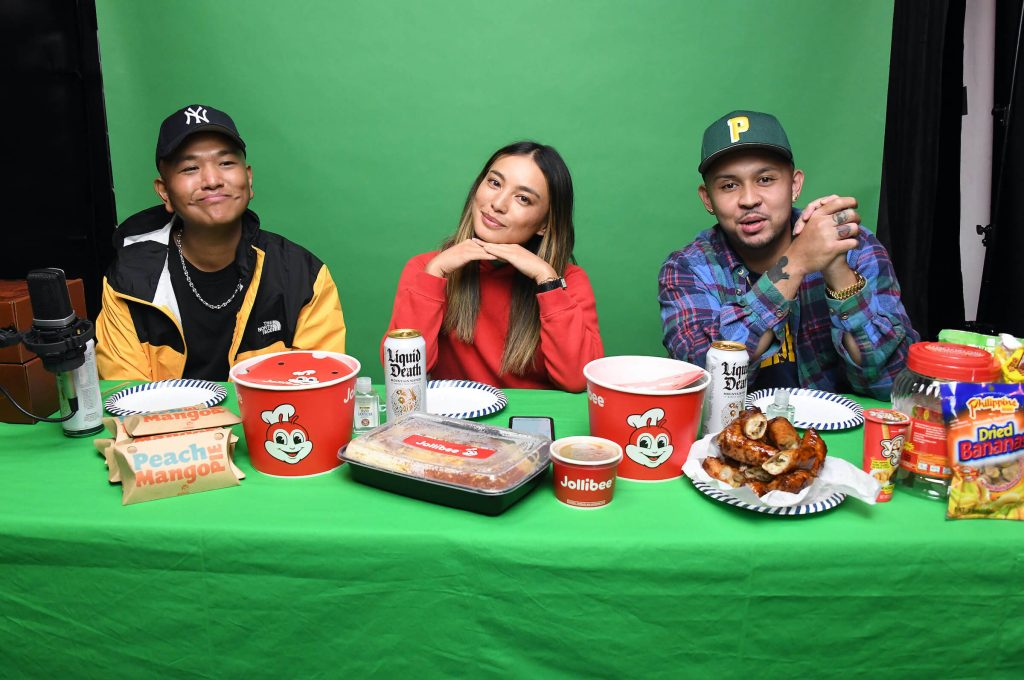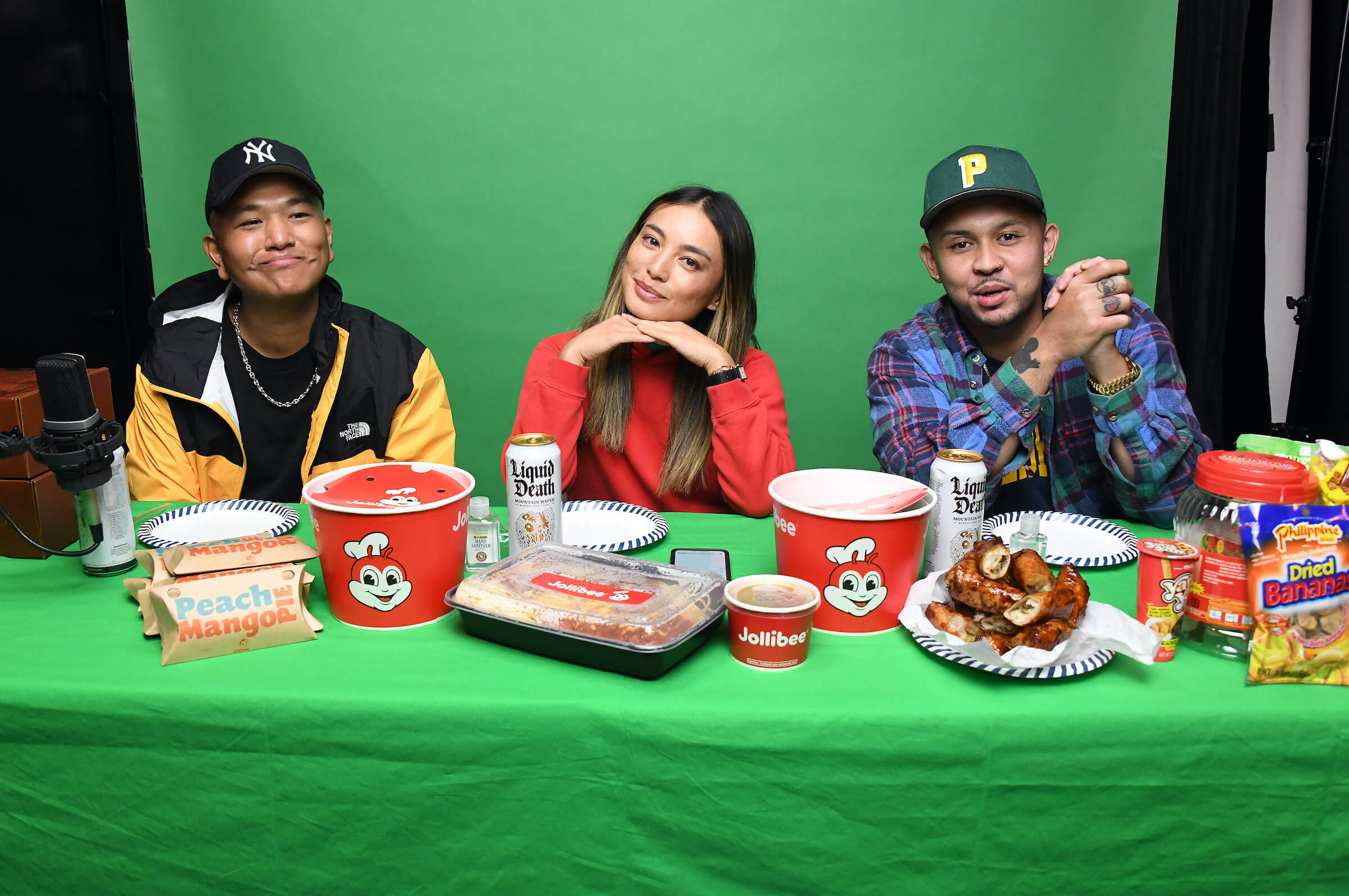 Jollibee: Bucket Treat B with a 6-piece Chicken Joy Bucket, 1 Spaghetti Family Pack, 3 Peach Mango Pies
Okay, Jollibee is a staple in Filipino food. Everywhere you go in the Philippines you're bound to find a bright red, smiling bee staring into your soul to eat its delicious food and it's been a joy that Jollibee is now available on Door Dash, it was the food delivery app myx used to send to the Burbank studio from their LA location on Beverly Blvd. A viewer mentioned that in Seattle there are hour long waits and a 2 bucket per customer restriction because it is so popular.
The trio went straight for the bucket of Chicken Joy, each of them grabbing their favorite piece. SoSuperSam went for the drumstick while Shan and P-Lo grabbed the chicken thighs. You can't forget the gravy and rice which is an OTP that will never let you down. Some of their personal favorites on the menu includes spicy Chicken Joy, palabok, and the desserts. The Peach Mango Pie is a standout for Shan and P-Lo, but SoSuperSam isn't as big of a fan. If you've ever had McDonald's Apple Pie, it's similar but the Peach Mango Pie is fried, crispy goodness! One of the highlight moments is when they had the Jolly Spaghetti. P-Lo's never tried the spaghetti and the verdict is, he's "not mad at it. Zero quarrels with it." Then SOSUPERSAM created a combo we didn't see coming, taking the skin from the chicken joy and using it as shell to stuff the spaghetti in. It brings a new meaning to spaghetti taco. Sam listed Jollibee as her favorite chicken restaurant around the world.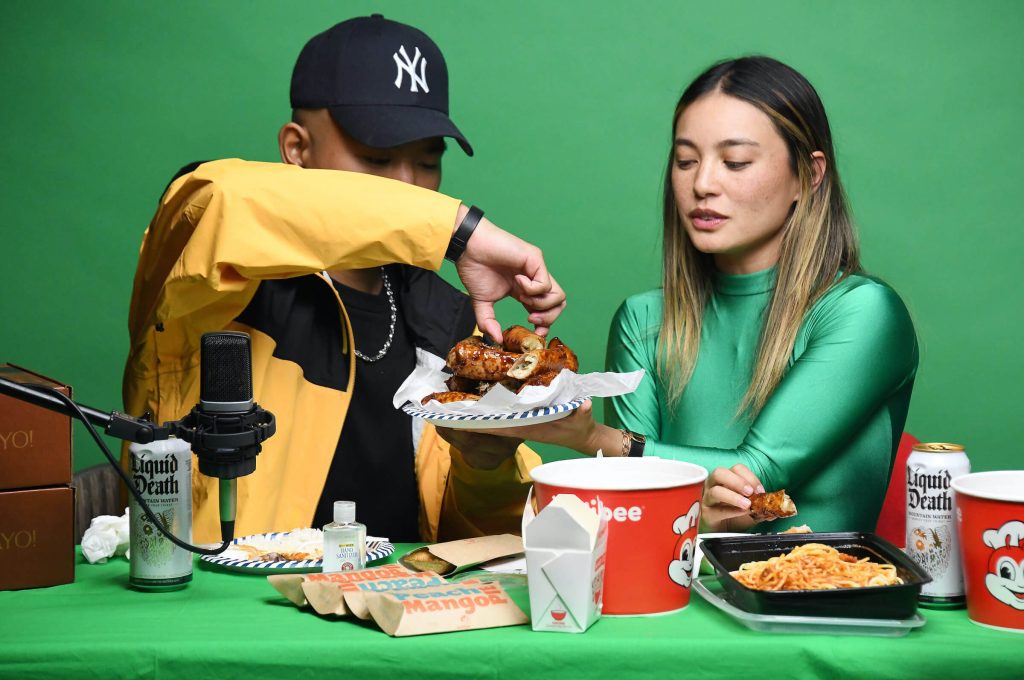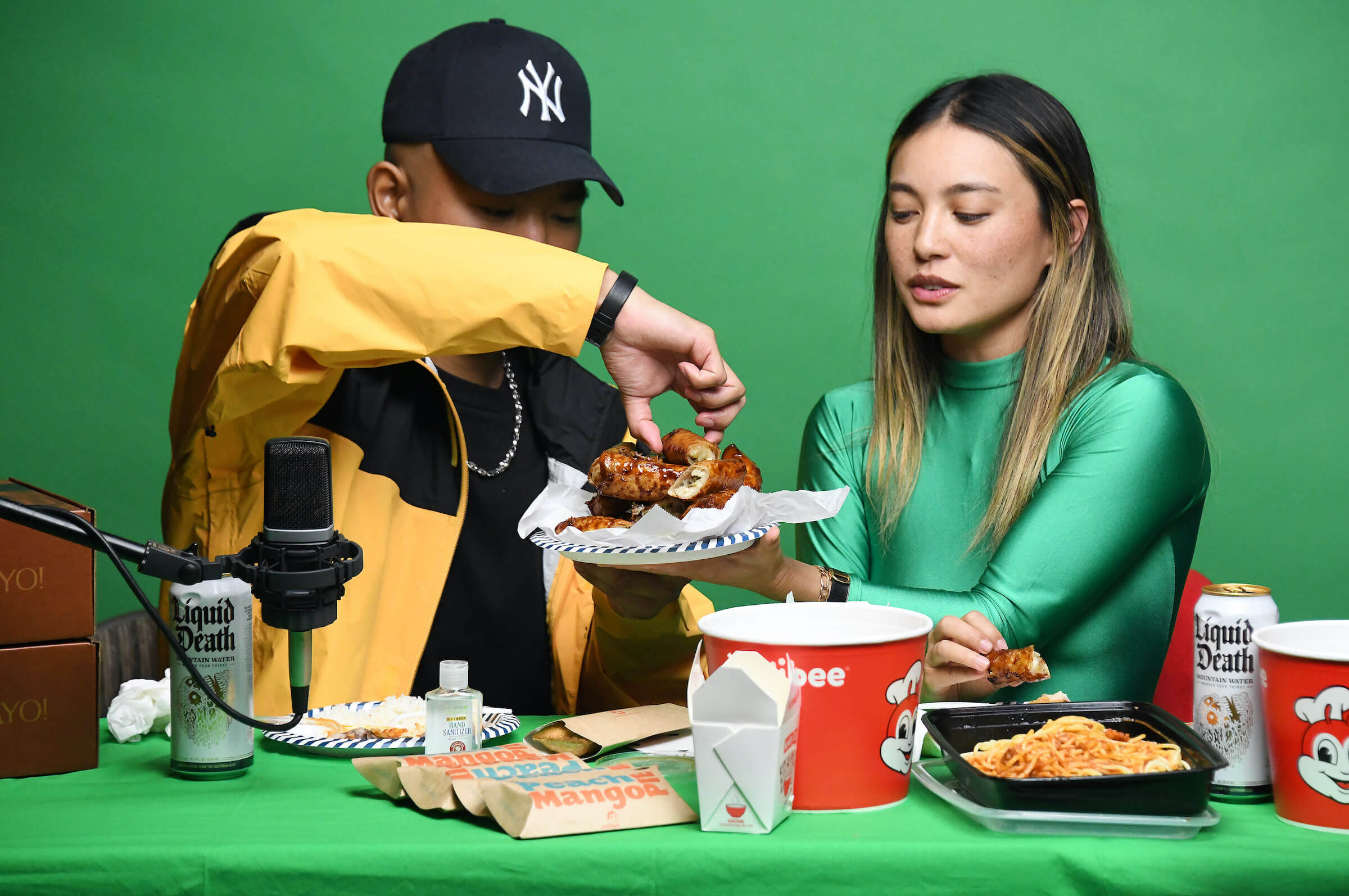 Chaaste Family Market Turon Ends
The Chaaste Family Market in Pasadena, CA is a full-service store with turo-turo food and market. Another revelation that SoSuperSam have us on is ordering turon ends. She said that she hits up Chaaste Family Market ahead of time to order turon and they know to get the ends ready. Literally, it's just the ends cut to leave the middle part of the turon out. The sticky factor is an 11 on a scale of 1-10, the turon was not going anywhere. They offer various flavors like Oreo, custard, jelly-filled, and the standard banana and jackfruit option. Then pair turon with your favorite Filipino ice cream flavor or Shan's recommendation, coffee. Either paired up or if you have it by itself, the trio all agreed "the glaze don't play."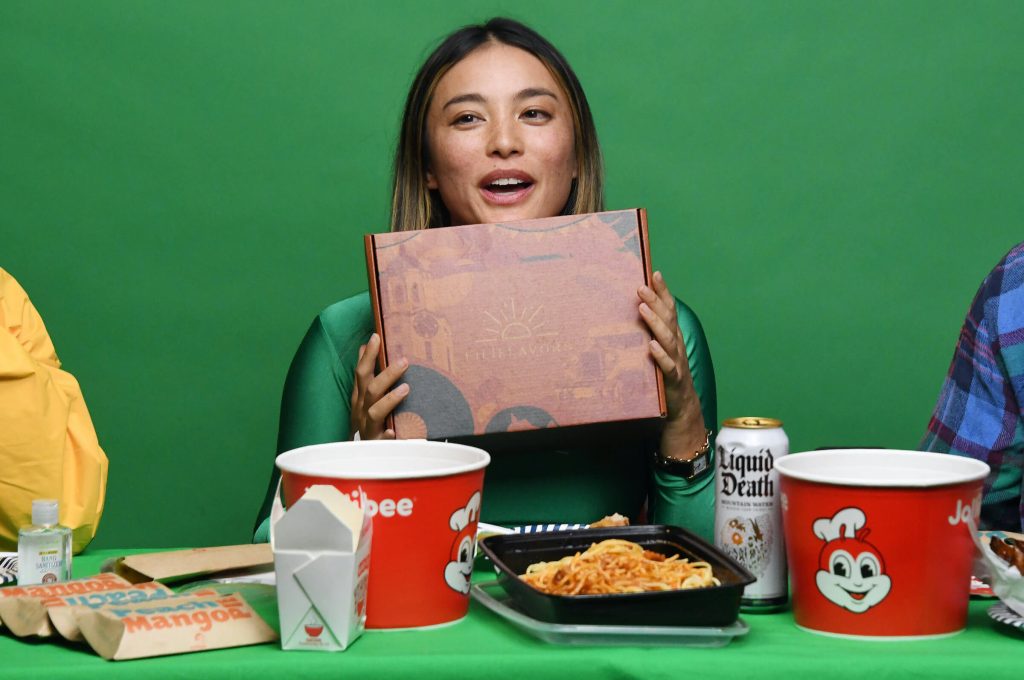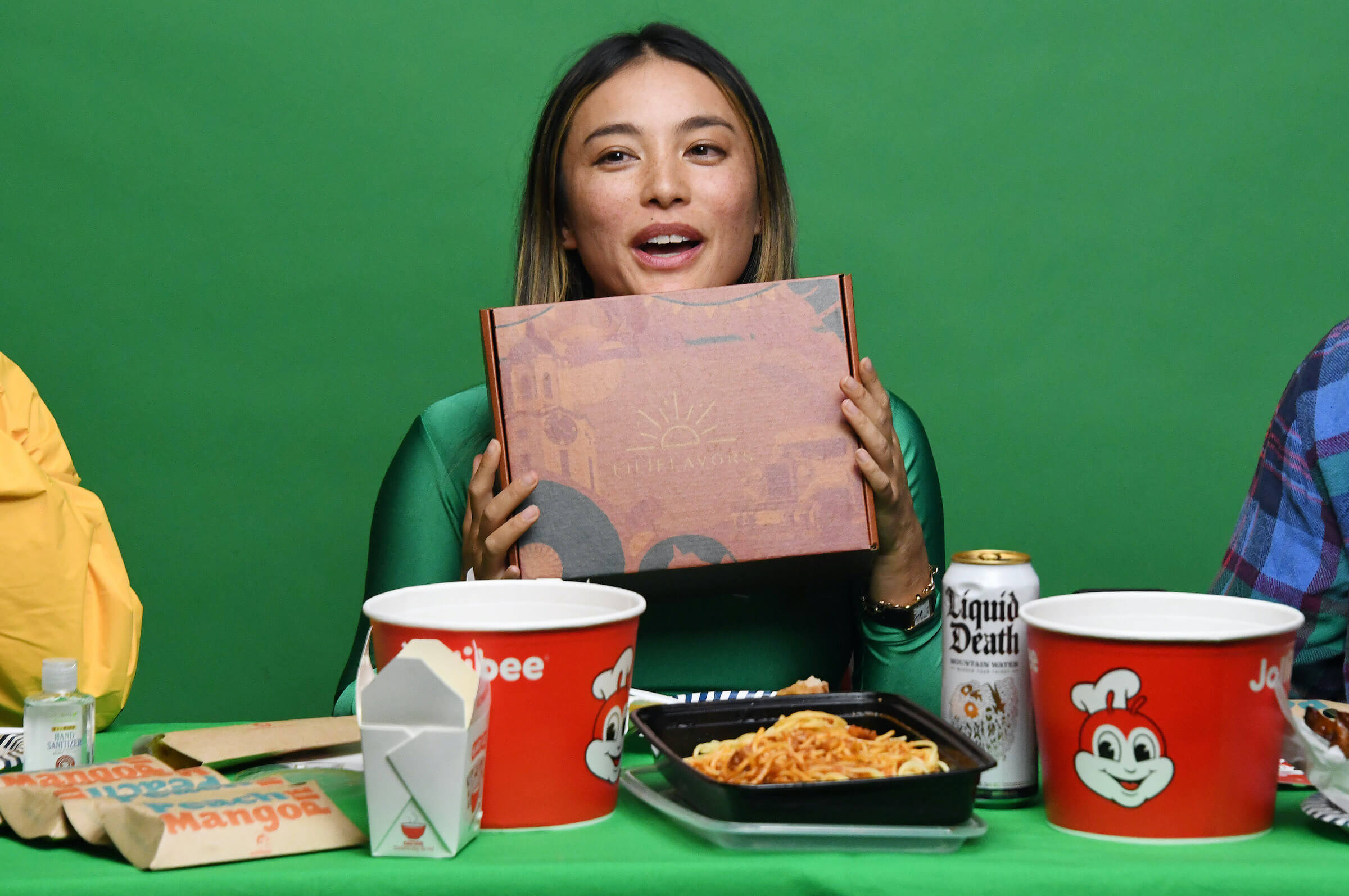 Filiflavors: Fili Sopresa (Surprise Boxes)
For most of us, we're lucky to live near or relatively near a Filipino market or Seafood City but for those who don't have as much accessibility to Filipino snacks, Filiflavors has you covered! SOSUPERSAM did a giveaway of a Fili Sopresa Box for her Twitch subscribers that we can guarantee isn't filled with a sewing kit but filled with loads of your favorite snacks like Boy Bawang, Chippy Chips, Piattos, Choc-O-Star candy, and more. The coolest part is that a small part of Filiflavors' earnings will benefit "Support for Families of Children with Disabilities."
Congrats to the two lucky SAMSTERS who received the boxes from Sam, Filiflavors & myx this week: @jessebaron from Sunnyvale, CA & @jadeykinz of San Diego, CA.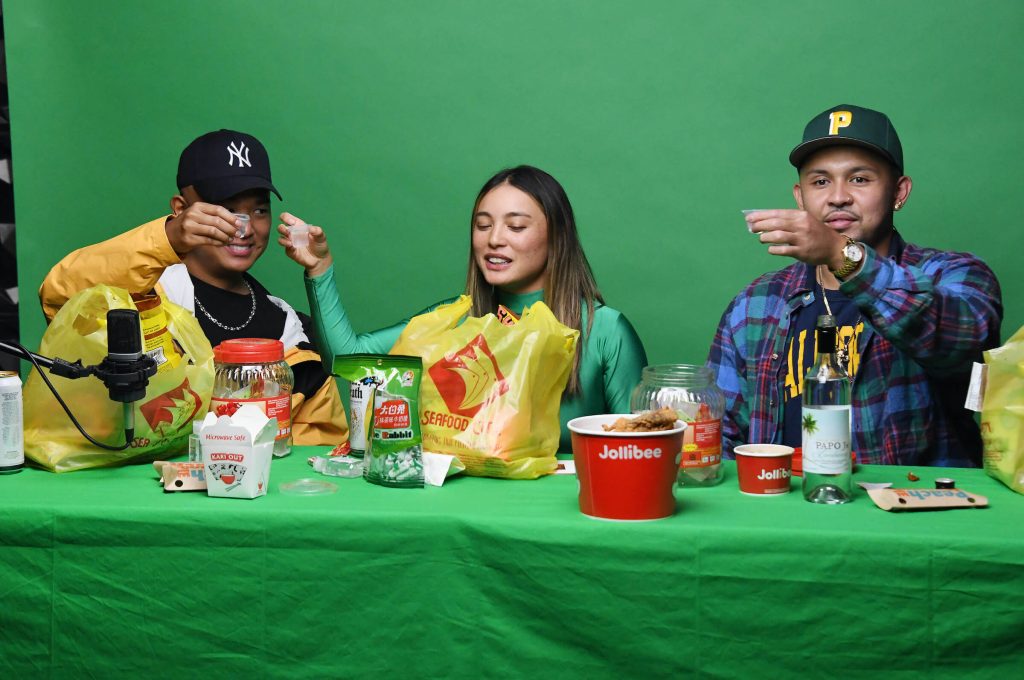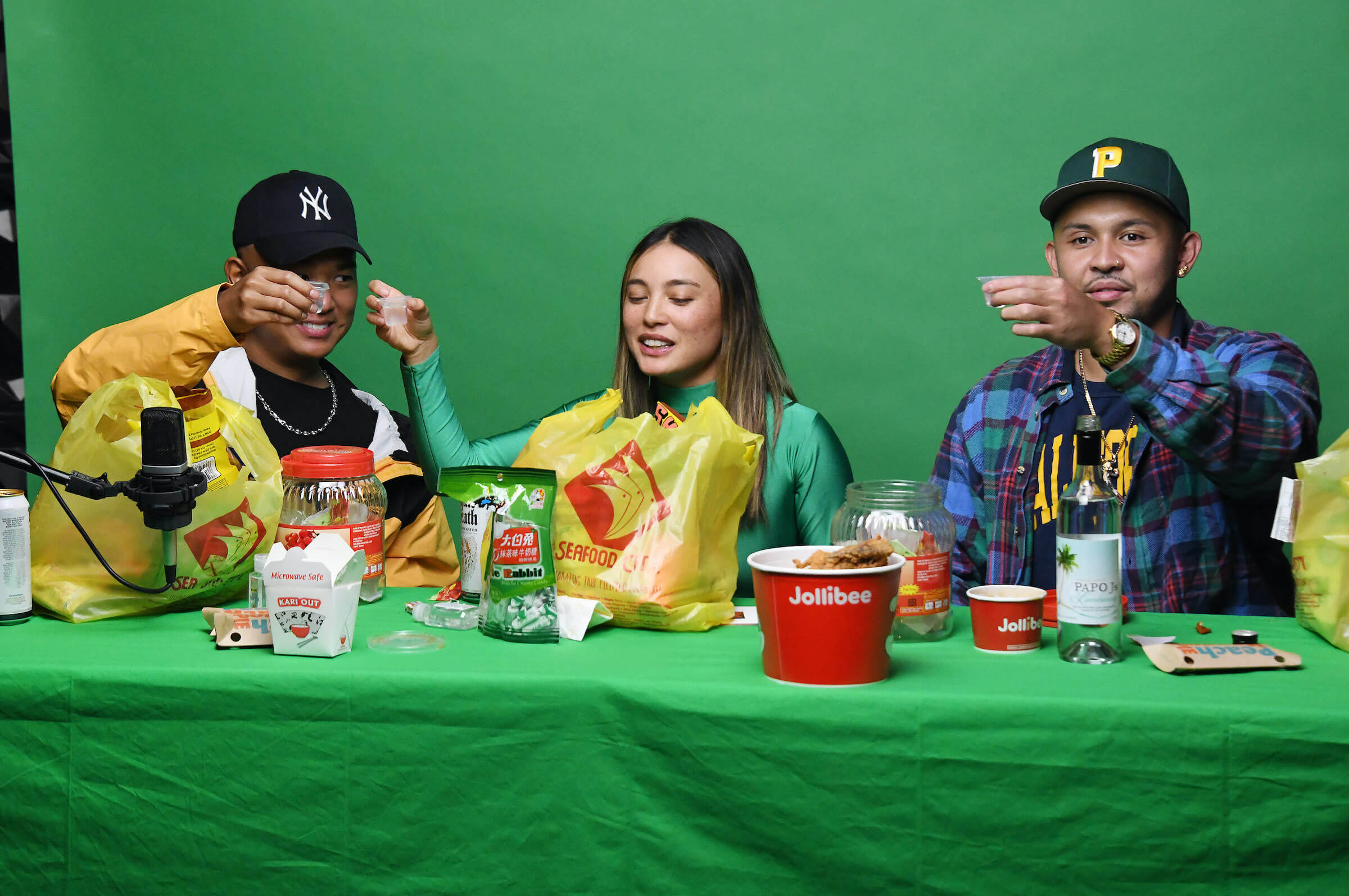 Seafood City Snack Aisle
Our team brought snack goodie bags to the party. "Life's like a box of chocolates, you never know what you're going to get," SOSUPERSAM, P-Lo, and Shan didn't know what to expect in these bags. We brought the goods ranging from shrimp chips, Yan Yan, banana chips, White Rabbit, to the classics lychee jelly and chicharron. Something else we learned is Yan Yan has fun facts on the sticks, "when you want to learn, get a Yan Yan." The big winners were the BBQ flavored shrimp chips and lychee jelly. Have you tried putting lychee jelly into the freezer? If you haven't, Shan recommends it 100%. Another combination we're going to try at the next brunch party is lychee jelly and Papo J's Lambanog Vodka. Lambanog is basically liquor made from coconut sap. It's like a Filipino jello shot!
Overall, this is the way to close out the month! SOSUPERSAM has been sharing all these Filipino foods and nanay-tatay shops which are making us nostalgic. We're definitely missing our crazy family parties with all the shmack food! That's right we agree with P-Lo, food does not slap. Nothing beats Filipino food in our book, from sweet to savory there's something for everyone.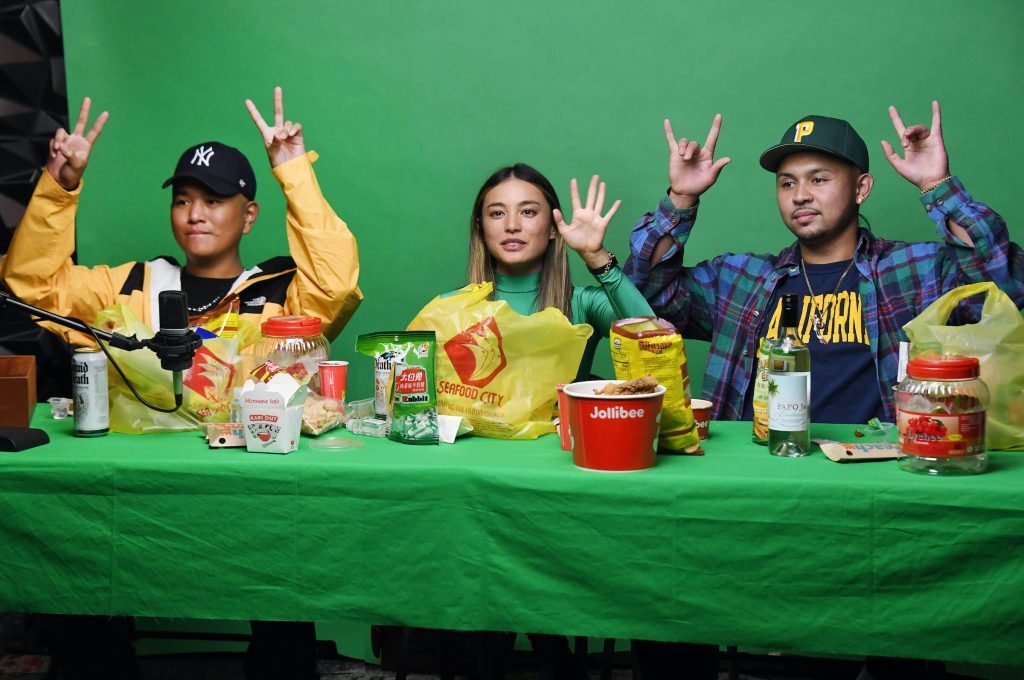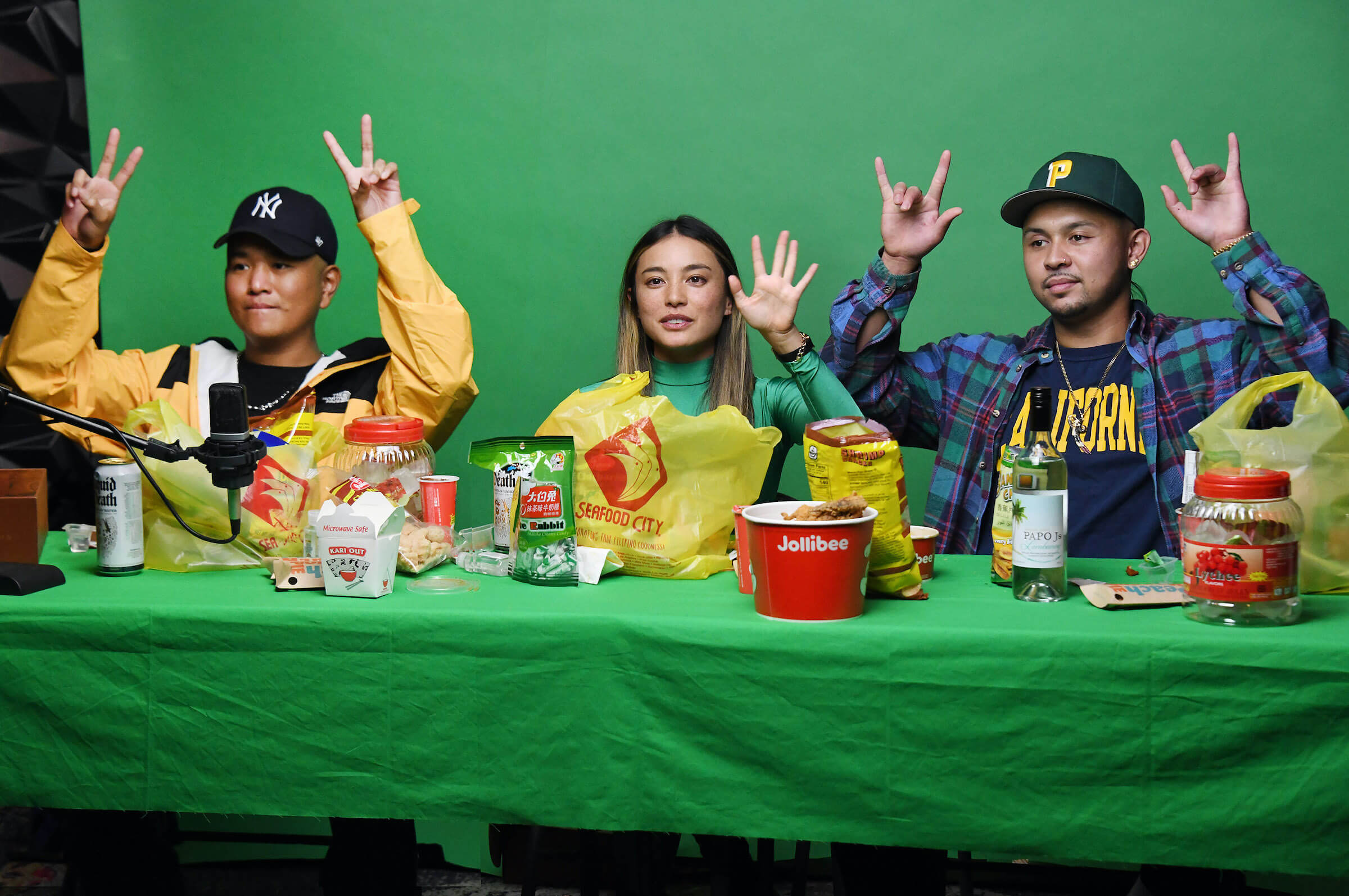 Don't forget to check out Shan's new track, "Palomino" and P-Lo's EP, "Boomerang" on all streaming platforms. Stay tuned for the Traklife x myx highlight recap coming soon from this mukbang, for now you can watch the Ate O'Clock replay on twitch.tv/sosupersam.