Filipinos are known for being great DJs, perhaps it is because music is always playing in family households whether via a fun karaoke night or a holiday gathering. Since the birth of Hip Hop, DJs like Q-Bert, DJ Icy Ice, DJ E-Man, Mix Master Mike, Shortkut and so many more have dominated the DJ battles and radio waves. Filipina iconic DJs like Kuttin Kandi and Symphony (World Famous Beat Junkies) have paved the way for the next generation of pinay DJs.
Below is a nod to some of our favorite Filipina DJs throughout the world that are currently headlining music festivals or breaking on to the scene in their local area, listed in alphabetical order.
AMIRA & KAYLA
Twin sisters DJs Amira & Kayla taking the world by storm, TV appearances include: The Tonight Show, Steve Harvey, Wendy Williams, and many more. The girls also appeared in three national Target commercials, Reebok Campaigns, J Balvin Mi Gente Remix video featuring Beyonce, among many other spots. They even were the DJs for Blue Ivy's birthday party.
BELLA FIASCO
One of the most in-demand DJ's, Bella Fiasco can be found spinning all over California and Las Vegas, her own club night 444, or on her popular Twitch stream.
DJ BITESIZE
DJ Bitesize is a turntablist/party rocker from the Bay Area and has already won 2 DJ Battles in her young career. She's getting tapped by the likes of Miles Medina and NOODZ to name a few. Keep an eye out for this fresh talent.
DJ Jennifer Lee
She is dubbed as the top female celebrity DJ in the Philippines, headlining some of the biggest music festivals in the country. Jennifer was awarded as the country's first Hall of Famer for Best DJ by ALIW Awards. She delivers a power-packed DJ act with live musical instruments. Her skills in martial arts also landed her a role in the action-packed Netfilx Film, Maria.
DJ MIAMOR
New kid on the scene, South London-based DJ Miamor is known for her fun R&B sets. She was recently featured on the UNDSCVRD Livestream finale back in October 2020. You can find her spinning locally in the UK or on Twitch streaming regularly.
DJ NINA
The OG of Philippines' Female DJ scene. Dubbed one of the "The Metro's Hottest Female DJ", Nina is seen performing regularly in the most happening clubs in Manila, and is a staple in the hottest festivals around the country. She's also performed on TV in Eat Bulaga.
NOODZ
Bay Area raised, LA-based NOODZ is one of the hardest working DJ's. Her sets are known for their R&B vibes, mixed with modern day rap, and electronic dance music. You can find her on tour with Kehlani, or at music festival near you.
SOSUPERSAM
Samantha Duenas, aka SOSUPERSAM, is a multi-talented (and highly sought-after!) DJ. You can find her spinning for Hollywood celebrities, headlining shows around the globe, or at her own R&B party in LA, 143.
DJ Seduza
Up-and-coming DJ Seduza is a Filipino Chinese American DJ whose sound transcends everything from hip-hop, soul, bounce, and RnB to EDM sub-genres. She's rocked Head in the Clouds Festival, Cuffing, Exchange LA, and more.
DJ UMAMI
Bay Area-based DJ Umami is the in-house rotating DJ for The Golden State Warriors and San Francisco Giants. You can find her rocking the hottest parties in the Bay, or over the airwaves on KALW 91.7 FM.
Who is your favorite Filipina DJ? Fill out the form below and let us know!
Mark your calendars and it's time to get hyphy. SOSUPERSAM is headed to the Bay as she announced her return for an outdoor show, Summertime Radness at Phoenix Hotel in San Francisco. So grab your tickets at NightOut.com and don't forget dress with your best drip.
Cover Photo Credit: SOSUPERSAM Facebook
Kollective Hustle's Website Launch Party was lit! The event hosted by Romeo Marques Jr., had your favorite Filipino artists, DJs, and personalities all stopping by to show some love:
The Hustle Mission was the outline for the two and a half hour kickoff event:
Collaboration Over Competition
Empower the Emerging
Inspire and Educate
Community is Our Strength
Each section mixed interviews and DJ sets with conversations between SOSUPERSAM and Jen Deleon and our very own Roslynn chatting with Guapdad 4000 and Illmind. Plus we were stoked to see Passion and Gabe Bondoc singing the Filipino national anthem, Lemonade together! It was a reunion of half of #CatchingOneLemonade.
Kollective Hustle is all about "uniting the emerging generation of Filipinos in transforming their ideas into action, passion into profession, creativity into careers, and to inspire a global culture of collaboration." We hope you were just as inspired as we are! Keep up to date with news or get involved at kollectivehustle.com
If you never had Filipino food or wonder what it's like, Ate O'Clock with myx has got you covered! SOSUPERSAM has been celebrating Filipino-American History Month all October by eating bomb Filipino food with her family and friends! To close out the month, SOSUPERSAM along with Bay Area rapper P-Lo and R&B singer, Shan chow down on Jollibee, snacks from the Seafood City Snack aisle, and turon from Chaaste Family Market LIVE from Traklife on Sam's Twitch. Grab your spoon and fork, here's a recap of what went down.
What's on the menu -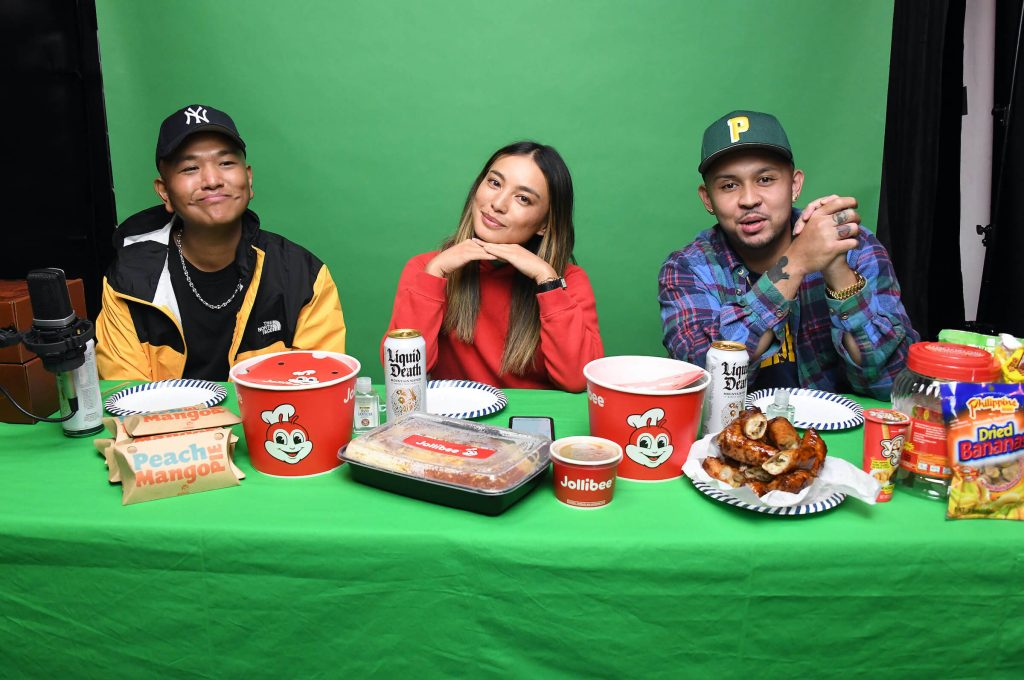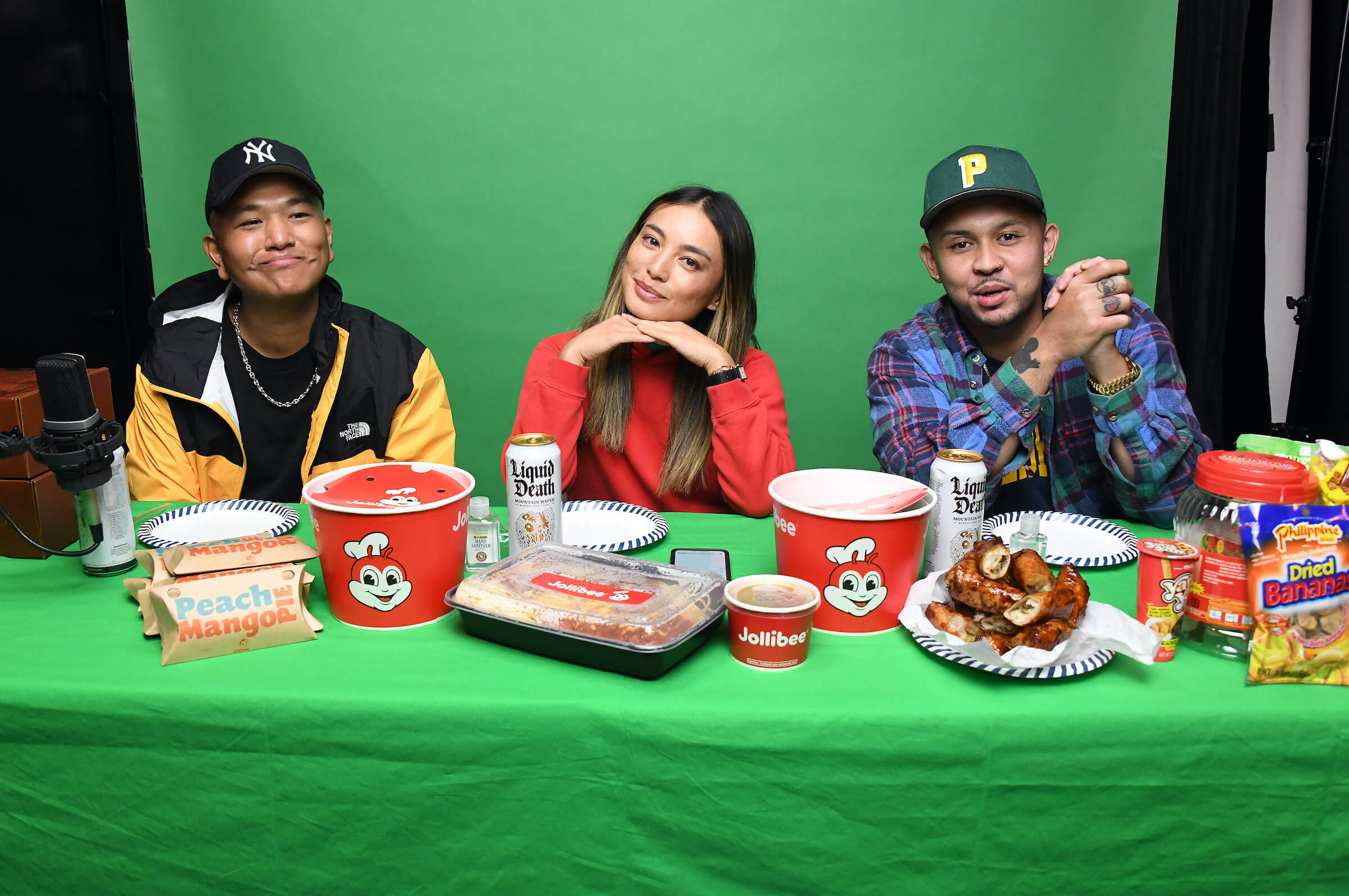 Jollibee: Bucket Treat B with a 6-piece Chicken Joy Bucket, 1 Spaghetti Family Pack, 3 Peach Mango Pies
Okay, Jollibee is a staple in Filipino food. Everywhere you go in the Philippines you're bound to find a bright red, smiling bee staring into your soul to eat its delicious food and it's been a joy that Jollibee is now available on Door Dash, it was the food delivery app myx used to send to the Burbank studio from their LA location on Beverly Blvd. A viewer mentioned that in Seattle there are hour long waits and a 2 bucket per customer restriction because it is so popular.
The trio went straight for the bucket of Chicken Joy, each of them grabbing their favorite piece. SoSuperSam went for the drumstick while Shan and P-Lo grabbed the chicken thighs. You can't forget the gravy and rice which is an OTP that will never let you down. Some of their personal favorites on the menu includes spicy Chicken Joy, palabok, and the desserts. The Peach Mango Pie is a standout for Shan and P-Lo, but SoSuperSam isn't as big of a fan. If you've ever had McDonald's Apple Pie, it's similar but the Peach Mango Pie is fried, crispy goodness! One of the highlight moments is when they had the Jolly Spaghetti. P-Lo's never tried the spaghetti and the verdict is, he's "not mad at it. Zero quarrels with it." Then SOSUPERSAM created a combo we didn't see coming, taking the skin from the chicken joy and using it as shell to stuff the spaghetti in. It brings a new meaning to spaghetti taco. Sam listed Jollibee as her favorite chicken restaurant around the world.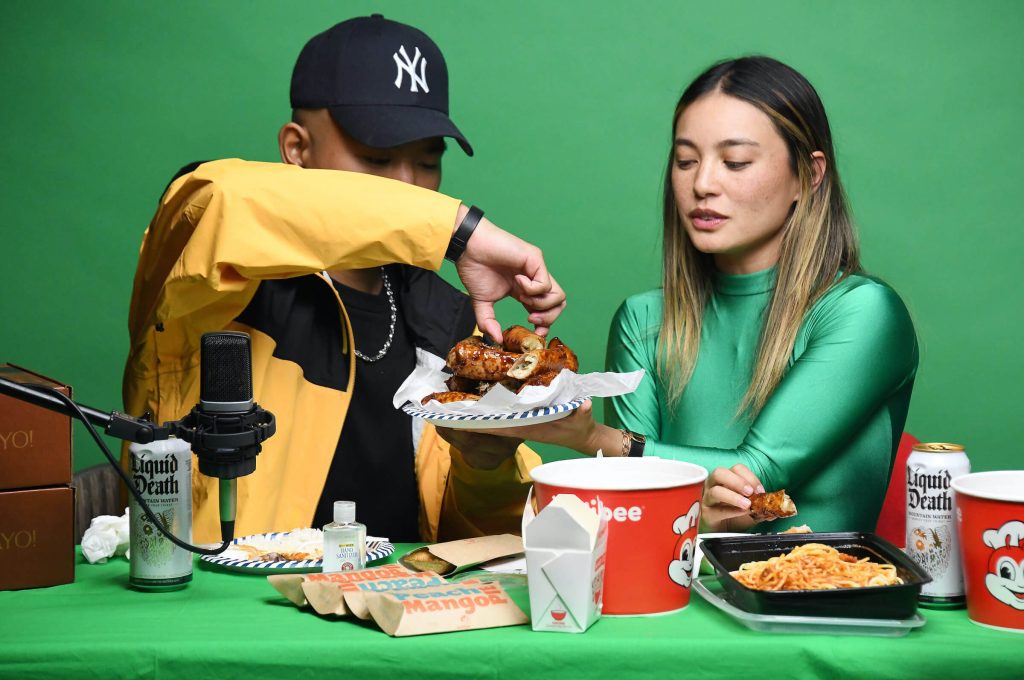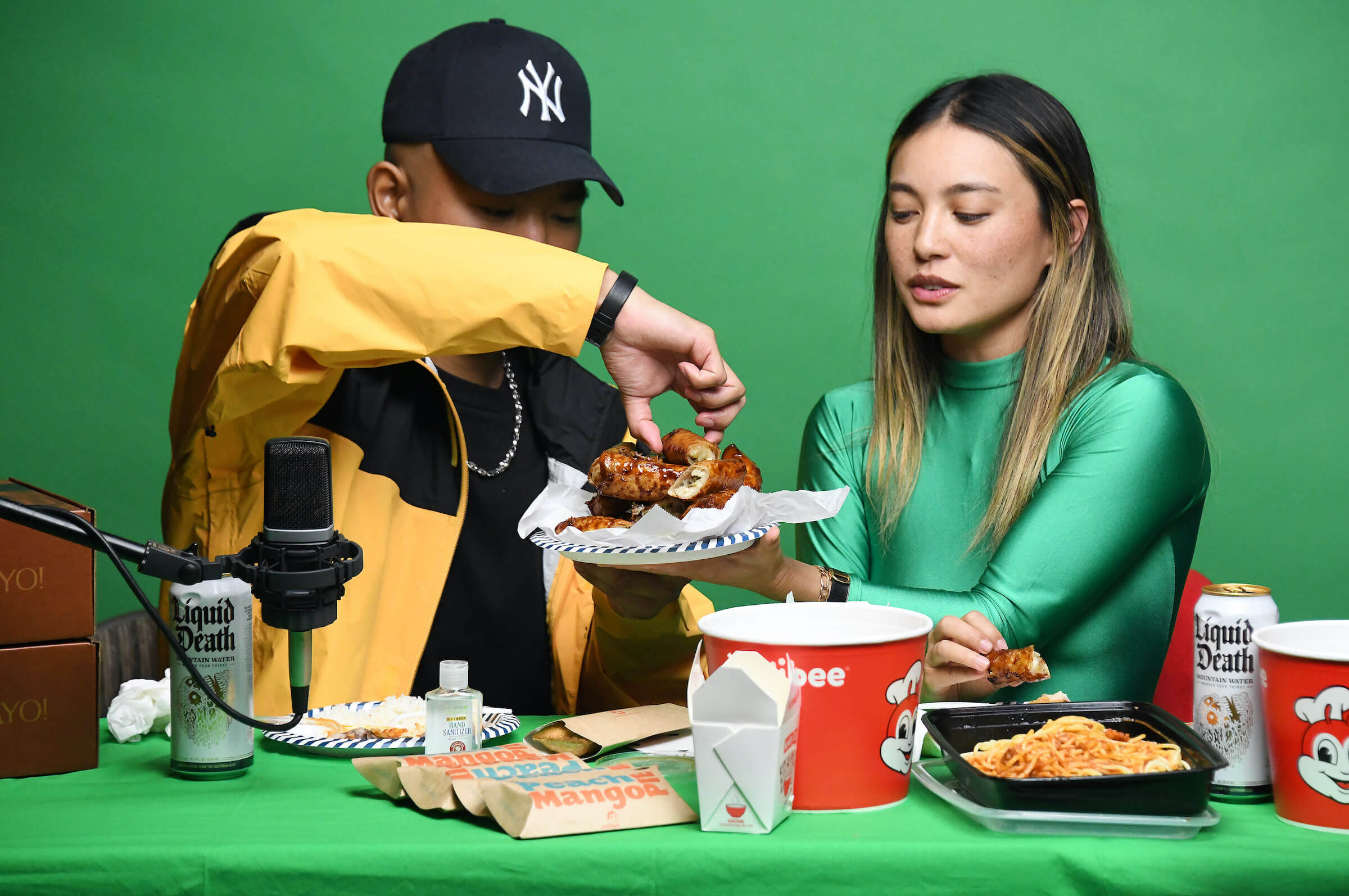 Chaaste Family Market Turon Ends
The Chaaste Family Market in Pasadena, CA is a full-service store with turo-turo food and market. Another revelation that SoSuperSam have us on is ordering turon ends. She said that she hits up Chaaste Family Market ahead of time to order turon and they know to get the ends ready. Literally, it's just the ends cut to leave the middle part of the turon out. The sticky factor is an 11 on a scale of 1-10, the turon was not going anywhere. They offer various flavors like Oreo, custard, jelly-filled, and the standard banana and jackfruit option. Then pair turon with your favorite Filipino ice cream flavor or Shan's recommendation, coffee. Either paired up or if you have it by itself, the trio all agreed "the glaze don't play."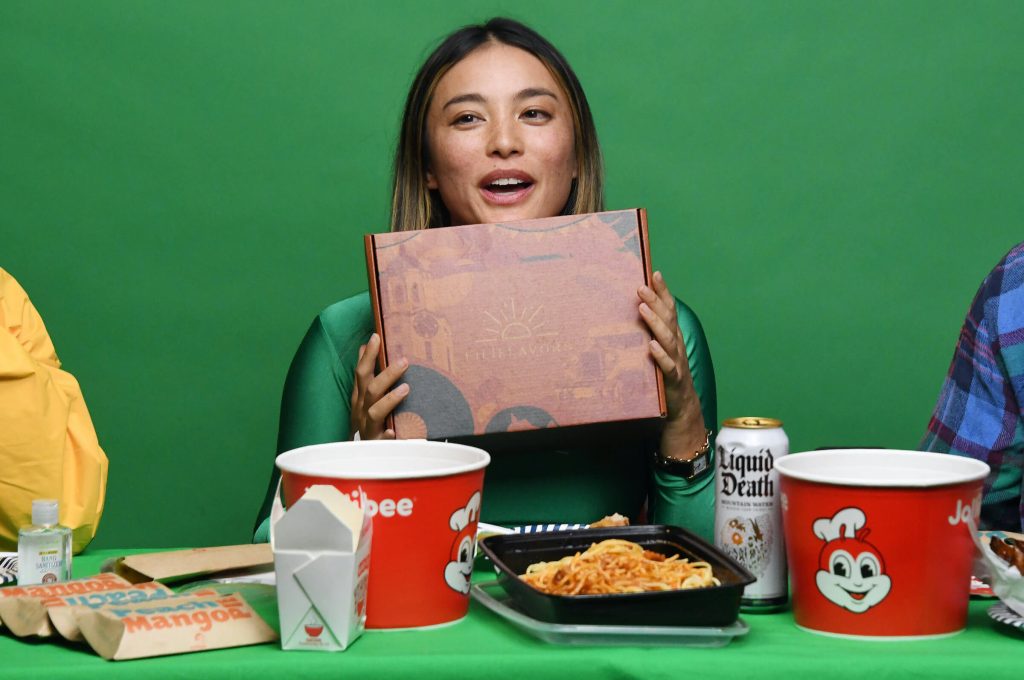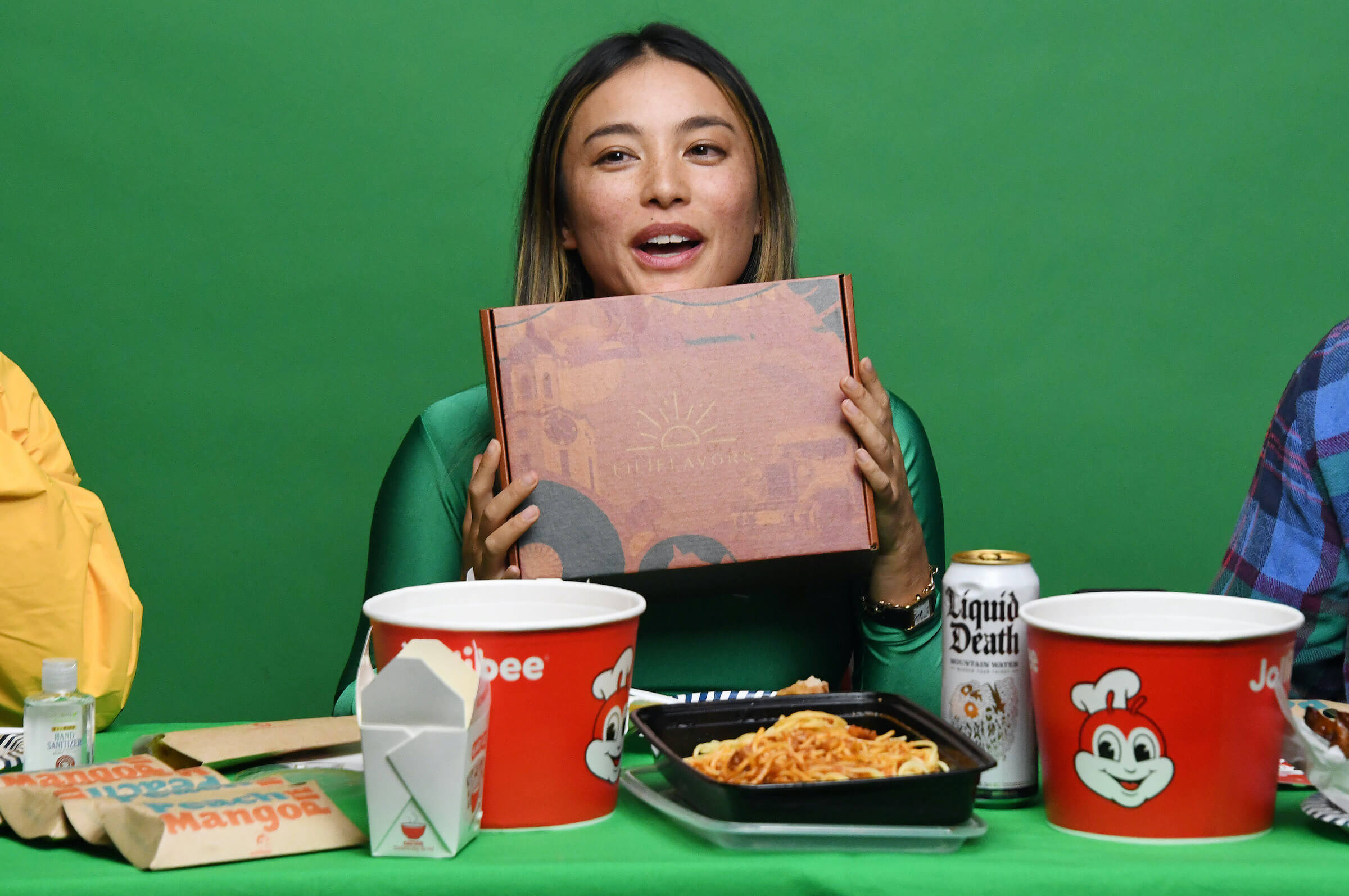 Filiflavors: Fili Sopresa (Surprise Boxes)
For most of us, we're lucky to live near or relatively near a Filipino market or Seafood City but for those who don't have as much accessibility to Filipino snacks, Filiflavors has you covered! SOSUPERSAM did a giveaway of a Fili Sopresa Box for her Twitch subscribers that we can guarantee isn't filled with a sewing kit but filled with loads of your favorite snacks like Boy Bawang, Chippy Chips, Piattos, Choc-O-Star candy, and more. The coolest part is that a small part of Filiflavors' earnings will benefit "Support for Families of Children with Disabilities."
Congrats to the two lucky SAMSTERS who received the boxes from Sam, Filiflavors & myx this week: @jessebaron from Sunnyvale, CA & @jadeykinz of San Diego, CA.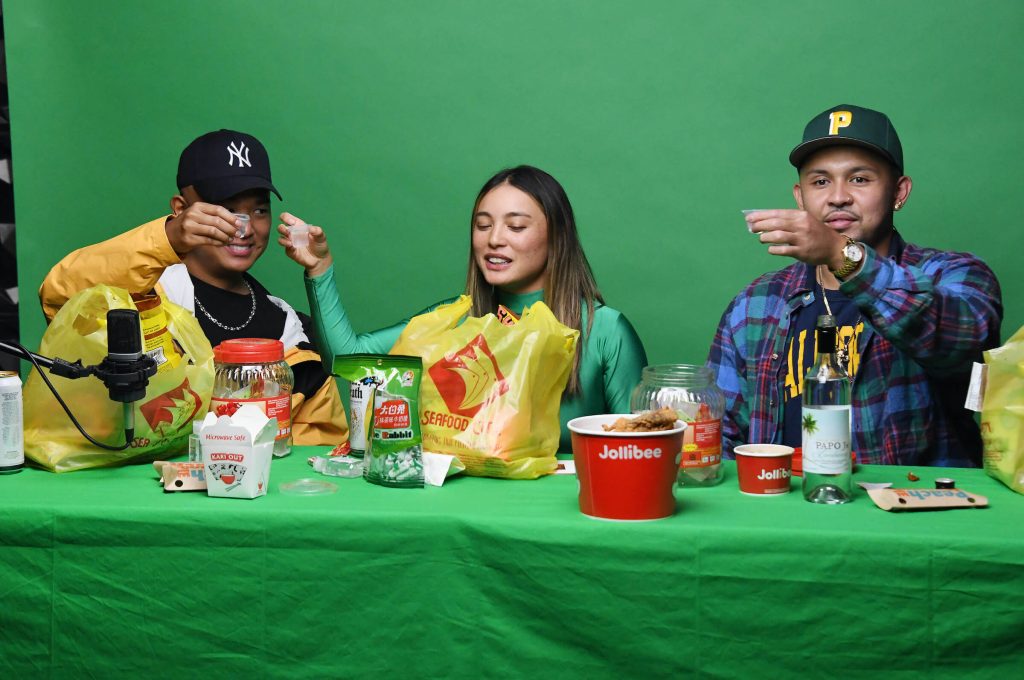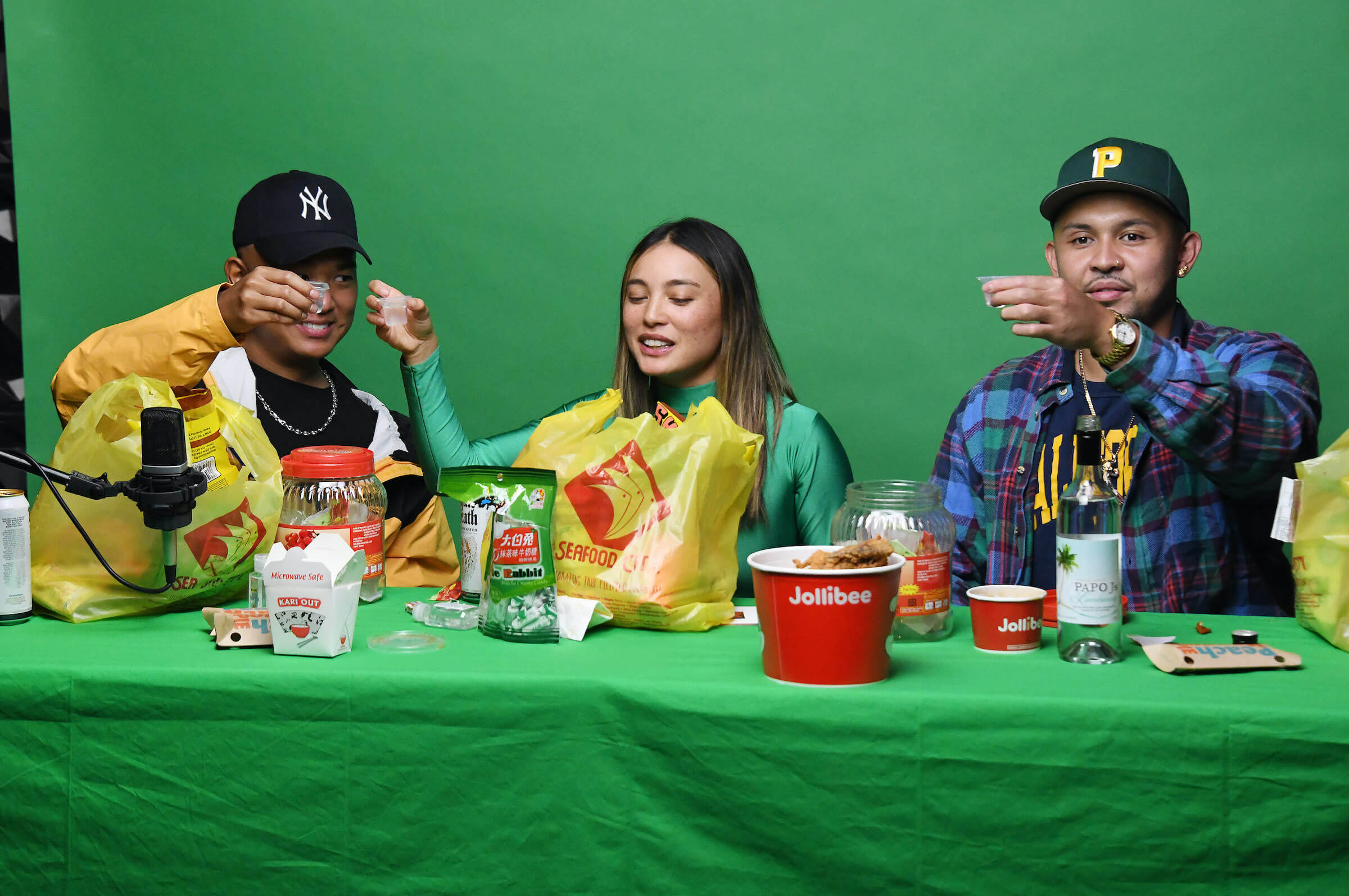 Seafood City Snack Aisle
Our team brought snack goodie bags to the party. "Life's like a box of chocolates, you never know what you're going to get," SOSUPERSAM, P-Lo, and Shan didn't know what to expect in these bags. We brought the goods ranging from shrimp chips, Yan Yan, banana chips, White Rabbit, to the classics lychee jelly and chicharron. Something else we learned is Yan Yan has fun facts on the sticks, "when you want to learn, get a Yan Yan." The big winners were the BBQ flavored shrimp chips and lychee jelly. Have you tried putting lychee jelly into the freezer? If you haven't, Shan recommends it 100%. Another combination we're going to try at the next brunch party is lychee jelly and Papo J's Lambanog Vodka. Lambanog is basically liquor made from coconut sap. It's like a Filipino jello shot!
Overall, this is the way to close out the month! SOSUPERSAM has been sharing all these Filipino foods and nanay-tatay shops which are making us nostalgic. We're definitely missing our crazy family parties with all the shmack food! That's right we agree with P-Lo, food does not slap. Nothing beats Filipino food in our book, from sweet to savory there's something for everyone.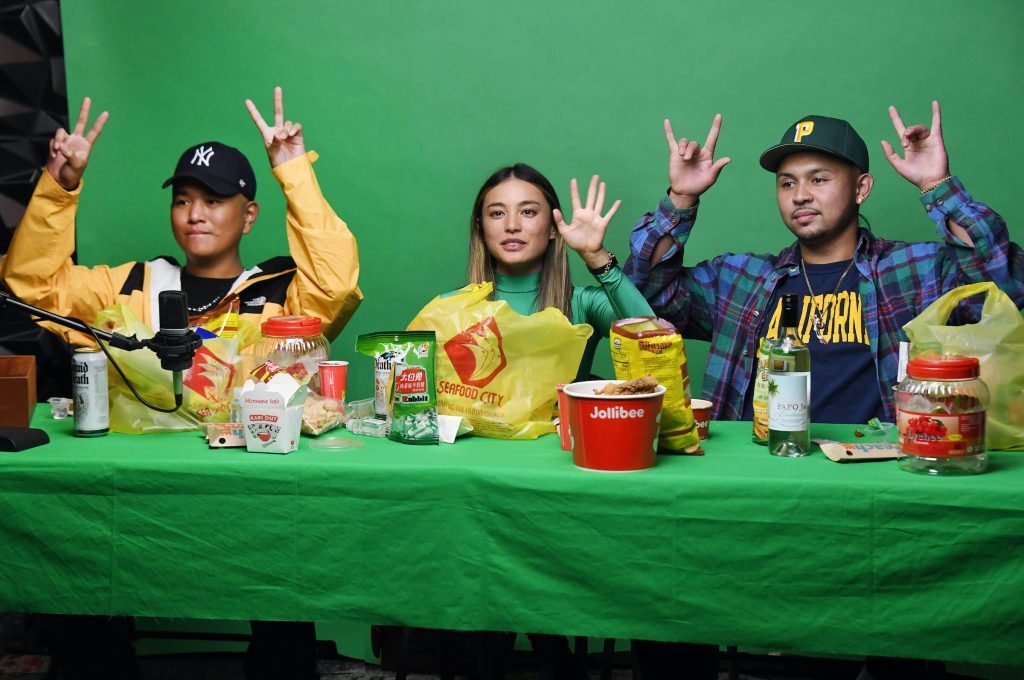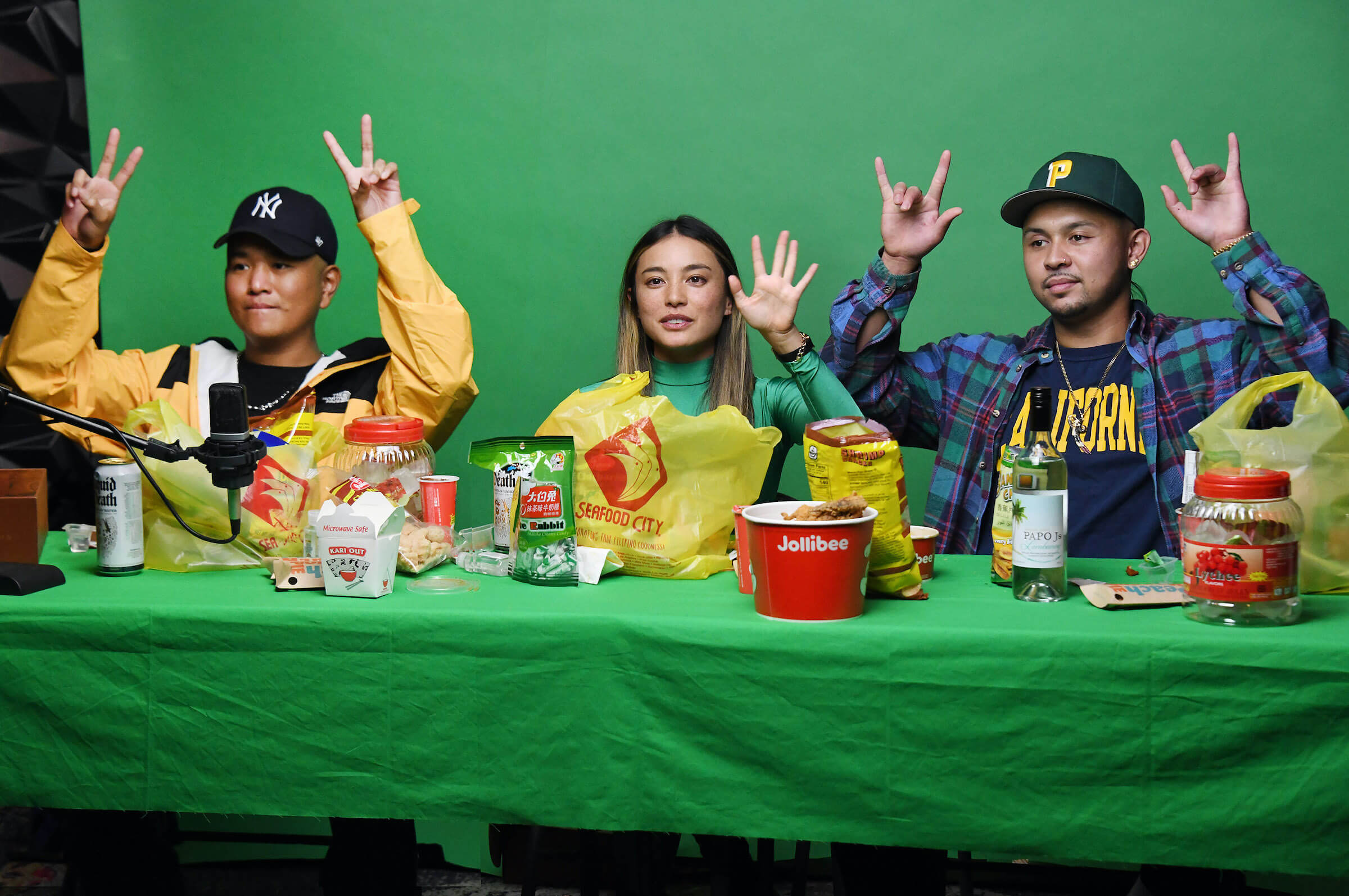 Don't forget to check out Shan's new track, "Palomino" and P-Lo's EP, "Boomerang" on all streaming platforms. Stay tuned for the Traklife x myx highlight recap coming soon from this mukbang, for now you can watch the Ate O'Clock replay on twitch.tv/sosupersam.
 
International DJ/artist SOSUPERSAM recently launched her Twitch livestream show, "ATE O'CLOCK," in quarantine, an entertaining mukbang digital series where hundreds of viewers chat LIVE while watching her discuss interesting conversations with special artists/influencers around current topics & food. SOSUPERSAM features a diverse mix of food on the show, in support of the independent restaurant industry during these challenging times, while also showcasing beloved classic international products to her fans. The best part of the show is the random commentary between the guests that are all international artists but close friends at the same time that can finish each other's sentences or break into song on spot.
Previous restaurants featured include The Boiling Crab and Honey's Kettle Fried Chicken. Prior to the stay in home order took place, a LIVE event that SOSUPERSAM co-founded called 143, was the #1 Los Angeles R&B monthly party that saw over 2K+ people monthly, & 24K annually lined around the historic Echoplex. Last year, she launched the annual 143Thx Festival that sold-out to 5K+ attendees with performances by artists like 112 & P-Lo sponsored by myx & K-Swiss. SOSUPERSAM has taken the amazing energy of her offline events & created a special, interactive digital safe but fun space for her beloved followers from around the world, to come together in good spirits during this pandemic, thru her weekly DJ sets & virtual shows.
In October, in celebration of Filipino American History Month, Sam is highlighting various Filipino traditional dishes and re-imagined meals with top chefs & hidden gems in LA. In this episode, SAM & her special guests, international touring DJs Noodz & Mr. Carmack ate home-made calamansi/sinigang wings by her sister, pancit malabon from Manila Sunset, tapa, longanisa and tocilog from LA Rose Cafe & various Philippines inspired themed ice creams from Wanderlust Creamery.
Future FAHM episodes in October will include LASA, Sari Sari Store, United Pastry, Seafood City & of course, Filipino favorite Jollibee. In the past, SAM alongside international colleague & frequent event collaborator, DJ Noodz (Kehlani's Tour DJ) have promoted their events with fun high-school like mall photos that Fil-Ams are familiar with Jollibee while also frequently handing out buckets of chicken at sold-out events.
Have something you want SAM to try? Tweet her with the food recommendation & #AteOClock at @sosupersam & subscribe to watch her exclusive weekly streams on twitch.tv/sosupersam.
ABOUT SOSUPERSAM:
SOSUPERSAM aka Samantha Duenas, is a performing artist from Los Angeles. Born of Filipino and Irish descent, Samantha spent her youth consumed by piano lessons, dance classes, musical theatre, and choir. After receiving her BA in Economics from the University of California, San Diego, she made her first foray into the entertainment industry as a professional dancer, supporting the likes of Ashley Tisdale, Miley Cyrus, and Kelly Rowland. As a dancer she has appeared in numerous music videos, live television, and a national tour with Vanessa Hudgens and The Cheetah Girls.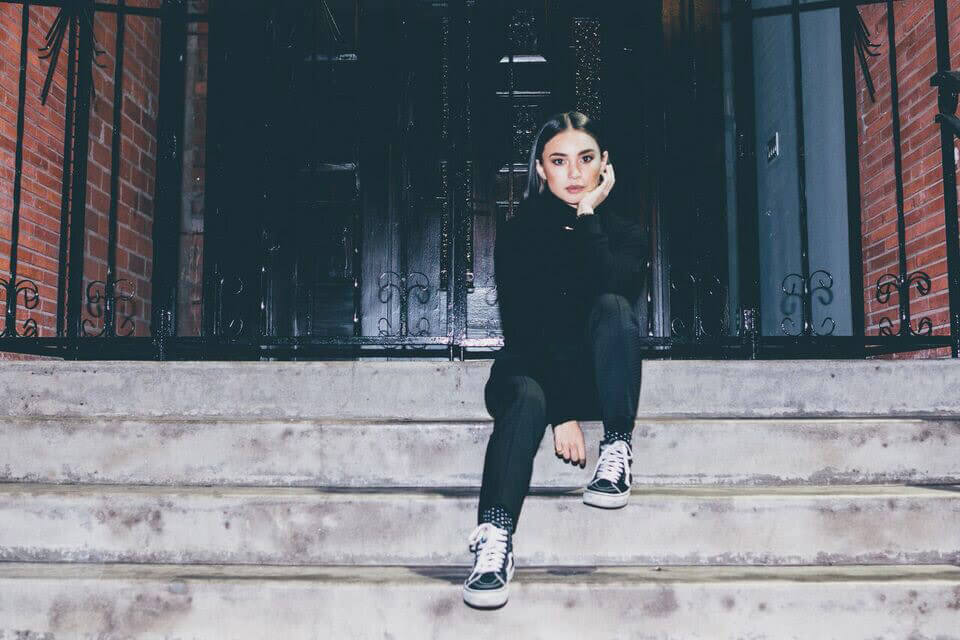 In 2008, Samantha purchased her first set of DJ equipment and has been making waves ever since. She is a seasoned DJ and a familiar name in the international music circuit. Her versatile range and genre-bending mixing style has given her opportunities to play underground clubs, music festivals, and celebrity and fashion events alike.
SOSUPERSAM enjoyed a long stint as is a member of Soulection, the worldwide record label and collective. Through these various avenues, Sam regularly performs throughout the US, Canada, Europe, Asia, and Australia.
In 2013, SOSUPERSAM co-founded "143," a monthly R&B party she hosts and DJ's in Los Angeles. 143 prides itself in pushing the R&B culture forward and bringing in some of the hottest and most legendary names to share the stage such as ?uest Love, A-Trak, Ja Rule, Ashanti, Chad Hugo, and Ginuwine. Over the years 143 has become a global sensation and a pillar in LA nightlife, attracting some 2,000 attendees each month in Los Angeles, and popping up in cities all over the world like New York City, Berlin, Amsterdam, Jakarta, Manila, San Francisco, Vancouver, Miami, Honolulu, Seattle, and Boston.
Watch 112 perform at 143 Worldwide sponsored by myx below:
In 2016 SOSUPERSAM released the "SUP" mixtape series, smartly interweaving her original music in with a curation of her favorite songs. The mixtapes would culminate in Garden a 6-track EP showcasing her songwriting and r&b vocal stylings. Released independently, Garden includes features from Soulection's ESTA. and Bay Area rapper P-Lo. Her follow up EP "Priority" was released in 2018.