Super Typhoon Rai, known as Odette, left parts of the Philippines to pieces, leaving people in desperate need of basic necessities like power, food, and water. The devastation caused by the typhoon hit some of the most vulnerable areas of the Philippines like Bohol, Siargao, and Cebu.
Actress and artist, Nadine Lustre returned to the island of Siargao to help set up solar panels for locals to charge gadgets like phones, LED lights, and other appliances. Currently, there's still no power on the island and locals have been helping each other rebuild their community.
Nadine recently has been splitting her time between Manila and Siargao and although she was in Manila during the typhoon, she made her way back to help in providing relief. With no timeline yet when electricity will be available for the island, every little bit helps.
MYX has set up a Twitch DJ charity fundraiser on 12/28 and 12/29 to raise funds for ABS-CBN Foundation International to support the victims in the Philippines, you can donate directly here on Tiltify for "Operation Odette" to their efforts in providing food, shelter, health items and more. Stay tuned for more info on the fundraiser along with an announcement for the line up.
Upcoming for Nadine is a new film under Viva Max, Greed. She shows off her acting depth with this darker role in this thriller film with Diego Loyzaga. Check out the teaser below!
Cover Photo Credit: Greenpeace Philippines Twitter
#SARINOTSARI Week 2 11/15 brang Filipino DJs together again from all over the world to raise disaster relief funds for the the typhoons that have devastated the Philippines & effected millions of families. Starting on 11/8, the SARI NOT SARI Co-Founders, @nicoakablitz (The Lunch Table myx Host, @cassandreaho, @iamdjkza & @itsdatguyry raised a total of over $335,131 PhP / $7,025 USD for the first two events on Tiltify with DJs from the US, Canada & Europe. Watch a highlight below of the 16 DJs myxing from across the world:
Tiltify is the the leading platform creators trust for all of their charity fundraising needs & a top full service fundraising platform made for the socially conscious generation, an exclusive partner for Tik Tok but also used by top platforms like Twitch & YouTube. Charities like Feeding America, Make A Wish & the St. Jude Children's Research Hospital are some of the global charities using the innovative platform where users can create their own personal fundraising campaigns for the charities of their choice. Click here to donate to the SARI NOT SARI campaign on Tiltify.
Owned by Amazon, Twitch is the top US based video live streaming service used by 140M+ monthly and 15M+ daily active users, mostly known for video gaming until the quarantine saw more music artists & DJs utilizing the platform. Filipino artists & DJs are amongst Twitch's most active users like producer Illmind, DJ Franzen, DJ Bella Fiasco, SOSUPERSAM, DJ E-Rock & the Snapback LIVE DJs gaining thousands of loyal followers & paying subscribers. Watch below why Nico Blitz & the SARI NOT SARI Co=Founders decided to put the series of events together:
myx was honored to partner with 16 Filipino DJs this weekend for their next event, raising money for the ABS-CBN Foundation on Tiltify. Tune in again for the next 2 weeks of another 16 hours each week of amazing DJs & good music for a great cause, a @Twitch raid to all of these channels, continuing on 11/22 & 11/29 with different DJs, also co-hosted on twitch.tv/myxglobal.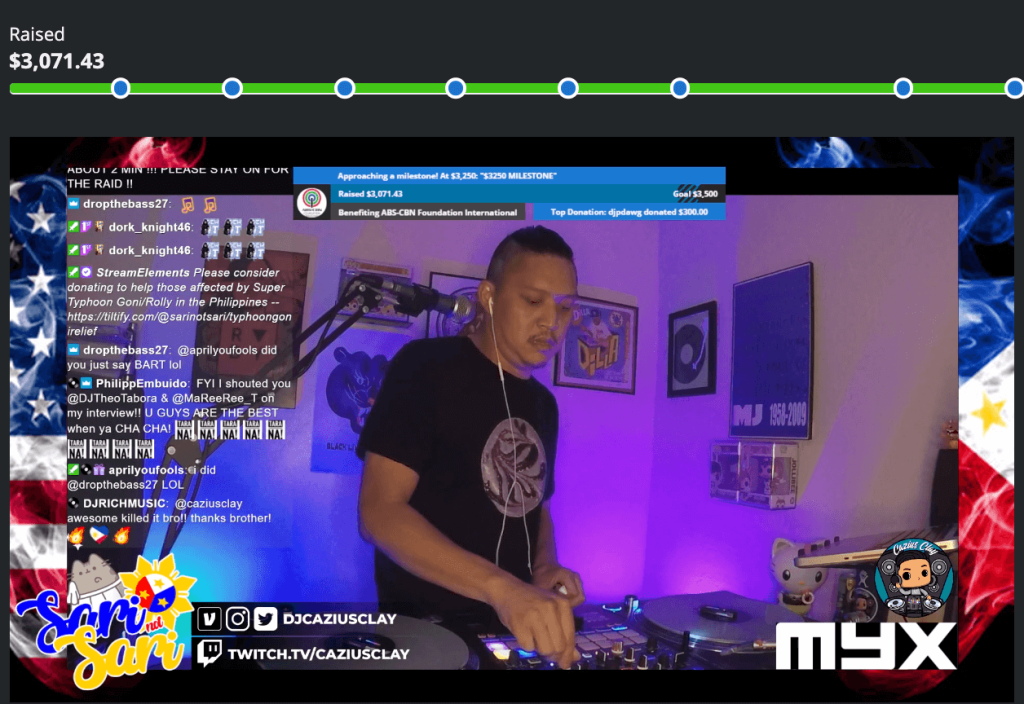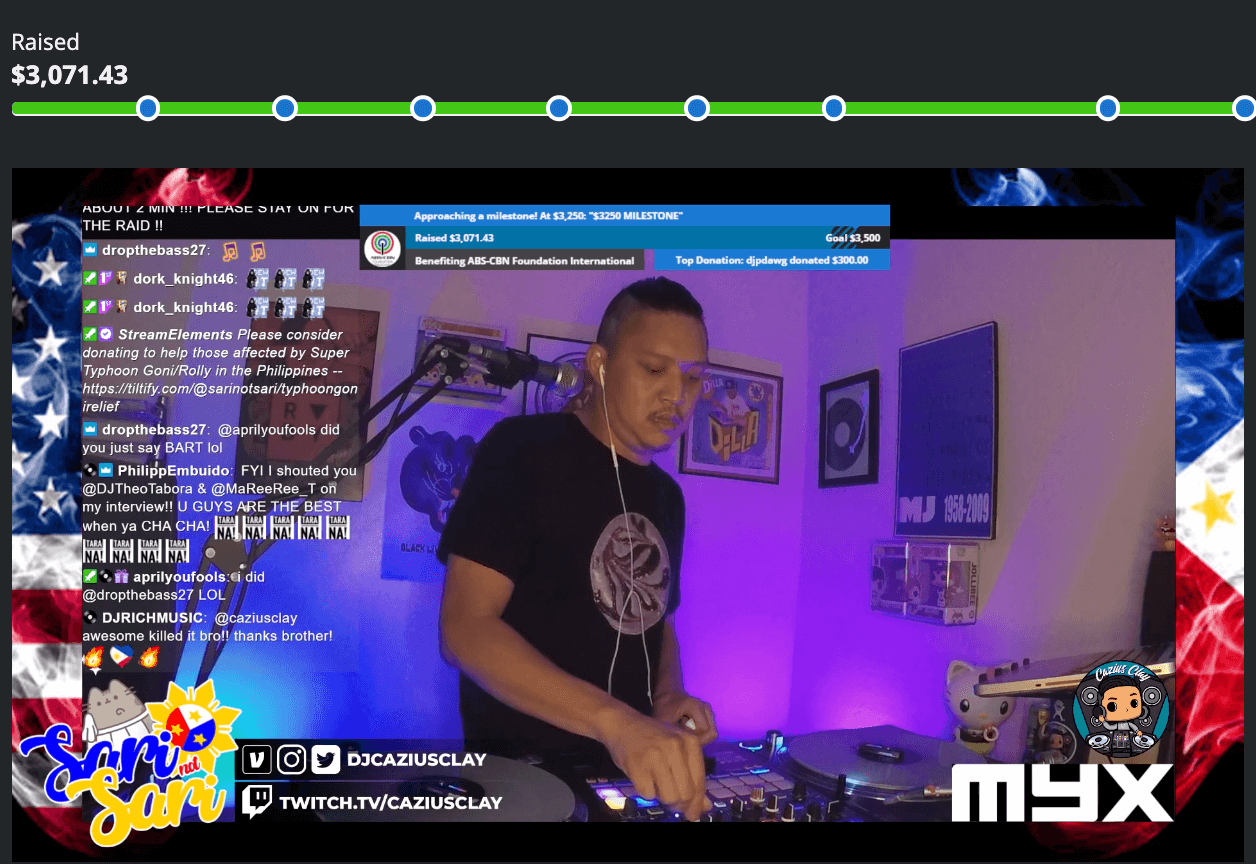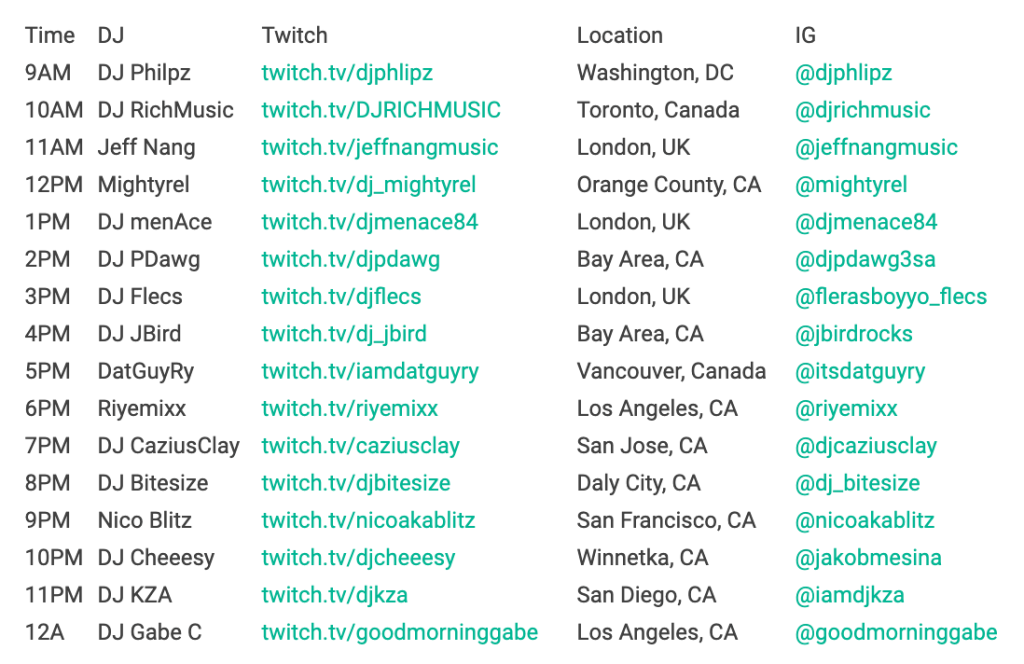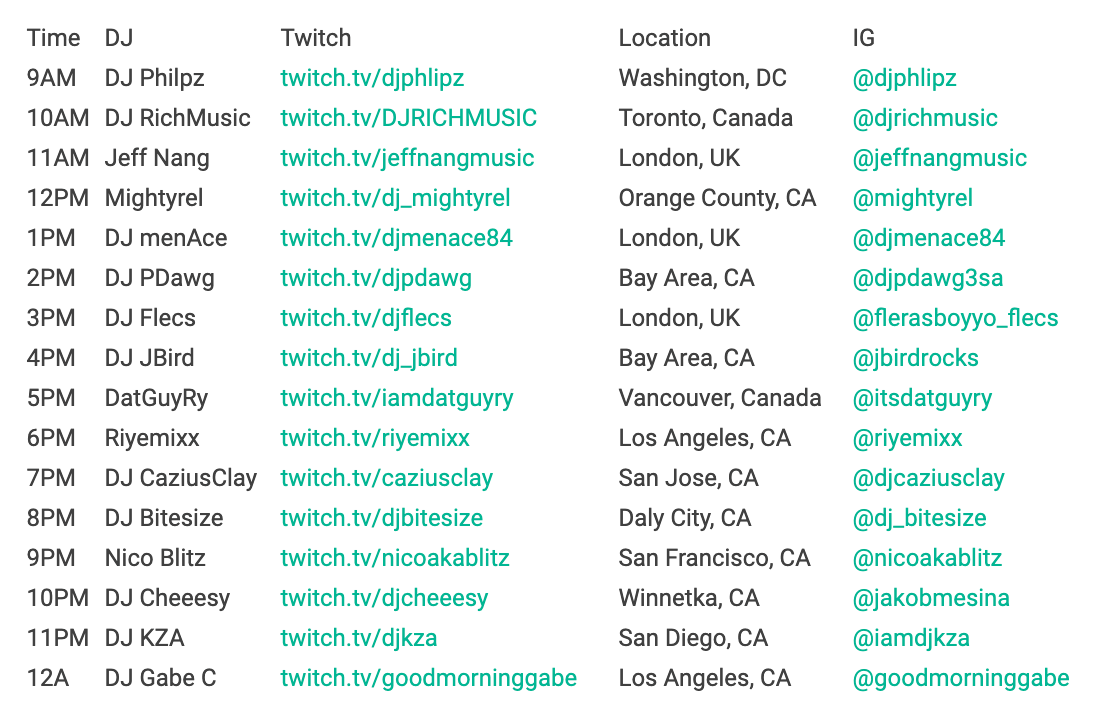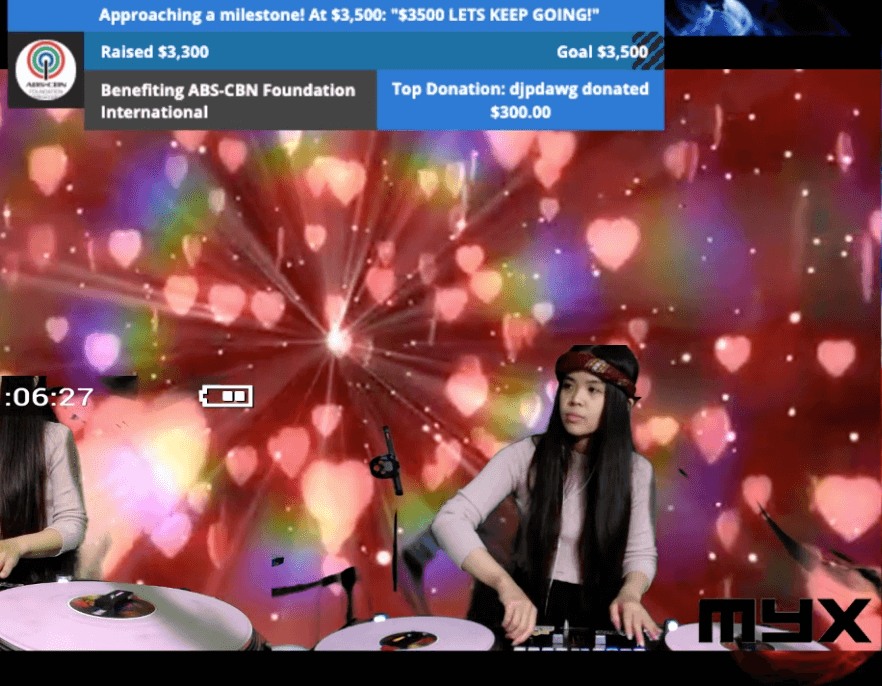 Catch a highlight video of the 16 participating DJs below, please make sure to follow them all on Instagram & subscribe on Twitch.