1MX will be the first Asian music festival to ever take place at Budweiser Stage, with performances from Dabin, UMI, Ben&Ben, thuy, Guapdad 4000, BGYO, Justin Park, DJ Tilt, DJ Jayemkayem and DJ Hedspin.
The festival shines a light on the music and food that defines Asian youth culture, bringing
together both local and international talent
Tickets start at $98.50 CA (including taxes and service fees) and are available now at
Ticketmaster.ca
TORONTO, July 13, 2023 /CNW/ – After successful runs in Abu Dhabi, Dubai, Manila and most recently London, renowned global Asian music celebration 1MX Music Festival will make its North American debut on Sunday, September 10, taking over the iconic Budweiser Stage in Toronto. The traveling showcase brings together the best in Asian food and music. International sensations UMI, Ben&Ben, thuy, Guapdad 4000, BGYO and Justin Park will all take the stage for the Toronto stop, along with JUNO-nominated headliner Dabin, and fellow Canadian DJs, DJ Jayemkayem, DJ Tilt and DJ Hedspin.
1MX Toronto Music Festival (CNW Group/1MX Music Festival)
"We are excited to bring the first ever 1MX Music Festival in North America to the city of Toronto on September 10 at Budweiser Stage," said Jun del Rosario, Managing Director, ABS-CBN International – North and Latin America. "We want to host this family-friendly event as a way of bringing the community together for a day filled with world-class entertainment from Asian music artists mixed with other international performers. We eagerly look forward to this special celebration of music and culture."
1MX features a tightly curated line-up of established and emerging Asian artists excelling in their genres and on track to becoming some of the next biggest acts in the world:
A truly immersive experience for all the senses, 1MX Toronto will also spotlight authentic Asian eats in partnership with food vendors from the GTA. Stay tuned for lineup and menu details later on this summer.
The most recent edition of 1MX took place on Saturday, July 8, 2023 in London for the second consecutive year, attracting thousands of festival-goers from various parts of Europe and beyond. Audiences raved for the eclectic line-up of artists that blended must-know emerging and established Filipino talents with international acts, including Ben&Ben, Yuna, Moira, Johnny Orlando, Maymay, Tiny Umbrellas and DJ Clara Rosa. Images from the show can be found here.

Connect with 1MX Music Festival on socials:
Website: 1musicx.com/Toronto
Instagram: @1mxmusicfest
YouTube: @1mxmusicfest
Tags: #1MXTOR #1MXToronto #1MXMusicFestival
About MYX Global
MYX Global is a premier media and entertainment company that celebrates the diverse voices and talents of the global Filipino and Asian community. With a mission to empower, inspire, and connect Filipinos and Asians worldwide, MYX Global delivers engaging content, showcases emerging artists, and provides a platform for authentic cultural representation. Through its music, lifestyle, and entertainment channels, MYX Global creates a dynamic and inclusive space for the new generation to express themselves and connect with their heritage.

About ABS-CBN Global
ABS-CBN Global is a leading media and entertainment company at the forefront of connecting and engaging with the global Filipino community. With a rich legacy spanning decades, ABS-CBN Global is committed to delivering innovative content and experiences that reflect the diverse Filipino culture and ignite a sense of belonging. Through its various platforms, including television networks, digital channels, and events, ABS-CBN Global reaches millions of Filipinos worldwide, providing a vital link to their homeland and fostering a strong sense of community. With a deep understanding of the Filipino diaspora, ABS-CBN Global continues to evolve and innovate, connecting Filipinos across borders and celebrating their unique stories and contributions on a global stage.

For more information and to buy tickets, visit https://www.1musicx.com/
ABS-CBN's The Filipino Channel (TFC) is bringing back the 1MX Music Festival to the United Kingdom!  The curated Filipino global music experience will be going down on July 8 at Dockyards London, UK. OPM stars Moira dela Torre, Ben&Ben, May May Entrata, Johnny Orlando and Janine Berdin have been announced as the first musical acts set to perform at the 2023 1MX Music Festival.
Last year, TFC introduced the 1MX Music Festival as their inaugural music festival in Europe. The 2022 show featured the likes of Bamboo, KZ Tandingan, Darren Espanto, SAB, Jeremy G, and Angela Ken. We're looking forward to finding out the full lineup for this year's festival!
Photo Courtesy of Ben&Ben's Instagram
Get ready, UK. 1MX is headed to London! From Manila, Singapore, Abu Dhabi to Dubai, the record-breaking and sold-out music festival is set to hit the stage at the APPS Court Farm on July 30th! The best and brightest artists are coming together to give you the ultimate music experience.
On the bill for the festival, 1MX is bringing out amazing artists Bamboo, KZ, EZ Mil, Darren Espanto, SAB, Jeremy G, Angela Ken, Jon Guelas, and some UK-based Artists to vibe with all day. The festival will have back-to-back full performances from noon to sundown. Tickets are now available, and there is currently a Promo going on! You can get 50% off general admission tickets until July 5th by purchasing HERE!
The sibling groups of P-Pop, BGYO, and BINI kicked off the 1MX Dubai concert with a tag-team performance of their hit singles. The groups shared the stage for a choreo filled, live band experience that lasted about a half-hour, setting the tone for the rest of the night. They performed individually and came together at the end to close out their set. If you missed their 1MX Dubai stream, don't worry because ABS-CBN Star Music has uploaded their entire set. So get hyped and enjoy it below. Also, stay tuned to the Star Music Youtube channel because more 1MX snippets are being uploaded for fans to check out.
Here's another treat for all the fans via Star Music. If you missed the 1MX Manila stream you can now view the entire concert below. Enjoy!
DUBAI, UAE, December 16, 2021 - Filipino artists made a huge splash in the international music industry this December with sold out performances of the music festival 1MX 2021 both as an in-person event in Dubai and as a livestreamed event with a Manila cast on KTX.ph.
Produced by ABS-CBN, the leading global Filipino media and entertainment network, through The Filipino Channel (TFC), ABS-CBN Music, One Music PH and Myx Global, together with DJMC Events, Camella Homes and Philippine Airlines, the back-to-back concerts before local and global audiences continue to prove that live entertainment has officially returned, and people are eager to see performers on stage once again.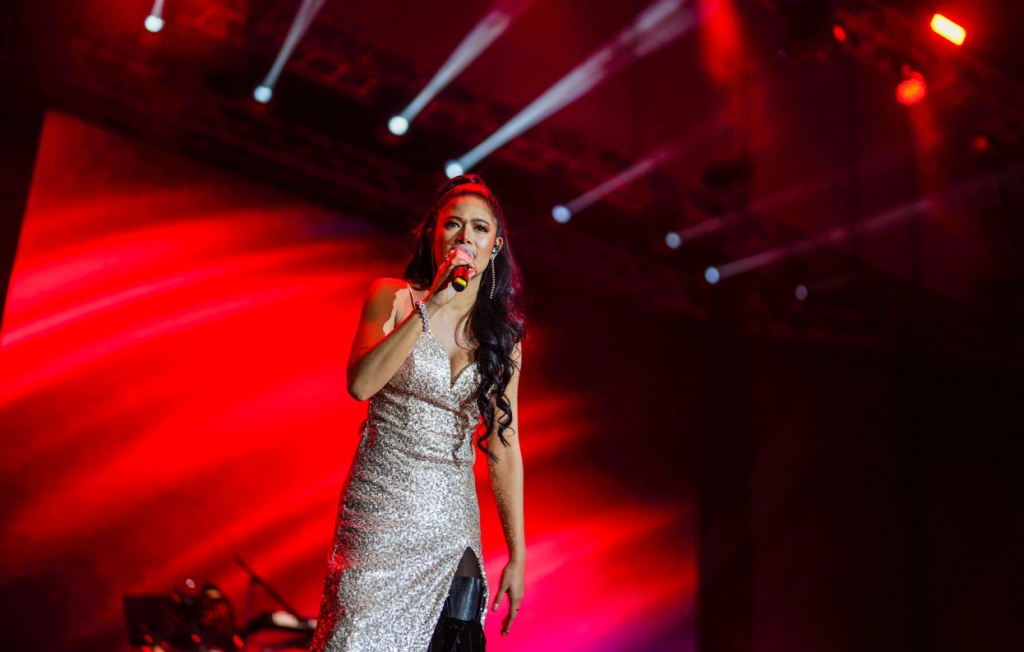 OPM's Pop Rock Diva Gigi De Lana showed the incredible vocal range that made her an online singing sensation.
That these companies took a strategic, successful gamble on an in-person event combined with livestreaming reflects their calculated optimism and determination to reboot the gigantic music events ecosystem.
Doing 1MX in Dubai is key as this world-famous city in UAE is one of the rare places that doubled down on an open economy even as the Omicron variant rattled markets and forced border restrictions across the world. It's the site of Expo 2020 where 192 countries are presently taking part in a global celebration for 182 days, starting last October 1, 2021. When the whole of Europe shut down, Dubai remained completely open, and their COVID-19 cases have been below 100 for weeks as of this writing.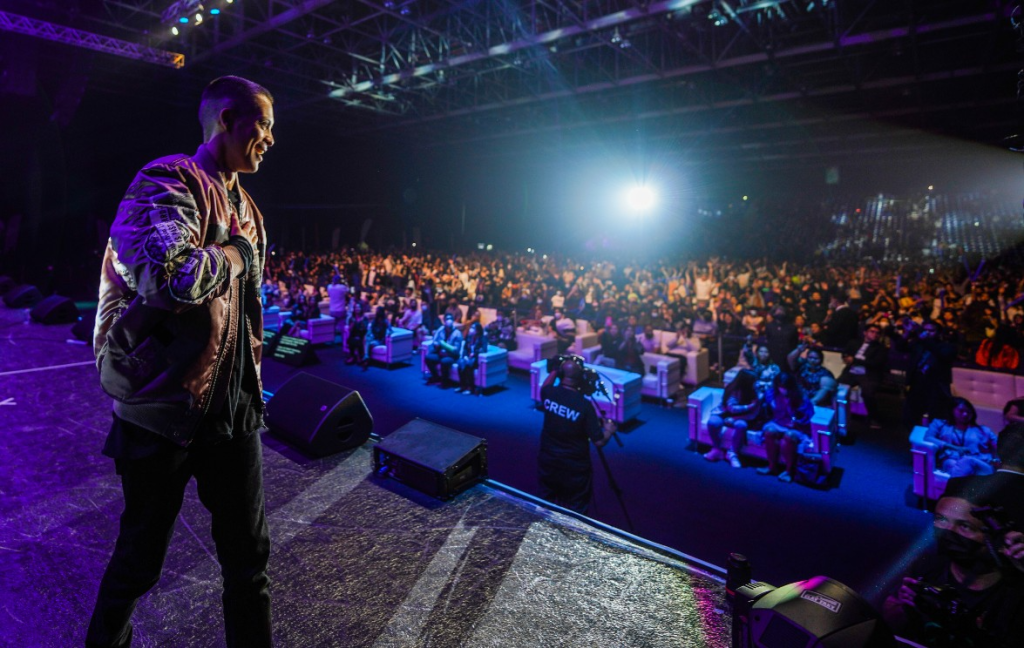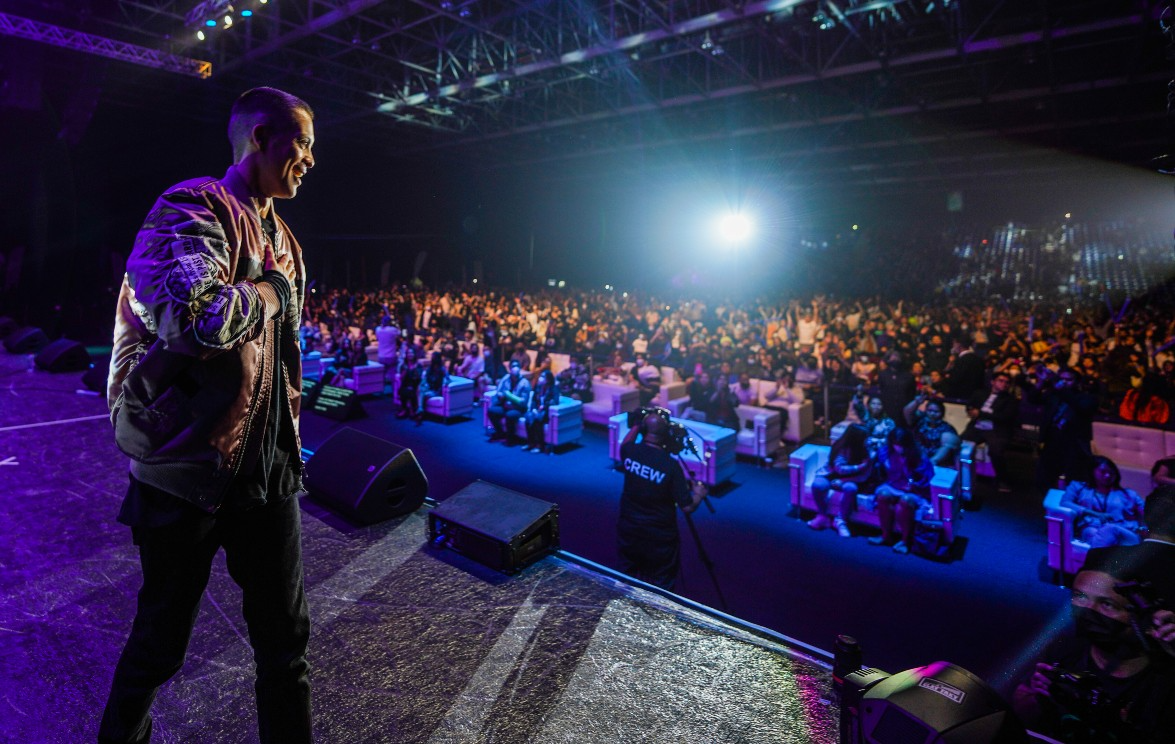 Bamboo's performance reminded everyone why he has reached legendary OPM rock icon status.
"Around 5.6 million tourists have already visited the Dubai Expo. Major sports events are drawing packed arenas everywhere in the U.S. BTS became the first group in the world to sell out four concerts in November and December at SoFi Stadium in Los Angeles. And now 1MX sold out its in-person leg at the Trade Centre Arena at the Dubai World Trade Centre while selling out its livestream from Manila and Dubai on KTX. What do all these tell you? Humanity is eager to get back to the experiences they love. That hopeful desire - with reasonable precautions - should be celebrated and promoted, not restricted. And that's exactly what we, our partners, our artists, and our audiences are doing with 1MX," said ABS-CBN Global COO Aldrin M. Cerrado.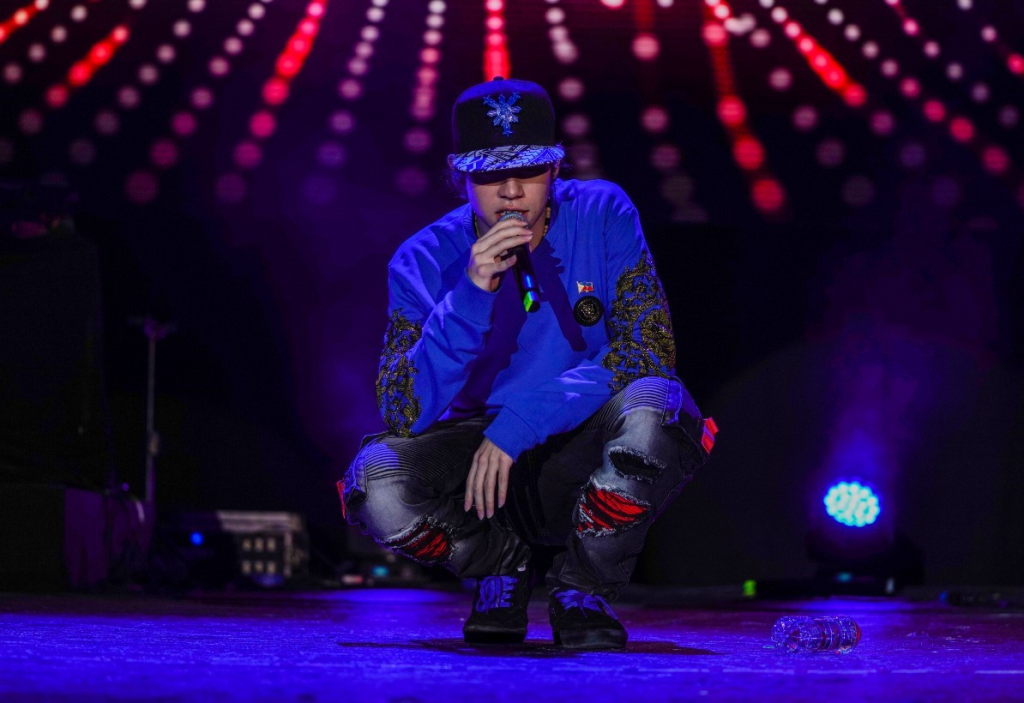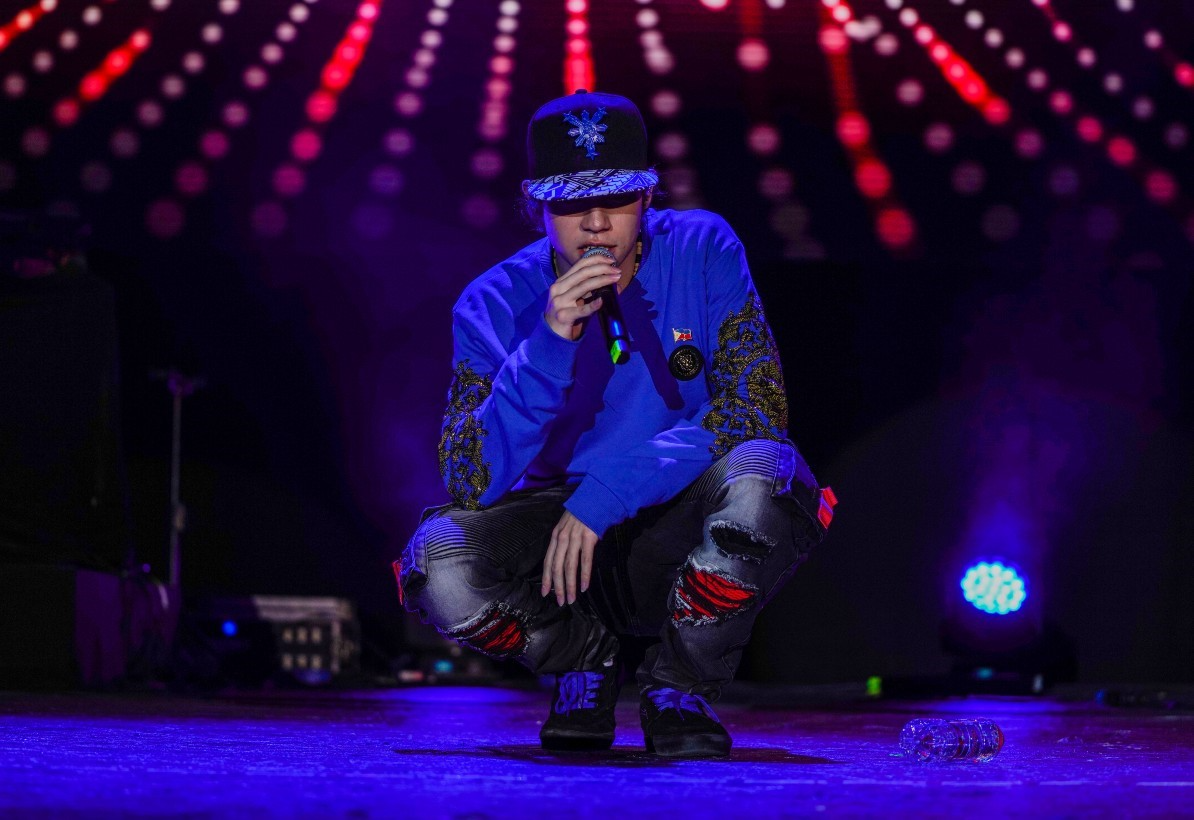 Rapper EZ Mil drew the loudest cheers for his viral track, "Panalo".
With the stellar cast of Bamboo, Moira, EZ Mil, Gigi De Lana, BGYO and BINI, 1MX 2021 in Dubai reestablished Filipinos as among the best live musical performers in the world. Their showmanship, audience interaction, energy, powerful voices, and innate musicality are unquestionably world-class. Whether they were doing original Pilipino hits and compositions or covering mainstream classics, they were able to bring their unique stamps in each of the songs they performed.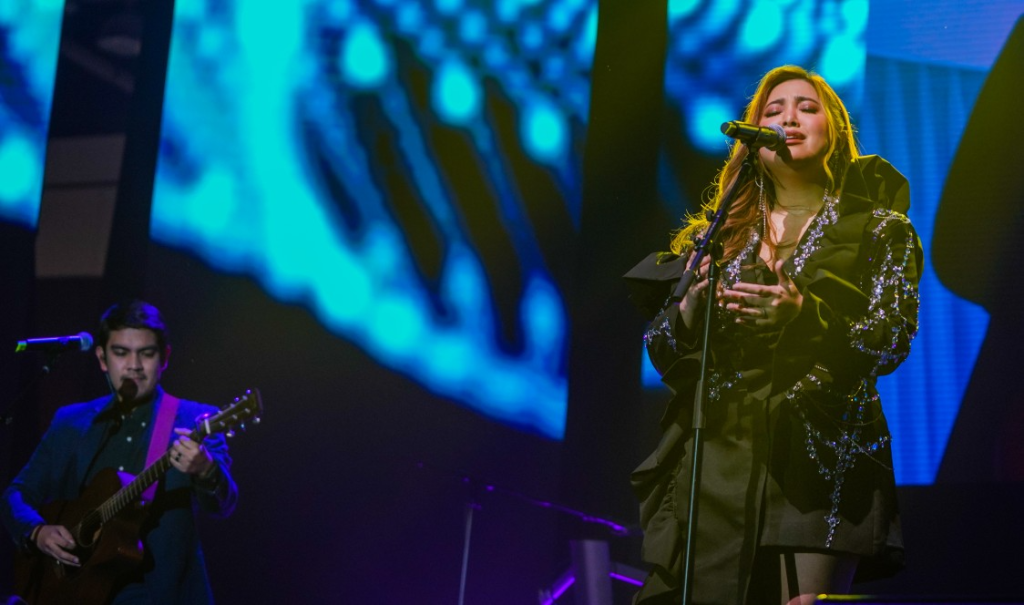 The most followed OPM artist on Spotify, Moira, took the audience's breath away with elegant songs of love, healing, and hope.
Meanwhile, the Manila cast of AC Bonifacio, Angela Ken, Carlo Bautista, Fana, Jayda, Jeremy G, Kritiko, Lian Kyla, Nameless Kids, SAB and Trisha Denise provided a glimpse of the future sounds of OPM that will have no problem competing in the international music landscape. Are Filipino music artists ready for their own hallyu? 1MX strongly suggests so.
1MX Manila on KTX.ph was a showcase of emerging OPM artists and and their fresh sounds. From left, host Edward Barber with Fil-Canadian dancer-singer AC Bonifacio, and singer-songwriters SAB and Lian Kyla.
​"1MX 2021 was not only a showcase of the same superior OPM talent that built the 1MX brand starting in 2017 in Dubai, 2018 in Abu Dhabi, 2019 in Singapore and Manila; 1MX 2021 is a showcase of the resilience of the collective Filipino spirit around the world," said ABS-CBN Global Head of Events and Managing Director of Europe, Middle East and Africa (EMEA) Arnie Garcia. "With the support of trusted partners, sponsors, overseas Filipino communities and international audiences, we plan to tour 1MX again to various cities around the world starting next year and bring the best of OPM artists to all."
Missed out or going through concert withdrawals? 1MX just hit the stage and we have a final spotlight artist for you! With her unique voice and edgy musicality, Fana is one to watch! With a growing popularity, it's no wonder other artists want to collaborate with her! Let's find out more about this force to be reckoned with, Fana.
1. Fana has been auditioning since her teen years to make her mark in music
You may know her through her stint on Idol PH in 2019, but did you know she also auditioned for the first season of The Voice Teens. In 2017, she made it to the 'Knockout' rounds under Team Sarah. Now, she's a certified recording artist!
2. With a powerful voice, she's been noted as a certified "LODI" on social media
Fana is regularly on Kumu (@fatimalouise) and has been gaining a recognition among millions on social media, especially with her 1.4 million followers on TikTok. She also became on of the interpreters in the Himig 11th Edition that helped set up her debut single, "Tawa Tawa."
3. 1MX isn't her first big performance.
Earlier this year, Fana performed as a special guest in Jed Madela and Juris' "Hearts on Fire" digital concert. With bigger collaborations coming her way, there's so much more we can expect to see from Fana. Check out our MYXclusive with Fana as she talks about her journey and killing people with kindness.
Cover Photo Credit: Fana Twitter
You may be familiar with our next 1MX Spotlight feature Jeremy G as he's one of Philippines most talented young performers today. He'll be making his MX debut this weekend and you won't want to miss it! Let's get to know a little bit more about Jeremy G.
Jeremy G got his start through a singing competition.
In 2017, he was a grand finalist in the very first teen edition of The Voice of the Philippines and now is a rising star under Makers Management Group.
2. His fanbase continues to grow around the world.
Jeremy G has more than 100k monthly listeners on his Spotify page, but he's also gaining a recognition through winning awards like "Best R&B Recording" in the 33rd Awit Awards.
3. He can not only sing, but he also could bust a move.
You can catch Jeremy singing and dancing his heart out on ASAP Natin 'To as he performs alongside of the biggest names in the OPM entertainment industry.
Jeremy G is going to nail his set at 1MX and it'll only be the beginning for his young promising career.
Cover Photo Credit: Jeremy G Twitter
This is the week we've all been waiting for, 1MX is happening in a couple days! We got a few more artists to highlight to help you get geared up for this weekend. Jayda is a young and upcoming artist who is taking the her career by storm. She has a great lineage of musicians in the family so it's only natural that she has taken part in the family business.
Jayda is the daughter of 2 OPM legends.
It's no biggie that her parents are OPM artists Dingdong Avanzado and Jessa Zaragoza. IYKYK and you've probably sang a few of their hits on karaoke. But now, she's set to make her own mark in the industry as a musician, director, and composer.
2. Only early in her career, Jayda is already racking up awards.
In 2019, she won best performance by a new female recording artists for the song, "Happy For You" at the AWIT Awards 2019.
3. Not only is she coming up with the hits, but Jayda's is also receiving recognition internationally
She bagged the Best Music Video Award for the OPM song, "Paano Kung Naging Tayo" at the most recent International Film Festival Manhattan. Speaking of international, Jayda also just headlined her first major digital show, "Jayda in Concert" that attracted viewers globally!
We're watching her break into the industry and we can't help but follow her on the journey!
Cover Photo Credit: Jayda Twitter
The 1MX Dubai Artists have made it to the UAE! BAMBOO, Moira Dela Torre, Gigi De Lana, EZ Mil, BGYO, and BINI are settling into Dubai and are gearing up for a fantastic show with 1MX making its official return in front of a live audience. The concert will happen directly after 1MX Manila with AC Bonifacio, Angela Ken, Carlo Bautista, Fana, Jayda, Jeremy G, Kritiko, Lian Kyla, Nameless Kids, and Sab. Check out the 1MX Dubai Press Conference below, and make sure to get your tickets at KTX.PH to witness the exciting back-to-back shows!
To round out our artist spotlights for 1mx, Trisha Denise is a young songwriter for the stars. Get to know a little bit about her before she takes the 1MX stage.
Trisha has been singing since the age of 2, however it wasn't music she first wanted to pursue.
She may now be a rising artist and songwriter, Trisha wanted to be a chef. However when she picked up a guitar at 11 years old, things changed and shifted her passion to music.
After releasing her debut EP, Trisha now has a new album out.
In 2018, Trisha released the EP Sunshine, but now she just released her debut album Piece of the Puzzle. She looks to push her anti-bullying advocacy through her music and spread more positivity through her songs.
Trisha has worked with some of Philippines' most talented artists.
To name a few, Trisha collaborated with Moira x RVA on "Unbreakable," Jake Zyrus on "Diamond," and Inigo Pascual on "Mr. Nice Guy."
Cover Photo Credit: Trisha Denise Facebook
The back-to-back 1MX concerts are on the way, and we can't wait to see the amazing talent that is about to grace the stages in Manila and Dubai. Recently all the artists came together for a Global Media Conference hosted by MYX's very own Edward Barber. Journalists from multiple media outlets had the chance to ask a few questions on the live digital media conference streamed across various social platforms. If you missed it, don't worry because ABS-CBN Star Music has you covered with a recording of the stream. Check it out below. Also, don't forget to grab your tickets to the 1MX concerts here.
Get to know 5 individuals who all have the same passion for music. The group Nameless Kids consists of Kyle Kim, Tati, Imay, and Nhiko and get to know a little bit about them in this artist spotlight!
Nameless Kids initially started with 3 members then growing to 5.
Each member brings a different set of skills and perspective to the band. Together they look to create music that has influenced them throughout their lives. Their name came about from a late night coffee fix where they were trying to come up with a name. Someone suggested to go nameless and the rest is history.
One of the coolest indie bands is a fresh find to your playlist.
The band made it to an online streaming platform's most prominent playlist, Fresh Finds Philippines. Their debut single, "Outlaws" has more than 100k streams online and growing. In addition to a growing fanbase, they headlined a successful episode of the popular digital concert series, The Music Room.
The group has collaborated with acclaimed songwriter, Jonathan Manalo.
Nameless Kids worked with songwriter Jonathan Manalo on a couple of occasions. First, on their track "Outlaws" and then for the Pinoy Big Brother Teen Edition's anthem, "Kabataang Pinoy!"
Cover Photo Credit: Nameless Kids Facebook