Last month P Pop group Alamat debuted a new powerful comeback song and video, "Kasmala." The catchy upbeat song weaved a history lesson in their music video that we don't always tend to see or even knew existed in the history we are taught. "Kasmala" is a play on the word Malakas which translates into strong. When you watch the video, you understand the essence of the song even more. But if you need a breakdown of what it all means, we found someone who can walk you through it.
Youtuber and Pinoy Historian Kirby Araullo reacts and helps break down the music video. If you want to get a deeper understanding of what the white hazmat suits represent, who the Filipino American Manongs were, and where the "Absolutely No Filipinos Sign" originated from; In that case, you need to check out his reaction.
With Alamat's debut just at the top of this year, this promising group seems to be here to shake things up and make sure that Filipino representation is seen in all aspects of our Filipino Diaspora.
Cover Photo Courtesy of Alamat Instagram
Released in February 2021, ALAMAT 'kbye' has now reached 1M+ plays. We listed some international reaction videos to the song and video. Which one was your fave? Watch all the reactions and let us know by filling out the form below. We will announce who your favorite reactor was on May 28 and let them know!
Watch the lyric video with English translation below:
2. pops in chi
3. RiTV
7. KYO QUIJANO
8. MariXNation
9. Kimay
10. NJOE TV
11. DANIEL BAEK
Fill out the form to submit who your favorite reactors was from the 11 above:
ABOUT ALAMAT:
Alamat is an 8-member sing-rap-dance boy group from the Philippines that sings and performs in multiple Philippine languages.
Ez Mil is back on the Wish USA Bus with a live performance of his rap track "Panalo." The catchy R&B beat expresses the singer's take on Filipino nationalism. Read his AllHipHop.con feature here.
Ez Mil created a reaction video with english translations with Hbom to break down the song and meaning.
Ez Mil & Hbom collaborated on "Cultura" earlier this year, watch the music video below alongside reactions videos from around the world as the performance has reached over 10M+ globally.
International foreigners reaction:
ABOUT Ez Mil from Bandcamp:
With Ez's biggest influences as Chris Brown and Eminem; The music that he writes and releases usually hit closer to his real life and are less theatrical than his heavy and destruction-driven metal music, but he doesn't let that get in the way of his passion to deliver a solid experience to whomever takes a listen.
Hailing from the 2200; at the 27th of July, 1998, EZ was born a Filipino, half Caucasian in Olongapo City, Philippines. Born into parents that were tearing it up in the nation's local Rock & Roll scene, that city was his place of birth and where he was raised. As the norm of rebellion from over-exposure, instead of Rock, Hip-Hop / Rap was the first musical genre he fell in love with. Then as he grew up, being exposed to the peek of R&B / Pop infused with Hip-Hop.
Chris Brown & Eminem's music and dancing became the first obsession for Ez's childhood self-expression, with there being a point where it was only Chris Brown songs and videos as his choice of entertainment. But from that obsession, brew his practice on the basics of vocal athleticism because of Brown's songs, and led to the love for dancing; which led him to another obsession for the Jabbawockeez. Having him diversify his dancing style from Krump, Michael Jackson, Pop n' Lock, Isolation (robotic dance subgenre), and a little bit of B-Boy.
But as any child who grows out of certain obsession phases, Ez was far unlike those children. For anything he falls in love with and obsesses over, he will for the rest of his life. Up to now, Ez Mil keeps stacking up on things that he loves to do, and no one has, or ever will keep him in one box. From musical genres in his music, producing, dancing, skateboarding, illustrative art, and many more.
The IdeaFirst Company just released the trailer for the second season of GAMEBOYS with fans reacting worldwide. Watch the trailer below and let us know who your favorite reaction was using the #GAMEBOYSMYX on Twitter with #1 to #5, tagging @myxglobal on Twitter. We will let the YouTuber know which was your favorite!
The hit BL series first premiered on YouTube in May 2020 and ran for 13 episodes, with the finale streaming in September. The story is set in locked-down Manila during the COVID-19 pandemic, Gameboys follows Cairo (Elijah Canlas), a popular gamer, and Gavreel, (Kokoy de Santos), a fan of Cairo's who pursues him.
Reminder to select "CC" on YouTube in the right corner if you will need subtitles.
1. PS LovexLove
2. Revil
3. Alyx & Rosie
5. Kent Clark
ABOUT GAMEBOYS:
GAMEBOYS is a 2020 Philippine boys' loveweb series directed by Ivan Andrew Payawal and written by Ash M. Malanum, with Perci Intalan and Jun Lana serving as executive producers under the creative production outfit, The IdeaFirst Company. Presented as a computer screen film, it stars Kokoy De Santos and Elijah Canlas as two young boys—a live-stream gamer and his fan—who found each other online during the 2020 COVID-19 pandemic and the Luzon Island community quarantine.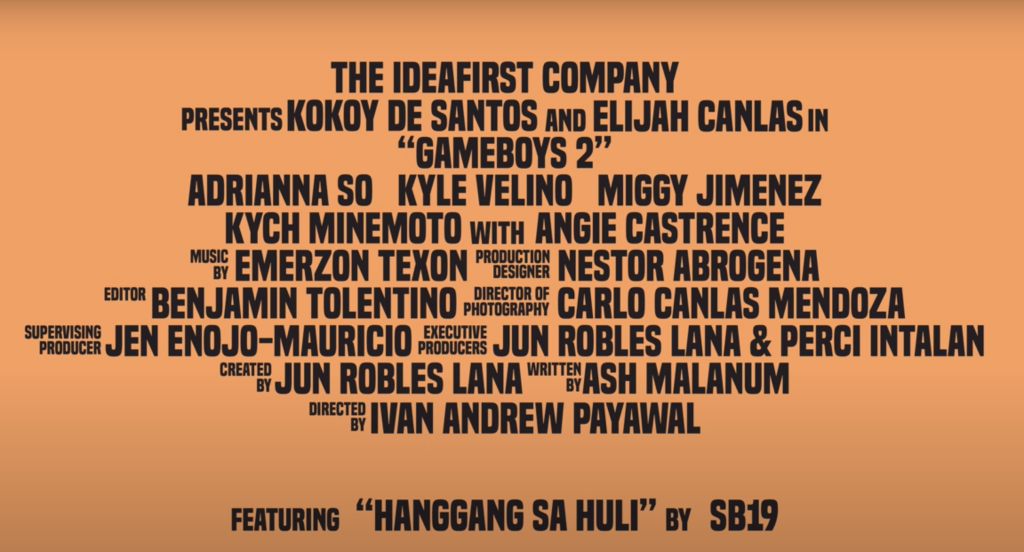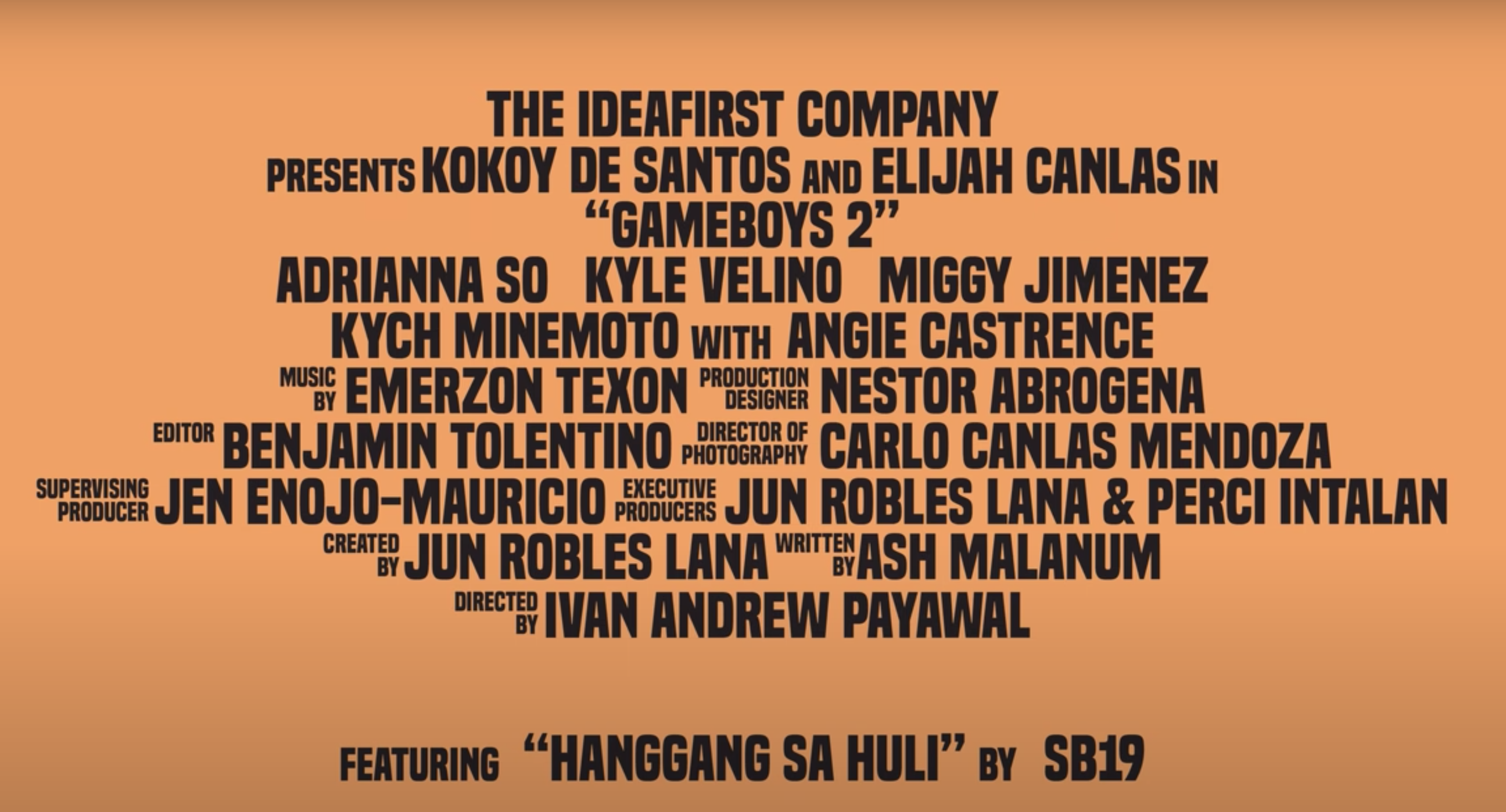 Sam Mangubat takes us back to "Heaven" with this rendition of Bryan Adam's original.
Originally by Shawn Mendes and Justin Bieber, Sam and Ken San Jose joined to re-create "Monster."
Starring the "Kathniel" Love Team Kathryn Bernardo and Daniel Padilla, watch the latest music video from Ben&Ben that is currently topping the MYX Charts.
Watch the Ben&Ben reaction videos from people around the world: