What happens when two P-Pop groups team up for new music and performances? Well, you get a fun visual filled with unique choreography and jet-setting adventures. BGYO and BINI took their talents to Dubai for "Up" the music video. This track marks the groups' first collaboration song together which is now available on all streaming platforms!
The catchy Tagalog-English track inspires listeners to go for one's dream and that hard work does pay off. To accompany the encouraging lyrics, the sibling groups share their time abroad as they visit the city, beaches, and experience all the luxuries Dubai has to offer. "Up" was a teamwork project by Angela Ken, Sabine Cerrado, Lian Kyla, Trisha Denise, and Jonathan Manalo who made the track come to life.
Since their concert collaboration last year, 'One Dream,' BGYO x BINI traveled to perform at the 1MX Dubai festival and now we get to see behind the scenes footage in the video and their new docufilm. BGYO x BINI Dubai Adventures, the docufilm premiered on April 1st on ktx.ph and takes viewers on their journey of chasing dreams and friendship all while experiencing a taste of Dubai. The streaming event was a hot ticket with tickets selling out!
If you weren't able to catch the online event, go back and watch the "Up" music video to catch a glimpse of all that happened in Dubai!
Cover Photo Credit: Star Music Facebook
The sibling groups of P-Pop, BGYO, and BINI kicked off the 1MX Dubai concert with a tag-team performance of their hit singles. The groups shared the stage for a choreo filled, live band experience that lasted about a half-hour, setting the tone for the rest of the night. They performed individually and came together at the end to close out their set. If you missed their 1MX Dubai stream, don't worry because ABS-CBN Star Music has uploaded their entire set. So get hyped and enjoy it below. Also, stay tuned to the Star Music Youtube channel because more 1MX snippets are being uploaded for fans to check out.
Here's another treat for all the fans via Star Music. If you missed the 1MX Manila stream you can now view the entire concert below. Enjoy!
The 1MX Dubai Artists have made it to the UAE! BAMBOO, Moira Dela Torre, Gigi De Lana, EZ Mil, BGYO, and BINI are settling into Dubai and are gearing up for a fantastic show with 1MX making its official return in front of a live audience. The concert will happen directly after 1MX Manila with AC Bonifacio, Angela Ken, Carlo Bautista, Fana, Jayda, Jeremy G, Kritiko, Lian Kyla, Nameless Kids, and Sab. Check out the 1MX Dubai Press Conference below, and make sure to get your tickets at KTX.PH to witness the exciting back-to-back shows!
The back-to-back 1MX concerts are on the way, and we can't wait to see the amazing talent that is about to grace the stages in Manila and Dubai. Recently all the artists came together for a Global Media Conference hosted by MYX's very own Edward Barber. Journalists from multiple media outlets had the chance to ask a few questions on the live digital media conference streamed across various social platforms. If you missed it, don't worry because ABS-CBN Star Music has you covered with a recording of the stream. Check it out below. Also, don't forget to grab your tickets to the 1MX concerts here.
Get to know 5 individuals who all have the same passion for music. The group Nameless Kids consists of Kyle Kim, Tati, Imay, and Nhiko and get to know a little bit about them in this artist spotlight!
Nameless Kids initially started with 3 members then growing to 5.
Each member brings a different set of skills and perspective to the band. Together they look to create music that has influenced them throughout their lives. Their name came about from a late night coffee fix where they were trying to come up with a name. Someone suggested to go nameless and the rest is history.
One of the coolest indie bands is a fresh find to your playlist.
The band made it to an online streaming platform's most prominent playlist, Fresh Finds Philippines. Their debut single, "Outlaws" has more than 100k streams online and growing. In addition to a growing fanbase, they headlined a successful episode of the popular digital concert series, The Music Room.
The group has collaborated with acclaimed songwriter, Jonathan Manalo.
Nameless Kids worked with songwriter Jonathan Manalo on a couple of occasions. First, on their track "Outlaws" and then for the Pinoy Big Brother Teen Edition's anthem, "Kabataang Pinoy!"
Cover Photo Credit: Nameless Kids Facebook
We're back with another 1MX artist spotlight for you and we're taking a look at a multifaceted artist, Lian Kyla! Check out who this soothing vocal artist is and lets get to know a little bit about her.
Lian has been breaking barriers and looks to make her 1MX debut!
Her soothing voice looks to take her career to the next level. The latest single, "Saya" is the theme song for the reality show, Pinoy Big Brother: Kumunity Season and officially part of its soundtrack.
Her musical talents have no limits.
We may mostly know her as an artist, but she's also a songwriter. Lian has written songs for trending P-Pop groups, BGYO and BINI. In addition to working with these groups, she's also featured on various soundtracks for top-rating teleseryes, "Walang Hanggang Paalam" and "FPJ's Ang Probinsyano."
Lian explores her lo-fi sound with Dream Maker
She released her debut EP, Dream Maker in 2021 that allowed her to fully embrace her musical journey. Lian composed, arranged, and produced the EP herself which features 6-tracks creating a soothing ambient soundscape.
Cover Photo Credit: Lian Kyla Facebook
Check out this spotlight on 1MX Manila performer, Kritiko! This homegrown rapper-songwriter is taking over and we're here for it. Find his music on Spotify!
Kritiko was Himig Handog finalist which kicked off his career.
Kritiko's real name is John Michael Montero Edixon and he's from Manila. His song, "Kababata" for Himig Handog helped him transition from the underground scene to mainstream. It came in 3rd place in 2018.
He's collaborated with some of the biggest stars in the industry.
Just to name a few...
Kz Tandingan
Kyla
Loisa Andalio
Agsunta
Bini
Vice Ganda
He also worked with Inigo Pascual and Ogie Alcasid for a remix to "Do You Wanna Dance With Me."
He performed at the BGYO x BINI One Dream digital concert
Kritiko was a special guest at the 2-night digital event, BGYO x BINI One Dream Concert that happened November 6 through the 7th.
Cover Photo Credit: Kritiko Instagram
We still can't get over the fantastic job that BGYO and BINI did during their One Dream virtual concert. They lit up the stage and shined throughout both of the days. Now they are getting ready to perform for the first time outside of the Philippines at 1MX Dubai, and we can't wait to see what they have in store for us there. But of course, when you look that good on stage, it means you've worked extra hard to get there. The sibling groups just dropped individual dance practice videos of their latest single, and you can check it out below.
BGYO "When I'm With You" Dance Practice
BINI "Golden Arrow" Dance Practice 
We're one week closer to 1MX Dubai and 1MX Manila and we have another artist spotlight for you. An Idol Philippines Finalist, Carlo Bautista is the man of the hour. Let's get to know him a little more.
Carlo had an incredible journey to becoming a full-fledged recording artist.
From being a contender to the variety show, Showtime and its competition, Tawag Ng Tanghalan to becoming an Idol Philippines Finalist, Carlo is ready to take his stand as a recording artist and music performer.
He made Regine Valesquez get emotional with his performance.
His audition song for Idol Philippines was IV of Spades' "Mundo" and it earned him a Golden Ticket to the next round. Regine Velasquez praised his voice: "You can sing anything. You have that kind of voice that can adjust to whatever song."
Carlos' recent single was featured in a Pinoy series.
Catch his track, "Kwarto" featured in the original soundtrack of the widely celebrated Pinoy digital series, Mga Batang Poz! Along with being a certified artist, he's slowly gaining more fans with more than 10,000 followers and 9,000 monthly viewers on Kumu.
Cover Photo Credit: Carlo Bautista Instagram
Check out 1MX Manila artist Angela Ken before she performs at the digital festival on 12/3. Let's get to know this folk-pop singer, whose debut single went viral and straight to the top of the charts.
Angela has always been musically inclined as she wrote her first song at 12 years old.
Just like everyone, we started using TikTok during the pandemic but Angela never thought she'd be sharing her talent with the whole world. She's been a breakthrough influencer getting noticed in multiple countries! "Last year, I started making song covers and dances on TikTok just for fun. Until I uploaded one of my originals on TikTok last September, and I didn't expect all the blessings that will shower upon me."
She grabbed the No. 1 spot on Spotify on the Global Viral 50 Chart with her debut single that also went viral on TikTok.
"Ako Naman Muna", (This Time I Come First) is song about self-love. Angela initially only shared a preview of it on TikTok, it quickly went viral. What started as a song to share her sadness about not seeing the people she loved or hang out with them, others gravitated to that message. After hearing all the supportive messages, this made Angela determined to complete the song.
Catch Angela performing on the ASAP Natin 'To stage!
With her rise to popularity as an artist, she gets to showcase it on one of the largest stages every week! Angela is part of the new-breed of singers on the long running show, ASAP Natin 'To! "Ever since I was a kid, one of my dreams is to become a well known singer. I love singing because it helps me express how I feel in a unique way."
Cover Photo Credit: Angela Ken Twitter
With 1MX Dubai and 1MX Manila just around the corner, we wanted to spotlight some of the artists featured in the festival. We're kicking things off with rising indie-pop singer, SAB! Let's get to know her before the big show!
SAB's debut single, "She" was already featured on series and movies
The song, "She" was featured in the groundbreaking Pinoy digital series and movie, Hello Stranger and the critically acclaimed K-Drama Flower of Evil. In addition to that, she also did her own rendition of the theme song to the hit Pinoy series, "He's Into Her."
Her first EP, Sunsets and Heaven debuted in 2021
Fun fact: the cover art for her EP was part of an art project SAB did when she was younger. SAB wanted the cover to represent a fond memory and her mom suggested her childhood painting then the rest was history. The EP contains 6 original tracks.
SAB isn't only a performing, but also a songwriter
You may have heard some of SAB's original compositions performed by other artists. These include BINI's track, "Golden Arrow." SAB also wrote english lyrics of "Ako Naman Muna (English Version) to Angela Ken's original song "Ako Naman Muna." SAB can basically do it all, she sings, writes, and performs her own instruments (guitar and piano).
Want to know more about SAB? Check out her MYXclusive!
Cover Photo Credit: SAB Official Facebook
One of the biggest international live events, "1MX Dubai 2021" is back and happening on December 3 at the Trade Centre Arena in Dubai World Trade Centre. But it doesn't stop there, TFC, ABS-CBN Music, One Music PH, and MYX together with DJMC Events, Camella Homes, and Philippine Airlines are bringing "1MX Manila 2021" for one night filled with music and world-class Filipino talent.
Queue up the lights, set the stage, and get ready for a rockin' lineup with your favorite artists. Similar to many events now, many precautions and safety measures are in place for a great festival experience. Aldrin Cerrado, ABS-CBN Global Chief Operating Officer says, "While we are still mindful of precautions and safety measures, we know how fans of Filipino artists and music around the world have been itching to see and hear them live again. Back-to-back 1MX with in-person and virtual components offer the best of both worlds to Filipino music lovers everywhere."
The lineup for "1MX Dubai 2021":
Bamboo: Filipino rock superstar who is also a coach in "The Voice Philippines"
Moira dela Torre: The most-streamed Filipino singer-songwriter
EZ Mil: Los Angeles-based Filipino American rapper whose popularity soared internationally with his hit single "Panalo."
Gigi De Lana: Philippines' newest pop-rock diva
BINI: All-female P-Pop group with a growing fan-base internationally
BGYO: Internationally fast-rising all-male P-Pop group
The lineup for "1MX Manila 2021":
AC Bonifacio: An artist who made an appearance at the Netflix series "Riverdale," and whose dancing skill was praised by choreographer Kiel Tutin for her dance cover of the song "Money" by K-Pop star Lisa.
Angela Ken: TikTok music star turned recording artist
Carlo Bautista: A product of the talent search show "Idol Philippines" and recently released his single "Kwarto" under Tarsier Records
Fana: Singer-songwriter who has shown her musical growth since her "The Voice Teens" stint in 2017
Jayda: Singer-songwriter who made a directorial debut with the music video of her song "Paano Kung Naging Tayo?" that won Best Music Video at the International Film Festival Manhattan.
Jeremy G: An artist whose sound is a mix of old school and modern music
Kritiko: rapper-songwriter whose song "AMAZAK" was among the most streamed song on Spotify in the U.S., Canada, Singapore, and UAE in 2020
Lian Kyla: Singer-songwriter who also wrote songs for the P-Pop sibling group BINI and BGYO
Nameless Kids: A five-man rising OPM band whose music brings laidback vibes
Sab: Singer-songwriter who composed one of BINI's hit singles "Golden Arrow"
Trisha Denise: Singer-songwriter who have written songs for some OPM big names like Moira dela Torre and Jake Zyrus
"ABS-CBN have always been after giving platform and opportunities for artists to showcase their talents and offering something different to the table. We are excited for everyone to witness what this new breed of Filipino music artists can offer and possibly contribute to the music scene," said ABS-CBN Global Managing Director for Europe, Middle East, and Africa (EMEA) and Head of ABS-CBN Global Events and Experience Joseph Arnie Garcia.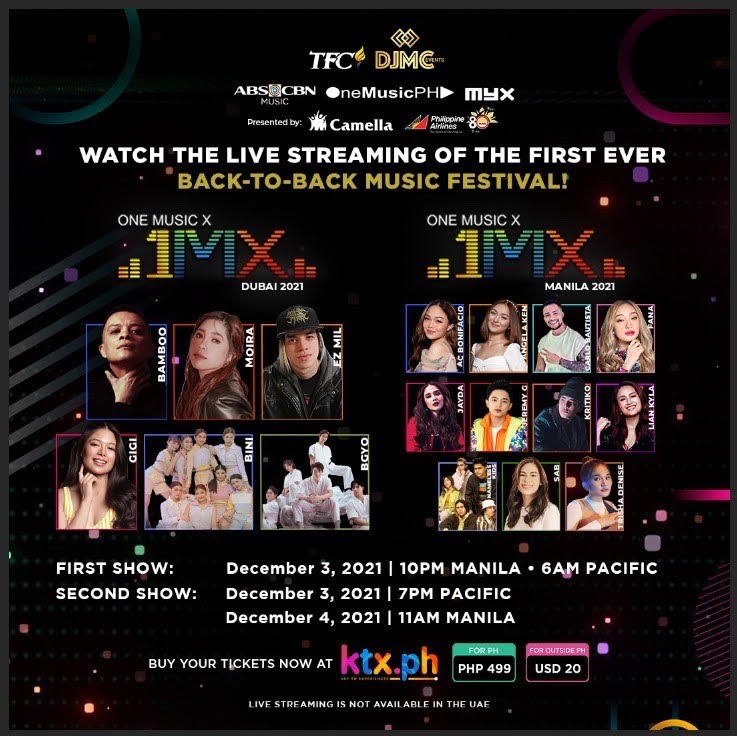 Do not miss this big celebration of Filipino music all over the world on December 3 with "1MX Dubai 2021" happening live at the Trade Centre Arena in Dubai World Trade Centre, and "1MX Manila 2021" streaming live worldwide (except UAE) via ktx.ph.
For those watching the "1MX Dubai 2021" on-site in Dubai, tickets are sold at AED 299 for Platinum, AED 249 for Diamond, AED 199 for Gold, AED 149 for Silver, and AED 99 for Bronze. You may purchase your tickets on Virgin Megastore, Platinumlist, and on 800Tickets.
While for those watching the back-to-back "1MX Manila 2021" and "1MX Dubai 2021" via KTX.ph, tickets are sold at Php 499 for viewers inside the Philippines and $20 for viewers outside the Philippines (except UAE). Purchase your tickets via ktx.ph.