Tarsier Records artists KaixAaron and Maki link up for their first ever collaboration on "Thinkin' Bout Your Smile." The feel good R&B single expresses the joy and nostalgia of being in love and has lyrics both in Tagalog and English. This track is full of good vibes and is definitely a road trip worthy record! The artists discussed their song below.
"The story behind our release is while Kai and I were about to create a song in my bedroom studio in LA back in 2021, we decided to come up with a feel good type of song which we called "Thinkin' Bout Your Smile." After a while, with the help of the talented producer Felipe Buencamino, he helped us create this wonderful track. The last thing we did was ask if we can have someone feature in the song and here is one of talented people Kai and I know in Tarsier, Maki, he agreed to collaborate with us and it was approved by Tarsier Records so when everything was finally finished, the song had always given me the feeling of joy every time I listen to it. It is an adorable song for lovers, and we have had this song in our folder for a long time now. I think this song will fit the season for this release." - Aaron
"It's been a long process with this song. Many obstacles made us feel so distant to the creation of it; however it allowed us to stay more unified and be able to strive for this masterpiece. This song contains the feeling of being with someone for a while kind of vibe, having the feeling of knowing both people went through so much together but at the end of it all, and through all of it they could say "I love you" with no remorse. The reason for releasing this song now is that since summer has arrived, we wanted to introduce a fun vibe to have our audience feel more joyful and positive during the season of sunshine." - Kai
"A lot of us tend to think a lot. The world is in chaos right now but somehow, being able to have the thought of someone special to you is happy and smiling–it's everything you ever need to try and be more optimistic." - Maki
Check out the lyric video to the track below and stream it here.
Aiah, Colet, Maloi, Gwen, Stacey, Mikha, Jhoanna, and Sheena are ready for some new adventures! The ladies of BINI have recently premiered a new show called "The BINI Roadtrip Adventures." The P-Pop group is taking us all around the Philippines, showcasing the local tourist destinations and shining a light on Filipino Culture.
The show is in collaboration with the Department of Tourism Philippines. It will take us on an adventure with BINI to many historical landmarks showcasing the country's rich history. Check out the first two episodes of the series below, and make sure to subscribe to BINI's YouTube Channel for more!
Tarsier Records is back with a new banger! "Hotel Room" is the first-ever collaboration between Markus, Kyle Echarri, and Moophs. The track has a deep RnB vibe, combining soulful lyrics and vocals over a neo-soul beat.
The three artists shared their personal takes on the inspiration behind the song in a press release.
According to Markus: "I wrote "Hotel Room" about a specific time in my life when I was trapped by vices and surrounded by the wrong crowd. Looking back on it, I'm proud of myself for getting out of that hole, and out of it came a pretty alright sounding song. I think it's the best time to release this song because I'm a responsible father now, and it's a reminder of who I was, not who I am now."
Kyle Echarri added his thoughts on the personal record, "It's my first time releasing something that is this personal - on this level / this kind of emotion, so I'm hoping they understand the lyrics the same way we want to portray it. I feel like releasing this now is not just because Markus and I have been wanting to write a song together for a while now, but because I feel like a lot of people go through these kinds of hard times."
Last but not least, Moophs discussed his part in producing the record: "This is the first of what is hopefully gonna be a series of songs. Markus wrote a song and sent me a voice note, I produced a beat around it and Kyle penned a second verse and hopped on the track! Their songwriting chemistry together in the studio is magical. Originally, it was all acoustic guitar but Markus really wanted the electric sound layered in and I used those combined with my own experience producing neo-soul tracks to arrive at the final product."
Check out the lyric video below and stream "Hotel Room" HERE! 
P-Pop sibling groups BGYO and BINI are back at it, giving us the content that we all need. If you were waiting on some fresh new performances to come your way, the groups have now delivered! This week the fandoms are blessed with performance videos of Na Na Na from BINI and Fly Away from BGYO. Both songs remind us of how versatile each group can be. The comment sections of each video are filled with positive notes and hopes for official music videos from each track.
Both groups hit top trending on Twitter this week once the videos were released. Check out the performance videos below and stay tuned to their socials for more updates on what's next for both groups.
BINI 'Na Na Na' Performance Video 
BGYO 'Fly Away' Performance
What a year it has been for BGYO. From their debut at the top of 2021 to the release of multiple singles, music videos, and their first album, they have had a fantastic first year. Over the weekend, the boys celebrated with a two-hour live stream with their fans, looking back at all the milestones they reached in their first year. If you missed it, don't worry; it's saved and uploaded to their YouTube, and you can watch it below.
In the live stream, you can see the boys back together at the BGYO house, with Gelo currently isolating since he just came from a wedding to keep it safe and well with Covid protocols. But since they're all back together again, we're sure it's safe to say that we can all look forward to some great new things coming soon.
Speaking of that, just today, the group released a teaser for The Light International music videos. As most of you know, their debut single, The Light, was recorded in multiple languages and can be streamed on their debut album. Check out the teaser below.
If you ever needed proof that the talented ladies of BINI can both sing and dance at the same time, here you go. The group released a dance practice video of "Kahit Na" with live acapella vocals showcasing their impressive vocal chops and group harmonies. This raw un-edited footage is rare to see in the industry. Fans are praising the group in the comment section for giving the world a glimpse into a real-life practice session.
Subscribe to BINI's Youtube channel for more behind-the-scenes footage and performances.
Cover Photo Courtesy of BINI Facebook
MYX has set up a Twitch DJ charity fundraiser to raise funds for ABS-CBN Foundation International to help support the Typhoon victims in the Philippines. You can donate directly on Tiltify for "Operation Odette" to help their efforts in providing food, shelter, health items, and more.
Photos of the devastation can be seen below, photo credits: @chloelopezwolff & @camillerdp
EVENT INFO:
OPERATION ODETTE Powered by MYX Global
Join us for a 2-day fundraising charity raid to help the victims of Typhoon Odette. Happening Tuesday, December 28th and Wednesday, December 29th starting at 11 am PST / 2 pm EST on Twitch.
For more info and to donate, visit https://tiltify.com/@myxglobal/operation-odette
LINEUP/SET TIMES: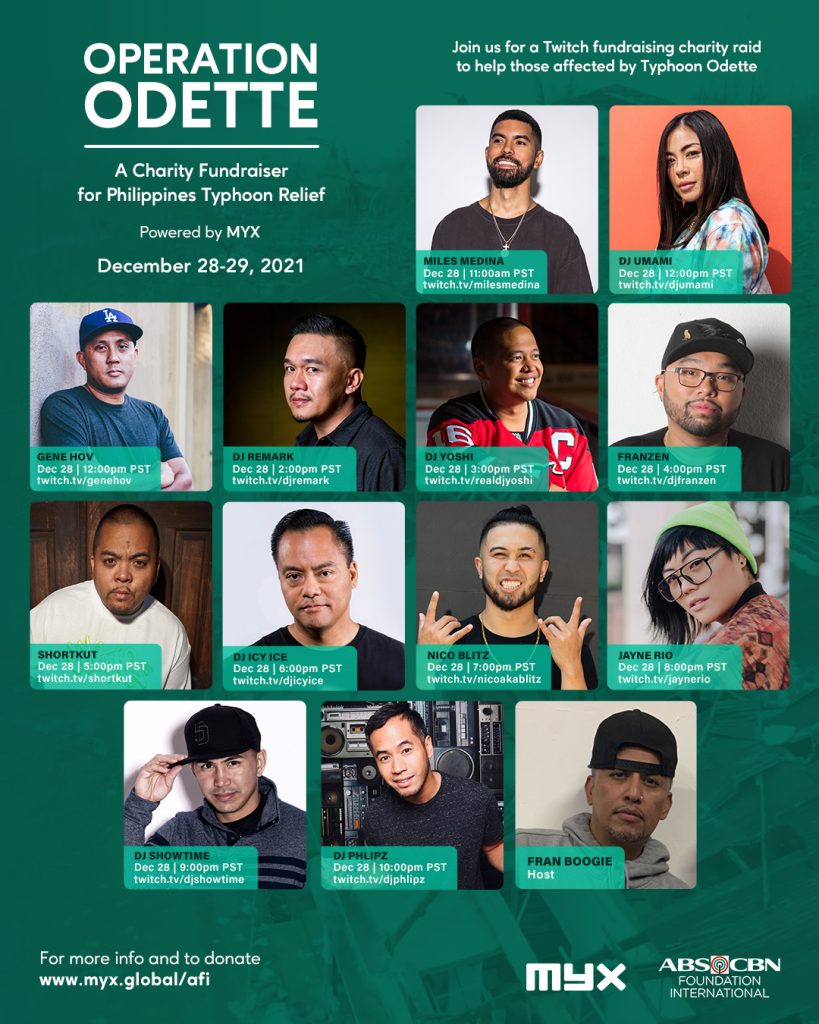 12/28 Tuesday
11:00a PST / 2:00p EST @milesmedina | twitch.tv/milesmedina
12:00p PST / 3:00p EST @djumami | twitch.tv/djumami
1:00p PST / 4:00p EST @genehov | twitch.tv/genehov
2:00p PST / 5:00p EST @djremark | twitch.tv/djremark
3:00p PST / 6:00p EST @realdjyoshi | twitch.tv/realdjyoshi
4:00p PST / 7:00p EST @Frandalaybay | twitch.tv/djfranzen
5:00p PST / 8:00p EST @shortkut | twitch.tv/shortkut
6:00p PST / 9:00p EST @djicyice | twitch.tv/djicyice
7:00p PST / 10:00p EST @nicoakablitz | twitch.tv/nicoakablitz
8:00p PST / 11:00p EST @jaynerio | twitch.tv/jaynerio
9:00p PST / 12:00a EST @djshowtime | twitch.tv/djshowtime
10:00p PST / 1:00a EST @djphlipz | twitch.tv/djphlipz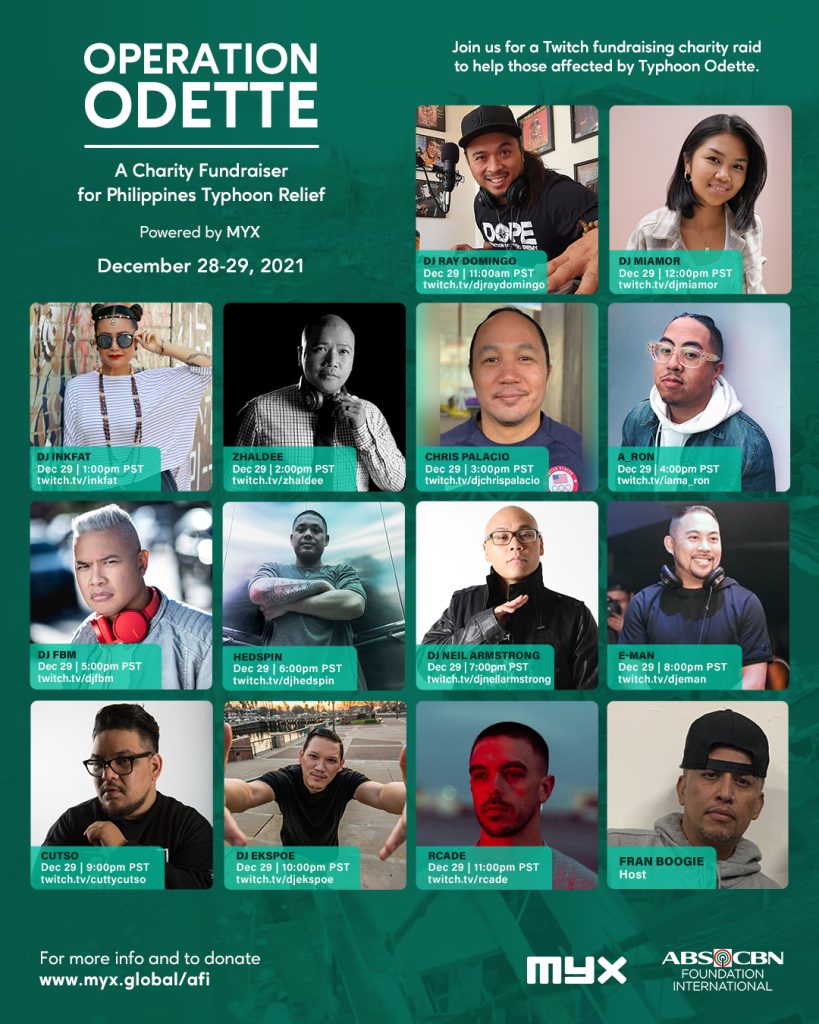 12/29 Wednesday
11:00a PST / 2:00p EST @djraydomingo | twitch.tv/djraydomingo
12:00p PST / 3:00p EST @dj.miamor | twitch.tv/djmiamor
1:00p PST / 4:00p EST @aemvibez | twitch.tv/inkfat
2:00p PST / 5:00p EST @zhaldee | twitch.tv/zhaldee
3:00p PST / 6:00p EST @djchrispalacio | twitch.tv/djchrispalacio
4:00p PST / 7:00p EST @iama_ron | twitch.tv/iama_ron
5:00p PST / 8:00p EST @DJ.FBM | twitch.tv/djfbm
6:00p PST / 9:00p EST @hedspin | twitch.tv/djhedspin
7:00p PST / 10:00p EST @djneilarmstrong | twitch.tv/djneilarmstrong
8:00p PST / 11:00p @djeman | twitch.tv/djeman
9:00p PST / 12:00a EST @cutso | twitch.tv/cuttycutso
10:00p PST / 1:00a EST @djekspoe | twitch.tv/djekspoe
11:00p PST / 2:00a EST @thisisrcade | twitch.tv/rcade
Hosted by Fran Boogie
#HELP4PH #OdettePHReplyForward
Super Typhoon Rai, known as Odette, has recently ravaged parts of the Philippines, leaving people in desperate need of our help. The devastation caused by the typhoon is unfathomable and has hit some of the most vulnerable areas of the Philippines. ABS-CBN Broadcast Journalist Karen Davila shares a video from Kirby Abejaron showing the horrific scenes of the typhoon wreaking havoc in Siargao's newly built sports complex where people were taking shelter.
Other ways to donate: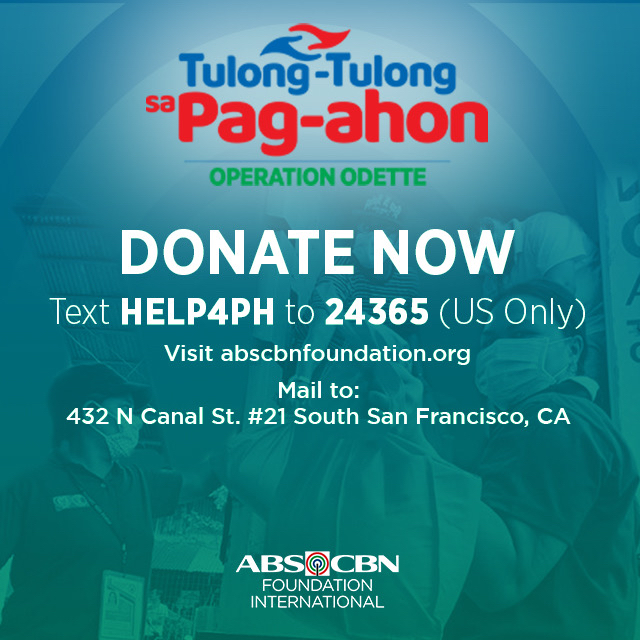 About ABS-CBN Foundation International:
Service to the Filipino people with the highest standards of excellence, compassion, integrity, and accountability is the heart of ABS-CBN Foundation International (AFI).
AFI is a 501(c)(3) non-profit, non-governmental organization dedicated to improving the lives of disadvantaged Filipino families in the Philippines and around the world. AFI strives to become a major social change partner for the Philippines through multi-sectoral projects and partnerships in areas essential for building brighter future.
AFI serves as the public service arm of The Filipino Channel (TFC) and the umbrella department of all corporate social responsibility activities of one of Asia's biggest media conglomerate. AFI is a committed advocate of public service and accomplishes its mission through supporting the programs of ABS-CBN Lingkod Kapamilya Foundation Inc. (ALKFI) in the Philippines.
Using the power and reach of media that stimulates creation of critical multi-sectoral partnerships, AFI will continue to rally Filipinos and like-minded individuals to support and fund child care, disaster management, and environment conservation. AFI strongly believes that the three core programs will help realize a bright future for our Kapamilyas that will become the hope for tomorrow.
Cover Photo ABS-CBN
The back-to-back 1MX concerts are on the way, and we can't wait to see the amazing talent that is about to grace the stages in Manila and Dubai. Recently all the artists came together for a Global Media Conference hosted by MYX's very own Edward Barber. Journalists from multiple media outlets had the chance to ask a few questions on the live digital media conference streamed across various social platforms. If you missed it, don't worry because ABS-CBN Star Music has you covered with a recording of the stream. Check it out below. Also, don't forget to grab your tickets to the 1MX concerts here.
GivingTuesday is a global generosity movement unleashing the power of radical generosity and encouraging people to do good. It has now grown into an annual campaign of kindness that inspires people to give, collaborate, and celebrate generosity.
ABS-CBN Foundation, International (AFI), the public service arm of The Filipino Channel (TFC) and the umbrella department of all corporate social responsibility activities of ABS-CBN, is participating in this global movement for the first time and encourages the public to open their hearts to giving back after the frenzy of Black Friday and Cyber Monday.
The Foundation's mission remains to be in the service of the Filipino by helping address persistent social issues and provide a better life for the disadvantaged.
This year, AFI is championing education through Programa Genio and hopes to change the lives of scholars by supporting them for this coming school year and thus have a better shot at a better life.
Programa Genio works with public schools and communities to support students and even educators with their needs, from scholarship, to trainings, to school supplies. When the pandemic struck and in-person schooling was halted because of lockdowns, the Foundation provided public schools with heavy duty machines for module printing, and power banks to areas where electricity was a problem so students can still do online classes.
Donations also help the Foundation reach their goals of helping provide what a child needs for an entire school year: school supplies, meals, transportation, counselling, tuition, and most relevant for remote learning, internet allowance.
Send a $25 gift of education to help send a child to school, choose ABS-CBN Foundation International on GivingTuesday this November 30. Any amount helps and every dollar counts. Text ABSCBN to 24365 (US only) or go to www.abscbnfoundation.org to learn more.