Did you know that April is "Filipino Food Month?" A month-long celebration and appreciation for Filipino Cuisine and the people, places, and spaces that help move the amazing taste of our culture to the forefront. Look out for fun content on our social platforms and on the website all month long as we highlight the taste of our culture.
Just in case you missed it, we had some fun exploring some great Filipino-owned eateries in California with our series "Merienda." We highlighted these small businesses and ate our way through the menu with some friends! Check out the MYX Eats YouTube Playlist below to check out the videos. Warning, you might get hungry so grab a snack.
We can't wait to explore some great spots in the Philippines and worldwide soon. So where should we go next? Tweet us @myxglobal and let us know.
Kristine de la Cruz, owner of Fil-Am bakery Crème Caramel LA has a big shot at Sunday's Big Game! The Super Bowl LVI Business Connect Program looks to connect businesses with opportunities related to the Big Game as a way to promote LA county businesses. Crème Caramel LA's "upside down pie" was selected to the program and it's making an entrance at one of the biggest sporting events.
The LA bakery will serve their delicious pies to everyone from celebrities, athletes, and food executives at the "VIP Tailgate Party". The path to the Big Game wasn't easy as de la Cruz initially baked to make ends meet. The result of a happy accident of overdone custard mini pies was the birth of the now popular upside down pies. The delicious dessert blends right in with the other baked goodies the bakery offers like custards and bread puddings.
The Super Bowl LVI Business Connect program is a partnership between the NFL and the Los Angeles Super Bowl Host Committee (LASEC) to connect businesses with the opportunities to compete for contracts related to the game. Their mission commits to supporting minority, woman, LGBTQ+ and veteran-owned businesses through professional development, networking and contract opportunities. We hope that this program continues to not only include Filipino foods, but a diverse range of cuisines.
If you're in LA, get your own Ube upside down pies and other flavors at the Creme Caramel LA, or Ube Baby Silverlake stores. Can't make it out there? Don't worry and check your favorite delivery apps and get the sweet goodness at your door! For a list of more Filipino eateries, click here.
Cover Photo Credit: Crème Caramel LA
Hugh Harper, aka @HungryHugh, takes us to Pasadena and introduces us to his extended family at CHAASTE Family Market. The family-owned business has been around for 35 years and is a warm and welcoming Filipino Turo-Turo (Point-Point) restaurant and market famous for their Turon! Learn about the rich history behind CHAASTE, get a look at their home-cooked comfort foods, and stay tuned for a surprise they have in store for Hugh.
About Hugh Harper:
Hugh Harper is a Los Angeles-based foodie who has a normal 9 to 5 job, but his true passion is FOOD. When he's not working, he takes pictures of food from all over Los Angeles, and Orange County to share on Instagram.
He's an avid traveler and has been to over a dozen countries throughout Europe and Asia. When he's there, Hugh loves to not only immerse himself in local culture but also the local cuisine – which makes every trip so much more memorable.
Hugh wants to share his photos and experiences with everyone because there's nothing better than sharing a great experience or delicious dish with someone else.
About CHAASTE Family Market:
The CHAASTE Family Market is located in the beautiful city of Pasadena, CA. Founded by Susan and Arthur Esteban in 1987, this family-owned market has been Pasadena's number one Filipino-American stop for 35 years and counting! Come to CHAASTE Family Market to enjoy some fresh and delicious Filipino food, explore the aisles of favorite goodies from the Philippines or just come to chat with the family! CHAASTE is the place to gather and keep the culture alive! Our family is growing every day and we want you to be a part of it!
About Merienda:
"Merienda," aka Snack Time, is a part of MYX Global's new Youtube content line-up. The show follows influential content creators in food and culinary arts who take us on a snack time journey to Filipino-owned restaurants where they explore the menu, talk to the Chefs, share their tasting reactions, and give us their recommendations.
Content Creator, Cake Designer, and Chef Greggy Soriano has the perfect e-cookbook that can get you set for all the home cooking you might be doing to make the holidays even more special this year. First off, if you haven't seen Greggy's TikToks or Reels yet, you are definitely missing out. Here are a few of our favorite ones.
Cassava Cake
Filipino Breakfast charcuterie board
Brazo de Mercedes Cupcake
A compilation of ALL the desserts we need in our lives
Ok so now that you know what's in store for you from this cookbook here is a bit more information on it:
-It's filled with top-secret Filipino American recipes along with Greggy's Family recipes that have been passed down by generations
-It's has over 180 pages of foodie-filled images and recipes
-It's easily accessible through a tablet or phone
The Filam Foodie: Mouthwatering Filipino American Recipes. Written by Greggy Soriano is now available for purchase here.
About Greggy Soriano:
"I started decorating cakes when I was 15 years old. On a school night, I sculpted a cake of a woman's torso with a fabulous red Cornelli lace bodice. I took classes from a local cake decorating supply store in my town with a bunch of old ladies and I actually loved it!
I developed being a foodie at a young age. My Dad would make me eat things like Century Egg, Sisig, Balut (boiled duck embryo), and Dinuguan (pig's blood stew). It was amazing, all of the French and Asian culinary skills my Dad knew; it was as if he was a professional chef. I'd be his sous chef, putting together the bouquet garni, perfecting how to properly dice an onion, and making the perfect Pancit Miki Guisado on the fly. Not to mention, my Mom is an amazing cook as well. She knows all of the standard cooking techniques, secrets and almost made up these rules that take classic dishes to next level.
I think I've always had an eye for color and design. When I create, I just love letting go and allowing things to organically manifest. I'm inspired by fashion, design, people who are passionate about food, different cultures and all things "beautiful." I'm all about making that statement and my ultimate goal is to influence others with my work and try my darndest to master the art of presentation.
​I attended The Culinary Institute of America in Hyde Park, NY and have studied from some of the greatest teachers in the Pastry and Cake industry such as, Betty Van NorStrand and Dieter Schorner (the dude who brought Creme Brulee to America). I'm constantly nudged in a positive way, by people and tangible things every day and continue to discover new techniques and mediums for cooking, crafting and baking. I am SO grateful to be living my dream as a content creator, cake designer and chef. I look forward to creating amazing things with each and every one of you!
​​Muah x 1,000,000
– Greggy
Cover Photo Courtesy of Greggy Soriano Instagram
DJ Nico Blitz and Host Jackie Ramirez take on 626 Night Market for this special episode of Merienda! The two hit infamous SoCal food truck White Rabbit for some Filipino Mexican Fusion and then make their way for some delicious sweets at Ubenabon to taste test their top 3 flavors. Check out the full adventure and see which items make it to their recommendations list.
About Nico Blitz:
Nico Blitz is a Filipino-American DJ, Media Personality, and Radio Producer whose goal is to build community through the power of music. The San Francisco native started his work in radio at Real 92.3 (KRRL, Los Angeles) in 2016, and has since then worked with both national and international musicians via interviews, local and digital shows, and fundraisers.
Currently, Nico Blitz is the DJ/Radio Producer for nationally syndicated "The Bootleg Kev Show", host for his Nico Blitz Podcast airing on YouTube & MyxTV, and is a Partnered Twitch Streamer who specializes in DJing and fundraising. Over the pandemic, his fundraisers for the Philippines Typhoon Relief and Stop AAPI Hate have garnered over $30K in donations.
About Jackie Ramirez:
Jackie Ramirez is a Mexican-American entertainment and sports host, who strives to push boundaries in the entertainment industry by being the face and voice for her people. Born and raised in Los Angeles, Jackie started her hosting career for the Rancho Cucamonga Quakes, which then led to her call up to the big leagues.
The Los Angeles native can be seen and heard across Southern California stadiums and arenas hosting games for the 2020 World Series Champions Los Angeles Dodgers, PAC12 UCLA Bruins (Men's/Women's Basketball & Football) and Rancho Cucamonga Quakes.
---
White Rabbit
White Rabbit Truck is Los Angeles Original Filipino Fusion Truck. The idea started with a tight group of friends noticing the lack of Filipino cuisine in the mainstream. They experimented with various menu items for nearly one year at their home kitchen. After sampling their cuisine to hundreds of friends & family, White Rabbit Truck was born July 10, 2010. With the rise of the popularity of Filipino food, we noticed that there were no places that served true Filipino Fusion food. Now we are able to bring this medley of food to the streets, where everybody can experience the goodness of a few of our favorite childhood Filipino foods, and now with an American and Mexican twist.
Our mission is to introduce the masses to our take on Filipino cuisine. White Rabbit has been fortunate to be featured on multiple media outlets such as Food Network, Travel Channel, KTLA News, Fox LA News, Kababyaan18, ABS CBN, LA Weekly, Zagat, Daily News, and many local publications & blogs. White Rabbit Truck also has restaurants in Los Angeles & Las Vegas
We look forward to seeing you out there and thank everybody for their continued support following the White Rabbit.
Ubenabon
Ubenabon serves unique and innovative fusion Cinnamon rolls. Specializing in Ube and Pandan while upholding the importance of taste, intricacy, and traditional flavors.
Ubenabon's inception occurred during the uncertainties that came about with the rise of the global COVID-19 pandemic. With the world seemingly locked away, leaving a bitter taste among people, it opened up the opportunity for Jem to not only bring a little sweetness into everyone's lives but also spread the richness of Filipino culture through her passion for the art of baking.
The once quarantine hobby has now evolved into a fortunate craft that has allowed Jem to continue to support her family. Ubenabon's handcrafted desserts put a twist on the traditional cinnamon roll with an infusion of natural extracted Ube flavor and organic ingredients then finally topped with her house-made frosting become a favorite.
Her delicious concept has caught the eye of numerous customers around the greater Los Angeles area as well as throughout the country. Whether you're an LA native or from another state, you can have Ubenabon Classic Rolls at your fingertips
Jem is a self-taught baker as well as a self-made entrepreneur. She is a proud Filipino-American who so happens to be a Los Angeles Native.
---
About Merienda:
"Merienda," aka Snack Time, is a part of MYX Global's new Youtube content line-up. The show follows influential content creators in food and culinary arts who take us on a snack time journey to Filipino-owned restaurants where they explore the menu, talk to the Chefs, share their tasting reactions, and give us their recommendations.
In this episode of "Merienda," aka snack time, we head over to SISIG in Historic Filipino Town in Los Angeles with Richard, aka Hangry Blogger. Richard made his way through SISIG's menu, starting with the appetizers, then exploring the main course selections, and then ending things with trying out some Filipino desserts for the first time. Stay tuned to the end for Richard's recommendations.
About Richard:
Richard aka Hangry Blogger quit his job to become a full-time food blogger. He's eating his way throughout SoCal.
About SISIG:
SISIG restaurant was established by Rex and Antonette Quizon in January 2020 at the historic Filipino town in temple street, it was supposed to open in July 2020 but due to pandemic everything was pushed back from the construction of the building until the final permit from the health department, and was officially open on April 9, 2021.
SISIG is an original dish in Pampanga Philippines where the couple grew. It was made of boiled then grilled Pork Belly and liver chopped finely seasoned with freshly squeezed Lemon juice, chopped onions, salt, and pepper then finished in a very hot sizzling Pan served with white or Java rice and pickled veggies or atchara on the side.
The restaurant is designed to be a Californian – Filipino Barbecue with an open kitchen concept serving fresh ingredients and high-quality meats with a relaxed casual ambiance that everyone will enjoy. Sisig draws inspiration from the couple's four children who love to eat barbecue chicken, pork, and beef with rice on the side. The meat is marinated for at least 24 hours using fine ingredients and grilled as you order so it is served fresh every day, each recipe on the menu is made by Rex Quizon who has a true passion for cooking for his family and friends. Sisig is open from Monday thru Saturday from 10:30 to 7:00 pm and closes on Sundays and some holidays
About Merienda:
"Merienda," aka Snack Time, is a part of MYX Global's new Youtube content line-up. The show follows influential content creators in food and culinary arts who take us on a snack time journey to Filipino-owned restaurants where they explore the menu, talk to the Chefs, share their tasting reactions, and give us their recommendations.
Republic Artist and Singer/Songwriter Just Stef visits the MYX Global studio in Los Angeles and tries Filipino fast-food staple Jollibee for the first time! Stef sits down with MYX Global for her first taste at some Filipino fast food and shares what she likes the most and what didn't really do it for her tastebuds. Then, we ask her to give us her honest reaction and rate each menu item with a "Jolli" rating from 1 to 5. So check out which menu item is her favorite and tag us on social to let us know what your go-to meal is at Jollibee!
About Just Stef:
In 2020, Just Stef was discovered by the former Global Head of Songwriter & Producer Relations at Spotify, Tiffany Kumar, who was building her Beat House production company. Tiffany started sending songs to Stef who like so many of today's artists had already learned how to record herself. One of those songs was "Miss U Miss Me," penned by hit songwriters Chelsea Lena and Kennedi Lykken (Dua Lipa, Kiana Ledé) and produced by KyleYouMadeThat (NLE Choppa, Coi Leray) and Rice N Peas.
Just Stef initially previewed a snippet of the track to her 2.2 million TikTok followers, and it exploded right out of the gate. The teaser alone has racked up millions of views, hundreds of thousands of "likes," and tens of thousands of comments. Keyboards and 808s energize an off-kilter hummable beat as she flexes her impressive vocal range and delivers an undeniable hook, "I miss you, you miss me, let's make it easy, tell me the same thing."
Follow Just Stef:
Instagram: https://www.instagram.com/iam_juststef/
Twitter: https://twitter.com/iamjuststef
Tik Tok: https://www.tiktok.com/@iamjuststef?
Youtube: https://www.youtube.com/c/Iamjuststep…
As one channel surfs the many streaming services available nowadays, the cooking, travel, and fun commentary on Family Style brings a refreshing look into Asian food. Now streaming on HBO Max and originally on Stage 13, Family Style combines the taste of Asian food and pop culture as 8 foodie hosts shares their go-to spots, family recipes, stories while also bringing a few of their famous friends.
The term family style means, food placed on the table in serving dishes from which those eating may help themselves. In most Asian cultures, family style is the way to go. For Filipinos there's boodle fights. Food placed on top of a table lined with banana leaves and "kamayan," eating with your hands. This meal is derived from a military practice where diners stand next to each other and take their stance throughout the table. Although the show takes a different approach, sharing food with one another while sharing commentary.
One foodie who is Filipino, Gilbert Galon introduces different Filipino dishes like atchara (pickled papaya) and bagoong (shrimp paste) to his fellow food hosts. The series also visits the Philippines in several episodes. It takes a look at the night market with the popular street foods like isaw, fishballs, BBQ, and more. One of the coolest restaurants that was highlighted is the Ili-Likha Artist Village in Baguio. A community space that offers food, art, flower shop, and in-house theater. Their food takes a spin on tradition Filipino food with great flavors like their ube spaghetti pasta. It's definitely a spot you'll want to visit on your next trip.
The web series does a great job on highlighting Asian stories and the various foods attached to the culture. With fun stories by Jon M. Chu, Harry Shum Jr., Ross Butler, Ally Maki, Daniel Dae Kim, Vivian Bang, and more it'll not only have you craving for your favorite dishes but also fulfilled in understanding more about the culture. Just like their tagline says, Pull up a seat and let's dig in…Family Style.
Cover Photo Credit: Family Style Facebook
#StopAsianHate is not trending as much but anti-Asian hate crimes are still happening. In northern Utah, a Filipino food truck, World Famous Yum Yum Food Truck was vandalized with anti-Asian graffiti slurs. The popular food truck serves Filipino, Vietnamese, and Asian Fusion cuisine. Jordan Clarkson who plays for the Utah Jazz and was recently given the NBA's Sixth Man of the Year Award reached out to the owners and family to help. Clarkson along with Identity Graphics helped put together a new look for Yum Yum.
The food truck since then is back serving the community and rolling through town with a newly designed truck. The truck features bright colors that you can't miss. The bold design is a nod to the Philippines flag with the blue and red colors with the bright yellow sun. Not shying away from showcasing that they cater Asian Fusion cuisine with a rice bowl logo throughout the design. The new look says "we're here, we belong!"
Yum Yum Food Truck will have a reopening on June 12th in Salt Lake City at a rather fitting event, Philippine Independence Day celebration.
Cover Photo Credit: World Famous Yum Yum Food Truck Facebook
So Sarap NYC is bringing favorite Filipino street food dishes to the streets of New York. It gives the Filipinos who are far away form home a sense of nostalgia and taste of authentic Filipino street food. If you haven't yet had street food, it includes treats like fishball, isaw, ice cream, taho, kikiam, kwek kwek, chicharon and the infamous balut. Now, New Yorkers too gets a taste of the Philippines in the Lower East Side.
According to Pop Inquirer, initially So Sarap NYC looked to target non-Filipinos and share the culture through food. Spearheaded by Virgilio "VJ" Navarro Jr. and Sebastian Shan, these high school besties have made it their mission to remind Filipinos in New York some of their best memories of Pinoy street food. Literally it's a love language for Filipinos.
When Navarro lost his job during the pandemic, it was an opportunity for his long awaited dream to be a reality. There's four vendors total for So Sarap NYC: Fishball, Isawan, Taho, and Balut Penoy Chicaron. The vendors roll up also in the classic karitons (pushcarts), along with all the street food tools like balancing buckets of taho ingredients on a stick. Plus, they really be selling on the street and subway too!
His knowledge of street food comes from his father and lolo (grandpa). Navarro's father was also a street food vendor in the Philippines, selling isaw and fishball, as well as from his Lolo who sold suka (vinegar). Vinegar usually accompanies as a dipping sauce for the snacks. However, it's also the Filipino community in New York that helped pull it all together and make it an authentic experience.
Even Chef Harold Villarosa visits So Sarap NYC to learn all about chicken feet and their place in Filipino cooking.
Cover Photo Credit: So Sarap NYC Facebook
The Season 2 episode of Selena Gomez's cooking show, Selena + Chef with Fil-Canadian Jordan Andino is up now to watch on HBO Max. In the episode, he teaches Selena and friends how to cook two staple Filipino dishes: chicken adobo and turon.
Selena and the gang get right to work making the savory adobo and rice. She even learns the finger measurement technique for how much water to add to the rice! Jordan expresses his excitement in sharing these dishes with her because Filipino food normally doesn't often get the spotlight.
One of the highlights of the episode was the turon making. Jordan sent a full size fresh jackfruit that had everyone shocked. Although, that didn't stop her. She was a pro at wrapping the turon that her friends were impressed. The process was super easy that had us wanting to try it ourselves and Jordan has us covered with the recipe!
Jordan video calls his Lola showing their final products. Selena gets the approving, "that's okay." We know we did well when Lola says that's good or okay. It's a fun episode that will have you craving Filipino food by the end.
About Jordan Andino:
He's the Executive Chef at Flip Sigi, a New York Filipino taqueria fusing both Filipino and Mexican flavors. Dishes on the menu include: adobo chicken tacos, adobo-rito and sinigang flip bowl. Chef Andino also is the host of "Late Nite Eats" on the Cooking Channel.
Born in Toronto, Canada, Jordan Andino began his foray into the culinary world at the young age of 9. After moving to Manhattan Beach, CA, he traded in his surfboard to work in fine dining kitchens with his father, and later attended Cornell University's School of Hotel Administration. Andino has gained experience working at acclaimed restaurants including The French Laundry and Jean Georges.
His talent was recognized early on by WME, and the agency continues to represent him to this day. Jordan has rapidly gained clout as one of the freshest, most notable faces in New York City's culinary world. His hospitality skills have been an integral part of the opening of his Flip Sigi (formerly 2nd City USA) restaurants. Located in both the West Village and Upper East Side, these fast casual Filipino Taquerias resonate his vibrant and vivacious personality via graffiti murals, eclectic music, skateboard-adorned walls, and clean unique flavors.
His successes were quickly noticed, leading to countless recognition's, appearances, features, and brand collaborations. Jordan's dynamic demeanor has caught the attention of numerous networks and icons alike. This fall, he debuted as the host of Food Network/Cooking Channel's new show "Late Nite Eats". In addition to launching a show, Jordan has made chef, contestant, judge, and guest appearances on a variety of popular shows including Kourtney and Khloe Take The Hamptons, Chopped, Rachael Ray, The Today Show, Beat Bobby Flay, Worst Cooks In America, Cooks vs. Cons, DIRECTV's Fantasy Zone, and Recipe for Deception.
Cover Photo Credit: Jordan Andino Facebook
If you never had Filipino food or wonder what it's like, Ate O'Clock with myx has got you covered! SOSUPERSAM has been celebrating Filipino-American History Month all October by eating bomb Filipino food with her family and friends! To close out the month, SOSUPERSAM along with Bay Area rapper P-Lo and R&B singer, Shan chow down on Jollibee, snacks from the Seafood City Snack aisle, and turon from Chaaste Family Market LIVE from Traklife on Sam's Twitch. Grab your spoon and fork, here's a recap of what went down.
What's on the menu –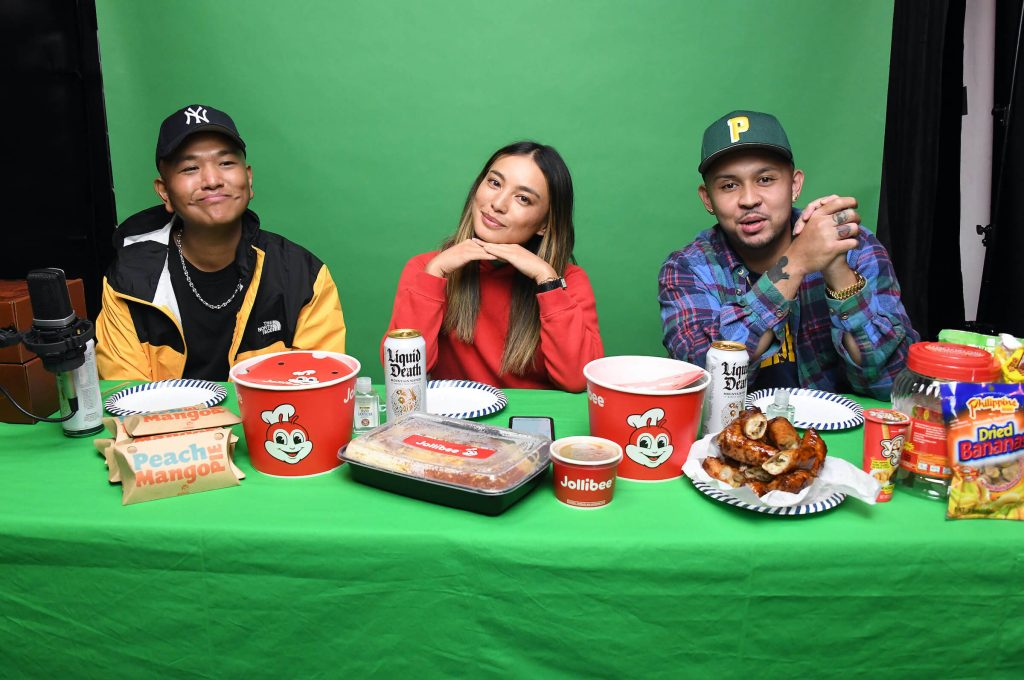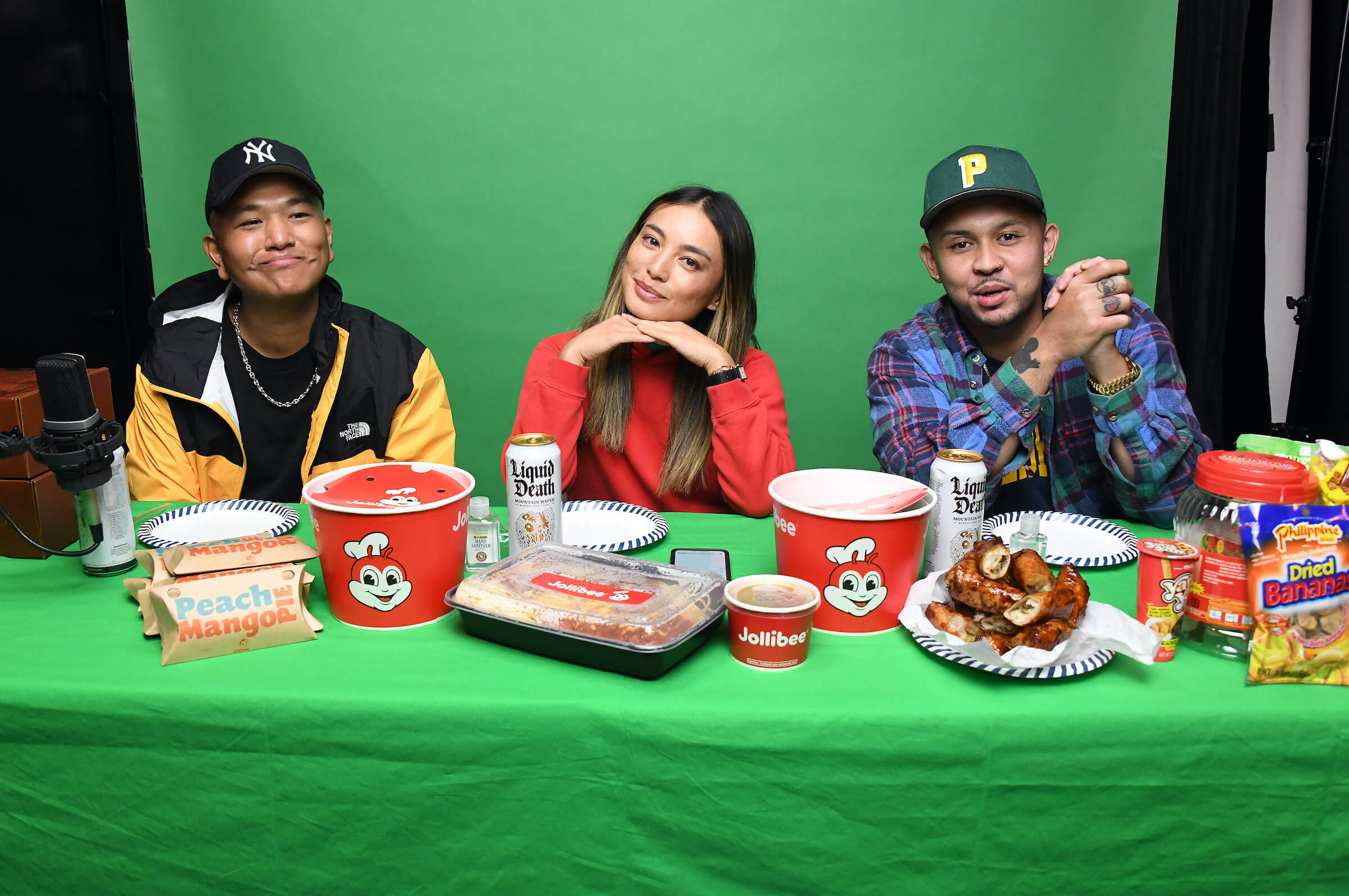 Jollibee: Bucket Treat B with a 6-piece Chicken Joy Bucket, 1 Spaghetti Family Pack, 3 Peach Mango Pies
Okay, Jollibee is a staple in Filipino food. Everywhere you go in the Philippines you're bound to find a bright red, smiling bee staring into your soul to eat its delicious food and it's been a joy that Jollibee is now available on Door Dash, it was the food delivery app myx used to send to the Burbank studio from their LA location on Beverly Blvd. A viewer mentioned that in Seattle there are hour long waits and a 2 bucket per customer restriction because it is so popular.
The trio went straight for the bucket of Chicken Joy, each of them grabbing their favorite piece. SoSuperSam went for the drumstick while Shan and P-Lo grabbed the chicken thighs. You can't forget the gravy and rice which is an OTP that will never let you down. Some of their personal favorites on the menu includes spicy Chicken Joy, palabok, and the desserts. The Peach Mango Pie is a standout for Shan and P-Lo, but SoSuperSam isn't as big of a fan. If you've ever had McDonald's Apple Pie, it's similar but the Peach Mango Pie is fried, crispy goodness! One of the highlight moments is when they had the Jolly Spaghetti. P-Lo's never tried the spaghetti and the verdict is, he's "not mad at it. Zero quarrels with it." Then SOSUPERSAM created a combo we didn't see coming, taking the skin from the chicken joy and using it as shell to stuff the spaghetti in. It brings a new meaning to spaghetti taco. Sam listed Jollibee as her favorite chicken restaurant around the world.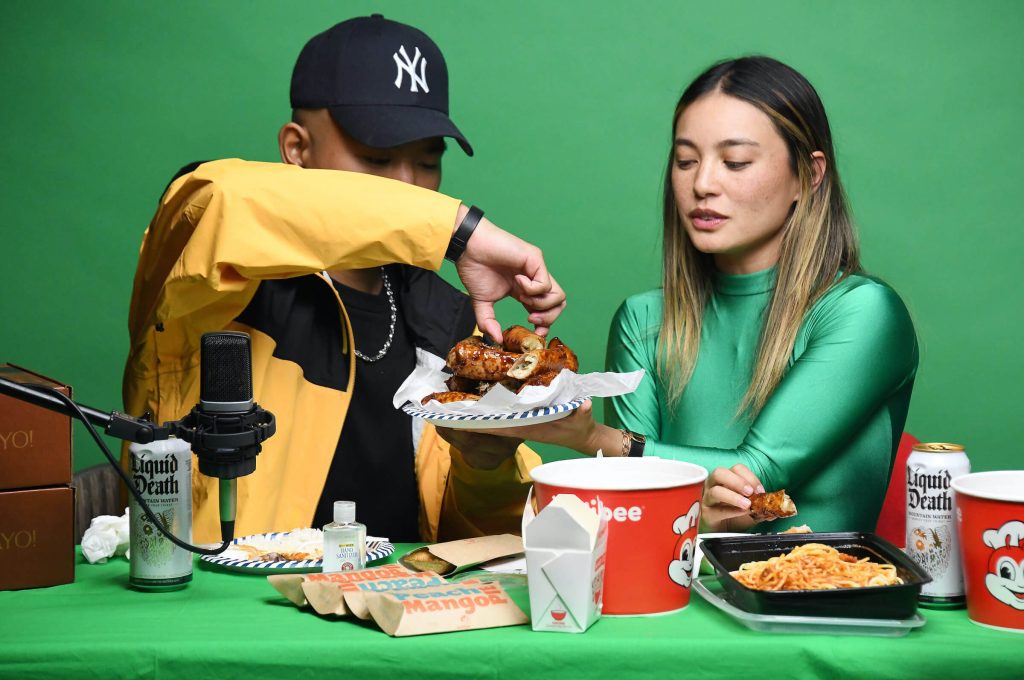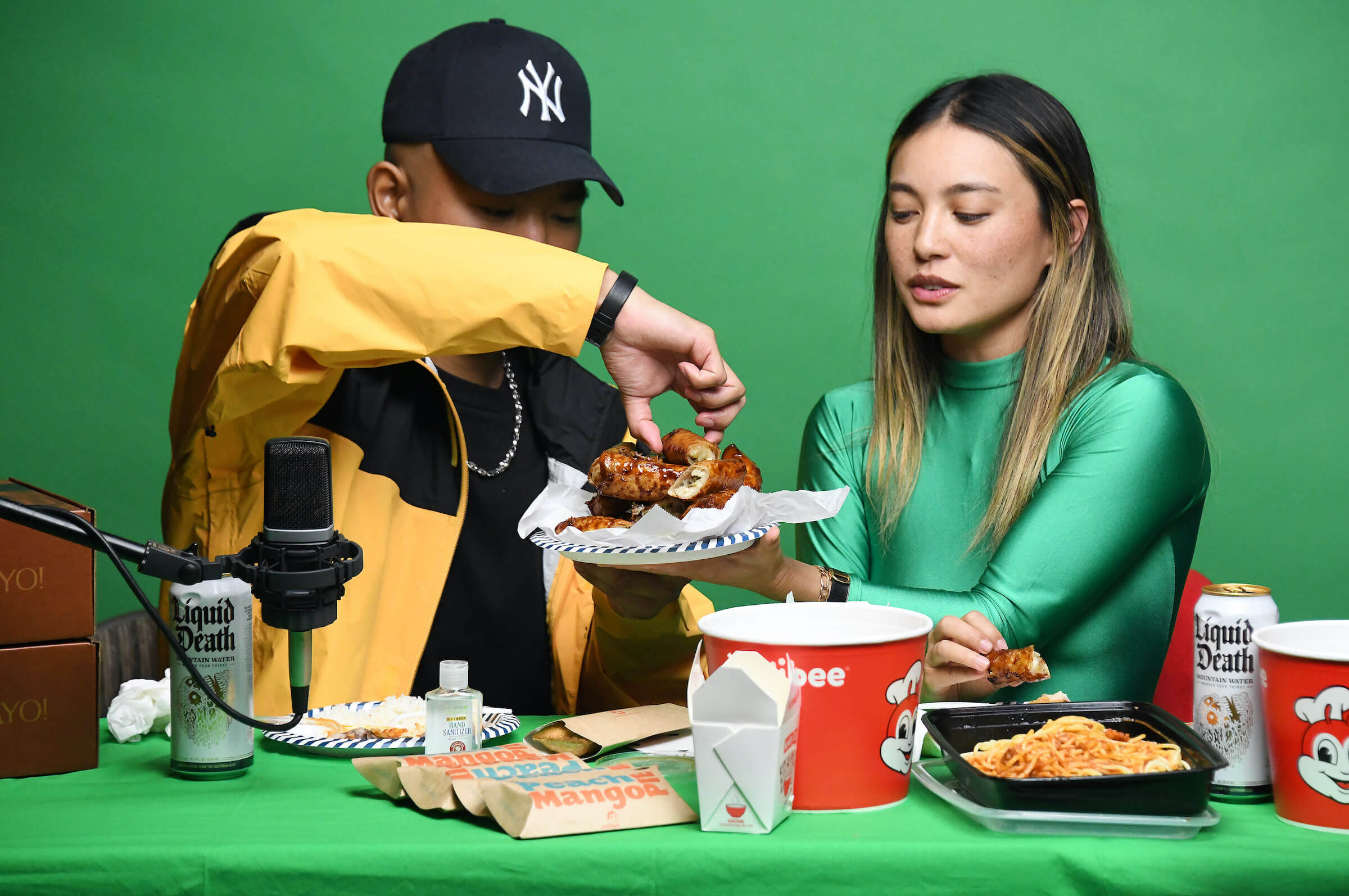 Chaaste Family Market Turon Ends
The Chaaste Family Market in Pasadena, CA is a full-service store with turo-turo food and market. Another revelation that SoSuperSam have us on is ordering turon ends. She said that she hits up Chaaste Family Market ahead of time to order turon and they know to get the ends ready. Literally, it's just the ends cut to leave the middle part of the turon out. The sticky factor is an 11 on a scale of 1-10, the turon was not going anywhere. They offer various flavors like Oreo, custard, jelly-filled, and the standard banana and jackfruit option. Then pair turon with your favorite Filipino ice cream flavor or Shan's recommendation, coffee. Either paired up or if you have it by itself, the trio all agreed "the glaze don't play."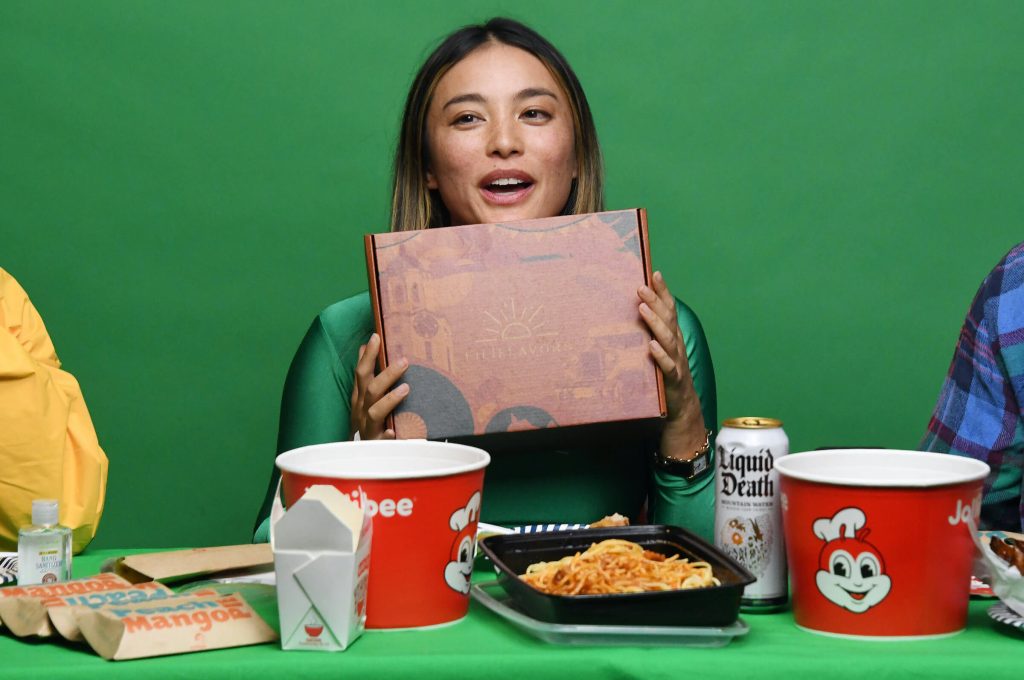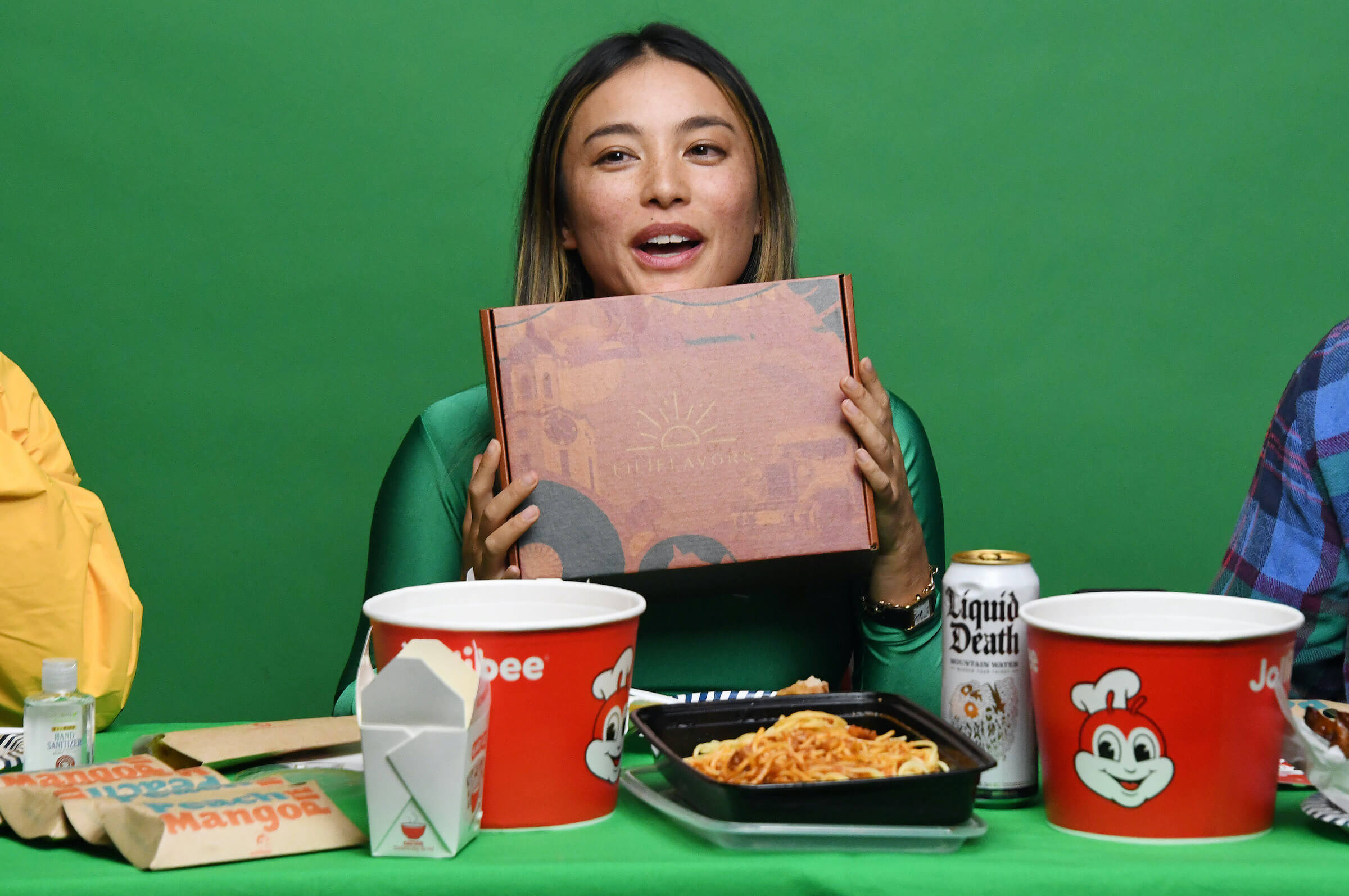 Filiflavors: Fili Sopresa (Surprise Boxes)
For most of us, we're lucky to live near or relatively near a Filipino market or Seafood City but for those who don't have as much accessibility to Filipino snacks, Filiflavors has you covered! SOSUPERSAM did a giveaway of a Fili Sopresa Box for her Twitch subscribers that we can guarantee isn't filled with a sewing kit but filled with loads of your favorite snacks like Boy Bawang, Chippy Chips, Piattos, Choc-O-Star candy, and more. The coolest part is that a small part of Filiflavors' earnings will benefit "Support for Families of Children with Disabilities."
Congrats to the two lucky SAMSTERS who received the boxes from Sam, Filiflavors & myx this week: @jessebaron from Sunnyvale, CA & @jadeykinz of San Diego, CA.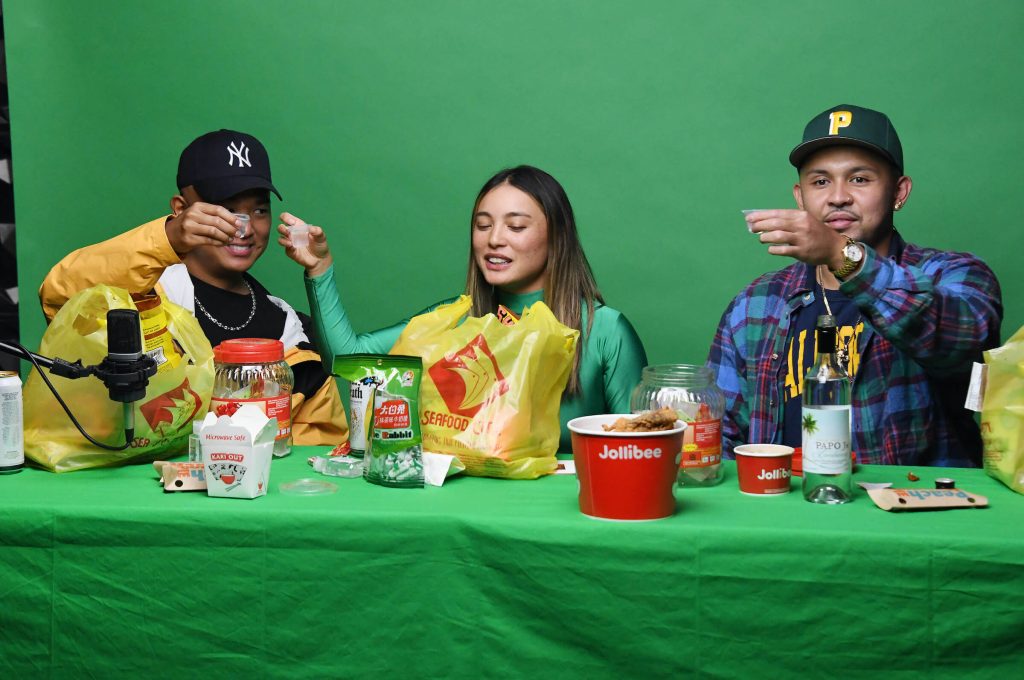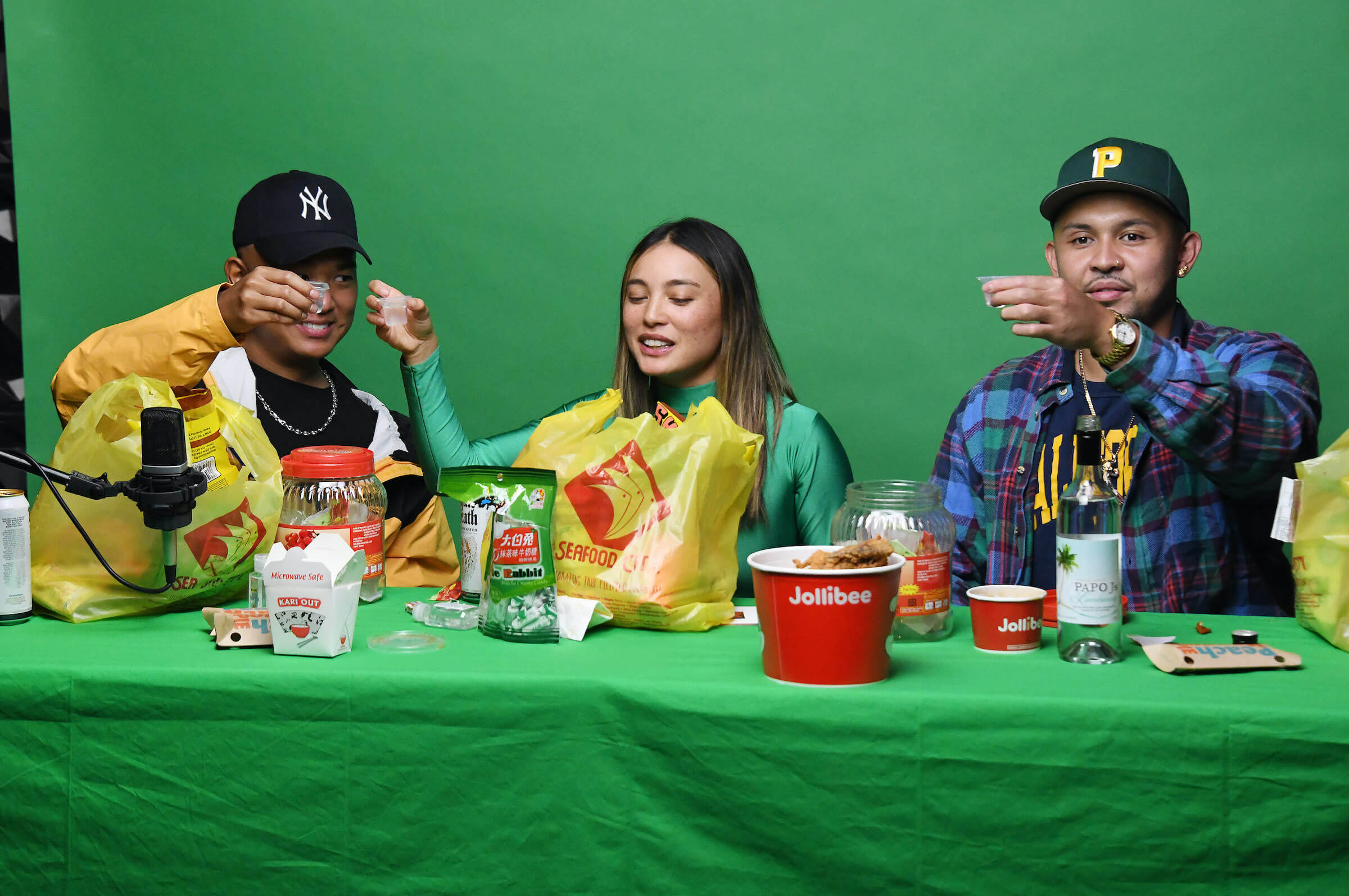 Seafood City Snack Aisle
Our team brought snack goodie bags to the party. "Life's like a box of chocolates, you never know what you're going to get," SOSUPERSAM, P-Lo, and Shan didn't know what to expect in these bags. We brought the goods ranging from shrimp chips, Yan Yan, banana chips, White Rabbit, to the classics lychee jelly and chicharron. Something else we learned is Yan Yan has fun facts on the sticks, "when you want to learn, get a Yan Yan." The big winners were the BBQ flavored shrimp chips and lychee jelly. Have you tried putting lychee jelly into the freezer? If you haven't, Shan recommends it 100%. Another combination we're going to try at the next brunch party is lychee jelly and Papo J's Lambanog Vodka. Lambanog is basically liquor made from coconut sap. It's like a Filipino jello shot!
Overall, this is the way to close out the month! SOSUPERSAM has been sharing all these Filipino foods and nanay-tatay shops which are making us nostalgic. We're definitely missing our crazy family parties with all the shmack food! That's right we agree with P-Lo, food does not slap. Nothing beats Filipino food in our book, from sweet to savory there's something for everyone.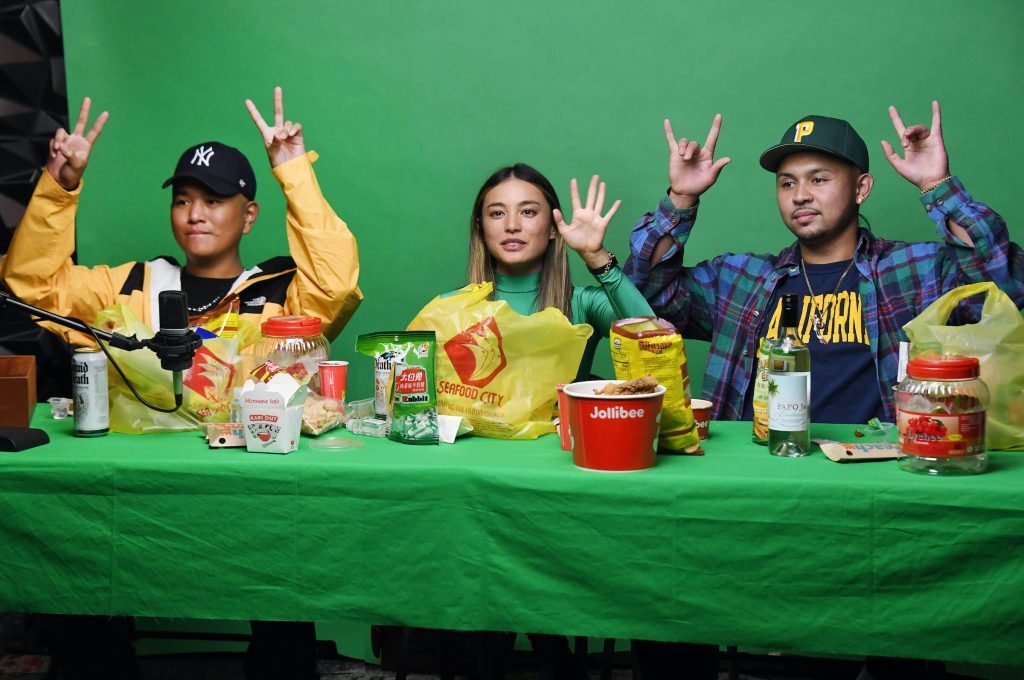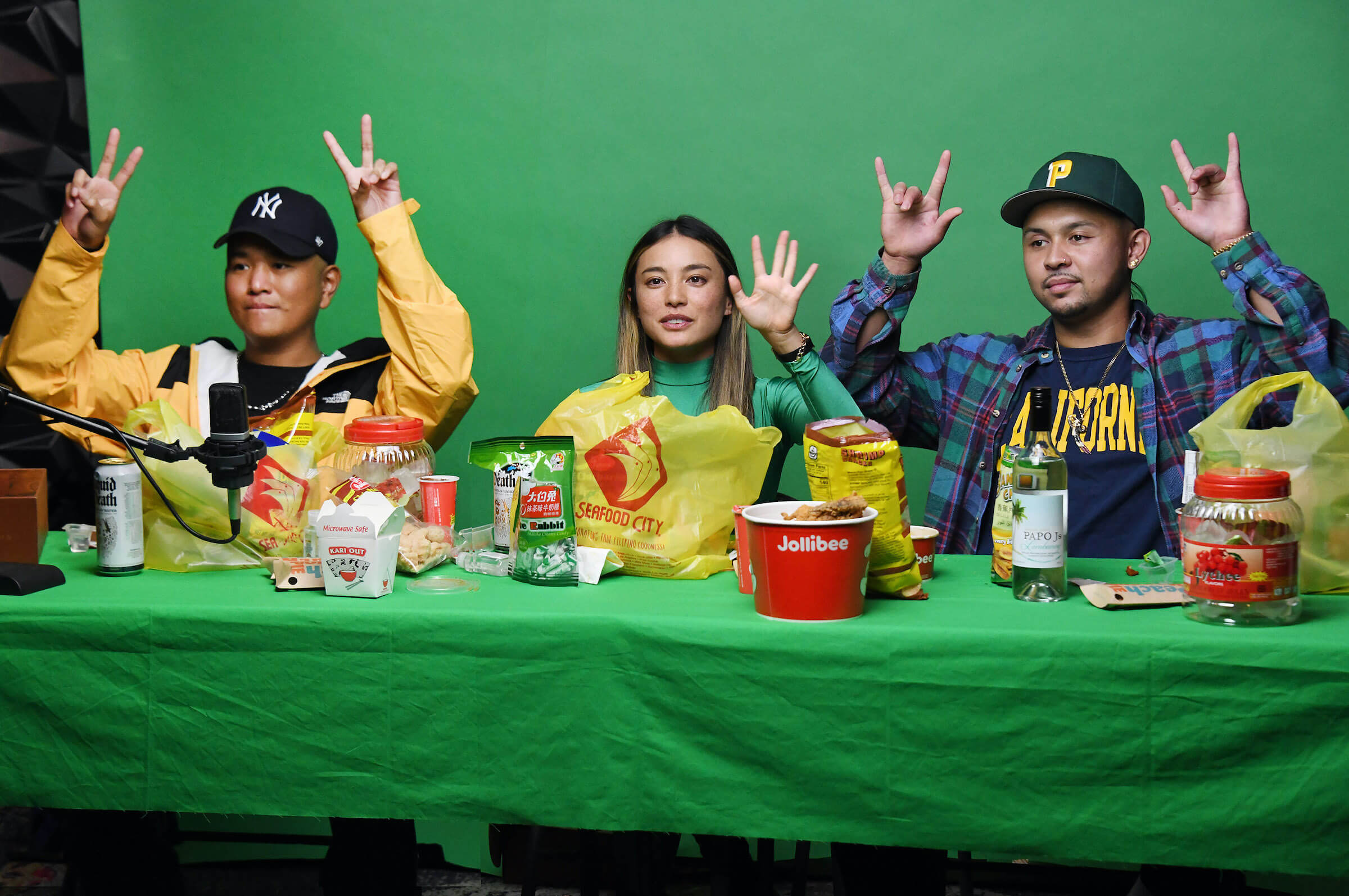 Don't forget to check out Shan's new track, "Palomino" and P-Lo's EP, "Boomerang" on all streaming platforms. Stay tuned for the Traklife x myx highlight recap coming soon from this mukbang, for now you can watch the Ate O'Clock replay on twitch.tv/sosupersam.