PARADISE RISING acts Manila Grey and Guapdad 4000 have just dropped a new collaboration. The international Filipino acts join forces on "Hoodie Back," a smooth song with a concept we're all too familiar with…losing our favorite sweaters to our exes. The late night sonic anthem starts off with the Vancouver-based duo hitting their signature melodic flows on a split verse before going into a rap verse from GUAP.

Manila Grey and Guapdad 4000 have previously performed together in both America and the Philippines. You can check out the official visualizer from Manila Grey and Guapdad 4000 below!
Guapdad 4000 is one of the Filipino-American acts scheduled to make a homecoming performance at 88rising's HITC Manila music festival! GUAP, who is an Oakland native, arrived in the Philippines early and has spent his first few days in the country vacationing in Boracay with his Lola. The Paradise Rising rapper has been sharing wholesome content with his grandma and detailing why the experience means so much to him on his Instagram account.

GUAP has discussed his biracial upbringing and his relationship with his family in detail in his "STOOP KID" short film. Check out Guapdad 4000's Philippines content with his Lola below and catch him this weekend at HITC Manila!


Photo Courtesy of Guapdad 4000's Instagram
88Rising unveils the surprise announce of international artist Jessi to the lineup of Head In The Clouds Music & Arts Festival in Manila. Previously, more artists were announced to the setlist like Denise Julia, Manila Killa and SB19 were revealed as additional artists on Head In The Clouds Manila social profiles.
In October it was announced that the inaugural Head In The Clouds Music & Arts Festival in Manila will feature a stellar range of global as well as local talent including headliners Joji, Jackson Wang, NIKI, Rich Brian, eaJ, and YOASOBI. This year's festival will also showcase performances from BIBI, MANILA GREY, Ylona Garcia, ATARASHII GAKKO!, MILLI, Zack Tabudlo and many more; plus special guest Grammy-winning hitmaker and electronic producer ZEDD.
All artists are scheduled to perform during the 2-day festival on Friday, December 9 and Saturday, December 10, 2022 at SM Festival Grounds Parañaque City.
Don't miss out as limited tickets are now available. Purchase your passes HERE.
Here's the final lineup that's about to be crazy:
Adawa
Akini Jing
Atarashii Gakko!
August 08
BIBI
Denise Julia
eaJ
Elephante
GUAPDAD 4000
Jackson Wang
Jessi
JinxZhou
Joji
MANILA GREY
Manila Killa
MILLI
NIKI
Rich Brian
SB19
Spence Lee
Stephanie Poetri
Warren Hue
Ylona Garcia
YOASOBI
Zack Tabudlo
With very special guest:
ZEDD
About 88rising:
88rising is the pioneering global music & media company representing the best of Asian talent. 88rising was the first company to launch an Asian-centric music festival in the United States (Head in the Clouds Music & Arts Festival – now in its fourth year), the first to have an Asian artist top the Billboard R&B/Hip-Hop charts and Spotify's Weekly Global Albums chart, and the first to launch an all-Asian radio channel reaching all of North America. In 2021, 88rising executive produced and curated the soundtrack to Shang-Chi and the Legend of the Ten Rings – Marvel Studios' first Asian-American superhero. In 2019, they were awarded Label of the Year by NetEase, one of the largest music streaming platforms in China. With over 160 million followers across global social media platforms and over 40 billion total streams and views, 88rising's global influence is undeniable.
Cover Photo Credit: 88Rising Instagram
The Oakland native, Guapdad 4000 is getting ready to drop a short film in collaboration with 88Rising and Amazon Music. STOOP KID debuts on July 21st and focuses on GUAP's life growing up in the Bay Area and as a multiracial person. This coming of age story follows Akeem 'GUAP' Hayes as he navigates a complex upbringing while also showcasing his talent for music.
The trailer includes GUAP talking about his Filipino and Black background where not everyone accepted him as a person of mixed races. GUAP also talks about the relationship he has with family members and how he was a kid trying to help raise other kids.
Featured in the short film will be music from his album, 1176 which was produced by Grammy-winning producer and Fil-Am Illmind. The album is named after GUAP's childhood home address and sets the tone for this story of a Black-Filipino artist who explores his identity, family, and community.
Cover Photo Credit: Guapdad 4000 Twitter
Guapdad 4000, aka Guap, has been going non-stop and continues to move the needle on his career, leveling up each time. The multifaceted artist shared on his Instagram that he was excited to be back on TV, but this time in a scripted show. Guap shared the trailer for Issa Rae's latest project on HBOMax, Rap Sh!t, and in the trailer, we see Guap on screen in a party scene.
The new show is roughly based on the hit group the City Girls. The show follows Shawna and Mia, who are two estranged high school friends from Miami who reunite to form a rap group. The show is set to release on July 21st. Besides making TV moves, Guap continues to make sure he drops some new heat for his fans. Recently Guap teamed up with Wiz Khalifa and Curren$y on the new track Pose. You can stream the track here and watch the music video below!
Cover Photo Courtesy of Guap's Instagram
After a successful run in their native Canada, Manila Grey is bringing their No Saints Tour to the United States. The five-city tour starts in New York on June 2nd with stops in Los Angeles, San Francisco, and Chicago, before capping off in Seattle on June 23rd. Talk about a dope way to celebrate Filipino Independence Day!
With the tour approaching in a few days, the Vancouver-based duo has just announced Guapdad4000 as a special guest for their California tour dates (Los Angeles, June 5th at The Roxy & San Francisco, June 9th at The Independent.) For more information about ticket sales, you can check out the tour's official website.
If you're looking for more Manila Grey Content before the US leg of the tour kicks off, check out this BTS interview with the duo talking about their 2021 track "Island Baby (Maarte)" via Paradise Rising/88 Rising.
Cover Photo Courtesy of Manila Grey Instagram
Identity LA just released the date for their annual music festival, helping celebrate and showcase Asian American and Pacific Islander (AAPI) talents during AAPI/APA Heritage month. The festival presented by Amazon Music is set for May 28th at 5 PM PT/8 PM ET and will be streamed live from the GRAMMY Museum on Amazon Music's Twitch channel.
Guapdad 4000 is set to perform alongside B.I, Rhea Raj, Su Lee, Aaryan Shah, thuy, Dolly Ave, DANakaDAN, and more to still be announced. The show will be hosted by Dumbfoundead and Sherry Cola with appearances from Liza Soberano, Stephanie Hsu, Soji Arai, Luna Li, Elodie Yung, MIYAVI, mxmtoon, and apl.de.ap.
As we wait for more details to come out, take a look at last year's show recap below.
The beginning of the year is about to be killer with more music on the way! Live shows are still slowly creeping back to our lives and Guapdad 4000 is ready to hit the road with Wale for the "Under a Blue Moon Tour."
The 30-date tour is set to kick off on January 23rd in Philly and conclude in March 11 in Silver Spring, Maryland. They make stops in most major cities like New York, Boston, Los Angeles, and more! Of course they couldn't skip Guapdad's hometown, Oakland so be sure to mark your calendars for February 10th! We could only hope that Guapdad is set to pull songs from his album, 1176.
So make sure to cop tickets and slide through!
Cover Photo Credit: Guapdad 4000 Twitter
This week's MYX News Hot List, new episodes weekly at www.myx.global/myxnews.
1. MYX Entertainment: Inigo Set For "Monarch" Debut – Music Sensation Inigo Pascual is now making his mark in television in Fox's "Monarch".
2. MYX Music: New Hits – No Rome is gracing us with his debut album "It's All Smiles"; Clinton Kane also dropped his brand new song "Go To Hell" along with the music video; Troy Laureta is keeping it classic with his OPM Collective Album 2; Nadine is out with new visuals for "Wait For Me" shot in Siargao.
3. MYX Community: Bretman and Bella Celebrate Christmas – Influencer and Performers spread some holiday cheer in the annual Hi-Fi Toy Drive. Handing out the toys are none other than Bella Poarch and Bretman Rock!
4. MYX Entertainment: Beatrice Places Top 5 in Miss U – Miss Universe Philippines Beatrice Luigi Gomez finished in the top 5 of this past weekend's 70th Miss Universe Pageant.
5. MYX Entertainment: Filipino Flash Scores Big KO Win – The Filipino Flash Nonito Donaire Jr. added to his Hall of Fame career with a fourth-round knockout win against fellow pinoy Reymart Gaballo.
6. MYX Music: Guap, MB Nel, Pressa Roll Loud! – Hundreds of Hip-hop artists took the stage at Rolling Loud's California show last weekend. Guapdad 4000 took to instagram to post about the experience calling it a great end to the year.
We all know Guapdad 4000 loves his chicken adobo, but he also loves a home cooked meal. On Fuse's Made from Scratch series, he joins his mom in the kitchen to fix up a delicious seafood meal. In the episode, Guapdad talks about his journey, growing up in Oakland and being biracial, and his plans for the future.
They cook up a yummy garlic crab, sautéed shrimp, and oysters platter that will have you wanting to try Ms. Suki's recipes. We can't get enough of Ms. Suki and Guapdad as they share memories and reflect on being a Bay Area native.
He also talked about how he likes to cook his meal when he's traveling or on tour. He whip up something quick like chicken, shrimp, or any seafood because he's always on the go. Now we know where Guapdad gets his cooking skills from. Can we get invited to the next family party, please and thank you!
Cover Photo Credit: Guapdad 4000 Facebook
Looking to freshen up your playlist or simply just looking for new music? We got you covered with a few remixes that'll spice up your next road trip or kickback. We have tracks ranging anywhere from pop to EDM and even chill remixes of some of your favorite songs by Filipino artists.
Here's only a few, so let us know what others we might have missed @myxnews on Twitter!
"Intoxicated" (Arthur Tan Remix) – Nadine Lustre, Arthur Tan
"Dance Like Nobody's Watching" – Yuna, James Reid
"Catching Feelings" (Dennis Blaze Remix) – Inigo Pascual, Moophs, Ruby Ibarra, Dennis Blaze
"death bed" – powfu, beabadoobee, Blink-182
"Spinning" (A.G. Cook Remix) – No Rome, Charli XCX, The 1975
"Corner" (Subzylla Remix) – Kiana V, Subzylla
"How Many Remix" – Guapdad 4000, !llmind, Rick Ross
"Slide" (Remix Pop Smoke, A Boogie Wit da Hoodie & Chris Brown) – H.E.R., A Boogie Wit da Hoodie, Chris Brown, Pop Smoke
Cover Photo Credit: No Rome Facebook
Who's all hyped with us to catch Marvel's latest film, Shang-Chi and The Legend of the Ten Rings starring our faves Simu Liu and Awkwafina. If you've already seen it or on the way to, the official soundtrack is now available to stream and IT. IS. GOOD. Shang-Chi and The Legend of the Ten Rings: The Album was co-produced by 88Rising and Sean Miyashiro so you know we're about to hear our people represented in the soundtrack. It'll showcase artists we may already now, but it's time for the whole world to also know. This is our time to shine!
88Rising worked closely with Shang-Chi director Destin Daniel Cretton to develop the film's soundtrack. The album's lineup includes so many artists and collabs you never knew you needed. 88Rising artists like Rich Brian, NIKI, and Guapdad 4000 are all featured plus other artists like 21 Savage, Anderson .Paak, Swae Lee and Jhené Aiko, Warren Hue, Rick Ross, and the ICY girl herself Saweetie all show up and go off! We couldn't list out everyone so you're just going to trust us it's worth a listen! Don't believe us, check out the tracklist!
1. "Always Rising" – NIKI, Rich Brian, Warren Hue
2. "Diamond + and Pearls" – DPR LIVE, DPR IAN, peace.
3. "In The Dark" – Swae Lee, Jhené Aiko
4. "Lazy Susan" – 21 Savage, Rich Brian, Masiwei, Warren Hue
5. "Nomad" – Zion.T, Gen Hoshino
6. "Fire in the Sky" – Anderson .Paak
7. "Lose Control" – JJ Lin
8. "Every Summertime" – NIKI
9. "Never Gonna Come Down" – Mark Tuan, BIBI
10. "Foolish" – Rich Brian, Warren Hue, Guapdad 4000
11. "Clocked Out!" – Audrey Nuna, NIKI
12. "Act Up" – Rich Brian, Earthgang
13. "Baba Says" – Various Artists
14. "Run It" – DJ Snake, Rick Ross, Rich Brian
15. "Swan Song" – Saweetie, NIKI
16. "War With Heaven" – keshi
17. "Hot Soup" – 88rising, Simu Liu
18. "Warriors" – Warren Hue, Seori
We honestly can't decide which track is our favorite because all of them are so good!
The track "Run It" with DJ Snake, Rick Ross, and Rich Brian will be catching attention soon as it'll be the lead track used for ESPN's 2021-2022 college football coverage. Also, if you didn't know Simu Liu is a total performer and can sing too! *Queue his national anthem performance at the 2019 Clippers Chinese Heritage Night. Well now he graces us with his voice again with his track "Hot Soup."
This soundtrack breaks barriers and the stereotype of both Asians and Asian Americans. According to the NY Times, the character of Shang-Chi is the lesser known players in the comic company's roster. Shang-Chi, a.k.a. the Master of Kung Fu even stumped the Disney and Marvel Studios team who were going to bring the character to life in the MCU. This is after all, Marvel's first and only superhero film starring an Asian lead, with an Asian American director and writer, and based on a character who was actually Asian in the original comic.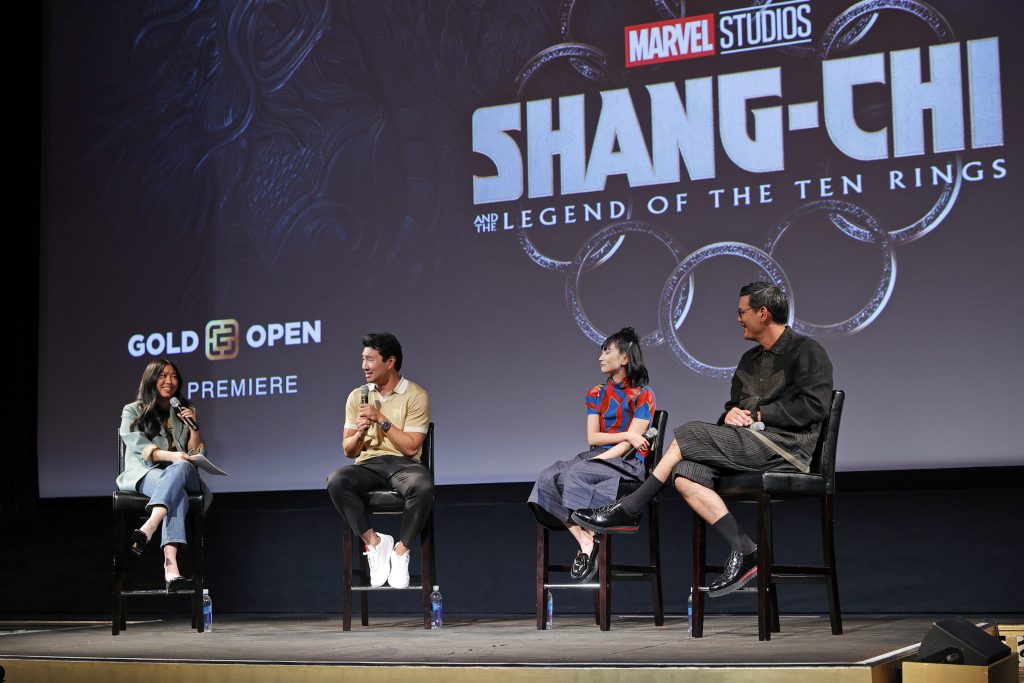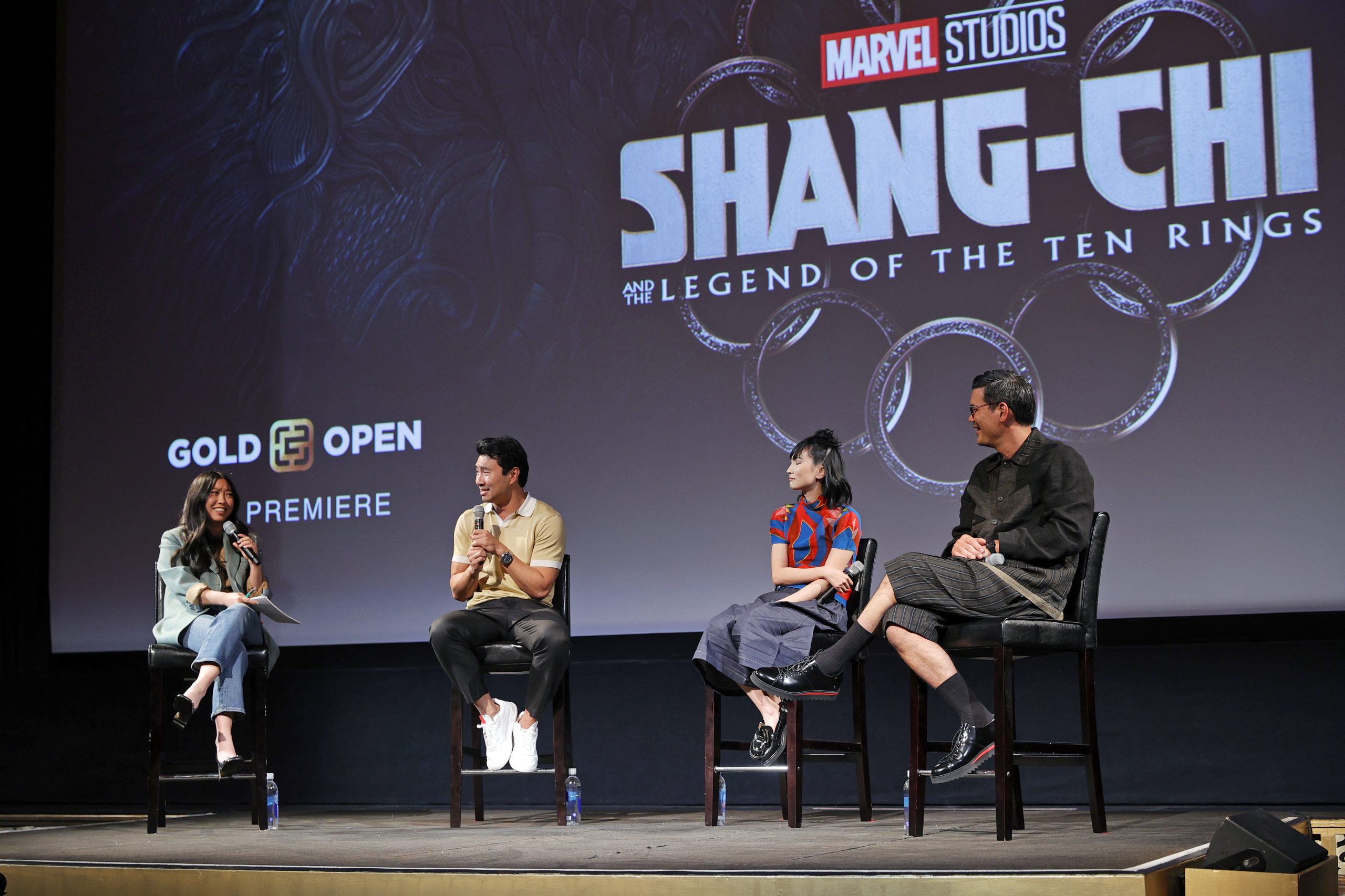 Producer Sean Miyashiro wanted to bring artists together to tell stories of "unconditional love and memories of growing up…" The songs are dedicated to parents, family, love, and youth. He says, "this album is for their sacrifice, their grit, and their endless endurance to give us the platform to be great. We wanted to make music and write songs celebrating all of that, while marrying the themes of the film of cherishing family, being fearless, and realizing your destiny."
Now this film and soundtrack have the opportunity to inspire not just this generation, but also the next group of young ones looking to see themselves represented both in film and music. It honestly is the first of its kind for our community and we celebrate this time, but continue to push forward our stories.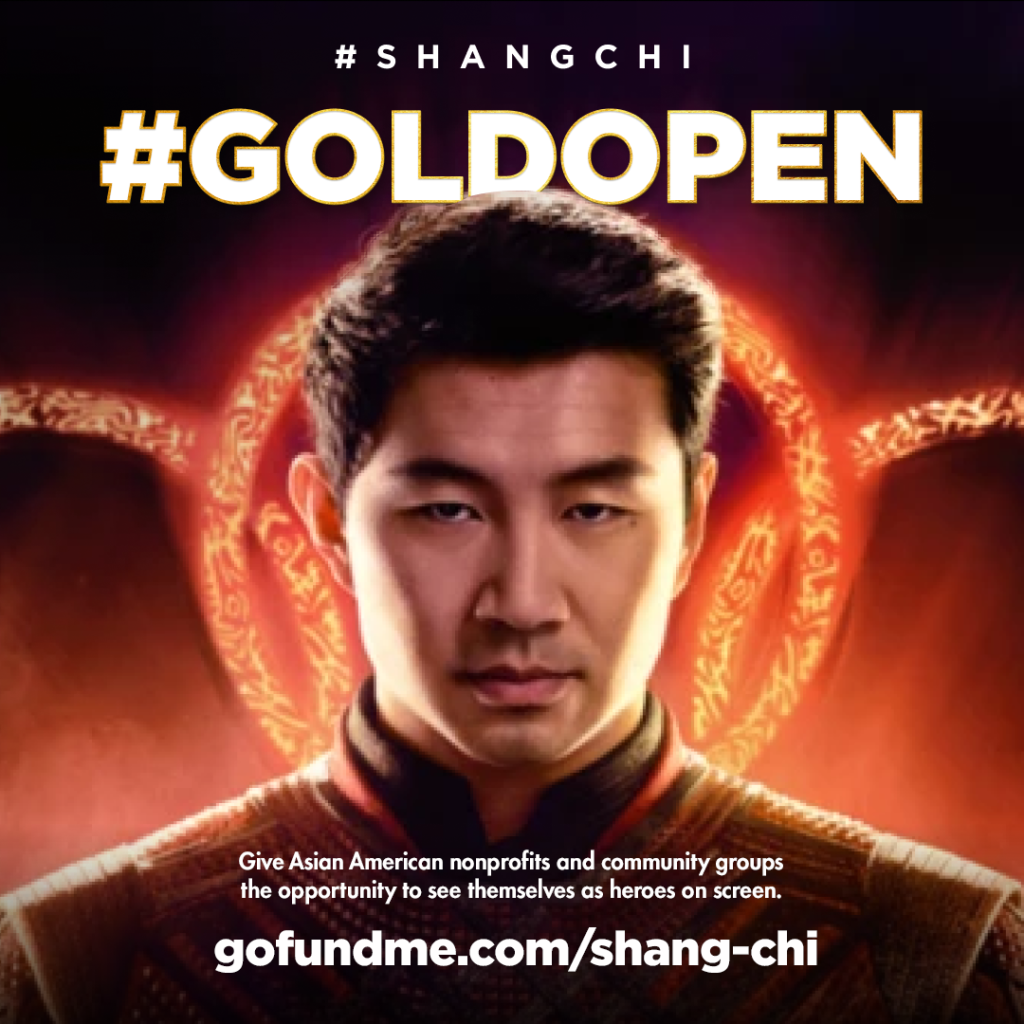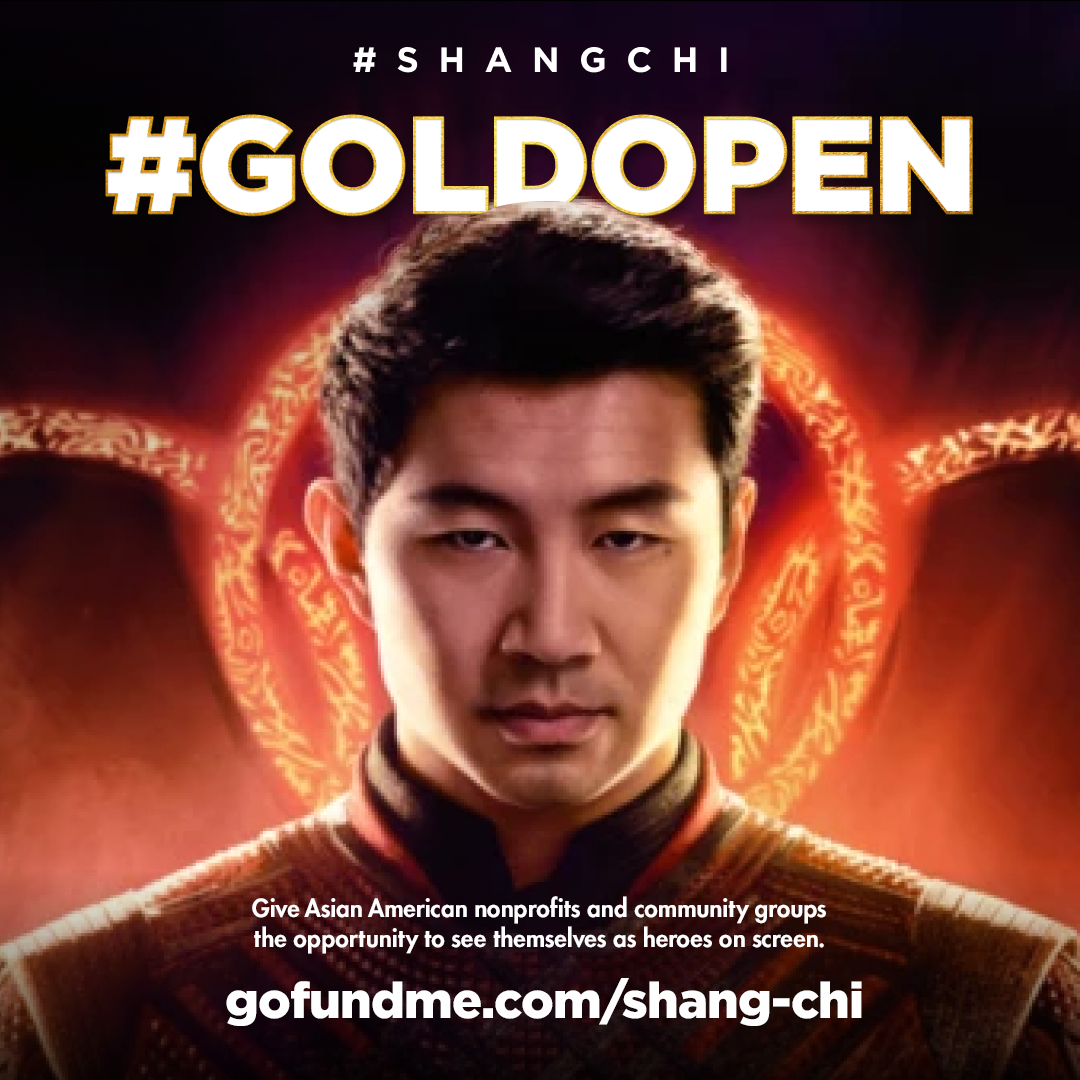 Looking to help make that push? You can help give Shang-Chi a #GoldOpen! Gold House is inviting you to help more youth experience the first titular Asian superhero, Shang-Chi, in the upcoming film Shang-Chi and the Legend of the Ten Rings. Donate to the fundraiser to cover the cost of tickets for youth programs across the country, or join the Shang-Chi challenge and start your own GoFundMe for a program in your area.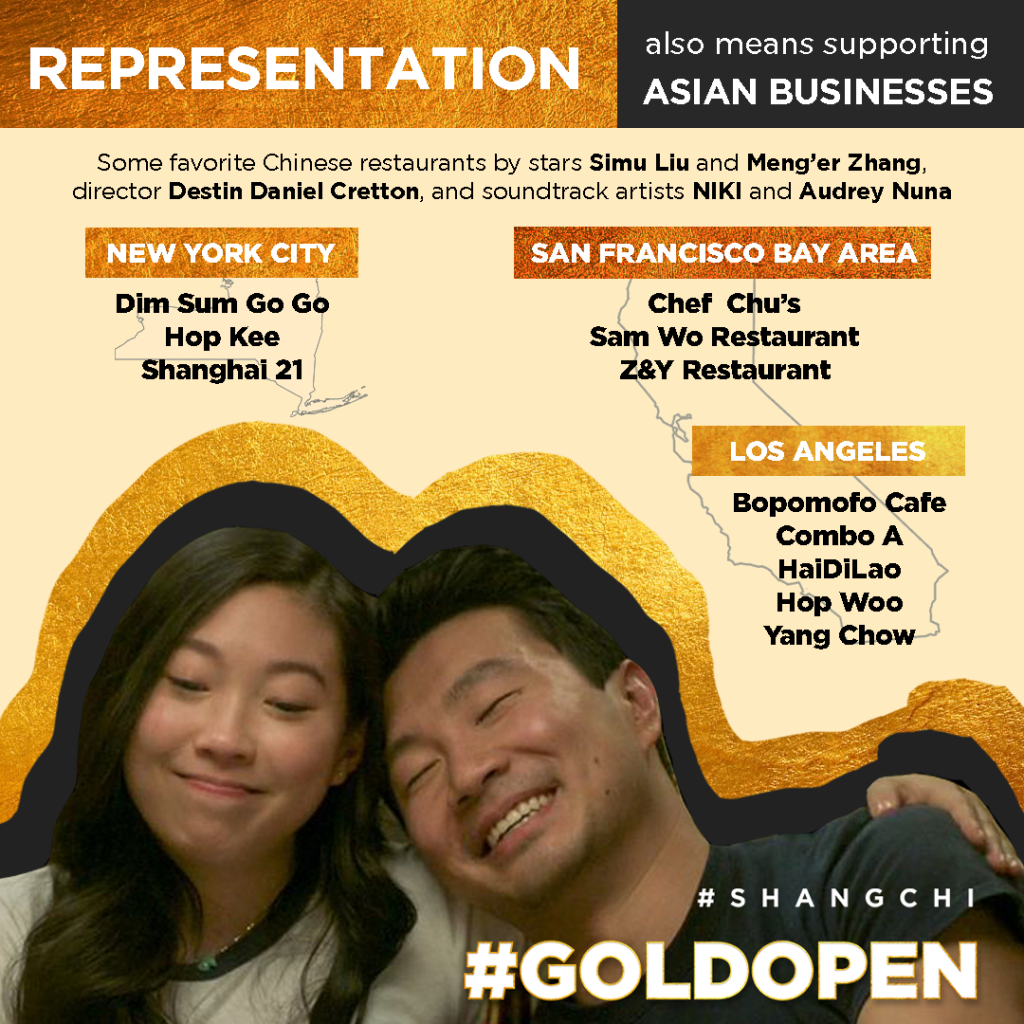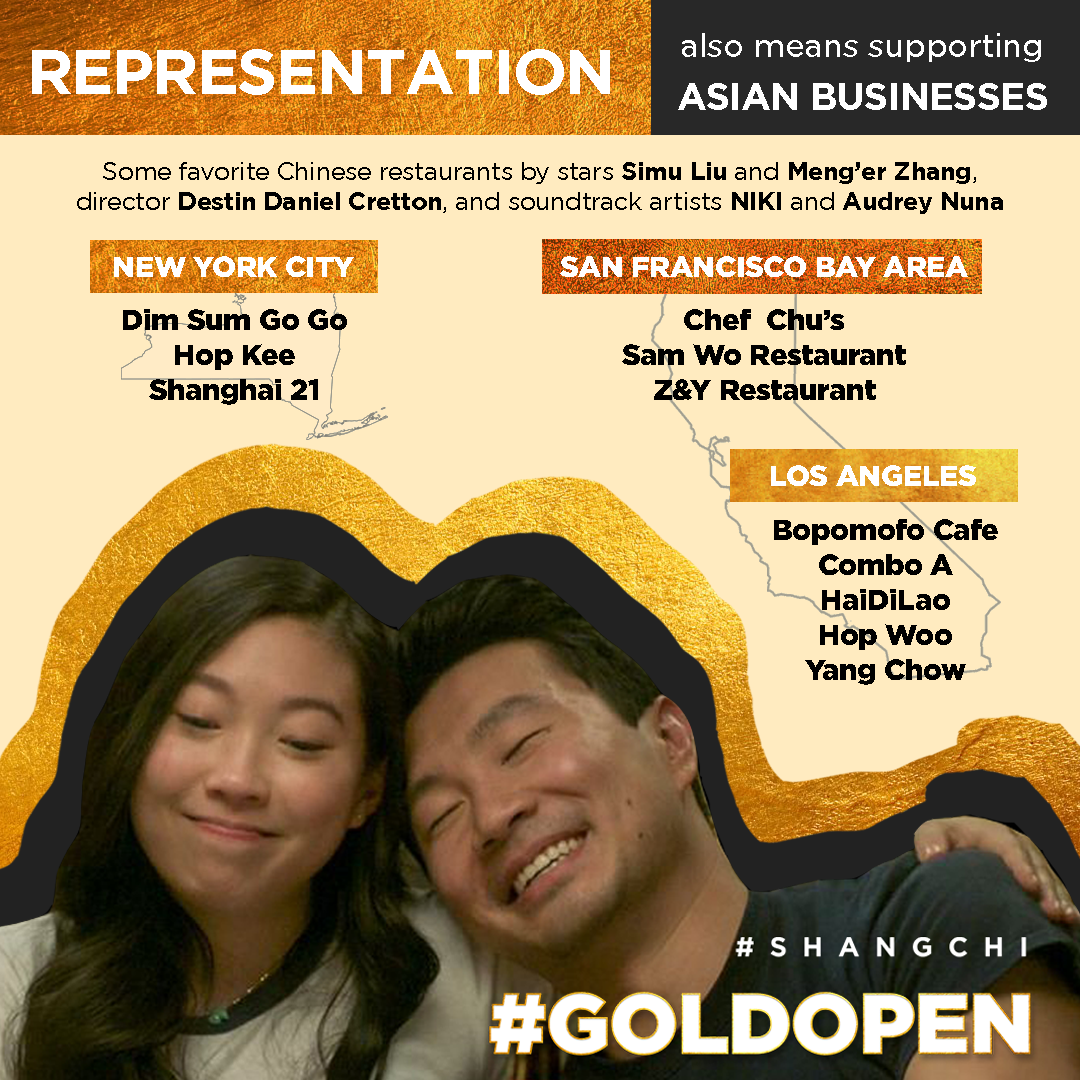 Every child deserves to feel seen. Help more youth see themselves represented on screen as strong, worthy, and as the superheroes that they are! Proper representation of different cultures is critically important for all children so that they understand that people of all colors and backgrounds are to be embraced and valued. 
We want to see everyone pull up this weekend and wherever you catch Shang-Chi: The Legend of the Ten Rings in theaters! Send us your pics @myxnews on Twitter
Cover Photo Credit: Official Shang-Chi Facebook