Keanu Reeves is back with another John Wick film with its fourth installment coming March 24th. The film also stars Donnie Yen, Rina Sawayama, Shamier Anderson, and Hiroyuki Sanada and is action packed! This latest installment picks up right where the last film left off. Movie goers can expect to see all the craziness the previous films have brought and the trailer doesn't disappoint.
According to GQ, get a glimpse of the action as Wick using a flamethrower, shooting opponents in the midst of heavy Paris traffic, and even getting help from his beloved pooch. We're introduced to Donnie Yen's character Caine, a blind assassin who is quite handy with a sword. In a perfectly tailored suit, watch as he dispatches a number of would-be assailants with sword tricks so quick they need to be watched at half-speed. 
Get ready for the drama and action coming this month.
The awaited Star Cinema film, An Inconvenient Love starring Donny Pangilinan and Belle Mariano is soon to hit theaters this November 23rd and they're teasing songs from the upcoming official soundtrack. Get excited to hear songs from BINI, BGYO, Moira, and Zack Tabudlo. Star Cinema dropped snippets of the tracks along with clips from the movie. Check it all out below!
BINI – "Huwag Muna Tayong Umuwi" and "Lagi"
BGYO – "Tumitigil Ang Mundo"
Moira – "Aking Habang Buhay"
Zack Tabudlo – "Pinadama"
It seems like Dave Bautista is everywhere in films and now he's signed up to star in a Drew Pearce action thriller film, Cooler. The film is the first project to come out of the recently announced first-look deal between Infrared and Bautista's Dogbone Entertainment according to Deadline.
It follows a South Beach bouncer Ray Sagona, played by Bautista who looks to redeem himself and get his family back. Now, he's on a race against time as he has to find a stolen safe before law enforcement retrieve it first. Ray's past comes back to haunt him and he has to find a way to survive his present. "Ray must survive an epic 36-hour odyssey across Miami Beach to get that safe back… one final Herculean task on his journey towards absolution."
"Dave is one of the most soulful and talented collaborators I've been lucky enough to work with — the chance to build an iconic character with him and make the kind of long-dark-night-of-the-soul thriller that I've always loved, is too good to be true. The fact that we get to do it all in Miami, guided by the epic cultural knowledge of Drake and Future The Prince, is frankly a mindblower. And there's nobody more perfect to be our partner than Infrared, whose creative ambitions aligned perfectly with what we want this movie to be," said Pearce.
Catch Bautista in other projects set to also release soon from Glass Onion: Knives Out 2 and M. Night Shyamalan's Knock at the Cabi. Not only is he set for acting, next year Bautista will produce and star in the Netflix film Unleashed. He will also shoot the Dune sequel, Guardians of the Galaxy 3, and MGM Lethal Weapon -esque buddy cop comedy opposite Jason Momoa which originated from a tweet.
Cover Photo Credit: Dave Bautista Instagram
The upcoming thriller, horror film NOPE from Jordan Peele is to be one of summer's most talked about films and sure to become another thought-provoking commentary that'll leave you theorizing long after its end. With Hollywood A-listers at the forefront like Daniel Kaluuya (Black Panther, Judas and the Black Messiah), Steve Yeun, and Keke Palmer, there's new faces as well who we're excited to see. One of them being 27-year-old Fil-Am actor, Brandon Perea.
Brandon Perea's delivered a breakout performance in Netflix's The OA and is no making his box office debut. He plays Angel Torres, tech expert who works at Fry's Electronics and helps horse trainers OJ (Kaluuya) and Emerald (Palmer) to get recorded footage of a UFO that's been disrupting the animal's behaviors.
His character plays an interesting role in the film as the stand-in for the audience and in a way the fourth wall. The comedically dry humor will have audiences liking Angel, but also his other characteristics matches well with the main cast.
Getting this role was an emotional rollercoaster for Brandon and shared that he gave a speech to Peele that made him cry too. "You know this industry can be so hard and it has its ups and downs and rollercoasters around and I felt that maybe he could relate as well. It was very touching." The role of Angel was actually rewritten after Brandon got the role because of his grounded audition.
According to Asian Journal, "Usually what we see when we go into retail stores are people who don't really wanna be there, so I feel like that's the energy I usually get [from those employees], and Jordan thought that was really funny, and that's what he ran with: a more hard-nosed character who's just mad at everything," Perea shared. With that his character softens when he meets the siblings, OJ and Emerald as he figures they're different than the usuals who come into the store. He then tries to help them with what's happening in the sky.
Find out how it all pans out and who survives and who doesn't in this film that will have you saying, NOPE!
Cover Photo Credit: Brandon Perea Instagram
The talented actor, Paris Berelc is on a roll. With her Prime film, 1Up just releasing, she announced another upcoming project coming soon to Netflix. Do Revenge is a dark comedy dark where two young women (Camila Mendes and Maya Hawke) join forces to take down each others' bullies. Elle Magazine shared a first look of stills from the film and we spotted Fil-Am Paris Berelc in the photo gallery as she'll be playing the character of Meghan.
According to Elle, the unlikely pair consists of queen bee Drea (Mendes), who wants to get back at her boyfriend for leaking her sex tape; and transfer student Eleanor (Hawke), who was outed by a girl who started a rumor that she tried to hold her down and kiss her, making her a social pariah. To take down their enemies, they team up to help with each other's dirty work.
But it always isn't as black and white when it comes to really finding who's the "bad or good guy" in a situation. The director, Jennifer Kaytin Robinson wants to show that everyone can be a villain and hero in their stories. There's so much that happens in high school that nothing is as clear cut as it seems. Check it out and get your revenge on starting September 16th!
Cover Photo Credit: Elle Instagram

The mind-bending action-adventure Everything Everywhere All At Once arrives on 4K Ultra HD™ + Blu-ray™ + Digital, Blu-ray + Digital, and DVD July 5 from A24 and Lionsgate. The film stars Michelle Yeoh as an unlikely hero who must channel newfound powers to fight fearsome dangers from the multiverse. Directed and written by Daniel Kwan and Daniel Scheinert, the writing-directing duo collectively known as the Daniels (Swiss Army Man).
Don't miss out on the special features available for the 4K Ultra HD / Blu-Ray / DVD physical copies like audio commentary with the writers/directors Daniel Kwan & Daniel Scheinert, featurette on behind-the-scenes content, deleted scenes, outtakes, music visual, and more!
Everything Everywhere All At Once will be available for the suggested retail prices of $42.99 for 4K Ultra HD + Blu-ray + Digital, $39.99 for Blu-ray + Digital, and $29.96 for DVD, respectively.
SYNOPSIS
Evelyn Wang (Michelle Yeoh), a flustered immigrant mother, is contacted from a parallel universe and told that only she can save the world. The unlikely hero must learn to channel her newfound powers and fight through the splintering timelines of the multiverse to save her home, her family, and herself in this big-hearted and irreverent adventure. With Stephanie Hsu, Ke Huy Quan, Jenny Slate, Harry Shum Jr., James Hong, and Jamie Lee Curtis.
 
Cover Photo Credit: Lionsgate
It looks like Hawai'i native and Spider-Man trilogy actor, Jacob Batalon not only has a new Syfy series coming with Reginald the Vampire but will also be starring alongside Kevin Hart in the new Netflix thriller heist film, Lift. The film follows Hart who will play a master thief looking to pull off an impossible heist.
More information about the plot and characters will drop once production begins but for now, we know the heist will bring together an ex-girlfriend, the FBI, and Hart's international crew completing a flight from London to Zurich.
According to Deadline, the film is directed by F. Gary Gray with Dan Kunka and Jeremy Doner as script writers. It'll be produced by Simon Kinberg and Audrey Chon for Genre Pictures, Matt Reeves and Adam Kassan for 6th & Idaho, and Hart and Brian Smiley for HartBeat Productions.
Cover Photo Credit: Jacob Batalon Instagram
The currently trending Netflix film, Hustle starring Adam Sandler and executively produced by LeBron James takes on the story of fictional NBA scout Stanley Sugarman looking for the next great NBA prospect. With a 91% rotten tomatoes rating, Hustle is bringing back the grit in sports films showing the grind and hustle athletes go through to compete at the highest level. The film keeps it authentic by bringing in NBA players to act and play mostly themselves to showcase real skill on-screen without too many effects.
Part of the group of basketball players who makes a cameo in the film include: the Philadelphia 76ers, Trey Young, Aaron Gordon, Anthony Edwards, Juancho Hernangómez and legends like Dr. J, Kenny Smith, Mark Jackson, Shaquille O'Neal, and Charles Barkley. You also can catch Fil-Am Jordan Clarkson featured in the film as part of the crew during a secret draft practice session. He kills it on the court with his explosive speed and ball handling skills.
Although the film has its comical moments, it really shows the character and backstory behind these public figures. We know them as basketball players, but Hustle looks at the hard work that goes into getting at the top and become the high caliber athletes they are. Check out the trailer and see how many NBA players you catch!
Cover Photo Credit: Netflix
Awards season is in full force and the nominations for the Academy Awards are here! The event will name its winners on Sunday, March 27 with a live broadcast at 8 p.m. ET/5 p.m. PT on ABC. Many of the big films this year were nominated for multiple awards like Dune grabs 10 nominations, West Side Story and Belfast earned seven noms, while King Richard was nominated in six categories. This year three are 10 films nominated for Best Picture.
One of the announcements that's exciting for Filipino and Asian-Americans is the nominee for Frederic Aspiras who worked on House of Gucci. He is the second Asian-American nominated for the Best Makeup and Hairstyling Oscar. Aspiras, a longtime hairstylist for Lady Gaga was brought along for this project. He started working with Lady Gaga over 13 years ago on the Monster Ball. Since then, he's crafted for tours, photoshoots and covers, music videos, events, and more! On the daily, Aspiras is part of the Haus of Gaga team.
In addition to receiving an Oscar nominee, Aspiras was also nominated for a BAFTA which is the British version similar to the Academy Awards. He created a different character for Lady Gaga as Patrizia Reggiani. Together with his creative partner in the film, Sarah Tanno researched the era, other notable style icons, and worked to build a style guide for the film to bring the character to life.
The recognition he earned, goes to show that there's still a long way for Asian-Americans to be represented in all facets of media. His journey has influenced others along his path to follow suit. He told Variety, "I started with Lady Gaga 13 years ago, and fans from around the world who have written to me telling me they have become hairdressers — that to me is probably one of the most rewarding things ever. It's also about being a role model in that I am Asian American with refugee parents."
Frederic Aspiras mother, Suzie L. Nguyen came to San Francisdc as a refugee from Vietnam. Her journey as a single mother brought her to go to cosmetology school and open her own salon business. Here is where Aspiras was inspired by watching his mother put on makeup and prep people's hair. Now, he's the next generation who continues his mother's legacy while breaking the mold of stereotypes. We'll be tuning in and having our fingers crossed this Oscars!
Cover Photo Credit: Frederic Aspiras Twitter
Dante Basco and the Basco brothers had a successful World Premiere at SXSW 2021 and overall stellar film festival run with their movie, The Fabulous Filipino Brothers. Dante's directorial debut with 1091 Pictures is now out for everyone to stream! Log in to your Apple TV+, Amazon Prime Video, and Google Play accounts to start watching!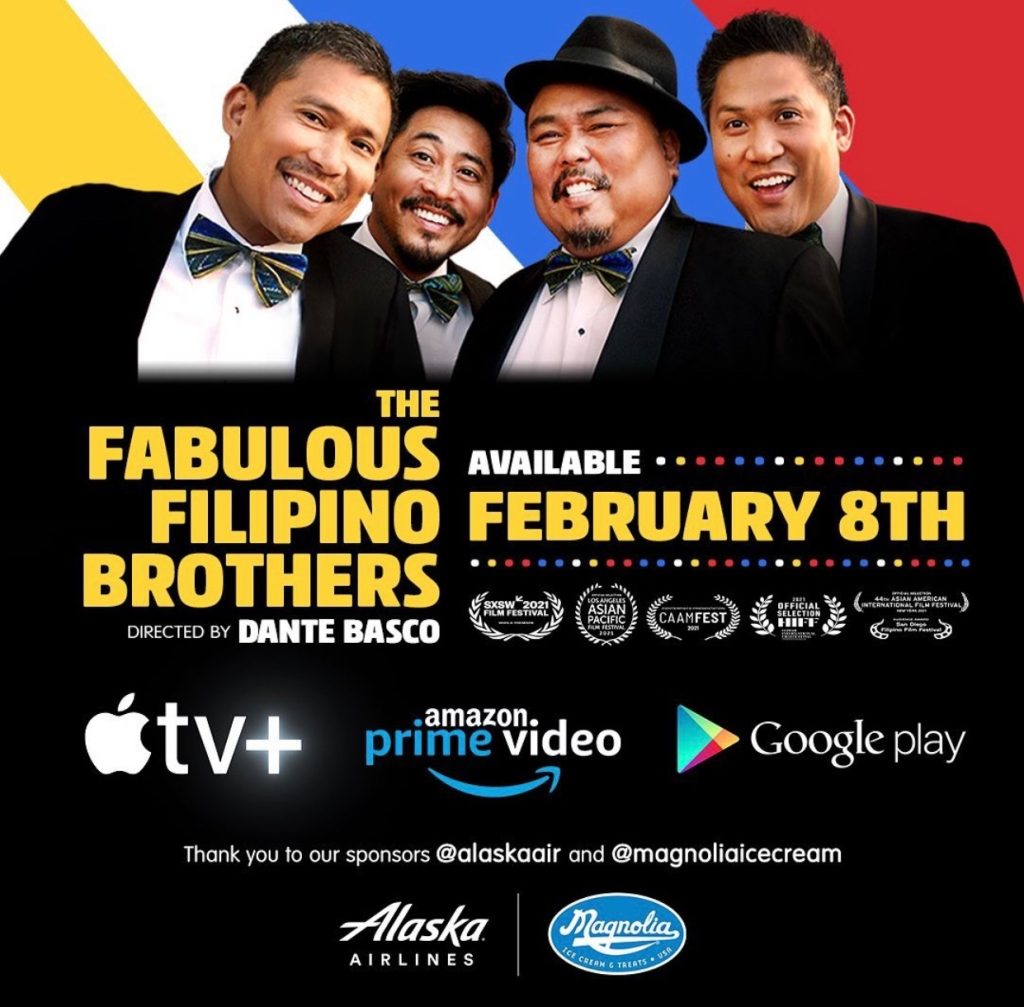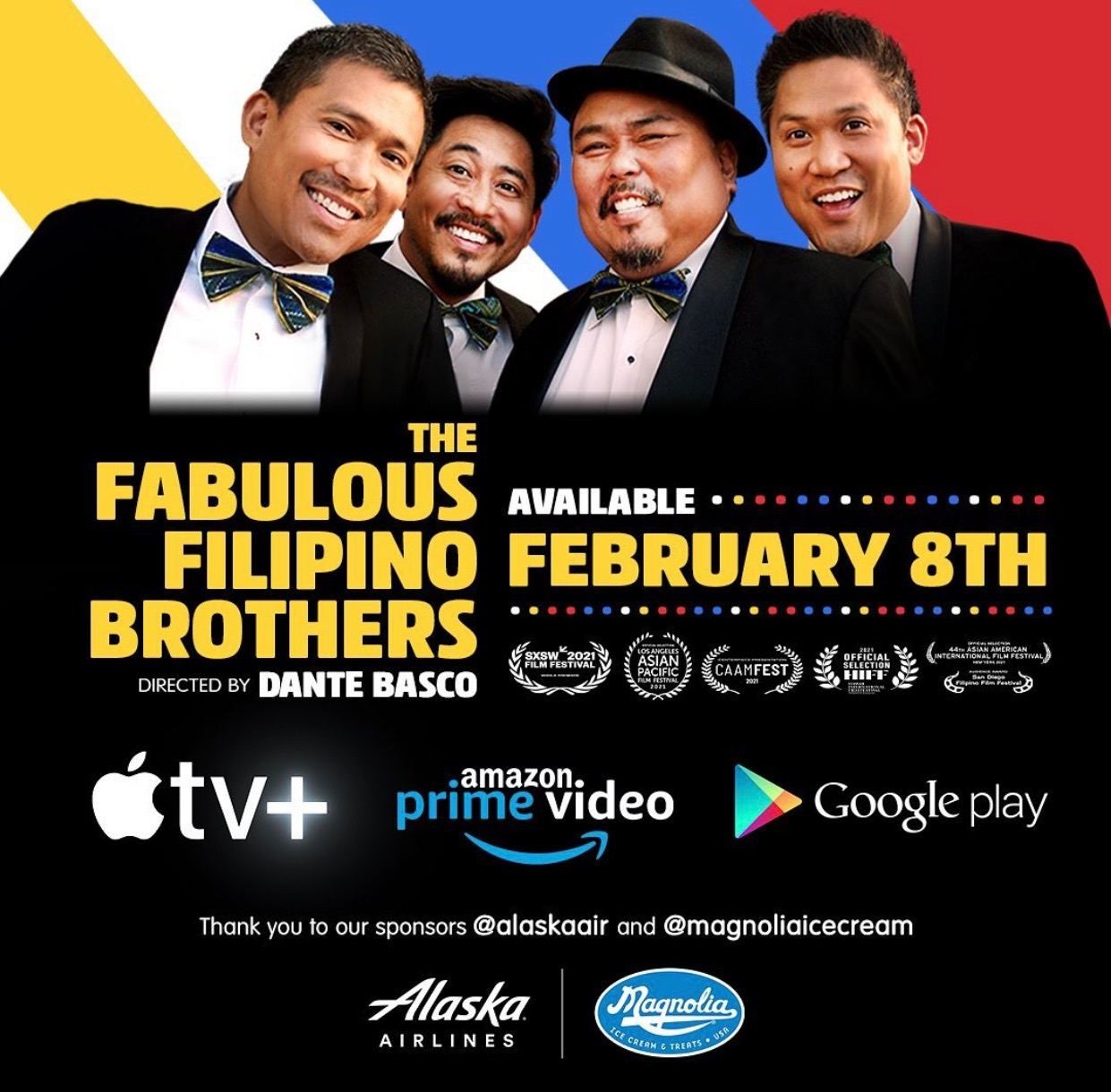 If you want to get some inside details to making the film, you'll want to tune check out our MYXclusive with the Basco Family! Dante, Darion, Dion, Derek, and Arianna join DJ Marlino for a chat about making a film that is showing who they are as a family. They talk about portraying a real Filipino family on-screen and being our own uniquely Filipino selves. If you want to see the realest representation of us on film, we're all in for a treat! In the words of Dante Basco, "no one has ever seen no Filipinos on film like this ever."
After its robust World Premiere at SXSW 2021 and a stellar film festival run, the film, co-written by Dante and Darion Basco, the film is told through four vignettes that follow each of the Basco Brothers as they prepare for the ultimate Filipino family event – a wedding.
It's an intergenerational comedy that is sweet, at times raunchy, and full of heart. Filmed pre-COVID, the background was set in their hometown of Pittsburg, California. Dante wore multiple hats behind the camera along with his co-stars the Basco siblings Darion, Arianna, Dionysio, and Derek. The film's score was produced by AJ Rafael.
According to Deadline, Dante Basco and his brother Darion co-wrote the film in collaboration with management and production company, TheMachine. In addition to starring their family, it also included Solenn Heussaff, Tirso Cruz III, Liza Lapira, Joe Jitsukawa and Joey Guilla rounding out the cast.
The Basco Brothers have been promoting the film and holding screenings around the U.S. Dante has always dedicated himself to Filipino American representation in media, and telling stories of his community to the nation. Catch the remaining 3 tour dates in SoCal!
2/8 – Los Angeles, CA at 2220 Arts + Archives (with special guests and Q&A panel with Dante Basco)
Cover Photo Credit: Dante Basco Twitter
Actress Ivory Aquino recently was added to the cast of the HBO Max film, "Batgirl" starring Leslie Grace. Aquino will be playing Batgirl's best friend and roomie, Alysia Yeoh in this film adaptation of the comics.
Her character first appeared in the comics in 2011, and she is the first major transgender character to appear in a live-action film adaptation. Other details about the film is being kept under wraps, but the plot focuses in on Gotham City police commissioner Jim Gordon's (J.K. Simmons) daughter, Barbara (Leslie Grace).
According to Deadline, Aquino is best known for turns in the Netflix series When They See Us and Tales of the City, and in ABC's When We Rise. She's also featured in series including Blue Bloods, FBI: Most Wanted, New Amsterdam and High Maintenance, as well as Isabel Sandoval's Lingua Franca and other films.
Cover Photo Credit: Ivory Aquino Facebook
Not long now until we get a new project from Donny Pangilinan and Belle Mariano and we cannot wait! They just teased the trailer to their new rom-com film, Love is Color Blind. This marks the tandem's first official film as the DonBelle love team. It's set to release on December 10th and stream on iWantTFC and KTX.ph.
The film follows Ino (Pangilinan) and Cara (Mariano) who are best friends but with the possibility of something more. Cara helps her friend heal and recover from his past that has left him literally color blind. Although Cara tries to bring back happiness to Ino's life, Ino may have found happiness with someone. The tension rises as Cara wonders if Ino will see her as anything more than a friend.
Newcomer, Angelina Cruz will be Iris and Jeremiah Lisbo (He's Into Her) is also in the movie playing the character of Sky who complicate things even more. The project is directed by John Leo Garcia with a digital premiere on December 9 via KTX.ph followed by its global release the next day.
Cover Photo Credit: Star Cinema Twitter