The mind-bending action-adventure Everything Everywhere All At Once arrives on 4K Ultra HD™ + Blu-ray™ + Digital, Blu-ray + Digital, and DVD July 5 from A24 and Lionsgate. The film stars Michelle Yeoh as an unlikely hero who must channel newfound powers to fight fearsome dangers from the multiverse. Directed and written by Daniel Kwan and Daniel Scheinert, the writing-directing duo collectively known as the Daniels (Swiss Army Man).
Don't miss out on the special features available for the 4K Ultra HD / Blu-Ray / DVD physical copies like audio commentary with the writers/directors Daniel Kwan & Daniel Scheinert, featurette on behind-the-scenes content, deleted scenes, outtakes, music visual, and more!
Everything Everywhere All At Once will be available for the suggested retail prices of $42.99 for 4K Ultra HD + Blu-ray + Digital, $39.99 for Blu-ray + Digital, and $29.96 for DVD, respectively.
SYNOPSIS
Evelyn Wang (Michelle Yeoh), a flustered immigrant mother, is contacted from a parallel universe and told that only she can save the world. The unlikely hero must learn to channel her newfound powers and fight through the splintering timelines of the multiverse to save her home, her family, and herself in this big-hearted and irreverent adventure. With Stephanie Hsu, Ke Huy Quan, Jenny Slate, Harry Shum Jr., James Hong, and Jamie Lee Curtis.
 
Cover Photo Credit: Lionsgate
It looks like Hawai'i native and Spider-Man trilogy actor, Jacob Batalon not only has a new Syfy series coming with Reginald the Vampire but will also be starring alongside Kevin Hart in the new Netflix thriller heist film, Lift. The film follows Hart who will play a master thief looking to pull off an impossible heist.
More information about the plot and characters will drop once production begins but for now, we know the heist will bring together an ex-girlfriend, the FBI, and Hart's international crew completing a flight from London to Zurich.
According to Deadline, the film is directed by F. Gary Gray with Dan Kunka and Jeremy Doner as script writers. It'll be produced by Simon Kinberg and Audrey Chon for Genre Pictures, Matt Reeves and Adam Kassan for 6th & Idaho, and Hart and Brian Smiley for HartBeat Productions.
Cover Photo Credit: Jacob Batalon Instagram
The currently trending Netflix film, Hustle starring Adam Sandler and executively produced by LeBron James takes on the story of fictional NBA scout Stanley Sugarman looking for the next great NBA prospect. With a 91% rotten tomatoes rating, Hustle is bringing back the grit in sports films showing the grind and hustle athletes go through to compete at the highest level. The film keeps it authentic by bringing in NBA players to act and play mostly themselves to showcase real skill on-screen without too many effects.
Part of the group of basketball players who makes a cameo in the film include: the Philadelphia 76ers, Trey Young, Aaron Gordon, Anthony Edwards, Juancho Hernangómez and legends like Dr. J, Kenny Smith, Mark Jackson, Shaquille O'Neal, and Charles Barkley. You also can catch Fil-Am Jordan Clarkson featured in the film as part of the crew during a secret draft practice session. He kills it on the court with his explosive speed and ball handling skills.
Although the film has its comical moments, it really shows the character and backstory behind these public figures. We know them as basketball players, but Hustle looks at the hard work that goes into getting at the top and become the high caliber athletes they are. Check out the trailer and see how many NBA players you catch!
Cover Photo Credit: Netflix
Awards season is in full force and the nominations for the Academy Awards are here! The event will name its winners on Sunday, March 27 with a live broadcast at 8 p.m. ET/5 p.m. PT on ABC. Many of the big films this year were nominated for multiple awards like Dune grabs 10 nominations, West Side Story and Belfast earned seven noms, while King Richard was nominated in six categories. This year three are 10 films nominated for Best Picture.
One of the announcements that's exciting for Filipino and Asian-Americans is the nominee for Frederic Aspiras who worked on House of Gucci. He is the second Asian-American nominated for the Best Makeup and Hairstyling Oscar. Aspiras, a longtime hairstylist for Lady Gaga was brought along for this project. He started working with Lady Gaga over 13 years ago on the Monster Ball. Since then, he's crafted for tours, photoshoots and covers, music videos, events, and more! On the daily, Aspiras is part of the Haus of Gaga team.
In addition to receiving an Oscar nominee, Aspiras was also nominated for a BAFTA which is the British version similar to the Academy Awards. He created a different character for Lady Gaga as Patrizia Reggiani. Together with his creative partner in the film, Sarah Tanno researched the era, other notable style icons, and worked to build a style guide for the film to bring the character to life.
The recognition he earned, goes to show that there's still a long way for Asian-Americans to be represented in all facets of media. His journey has influenced others along his path to follow suit. He told Variety, "I started with Lady Gaga 13 years ago, and fans from around the world who have written to me telling me they have become hairdressers — that to me is probably one of the most rewarding things ever. It's also about being a role model in that I am Asian American with refugee parents."
Frederic Aspiras mother, Suzie L. Nguyen came to San Francisdc as a refugee from Vietnam. Her journey as a single mother brought her to go to cosmetology school and open her own salon business. Here is where Aspiras was inspired by watching his mother put on makeup and prep people's hair. Now, he's the next generation who continues his mother's legacy while breaking the mold of stereotypes. We'll be tuning in and having our fingers crossed this Oscars!
Cover Photo Credit: Frederic Aspiras Twitter
Dante Basco and the Basco brothers had a successful World Premiere at SXSW 2021 and overall stellar film festival run with their movie, The Fabulous Filipino Brothers. Dante's directorial debut with 1091 Pictures is now out for everyone to stream! Log in to your Apple TV+, Amazon Prime Video, and Google Play accounts to start watching!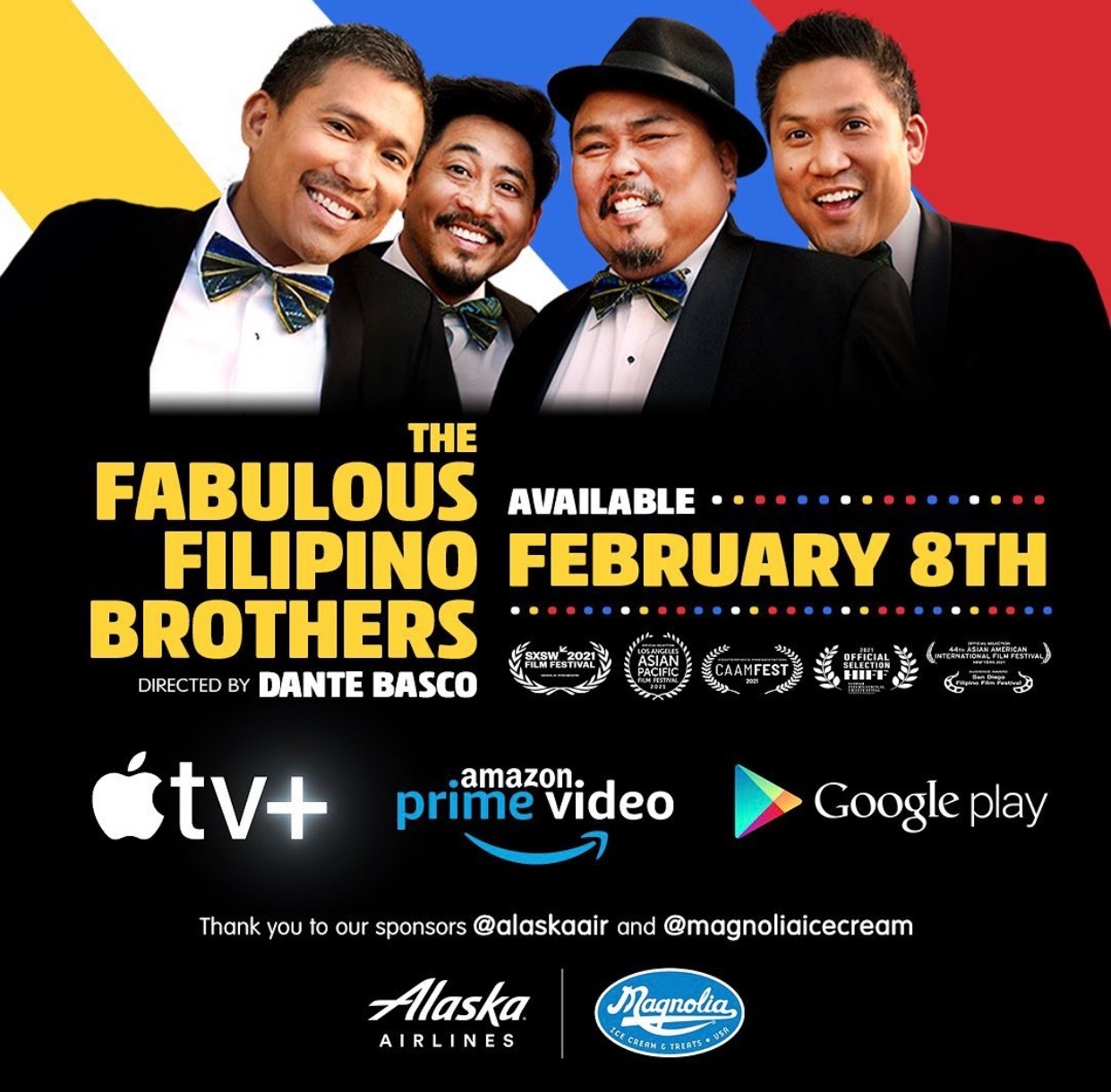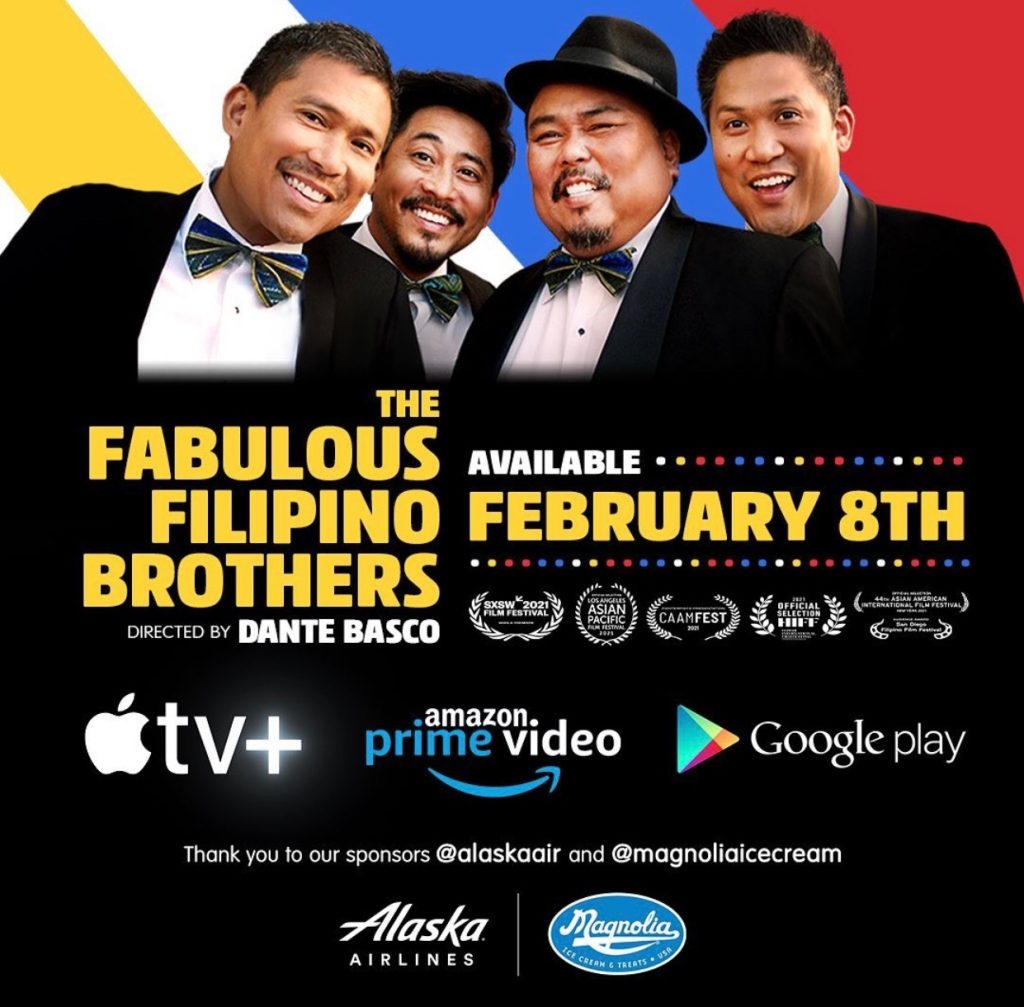 If you want to get some inside details to making the film, you'll want to tune check out our MYXclusive with the Basco Family! Dante, Darion, Dion, Derek, and Arianna join DJ Marlino for a chat about making a film that is showing who they are as a family. They talk about portraying a real Filipino family on-screen and being our own uniquely Filipino selves. If you want to see the realest representation of us on film, we're all in for a treat! In the words of Dante Basco, "no one has ever seen no Filipinos on film like this ever."
After its robust World Premiere at SXSW 2021 and a stellar film festival run, the film, co-written by Dante and Darion Basco, the film is told through four vignettes that follow each of the Basco Brothers as they prepare for the ultimate Filipino family event - a wedding.
It's an intergenerational comedy that is sweet, at times raunchy, and full of heart. Filmed pre-COVID, the background was set in their hometown of Pittsburg, California. Dante wore multiple hats behind the camera along with his co-stars the Basco siblings Darion, Arianna, Dionysio, and Derek. The film's score was produced by AJ Rafael.
According to Deadline, Dante Basco and his brother Darion co-wrote the film in collaboration with management and production company, TheMachine. In addition to starring their family, it also included Solenn Heussaff, Tirso Cruz III, Liza Lapira, Joe Jitsukawa and Joey Guilla rounding out the cast.
The Basco Brothers have been promoting the film and holding screenings around the U.S. Dante has always dedicated himself to Filipino American representation in media, and telling stories of his community to the nation. Catch the remaining 3 tour dates in SoCal!
2/8 - Los Angeles, CA at 2220 Arts + Archives (with special guests and Q&A panel with Dante Basco)
Cover Photo Credit: Dante Basco Twitter
Actress Ivory Aquino recently was added to the cast of the HBO Max film, "Batgirl" starring Leslie Grace. Aquino will be playing Batgirl's best friend and roomie, Alysia Yeoh in this film adaptation of the comics.
Her character first appeared in the comics in 2011, and she is the first major transgender character to appear in a live-action film adaptation. Other details about the film is being kept under wraps, but the plot focuses in on Gotham City police commissioner Jim Gordon's (J.K. Simmons) daughter, Barbara (Leslie Grace).
According to Deadline, Aquino is best known for turns in the Netflix series When They See Us and Tales of the City, and in ABC's When We Rise. She's also featured in series including Blue Bloods, FBI: Most Wanted, New Amsterdam and High Maintenance, as well as Isabel Sandoval's Lingua Franca and other films.
Cover Photo Credit: Ivory Aquino Facebook
Not long now until we get a new project from Donny Pangilinan and Belle Mariano and we cannot wait! They just teased the trailer to their new rom-com film, Love is Color Blind. This marks the tandem's first official film as the DonBelle love team. It's set to release on December 10th and stream on iWantTFC and KTX.ph.
The film follows Ino (Pangilinan) and Cara (Mariano) who are best friends but with the possibility of something more. Cara helps her friend heal and recover from his past that has left him literally color blind. Although Cara tries to bring back happiness to Ino's life, Ino may have found happiness with someone. The tension rises as Cara wonders if Ino will see her as anything more than a friend.
Newcomer, Angelina Cruz will be Iris and Jeremiah Lisbo (He's Into Her) is also in the movie playing the character of Sky who complicate things even more. The project is directed by John Leo Garcia with a digital premiere on December 9 via KTX.ph followed by its global release the next day.
Cover Photo Credit: Star Cinema Twitter
Fil-Am director Maritte Lee Go has an upcoming film called, Black as Night premiering on Amazon Prime Video, October 1st. The film is one of four new horror films under "Welcome to the BlumHouse." The trailer dropped and just in time for spooky szn!
The film follows a teenage girl played by All American actress Asjha Cooper living in New Orleans with a fairly ordinary life. With self-esteem issues, she finds confidence in the most unlikely way. What was supposed to be another summer in The Big Easy turns into spending a summer battling vampires that prey on the disenfranchised. Of course, she can't do it alone and recruits her best friend, her crush, and a peculiar rich girl. It's a classic battle of humans vs. vampires that'll have you on the edge of your chair.
Raised in a Filipino household and growing up around the stories about monsters and the supernatural. Go's interest in horror started young. She event said that at 14 years old, Go wrote in her diary that she was going to make a horror anthology! She gravitated towards horror because of how it speaks to audiences and explores the "what ifs" of reality. But also the horror genre is able to handle hot-topic issues in unique ways.
Go was first an actress before becoming a filmmaker, but was type casted in Asian roles like a Geisha or nail technician. She received an MFA in Film and Television at USC to be able to break barriers and create more representation in the industry. Her experience as a line producer on various productions allowed her to see an entire project at a broad scale especially working in indie films. Her directorial debut feature, Rise is a dramatic thriller inspired by the real-life conflict between the Nigerian people and the Boko Haram insurgency.
She's also recognized for her work and received the Barbara Boyle Excellence in Filmmaking Award and an HBO Visionary award winner for her short film Remittance. Go also received the CAMERAderie WIM grant for her short film Illipino, which premiered at the Los Angeles Asian Pacific Film Festival and Holly Film Festival.
Cover Photo Credit: Maritte Lee Go Instagram
H.E.R. is juggling a lot these days from going back on the road for the "Back of My Mind Tour" starting this fall to just announcing her own line of shades with DIFF, but this multi-talented artist now adds a major film, "The Color Purple" to the roster. We all know she already has an Oscar and a Grammy, can she join the likes of John Legend and go for the EGOT? If anyone is up for the challenge, H.E.R. is ready!
"The Color Purple" won't be H.E.R.'s first time on-screen. We caught a glimpse of her acting chops on Netflix's "Yes Day," but now she joins the cast for a musical remake of the original 1985 film. She'll be taking on the role of Squeak, "a junkie joint waitress to an aspiring singer" in the upcoming adaption. The role was originally played by Rae Dawn Chong.
The 1985 film based on the Pulitzer Prize-winning 1982 novel by Alice Walker is a coming-of-age story that starred Danny Glover, Oprah Winfrey, Whoopie Goldberg, and Margaret Avery directed by Steven Spielberg. The story centers on a woman named Celie Harris and tracks her life-long struggles as an African American woman living in the South during the early 1900s. According to Variety, the new adaption will be directed by Blitz Bazawule for Warner Bros and Oprah and Steven Spielberg as producers.
H.E.R. is already an Oscar winner for best original song with "Fight For You" in "Judas and the Black Messiah" and she has four Grammys under her belt. So talks of an EGOT is only natural, but we're just so excited to see H.E.R. on the big screen soon as she's going to nail it as Squeak.
If you want to see H.E.R. before her major film debut, catch her performing at Lights on Festival this September or in October on tour with Tone Smith! Tickets are on sale now!
Also, if you're feeling H.E.R.'s vibe, check out the signature collection of H.E.R. x DIFF sunglasses and frames that features 10 styles and special trifold case + glasses cleaning cloth. Three new colors just dropped so there's a color for every one of your moods!
Check back soon for more details on H.E.R. and "The Color Purple."
Cover Photo Credit: H.E.R. Official Facebook
The Manny Pacquiao Executive Produced film Zeus has inked a worldwide distribution partnership with ABS-CBN. The movie is written, directed and stars Chris Sorriano who plays Zeus a young boxer who goes viral helping protect an old Asian man getting attacked at park.
Sorriano mentions in an interview with CBS Los Angeles that he felt the need to create and realease this movie right at this moment because of the ongoing racial hate crimes that we see on the news daily.
You can watch the film on iWantTFC, TFC, and KTX.PH starting 8/19.
About The Film:
When an old Asian man is attacked and sprayed with hand sanitizer, a young boxer knocks out the aggressor. This turns him into a viral star which gets the attention of the Middleweight champion who decides to challenge the young boxer in the ring to an unorthodox boxing match in a COVID-19 pandemic. 
Follow them on:
Instagram: @zeusthefilm
Facebook: Zeus The Film
Twitter: @zeusthefilm
Official Website: www.zeusthemovie.com
Cover Photo Courtesy of: Zeus Film
Vanessa Hudgens is going back to her musical roots in the upcoming Netflix film, Tick, Tick... Boom! The film stars Andrew Garfield, who you might also know as an OG Spider-Man and it'll be directed by Lin-Manuel Miranda, a multitalented artist and Broadway legend. Miranda recently directed the recently released musical film, In the Heights.
Tick, Tick... Boom! originally was a musical written by Jonathan Larson and tells a story about an aspiring composer named Jon. It takes place during the 90s in New York City. An autobiography on Larson trying to establish his theater career. Garfield will be portraying Larson while Hudgens will be playing a character called, Karessa Johnson. Not much yet is revealed about her character, but she is featured in the trailer! Since filming wrapped up in October 2020, we can expect the film to be released later this year in the fall.
Cover Photo Credit: Vanessa Hudgens Facebook
Our friends over at Kollective Hustle shared a cast photo from the first week of filming, Easter Sunday. The film stars Fil-Am comedian Jo Koy and directed by Jay Chandrasekhar. Easter Sunday takes from Jo Koy's life experiences all set around an Easter Sunday celebration.
The photo's caption shares the list of cast member involved in the film. We found out last month that Yellow Rose star Eva Noblezada is on the roster along with fellow comedian Brandon Wardell who's playing Jo Koy's son. Also joining the cast are:
Asif Ali
Tia Carrere
Lydia Gaston
Rodney To
Eugene Cordero
Melody Butiu
Joey Guila
Elena Juatco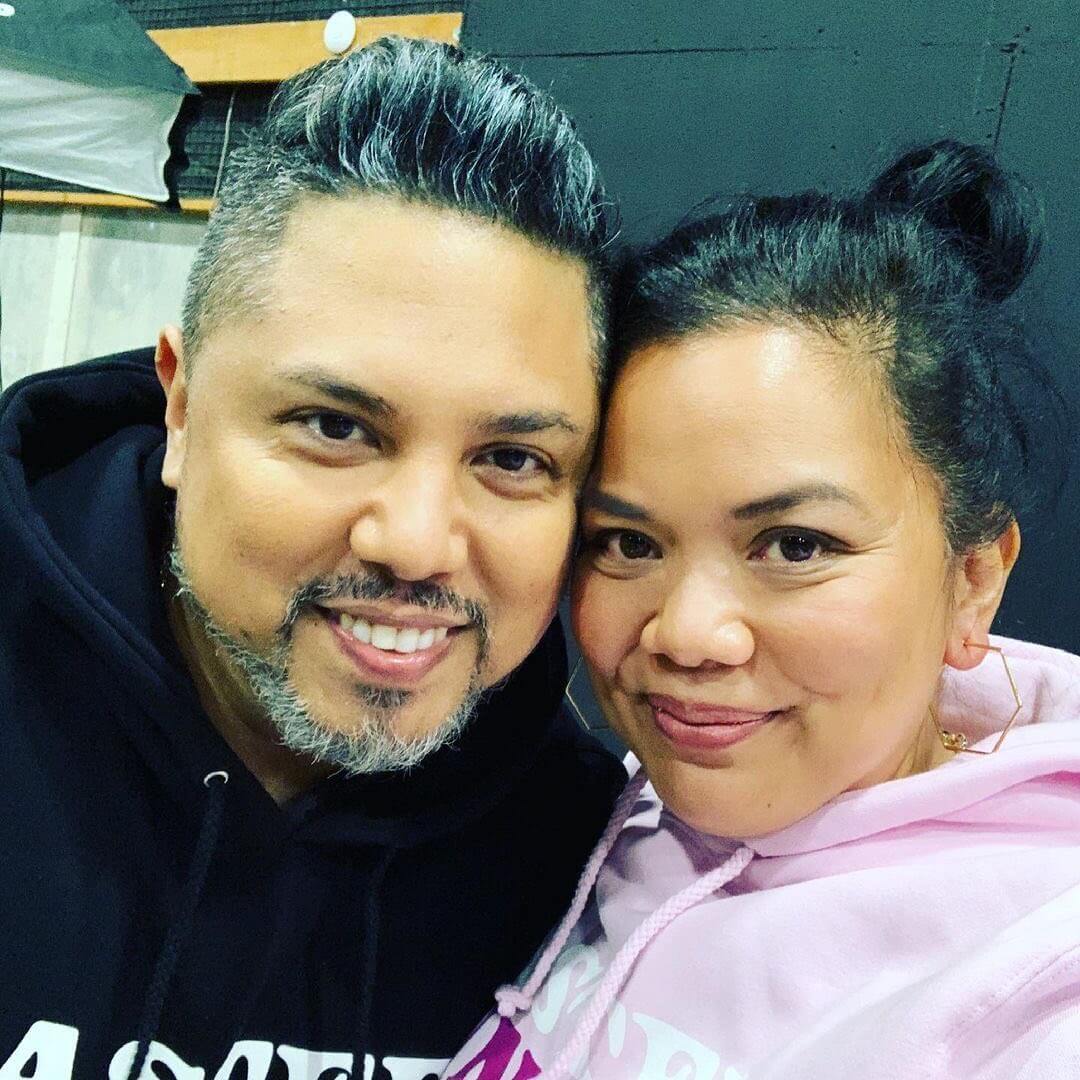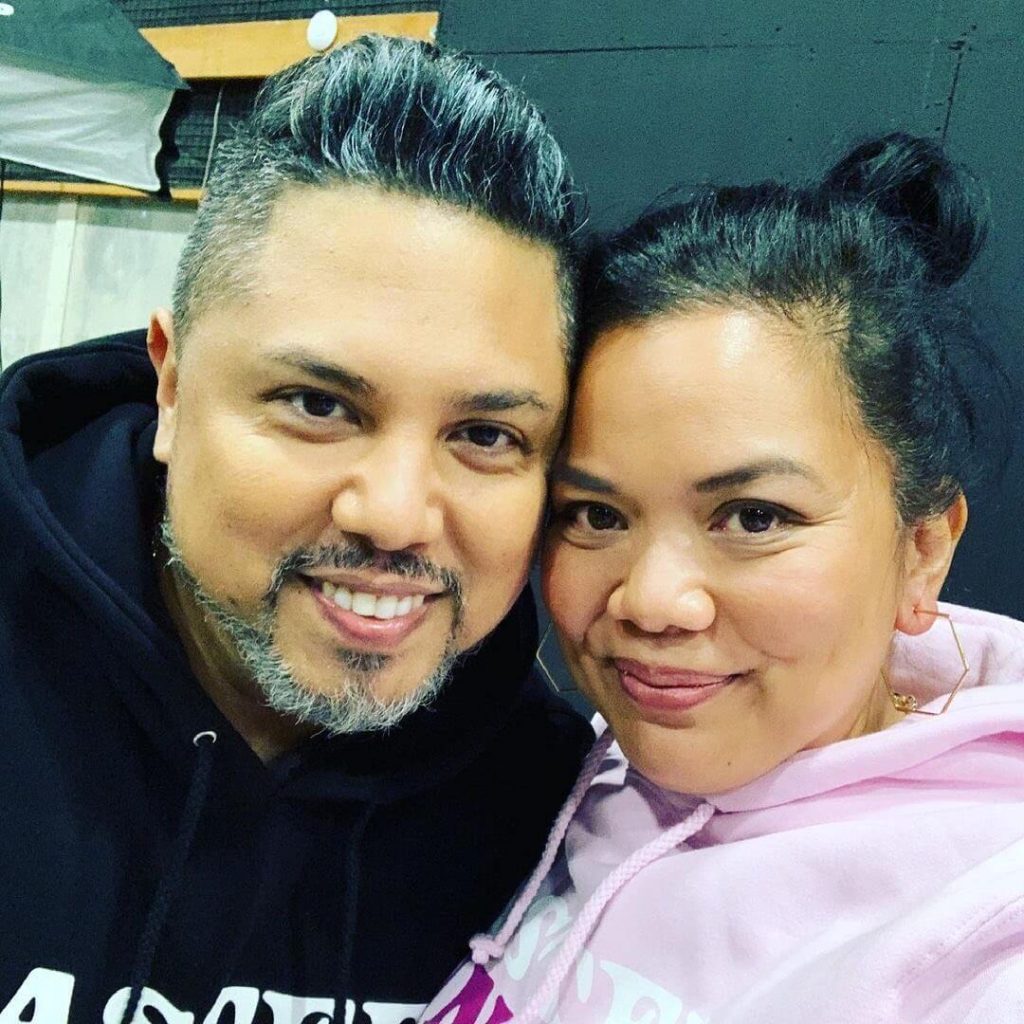 Jo Koy shared how meaningful it's been to start production on a film that highlights a Filipino family. It'll not only bring representation, but also showcase diverse and talented individuals, and the Filipino culture globally. He's said before that his story not only relates to Filipinos, but it resonates with many other people. The story of family is the center of Jo Koy's career and something that's relatable worldwide.
Cover Photo Credit: Kollective Hustle Facebook