The end of summer is near when school starts back up. To help with transitioning back to school mode, Olivia Rodrigo is sharing her unique style with fans. Her newest line of merch is perfect for all the seasons of school from sweater vests, hoodies, zip-up jackets, and shirts. Go back with an edge and make new friends along with the way!
If you want more of a subtle nod to show your support, she has you covered with accessories ranging from socks, laptop cases, binders, notebooks, and more. They all follow her recognizable purple color scheme with lots of stickers! You get to set up your style how you want!
The singer-songwriter recently finished up her North America part of the SOUR Tour and has also played cities around the world. Olivia met a few iconic artists throughout like Avril Lavigne, Alanis Morissette, Jack White, and most recently Billy Joel. Yes, that Uptown Girl, Billy Joel. Check out some throwbacks, we dare you not to sing along.
Cover Photo Credit: Olivia Rodrigo Updates Instagram
Weekends are made for catching up on new shows, films, and Olivia Rodrigo's latest BTS documentary, driving home 2 u (a SOUR film). Now available on Disney+, Olivia takes a roadtrip from Salt Lake City, Utah to Los Angeles reminiscing about the journey of writing her debut chart-topping album, SOUR. Along the way, she performed songs from the album throughout various sceneries during pit stops across states bringing a different vibe to the songs.
The documentary gave an inside look at the preparation and production of the album as Olivia shared about her heartbreak, frustrations, and nervousness of putting her feelings into songs. She worked with songwriter and producer, Dan Nigro for the album and his BTS clips of their studio time really shows the audience how much work was put into the project. We learned that the first track off SOUR, "Brutal" was written in a day right before the official track listing was decided. Olivia wanted an upbeat track to contrast "all the sad songs." What was initially a fun jam session turned into the single introducing Olivia's sound as an artist.
See how this Grammy-nominated artist grew as a teen to this certified superstar artist in the blink of an eye. The documentary reminds viewers how Olivia has so much to offer in her young career and with the success of SOUR, the only direction is up. Disney+ also shared BTS polaroid photos while filming, giving us all deja vu of when we first listened to the record. Performing new renditions of all the tracks on the album, Olivia surprises fans with an unreleased track, "baby is you" to close out the film while credits roll. We hope the song officially release so we can add it to our playlists.
Cover Photo Credit: Olivia Rodrigo Twitter
Olivia Rodrigo had everyone thinking there was new music coming or a new music, but she doesn't disappoint with her latest announcement. If you can't get enough of her chart topping album, SOUR, Olivia is gearing up to release a documentary film, driving home 2 u where she talks about her journey in creating the album. The trailer for the film just dropped and gives us a peek on what to expect. It'll stream on Disney+ on March 25th so mark your calendars!
The album, SOUR was a passion project for the accomplished musician where she wanted to share her most inner thoughts in a way that was proud and not ashamed. In her own words, the project came from a place of hurt but managed to turn it something she is proud of.
Olivia is a songwriter at heart and we'll be able to go behind the scenes of her artistic process. The film will also bring us new arrangements of our favorite songs from the album along with new visuals. She is also getting ready for her first SOUR Tour! You can catch her live in a city near you!
Cover Photo Credit: Olivia Rodrigo Instagram
Apple Music recently released the winners to the third annual Apple Music Awards and among those who were recognized for their influence in music and global culture are Olivia Rodrigo and H.E.R. These talented musicians won Breakthrough Artist of the Year, Album of the Year, and Song of the Year (Rodrigo) and Songwriter of the Year (H.E.R.).
Olivia Rodrigo had a massive year to say the least from her debut single, "Driver's License" that took pop culture by storm to releasing her charting album, SOUR there's no stopping her. The streaming service recognized that "'Drivers License' registered the highest first-week streams ever for a debut single by an artist on Apple Music globally, reaching No. 1 on the Daily Top 100: Global chart." It also became the fastest debut solo track by a US artist to rack up 5 million Shazams.
As for the album, SOUR earned an Apple Music First Listen virtual event with fans and an accompanying interview with Zane Lowe. The album had the highest first-week streams for a debut album on Apple Music globally, with all 11 songs on the album ranked on the Daily Top 100: Global chart, as well as the Daily Top 100 chart in 66 additional countries. As Olivia takes home 3 Apple Music Awards, she talks about her surreal journey so far. "I did my first interview for 'drivers license' with Apple Music, and so much has happened since then," Rodrigo said. "It's truly surreal. Thank you to Apple Music for these amazing awards."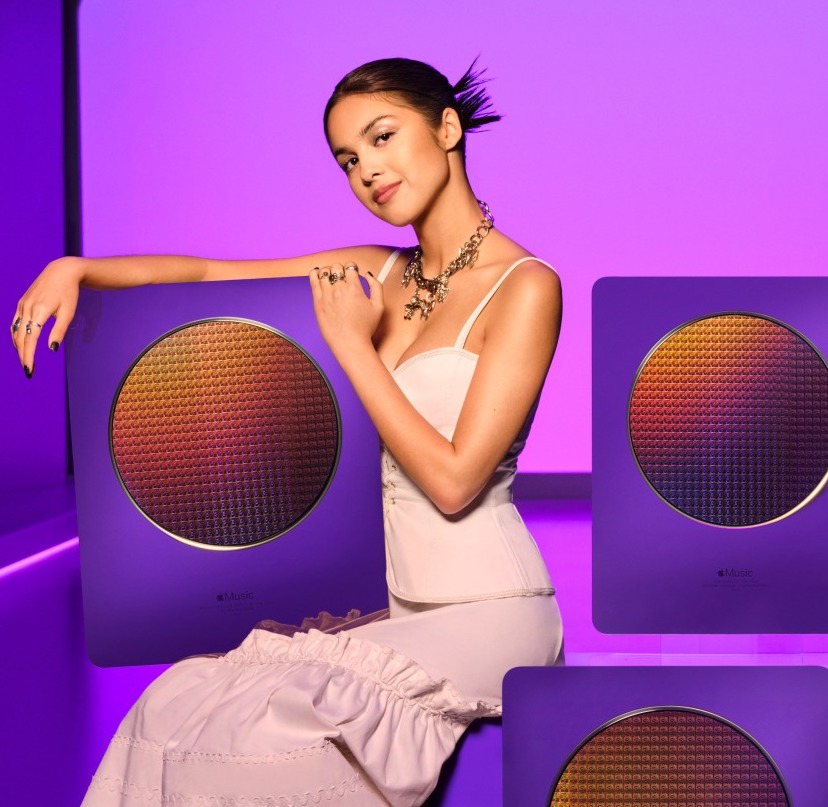 H.E.R. equally had a monumental year from winning a Grammy to an Academy Award, she's been a pioneer in her craft. The 2021 album, Back of My Mind captured H.E.R. as an artist that's "brilliant, confident, and freewheeling." Apple Music highlights that the chart-topping album was the third most streamed R&B/Soul album on Apple Music in its first week of release by a female artist. The singles "Damage" and "Come Through" (featuring Chris Brown) both spent weeks on the Daily Top 100 chart in over 30 countries.
She also collaborated the streaming service for the exclusive "Juneteenth: Freedom Songs" compilation covering Marvin Gaye's "Inner City Blues (Make Me Wanna Holler)." As H.E.R. guests on various Apple Music 1 shows and playlists, she recognizes how important the recognition is in diversifying music as a whole. "I am very honored and blessed to receive this recognition. As a young Black and Filipino artist, and a woman who is on the stage giving my all, there's no doubt that representation is important. Thank you so much, Apple Music."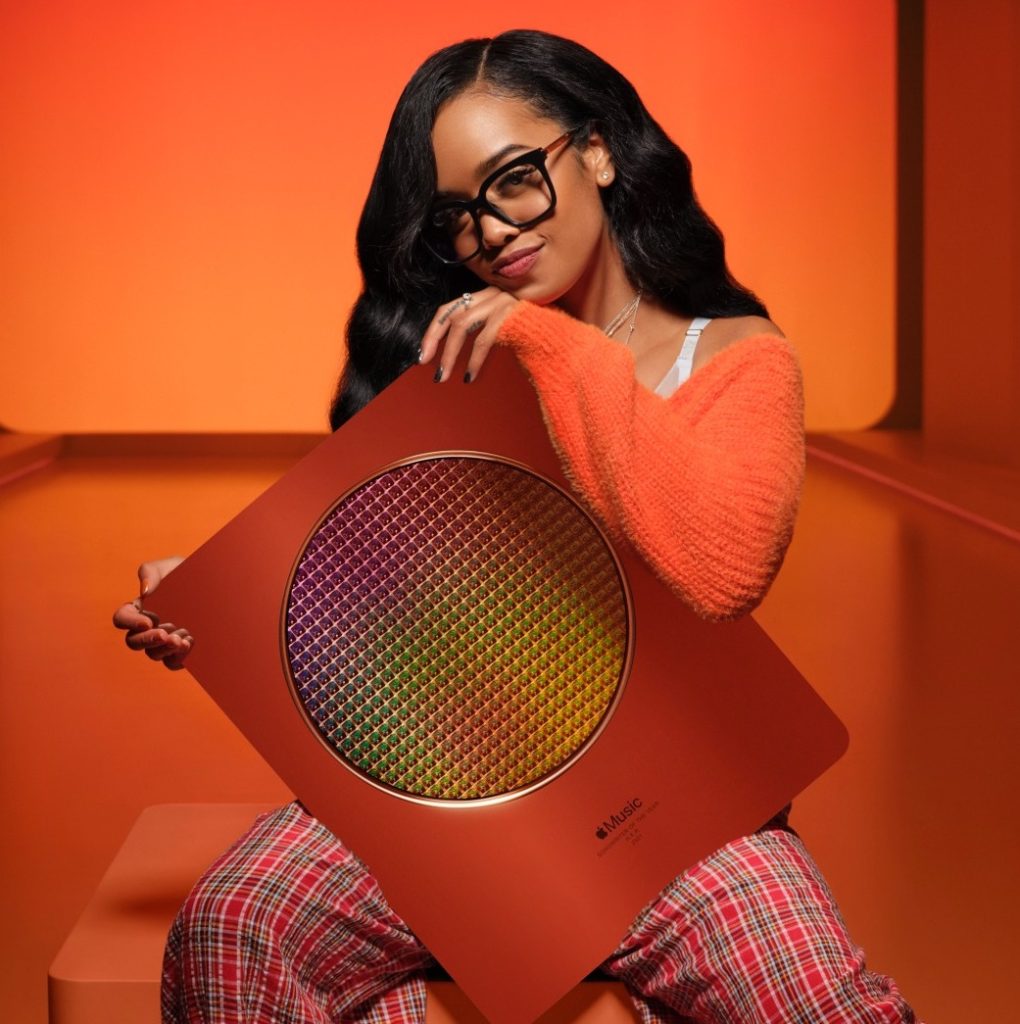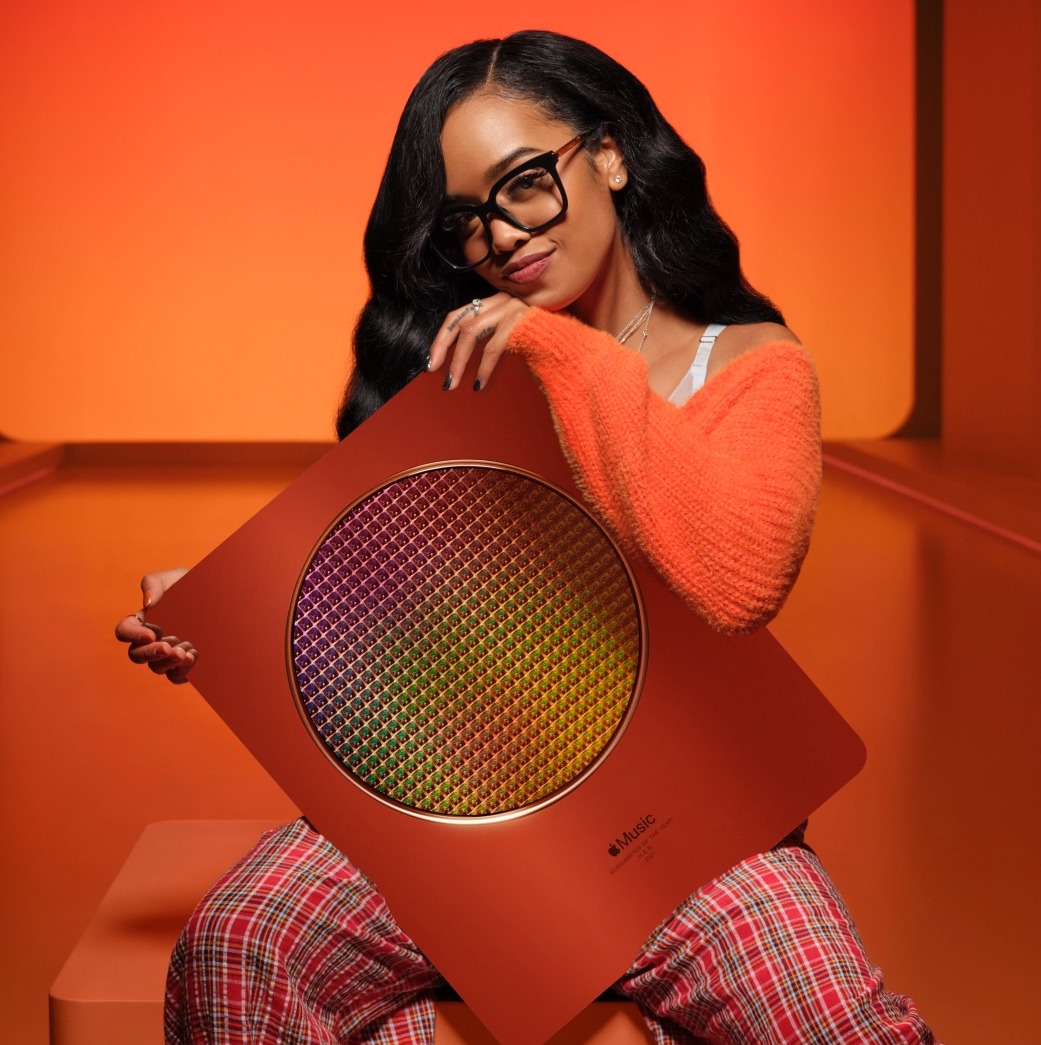 Check out the complete lists of winners here.
Cover Photo Credit: Apple Music Facebook
We all want to protect Olivia Rodrigo at all cost because we can't get enough of her. We finally catch her debut late night show interview on Jimmy Kimmel. She talks about visiting the White House and her initiative on encouraging young people to get vaccinated, she's also reached the threshold of over a billion streams on Spotify, and what's next for her music.
Olivia recalls her visit to the White House earlier this year and hanging out with President Biden himself. She mentioned she received gifts from her visit like the aviators, M&Ms, and a shoe horn with the presidential seal. That's uhm… very interesting but at least the sunglasses balance it out.
She's asked about what's next for her music even with SOUR still soaring the charts and new radio singles coming out. Songwriting is therapeutic for Olivia as it describes her feelings that are uncomfortable, she said "you can be a happy person and still be upset sometimes." Preach, Olivia!
What she was happy about was meeting Alanis Morisette for their Rolling Stone cover. With similar career paths, they chatted about starting out on TV, shared dating advice, and the move to music. With SOUR being so successful and reaching over a billion stream on Spotify, we can't help think when's the next album coming and what would it be called? Obliviously "sweet" would make sense, but Olivia is keeping it all under-wraps for now.
Olivia also performed her current single, "Traitor" to close out the show. Check it out below!
Cover Photo Credit: Jimmy Kimmel Live Twitter
Olivia Rodrigo is the definition of Gen Z, but she sure does love the millennial era. She finally dropped the music video for her angsty track Brutal from her debut album "SOUR." The video has Y2K written all over it! It's a packed video filled with different looks, sets, and guests. We see a few familiar faces like Moxie's Nico Hiraga, Euphoria's Lukas Gage, and model Salem Mitchell. It starts in a retro video game feel with viewers choosing their player or in this case, choose your Olivia. As soon as the beat changes, it cuts to Olivia's various characters: a ballerina, doll, news anchor, fashionista student, to punk teen, and loads more!
Everyone agrees that the early 2000s is slowly creeping back again, especially in fashion. Let's just hope the low rise jeans don't make a comeback. Olivia wears one of her fave staples, plaid for a "Clueless" hommage, but make it punk-rock. We even catch glimpses of a little Gwen Steffani Hollaback Girl style, "Zenon" space suit (shoutout to the OG DCOMs) and Avril Lavigne sk8ter boi inspired outfit. Can we also just take another moment for the hairstyles? She rocked the space buns to the pigtails, crimped hair, and colorful highlights. Who else tried to zig-zag hair part? Tell us your favorite look from the video and which style have you tried or going to try? Use #OliviaRodrigoBrutalMYX
Cover Photo Credit: Olivia Rodrigo Instagram
It's been a busy week for Olivia Rodrigo. Her third single good 4 u comes out a week before her debut album SOUR. She'll be singing her newest single on the Saturday Night Live appearance happening this Saturday, May 15th! We catch a glimpse of her preparing for her musical guest segment on her Instagram stories as she captions a bouquet of welcome flowers with "I'm gonna cry."
Also this week, she sang Driver's License at her first huge awards show performance for the Brit Awards in the UK. At the Brit's she also finally met her musical inspiration, Taylor Swift. They caught up after the awards and it couldn't be anymore perfect.
And if you live under a rock, season 2 of High School Musical The Musical The Series is now out on Disney+. The much anticipated new season is bringing the drama not only between Nini and Ricky's long distance relationship, but also a rival school's drama department. Not to mention, the next musical is Beauty and the Beast, so expect to see and hear great numbers by the talented cast.
Cover Photo Credit: Olivia Rodrigo Facebook
When Olivia Rodrigo released her second single Deja Vu earlier this month, it climbed to the top of the charts. Before the release, she held a livestream where she shared that her debut album is almost ready. Now, Olivia Rodrigo is ready to take the music industry by storm with her debut album SOUR, releasing May 21st.
In her latest Instagram post she shares possibly the album cover or theme along with the track listing. The album consists of 11 tracks included are the smash CARaoke song Driver's License and Deja Vu. Just looking at the listing, her music tells a story. As a singer-songwriter, we can expect a diverse sound from pop to acoustic with of course a Taylor Swift/Lorde influence.
The release of her album comes one week after the premier of Season 2 of "High School Musical The Musical The Series" on Disney+. This season takes off as the East High Wildcats puts on a spring musical production of Beauty and the Beast. New friendships, relationships, and rivalries form with a competitive North High. With Olivia's character Nini off to a performing arts conservatory school, it leaves the Wildcats to adjust to a new dynamic.
Cover Photo Credit: Olivia Rodrigo Facebook