Bretman Rock is kicking off his 2023 with a major announcement! The Filipino social media star took to Instagram to announce his new book: "You're That B*tch & Other Cute Lessons About Being Unapologetically Yourself." Publisher HarperCollins described the book as: "A chaotically joyous collection of essays from one of the original influencers and the internet's sweetheart, Bretman "The Baddest" Rock." You can pre-order the book here.
On the pre-order website, comedian Chelsea Handler also shared her thoughts on the memoir: "This book is hilarious and that b*tch made me laugh out loud." "You're That B*tch & Other Cute Lessons About Being Unapologetically Yourself" narrates Bretman Rock's early beginnings as one of the most popular influencers in the world, including details about growing up in the Philippines, his Filipino culture upbringing, his family, and much more.


Check out Bretman Rock's Instagram post below and pre-order his book now!
Photo Courtesy of Bretman Rock's Instagram
The popular digital series, MTV's Following showed us the life of one of our faves, Bretman Rock and his life in Hawai'i. Season 1 showed us his new home, who are his closest friends and family including his sister, Princess Mae, his mother, and his besties. Now in Season 2, Bretman's career continues to grow and boom but sometimes that comes at the cost of family time.
According to MTV, the first episode focuses on the sibling relationship or lack of a relationship between Bretman and Princess Mae. "After a year of professional growth and success, Bretman Rock's personal life crashes down around him. In order to heal the strained relationship with his sister, Princess Mae, they turn to therapy for answers. But can they overcome their differences long enough for Bretman to help Princess move into her dream home?"
Catch six new episodes this season dropping on Mondays on MTV social channels!
Cover Photo Credit: MTV Following Instagram
"Da baddest" is back! Bretman Rock is gearing up for season 2 of his hit reality show with MTV. An official trailer dropped last week, and the gang is back with more fun and some drama to spice things up. We also see a new face in the trailer, so it looks like a new cast member will officially be introduced soon.
Check out this caption on YouTube that gives us a inside look at what we can expect from this season and check out the trailer below:
Filipino-born online celebrity, Bretman Rock, works to save his fracturing relationship with his little sister, but past traumas, his budding business empire, and emotional exhaustion stand in his way. Will Bretman be able to repair his life or will the demands of stardom tear him down?
"MTV's Following: Bretman Rock" premiers Monday, June 27, at 4 p.m. ET on MTV YouTube.
It's Asian Pacific American Heritage Month and Goldhouse is kicking it off with their A100 list, the definitive honor that recognizes the 100 APIs who have most significantly impacted American culture and society in the last year. This year 11 Filipinos made it on this prestigious list alongside some amazing Asian and Pacific Islander trailblazers who are at the forefront of this "New Gold Age."
The honorees are selected across industry categories and are voted on through a rigorous and comprehensive process with dozens of the nation's top API nonprofit organizations, a panel of multicultural icons (including actress-singer Lea Salonga, General Atlantic Vice Chairman Ajay Banga, Panda Express Co-CEOs Andrew and Peggy Cherng, actor and activist Daniel Dae Kim, GLAAD CEO Sarah Kate Ellis, and Olympian Apolo Anton Ohno, among others), and hundreds of Gold House members who are each at the apex of their respective industries.
For the first time, Goldhouse will be celebrating the honorees in person at the inaugural Gold Gala on May 21st, 2022 in collaboration with Meta and Procter & Gamble. Stay tuned for that event recap on MYX, but for now, check out the full A100 list here and see which Filipinos made it on the list below.
Filipinos on the A100 List:
Bretman Rock
Jalen Green
Bella Poarch
Jordan Clarkson
Jo Koy
Hailee Steinfeld
Olivia Rodirgo
Rachell Rae Hofstetter (Valkyrae)
Bruno Mars (Via Silk Sonic)
Lee Kiefer
Maria Angelita Ressa
Sarah Burke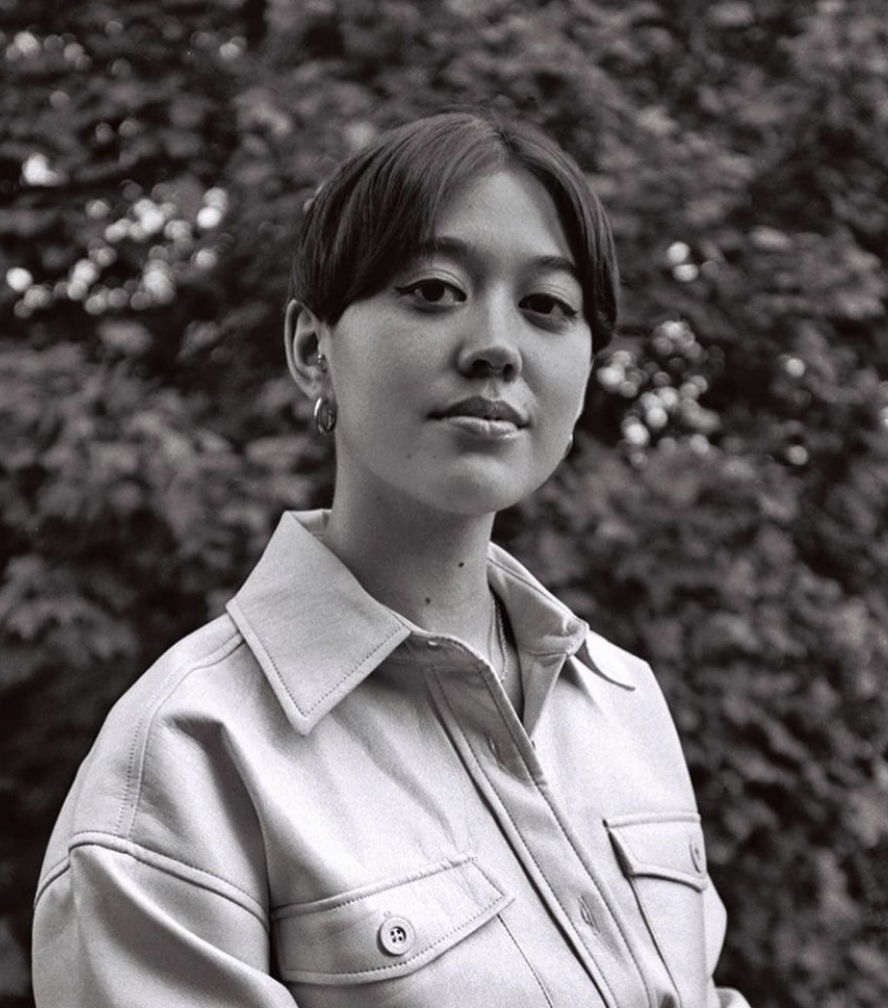 About Gold House
Gold House is the leading Asian and Pacific Islander (API) changemaker community, fighting together for socioeconomic equity. Through a suite of innovative programs and platforms, the organization unites, invests in, and promotes API creatives and companies. To learn more, visit www.goldhouse.org or follow @GoldHouseCo on Instagram, Facebook, Twitter, and LinkedIn.
Filipinos came in style to Coachella Valley this year, whether it was checking out the LIVE performances at the festivals or mansion hopping to the various lounges and house parties in the desert. See a list of some of our favorite outfits below. Fill out the form and let us know who YOU think had the best outfit or was had Coachella style that you would wear as well. Everyone that submits an answer will be automatically entered to win tickets to an upcoming MYX virtual concert so you can have your own Couch-ella at home!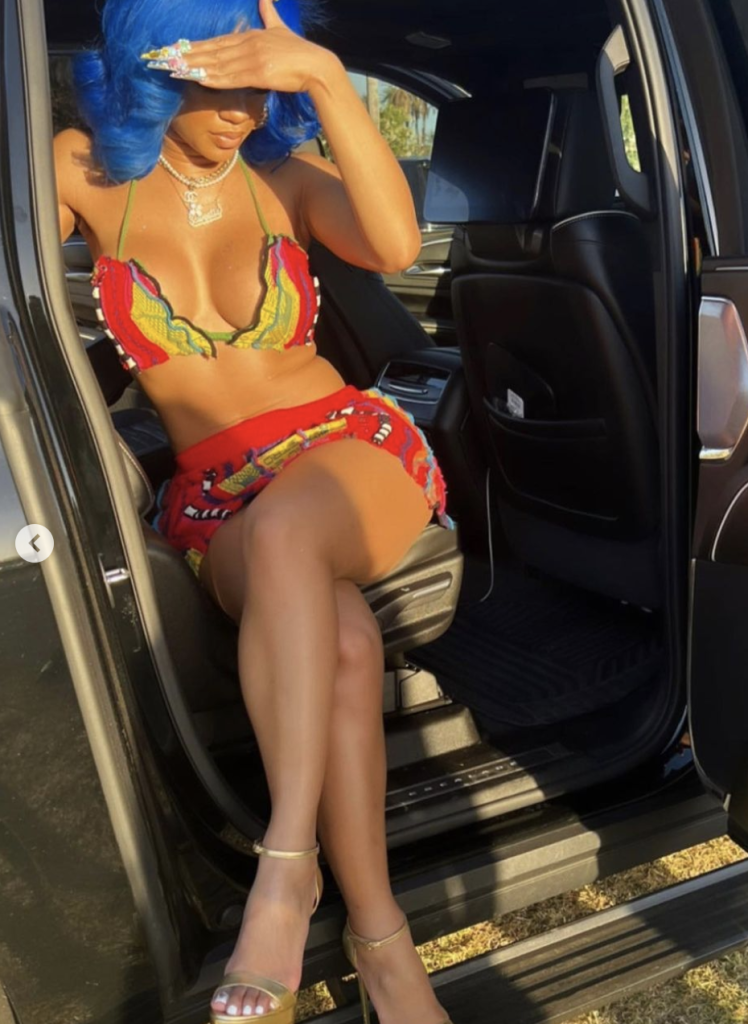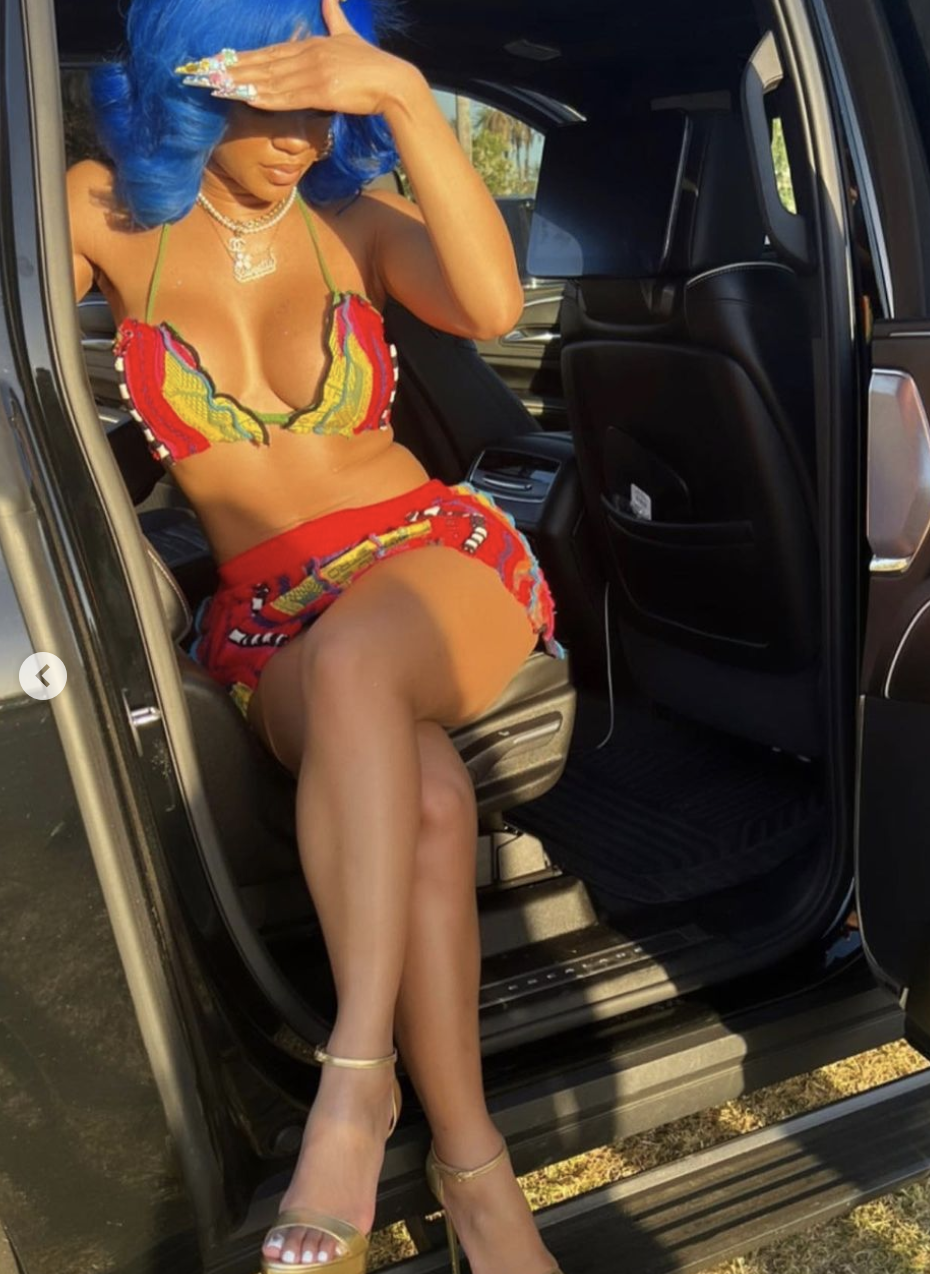 Cover Photo Credit: Vanessa and Stella Hudgens
One of the most popular music festivals, Coachella was back this past weekend after a 2 year hiatus. A huge lineup was set from Harry Styles, Billie Eillish, and The Weeknd headlining each night. However, Filipino musicians also take the stage like EYEDRESS and beabadoobee performing at the Sonora and Gobi stages. Besides the music, the fashion is one of the most talked about points during the 2-weekend festival and some of your favorite Filipino stars enjoyed the desert vibe while looking chic. Lets take look at some of the outfits worn in Weekend 1.
Vanessa and Stella Hudgens
Vanessa Hudgens is the queen of Coachella and her outfits do not disappoint. The wanderlust looks she bought to the festival throughout the years is a staple that isn't going anywhere. This year, the Hudgens sisters dress up in PowerPuff Girls colors in pink, blue, and green.
Nicole Scherzinger
Nicole Scherzinger brings the animal print pattern to the desert. The outfit screams boho-chic plus it's paired with oversized sunnies and accessories to complement, it's perfect.
Valkyrae
Valkyrae keeps it comfy and simple in a two-piece outfit with mesh pants. Whenever at Coachella, you definitely have to keep yourself cool so you can't forget the bucket hat!
Saweetie
Ate Icy brings the color with reds, blues, and gold in her outfit. We're loving the hair and the two-piece outfit designed with a textured pattern.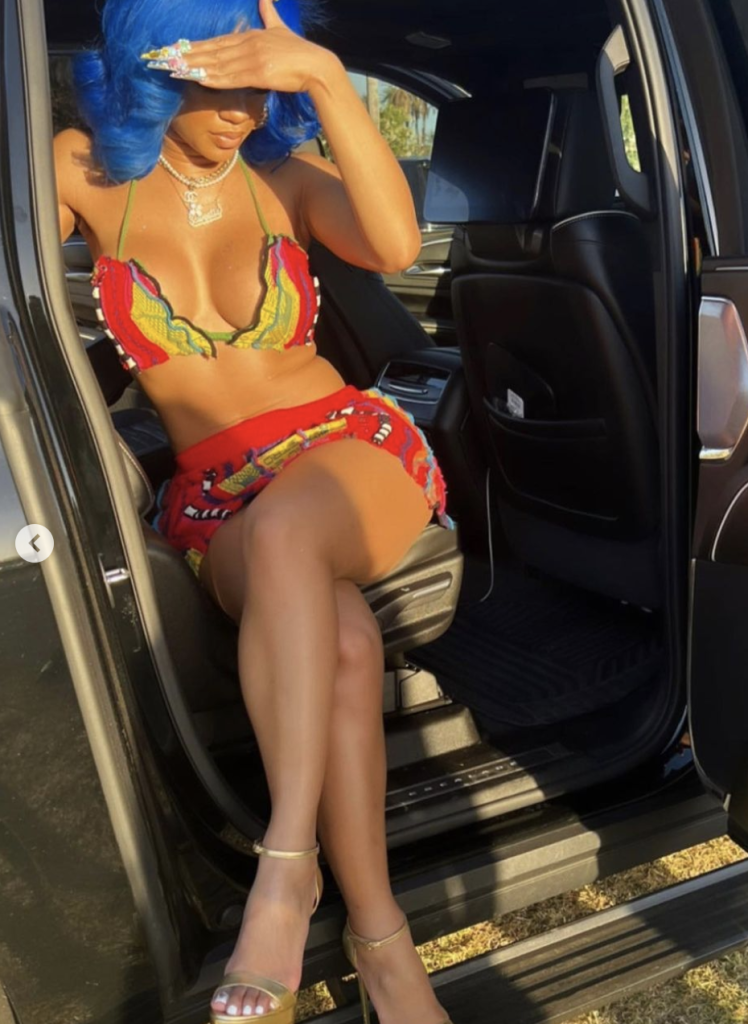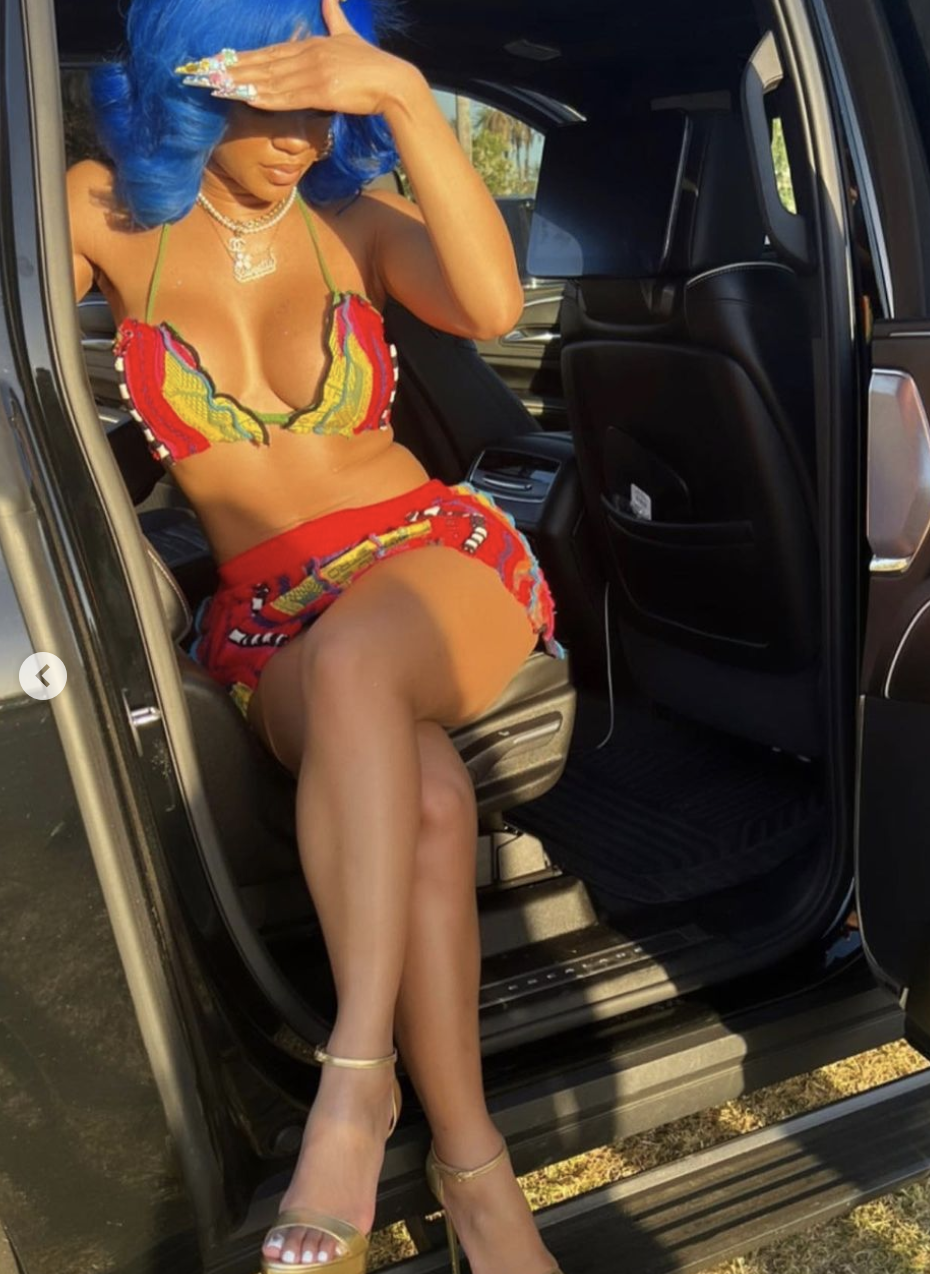 Erin Lim
The E! Entertainment host hangs out at the Revolve Fest and talks to many of the celebrities passing by including Kim K. Erin keeps it cool and flowy with a white ensemble and a cute space bun. This outfit is going to the archive for summer fits!
Raissa Gerona
The Chief Brand Officer for Revolve brings the groovy vibes to the festival. Hosting the Revolve pool party was the place to be with everyone from celebs to influencers popping by for drinks and IG-worthy backdrops.
EYEDRESS
A Sunday performer, EYEDRESS was in the middle of the action, hanging out in the pit with Jaden Smith. The Filipino artist stuck with the basics in an all-black outfit with brown chest strap.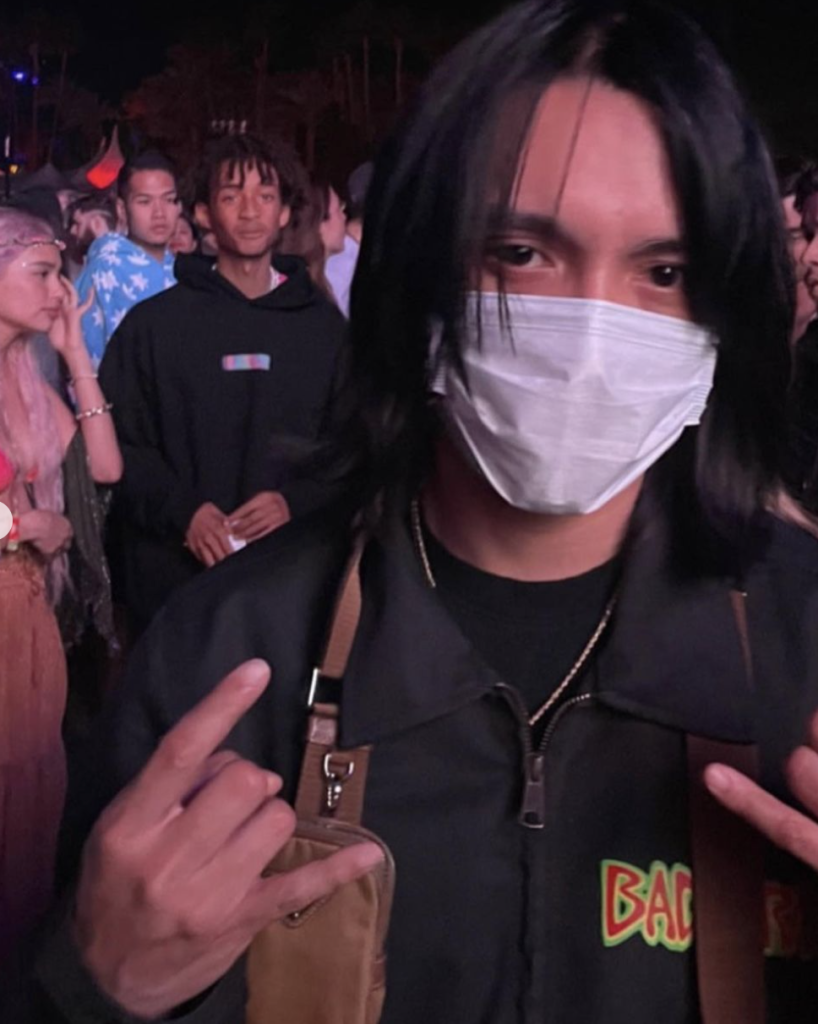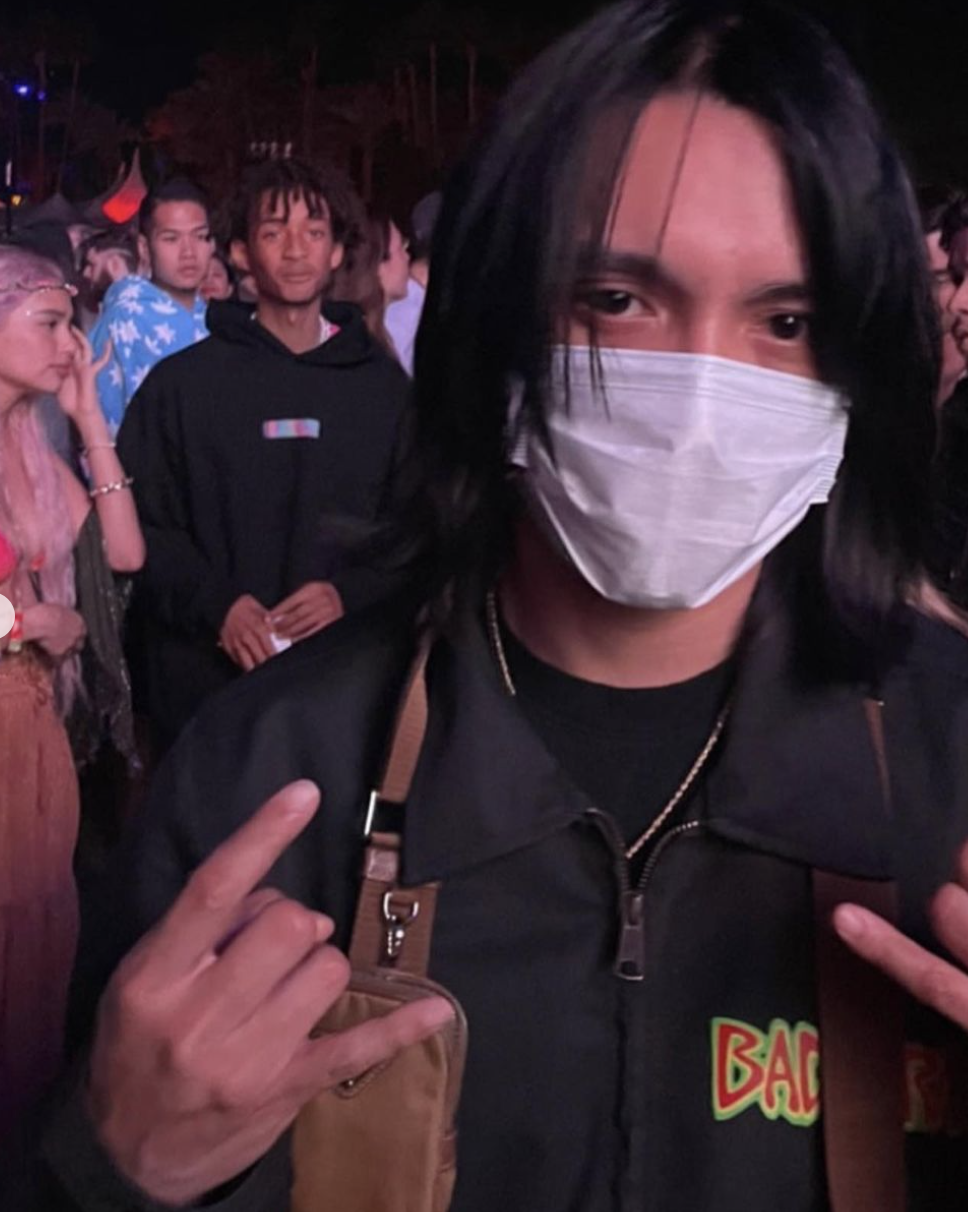 Jen DeLeon
Twitch host, Jen DeLeon went with a retro look in a halter and skirt combo. Her fit plus the backdrop behind one of the iconic Coachella structure, it didn't miss. She's there to cover all sorts of Coachella content from the sets, looking for the best outfits, best food, and more.
Miss Kay aka Keiffer
Miss Kay slays Coachella in a leather outfit. She blazes through the desert heat with a smile and a dope oversized leather blazer. We need to know where it's from!
Bretman Rock
Bretman rocks all 3 days in different looks, but our favorite is the princess-inspired look rocking all the shimmers and glitters possible.
Bella Poarch
Bella keeps it fun and flirty in another retro pattern that's sure to stick out. Her signature long braids adds to the look and can we talk about her leg warmers!
Jay-R and Mica
The couple take to the dessert in a desert appropriate rock and cowgirl themed outfit. Mica rocks a cowboy hat and mixes it with a boho-fringe top with boots for the dusty conditions. Jay-R keeps it rock-n-roll with KISS muscle tee ready to fend away the bright weather.
beabadoobee
The Fil-British Coachella performer chose a young and fun mini dress outfit before taking the stage. She kept it chic and simple showing off her body artwork.
Can't wait to see what kind of outfits will be at Weekend 2 of Coachella!
Cover Photo Credit: Valkyrae Instagram
This week's MYX News Hot List, new episodes weekly at www.myx.global/myxnews.
1. MYX MUSIC: Top of The World: Zack Tabudlo - Zack Tabudlo secured 4 spots on the new Billboard chart, "Hits of The World: Philippines" listing. He is also gearing up for his US tour in May.
2. MYX MUSIC: BGYO, BINI Enter Metaverse - P-pop sibling groups BGYO and BINI continue to make top trending waves on Twitter with a new H&M PH campaign and a historic Xpedition magazine cover launched in the Metaverse!
3. MYX FASHION: Bretman Rock's Fashion Week - Bretman Rock brought the New York Fashion Week to his home with his very own Bretman Rock Fashion Week aka #BRFW. The MTV star puts together a few breathtaking and head-turning outfits.
4. MYX SPORTS: Ylona Joins NBA All-Star Celebrations - Pinoy pride was well represented at NBA All-Star game! Aside from Jalen Green taking part in the Slam Dunk contest and Rising Stars Challenge, and Miami Heat Head Coach Eric Spoelstra coaching Team Durant, Ylona Garcia also joined the festivities as an international influencer. Plus, Cleveland-based Fil-Am Artist Glen Infante designed the Gatorade pieces!
5. MYX SPORTS: Happy SODA-versary James! - James Reid's groovy pop track, SODA
is celebrating its one-year anniversary with a brand new remix from Arthur 10.
What happens when Bretman Rock can't make it to New York Fashion Week? Well, he'll bring the fashion himself. Bretman shared different looks this week just as if he was strutting on the runway. Who needs a runway when you can make just as iconic fits at home like Bretman for Bretman Rock Fashion Week #BRFW. Take a look at what Bretman rocked this week to get into the fashion week spirit!
Bretman kicked it off with a clean and sleek suit.
Then he welcomed the first official look inspired by the Vietnamese traditional costume Ao Dai.
Bretman takes the runway to the beach in a flowy and loose fitting fit.
He rides into the end of the week in a matching set with a corset top. Where can we get ours?
What's your favorite fit from #BRFW and which one are you stealing? #BRFW should definitely be an event that happens every year from now on.
Cover Photo Credit: Bretman Rock Instagram
MYXers! We can't thank you enough for such an incredible year here on the MYX website. You have come and voted on your favorite charts, participated in Fan Q&As, have read and shared so many of our articles. We are so thankful for you all and can't wait to see what 2022 has to offer! More fan voting, engagement, and inspiring stories coming your way. For now, here are the most read articles on the site this year.
5) BGYO Shine Internationally With New Single "The Light"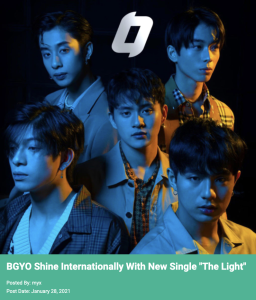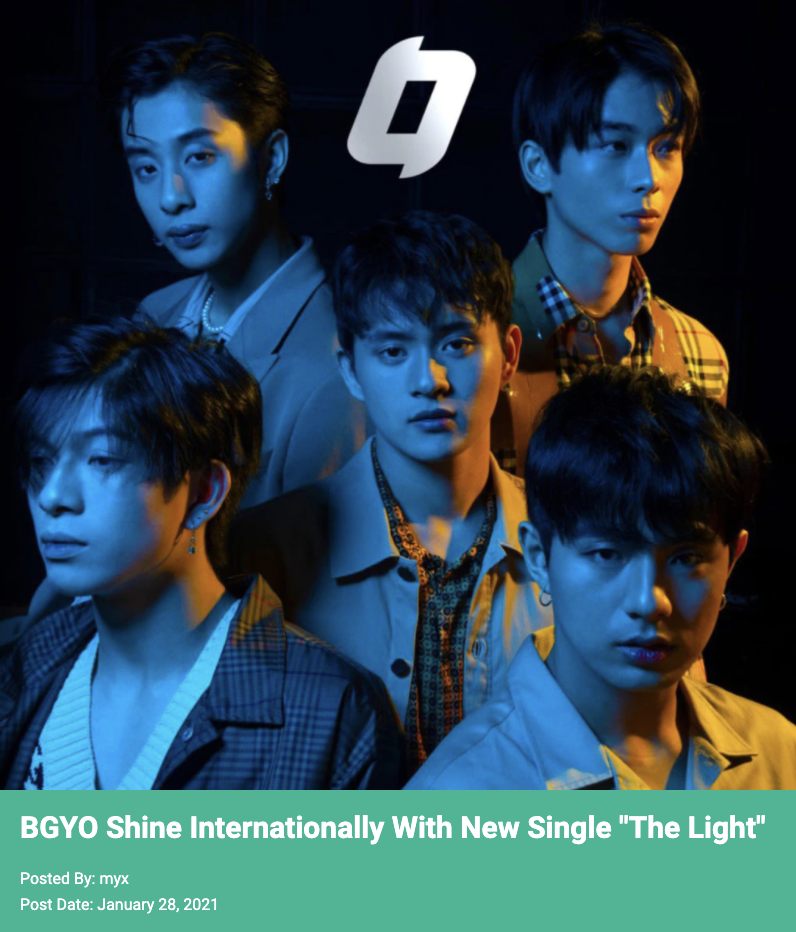 4) Watch Full Episodes & Meet the Cast of Bretman Rock's New MTV Show "Following"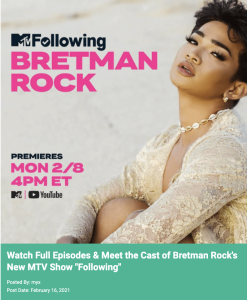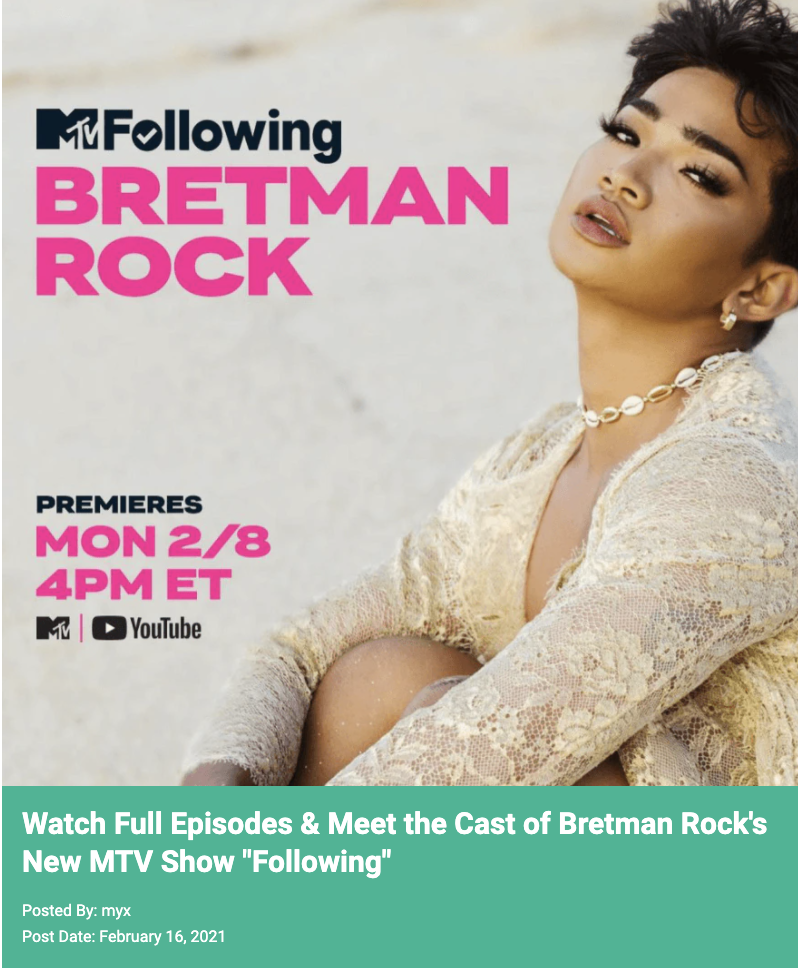 3) SB19 Premieres "What" Music Video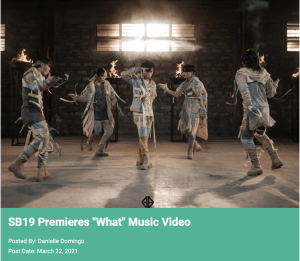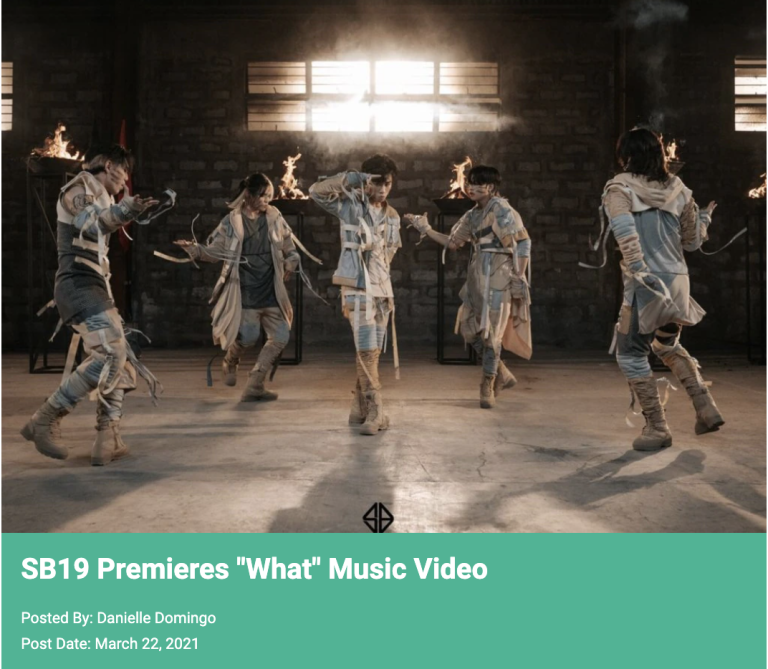 2) PBS Kids Releases Filipino American Animated Series Jelly, Ben & Pogo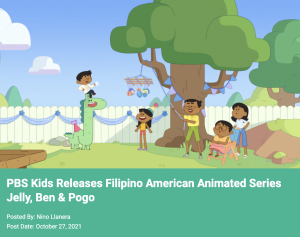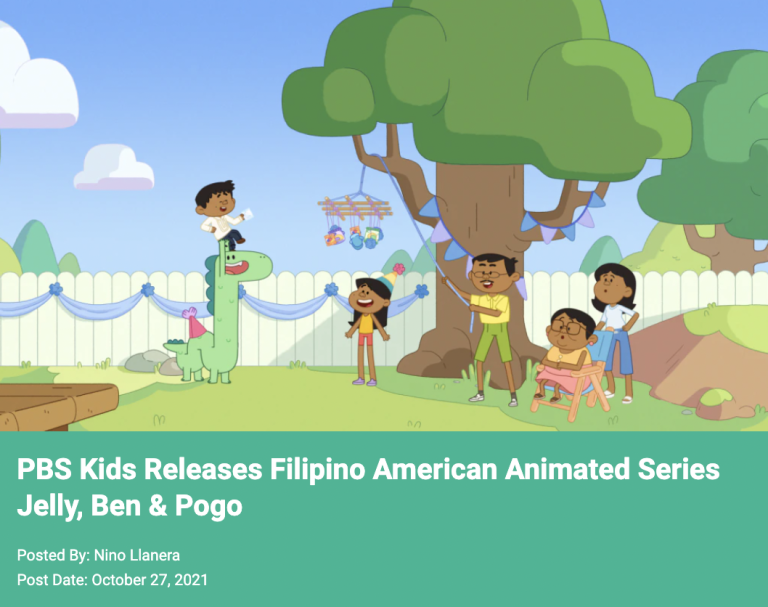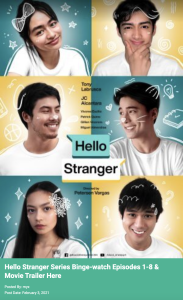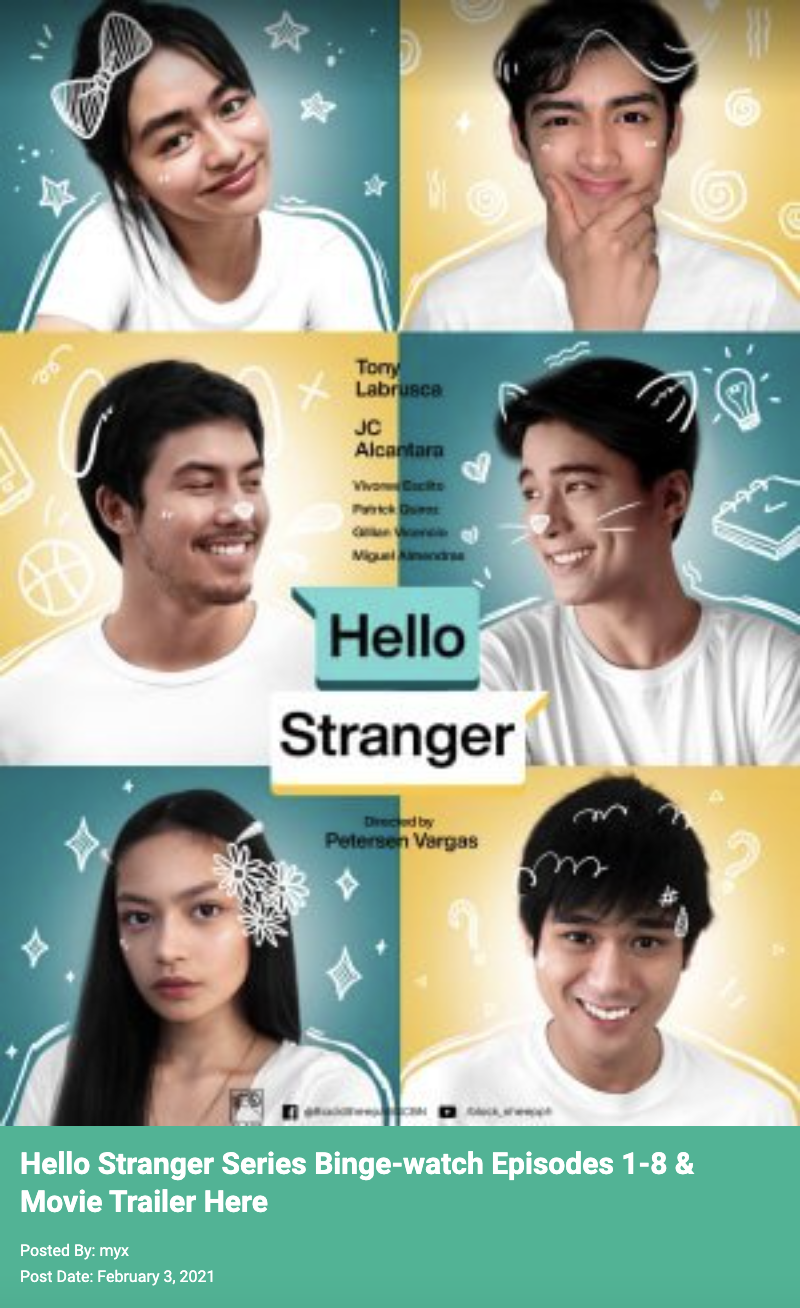 This week's MYX News Hot List, new episodes weekly at www.myx.global/myxnews.
1. MYX Entertainment: Inigo Set For "Monarch" Debut - Music Sensation Inigo Pascual is now making his mark in television in Fox's "Monarch".
2. MYX Music: New Hits - No Rome is gracing us with his debut album "It's All Smiles"; Clinton Kane also dropped his brand new song "Go To Hell" along with the music video; Troy Laureta is keeping it classic with his OPM Collective Album 2; Nadine is out with new visuals for "Wait For Me" shot in Siargao.
3. MYX Community: Bretman and Bella Celebrate Christmas - Influencer and Performers spread some holiday cheer in the annual Hi-Fi Toy Drive. Handing out the toys are none other than Bella Poarch and Bretman Rock!
4. MYX Entertainment: Beatrice Places Top 5 in Miss U - Miss Universe Philippines Beatrice Luigi Gomez finished in the top 5 of this past weekend's 70th Miss Universe Pageant.
5. MYX Entertainment: Filipino Flash Scores Big KO Win - The Filipino Flash Nonito Donaire Jr. added to his Hall of Fame career with a fourth-round knockout win against fellow pinoy Reymart Gaballo.
6. MYX Music: Guap, MB Nel, Pressa Roll Loud! - Hundreds of Hip-hop artists took the stage at Rolling Loud's California show last weekend. Guapdad 4000 took to instagram to post about the experience calling it a great end to the year.
Da Baddest, Bretman Rock dropped a little merch treat right in time for the holidays, and it's available right now. But, you better hurry up because some items are already sold out. Bretman's inspo behind the campaign was literally him running errands. Bretman came to the realization that he only wears merch when he runs errands, so he decided to center the campaign around that. The pieces in the collection include a trucker hat, totes, and t-shirts. Some of the items are available in a holiday bundle as well. You can get your merch here.
---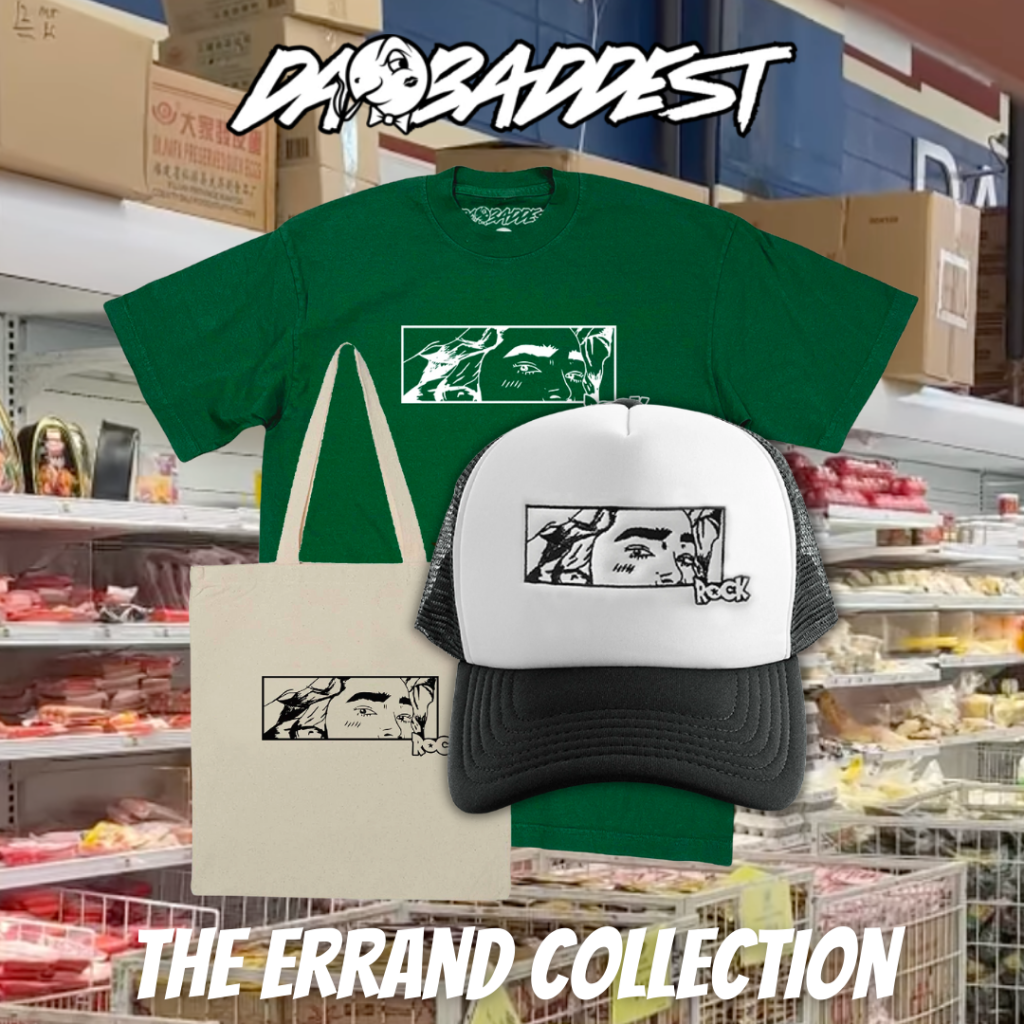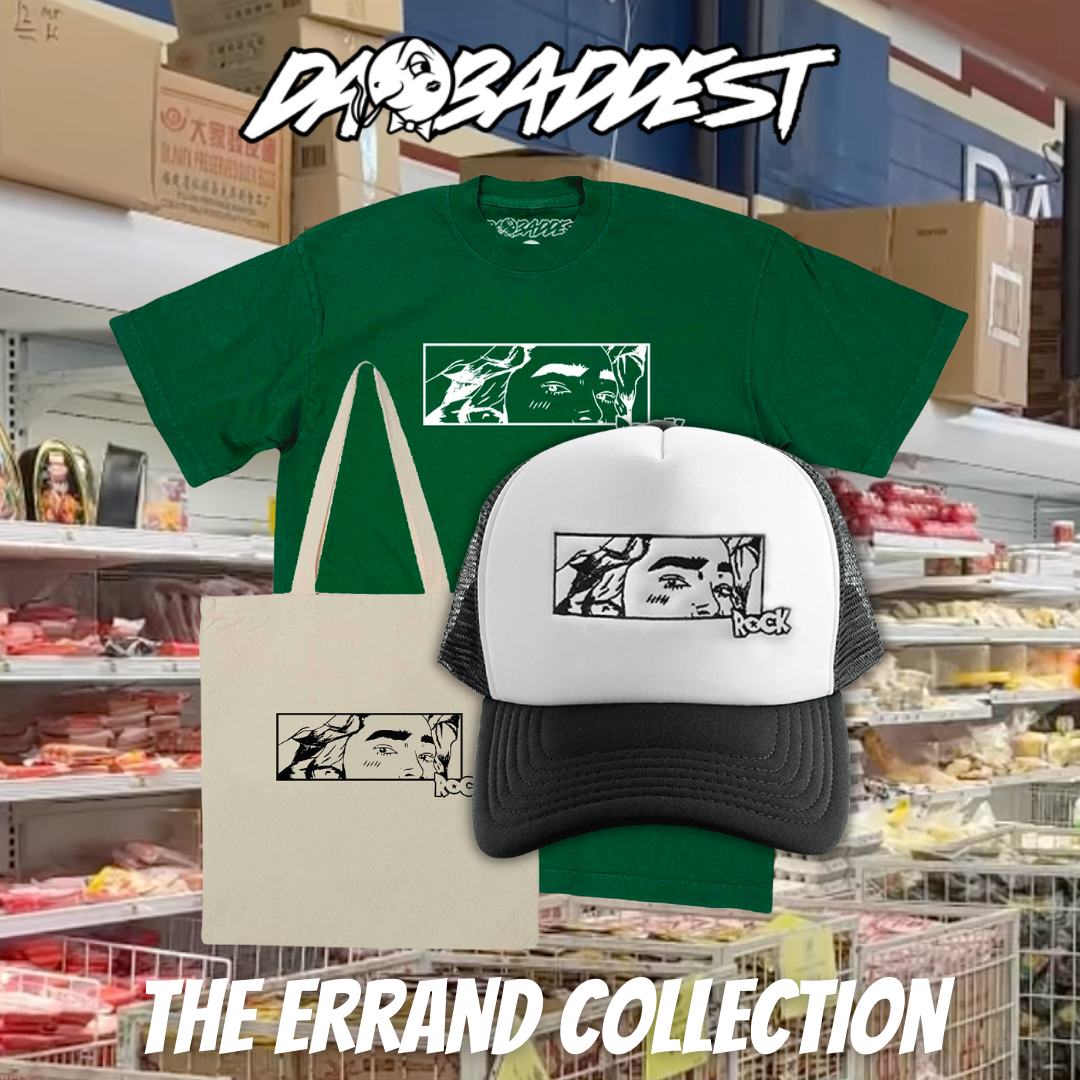 ---
Cover Photo Courtesy of Bretman Rock Website
USA Today's American Influencer Awards were this past Wednesday, and it was hosted by Bravo Host Andy Cohen. The night celebrates the most influential social media personalities in Fashion, Beauty, and Lifestyle. This year the virtual awards show drew in over 5 million votes! The winners were announced in a live stream show on the American Influencer Awards website and on Youtube. Among the winners was The Bucket List Family, who took home "Travel Influencer of the Year," and Bretman Rock, who took home "Content Creator of the Year."
If you missed the live stream, don't worry. You can still catch this year's show below.