This Love Month, Tarsier Records celebrates different frequencies love plays around through their carefully curated playlist, "Love Frequency." Whether you're single, in love, taken, taken for granted, or it's complicated – this playlist covers every mood for you.  This playlist features tracks by artists from Tarsier Records. 
Songs for LOVERS:

"Ikaw" by NAIV, Thomjay
"Ikaw" is an R&B, OPM song by up and coming Filipino artists NAIV and ThomJay. The song is a combination of English and Filipino which speaks about loving someone and all the other emotions that come with it. The lyrics express the feeling of longing for someone and the emotional connection between the singer and their lover, which add a unique and authentic touch to the song, making it an enjoyable and meaningful listen. The song has a smooth and mellow melody combined with chill trap beats that sets a relaxed and introspective mood, perfect for late night drives and chill nights.
Songs to describe love at first sight:

"First Impressions (Lockdown Sessions)" - Inigo Pascual
First Impressions (Lockdown Sessions) is the perfect track to use to express how you feel towards someone you are infatuated by. This version is stripped down to just acoustic guitar and vocals, which perfectly showcases Inigo's smooth vocals that instantly draw you in at first listen.
Songs for that situationship:

"Hotel Runs" by Nameless Kids
"Hotel Runs" is an alternative pop song that talks about an ex that you couldn't seem to resist, and always end up in a complicated situation with. The track has influences from The 1975 and flor. It showcases a darker side of Nameless Kids, adding a little bit of 80's grunge to the sound with live drums, guitar solos, synths and more rhythmic and percussive vocal melodies.
Songs to dedicate to your 4Lyfers:

"Home" by allen&elle
The gospel, soul track speaks about finding that special someone that makes you feel right at home - where one is safe, loved, and accepted. The powerful vocals of allen, and beautiful production of elle on the song features what this talented duo does best - create songs that feel like a long, tight hug. "Home" highlights sounds that bring allen&elle back to their roots, very much like coming – home.
Songs for me, myself & I:
"I'm Feeling Sexy Tonight" - Viñas Deluxe
Fun, sexy, flirty and confident - that's exactly how sexy this song makes you feel! "I'm Feeling Sexy Tonight" by Viñas Deluxe is a remake of the 80's hit. WIth a more modern twist on the tune making it more edgy and a track you could feel your best self in. Through this track Viñas wants all listeners to know that you could feel sexy no matter what!
Songs for Heartbreak SZN:

"Hardest Thing" - Jon Guelas
"Hardest Thing" is a pop song that singer/songwriter Jon Guelas composed during a time of his life where he was at the crossroads of a relationship. The track touches on how difficult it is to be honest with someone you're with because you don't want to hurt that person, but at the same time, you've grown apart and into different people. This deeply emotional track paired with its commercial pop sound is guaranteed to be the track that holds your hand through one of the hardest things you've got to face.
Songs for when you meet them "in another life"


"in another life" - Zion Aguirre
"in another life" is a deeply emotional ballad track written by singer/songwriter Zion Aguirre. It tackles themes of love and loss where one expresses their genuine feelings for another. This track signifies Zion's step into freeing himself - his genuine, authentic and genderless self - as he turns a new leaf and steps into a bolder chapter.
Check it out, like the playlist, share it with your friends, lovers, exes.
If you caught the latest episode of Monarch, then you saw the duet between Ace and Ana played by Inigo Pascual and Emma Milani. They sang an acoustic version of Harry Style's hit, "Watermelon Sugar." The full video isn't out yet, but the Monarch social channels have released a snippet that will leave fans wanting more.
Catch Inigo on the guitar and vocals while we see how well their voices mesh together. We can't wait to see how their characters' relationship grows throughout the season and hope this is the first of many duets.
Cover Photo Credit: Emma Milani Instagram
It's finally the weekend so you might be finding something to binge on for the next couple of days. Fall is here so that only means all our favorite fall shows are back. This week, shows like NCIS: Hawai'i, The Cleaning Lady, and Monarch are all on with some of your favorite Fil-Am actors.
NCIS: Hawai'i Season 2 with Vanessa Lachey
"Prisoners' Dilemma" was the second half of the crossover that started with NCIS Season 20 Episode 1. Vanessa Lachey is back as Jane Tennant and her team is ready to take on all the action this season.
The Cleaning Lady Season 2
Elodie Yung and Martha Millan are back as Thony and Fiona after an intense Season 1 finale of the Fox hit series. Hopefully we'll get answers whether Thony can save her son or if she's headed back to Manila.
Monarch Season 1
If you haven't yet caught up on Monarch, don't worry you're not that far behind. Don't miss Inigo Pascual in his debut American series as Ace Grayson. We can't wait to see how his character development evolves over the season.
Cover Photo Credit: Vanessa Lachey Instagram
Earlier this week, Iñigo Pascual celebrated his Hollywood debut amongst his relatives in his family home. The actor is celebrating his first ever lead international role on Fox's "Monarch," where he plays the talented Ace Grayson — adopted son of Nicky, played by Emmy award-winner Anna Friel. "Monarch" tells the story of the Romans, America's first family of country music. 
Fans of Iñigo Pascual can catch new episodes of "Monarch" every Tuesday at 9pm EST on FOX. Fans interested in watching the drama in the Philippines can stream the show exclusively on iWantTFC. We're excited and proud to watch Iñigo's Hollywood journey!
Photo Courtesy of Iñigo Pascual's Instagram
Last year the news broke that Inigo Pascual was cast into a new U.S. show on FOX called "Monarch." This marks Inigo's first major debut on U.S. television and is a huge step in diversity and casting and showcasing Filipino talent on a global platform. The show is a multi-generational musical drama that centers around the Romans, America's first family of Country music.
The all-star cast includes Oscar-winning Susan Sarandon and country star Trace Adkins. Inigo has been sharing some behind-the-scenes photos on his socials during the time the show was shooting, and now Fox has finally announced a Fall release date for the highly anticipated show. So get ready to meet the Romans on "Monarch," September 11th after the NFL!
Cover Photo Courtesy of Inigo Pascual Instagram
Inigo Pascual and Wish 107.5 just dropped a live performance of Inigo's track Neverland from his 2021 Options album and I can't get enough of this performance. Personally, this is one of my favorite tracks off the album. Although the album is categorized under "Pop" this track is very R&B forward and I think Inigo's voice sits perfectly within that realm.
Inigo has been busy filming his new Fox series Monarch set to release at the end of the month. Knowing that the series is based on a Country music family it will be interesting to see if Inigo lends his vocal chops to the series. For now, let's enjoy this great performance from this multi-hyphenate artist.
Photo Courtesy of Inigo's Instagram
Tarsier Records has introduced us to some amazing new artists and gifted us some great new music this year. The label is like a gift that keeps on giving because they just announced a FREE year-end concert with a great line-up happening online on December 29th at 8 PM. The Tarsier Yearbook 2021 online concert will stream live on Tarsier Records, Star Music, and One Music PH's Youtube channels.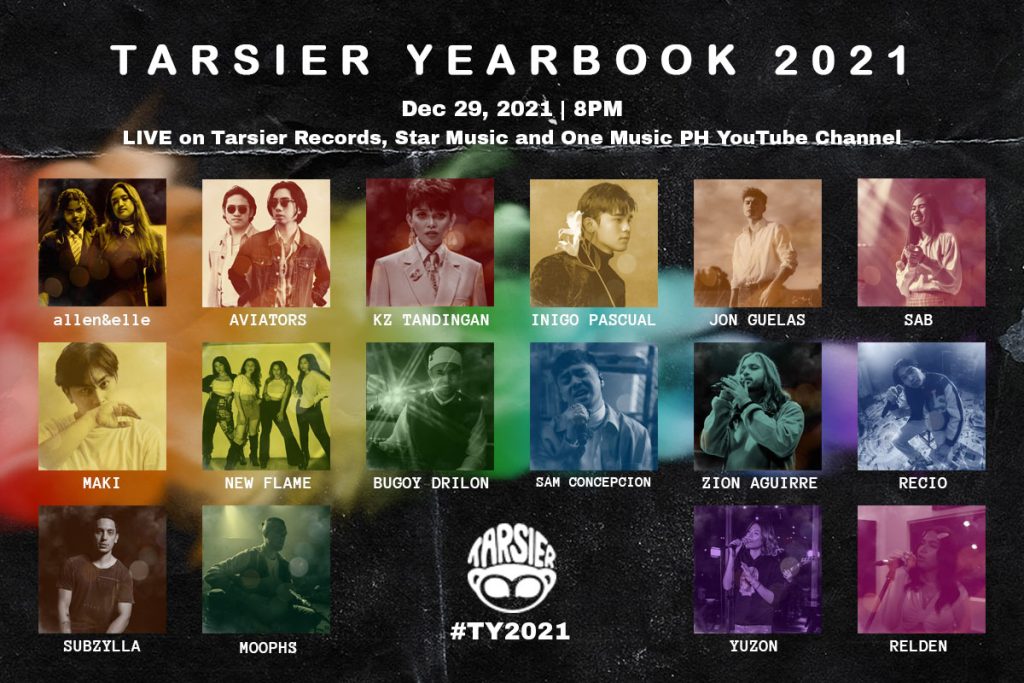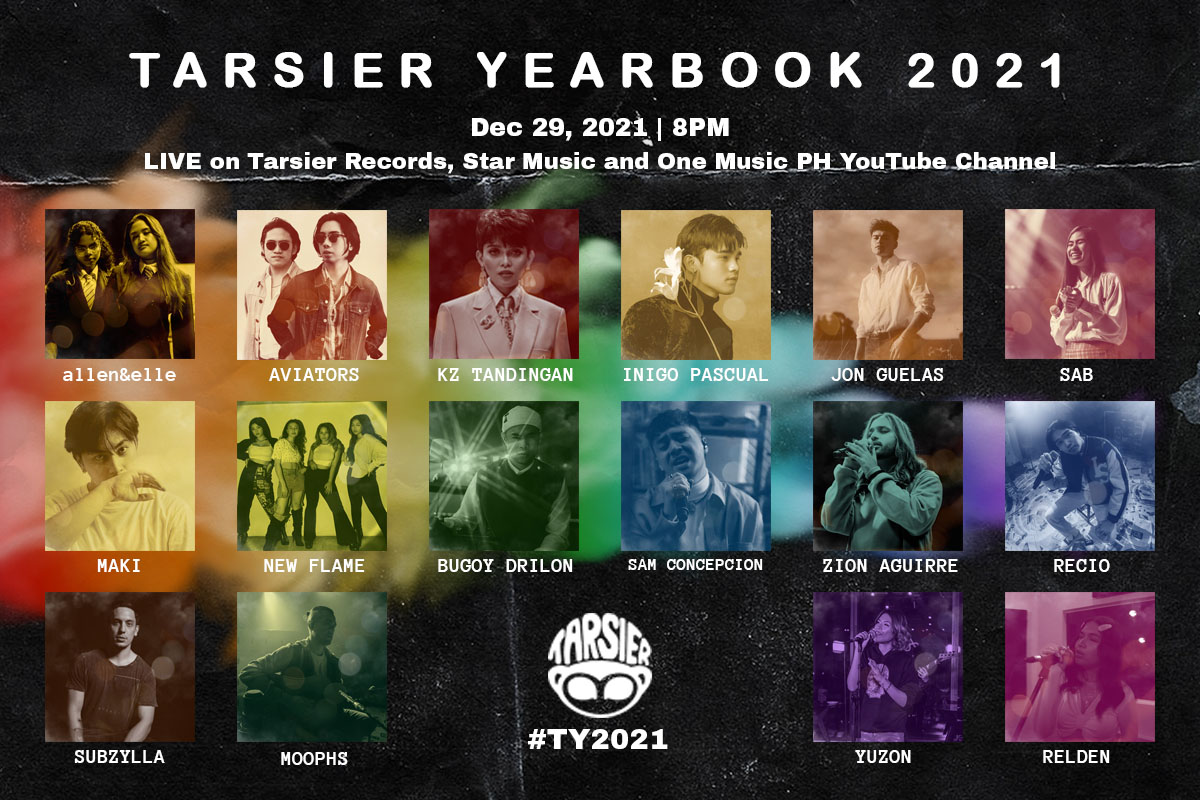 With performances from KZ Tandingan, Inigo Pascual, Sam Concepcion, Bugoy Drilon, Moophs, and more, this live concert is set to end the year positively. It will most definitely get us excited for all the new music coming in 2022.
Cover Photo Courtesy of Tarsier Records Instagram
This week's MYX News Hot List, new episodes weekly at www.myx.global/myxnews.
1. MYX Entertainment: Inigo Set For "Monarch" Debut - Music Sensation Inigo Pascual is now making his mark in television in Fox's "Monarch".
2. MYX Music: New Hits - No Rome is gracing us with his debut album "It's All Smiles"; Clinton Kane also dropped his brand new song "Go To Hell" along with the music video; Troy Laureta is keeping it classic with his OPM Collective Album 2; Nadine is out with new visuals for "Wait For Me" shot in Siargao.
3. MYX Community: Bretman and Bella Celebrate Christmas - Influencer and Performers spread some holiday cheer in the annual Hi-Fi Toy Drive. Handing out the toys are none other than Bella Poarch and Bretman Rock!
4. MYX Entertainment: Beatrice Places Top 5 in Miss U - Miss Universe Philippines Beatrice Luigi Gomez finished in the top 5 of this past weekend's 70th Miss Universe Pageant.
5. MYX Entertainment: Filipino Flash Scores Big KO Win - The Filipino Flash Nonito Donaire Jr. added to his Hall of Fame career with a fourth-round knockout win against fellow pinoy Reymart Gaballo.
6. MYX Music: Guap, MB Nel, Pressa Roll Loud! - Hundreds of Hip-hop artists took the stage at Rolling Loud's California show last weekend. Guapdad 4000 took to instagram to post about the experience calling it a great end to the year.
This is the trailer we've all been waiting for! Inigo announced back in October that he joined the cast of FOX's newest show, Monarch. This will be his first major debut on US television and we couldn't be any more excited. This is a huge step not only for Inigo, but for FOX as they make a significant impact in diversifying the cast with a Filipino actor as one of the leads, and an inspiration to others as they look to crossover into Hollywood.
The network released a new trailer that features Inigo alongside the cast. The show stars Susan Sarandon and Anna Friel. Monarch is a multi-generational musical drama that centers around the Romans, America's first family of Country music.
In an interview with ABS-CBN, Inigo talked about how he's been working on perfecting the Texan accent for his role. According to Deadline, he'll play the character of Ace Grayson, a talented and sensitive 18 year-old, who was adopted from an orphanage by Nicky (Friel) and her husband, Clive. Ace looks to follow in the foot steps of his country star grandfather. He is your total entertainer with all the swag he brings in his performances. Inigo mentioned how his time on ASAP helped him grow his confidence on stage which he tapped into for his character.
We're not long now until the 2-night Monarch premiere. The first episode debuts on January 30, 2022 after the NFC Championship game and the second episode airs February 1, 2022. Make sure to clear your schedule and tune in!
Cover Photo Credit: Inigo Pascual Instagram
From spooky to cute to creative, Halloween lets us dress up to be whoever we want. Lets check out some of the coolest costumes from your favorite artists. Which one is your favorite? Did you dress up, let us know!
Saweetie channels her inner Catwoman with Halle Berry.
Liane V and Don Benjamin as the Mystery Machine Gang complete with a decked out Mystery Machine Jeep!
Patrick Starrr blesses us with multiple costume ideas but we have to say that going all out as Rita Repulsa from the OG Power Rangers gave us major flash backs.
Inigo Pascual felt the need for speed in this Top Gun inspired outfit.
Ranz Kyle kept it spooky with the clown fit! IT be (penny)wise to not follow the red balloon.
Bretman Rock and his niece Cleo group up for a killer costume as Nezuko and Inosuke. This is too cute!
AJ Rafael and Alyssa Navarro nail it with a Wedding Singer inspired couples costume!
Cole Micek and his girlfriend Maya probably take the cake on this as Brandy's Cinderella and Paolo Montalban's Prince Charming from the 1997 film.
J Rey Soul is saving the day as Batwoman!
Olivia Rodrigo as Elvira from Scarface is one we didn't predict.
Darren Criss as THE VISION is definitely a sight to see.
And to round it out, honestly we are all with Bella Poarch on her ghostly costume.
Cover Photo Credit: Bretman Rock Facebook
As announced by Variety & Deadline, Inigo Pascual is taking another massive leap into his international career by joining the lead cast of FOX's upcoming Musical Drama "Monarch," with an all-star cast that includes Oscar-winning Susan Sarandon and country star Trace Adkins. This is a huge step not only for Inigo, but for FOX as they make a significant impact in diversifying the cast with a Filipino actor as one of the leads, and an inspiration to others as they look to crossover into Hollywood.
The musical drama was created by Melissa London Hilfers and stars Susan Sarandon and Anna Friel. "Monarch" is a multi-generational musical drama that centers around the Romans, America's first family of Country music. The new show will debut midseason for Fox on January 30, 2022, immediately after the NFC Championship Game, with the show's second episode airing on February 1, 2022.
"The Romans have created a country music dynasty but when their reign as country royalty is put in jeopardy, Nicolette will stop at nothing to protect her family's legacy."

FOX
The news was announced on the week of Inigo's 24th Birthday, making it one to always remember. For the past few years, the young talent has been making waves with his music internationally, releasing his latest international album, "Options," and his latest single, "Danger," featuring Common Kings and DJ Flict.
Last year he was featured in Jo Koy's Netflix Comedy Special "In his Element."
He's been working hard making opportunities for himself on the global stage and his hard work continues to pay off. You can catch Inigo's journey of crossing over here on the MYX original series "The Crossover."
ABOUT INIGO PASCUAL:
Inigo Pascual is a young, international pop superstar from the Philippines with over 4M+ social media followers. His 2016 release "Dahil Sa'yo," a song he penned himself, topped Billboard PH charts at #1 for 3 months and remains as the most dominant OPM (original pilipino music) release in history. A tireless worker in constant demand from his millions of fans, Inigo turned his attention toward the international market in 2019, collaborating with Australian-Chinese vlogger and musician, Wengie, Singaporean rapper Akasha, GRAMMY-nominated reggae artist J Boog as well as UK/US popular boybands, New Rules and PRETTYMUCH. He worked with GRAMMY award-winning producers from Manila to Los Angeles, CA on a solo album, giving birth to his lead single, "Options" and island pop hit "Catching Feelings." Inigo became a familiar name in media and international radio while doing promo rounds in Los Angeles, New York, and even taking the stage during halftime at an NBA game. Radio airplay was followed by appearances in San Francisco, London, Toronto, Tokyo, and Sydney on popular stations like IHeartRadio in the US, SBS Pop Radio in Australia and BBC Radio in the UK. The "Catching Feelings" (Bimwala Remix) charted on Top 5 new songs on stations like Island 98.5 and HI93 in Hawaii. He has recently been part of 88Rising's exclusive online festival, "Asia Rising Forever" and performed "Catching Feelings" on Jo Koy's Netflix special, "In His Elements", with the track racing to the top of Shazam Charts in various cities globally. 
After album singles "Should Be Me," and "Lost" dropped in 2020, Inigo joined a band of international artists assembled by Tarsier Records for "RISE" - a cross-cultural unity track featuring Eric Bellinger (USA), Sam Concepcion (PH), Moophs (PH), Zee Avi (Malaysia), and Vince Nantes (USA), putting him in front of a new category of listeners and proving that no pandemic can stop his international track. To close off his 2020 streak, Inigo releases "Always" - a dancehall-pop tune that sprouted with "RISE" co-collaborators, Vince Nantes, Sam Concepcion and Moophs. He plans to release his "Options" album in 2021.
| | | | |
| --- | --- | --- | --- |
| | | | |
| | | | |
| | | | |
| | | | |
| | | | |
| | | | |
| | | | |
| | | | |
| | | | |
| | | | |
| | | | |
| | | | |
| | | | |
| | | | |
| | | | |
| | | | |
| | | | |
| | | | |
| | | | |
| | | | |