The latest music video from Ez Mil, "Up Down (Step and Walk)" is a collaboration between the rapper himself and Creative Director & TRYBE founder Phil Tayag. The song first premiered at the NBA LA Clippers vs. Utah Jazz halftime performance and was well received with millions watching the performance live or online.
The visual art focused on dance and he was excited to work with the award winning choreographer who's also worked with Bruno Mars, Anderson .Paak, and Paul McCartney. Growing up Ez was a big fan of hip hop and dance, he would spend countless hours studying dance and music videos any chance he could whether at school or in Internet cafes in the Philippines.
Ez watched countless videos of America's Best Dance Crew, where he first discovered Founding Member and Former CEO/Director of the Jabbawockeez, Phil Tayag, in their memorable performances and interviews that he would go on to teach to his high school classmates. 
Getting to work with Phil in his hometown of Sacramento, Ca was an honor to longtime fan Ez Mil. He created a unique "Up Down (Step & Walk)" movement that was showcased in the "one shot take" video that will soon go viral on Tik Tok and Instagram alongside some of the best dancers & choreographers in Sacramento and Northern California, followed by thousands on social media, including Wren Crisologo, Heatgottem, Chonkie (The Smeeze Creator), Koncept and of course SACBxY himself, choreographer, music director and producer Phil Tayag of TRYBE. 
Cover Photo Credit: 1587 Marketing
The Jabbawockeez are back at the NBA Finals! The masked men took center court during halftime of Game 5 of the finals and hyped the crowd up at the Golden State Warrior's home court at the Chase Center in San Francisco, California. The group took their performance all over the court and hyped the crowds up with tracks from E-40, Digable Planets, and Jay-Z, who was sitting courtside at the game that day. Check it out below.
Golden State took the win that night, helping them take the lead in the series against the Boston Celtics. So who will come out the champs for 2022? We will have to wait and see this week but for now, let's enjoy this performance and if you missed P-Lo during halftime of Game 1, check it out below.
Cover Photo Courtesy of Jabbawockeez Instagram
P-Lo is gearing up for some summer fun as he hits the stage in San Francisco for the infamous 106.1 KMEL Summer Jam Concert. Roddy Rich and Wale are headlining the bill. Alongside P-Lo, you can catch Vince Staples, Yung Bleu, Larry June, and Stunnaman rocking the stage.
P-Lo mentions in an Instagram post that this is a dream come true as a young artist growing up in the Bay Area of California. You can catch the show on July 16th at the Concord Pavillion. Check out ticket prices here.
More recently, P-Lo took the stage at Jo Koy's latest tour stop at the Chase Center in San Francisco to surprise a sold-out crowd with a performance of his hit "Put Me on Something" with the Jabbawockeez. Check out this on-stage point of view of one of the surprise performances below.
Cover Photo Courtesy of P-Lo Instagram
The Pro Bowl got everyone hyped for the Big Game happening next Sunday! Allegiant Stadium in Las Vegas, Nevada was the place to be as it's also the home of the Las Vegas Raiders. It was a battle of the conferences, AFC vs. NFC for an all-star game. Fil-Am and Bay Area native, Sibley Scoles hosted the Red Carpet event and dance crew Jabbawockeez took over halftime entertainment. Sibley held it down pre-game with interviews and an inside look behind the scenes.
There were a couple of changes in the format but one thing stayed the same. The anticipated halftime show with none other than the Jabbawockeez! It was a full out production that included a marching band, NFL cheer teams, and dope choreography. The cool part of it was how the Jabbackwockeez involved all the cheer team and band in their set.
After the performance, the second half kicked off and ended with the AFC beating out the NFC with a 41-35 win, making it their fifth straight. Raiders' pass rusher Maxx Crosby was the Defensive MVP and Chargers QB Justin Herbert was the Offensive MVP. This all leads to next week's main event.
Cover Photo Credit: Jabbawockeez Twitter
After two years of delays due to the pandemic, the all-star game is finally back. On February 6th, just down the way from their current residency at the MGM Grand in Las Vegas, Jabbawockeez will head over to the Allegiant Stadium for the 2022 Pro Bowl Half-Time Show. The masked dancers made the official announcement on their Instagram and mentioned how honored they were to be performing on that stage.
If this is anything like their spectacular stage shows, all the spectators are definitely in for a treat. The Jabbawockeez has been voted "Best Family Show" and "Best All Ages Show" for three years in a row. Their high-tech production, crisp intricate choreography, and storytelling light up any stage. Don't believe us? Check them out at Universal Studios last year for their seasonal show at Halloween Horror Nights.
The group is no stranger to performing during sporting events from NBA All-Star games and Finals performances to NFL Big Game appearances. It's always a hyped performance mixed with dope artist collaboration and that's why they deserve all recognition. Announced recently is the Jabbawockeez are getting a Funk Pop! figure that's just as cool as they are. There are two available figures with a red fit that pops and a black alternative scheme that's just as clean.
Time to brush out your vintage Jabbawockeez shirt or dance moves to take a photo alongside your Funko. It's available to pre-order on Amazon.
Cover Photo Courtesy of Jabbawockeez Instagram
One of the biggest nights in Online Entertainment, The Streamy Awards, is almost here, and they just released their nomination list for the year. The list is stacked with some of your favorite creators, including Bella Poarch, nominated for 3 awards, including Creator of the Year, Short Form, and Breakout Creator. Bretman Rock is back on the nomination list again for Show of the Year and Unscripted Series. In addition, Valkyrae is nominated for Livestreamer of the Year, Jabbawockeez in the Dance category, and Anthony Padilla in the Indie Series category.
The Streamys is set to exclusively stream their annual awards ceremony on Youtube this December. If you missed last year, check out the full show below and the complete list of this year's 2021 nominees.
OVERALL AWARDS
Creator of the Year
Addison Rae
Alexa Rivera
Avani Gregg
Bella Poarch
Brent Rivera
Charli D'Amelio
Dixie D'Amelio
Dream
Emma Chamberlain
MrBeast
Show of the Year
30 Days With: Bretman Rock • Bretman Rock
Binging With Babish • Babish Culinary Universe
Captain Disillusion
Could You Survive The Movies? • Vsauce3 
Dark History
Good Mythical Morning
Nikita Unfiltered • Nikita Dragun
Ryan's World
UNHhhh • WOWPresents
Verzuz
International 
Anasala | أنس و أصالة (Saudi Arabia)
Enaldinho (Brazil)
Mikecrack (Spain)
Mythpat (India)
Tokai OnAir | 東海オンエア (Japan)
Short Form
8illy
Bella Poarch
the cheeky boyos
Jake Fellman
Matt Taylor
INDIVIDUAL AWARDS
Breakout Creator
Bella Poarch
Karl Jacobs
Quenlin Blackwell
Stokes Twins
Tinx
Collaboration
Harry Mack and Marcus Veltri – Pianist & Freestyle Rapper BLOW MINDS on Omegle ft. Marcus Veltri
Markiplier and CrankGameplays – Unus Annus
Ryan's World, NASA, JAXA – Ryan Makes A Video Call With The Space Station
Zach Campbell and Lil Nas X – Lil Nas X "Montero (Call Me By Your Name)" REACTION WITH LIL NAS X!!
ZHC and MrBeast – I Surprised MrBeast With A Custom House!
Crossover
Bill Gates
Hailey Rhode Bieber
Nick Jonas
Ryan Reynolds
Will Smith
First Person
Airrack
Emma Chamberlain
LARRAY
Nicole Tv
Yes Theory
Livestreamer
auronplay
GeorgeNotFound
NICKMERCS
shroud
Valkyrae
SHOW AWARDS
Indie Series
The Blues • DeStorm Power
Chicken Shop Date • Amelia Dimoldenberg
I spent a day with • Anthony Padilla
Pls, Disinfect: The Visual EP • Tré Melvin
Sidetalk NYC
Live Show
#FAZE5 Challenge • FaZe Clan
$300,000 Influencer Trivia Tournament! • MrBeast
David Blaine Ascension • David Blaine
Omegle Bars • Harry Mack
Verzuz
Podcast
Anything Goes with Emma Chamberlain
Call Her Daddy
Dark History
Impaulsive
On Purpose With Jay Shetty
Scripted Series
The Confession Game • DeStorm Power
Could You Survive The Movies? • Vsauce3
Mortal Glitch • enchufetv
True Facts • zefrank1
Two Sides: Unfaithful
Unscripted Series
30 Days With: Bretman Rock • Bretman Rock
Good Mythical Morning
Nikita Unfiltered • Nikita Dragun
Odd One Out • Jubilee
UNHhhh • WOWPresents
SUBJECT AWARDS
Animated
Haminations
Jaiden Animations
Ketnipz
The Land Of Boggs
TootyMcNooty
Beauty
Bailey Sarian
Brad Mondo
Hyram
MissDarcei
NikkieTutorials
World-famous dance crew Jabbawockeez continues to solidify its legacy in the dance and performance world as MGM Resorts International announced today it has extended the group's contract at MGM Grand Hotel & Casino through 2025. The four-year extension follows the recent reopening of Jabbawockeez newest show, TIMELESS, in its temporary home at the MGM Grand Garden Arena. Get your tickets here.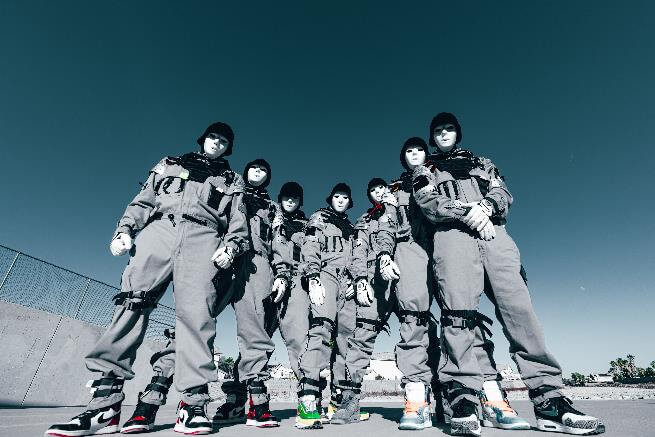 Known for their creativity, choreography, athleticism, and intricate synchronization, Jabbawockeez became the first dance crew to headline a Las Vegas theater show when they started at MGM Grand in May 2010. Over the last 11 years, the group has entertained guests at multiple MGM Resorts' properties with past productions, MUS.I.C., PRISM and JREAMZ, Journey Within as well as the current showTIMELESS, selling more than 1 million tickets.
"Jabbawockeez has been one of the world's most successful, popular and recognizable dance crews for nearly two decades," said George Kliavkoff, MGM Resorts' President of Entertainment & Sports. "We are proud of our partnership with these iconic masked stars and, with this extension, look forward to four more years of their nightly high-energy, entertaining performances."
Kevin Brewer, founding member and owner of Jabbawockeez, said, "It has been a huge blessing to have the opportunity to share our talents in Las Vegas for the past 11 years. We are deeply grateful for our partners at MGM Resorts who have been very supportive in our growth as performers as well as a successful entertainment brand."
Joe Larot, founding member and owner of Jabbawockeez, added, "We look forward to the next four years of continued success with MGM Resorts."
Jabbawockeez continually inspires with positive tropes and their own unique humor, paired with a soundtrack all ages can appreciate. From their first national television appearance on "America's Got Talent" in 2006 to their win on MTV's "Randy Jackson Presents America's Best Dance Crew" in March 2008, Jabbawockeez has proven itself a global trendsetter. The group has stayed connected to the pulse of pop culture, highlighted by a recent appearance on NBC's "Saturday Night Live" with GRAMMY-nominated artist DaBaby as well as a collaboration with Marshmello.
TIMELESS performances are scheduled Mondays to Sundays at 7 p.m. and 9:30 p.m. nightly. Tickets start at $49.99 (plus tax and fees) and are available for purchase atmgmgrand.com or ticketmaster.com.
For show schedules, to purchase tickets and additional information on the MGM Resorts Entertainment Convene with Confidence plan, which outlines the company's approach to protecting the health and safety of guests and employees, visit MGM Resorts Open Entertainment.
About Jabbawockeez
Jabbawockeez have developed a one-of-a-kind style that has positioned the group as the most influential dance crew in the world, effectively changing the way people view dance entertainment. Known for their creativity, choreography, athleticism, and intricate synchronization, each member of the dance crew brings a different technique and perspective to form the original style that makes the Jabbawockeez so distinct. With their signature look of expressionless white masks and gloves, the performers guide the audience's attention away from individual identities and towards a unified group. They first gained recognition upon winning season one of MTV's "America's Best Dance Crew." Their fan base grew with their first Las Vegas stage production MUS.I.C., which opened at MGM Grand in 2010 and played to sold-out audiences. Jabbawockeez later moved the production to Monte Carlo where its success continued. Their next production, the colorful and humorous show PRISM opened in 2013 at Luxor. Their production JREAMZ, Journey Within, opened in 2015 at MGM Grand.
Jabbawockeez have won multiple awards including Hip Hop International's Living Legend Award, Best Family Show, and Best All Ages Show from multiple publications. They have toured the globe, performed alongside legends of the entertainment industry, appeared in film, and have been seen on numerous television shows including "Dancing with the Stars," "So You Think You Can Dance," Master of None" and "World of Dance." Jabbawockeez have provided the featured stage show at Universal Studios Hollywood "Halloween Horror Nights" for the past four years. For more information visit jbwkz.com. Connect with Jabbawockeez onInstagram, Facebook, Twitter and Tik Tok, and visit their YouTubechannel.
About MGM Resorts International
MGM Resorts International (NYSE: MGM) is an S&P 500® global entertainment company with national and international locations featuring best-in-class hotels and casinos, state-of-the-art meetings and conference spaces, incredible live and theatrical entertainment experiences, and an extensive array of restaurant, nightlife and retail offerings. MGM Resorts creates immersive, iconic experiences through its suite of Las Vegas-inspired brands. The MGM Resorts portfolio encompasses 29 unique hotel and destination gaming offerings in the United States and Macau, including some of the most recognizable resort brands in the industry such as Bellagio, MGM Grand, ARIA and Park MGM. The Company's 50/50 venture, BetMGM, LLC, offers U.S. sports betting and online gaming through market-leading brands, including BetMGM and partypoker. The Company is currently pursuing targeted expansion in Asia through the integrated resort opportunity in Japan. Through its "Focused on What Matters: Embracing Humanity and Protecting the Planet" philosophy, MGM Resorts commits to creating a more sustainable future, while striving to make a bigger difference in the lives of its employees, guests, and in the communities where it operates. The global employees of MGM Resorts are proud of their company for being recognized as one of FORTUNE® Magazine's World's Most Admired Companies®. For more information, please visit us at www.mgmresorts.com. Please also connect with us @MGMResortsIntl on Twitter as well as Facebook and Instagram.
What happens when Ez Mil, one of the hottest upcoming MC/rapper meets the legendary dance crew the Jabbawockeez? You get a collaboration in the making. Ez Mil and the family turned up at the re-opening of Jabbawockeez's show Timeless in his hometown of Las Vegas. The champs of Season 1 of "America's Best Dance Crew" have been in the game for years. Now, Timeless marks the 10 year anniversary of performing in Vegas.
The Jabbawockeez are still the best in entertainment for creating intricate and creative choreographed dance routines. Their famous white masks and gloves are universally recognized and draws the focus to the unified choreography. However each dancer still brings their own flare. With that, Ez shows the Jabbawockeez what he's got in a little dance cipher. All we can say is it's OG approved!
Ez grew up watching Jabbawockeez in the Philippines and now gets to meet them in the flesh. He met the cast and original dance members and they welcomed him and his family with open arms. Some of the crew even gave "mano po" the honoring-gesture to elders to some of Ez's family. It's all love between Ez Mil and the Jabbawockeez. He was also hyped to get a little private dance lesson straight from the Jabbawockeez. But honestly who wouldn't be? Time to manifest a collab in the future.
Cover Photo Credit: Ez Mil Facebook