What a dope way to start Filipino American History Month! Miss Texas representative R'Bonney Gabriel was crowned Miss USA 2022 last night (Oct. 3) at the Grand Sierra Resort in Reno, NV. The 28-year-old trailblazer is the latest Filipino American titleholder to win the pageant and represent the USA in the annual Miss Universe extraordinaire.

"Oh my God, it's an honor," Gabriel shared with Houston Life. "I'm getting messages on Instagram and just social media of Filipina girls and women telling me they're so excited, they're so happy." "They're crying tears of joy because they are inspired to go after pageantry or something," the model added. "Like I'm paving the way for them to just go after whatever they want no matter what it is. So it's an honor."
Gabriel, who is a well-recognized fashion designer, drew inspiration from her parent's multi-cultural background when creating her Miss USA interview outfit. "I designed this to pay tribute to my parents," she posted on Instagram. "My mom is from Beaumont, TX and my father is from the Philippines. They got married in Manila Philippines. I hand-painted the same flower design from my mother's wedding dress onto my sleeves and tied it in a traditional Maria Clara Filipina collar shape. I have immense gratitude for the opportunities [sic] my parents provided me and wanted to express my love to them through this." Best of luck, R'Bonney Gabriel!
Photo Courtesy of R'Bonney Gabriel's Instagram
JamieBoy is officially back with "Say Less," a new upbeat R&B track right in time to set the summer vibes right. The track is JamieBoy's first release of the year, and it's coming in hot. His 2021 releases, including his track "Relapse" with Ruben Wan, made some great noise last year, and it looks like "Say Less" will be poised to do the same. Check out the Music Video below.
If you've followed JamieBoy's career, you know he's deeply rooted in the dance community. So he tapped in some of his friends for this release and created a few 8 counts to the song's catchy chorus. The "Say Less" dance trend has been seen all over TikTok and Instagram Reels and the sound has been used over 25k times on TikTok alone and has amassed over 1.4 million views on the video. Check it out below, and make sure to stream the track here.
Cover Photo Courtesy of JamieBoy's Instagram
Crazy Rich Asians and Superstore actor Nico Santos is heading into the Marvel Cinematic Universe as he joins the cast of Guardians of the Galaxy: Vol. 3. As in usual Marvel-style, the cast, plot, and visuals have been kept on lockdown since they began filming this installment of Guardians in November of 2021. As the movie wrapped last month, we are slowly getting to see who is added to the cast. Nico shared his excitement in a post on Instagram as Deadline reported the news.
Nico joins cast members Chris Pratt, Zoe Saldana, Vin Diesel, Dave Bautista, Bradley Cooper, Sylvester Stallone, Karen Gillan, Elizabeth Debicki, Will Poulter, Chuk Iwuji, Maria Bakalova, and Daniela Melchior in Vol. 3. The movie is set to release on May 5th, 2023, and is set to be the last of filmmaker James Gunn's series of the Guardians films.
Cover Photo Courtesy of Nico Santos Instagram
Gold House just hosted its inaugural "Gold Gala," the largest gathering of top Asian and Pacific Islander leaders in the community. The Gala celebrated the 2022 A100 List, the absolute honor that recognizes the 100 APIs that have most significantly impacted American culture and society in the last year, and special awards honoring some A100 legends in the community.
Over a handful of Filipinos made it onto the prestigious A100 list this year, and even more, were present at the Gala. Celebrity Photographer and community advocate Sthanlee B. Mirador was there on the Gold Carpet, capturing guests as they made their way into the event. Check out some Filipino talents and leaders who helped celebrate Gold House's special night below.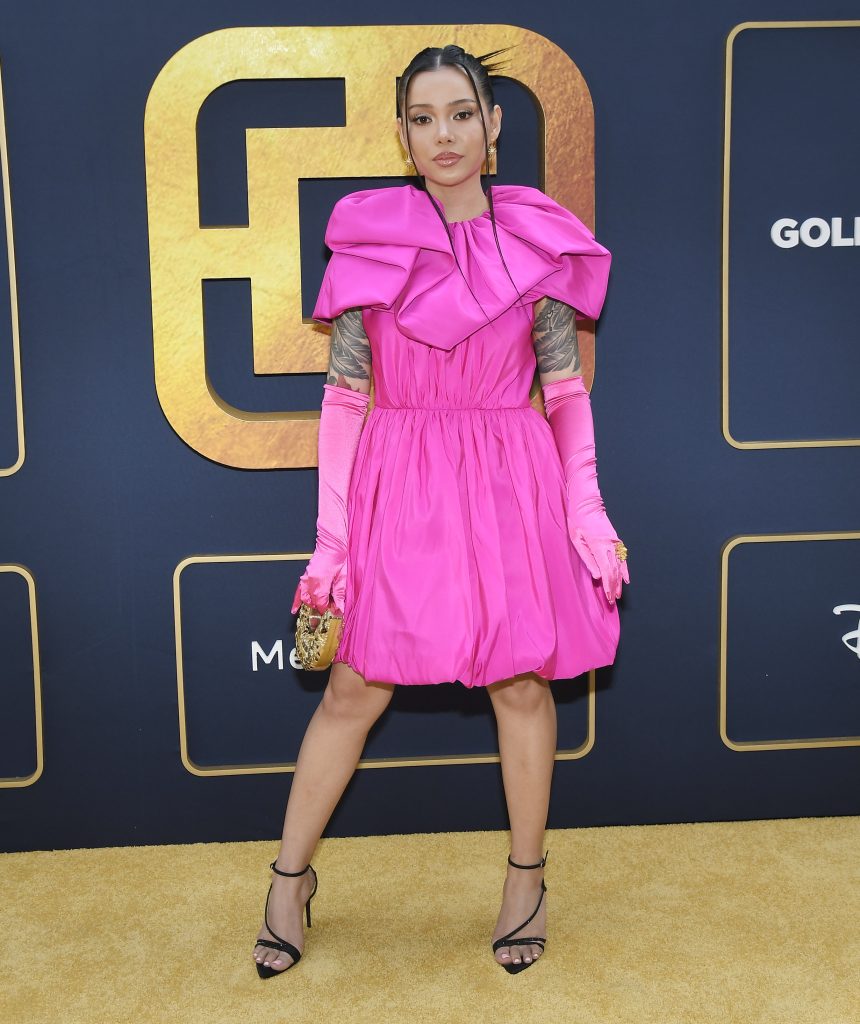 Over 500+ API celebrities, cultural leaders, and business executives attended this special night. The night's theme was "The New Gold Age," representing "unparalleled API brilliance and defiance amidst continued violence and racism against the community." In addition, the evening consisted of honoring the A100 list, Mindy Kaling accepting the A100 Legend award, and fellow A100 Legend Michelle Yeoh accepting the first-ever "SeeHer" award at the Gold Gala for defying gender stereotypes throughout her career.
During the gala, Gold House also unveiled some new initiatives which will help the organization continue to unite, promote, and invest in API creatives and companies. See some of their new initiatives below.
Unity March: in partnership with Asian Americans Advancing Justice, APIAVote, and a dozen other major nationwide organizations, Gold House announced a historic slate of policies and a convening event in Washington, D.C. on June 25, 2022.
Gold Storybook: Gold House launched the definitive guide and resource hub on authentic API portrayals in media, based on years of cultural consultation expertise with every major studio, streamer, and network. The guide was created with support from key partners like The Walt Disney Company and features additional resources through work with SeeHer, P&G, and more.
#WriteHerRight AAPI: SeeHer and Gold House also announced a major partnership to develop a guide focused on the importance of increasing accurate portrayals of AAPI women and girls in advertising and entertainment.. A number of studios and networks, including AMC Networks and Paramount, are committed to participating in the guide, which will launch later this year.
Gold House Venture Network: on the heels of launching its $30M fund, Gold House Ventures, Gold House announced a new vehicle for executives, cultural leaders, and founders to invest in sought-after venture deals and procure prominent Board Director and Advisor positions.
Gold Rush Accelerator Food & Beverage and Women Tracks: as part of their community-leading accelerator, Gold Rush (whose alumni have raised $400 million+ in follow-on capital), presented two new tracks that provide funding, promotion, and distribution to culinary and women founders in partnership with Panda Express and Julia Gouw, respectively.
Photos and Cover Photo Courtesy of Sthanlee B. Mirador
Francisco Martin has been keeping busy showing us a new side of himself with the release of the punk-rock-pop track, Nobody Listens to Me to his latest release, Kissing on a Balcony, and performing at the Miss Universe Philippines Coronation. The Filipino American singer/songwriter stays on the radar with a new live performance of his latest track on the Recording Academy/GRAMMY show "Global Spin."
Global Spin is a performance series from the Recording Academy/GRAMMY's spotlighting artists worldwide. Each episode of Global Spin features a performance from a notable artist or group and celebrates both the creators and their home countries. Episodes are released bi-weekly on Tuesdays on their official social platforms.
If you want more Francsico Martin, check out his latest music video for Kissing on a Balcony below.
Cover Photo Courtesy of the Recording Academy
It's finally here! The highly anticipated trailer for Jo Koy's Filipino American Comedy movie Easter Sunday has just dropped and depicts every scenario you can think of when your Filipino family gathers for any big celebration. This is a significant move in Hollywood as this is the first studio film to center around a Filipino American family.
In this love letter to the Filipino-American community, stand-up comedy sensation Jo Koy stars as a man returning home for an Easter celebration with his riotous, bickering, eating, drinking, laughing, and loving family. The first look at Easter Sunday was given to Entertainment Weekly and fellow Filipino and Executive Editor Clarissa Cruz, who got to pen the story with some exclusives from Jo Koy.
In the Entertainment Weekly interview, Jo Koy shared the story of how the one and only Steven Spielberg helped get this film off the ground. After Spielberg watched Jo Koy's Netflix special Comin' In Hot, he was invited to Amblin, a film and television production company led by Spielberg. Jo Koy pitched the movie, and eight months later, they began to film in Vancouver.
Easter Sunday features an all-star comedic cast that includes Jimmy O. Yang (Silicon Valley series), Tia Carrere (True Lies, Wayne's World films), Brandon Wardell (Curb Your Enthusiasm series), Tony nominee Eva Noblezada (Broadway's Hadestown), Lydia Gaston (Broadway's The King and I), Asif Ali (WandaVision), Rodney To (Parks and Recreation series), Eugene Cordero (The Good Place series), Jay Chandrasekhar (I Love You, Man), Former MYX Host Joey Guila (The Fabulous Filipino Brothers), Tiffany Haddish (Girls Trip) and Lou Diamond Phillips (Courage Under Fire).
Check out the Easter Sunday Trailer below, and make sure to catch the movie only in theaters this summer on August 5th!
Cover Photo Courtesy of Easter Sunday Facebook
The ninth run for the iHeart Radio Music Awards was nothing less than a superstar-filled event. LL Cool J was at the helm of the ship hosting the event, and there were performances from the likes of Jennifer Lopez, Megan Thee Stallion, Charlie Puth, John Legend, and so much more.
Bella Poarch came in with a win for the Social Star Award, while Bruno Mars took home a win for Best Duo/Group of the year for Silk Sonic with Anderson .Paak. Last night, Olivia Rodrigo was one of the big winners, taking home multiple awards, including Female Artists of the Year. She took the podium to thank her label and especially her fans for helping her live out her wildest dreams.
Check out the winners in the key categories below:
Song of the year: "Levitating" – Dua Lipa
Female artist of the year: Olivia Rodrigo
Male artist of the year: Lil Nas X
Best duo/group of the year: Silk Sonic
Best collaboration: "Stay" – The Kid LAROI & Justin Bieber
Best new pop artist: Olivia Rodrigo
Alternative song of the year: "Monsters" – All Time Low featuring blackbear
Alternative artist of the year: Machine Gun Kelly
Best new alternative artist: Måneskin
Rock artist of the year: Foo Fighters
Best new rock artist: Mammoth WVH
Country song of the year: "If I Didn't Love You" – Jason Aldean & Carrie Underwood
Country artist of the year: Luke Combs
Best new country artist: Lainey Wilson
Dance artist of the year: David Guetta
Hip-Hop artist of the year: Drake
Best new hip-hop artist: Yung Bleu
Best new R&B artist: Giveon
Best new Latin artist: Grupo Firme
Best cover song (socially voted category): "good 4 u" (Olivia Rodrigo) – Camila Cabello
Best fan army (socially voted category): #BTSARMY – BTS
Best music video (socially voted category): "Butter" – BTS
TikTok songwriter of the year (socially voted category): Jax
Social Star Award (socially voted category: Bella Poarch
Trailblazer Award: Megan Thee Stallion
You can see the full list of nominees and winners here.
If you missed the awards you can check out some of the live performances below:
Cover Photo Courtesy of Olivia Rodrigo Instagram
It's a new month, and we're back with another MYX Spotlight Artist of the month. So for March, let's get familiar with Nieman. Check out his live performance of his latest single, 100 with Jesse Barrera, and stay tuned for his spotlight interview next week.
100 is the newest collaboration from Nieman and Jesse Barrera; this one has an undeniable groove that'll be sure to get you moving. With its tight guitar line that engulfs you from the start, an atmosphere of pure energy, coupled with its crispy vocal production, this song goes 0 to 100 real quick, pun intended. Their new groovy record will definitely set the vibe and mood, suggesting to take the night slow and enjoy the ride. While the world seems to move and operate quicker than ever before, Nieman and Jesse seem to live in a world all their own, where time stands still when with their significant other. So throw out your plans and let the night decide where it wants to go, there's no reason for us to go 100.
This past year, Jesse Barrera has been on a roll with big collaborations and production credits, and he isn't slowing down. This isn't their first collaboration but definitely their grooviest. With growing love from Korea and the Philippines, the two are making the play for big international recognition.
About Nieman:
NIEMAN is an RnB/Pop singer-songwriter based out of Los Angeles County. With millions of streams, Nieman's music captures his unique blend of classic RnB storytelling with an Alt-Pop sound.
His single, "Why Do I Still?", from his second E.P., "Palette," was featured in the top 10 on the Spotify U.S. Viral 50 Charts, making an appearance on Billboard.com. In 2018, he released, "Knots," a collaboration EP with his cousin, the Philippines' most streamed artist, Moira Dela Torre. Their title track continues to grow in numbers with over 11.4 million plays and won the Philippines' Awit Award for Best Collaboration. He kicked off this year with groovy new single, "100," a collaboration with artist and producer, Jesse Barrera, marking the start of a new chapter.
With a distinct brand both on the stage and off, this Filipino-American artist is making his own lane, challenging the genre on his own terms.
Follow Nieman:
This past weekend the SSE Arena, Wembley, housed the biggest Influencer Boxing event of 2022 presented by Showstar Boxing. The UK vs. USA event took place on March 5th and was streamed globally to fans all over the world. Fil-am Creator and Actor Alex Wassabi took the ring alongside fellow creator Deji in the main event and came out on top as the winner. Check out Alex's vlog below that takes you behind the scenes of that night.
The last two rounds are where the action really took place with Alex and Deji, both landing hits that played critical roles in the final judges' decision. Alex's training and stamina really pulled through as he capitalized on an exhausted Deji in those final rounds. As the fight came to a close, Alex was announced the winner by split decision.
You can catch Alex later this year in a new episode of our MYX Original Series, Making it in America. Learn about his Youtube and Creator Journey and see the last bits of his training right before he left for London for this fight. Stay tuned here on MYX for more updates on new episodes of the series coming out soon.
Cover Photo Courtesy of Showstar Boxing Instagram
As Women's History Month officially kicks off, Billboard helps set the tone by recognizing some of the most influential and hardworking Women in the music industry. Oliva Rodrigo, Saweetie, and H.E.R. were all recognized at the event, and some shared their special moments with their Mothers.
Saweetie was honored with the "Game Changer" award during the ceremony. Her beautiful and proud mother, Trinidad Valentin helped share this special moment with Saweetie by presenting her with the award. Saweetie also took to the Red Carpet and talked to Billboard's Chelsea Briggs about her highly anticipated debut album coming out this Summer and the documentary being shot around it.
H.E.R. took to the stage to perform "Fate" and received the American Express Impact Award. She honored her mother during her acceptance speech, whose impact helped her become the woman she is today. H.E.R. expressed that by her mother giving her a voice while she was growing up, she can now use that voice to help impact others.
Olivia Rodrigo performed her massive hit "Deja Vu" and was honored with the "Woman of the Year" award. Sheryl Crow presented Olivia with her award, and during her speech, Olivia made sure to give some inspiring words to all the young women who aspire to work in the industry. She also spoke with Extra TV on the carpet about how she was feeling that evening and what her favorite moment of the year has been so far.
Patrick Starrr has kept the momentum going after debuting his brand One/Size in 2020 and making his way into fashion with collaborations with Fashion to Figure in 2021. He recently jetted off to New York City for his first-ever in-person launch event for his new BBB cream with One/Size.
After the launch, Patrick was a guest on The Drew Barrymore Show on CBS. What's special about this product launch and the trip was that Patrick got to take his family with him to New York City. His parents also appeared on the talk show, talking about Patrick as a child and how proud they were of him.
One/Size's new Beauty, Blur, Cream (BBB) is now available online at OneSizeBeauty.com and in stores at Sephora.
Cover Photo Courtesy of One/Size Instagram
Larren Wong came down to our MYX Global Studios in Los Angeles and answered a few questions so we could get to know him better. Find out about his musical background, what it was like growing up bi-racial in the Bay Area of California, and if he speaks Tagalog in this Spotlight Interview.
About Larren Wong:
Larrenwong is a self-taught vocalist, multi-instrumentalist, producer, and songwriter from Union City, CA. The child of a Filipino immigrant mother and African-American father, Larren has a diverse, rich ethnic history. His grandfather, a big band jazz leader and flautist in the New York Philharmonic was an early musical role model for Larren, despite being hard to impress.
The now 24-year-old artist began playing the guitar at the age of 12 and has been actively working to elevate his craft ever since. Along the way, Larren learned how to play bass, piano, and the bassoon as well. After playing D1 football and obtaining a Masters of Science for Leadership in the Creative Enterprises at Northwestern University, Larren played linebacker for the Seattle Seahawks before deciding to leave athletics to pursue a full-time career as a musician.
Drawing heavily from sounds of the Bay Area as well as artists like Erykah Badu, J Dilla, and D'Angelo, Larrenwong fuses his range of influences and life experience into a worldly sound that is uniquely his own.
Follow Larrenwong:
Instagram: www.instagram.com/larrenwong
Twitter: www.twitter.com/larrenwong