Moira is back with a new single "Kumpas" that's ready to warm your hearts and set the mood for Kathryn Bernardo and Daniel Padilla's new series "2 Good 2 B True." The song not only serves as her comeback single but also as the theme song for the series. In fact, the song wasn't just inspired by the series but by the real-life love story of Kathryn and Daniel.
"This wasn't just based on the synopsis of '2 Good To Be True' but on the documentary of KathNiel," revealed Moira at the "2 Good 2 Be True" grand media conference where she first performed the song. "It was really made for KathNiel and '2 Good To Be True.'"
Released under Star Music, the song talks about someone special being one's 'compass'—her guide when lost, the bright hue in shades of dullness, and her savior amid every storm. "2 Good 2 Be True" will be streaming on Netflix beginning May 13, on iWantTFC starting May 14, and on Kapamilya Channel, Kapamilya Online Live, A2Z, Jeepney TV, and TV5 beginning May 16.
Get ready to get in your feels and listen to the OST below.
Want to write songs like one of the biggest singer-songwriter in the Philippines? Moira Dela Torre is hosting a Songwriting Bootcamp through NAS Academy. Similar to the online drag class taught by Manila Luzon, Moira's will focus on music. The course will start this month for a total of 9 days where you'll create 4 original songs and get all the details about creating your own song. The course costs $99 USD and welcomes all skill levels.
She's be teaching us her method of songwriting straight from the islands of El Nido! On her social media, Moira asks if we'd ever wanted to write a song but had no idea where to start. Well that's what she's here to share with us through her NAS Academy course. With a friendly course made for everyone with varying skill levels, you'll learn how to not only write but also perform whether through singing or playing an instrument. The course is made for aspiring musicians and for those just a fan of music.
Here are some of the perks you'll get the opportunity to explore in the course:
1. Lifetime Video Access
2. Series Songwriting Tips
3. Four Original Songs
4. In-Course Song Release
5. Ask Moira Anything
6. Meet Fellow Music Lovers
The best part is participating in the exclusive Academy Music Night if you sign up by March 12. Meet Moira and the first batch of students on Zoom and have a Q&A networking session beforehand. You never know, you could have a chance to hear unreleased songs! Check out all the details on NAS Academy!
Cover Photo Credit: NAS Academy PH Twitter
This week's MYX News Hot List, new episodes weekly at www.myx.global/myxnews.
1. MYX MUSIC: Saweetie, H.E.R Get "Closer" - Icy girl Saweetie and H.E.R are taking on new roles as flight attendants in their latest collaboration "Closer". The two took their fans to Paris, Tokyo, and the Philippines!
2. MYX MUSIC: New Originals - Zack Tabudlo and Moira Dela Torre are coming together for the first time for a new song, "Iba". The song focuses on what happens when someone falls out of love while the other has left to cope. Jeremy G takes listeners through the stages of love in his first-ever 5-track EP, "Maybe Forever".
3. MYX MUSIC: Kiana V Crosses Over - Kiana V is back with a groovy hit, "Heartbeat on Me". The music video is set to be released next week with her brother Gab Valenciano as the director.
4. MYX MUSIC: Olivia, Silk Sonic Take Brit Awards - Olivia Rodrigo took home the Best International Song award, and Silk Sonic won for Best International Group at the Brit Awards, the highest-profile music awards ceremony in the UK.
5. MYX ENTERTAINMENT: Fredric Aspiras Scores An Oscar Nom - Lady Gaga's long-time hairstylist Fredric Aspiras worked on "House of Gucci". The pair started working together 13 years ago and since then, he's been with the Pop icon from Photoshoots and covers, to music videos and events!
Recently, we've been hearing Zack Tabudlo everywhere from collaborations, dance challenges, and artsy videos. Now, he's topping the Billboard charts with his music in the new "Hits of the World: Philippines" listing. It's a weekly chart that ranks the top 25 songs in each country, based on streaming and digital sales and he landed four spots.
The top spot is "Pano" with the Tiktok dance craze, "Habang Buhay" following right behind it in second. The top hit ballad, "Binibini" takes No.13 and "Nangangamba" ranks at No.18. If you haven't checked out these tracks yet, catch the episodic music videos below!
The singer-songwriter has also released new tracks with James Reid, "Hatdog" and Moira dela Torre, "Iba." With new music out, Zack is taking his music on the road as he's performing on the main Jubilee stage at the Expo 2020 Dubai, February 20. Also slated to be at the Expo is Ben&Ben. If you're in the U.S., Zack is touring with December Avenue this May! Grab your tickets while they're available!
Cover Photo Credit: Zack Tabudlo Twitter
Get ready to be in your feels with this new song, "Iba" with Zack Tabudlo and Moira Dela Torre. The emotional track talks you through the wave of loneliness after a relationship ends.
These two artists are known for their smooth voices and great storytelling in their songs. The track looks at the scenarios of what went wrong in a relationship. "Iba" marks the first collaboration between these singer-songwriters and together they explore what happens when someone falls out of love while the other is left to cope. Tabudlo and Dela Torre are the perfect pair to take us through this very relatable journey.
"Iba" is Zack Tabudlo's third release of the year while this marks Moira Dela Torre's first song of the year. Both artists were big winners at the 7th Wish Music Awards with Zack grabbing Breakthrough Artist of the Year and Moira named Artist Of The Year and Contemporary Folk Song Of The Year. This could be the first of many collabs for this duo and we're here for it!
Cover Photo Credit: Moira Dela Torre Twitter
DUBAI, UAE, December 16, 2021 - Filipino artists made a huge splash in the international music industry this December with sold out performances of the music festival 1MX 2021 both as an in-person event in Dubai and as a livestreamed event with a Manila cast on KTX.ph.
Produced by ABS-CBN, the leading global Filipino media and entertainment network, through The Filipino Channel (TFC), ABS-CBN Music, One Music PH and Myx Global, together with DJMC Events, Camella Homes and Philippine Airlines, the back-to-back concerts before local and global audiences continue to prove that live entertainment has officially returned, and people are eager to see performers on stage once again.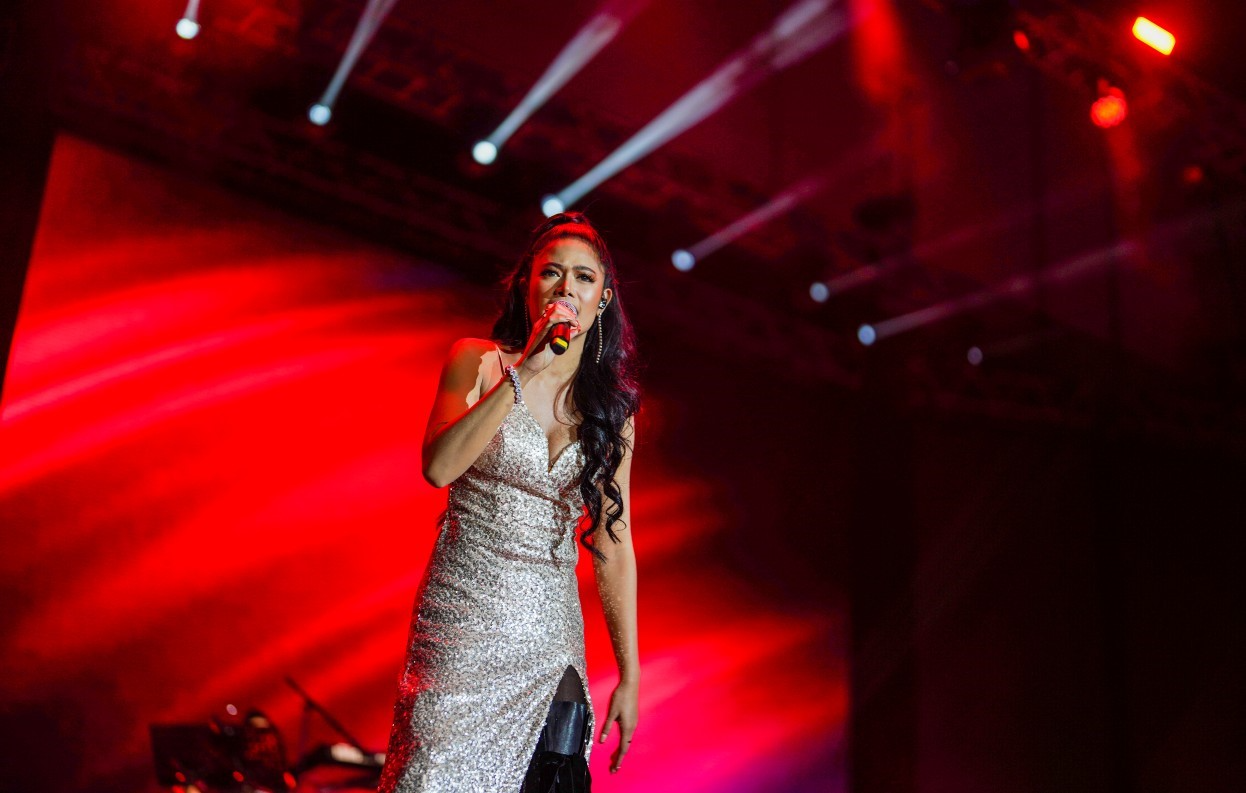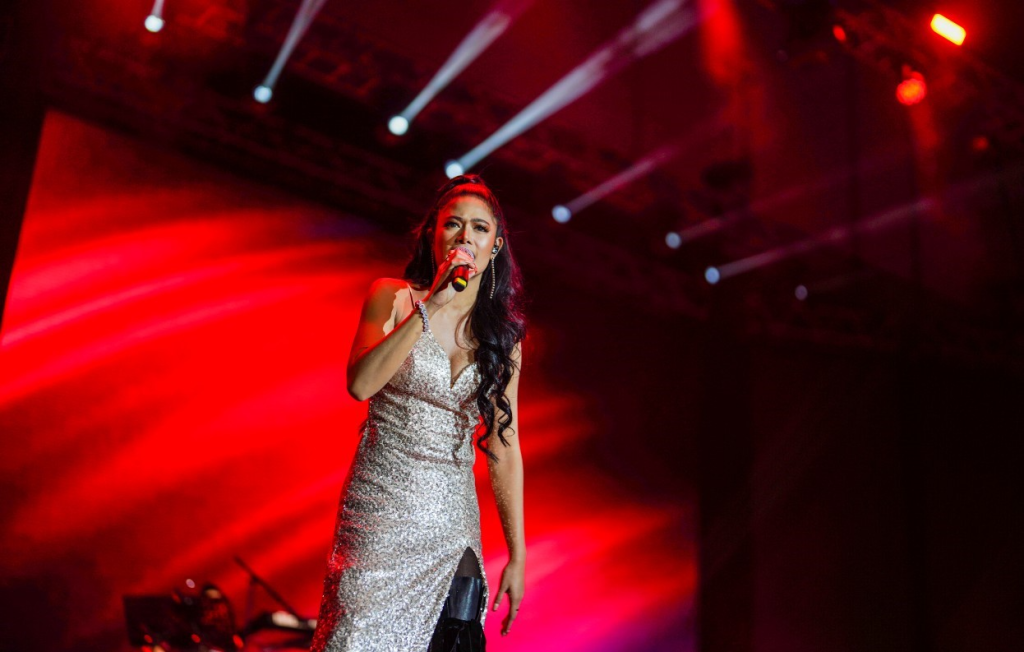 OPM's Pop Rock Diva Gigi De Lana showed the incredible vocal range that made her an online singing sensation.
That these companies took a strategic, successful gamble on an in-person event combined with livestreaming reflects their calculated optimism and determination to reboot the gigantic music events ecosystem.
Doing 1MX in Dubai is key as this world-famous city in UAE is one of the rare places that doubled down on an open economy even as the Omicron variant rattled markets and forced border restrictions across the world. It's the site of Expo 2020 where 192 countries are presently taking part in a global celebration for 182 days, starting last October 1, 2021. When the whole of Europe shut down, Dubai remained completely open, and their COVID-19 cases have been below 100 for weeks as of this writing.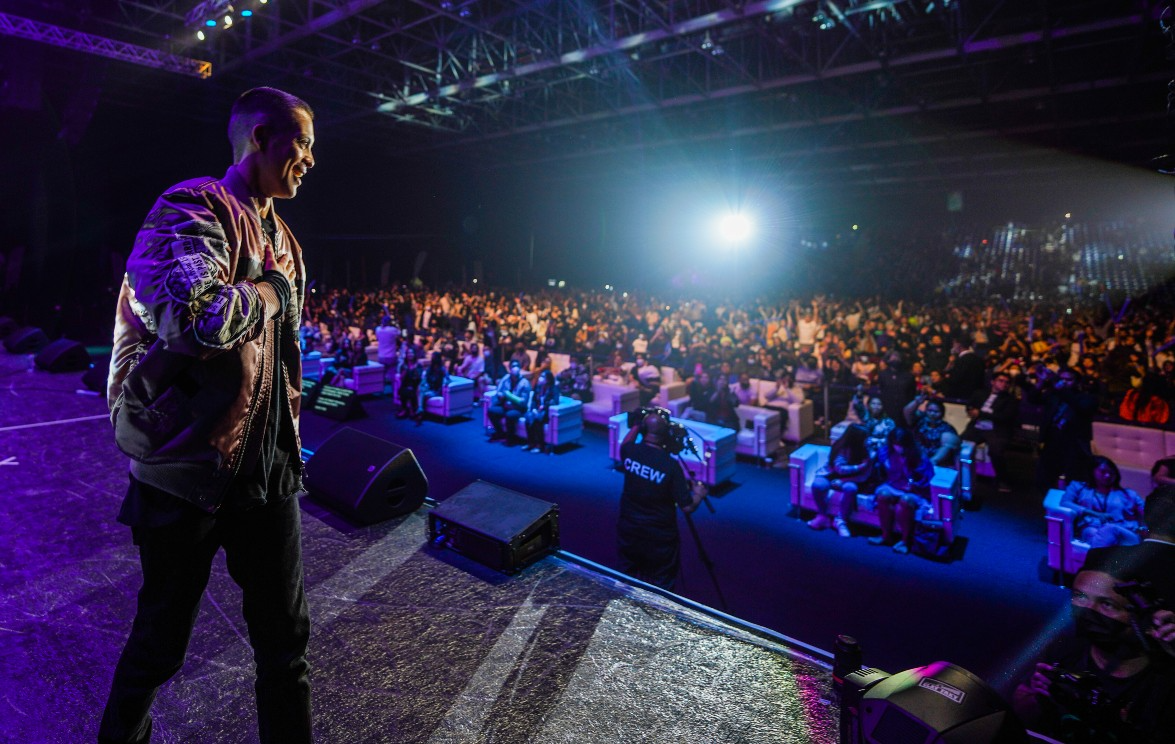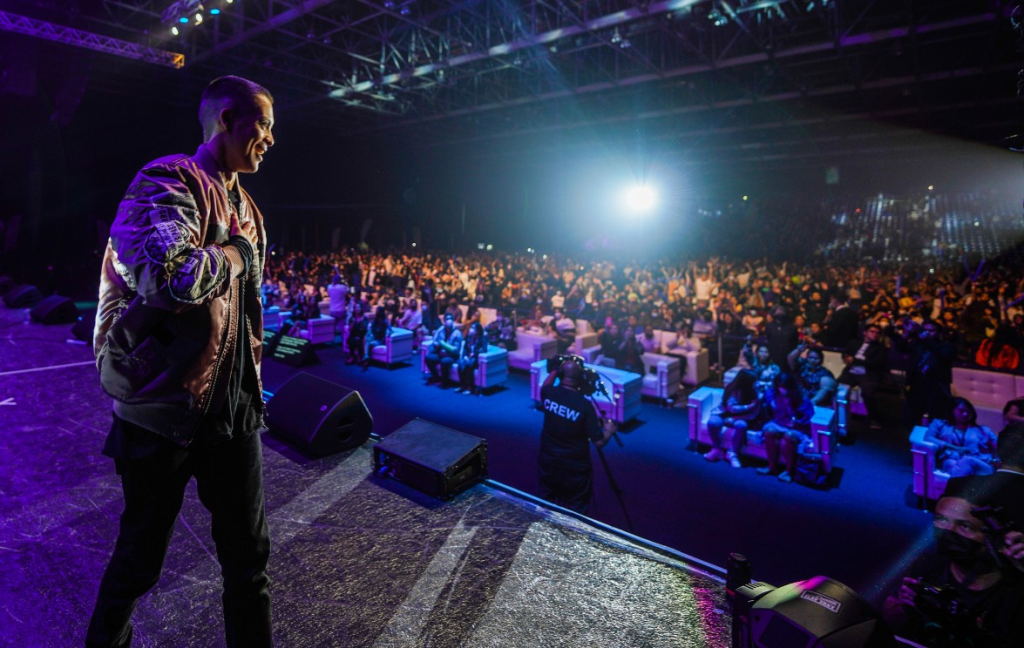 Bamboo's performance reminded everyone why he has reached legendary OPM rock icon status.
"Around 5.6 million tourists have already visited the Dubai Expo. Major sports events are drawing packed arenas everywhere in the U.S. BTS became the first group in the world to sell out four concerts in November and December at SoFi Stadium in Los Angeles. And now 1MX sold out its in-person leg at the Trade Centre Arena at the Dubai World Trade Centre while selling out its livestream from Manila and Dubai on KTX. What do all these tell you? Humanity is eager to get back to the experiences they love. That hopeful desire - with reasonable precautions - should be celebrated and promoted, not restricted. And that's exactly what we, our partners, our artists, and our audiences are doing with 1MX," said ABS-CBN Global COO Aldrin M. Cerrado.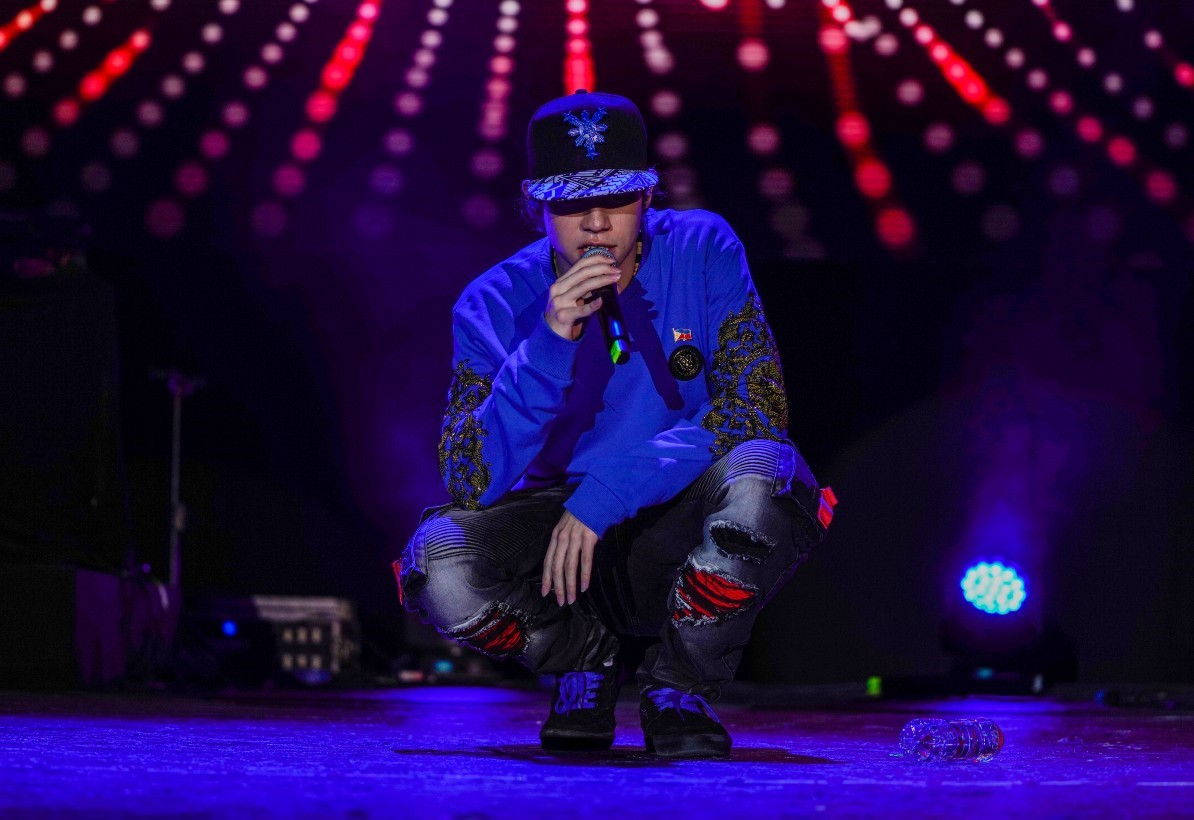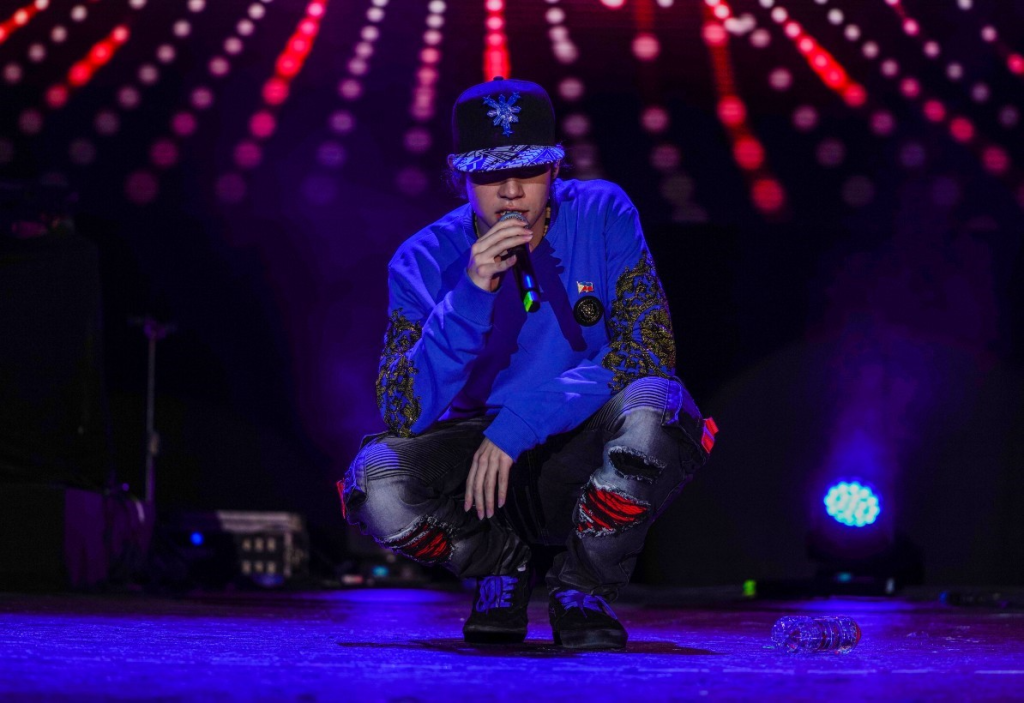 Rapper EZ Mil drew the loudest cheers for his viral track, "Panalo".
With the stellar cast of Bamboo, Moira, EZ Mil, Gigi De Lana, BGYO and BINI, 1MX 2021 in Dubai reestablished Filipinos as among the best live musical performers in the world. Their showmanship, audience interaction, energy, powerful voices, and innate musicality are unquestionably world-class. Whether they were doing original Pilipino hits and compositions or covering mainstream classics, they were able to bring their unique stamps in each of the songs they performed.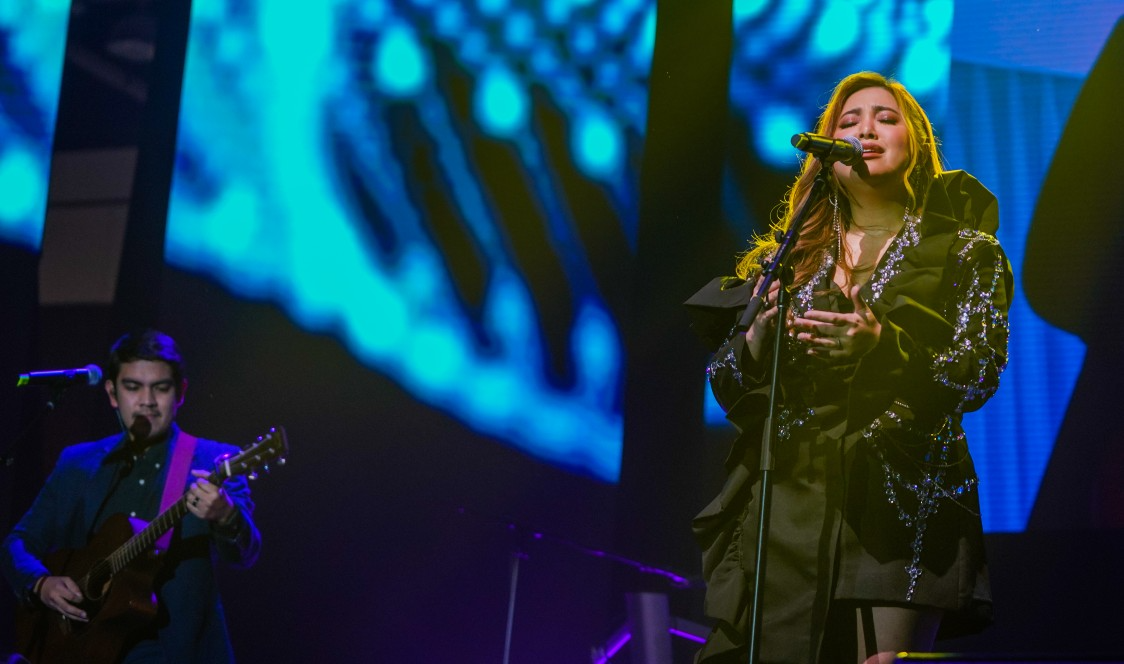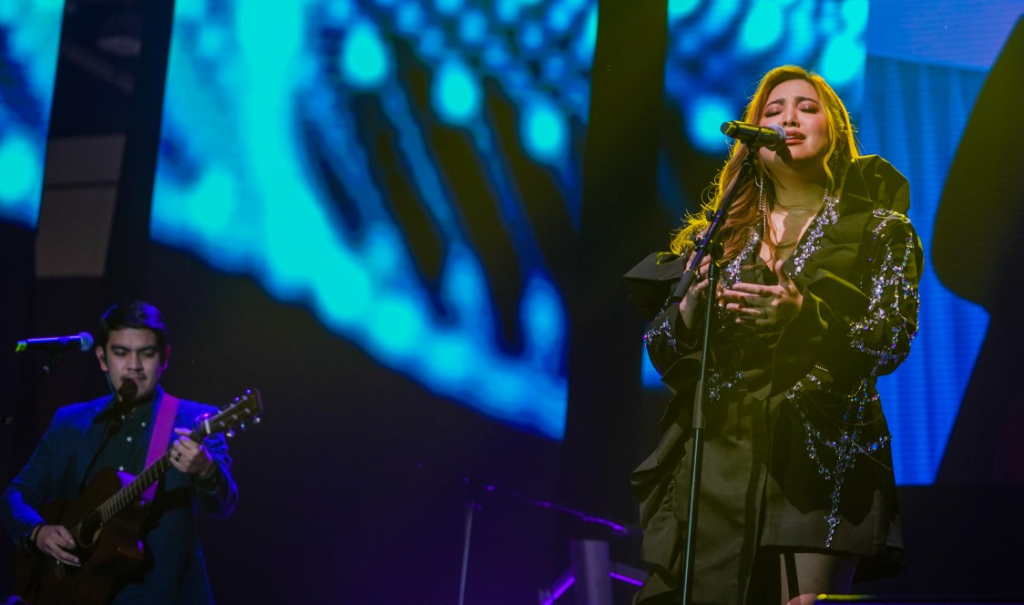 The most followed OPM artist on Spotify, Moira, took the audience's breath away with elegant songs of love, healing, and hope.
Meanwhile, the Manila cast of AC Bonifacio, Angela Ken, Carlo Bautista, Fana, Jayda, Jeremy G, Kritiko, Lian Kyla, Nameless Kids, SAB and Trisha Denise provided a glimpse of the future sounds of OPM that will have no problem competing in the international music landscape. Are Filipino music artists ready for their own hallyu? 1MX strongly suggests so.
1MX Manila on KTX.ph was a showcase of emerging OPM artists and and their fresh sounds. From left, host Edward Barber with Fil-Canadian dancer-singer AC Bonifacio, and singer-songwriters SAB and Lian Kyla.
​"1MX 2021 was not only a showcase of the same superior OPM talent that built the 1MX brand starting in 2017 in Dubai, 2018 in Abu Dhabi, 2019 in Singapore and Manila; 1MX 2021 is a showcase of the resilience of the collective Filipino spirit around the world," said ABS-CBN Global Head of Events and Managing Director of Europe, Middle East and Africa (EMEA) Arnie Garcia. "With the support of trusted partners, sponsors, overseas Filipino communities and international audiences, we plan to tour 1MX again to various cities around the world starting next year and bring the best of OPM artists to all."
The 1MX Dubai Artists have made it to the UAE! BAMBOO, Moira Dela Torre, Gigi De Lana, EZ Mil, BGYO, and BINI are settling into Dubai and are gearing up for a fantastic show with 1MX making its official return in front of a live audience. The concert will happen directly after 1MX Manila with AC Bonifacio, Angela Ken, Carlo Bautista, Fana, Jayda, Jeremy G, Kritiko, Lian Kyla, Nameless Kids, and Sab. Check out the 1MX Dubai Press Conference below, and make sure to get your tickets at KTX.PH to witness the exciting back-to-back shows!
The 34th annual AWIT Awards put on by The Philippine Association of the Record Industry (PARI) celebrated some amazing talents this week. Ben&Ben, Moira dela Torre, Jason Marvin, and Leanne & Naara took home some of the top prizes. In addition, BGYO and SB19 took home a People's Voice Award, with BGYO winning for Favorite Group Artist and SB19 for Favorite Song.
SB19, Alamat, and BGYO also took the stage, performing some of their hottest singles. If you missed them, don't worry because they are beginning to upload them to their official Youtube Channels. Check out SB19 and Alamat's performances below, and then check out the complete list of winners from the 34th Annual AWIT Awards.
SB19-Bazinga
Alamat- Kasmala/Porque
Complete List of Nominees and Winners:
Best Performance by a Female Recording Artist
Regine Velasquez, "Mahal Ko O Mahal Ako"
Moira dela Torre, "Paubaya" 
Keiko Necesario, "Right Next To You" 
Miss Ramonne, "Agsardeng"
Shaina Opsimar, "Lunod"
Best Performance by a Male Recording Artist
Sam Mangubat, "Kulang ang Mundo" 
TJ Monterde, "Puhon"
Zack Tabudlo, "Nangangamba"
Noel Cabangon, "Pipiliin Pang Maghintay"
Quest, "Tuloy Tuloy"
Best Collaboration
Moira dela Torre and Agsunta, "Kahit Kunwari Man Lang"
TJ Monterde and KZ Tandingan, "Simula"
juan karlos and Gloc-9, "Sampaguita"
Christian Bautista and Janine Teñoso, "Bukas Wala Nang Ulan"
Jr Crown, and Kevin Yadao, "Bestiny" 
Best Performance by a Group Recording Artist
Ben&Ben, "Doors"
Ben&Ben, "Di Ka Sayang"
SB19, "Hanggang sa Huli"
SUD, "Dumaloy"
IV of Spades, "Sariling Multo (Sa Panaginip)"
Best Performance by a New Female Recording Artist
Trisha Denis, "Liliwanag"
Fana, "Out" 
Daze, "1996"
TJane Plaza, "Somebody"
TJane Plaza, "Sana'y Tayo Pa"
Jenn Clemena, "A.A"
Best Performance by a New Male Recording Artist
Matty Juniosa, "Sayaw ng Mga Tala" 
Bryant Dagdag, "Di Na Bale"
Benedict Cua, "Di Namalayan"
Rob Deniel, "Ulap"
James Gulles, "Hinungdan"
Best Performance by a New Group Recording Artist
Nameless Kids, "Outlaws" 
Kiss N Tell, "Pahina"
Rhythm and Drip, "Pero"
JThree, "Love Kita Maniwala Ka"
Reon, "Suyo"
Best Child Recording Artist
Bea C, "The Kokak Song" (lone nominee)
Best Instrumental Performance
Tristan Castro, "Midnight Cruise"
Abby Clutario, "Dreaming of Tomorrow"
Four Corners MNL, "Cosmic Cycles" 
Ken Tiongson, "Lovestruck"
EJ De Perio, "Tama Na"
Best New Artist in a Collaboration
J-Nine (with King Promdi), "GG"
JM Bales feat. KVN, "Magandang Dilag" 
Vince Lucero, Mistah Lefty, "Random Thoughts"
Creativity Awards
Album of the Year
Unique Salonga, Pangalan
The Itchyworms, Waiting for the End to Start
juan karlos, Diwa
Leanne & Naara, Daybreak 
Zild, Homework Machine
Song of the Year
Moira dela Torre and Jason Marvin, "Paubaya" 
Danielle Balagtas, "Marupok"
Ben&Ben, "Lifetime"
Ben&Ben, "Di Ka Sayang"
Leanne & Naara, "Who's Gonna Love You"
Zild, "Dila"
Record of the Year
KZ Tandingan, "Marupok"
Moira dela Torre, "Paubaya"
Rico Blanco, "This Too Shall Pass"
Ben&Ben, "Di Ka Sayang" 
Zack Tabudlo, "Nangangamba"
Leanne&Naara, "Who's Gonna Love You"
Zild, "Dila"
Best Global Recording
Troy Laureta, Jake Zyrus, "Usahay"
Eric Bellinger, Inigo Pascual, Sam Concepcion, Moophs, Zee Avi, Vince Nantes, "Rise" 
Ben&Ben, "Doors"
Keiko Necesario, "Right Next to You"
Travis Atreo ft. Amber Liu, "Fix Me"
Best Ballad Recording
Moira dela Torre, Jason Marvin, "Paubaya"
TJ Monterde and KZ Tandingan, "Simula"
Ben&Ben, "Sa Susunod na Habang Buhay" 
Noel Cabangon, "Pipiliin Pang Maghintay"
Best Pop Recording
Kyryll, "Gunita"
Earl Generao, "Sumayaw (Sa Kanya Kanyang Kwarto)"
Rico Blanco, "Happy Feelin'" 
Autotelic, "Bago"
Zack Tabudlo, "Nangangamba"
Best Rock/Alternative Recording
Silent Sanctuary, "Himala"
The Itchyworms, "Armageddon Blues"
The Knobs, "Paalam"
SUD, "Dumaloy"
IV of Spades, "Sariling Multo (Sa Panaginip)"
Best World Music Recording
The Itchyworms, "Waiting For The End To Start"
High Hello, "Palawan" - WINNER
Leanne & Naara, "Never Made It Far"
JBK, "Sana Naman"
Jason Dhakal, crwn, "XX:XX"
Best Novelty Recording
Vice Ganda, "Corona Ba Bye Na!"
Kim Chiu, "Bawal Lumabas (The Classroom Song)"
Hannah Precillas, "Sabi Ko Nga Ba" 
Mimiyuuh, "DWYB"
King Promdi, "TikTok"
Best Traditional/Contemporary Folk Recording
Moira dela Torre, "Kita Na Kita" 
Sassa Dagdag, "Hulog ni Bathala"
Ben&Ben, "Sa Susunod na Habang Buhay"
Hans Dimayuga, "Bawat Araw"
Leanne & Naara, "Choose You"
Leanne & Naara, "Evergreen"
Best Dance Recording
Yuzon, Subzylla, Kyler, "Bad Influence"
La Santos, "Hibang"
Deuces, "Kinabukasan"
Zsara Tiblani, "G na G" 
Alexa Ilacad, "Love at First Sight"
Best Inspirational Recording
Polyeast Artists, "Dakila Ka, Bayani Ka"
Ben&Ben, "Di Ka Sayang" 
Rico Blanco, "This Too Shall Pass"
Quest, "Tuloy Tuloy"
Best Christmas Recording
Arman Ferrer, "Paskong Walang Hanggan"
Drei Raña & Selena Marie, "Paano Ang Simbang Gabi (Kung Di Ikaw Ang Katabi)"
Elha Nympha, "Share The Love"
Martin Nievera, "A Brand New Christmas"
Katrina Velarde, Daryl Ong, Dea Formilleza & Yuki Ito, "'Tis the Season"
Best Rap/HipHop Recording
Arvey, "Umaga" 
Juss Rye, "Subtle Energy"
Alex Bruce, "Yakap"
Zelijah & KNTMNL, "88"
Nobrvnd, Chelly, "Sinayang"
Best Jazz Recording
Extrapolation, "Villain"
Issa Rodriguez, "'Wag"
Basically Saturday Night, "Lightning Strikes"
Leanne & Naara, "Choose You"
Nicole Asensio, "Poblacion" 
Best R&B Recording
Conscious & The Goodness, "Previously, On"
August Wahh, "Elated"
Kyryll, "Gunita"
Jason Dhakal, "g00dn1ght"
Leanne & Naara, "Too Soon" 
Best Regional Recording
Janine Berdin, Joanna Ang, "Bulalakaw"
TJ Monterde, "Puhon"
TJane Plaza, "Tumang Kamingaw"
Reon, "Suyo"
Route 83, "Ania Ko" 
JKLRD, "St Ven"
Best Song Written for Movie/TV/Stage Play
Iñigo Pascual, "Maligaya Ang Buhay" (from Four Sisters Before the Wedding)
Bryant, "Malaya Ako" (from Hush)
Moira dela Torre, "Hanggang Sa Huli" (from 24/7) 
Aegis, "Ang Sa Iyo Ay Akin" (from Ang Sa Iyo Ay Akin)
Emerzon Texon ft. Dex Yu, "Ngayon" (from Gameboys)
Best Musical Arrangement
Moophs, "Always"
The Itchyworms, "Waiting for the End to Start" 
Zild Benitez, "Habulan"
Brian Lotho, "Who's Gonna Love You"
Brian Lotho, "Never Made it Far"
Best Vocal Arrangement
Jonathan Manalo, "Marupok"
Andre Magalit Castillo, "Someone To Watch Over Me (acapella)"
of Mercury, "Fake Love"
Darren Espanto, Lloyd Oliver Corpuz, Raizo Chabeldin, "Believe in Christmas"
Happy Laderas and Almond Bolante, "Tala" 
Best Engineered Recording
Tim Recla and Purple Room Recording Studio, "Marupok"
Albert Tamayo and ProdigiMusic Studio, "Puhon"
Jean Paul Verona and Verona Audio Design, "Sa Susunod na Habang Buhay"
Zack Tabudlo, "Nangangamba"
Zild, "Dila"
Best Cover Art
Joyce Ignacio and Emmie Villegas, Hibang
Ivee Pendo and Autotelic, Bago
Beatrix Zaragoza and Paolo Sandejas, Purple Afternoon
Kurt Byron Vale Maligaya and Jason Paul Laxamana, Rico Blanco Songbook 
Kyla Baltazar and Lorenzo Santos, Don't Look Back
Best Music Video
Roxy Liquigan, Tarsier Records, Jade Regala, Chapters, "No Rush"
Oh Flamingo! and Kyle Quismundo, "Naubos Na"
ShowBT and Justin de Dios, "Hanggang sa Huli"
Zild and Daniel Aguilar, "Dila" 
Nicole Laurel Asensio and Gorio Vicuna, "Poblacion"
Most Streamed Artist
Most Streamed Song
Moira dela Torre, "Paubaya"
People's Voice Favorite Female Artist
People's Voice Favorite Male Artist
People's Voice Breakthrough Artist
People's Voice Favorite Song
People's Voice Favorite Group Artist
Cover Photo Courtesy of AWIT Awards Facebook Page